Micro Campers are very appealing to couples and families who want to go RVing but don't want to invest in a gas-guzzling large tow vehicle.
This includes people who own minivans and midsize SUVs as their daily drivers.
In the past, micro campers were seen as being scaled-down shells that let you have a roof over your head and a little more.
Though in recent years improvements in camper materials and engineering solutions have made many mini campers arguably luxurious.
If you want to go RVing, but don't want to invest in a large tow vehicle, then you might be wondering what are some of the best micro campers on the road today?
For starters, the MyPod and the Sylvan Sport Go are lightweight micro camper options that are easily towable and economical. Though these great micro campers aren't the only models worthy of your hard-earned dollars.
For example, the Rugged Rhino and the Wooly Bear from Timberleaf feature heavy-duty material construction to appeal to rugged campers who need a high-quality mini camper to support them for days of off the grid boondocking
To help find the best micro camper for your needs and preferences, we decided to dig a little deeper and take a look at some of the benefits of choosing a micro camper over a traditional travel trailer.
This will help you understand if a micro camper is truly right for you. Then we also took the time to carefully review some of the most popular models out there for sale.
What Are Micro Campers?
Micro campers are small and lightweight camper trailers, tend to weigh less than 2000 pounds, and can be pulled by minivans, mid-size SUVs and even a lot of cars.
Some micro campers pop up or extend out with tents to help maximize their living area.
Micro trailers are a perfect option for RV adventurers who don't want to sleep in a tent, but don't have room house a larger trailer or a Class C motorhome.
Why Are Micro Campers So Popular
There are a few key criteria that go into deciding whether or not you want to get a micro camper versus some other type of RV.
With that being said, there are a few different types of people who are more included to choose a micro camper trailer.
1: Mini Camper Can Be Towed By Minivan And SUVs
There are a lot of people who use a minivan, a sedan, a mid-size SUV, or even a small SUV as their daily driver, who simply don't want to invest in a large tow vehicle like a half-ton pickup truck, to tow a full-size travel trailer.
The lightweight towing requirements of some of the best micro campers make them very appealing to people who are conscious about fuel consumption.
2: Affordable Than A Normal Campervan Or Motorhome
There are a lot of people who want to save their hard-earned money for enjoying the experience of camping, rather than making giant monthly payments on an RV.
Most of the best micro campers are very affordable, which leaves you more money for touring the surrounding attractions.
3: They Are Easy To Drive And Park
Tradesmen, construction workers, traveling salesmen, and other people who frequently need to travel as part of their career are often frustrated by the cost of hotel rooms.
Yet they don't want to shoulder the massive fuel costs of driving a large pickup truck for miles and miles each week.
For these people, micro campers are a great way to stay on the cheap, save money on their per diem and still get a good night's sleep.
4: Microvan Campers Are Perfect For Couples Or Small outdoorsy Families
Children are expensive, and many of the best micro campers are not.
Families who want to adventure on a budget and want to see the surrounding attractions are often drawn to the simple convenience and low cost of micro campers.
Can I Build My Own Micro Camper?
There are indeed some Do-It-Yourselfers who have the skills and the tools to build their own.
Though if you don't have a lot of experience in this realm, it's best to leave micro camper construction to the professionals.
Not to mention, there are laws about what a trailer needs to be compliant with to be certified as being legally roadworthy.
6 Compact Yet Functional Micro Campers For Sale In 2023
Micro campers are increasingly popular and this has, of course, inspired a wide range of RV manufacturers to throw their hats into the ring.
While this leaves some people feeling spoiled for choice, there are none-the-less a fair number of skeptical buyers who want to make sure they are getting the best micro camper for their money.
To help you make sure you are getting the most bang for your buck, we made sure to take a look at some of the best micro campers on the market today.
This includes looking at material build quality, durability, and other key features. Along the way we also kept our eyes out for micro campers that might appeal to popular niche interests.
Without further ado, check out six of our favorite micro campers on the market:
1. KJ-20 Fully Loaded Model Micro Camper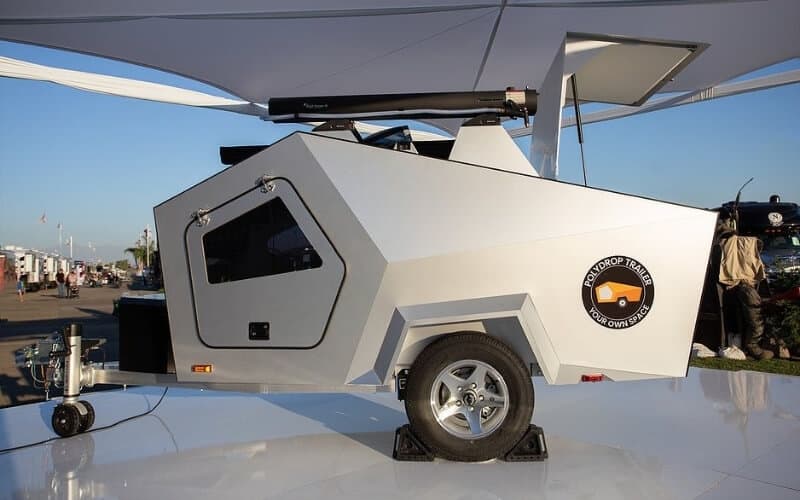 The KJ-20 Fully Loaded Model tips the scales at a little over 1,000 pounds. Though even with a dry weight of 1,105 this compact camper is still light enough for most minivans, and mid-size SUVs to tow.
It takes advantage of a lightweight, yet durable aluminum frame and rigid insulation for added strength.
The KJ-20 Fully Loaded Model sleeps two people, though you could potentially sleep two parents and a small child inside.
You can access the interior via a pair of gull-wing doors. There's also a rear hatch with a fully functional kitchen.
While the comfortable mattress in the KJ-20 Fully Loaded Model might go a little under-sung, there are also a bunch of convenient innovations worked into the design concepts.
For instance, the 5,000 BTU air conditioner, which is incredibly efficient at maintaining a cool interior with minimal power drain, thanks to the rigid insulation in the sidewalls.
There's also a 100 Watt solar charging system that comes with the fully loaded model. It can be used to help top up or maintain the 12-Volt deep cycle house battery.
2. The Pika Teardrop Trailer By Timberleaf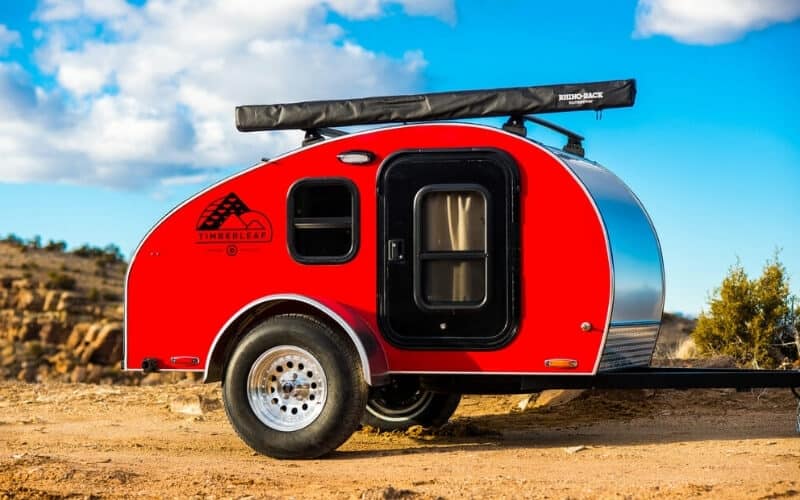 The Pika is one of the newest micro campers being offered by Timberleaf RV manufacturing. This is a downsized upgrade from their "Classic" teardrop trailer.
Though while it's leaner and lighter than the original, the Pika still has a lot of innovation worked into its sleek teardrop design.
Here again, you have a micro camper that is meant to sleep a single person or a traveling couple.
There's also a rear hatch with an impressive kitchen for such a small teardrop micro camper.
There's even a modest powered cooler that serves as a real-world refrigerator with the durability to handle life on the road without breaking down.
The Pika also has a lot of energy-efficient accessories and options. The 12-Volt house battery runs highly efficient LED lights, as well as a multi-speed fan, dual USB ports, and a GFCI outlet in the kitchen area.
There's also an optional solar panel that can be selected and installed via the manufacturer. This is definitely an upgraded option that you should consider selecting.
Not only will it help keep the house battery topped up, but it also saves you from having to worry about running a generator.
It's an arguable must for couples who like to boondock off the grid for a day or two at a time.
3. The 2021 MyPod Micro Camper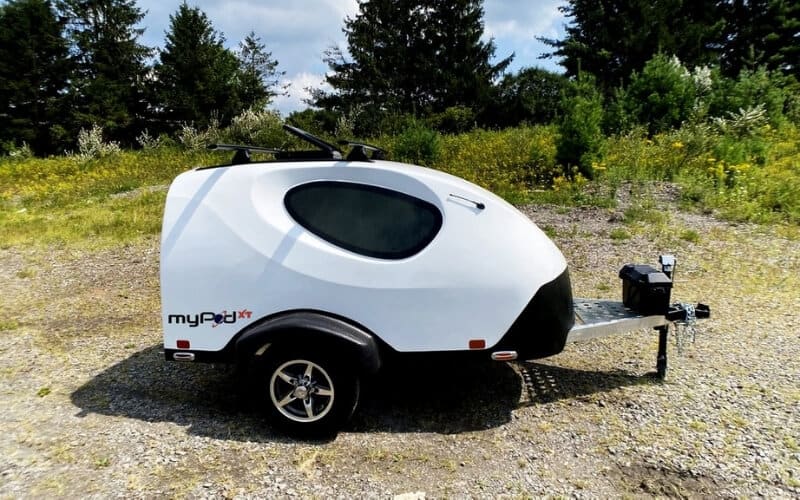 The MyPod micro camper looks futuristic and has a lot of the keen innovations that an individual or a traveling couple wants in a lightweight trailer.
In fact, it only has a dry weight of 760-pounds and a hitch weight of only 110-pounds. This puts it in range for most mid-size SUVs and even a few small SUVs to tow.
There is an air conditioner installed as standard. The aerodynamic fiberglass body also does a good job of holding in the cold air when the MyPod is sealed.
This is very handy for times when you might want to boondock off the grid and you want to minimize your energy expenditure.
MyPod also has some optional upgrades available through the manufacturer that really help it stand apart from a lot of other high-quality micro campers.
This includes an expandable screen porch which gives you an impressive amount of outdoor living space.
It even includes a rain fly, which can be a big deal if you want to stretch out on a rainy day.
Considering the very minimal cost, this is definitely an optional extra that is worthy of selection.
4. The 2020 Wooly Bear Micro Camper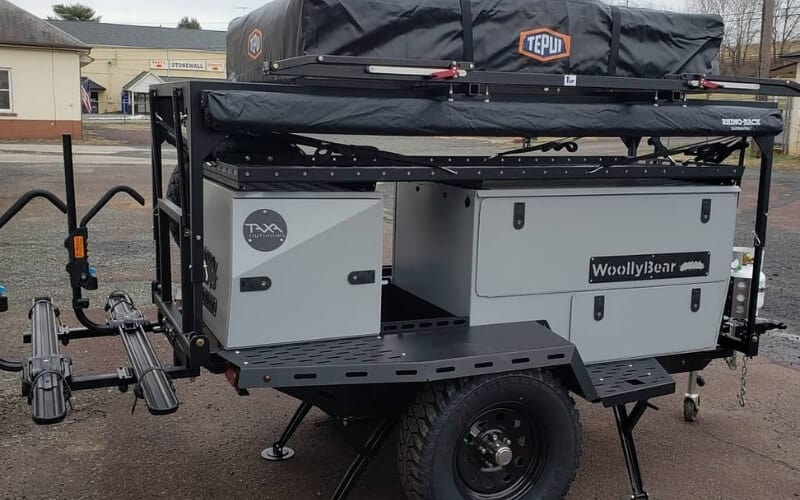 The Wooly Bear by Taxa Outdoors is a new take on what a micro camper can be. When it's on the road it looks a lot like a compact popup camper.
Though when you are ready to deploy it at camp, it transforms into an impressive living accommodation.
The top expands into a full size tent that's capable of sleeping two to three people comfortably.
Meanwhile, the lower section opens up to reveal an impressive amount of storage space for keeping all your camping gear neatly organized. There's even a convenient pull-out kitchen.
Though it does push the heavy end of what some people would call a micro camper.
Especially when you consider the over 1,200-pound dry weight and the gross vehicle weight rating of 2,100-pounds.
This put it out of the range for being towed by most small SUVs and mid-size cars.
Though a mid-size SUV with a tow package should still be able to pull the Wooly Bear confidently.
5. The 2021 Rugged Rhino Micro Camper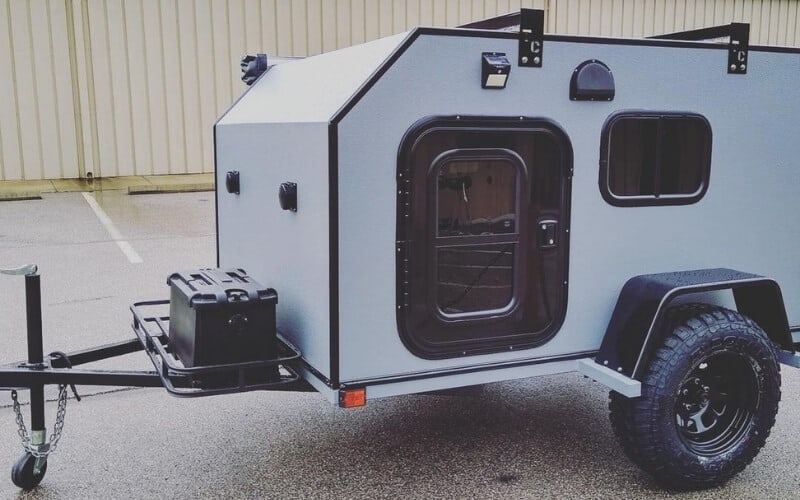 With one look the Rugged Rhino lives up to its name. From the all-terrain Jeep wheels to the heavy-duty sandwiched floor, stainless steel deck screws, and the HDPE marine-grade coating on the rigid exterior this high-quality micro camper is meant to endure just about anything.
It might just be the best micro camper for rugged outdoorsmen who need a place to stay when they are boondocking out in the bush for days at a time.
With a width of only 4-feet and a dry weight of just under 800-pounds the 2021, Rugged Rhino is also very easy to tow.
The Jeep wheels are perhaps a little loud at highway speeds, but they will certainly help the Rugged Rhino conquer a lot of rough terrains.
The Rugged Rhino was also infused with a lot of marine-grade technology. This includes marine heaters and weather seals throughout this impressive micro camper.
There are also optional solar panels that are a must-have for anyone who wants to stay off the grid with this compact, heavy-duty RV.
6. The Sylvan Sport Go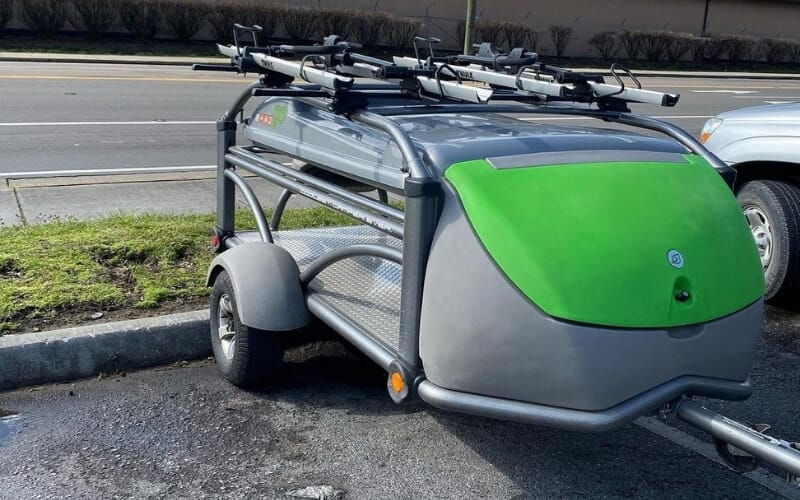 The Sylvan Sport Go is sort of an innovative hybrid between a popup camper and a teardrop camper, which makes it one of the best micro campers for lightweight adventuring.
You see this shine through in the 840-pound dry weight, that's combined with a staggeringly impressive 960-pound cargo weight.
When you are on the road, this lightweight micro camper tows effortlessly behind even a small SUV or a sedan with a tow package.
Yet when you get to your intended campsite, it expands out into a four-person tent with a fair amount of elbow room.
A great amount of care was put into making the tent section as waterproof as possible. There is even an awning to give you extra outdoor space to hang out on those inevitable rainy days.
Can I Tow A Micro Camper With A Small SUV Or A Car?
There are some micro campers that can easily be towed behind a car or a small SUV with a tow package installed.
Though you really do need to check the owner's manual of the vehicle for its possible tow rating specifics. Ideally, you don't want the gross vehicle weight rating (GVWR) or the camper to be more than 80% of the maximum towing capacity of an SUV or car.
Do Most Micro Campers Have A Kitchen?
In the past, one of the biggest knocks against micro campers was that they didn't come with a kitchen.
Though today RV manufacturers have been innovative in making the most out of every single cubic inch of available space when they design their best micro campers.
This includes things like rear hatch kitchens, pull out kitchens, and gear racks that can easily be used to store an extensive array of kitchen cooking appliances.
Do Micro Campers Have A Bathroom?
Most micro campers don't have any sort of bathroom or wet bath, as there's simply not enough room and the water tanks and water heater needed to support them would drive the weight up so high that only a robust tow vehicle could safely pull it.
Though there are a few micro camper RV manufacturers who offer custom builds or options like a cassette toilet or an external shower that can be connected to a tankless water heater.
Micro Campers Are Gaining Their Popularity
The micro camper niche is growing every day, with new options showing up in the marketplace every model year.
While there are certainly some great options to consider, there are a few that rise to the top.
Making sure that you can pair it with your intended tow vehicle's capabilities is an absolutely critical first step. From there you can start filtering your options based on your interests.
If you are the kind of person who loves to rough it off the beaten track and you need a camper that can keep you dry no matter what the weather, then the Rugged Rhino is likely the best micro camper to meet your needs.
Not only is it rife with heavy-duty material build quality, but all the marine grade seals, waterproofing, and marine-grade heater will keep you comfortably dry.
If you need something to store a ton of heat and comfortable sleep more than two people, then the Wooly Bear is probably the best micro camper for you.
Not only do you get a comfortable upper tent with a ton of elbow room, but there's also a massive storage bay with a lot of thoughtful organizational accessories.
Whatever your needs and preferences happen to be, chances are good that the best micro camper for you is going to be found somewhere on this list.