It arguably doesn't get any more compact than driving two wheels and towing one of the best motorcycle campers behind.
And there can be many advantages to compact motorcycle camping if you're able to commit to paring down your belongings to only the bare essentials.
Motorcycle camping trailers give you the ability to relax in a comfortable shelter once you're done riding for the day.
They also allow you to set up a more permanent campsite if you want to stick around and check out certain destinations for a few weeks at a time.
If you have a larger motorcycle with the capability to tow a small trailer, one of the best motorcycle campers will make your road trips much more comfortable.
Plus, you might even have an easier time convincing your significant other to come along on your motorcycle trips if you have a more comfortable sleeping setup with you at all times.
There are many compact camping trailers out there these days, but we've chosen our top 10 camping trailers that are light enough to be towed behind a motorcycle.
And we'll also help you identify the most important features you should consider when selecting the right one for your needs
What Are Motorcycle Campers?
Motorcycle trailers are pull-behind trailers that are light enough to be towed by a motorcycle.
They feature many different designs from pop ups to slide-outs, but their function is the same.
They give you a dry, sheltered place to sleep every night without having to set up a tent on the ground.
While camping trailers that you can pull behind your motorcycle typically don't contain the kind of restroom facilities that you'll find in larger RV and travel trailers, they do make campsite setup and breakdown much easier if you're living on the road full-time.
Most motorcycle campers weigh between 250 and 500 pounds, which makes them light enough for many motorcycles to tow behind.
They do require that your motorcycle be outfitted with a towing package, but that kind of package can generally be added as an aftermarket accessory for a reasonable price.
Top 10 Best Motorcycle Campers in 2023
The best campers to tow behind motorcycles really only have one thing in common: they are all super compact! But, other than that, there can be a bit of variation in shape, design, and weight.
That's why we've canvassed the market to bring you the best campers to be pulled behind a motorcycle.
So without further adieu, here are our top 10 picks for the Best Motorcycle Camper Trailers for motorcycle road tripping as well as camping.
1. Kompact Kamp Mini Mate Motorcycle Pop Up Camper Trailer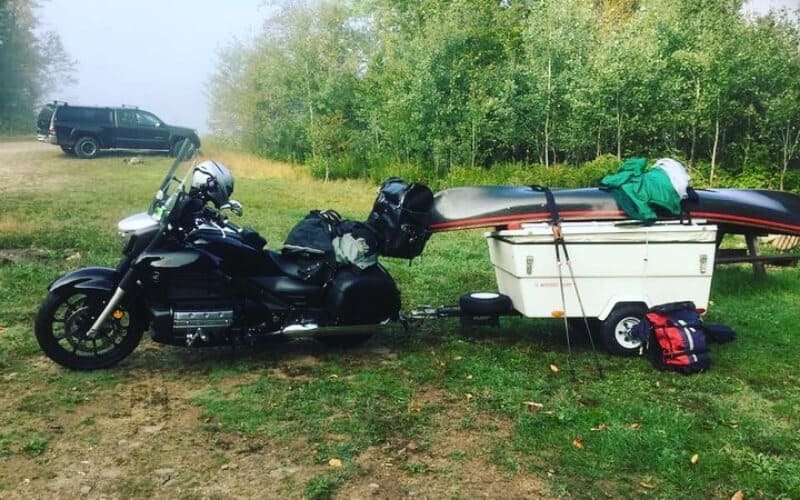 | | |
| --- | --- |
| Length | 7'6" |
| Width | 40" |
| Weight | 260 pounds |
| MSRP | Starts at $3,195 |
This motorcycle camper is our first choice because it sets up quickly and includes a full-sized bed that can sleep two adults comfortably.
Or you'll have to room to spread and stretch out on your own after a long day of riding.
This popup motorcycle trailer starts at an affordable price, but you'll also have the option of adding several useful features that will make living in it even more comfortable.
Some of those optional add-ons include an exterior awning package and an 'add-a-room' package that essentially creates an enclosed patio area outside of the camper.
WIth independent rubber torsion suspension and a full fiberglass body and lid, this motorcycle camper is also built tough and designed to last.
And the tent material itself is made of a heavy-duty canvas material that's resistant to UV damage and water ingress so that your living area stays dry even if you have to stop and camp on a rainy evening.
2. Easy Rider Skylite Camper Trailer
| | |
| --- | --- |
| Length | 6' |
| Width | 44" |
| Weight | 630 pounds |
| MSRP | $3,495 |
This six-foot camper trailer further cuts down on your campsite set up time by simply allowing you to open the door and climb in for rest.
That large rear-entry door also features a secure deadbolt lock so that you can feel confident leaving the trailer set up at a site and heading out for an adventure for the day.
While it doesn't come standard on this trailer, you will have the option of having electric brakes installed on yours before you attach it to your motorcycle to start towing.
This will allow for much safer towing and it will also extend the life of your brakes by reducing the degree to which they'll have to work overtime to slow down both your bike and your trailer.
This motorcycle camper also features a self-contained, 12-volt electrical system with a 110-volt converter backup.
This gives you the ability to charge your important electronics and it also provides power for the trailer's AM/FM stereo and DVD player.
3. Time Out Trailers Deluxe Motorcycle Camper Trailer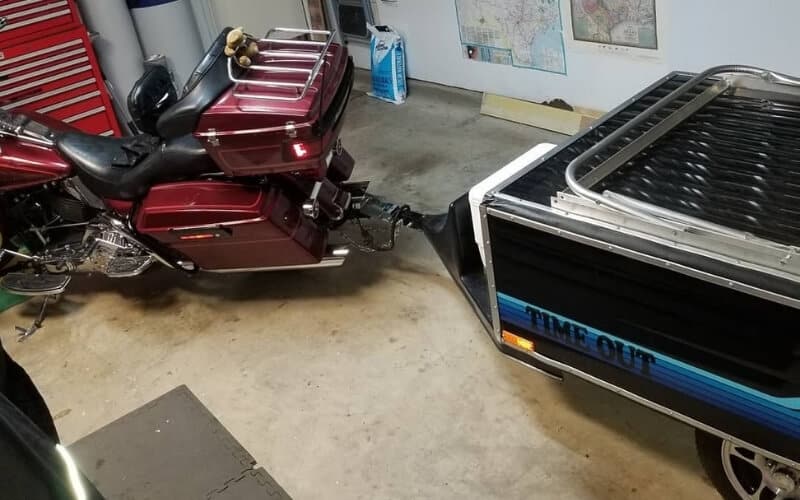 | | |
| --- | --- |
| Length | 8'8" |
| Width | 43" |
| Weight | 385 pounds |
| MSRP | Starts at $4,595 |
The Deluxe is the largest motorcycle camping trailer produced by Time Out Trailers and it's a great option for the solo motorcyclist.
It sets up in less than three minutes by simply folding it open and sliding the extendable poles in and then clicking them into place.
This camper is also designed to give you a covered shelter and plenty of extra space to store all of your camping/road trip gear.
In total, it offers about 23 cubic feet of storage space, which is enough space to store up to four carry-on sized bags, three larger duffel bags, an air mattress, a camping chair, and a camping table.
Additionally, it comes with its own queen-sized air mattress and a folding table with a built-in butcher block to help you prepare delicious camping meals.
And you'll also have the option of adding a number of useful features and accessories to this camper, such as an A/C stand, retractable awning, electric brakes, light bar, and more.
4. Roll-A-Home Standard Motorcycle Popup Camper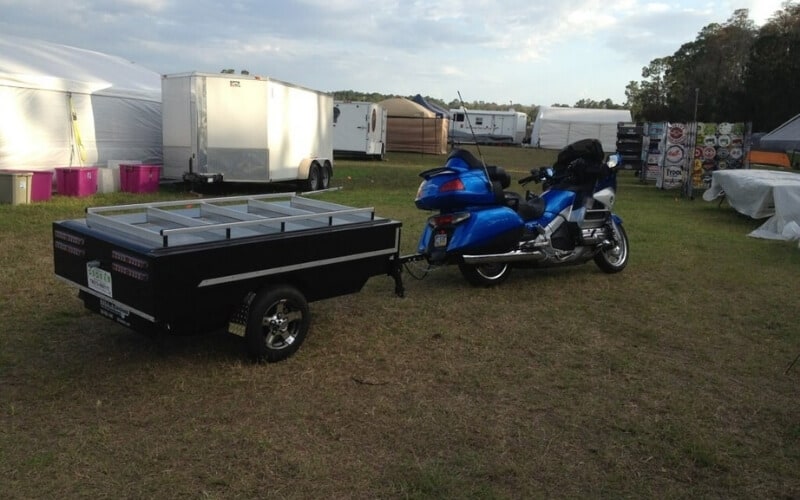 | | |
| --- | --- |
| Length | 6'6" |
| Width | 48" |
| Weight | 325 pounds |
| MSRP | $4,799 |
This popup camper features a super cool design because, once it's fully set up it includes a sleeping platform and a full-height dressing room that can be zipped completely closed for additional privacy.
The tent itself is constructed from a breathable fabric that's waterproof enough to keep you dry through rainy evenings.
And it features a basin-style design that keeps water from seeping in around the bottom seams as long as the water depth remains below five inches.
It also features more than 18 cubic feet of storage space for your gear and a rack on top of the trailer allows you to attach additional gear that you don't mind getting wet or dirty while you're riding.
And that extra storage space remains accessible whether the tent and dressing room are set up or folded down.
5. Double Duty Utility Motorcycle Camper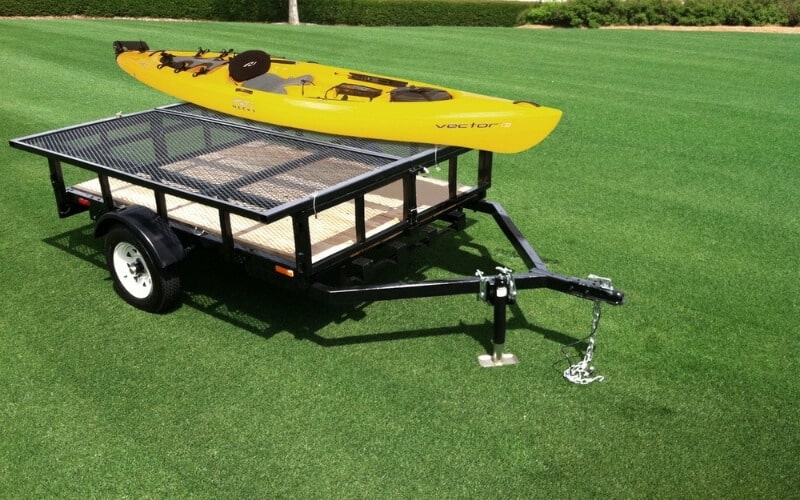 | | |
| --- | --- |
| Length | 7'4" |
| Width | 63" |
| Weight | 800 pounds |
| MSRP | Starts at $1,824 |
The Double Duty Utility Camping Trailer is one of the most affordable models on our list.
It starts under $2,00, but it also features one of the wider body designs among compact motorcycle campers on the market these days.
This makes it a great choice for couples traveling on one motorcycle together because the living space won't feel super cramped if you both have to retreat inside to escape inclement weather.
In fact, this camping trailer boasts a total sleeping capacity of up to six people because it features two twin-sized bed platforms and the bed of the trailer itself can accommodate a queen-sized air mattress.
This camper for motorcycle towing is slightly on the heavier side, so it may require you to have a ride with a larger towing capacity.
But if you can tow it, you'll be able to take advantage of up to 81 square feet of interior living space, a seven-foot tent ceiling for standing and changing, and a 150-denier polyester weather-resistant tent.
6. Kwik Kamp II Motorcycle Tent Trailer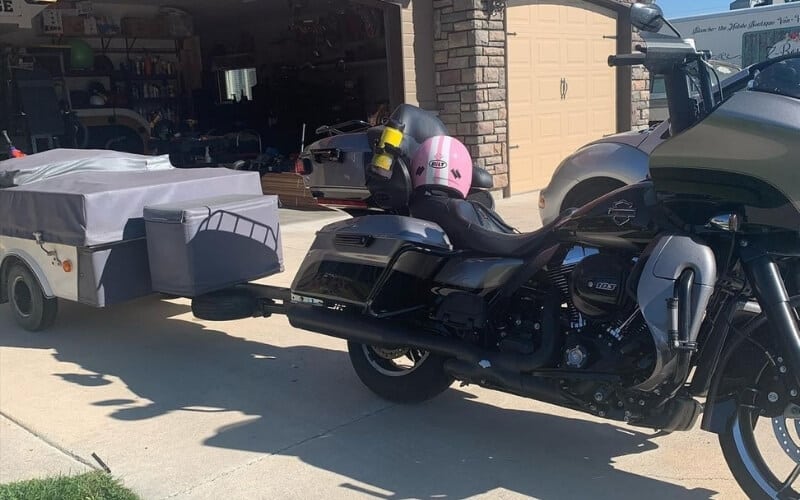 | | |
| --- | --- |
| Length | 10' |
| Width | 47" |
| Weight | 340 pounds |
| MSRP | $3,699 |
If you're looking for a little more luxury than some of these other motorcycle campers offer, check out the posh digs of the Kwik Kamp II.
This camping trailer features a king-sized bed and a bunk-style bed platform that helps to maximize the interior space without making it feel crowded.
It's also equipped with an extra-large cargo bay that provides a total of 24 cubic feet of underneath storage space.
So you'll not only be able to enjoy more comfortable sleeping accommodations, but you'll also have more space to store any extra gear or amenities to help make you more comfortable on the road.
The Kwik Kamp II is designed with various weather conditions in mind as well. It features an A/C port that allows you to install a small A/C unit to keep it cool during the hotter months.
And it also features tent material that's resistant to wind and repels water to keep you dry if a rainstorm rolls in unexpectedly overnight.
7. Roadman Pop-up Motorcycle Camper Trailer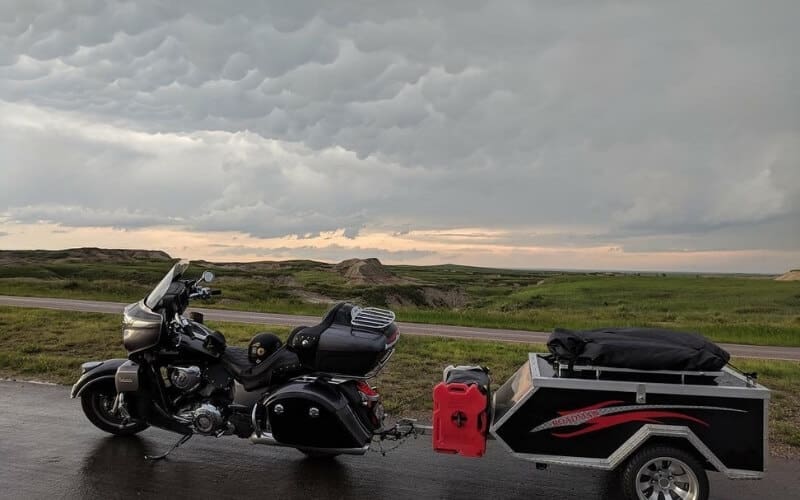 | | |
| --- | --- |
| Length | 5'2" |
| Width | 38" |
| Weight | 250 pounds |
| MSRP | Starts at $4,600 |
For the solo motorcycle traveler, this popup camper is one of the more compact options on our list.
So you'll need to be comfortable with using it solely as a sleeping space, but it's still quicker and easier to set up and breakdown than a regular on-the-ground camping tent.
This motorcycle trailer for camping can be set up in approximately seven to 10 minutes and it comes with four adjustable, drop-down camper jacks to help you level it on uneven ground.
This will provide a more comfortable sleeping experience and help to eliminate sliding down to the bottom or over to the side of your tent throughout the night.
It also boasts double-stitched tent seams for added durability and water resistance.
In addition, this tent is made with drip guards over the windows that help to keep the shoes (or anything else!) that you store right outside your tent door dry overnight.
8. Little Guy MyPod Teardrop Camper Trailer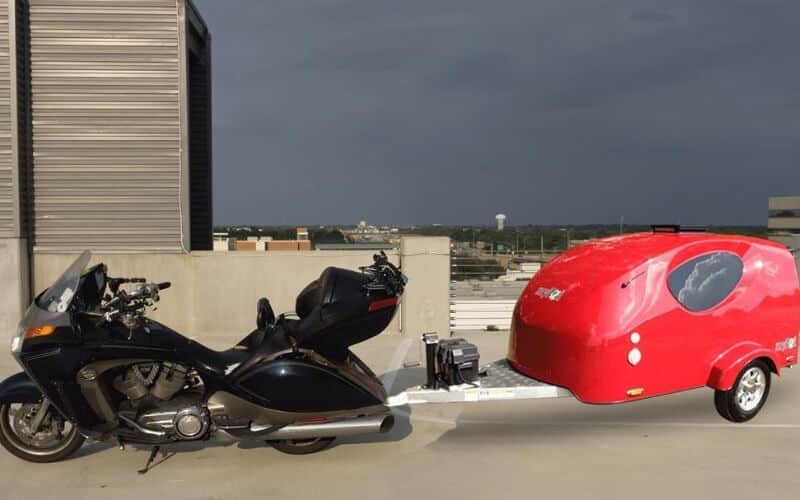 | | |
| --- | --- |
| Length | 11'6" |
| Width | 60" |
| Weight | 760 pounds |
| MSRP | Starts at $10,022 |
While it's one of the more expensive compact motorcycle camping trailers on our list, the MyPod from Little Guy Trailers also provides roomier accommodations than most.
The mattress inside measures 52" wide by 76" long and the 37" inside height gives most adults room to sit up comfortably.
The MyPod is designed as a "sleeping-only" type of motorcycle camper because it doesn't include quite enough interior space for standing or changing clothes.
But it does feature an interior entertainment center that allows you to kill time on rainy days watching movies or catching up on your favorite streaming television shows.
This camping trailer also includes its own 12-volt electrical system with a 110-volt converter for charging electronics and powering its internal components.
It also comes with a three-speed ceiling fan and an installed A/C unit to help you stay more comfortable in the heat, which makes it a great choice for pulling it behind your motorcycle if you're chasing the 'Endless Summer'.
9. Lees-ure Lite Excel Motorcycle Tent Trailer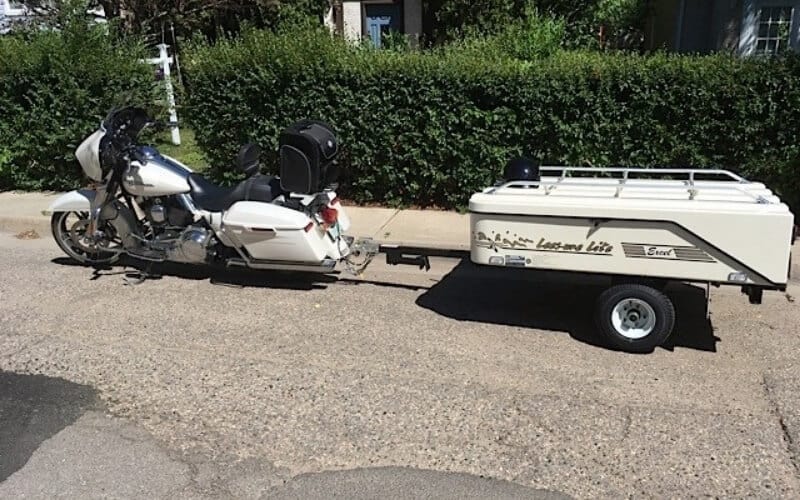 | | |
| --- | --- |
| Length | 5'6" |
| Width | 54" |
| Weight | 265 pounds |
| MSRP | Starts at $5,195 |
The Lees-ure Lite Excel model provides a slightly wider design than their original model, which also means a larger bed area that's big enough to accommodate a traveling motorcycle couple.
Overall, the bed dimensions in the Excel tent trailer measure 52" wide by 81" long.
When you pop this tent open, it offers an astounding 6'4" of head clearance, which is rare amongst this type of tent trailer.
And it means that most adults (even those just over six feet tall) will be able to stand up inside comfortably to change clothes or check interior components.
This motorcycle camper also features a large storage capacity for the gear that you can't fit into your bike's saddlebags.
Overall, you'll be able to take advantage of about 30 cubic feet of enclosed storage space and you'll also be able to strap additional gear to the top of the trailer using the pre-installed trailer roof rack.
10. Aspen Quality Trailers Classic Camper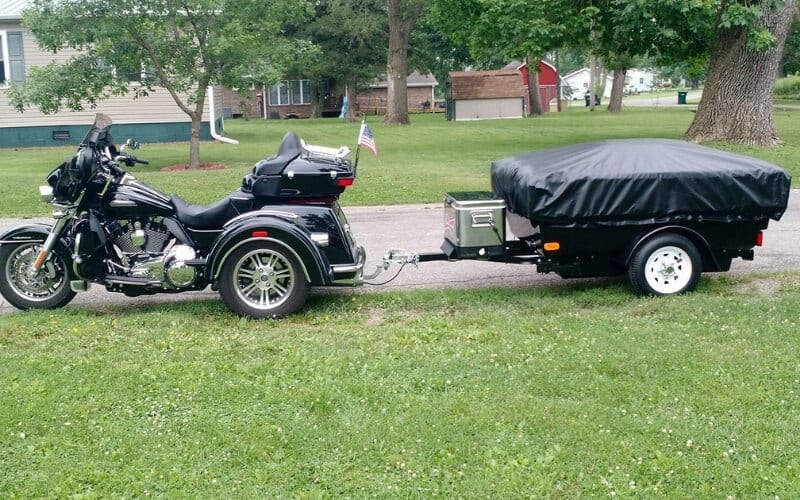 | | |
| --- | --- |
| Length | 6' |
| Width | 47" |
| Weight | 350 pounds |
| MSRP | Starts at $2,999 |
The final pull-behind motorcycle trailer on our list is a sturdy design with ample storage space for a single motorcycle traveler.
The bows that hold the tent up when it's opened are made of galvanized steel and the reinforced fiberglass body of the camper boasts a molded, single-piece design for added durability and weather resistance.
The foam mattress that comes with the Classic Camper includes a removable cover that makes it super easy to throw in a washing machine to clean after or between trips.
And the zippered storm flap that's designed to cover the tent in rainy weather can also double as a canopy cover for shade and sun protection.
The Aspen Quality Trailers Classic Camper is also made with Aluma-Core bed panels that provide extra insulation from cold air underneath the camper bed.
And this camping trailer for motorcycles even comes with its own durable travel cover so that the roof and body of the tent itself don't sustain any damage while you're moving from campsite-to-campsite.
---
How Do Motorcycle Campers Work?
The exact function of motorcycle campers depends on the model you choose. Most, however, operate just like these five off-road pop-up campers.
They open using a manual crank system and many can be fully set up in less than 10 minutes.
Most of them do boast a mattress of higher quality than your standard camping air mattress, but they typically only have sleeping space for one or two people.
The same manual crank system is used to collapse the camper when you're ready to move and the roof will usually secure in place with heavy-duty buckles or locks so that it won't pop open if you hit an unexpected pothole while you're driving.
Is A Motorcycle Camper Right For Me?
Not all motorcyclists will enjoy living or traveling with a motorcycle camping trailer.
So, to help you decide if a towing a camper behind your motorcycle is right for you, we've provided a quick list of pros and cons for this type of recreational vehicle.
Pros of Motorcycle Campers
Lightweight

Affordable compared to other types of RVs, travel trailers, and 5th wheels

More storage space

Help you save money on lodging or hotel accommodations
Cons of Motorcycle Campers
They don't contain kitchen or restroom facilities

May reduce your driving speed and agility of your motorcycle

They offer the bare minimum – you won't necessarily be glamping!

They can reduce the lifespan of your motorcycle
At the end of the day, you'll need to decide which of these pros and/or cons hold more weight for you than others.
For example, some campers might actually consider a pull-behind trailer to be quite luxurious compared to setting up their tent on the ground or stringing a hammock between two trees.
For others, the added expense of getting a hotel of indoor lodging accommodations might be worth it to sleep in a proper bed.
Ultimately, answering the question of whether a tow-behind trailer for your motorcycle is right for you is going to be a matter of personal preference.
That being said, you can always rent a trailer and tow it behind your motorcycle on a few trips to see if it suits your lifestyle before you fully commit to purchasing a camper of your own.
Some camper manufacturers in your area might even allow you to lease one of their models for a full season, which is a great way to learn if you like sleeping in (and living out of) a specific motorcycle camper.
If you're convinced that a motorcycle trailer is the key to unlocking all of your road trip dreams, then it's time to start your buying process.
Before you decide on one camper, however, here are the most important factors you should consider when buying a motorcycle camper.
Types Of Motorcycle Camper Trailers
To begin with, there are several different types of trailers that motorcyclists use to camp on the road.
So we'll start by defining each of these camper types and highlighting a few advantages and disadvantages of each type.
Open Trailers
Open trailers are exactly what their name implies. They are used by some riders to simply allow them to carry more gear and supplies than they'd be able to fit in just the saddlebags on the back of their motorcycle.
Open trailers tend to be a little bit larger and lighter than some of the camping trailers designed specifically for motorcycles.
But they don't come with a popup tent or any sort of covered shelter, so they're specifically best for you if you're just looking for a cheap option to help you tow more supplies behind your motorcycle.
Cargo Trailers
Cargo trailers serve the same purpose as the open trailers mentioned above.
They allow you to transport more gear along on your road trips but, unlike open trailers, they offer a more secure and covered storage area for your stuff.
These trailers are better than open trailers in terms of security and weather protection.
But, they don't provide you with a pop-up shelter or a more comfortable sleeping area than your typical camping tent can provide.
Popup Campers
Popup campers are arguably the most popular choice for compact campers designed to be towed behind your motorcycle.
They serve both purposes of allowing you to tow extra gear behind your motorcycle and giving you a covered, comfortable place to rest at the end of a long day's ride.
These campers can be more expensive than a cargo trailer or open trailer, but they can also help you save money by avoiding paying for more expensive hotel accommodations every night.
They also set up more easily than setting up a tent on the ground and they provide a more comfortable mattress than a typical camping pad.
Clamshell Campers
Some motorcycle campers feature a clamshell design instead of being a popup camper.
These campers generally offer less interior living space than a popup camping trailer for your motorcycle.
In fact, their dimensions will be more similar to a camping tent that you'd normally set up on the ground.
But these campers simply flip open and you can climb inside within a matter of seconds.
Because they are contained within a hard shell, many of these campers are also made of a thicker material that will allow you to sleep warmer and more comfortably when overnight temps are lower in the early spring or late fall.
What Size Travel Trailer You Can Tow Behind Your Motorcycle?
The weight of a specific camper must be taken into account before you finalize a purchase because you'll need to be certain that your motorcycle will be capable of towing that weight safely.
And you should remember that you'll probably be adding several additional pounds of gear on top of the trailer's base weight.
Depending on how much gear you intend to carry in your motorcycle camping trailer, we recommend adding between 100 and 200 pounds to the base weight of the trailer itself when determining whether your motorcycle will be able to tow it safely.
And we also recommend making sure that your motorcycle's recommended maximum towing capacity is still at least 100 pounds higher than the combined weight of the trailer and your gear.
This gives you an extra margin for error and will reduce the strain on your motorcycle's engine and brakes when you're climbing steep grades or descending from a mountain pass.
What's The Maximum Length Allowed For A Trailer On A Motorcycle?
The length of a motorcycle camping trailer should also be considered because it will impact your ability to fit in certain campsites or even just negotiate parking lots when you need to restock on certain road trip supplies.
The good news is that these trailers are much shorter than almost any other type out there.
But even though most of these camping trailers are fairly compact, many of them will still double your total length when added to the original length of your motorcycle.
If you've never towed anything behind your motorcycle, it may also take a little practice for you to get used to swinging wider on turns and reducing your speed for safer towing.
Ultimately, the length you're comfortable with will largely be a matter of personal preference.
Just remember to add the length of your trailer to the length of your motorcycle when you're searching through campgrounds and RV parks with maximum length restrictions.
How Much Does A Motorcycle Camper Trailer Cost?
The good news is that these motorcycle campers are considerably more affordable than RVs, travel trailers, 5th wheels, and even many lightweight popup campers for trucks.
On average, you can expect to pay between $2,000 and $6,000 to get a quality camper trailer you can tow behind your motorcycle.
But, if you're willing to shop used or even explore a DIY solution, you may be able to find or build one for even less than that!
Conclusion
If your motorcycle has the ability to tow a small trailer behind, these campers are great options to make your future road trips more comfortable.
And, to be totally honest, you might have better luck convincing your significant other to join you if you're no longer setting up a tent on the ground every night.
We hope that you've found at least one camper model that you like on our list today.
And we hope that our buying guide was useful in helping you prioritize the most important factors for you in that selection process.
As always, we wish you the best of luck on all of your motorcycle camping adventures!