For some people, the RV experience means answering the call of the open road with a big travel trailer or a cumbersome motorhome.
Though some people forget that bikers and motorcycle enthusiasts have been answering the call of the open road decades before the first RV was ever invented.
So, it stands to reason that there are a fair number of motorcycle popup campers out there designed to cater to the needs of motorcycle travelers as well.
If motorcycle camping sounds like your idea of adventure, the next step is to choose the right motorcycle popup campers that can be pulled behind your bike.
Two of the top contenders in this understandably crowded field are the Livin' Lite Quicksilver 6.0 and the Lee-Sure Lite Cruiser. Though this is just the tip of the iceberg.
The truth is, there are a lot of great motorcycle popup campers out there designed to pair with specific rigs while meeting the needs of comfortable sleeping quarters and other surprising amenities.
With so much opportunity to answer the call of the open road in comfort, we decided to take a closer look at some of the best motorcycle popup campers money can buy.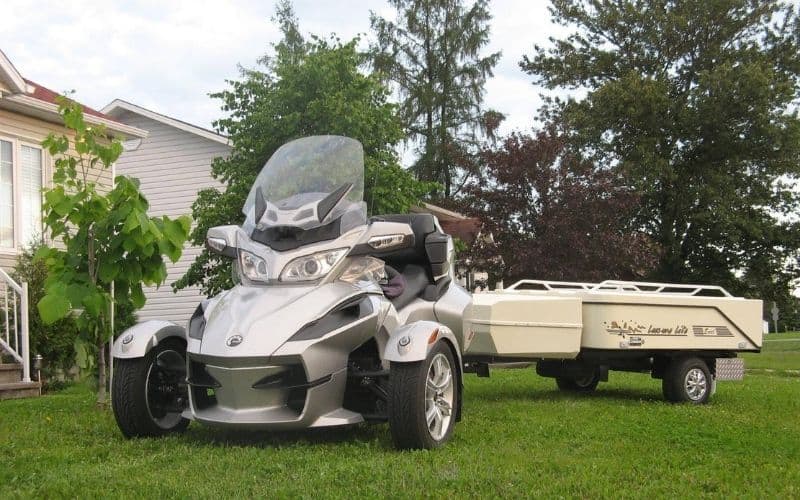 5 Great Best Motorcycle Popup Campers
While researching some of the best motorcycle popup campers, we tried to look for specific models that appealed to certain rigs and travel styles.
Along the way, we kept material quality and functionality in design as top factors.
The end result is a list of great motorcycle popup campers that can offer you some of the comforts of home, while still being able to enjoy the wind in your face while you answer the call of the open road.
Here are 5 of the motorcycle popup campers to enhance the experience of your bike trip further.
1. Lee-Sure Lite Cruiser
Lee-Sure Lite is a Canadian-based popup camper manufacturer with models that appeal to a wide range of motorcycles as well as small cars that want a lightweight camper.
They are keen to sell their wares in the United States and pitch their Cruiser as one of their most motorcycle-friendly models.
When you are towing it down the road the cruiser only has a dry weight of just 235-pounds, which will pull behind most touring cycles.
When it's time to set up camp, the tent portion of this motorcycle camper expands to make room for a full-size bed, with additional floor space to keep shoes off of your sleeping area.
This might not seem like a big deal on paper, but it is a major bonus for keeping your bed clean over the course of several days of travel.
One of the other things you'll love about the Lee-Sure Lite Cruiser is that it comes with an additional awning.
This gives you a sort of vestibule area where you can take off shoes, or just sit back and relax in the fresh air after a long day's ride.
2. The Kwik Kamp II Camper Trailer
The Kwik Kamp II Camper Trailer was designed to be easy to deploy and set up.
Most people can go from parking up their rig at their campsite to having the tent camper fully set up in around 5-minutes.
This gives you time to truly enjoy your destination, rather than blow a lot of extra time setting up a tent camper that you'll just pack up right away the next morning.
Though just because it is quick and convenient to set up doesn't mean that the Kwik Kamp II Camper Trailer is sparse.
You get a lot of comfort on the inside, with more than enough sleeping space for two adults.
The center height of the tent even measures in at 8-feet, which makes this a great popup motorcycle camper for tall people.
The tent on the Kwik Kamp II Camper Trailer is made from 400 denier polyester weather-resistant fabric.
This is great for times when you might set up camp only to suffer an unforeseen cloud burst or overnight rain shower.
3. The Solace Deluxe Motorcycle Camping Trailer
While there is a fair amount of "Roughing It" with any popup motorcycle Solace does their level best to bring a whole new level of luxury and comfort to the experience.
This is done by including a spacious cooler as well as a heavy-duty Coleman air mattress and a folding table.
This lets you leave the bed uninflated to make the most out of the relatively spacious interior during the day.
Then you can fold down the table and chairs to transform the interior into one of the biggest sleeping spaces you will find in any motorcycle popup camper.
Solace takes things another step by designing the tent from Top Stitch VRX-14 fabric which imbues it with better thermal retention than a lot of other motorcycle popup tents.
This also helps make the most out of the air conditioning port that is built into the tent's sidewall.
Though you would still be tasked with arranging for an air conditioner or bringing a portable one with you.
Still, while you might not always be able to make use of the port, it's nice to know that it's available and portable AC units are hitting the marketplace with new, price-friendly models all the time.
4. The Aspen Lightweight Sentry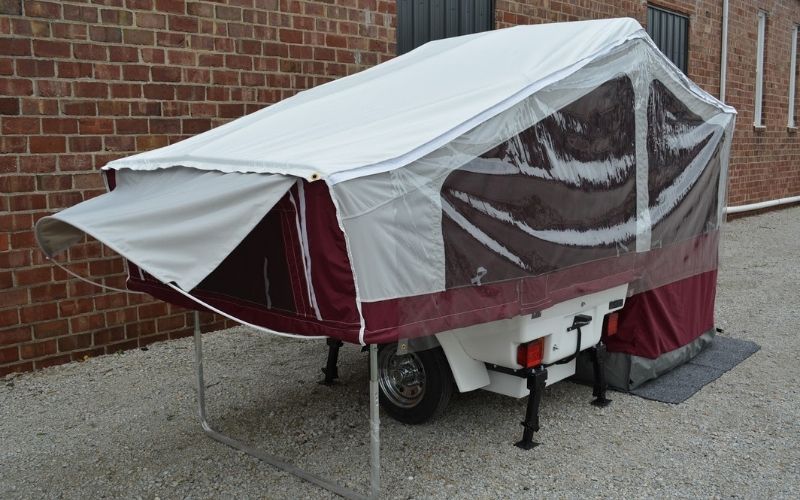 The Aspen Sentry is one of the lightest motorcycle popup campers on the market.
It only tips the scales at a comfortable 325-pound dry weight and an easy to tow 25-pound tongue weight.
Yet for as light and compact as it is, you still get a lot of living space and convenience.
When you set it up, one of the first things you will notice is the copious amount of screen window space.
This is great for people who want to travel light or take their bike camping in the mountains where there are plenty of vistas that you don't want to miss.
If you zip everything up, there is also a flap or port area that lets you connect a portable air conditioner unit.
If you can pack one with you, it can make a world of difference on a hot and humid day.
The main living area also acts like s vestibule screen porch. You can set up a folding table or just create a tidy place to keep your leathers and your boots without worrying about road grit getting onto the bed.
The mattress area is technically large enough to be classified as a "Queen" though I think you'll find full-size sheets fit better.
5. The Livin' Lite Quicksilver 6.0
Livin' Lite is an industry leader in motorcycle campers, and you see that shining through with their updated Quicksilver 6.0.
Right off the bat, you will notice the material build quality in the copious use of high-quality aluminum.
This gives the trailer itself superior strength without making it too heavy for a motorcycle to tow.
You will also appreciate the fact that it comes with a full-size spare tire included in the original purchase.
All this dedication to superior build quality is further reflected in the 24-month warranty that the Quicksilver 6.0 is backed by.
The interior has an impressive amount of living space. It includes a small sofa area to let you sit down and lounge.
This spares you from having to double up the bed space as a seating area like you have to do in a lot of smaller motorcycle campers.
One of the things you might be impressed by with the Livin' Lite Quicksilver 6.0 is the fact that it comes with a small air conditioner node installed.
This is incredibly convenient in that you don't have to pack a portable AC with you as you do with a lot of competitor models that just have a "Flap" or a "Port."
Though it does give you a slightly higher price tag. This is a non-issue if you don't already have a portable AC unit on hand.
Frequently Asked Questions
Do I Need A Portable Air Conditioner For My Popup Motorcycle Camper?
Technically you don't "Need" a portable air conditioner, but if you are going to be traveling in hot, humid areas, you might want to prioritize a popup motorcycle camper that either comes with one in the purchase or has a port to accommodate one.
How Much Does A Portable Air Conditioner For A Motorcycle Camper Cost?
The average price for a portable air conditioner suitable for cooling and dehumidifying a pop-up motorcycle camper will cost around $200 to $500.
This is lower than a lot of other portable RV campers, thanks to the small volume the AC unit needs to cool.
Do Popup Motorcycle Campers Come With Bathrooms?
Most popup motorcycle campers are too small to come with a built-in bathroom.
Though you could easily get a portable composting toilet that will be easy to pack with you.
When you set up camp a privacy tent will give you a veritable private bathroom.
It's a great work-around solution for times when you might want to take your popup motorcycle camper camping away from an RV park or a campground with bathroom facilities.
Conclusion
Improvements in modern materials and engineering have made popup motorcycle campers lighter and more durable than ever before.
Though the one that is best for you will depend on the creature comforts you prioritize as well as your budget.
If you are looking to travel extra-light and you don't care about air conditioning, then the Lee-Sure Lite Cruiser might be the best popup motorcycle camper for you.
It even comes with a spacious awning to give you a veritable vestibule or outdoor sitting area. All at an MSPR that is very affordable.
If you have a more robust motorcycle that can tow a heavier load, and you want an air conditioner wrapped into the total package, then the Livin' Lite Quicksilver 6.0 might be the best popup motorcycle camper to meet your needs.
It is a little heavier, but it offers a lot of interior space, a full-size spare tire, and an air conditioner included in the initial purchase.