A flat tire on your RV is one of those things that's easy to dismiss, right up until it actually happens.
Not only can a blowout put a crimp in your day, but not having a proper spare with you can ruin an otherwise well-planned vacation.
Of course, knowing where and how to properly mount your RV's spare tire can be a challenge.
Especially if you want to bring multiple tires with you. So, we thought it wise to look at all the reasons why you should mount and carry your camper spare tire, as well as the best ways to keep it convenient.
Do You Even Need a Spare Tire For Your RV?
When you stop to think about it, it's very wise to get a full-size spare tire or even two for your RV.
To be clear this is more than just a "Safety Doughnut" spare tire, which will cause the RV to ride poorly.
A full-size spare will also have all the capability and balance of the original tire.
This will give you the confidence to take it on gravel roads as well as do things like back it into a tight campsite reliably.
Any imbalance issues caused by a doughnut, or a smaller spare tire will be even worse if you need to travel at highway speed.
More than a few miles down the road, the wobble, shaking, and tracking of your RV can damage the interior.
It can even damage other tires that are forced to take on an imbalanced load, leading to another flat tire!
If you don't even have a safety doughnut, you'll need to call a tow truck or some type of roadside assistance service.
The delays here and the cost to do something like find and replace the RV's spare tire can be immense.
Especially when you compare them to the relatively low cost of purchasing and mounting one, or perhaps two full-size RV spare tires.
Do RVs Come with Spare Tires?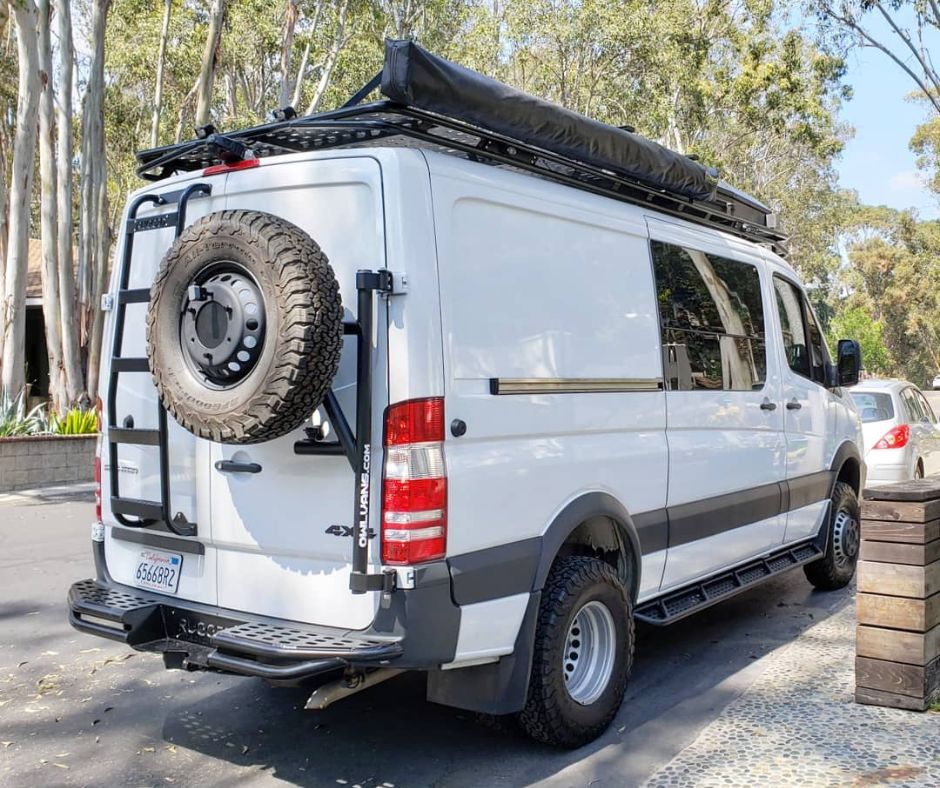 Some, but not all RVs come with a spare tire. Even the ones that do typically only come with one.
This can prove futile for a rig with multiple wheels, like a dual-axle travel trailer, when you drive over an errant piece of scrap metal in the road, causing multiple punctures.
Having at least two spare tires with a dual axle rig like this can at least help you limp to a safer location if you do accidentally drive over a sharp road obstacle.
Where You Gonna Store That Spare Tire in an RV?
There are different types of RV spare tire mounts to consider. The one that is best for your rig will depend on the type of RV, as well as the available amount of space your RV has.
An RV Spare Tire Hitch-Mount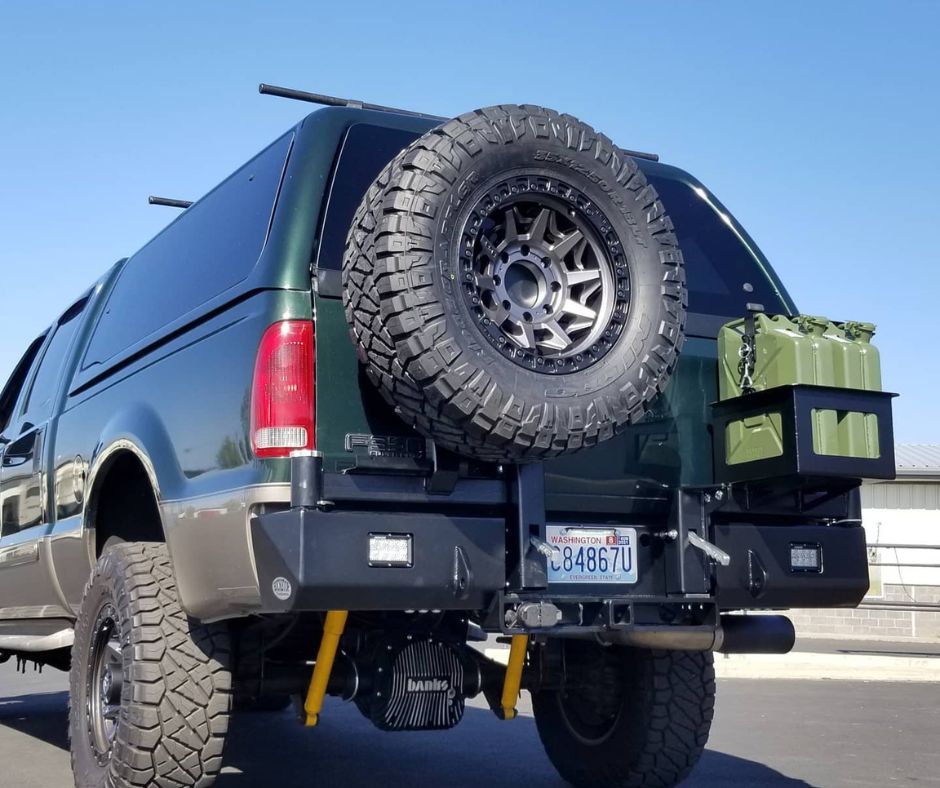 A hitch mount can be a good option for mounting an RV spare tire, so long as you have the available space.
This is a somewhat common mount for a travel trailer. Whereas you wouldn't use it for a fifth-wheel trailer with a gooseneck.
If you always tow a vehicle behind your motorhome, you might be able to put a hitch mount on a car dolly trailer.
Though there isn't going to be sufficient room in a flat-towing setup.
Bracket Mounts For A Spare Tire on Trailer
Some travel trailers have long stems on the tongue assembly. With these, an aftermarket bracket can be securely bolted onto the steel tubing or frame rails.
This typically doesn't require drilling any holes or making any alterations to the tongue structure or the travel trailer itself.
This tends to be a great way to add an extra tire to a travel trailer, pop-up camper, or teardrop trailer.
Especially if your model came with a single spare tire on the back or undercarriage.
Just make sure to take into account the space you will need to do things like crank the tongue jack, latch the tongue onto the hitch, and articulate the tongue jack.
Then applies the tolerance of these distances to the full diameter of the tire.
An Under Frame RV Tire Mount
Under-frame RV spare tire mounts help tosecure your spare tire while also optimizing your RV's functional storage.
The bolt directly to the underbelly or the undercarriage chassis of your RV.
Most have some type of built-in winch to help you access your tire. There are even a few models that have a slide-out frame.
If you do have, or opt for a static bolt-on undercarriage RV spare tire mount, you might want to make sure there is easy access to a tarp or a medium-size sheet of cardboard.
This lets you put something down under the RV to loosen the bolts, without soaking your shirt with whatever is on the roadside.
An underframe or undercarriage mount can be a great option for mounting an RV spare tire when you don't have available space on the front or back.
Just be mindful that it might reduce your effective ground clearance.
Ladder Mounts for an RV Spare Tire
Ladder mounts are also a handy option for bolting onto your RV's rear ladder. A lot of aftermarket models have hardware brackets that spare you having to pre-drill any holes.
Though they aren't ideal for heavy RV spare tires, which can place a lot of excess wear and tear on your ladder.
This can potentially crack fiberglass or pull fasteners out of aluminum sheets.
Ultimately, you want to limit ladder mounts to smaller RV spare tires. You shouldn't assume that just because your RV has a ladder at the back that it can hold one or more heavy tires.
Ideally, you should check your owner's manual to see if they list the weight tolerances for the rear access ladder.
RV Spare Tire Bumper Mounts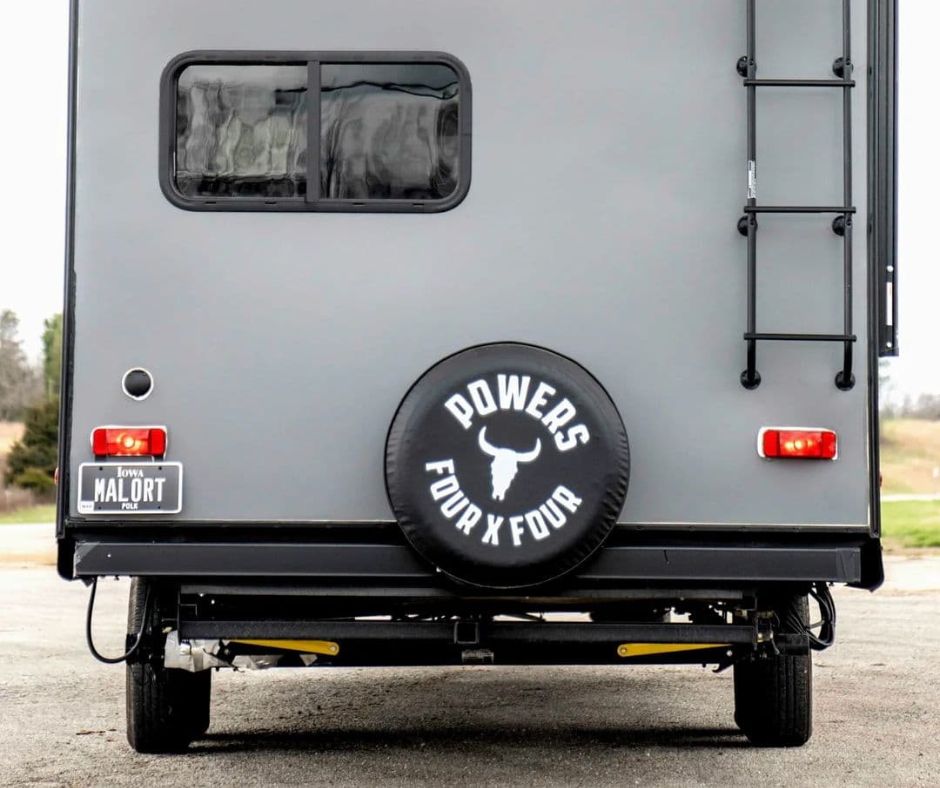 If your RV, trailer, or motorhome has a box-style bumper, there might be enough available space to install a spare tire mount.
They are relatively inexpensive, and they're easy to install. The best RV spare tire bumper mounts clamp on without needing to make structural changes to your RVs bumper.
A lot of these spare tire bumper mounts have a pull pin that allows your tire to swing down flat. This can be especially handy for travel trailers and fifth wheels.
Wall Mount & Storage Bay Spare Tire Mounts for an RV
In some toy haulers and RVs with large exterior-access storage compartments, wallmounts can come in handy.
This essentially puts the spare tire inside the RV, where it is protected from the elements.
It also reduces the visual impact of a spare tire on the exterior of your RV, which can be a matter of aesthetics with some models.
While wall and storage bay spare tire mounts are relatively inexpensive, they do require you to drill holes and make minor structural changes to the mounting area.
So, make sure you aren't mounting it into a wall or storage floor with any plumbing lines or wiring behind it.
Then also make sure there is enough structure to support the weight of a full-size RV tire.
Best Easy to Install RV Spare Tire Mounts
Now that you have a better understanding of the type of mounts available for different types of RVs, you can filter through some of the best easy-to-install options on this list.
Here are 6 best spare tire mounting options for your motorhomes, fifth wheels and travel trailers.
1: Qualward 732688079510 Steel Black Spare Tire Mount Bracket
The Qualward Spare Tire Mount Bracket is meant to bolt onto the tongue assembly or front framework of a travel trailer, pop-up camper, or teardrop trailer.
It can fit on trailer tongues up to 4″ wide and 5″ tall, and bolts into place, without you having to drill any holes or make any major changes to the structure of your trailer's tongue.
Best of all, it's designed to hold Max load up to 120 lbs. It is made from high-quality forged iron which gives it rigidity when you need it, and the versatility to mount just about anywhere on a long enough tongue frame.
Then it was given a powder-coated black paint finish to make it rust and corrosion resistant.
2: Fioracl FL-BYTJ02 Carrier Compatible Spare Tire Mount
The FioraclSpare Tire Bracket is compatible with 4 Lug X 4″ and 5 Lug X 4.25″/4.5"/4.75"/5, which makes it very versatile for a wide range of RV tires.
It's primarily meant to bolt directly onto a trailer side rail or tongue structure.
This makes it a better option for equipment trailers, tow-behind trailers, and towable RVs.
If you have a smaller towable RV like a teardrop trailer or a popup camper, you might be able to bolt the Fioracl Spare Tire Bracket onto the bumper as well.
This RV spare tire mount is designed to hold Max load up to 120-pounds and is made from high-quality forged iron.
It has a protective durable powder coat finish to resist rust and corrosion. The tire mounting plate features a double-but design that keeps lug nuts from loosening.
The spring-sheet lock of the carriage screw and bracket makes it easy to install.
3: Extreme Max 3005.3726 Heavy-Duty Spare Tire Carrier
The Extreme Max 3005.3726 was designed to fit most 4, 5, and 6 lug wheels up to 16.5-inches.
It features an easy bolt-on installation and will fit all trailer tongues 1.75″ to 3″ wide x 5″ high.
This makes it a great option for teardrop trailers and popup campers. It is made from galvanized, nickel-plated steel that gives it superior long-term rust protection.
It can also match a lot of exterior finish treatments. It is designed to hold a tire with 4.75″ of lift and 7″ of offset.
4: Adamoss AS-BYT Wall Mount Spare Tire Carrier
This Wall Mount spare tire carrier was originally designed for enclosed equipment trailers like you see contractors hauling to job sites.
However, it is just as handy as mounting in the wall of a toy hauler's cargo bay garage or on the floor of an exterior storage hatch.
It has a fixed plate that is 2.4 inches with a very secure bracket and is not easy to loosen and swing.
It was designed to be very convenient to replace the screws of different lengths, without having to remove the fixed wallboard.
It does a great job of holding the tire flush to the wall, while still giving you access to the fasteners when you need to make a quick change.
5: BAL 28217 Recessed Mount Hide-A-Spare Tire Storage
This specially-engineeredHide-a-Spare Tire Storage System makes it easy to tastefully disguise the mount for your bulky RV spare tire underneath your trailer and out of the way.
Best of all, it pulls out for easy access, which spares you from having to root around on the ground to get access to your RV's spare tire.
It is easy to mount and comes with self-tapping screws to let you securely mount the two plates to the frame.
Just make sure you get a good understanding of any wiring or plumbing lines in the area.
6: CURT 31006 Hitch Spare 2-inch Receiver Tire Mount
The CURT 31006 RV spare tire mount has slotted holes as well as a 24-inch height. This allows it to easily accommodate a wide range of tire and wheel sizes.
It's meant to fit a standard 2-inch sheathlike an industry-standard 2-inch x 2-inch trailer hitch receiver.
It also has a layer of stylish black powder coat to help provide superior rust & corrosion resistance.
Conclusion
When you stop to think about what could happen if you suffer a puncture or a flat on one or more of your RV's tires, it only makes sense to invest in a full-size spare.
Even if your RV comes with a pre-mounted spare tire. That way if you run over a sharp object on the road, like a long piece of scrap metal, you will at least have the spares you need to replace multiple flat tires in a matter of minutes.
As opposed to the potentially long hours it takes to get a roadside assistance spare.
You'll be happy to hear that there are a lot of options for mounting a spare tire on just about any RV.
If you are looking to attach an additional spare tire to the tongue structure or a narrow rear bumper, then the Fioraclor the Qualward might be the best mounting system to add a spare tire to your RV.
If you are looking to hide a spare tire in the underbelly or undercarriage beneath your RV, and you don't want to deal with the major hassle of crawling underneath to get the spare tire when you need it, then the BAL 28217 Hide-A-Spare Tire might be the ideal storage system for your RV's full-size spare.