You've come to the right place if you are an outdoor enthusiast, a nature lover, or someone just seeking an escape from the hustle and bustle of life. South Carolina is an excellent choice for camping owing to its diverse landscapes. From stunning coastal regions to thick forests and breathtaking mountain vistas, campgrounds in South Carolina are an adventurer's paradise. 
Picture yourself near a crackling campfire under the starlit sky, with the scent of pine trees and the sound of laughter shared with friends and family. I'll never forget my first camping experience in South Carolina, where I experienced nature's beauty and the joy of sitting around a campfire with friends. Camping in the heart of nature forges memories that last forever.
If you ever wonder which campgrounds offer the most breathtaking views, fun outdoor activities, or the coziest camping spots, I've got you covered. My list of top campgrounds includes the most famous destinations and the hidden gems off the beaten path that many have overlooked.
Moreover, I'll provide some insider tips, campground amenities, and nearby destinations to help you plan the best trip. So read till the end, and let's prepare for a remarkable journey together. 
Why Campgrounds In South Carolina?
Most campgrounds in South Carolina are near natural settings such as forests, lakes, rivers, or coastal areas.
This offers campers a chance to indulge in the beauty of the natural landscape.
Some standard features that you might find here are:
Campsites: These are designated areas where campers can set up a tent or park their RV. Campers also get a fire grill for cooking and tables for dining.
Restrooms and showers: Most campgrounds offer this facility. However, the quality of the experience varies from one campground to the other.
Campfire areas: Controlled fire pits or fire rings suitable for cooking and creating a cozy environment for socializing.
Trails and nature activities: Depending upon the location in South Carolina, campgrounds can offer hiking, bike paths, or water activities such as swimming, fishing, or kayaking.
Electrical hookups for RVs: Campgrounds in South Carolina offer electrical hookups that supply the RV and deliver home-like amenities in nature.
How I Made The List
My list of top campgrounds in South Carolina includes the campsites with better:
Amenities: You'll find basic amenities like WiFi, showers, and a fireplace in almost all the campsites. However, I have taken a step further and filtered out the campsites that will offer a blend of modern luxury while providing a touch of raw nature.
Room types/ RV sites: I prefer pull-thru RV sites, spacious enough to accommodate even the biggest trailers. The presence of concrete pads is a plus. As for the room types available in the campgrounds, the list contains options for smoking and non-smoking rooms to cater to everyone's needs.
Pet Policy: 66% of Americans own a pet, meaning every two out of three people have some furry friends. All of the campgrounds on the list allow pets. However, some may take an extra fee. 
Room features: After an exhausting day of exploring nature, you need a comfortable place to sleep. I have prioritized campsites that have better cabin reviews and provide you with a home-like feel. I counted on my experience as well.
Activities and recreation: I selected the campgrounds that offer a bunch of activities, from rail walking to biking, from sunbathing to fishing, and from playing tennis to mini-golf; everything is on the list. Embrace nature while fulfilling your hobbies.
Accessibility and nearby attractions: I chose campgrounds that are easily accessible and are nearby other tourist destinations. This will help you find the campground easily and give you a horizon of new options regarding exploration.
Reviews and recommendations: Everyone has different preferences, so I have listed the campgrounds with many positive reviews, indicating that they suit people of all habits and hobbies. There are two award winners on the list, so stay relaxed, as you will be in excellent and experienced hands.
Top 6 Campgrounds in South Carolina
I have filtered out the six best campgrounds in South Carolina that should top your list. Let's discuss them one by one:
Ocean Lakes Family Campground (Myrtle Beach, SC)
Imagine a six-time "RV Park of The Year" award winner campground at the South end of Myrtle Beach campgrounds, spread across 310 Acres. Yes, that's precisely what you'll find here at the Ocean Lakes Family Campground. It has 859 campsites, 641 of which have concrete pads. This ensures your RV remains clean and shiny even in rainy weather. 
There are 300 beach houses if you want a combination of nature's touch and a home-like feel. The site is large enough to accommodate a 40 feet trailer and the slideouts. Don't worry if you were thinking about having a tent. Those are welcome too.
You get all the essential amenities at your campsite rate, including 20, 30, and 50 amp electric hookups, water, sewer, 64-channel HD cable TV hookup, and Wi-Fi!
Each site has a convenient picnic table to enjoy outdoor meals with family and friends. Speaking of family, Ocean Lakes allows all family members to join in on the camping fun, including your beloved pets.
You can make the reservations 18 months in advance and even choose a specific site number to personalize your camping experience further. This campground offers the following:
Amenities: EV charging station, pool, restaurant, fitness classes, beach, children's playground, bicycle rental, free internet.
Room types: Ocean view, pool view, non-smoking rooms.
Nearby attractions: Buccaneer Bay Mini Golf, Spenzer's Sports Pub, Design On A Dime gift shop
Activities: Basketball, volleyball, arcade games, biking, mini golf, fishing, swimming, sunbathing
Awards: Six times "RV Park of the Year" award winner.
Point South / Yemassee KOA (Southern SC):
This campground is in the heart of the historic Lowcountry in Southern South Carolina. As you stroll through the lush grounds and gardens, you'll see statues at every turn, making it unique amongst the other Myrtle Beach campgrounds. 
A great thing about this campground is the excellent coffee bar, which offers freshly brewed coffees from a local Charleston roaster. If you're a wine and craft beer fan, you're in for a treat with daily wine flights from six regional wineries providing classic reds and whites. Moreover, there are locally brewed beers that you can enjoy directly from the keg through a tap system.
Families can play life-size chess, Jenga, and cornhole, whereas kids can enjoy gem mining. There's a large pool as well for you to cool off. Don't miss the English phone booth, Kamp K9, or the dog park. As you stroll along the walking path, you'll see Charleston lamps, benches, and storyboards, adding to the unique atmosphere.
Don't worry about the accommodation, as you'll have various options, from shaded sites for your RV to cabins and lodges. And on top of that, you'll get free WiFi and access to 62 cable channels. You can easily explore nearby places like Beaufort, Charleston, Savannah, Hilton Head, and even Orlando, just six hours away. At this campground, you'll find the following:
Amenities: Free parking, pool, children's playground, free high-speed WiFi, bar, lounge, convenience store, pets allowed.
Room features: Additional bathroom, laptop safe, kitchenware, walk-in shower, dining area, coffee/tea maker, cable/ satellite tv, and complimentary toiletries.
Room types: Non-smoking rooms
Awards: Trip Advisor's top award (8 times), Luxe Magazine Tourism and Travel award, Business of the Year from Jasper County in 2021, KOA Campground of the Year 2016, Best of the Low Country 2022.
WillowTree RV Resort
I accidentally stumbled upon this hidden gem while wandering 12 miles inland. This campground is a true oasis, offering the perfect blend of relaxation and adventure.
The best part about Willow Tree is its incredible location, minutes from the beach and miles from the masses. Within minutes, you will be basking in the sun at the beach, enjoying the salty breeze and the sound of crashing waves. And if the explorer in you wakes up, the Grand Strand area with its Cherry Grove fishing pier, Myrtle Beach, Calabash, and Sunset Beach are just a short drive away.
You can also explore the local shops, try various restaurants, and enjoy the vibrant entertainment and attractions. The campsites are fully paved, the lawns are spacious, and the charcoal grills, fire rings, and picnic tables add to the overall appeal.
The campground also offers free WiFi, which helps you stay connected, enjoy movies or even work remotely. There are various activities to keep you busy throughout the day and cozy RVs and lodges to enjoy sound sleep amidst nature at night. This is an excellent option if you are looking for a Myrtle Beach RV Resort. This resort will keep you engaged thanks to the following:  
Amenities: Free parking, pool, canoeing, game room, fitness center, free high-speed wifi, water park, pets allowed, banquet room, picnic area, conference facilities, hot tub, sun loungers/ beach chairs.
Room features: Air conditioning, microwave, refrigerator.
Nearby attractions: Stateline movie time drive-in.
Myrtle Beach Campground (Myrtle Beach, SC)
Myrtle Beach State Park is the crown Jewel of camping in South Carolina. The state park is situated along the Grand Strand coastline and is an absolute paradise for nature lovers like you and me. No wonder it makes it to my list! There is a mile-long coastline where you can sunbathe, swim or catch some trout. The Myrtle beach campground is just a stroll away from the beach and offers various activities and amenities.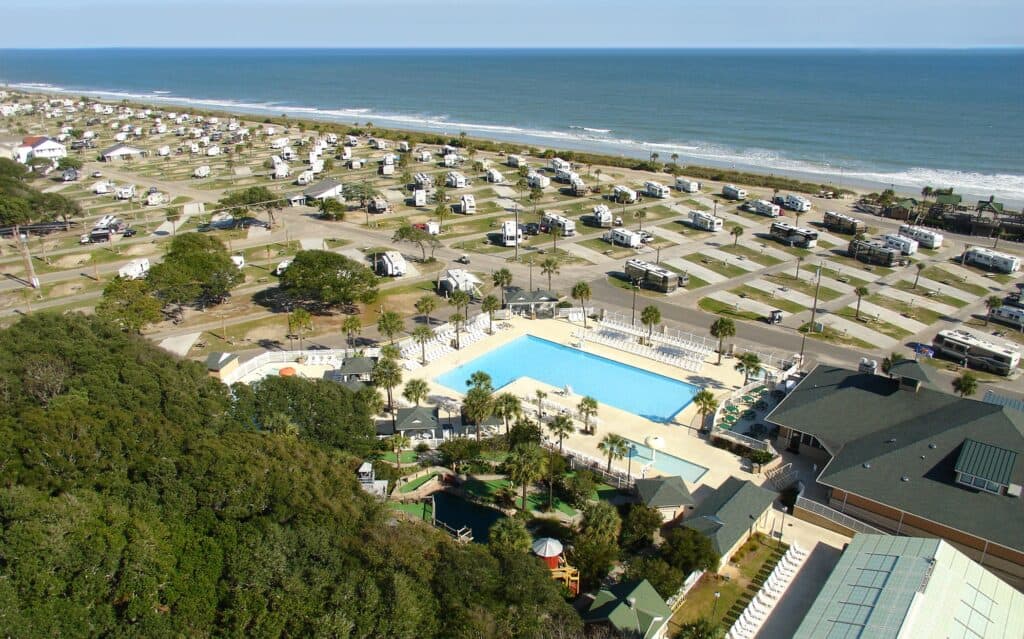 This Myrtle Beach RV Resort offers 296 camping spots with tents, cabins, or RV sites. Imagine waking up to the sound of ocean waves and taking a stroll on the scenic beach a few steps away from your campsite.
There are electric hookups for RVs, so you can power all the appliances in your RV and have a home-like comfortable experience while enjoying nature. This is a perfect spot if you're a group of four people, as each site can accommodate up to four guests. However, there is no wheelchair access. 
Here's a brief overview of what you can expect at this campground:
Essentials: Campfires and pets allowed, toilet available
Amenities: Portable water, showers, and picnic tables.
Activities: Biking, fishing, hiking, horse riding, surfing, swimming, wildlife watching
Campground Terrain: Combination of beach and forest.
Hilton Head Island Motorcoach Resort 
Abbreviated HHIR, this resort is located at 200 Squire Pop Road, Hilton Head Island. You'll get full hookups to your RVs, meaning you get water, sewer, electric, and cable TV connections here.  
You also get access to high-speed WiFi, which makes sharing your adventures with friends or family much easier. Laundry facilities ensure that you wear fresh clothes each day if you desire, and you can jump straight into the pool or a hot tub when you feel like taking them off.  
The HHIR ensures that every individual has a great time RVing there. Kids will love the playground, and you can enjoy games and entertainment in the clubhouse game room. The tennis courts are all yours if you're up for physical activity. The resort also offers walking trails, so you can take a jolly walk or ride a bike.
This Hilton Head RV Resort also allows pets so that you can enjoy the company of your furry friends. However, you might need to pay a fee, so communicate with the authorities. The free shuttle service will also escort you to the nearby beaches and shopping areas, so you can enjoy without worrying about transportation. 
Imagine spending your days lounging by the pool, having fun at the playground, and taking evening strolls on the walking trails. A tennis court is always available to get you pumped up. And when you want to explore, call the free shuttle service. The campground provides the following: 
Amenities: Free parking, pool, game room, fitness center, free high-speed WiFi, pets allowed, banquet room, outdoor pool.
Hotel style: Family.
Nearby attractions: The Silver Garden Gallery, Louette Boutique, Wine & Cheese, If You Please?
Yogi Bear's Jellystone Park: Daddy Joe's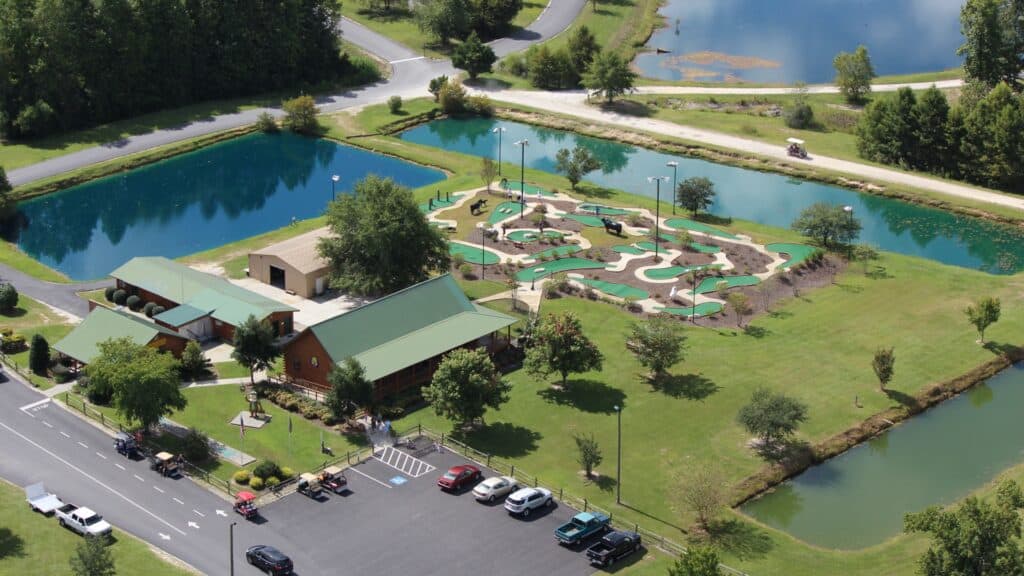 This campsite was previously named Daddy Joe's, but now it's a fantastic RV camp resort where you can have fun with your family and furry friends. It's a perfect spot for relaxing and doing fun-filled activities, and it's located midway between Myrtle Beach in South Carolina and Wilmington in North Carolina. 
You can enjoy fishing, hiking, or outdoor and indoor sports while in the company of nature's beautiful landscapes. They also add a sprinkle of the latest tech and provide fast WiFi for connectivity, cozy cabins for non-RVers, and activities that cater to everyone's personal preference.
The resort has plenty of RV sites with concrete pads. They provide full hookups to your RVs: water, sewer, electric, and cable TV connections. Accommodating your RV won't be a problem as the RV spots are spacious. You can opt for a cabin if you do not have an RV. Each can accommodate up to 6 people and has all the basic amenities.
And if you ever feel bored in the campsite, there are many nearby attractions in Myrtle Beach and Wilmington. This North Myrtle Beach RV Resort is in the perfect spot between all the good stuff in North and South Carolina! You won't get bored due to the: 
Amenities: Free parking, mini-golf, WiFi, pool, outdoor dining area, board games, fishing, ATM on site, clothes drier, pets allowed, indoor pool, heated pool, snack bar, water slide, coffee shop, water park, outdoor fireplace, picnic area.
Room features: Air conditioning, seating area, sofa, clothes rack, coffee/tea maker, kitchenette, cable/satellite tv, flatscreen TV, private bathrooms, microwave, refrigerator, stovetop, and kitchenware.
Room types: Non-smoking and smoking rooms.
How To Get The Best Camping Experience?
As an experienced camper, I've learned a lot from my camping experience in South Carolina. Here are five tips to ensure you have the best time with your friends and family in the state.
Plan And Make Reservations
There are a lot of nature lovers, just like you are. Everyone wants to book a spot at the top campgrounds in South Carolina. Consequently, the place can get crowded and overbooked during peak holidays. You can get your desired campsite and avoid disappointment by booking a spot early. 
Pack Smart And Light
I can not emphasize this enough. Make a checklist of the must-have gear, including tents, sleeping bags, camping stoves, and appropriate clothing, keeping the weather forecast in mind. The checklist reduces to clothes only if you are in an RV. Keeping the luggage light will allow you to explore, enjoy nature more, and worry less about your gear.
Embrace Nature And Respect It 
Always follow the Leave No Trace Principle- pick up your trash, avoid damaging the greenery, and follow marked trails only. South Carolina has the best natural landscapes, and we must protect them.
Be Prepared For Unpredictable Weather 
The weather in South Carolina can take you by surprise. Pack your rain gear and appropriate clothes even if the forecast looks clear. The nights can get chilly, so watch out for that too.
Engage In Outdoor Activities And Socialize 
Don't miss hiking through lush forests, swimming in crystal-clear rivers, or kayaking along the beautiful coastline. You will find a lot of like-minded individuals. Talk with them, share your past adventure experiences, or enjoy the cozy campfire atmosphere. In short- don't miss out on any opportunity of making a memory!
Conclusion
Camping or RVing is a great idea to spend quality time with your family and forge great memories. Campgrounds are special areas, mainly near scenic locations where people can set up tents or RVs and enjoy nature while camping. Just pack light, look out for the weather, enjoy all the activities, and socialize with fellow campers.
From the award winner Ocean Lake Family Campground in the heart of Myrtle Beach to the Yogi Bear's Jellystone Park lying between all the goodies of North and South Carolina, a campground is waiting for each of you. Just don't forget to make your reservations in time!
FAQs
What are the top-rated campgrounds in South Carolina?
Myrtle Beach in South Carolina is home to many top-rated, award-winning campgrounds. Top-rated ones include Ocean Lake Family Campground, Point South, Solitude Pointe Cabin and RVs, Pine Ridge Campground, and Willow Tree RV Resort.
How much does it cost to camp at a campground in South Carolina?
The cost of staying in a campground depends upon the season and the campground you're staying at. On average, a camping site costs around $15-35, and an RV site (depending on whether it's pull-thru, back-in, or RV overflow) can cost between $35-70. The rates might be higher around the holiday season, so calling or visiting the campground's website for more precise and up-to-date info is better. 
Are there any pet-friendly campgrounds in South Carolina?
Two-thirds of Americans own a pet, and almost all campgrounds in South Carolina allow one. Some specific examples include Ocean Lake Family Campground, Blue Willow RV Resort, Point South, Myrtle Beach Campground, and Hilton Head Island Motorcoach Resort.
What amenities are available at campgrounds in South Carolina?
At the campgrounds in South Carolina, you'll have access to WiFi, TV, laundry, a coffee maker, indoor and outdoor showers, hot tubs, air-conditioners, a game room, a fitness center, free parking, and an outdoor pool.