Some of the most exciting places to take your RV could take several days of traveling.
If you're planning on stretching out your adventure by taking your RV hours away from home, you may need to find a place to rest your head on the way to your next campground.
Truck stops and rest areas can offer refuge in the middle of the drive, but several states don't allow you to sleep in these areas.
If you can't find a typical dispersed camping spot to park during your trip, Cracker Barrel is one of the best places to legally park an RV overnight for free, with the added bonus of eggs and toast in the morning.
While Lot docking at Cracker Barrel, aka #Crackerdocking, is a great way to stay safe and save money but that doesn't mean you can simply show up and set up camp overnight at these stores.
Like any private business, there are many rules for overnight RV parking at a Cracker Barrel, and each location is different.
Want to make sure you're going to follow the rules and get a good night's sleep? Follow along to this guide to learn the good and bad sides of parking your RV overnight at a Cracker Barrel and understand the best ways to show the franchise your appreciation for the free place to rest.
Yes! You Can Park Overnight at Cracker Barrel
Good News! A large majority of Cracker Barrel allows overnight RV parking, no questions asked. The franchise has gone out of its way to welcome RVers into their parking lots by adding designated RV spaces and trash cans to make us feel a bit more at home.
Southern hospitality has made this old country store into a nationwide hit for family-style meals, and the company has extended that hospitality to van lifers.
Countless weary nights have been saved by pulling into a convenient Cracker Barrel location and stretching out for a spell.
There is a proper way to take advantage of these locations. While you can probably get away with driving in late and leaving early, if every RVer who parked at Cracker Barrel ignored the unwritten rules of sleeping on someone else's property, the restaurant would quickly have to change its protocol.
No matter where we're camping, boondockers have a responsibility to show the land respect to guarantee the spot is available for RVers of the next generation.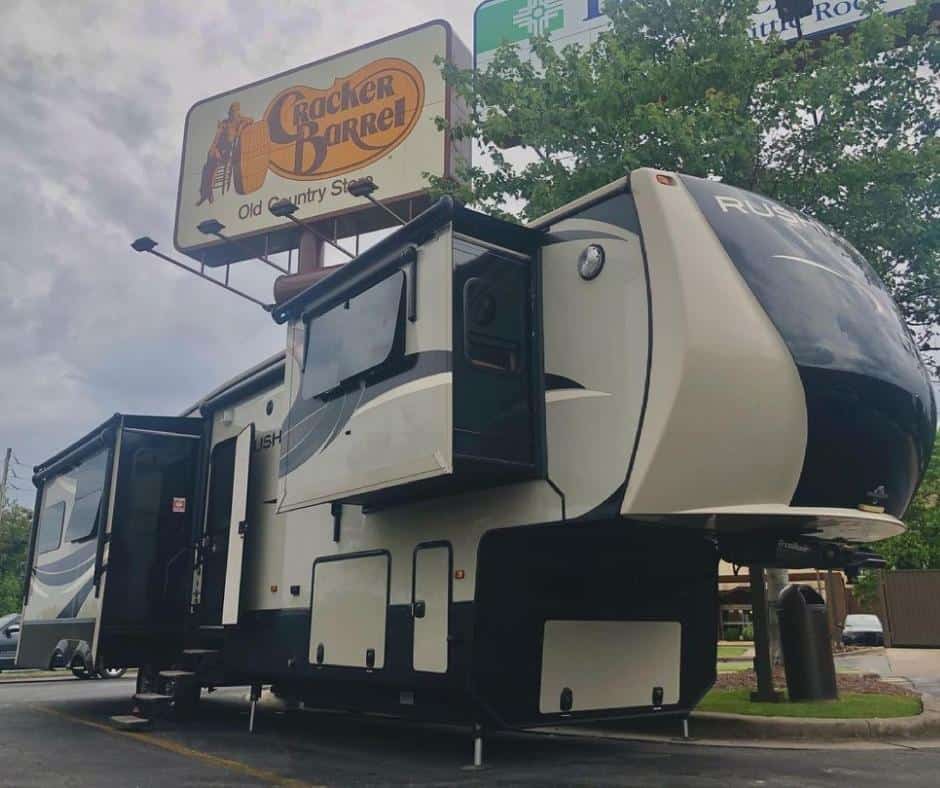 Cracker Barrel Camping Basics
Cracker Barrel Camping has a few perks compared to other urban camping areas. The restaurant closes at night, unlike other overnight parking favorites like Walmart.
This means that past 10 PM, you should find plenty of peace and quiet for a good night's sleep.
The only traffic you should expect to break up that peace would be an occasional early morning garage truck or the prep cooks heading in to start getting breakfast ready.
The restaurant opens up at 7 AM, but you are not required to leave at any time in the morning.
As long as you stay respectful of the location, Cracker Barrel camping can be an incredibly comfortable urban camping option.
There is a simple process to follow to park at Cracker Barrel respectfully.
The stores are set up across the country to be close to interstates, and any Cracker Barrel that accepts overnight parking will have designated RV spaces that will make your stay a bit easier.
Check out these tips to guarantee the Cracker Barrel along your route is ready for you.
How To Know Which Cracker Barrels Allows Overnight RV parking
Use a website like Ioverlander or Allstays to find cracker barrel's along your route where you can legally "park overnight" at.
These websites rely on user input, so if anyone has ever used a cracker barrel for shelter and written about it, you can hear their review.
You can also head to google maps and switch over to satellite view when looking at any prospective Cracker Barrel locations.
The telltale RV parking spots will be easy enough to see as they are twice as big as standard parking spaces.
Ask Before You Park
Once you have a target location in mind, give them a call. Store managers or employees will be happy to answer any questions you have about your night ahead and fill you in on the particular rules of their location.
Each location is different, so talking to employees is the only way to be sure your good to go.
Even though it is Cracker Barrel's company policy to open up their parking lots to RVers, some businesses located in cities or towns with rules against overnight parking may have to refuse visitors.
To be sure you don't receive unwanted attention at the location of your choosing; It's always a good idea to call ahead and communicate your intentions rather than show up without saying anything and hoping for the best.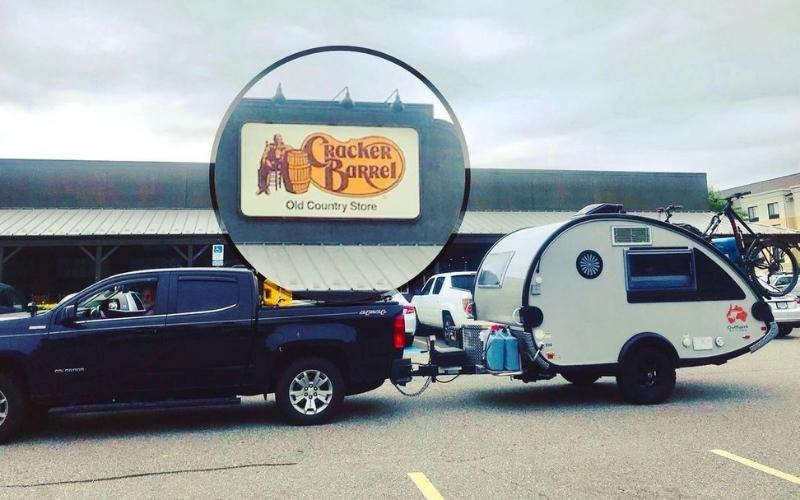 Rules and Etiquette for Overnight RV Parking And Camping At Cracker Barrel
Once you've confirmed the Cracker Barrel on your route accepts overnight visitors, you can confidently shift your vehicle into park and relax for the night ahead.
These do's and don'ts of Cracker Barrel Parking are essential tips to keep in mind while you unwind, so you don't take advantage of Cracker Barrel's hospitality.
1: Don't Block Important Areas
You may be showing up after the restaurant is closed for the night, but there will always be some prepping to do for the next day, and food deliveries can come in at all hours of the night.
An effortless way to ensure you're not in anyone's practice is to use the designated RV spaces provided by the restaurant.
2: Don't Set Up Camp
There is a reason we say overnight parking at Cracker Barrel and not Overnight Camping.
You should not treat your time in Cracker Barrel as if you are in the great outdoors. That means no setting up your awning and outside tables and absolutely no fires.
Ideally, when you park at Cracker Barrel for the night, you should be prepared to move your vehicle as soon as you're awake and moving.
3: Do Communicate
When in doubt, just ask. From the moment you pick your preferred location, you should be on the phone talking to the local store to make sure they expect you, and there will be no problems with your stay.
Take your communication a step further by asking the manager if there is anything you should be aware of or anything you can do to make their lives easier while parked on their property.
4: Do Support the Business
An easy way to say thank you to your Cracker Barrel hosts is by ordering a hot breakfast in the morning.
No franchise will require anyone who spends the night to eat there in the morning, but grabbing some bacon or a coffee goes a long way towards making store owners feel good about allowing RVers to park overnight.
Even if you're not feeling hungry, Cracker Barrels has extensive general stores, where you can find everything you'd expect to find out of a typical gas station with a classic southern twist.
You'll have to eat eventually, anyway, so you might as well support your hosts.
5: Don't Cook Outside
Although Cracker Barrels have welcomed RVer's, they don't want RV's to attract any unwanted attention to themselves.
Cooking outside or starting a fire is an easy way for the manager to be forced to ask you to leave.
Parking and immediately lighting up a fire or propane grills are not allowed in these parking areas.
Consider yourself a guest of these establishments when parking on their property and keep the noise and commotion to a minimum.
6: Do Stay Close To The Interstate
Since not every Cracker Barrel franchise country-wide allows overnight parking, the safest way to ensure your stop is allowed is by sticking to Cracker Barrels that are right of the interstate.
The franchise has made an effort to keep their businesses close to highways, but some locations will be further off your route.
Not only is it less convenient to have to travel out of your way to find your Cracker Barrel, the farther away the restaurant is from the highway, the less real estate it is likely to cover, which means there may not be space in the parking lot for big rigs.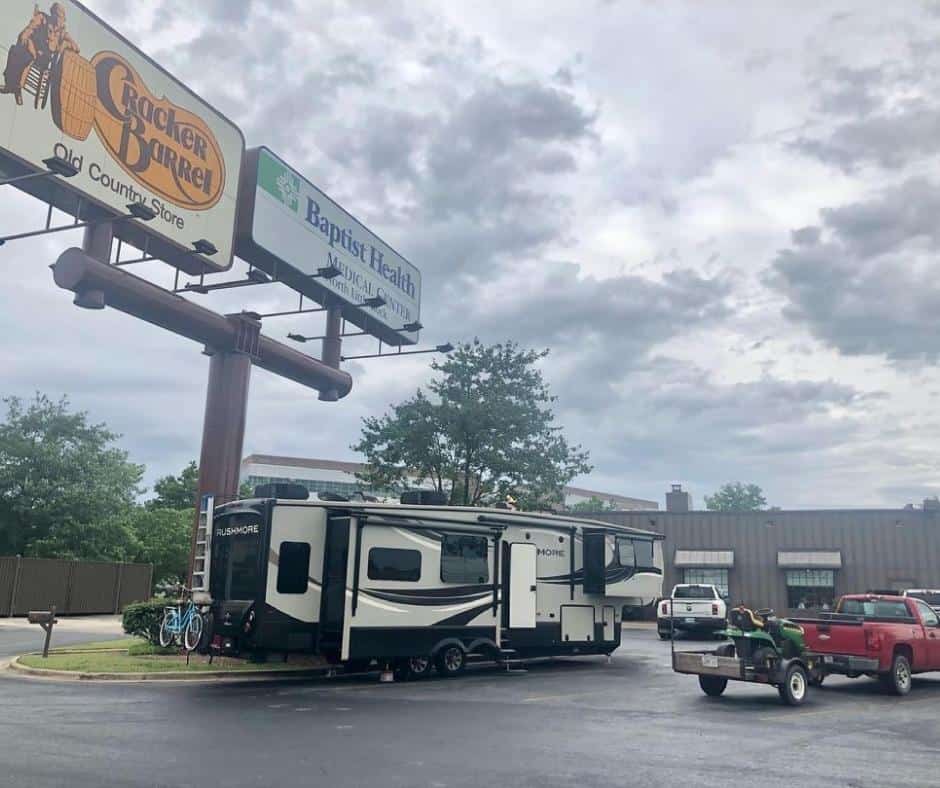 Is Free Overnight RV Parking At Cracker Barrel Safe
Safety always has to come first. All the convenience in the world doesn't matter if you're too nervous to keep your eyes closed when it comes time to fall asleep.
Overnight parking and camping at Cracker Barrel is safer than most urban camping options. The stores are not open 24/7, which means you won't wake up with fright every time a car pulls in and out of the lot.
The corporation has taken safety into consideration when deciding to allow RVers on the property and generally keep their RV-specific parking spaces behind the restaurant where there is less foot traffic.
The stores are also rarely a part of larger complexes, which means their parking lots are private property.
You shouldn't expect anyone but a few managers and delivery trucks outside of store hours.
These factors combine to make Cracker Barrel just about as safe as you can get when overnight parking your RV outside of a campground.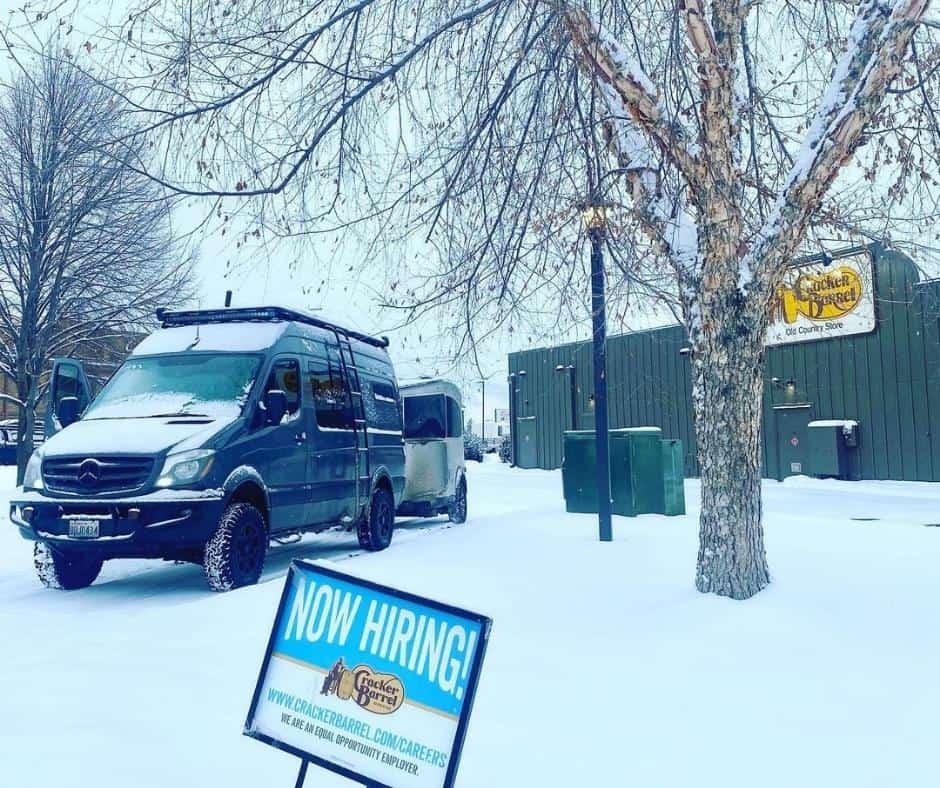 How Long Can An RV Park In A Cracker Barrel?
Although there is no official time limit for parking your RV at a Cracker Barrel, it is generally accepted that you should move along after 12 hours.
If you really need to stay for longer than that, be proactive and speak to the store manager before you set up shop, which may save everyone from an uncomfortable conversation when the store owner decides it's time for you to head out.
Comfort Food meets A Comfortable Night Sleep
Nobody buys an RV dreaming about sleeping in parking lots, but trust us – it is bound to happen eventually as you move across the country.
Even the best-laid plans are prone to flat tires, and you may not always be able to find a perfect solution.
Cracker Barrel locations provide a safe place to spend the night, and their extensive menu can fill every belly in your camper once the sun comes up.
Keep the company in mind when mapping out your route and checking for an emergency place to stop and rest.
While there may be plenty of more scenic places to sleep, not many campgrounds across the country will get you closer to a delicious meal than overnight parking at a Cracker Barrel.