So is this an RV park or a mobile home community?! Have you ever wondered how those permanent-looking mobile homes got the best spots in the park?
I've had these kinds of discussions with several travel partners. A park model RV looks more like a single-wide or double-wide mobile but functions more like a tiny home or a destination trailer. Yet, they are distinct from the two.
In most states, park models enjoy RV designation for the purposes of registration and taxation.
This is because they remain more mobile than a permanent residence and are designed for temporary, seasonal use.
Today, we are going to dive into the pros and cons of park model trailers so you can understand them and decide if they are right for your lifestyle or not.
What Is A Park Model RV?
A park model RV (PMRV) is a towable unit that can be used as temporary living quarters, for seasonal camping, or as a home base for extended stays in a single destination. These units are typically built on a single-wide trailer chassis and then mounted on a set of tires.
Most PMRVs cannot exceed a maximum size of 400 square feet and must comply with the Park Model Recreational Vehicle Standard A119.5 set forth by the American National Standards Institute (ANSI).
If a PMRV has truly been built by a manufacturer that has adhered to this standard, it will bear a blue and gold seal from the Recreational Vehicle Industry Association (RVIA).
While they sometimes appear similar to all the trendy "tiny homes" out there these days, park model trailers are built to a higher standard.
Tiny homes, on the other hand, tend to follow looser regulations, if they do follow any at all.
Upon initial construction, you will not find any of the regular appliances, utilities, or fixtures inside a park model mobile home.
These will not be added until it is relocated to its temporary living location, which includes hooking up to local city water and waste disposal services.
Park model RVs are typically used for temporary living, but they can also be used as permanent residences. However, It is not recommended that you live in a park model during cold months in the north.
For folks that have recently purchased a new property, a park model mobile home can provide a comfortable living space while you build the home of your dreams.
In some cases, the RV park or campground owner will purchase the PMRV, park it on one of their sites, and then rent it out to guests.
In other cases, an individual may purchase a PMRV and negotiate a seasonal rental agreement for a campsite with a park owner.
What is the Difference Between a Traditional RV and a Park Model?
A park model is designed for long-term stays while traditional RVs are meant for shorter stays and easier towing.
Traditional RVs are more mobile than park model mobile homes, but park models offer more interior living space and residential-style amenities inside.
Destination Trailers vs Park Model RVs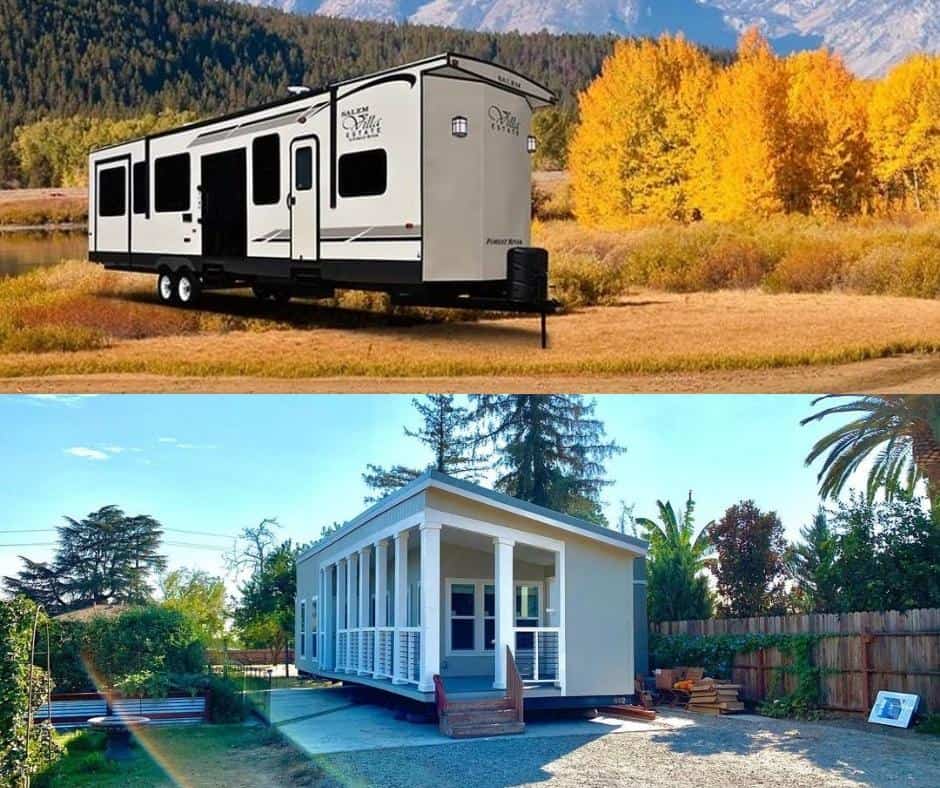 If you begin your search for a park model, you may also come across something known as a destination trailer.
Like PMRVs, destination trailers are designed more for long stays in one place than they are for long, continuous road trips.
Weighing in at an average weight of about 10,000 pounds, destination trailers also requires large one-ton or dually truck to move, which is similar (but not quite as intense) as the commercial trucks used to relocate park models.
A destination trailer is a fully self-contained unit that can rely on its internal holding tanks for freshwater and waste disposal or be hooked up to water, sewer, and electricity at a campground.
The main difference between destination trailers and park models is that the latter must be connected to city water and a septic system once they are parked.
Park model trailers don't include their own internal holding tanks for water and sewage.
In addition, most destination trailers rely on a retractable awning to supply shade over an outdoor lounge area.
Park models, on the other hand, usually include some sort of covered deck or patio. Some of the nicer models are even built with carports.
Another difference between destination trailers and park model rigs is the setup process.
Once a park model arrives at its destination, the hitch assembly and wheels are usually removed. From there, a skirt is typically installed to hide the chassis that it sits on.
If you were to see a destination trailer side by side with a traditional trailer in an RV park, you may not be able to tell the difference.
This is because their size and setup are comparable to most travel trailers and some fifth wheels.
When compared to standard travel trailers, destination models are usually taller to provide a more open, homey feel inside.
They also tend to include luxury features that you won't find on standard trailers, such as sliding glass doors or floor-to-ceiling front windows.
Benefits of a Park Model RV
Park model mobile homes may not be perfect for everyone, but they do serve very specific purposes. Let's cover a brief overview of the benefit of a PMRV:
Park Model RVs Are Affordable
Park model recreational vehicles are surprisingly affordable when compared to some of the luxury rigs that folks are using for full-time RVing these days.
And if you are just looking into one to put on a lot permanently, they are way cheaper than building a permanent residence.
While many people boast of their ability to build tiny homes for less than $20,000, a park model RV is not a tiny home.
These Park models can range from about $35,000 at the low end to roughly $70,000 at the upper end.
They Can Be Customized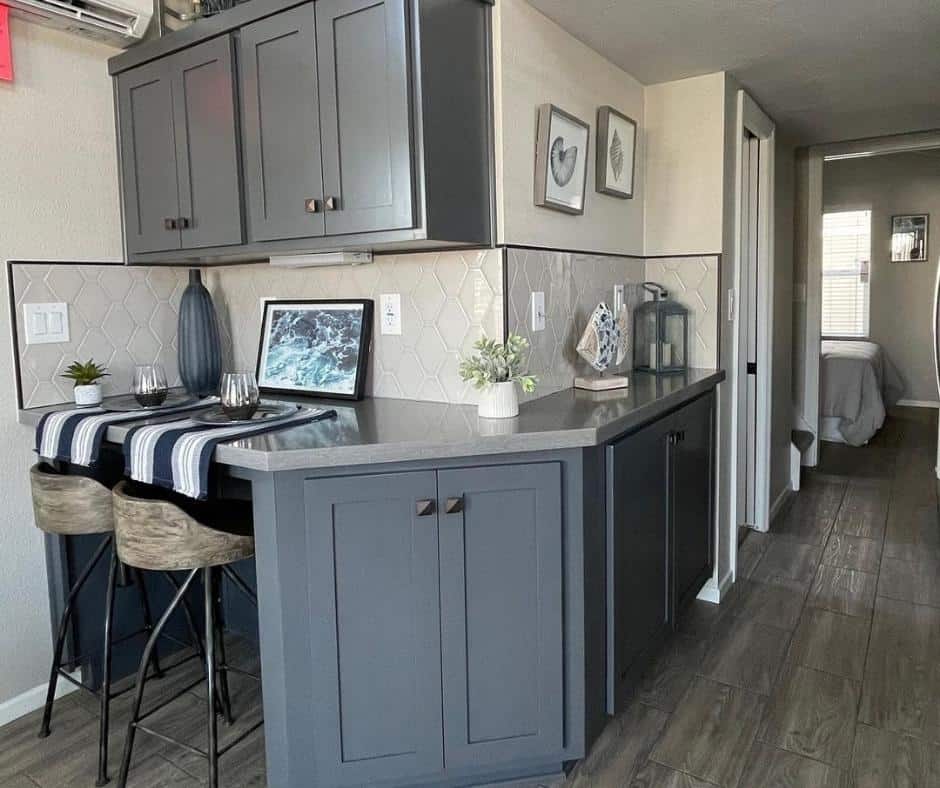 Customization is the name of the game if you are looking into companies that manufacture park model homes.
You will have creative control over the final product so you can design your ideal beach getaway, rustic mountain cabin, or retirement cottage.
This allows you to focus on features and design elements that are best for the location and climate where your PMRV will be sited.
Add insulation and a more powerful central furnace, for example, for warmer climates or bolster the air conditioning and ventilation if you will put your rig in a hot and humid locale.
They Provide More Living Space
At first glance, 400 square feet might not sound like much. But you need to consider the actual interior square footage of the largest class A RVs out there.
While 50-foot RVs are rare, we will use this as a metric to consider the interior square footage of an extremely large rig.
Because RVs are typically no more than about eight feet wide (you have to fit inside the line on the highway after all), their total square footage is somewhat limited.
A 50-foot RV, for example, with an eight-foot width would measure exactly 400 square feet.
This is equal to the maximum allowable square footage for PMRVs. But with a 50-foot RV, the first 8-10 feet is the cockpit with the captain's and passenger's chairs.
Once you are parked on a site, this space rarely converts into a livable area, which really makes the usable square footage of a 50-foot RV closer to 320 square feet.
With PMRVs, however, you don't have to account for the cockpit when factoring in your trailer's total square footage.
Overall, this translates to more usable living space once you have your trailer parked on a site.
Drawbacks of a Park Model RV
Of course, there are pros and cons to every different type of RV and travel trailer out there.
So we would be negligent if we didn't take some time to mention the drawbacks of park model mobile homes as well.
You Need To Plan Your Moves Further in Advance
One of the best parts about RV living is the ability to break camp in under an hour and get on the road towards a new destination.
Moving a park model camper, on the other hand, is usually a full-day or multi-day process.
Because of their larger size, they are also unrealistic options for boondocking or dry camping.
You also probably won't get away with pulling up and sleeping in your PMRV in a Wal-Mart or Cabela's parking lot.
You will need a dedicated site to pull your rig onto and level it out before you can climb inside and set it up for daily living again.
That means you will often have to look ahead several months (or even years) at a time to make sure you have a place to park when you arrive at your next destination.
Because park models can be wider than the maximum 8'6" allowable width for RVs and camping trailers, they sometimes require a special permit and a commercial transit company to relocate.
This means you will have to incur extra moving costs and also requires you to obtain permits and schedule transit further in advance.
They Require A Large Truck to Haul Safely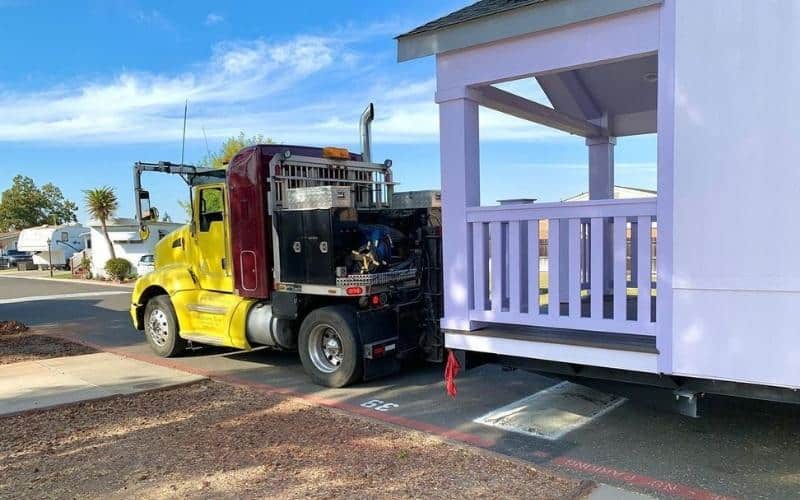 Because of their larger size, these rigs often require a properly equipped commercial truck in order to haul them safely.
Many PMRVs can easily weigh up to 20,000 or 30,000 pounds before any of your belongings are loaded in.
This kind of weight is not safe to tow with most personal trucks. That is precisely why commercial movers specialize in relocating park model mobile homes when their owners decide on fresh surroundings.
If you have experience driving a commercial truck, it may be possible to obtain a trip permit and move your mobile home yourself, but the best choice is to trust the relocation of your beloved PMRV to the professionals.
Relocating Can Be A Lot of Work
While PMRVs are still designed for seasonal living, they are made for folks that plan to stay for several months at a time in one place.
This is a stark contrast from RVers that spend a few days or, at most, a few weeks in one spot.
As we mentioned early, none of the fixtures, appliances, and utilities are installed in a fabricated PMRV until it has reached its destination.
The reason this is the case is to avoid damage to more sensitive parts that aren't necessarily made to handle road vibrations.
This means that most owners of these RVs have to undergo quite the breakdown and pack-up process every time they relocate their rig.
Everything must be secured in closed and latched drawers and insulated with towels or another type of padding.
Some people even remove all of their sensitive appliances and then install them again when they reach a new destination.
While it is not quite like moving your entire life out of a 2,000 square foot residence, it is still a lot more work than relocating a traditional RV.
Is a Park Model RV For You?
There are many different situations for which a park model would serve you best. They are commonly used by:
According to the RV Industry Association, more than two-thirds of park model owners park their rigs within just a few hours of their primary residence.
So you can see that, while these rigs can serve you in many ways, they aren't necessarily made for touring all over America or even relocating over long distances.
Conclusion
If you are considering a park model camping trailer for your next temporary living situation, we hope that our guide has helped you learn more about these unique RVs.
They certainly fit a very niche market, but they can be perfect for seasonal workers or families between permanent residences.
For those of you that had never heard of a PMRV before this guide, add it to your options for future camping trips or periods of extended seasonal living.
As always, we hope we have increased your RVing Know How and provided some useful tips for your future RV endeavors!