Sitting around a campfire is one of the best things about camping. There's just something nostalgic and primal about staring at a campfire and sharing adventure stories.
But there's also nothing worse than burn bans stopping you from lighting a campfire when you reach your destination.
Fire danger is no joke, and we don't mean to downplay the importance of being responsible when you build a campfire.
But if you're prepared with a portable propane fire pit, you won't have to worry about local fire restrictions (or buying firewood before you get your RV set up!).
The benefit of a portable fire pit is that it allows you to enjoy the warmth and ambiance of a fire with much less effort.
And you'll still be able to enjoy an outdoor fire at campgrounds where wood fires are banned or temporarily restricted.
But you'll need to be smart when it comes to choosing a portable propane fire pit for RV camping. You'll want a unit that's efficient, warm, and compact enough to fit under your recreational vehicle.
So, If you need help choosing a portable campfire pit that matches your needs and your outdoor space, you've come to the right place.
In this guide, we'll teach you how to choose and use portable gas-powered pit to make the most out of your campfire.
The Benefits of a Portable Fire Pit For Camping
In addition to the ability to have a fire anywhere (regardless of whether or not there's a fire ring there for you to use), there are several other gas fire pit benefits you should be aware of.
It's Super Easy
While we believe that everyone should know how to start a traditional campfire with minimal effort, it's hard to argue against the ease and convenience of these portable fire pits.
They require very little work to get started and then you don't have to worry about stoking the fire every few minutes like you would with a regular campfire.
It's Clean
No ash, no soot, no mess at all! Portable propane fire pits allow you to enjoy all of the warmth, ambiance, and comfort of a campfire without any of the mess.
Plus, there won't be any sparks to put a hole in that new down jacket that you just bought.
No Lingering Campfire Smell
Some people love smelling like a campfire for a few days after a camping trip. Others don't.
If you fall into the latter category, you'll love these portable fire pits because they won't leave your clothes smelling like smoke for days until you can wash them.
Flame Control
Portable fire pits also give you the added ability to control the level of the flame depending on the temperature outside.
Turn it up on cold nights and use it simply for the visual effect on warmer evenings.
The ability to control the flame will also allow you to reduce the consumption of propane you use to run your pit.
And, unlike a traditional fire that you'll have to wait for a while to effectively put out, you'll be able to turn these fire pits off instantly with the turn of a dial or two.
Location Flexibility
Sometimes you'll pull into the site you've had reserved for months only to realize that someone put the fire ring way out of the way.
But that's never an issue with a portable fire pit because you'll be able to place it wherever you feel is more convenient for your outdoor camping space.
Multi-Purpose Use
In addition to being the perfect solution for camping in your travel trailer or RV during fire bans, these fire pits can also be a great addition to your backyard lounge area.
When you're not traveling in your RV, set it up in your backyard to host safe, warm, and friendly outdoor gatherings in the evenings.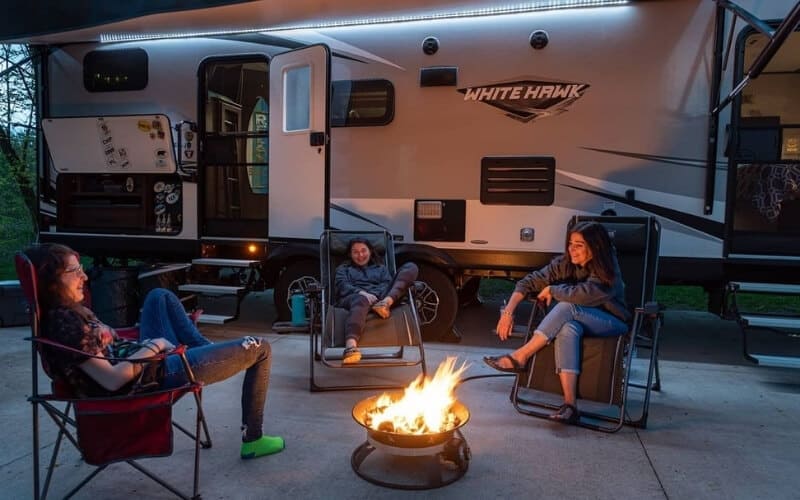 Portable Propane Fire Pit Safety Tips
Before we dive into our reviews of the best portable fire pits, we feel that it's important to cover some important safety tips for using this style of fire pit.
If you have plenty of experience with them, feel free to skip right down to our reviews.
For the rest of you, these tips will help you keep yourself safe when using these pits and they will also help you maximize the lifetime of the pit you add to your camping arsenal.
The Distance Rule
The first thing you should know about safely using a portable fire pit is where to place it.
Space can sometimes feel limited in a crowded campground, but if you can't place your pit far enough away from anything it could light on fire, you shouldn't light it up. Period!
That said, the distance rule is a useful tool for ensuring the safe use of your fire pit.
Different states and campgrounds can have variations on these rules, but we'll provide a stricter set in hopes that, if you follow them, you'll be abiding by safe fire use practices in most places you visit.
For starters, your fire should be at least 15 feet away from your RV, other RVs, and any nearby structures.
There should also be a minimum of 20 feet of clearance above your fire to minimize the chances of sparks catching an overhanging branch.
The Elements
Rain can be a killer for your fire pit. It can cause rust and corrosion that compromise the functionality of your pit.
But the kind of corrosion that can build up over time can also lead to safety issues when you try to fire things up (literally!).
If water gets into the fuel lines of your pit, it can restrict the flow of gas and lead to a gas buildup at pressures that the lines aren't rated to handle.
On the same token, fine-grained dust and other floating debris can also cause damage to your propane fire pit.
This is why so many of them come with covers that you should always place on your pit when you're not actively using it.
If any sort of foreign substance gets into the propane lines or ignition switch on your pit, it can lead to a myriad of dangerous issues.
So the best thing you can do for your fire pit is to keep it protected from the elements as much as possible.
Moving Your Fire Pit
While we hope it would be obvious, you should never try to move your fire pit while it's turned on.
And we also recommend refraining from moving your pit once it's hooked up to your gas propane tank.
That means that the only safe way to move one of these propane pits is when they are turned off and disconnected from any and all fuel sources.
If you do attempt to move your fire pit while it's hooked up to your propane tank, make sure you have a second set of hands to help.
And you'll also need to make sure that someone holds any slack in the propane hose so that it doesn't get snagged on anything that could damage it or the connection points on the fire pit and propane tank, respectively.
Supervising Kids and Pets
Even though these pits don't quite get as hot as a traditional wood fire, the risk of burns is still very real.
So it's important that you're diligent when supervising kids and pets around a portable fire pit that's turned on.
Watch those pet tails and kids running around when you're using a propane fire pit! And you should also be careful to watch the propane tank that goes along with your fire pit.
Because most of these pits come with a propane regulator that attaches to your tank to control the flow of gas into the pit, you'll need to be careful that no one knocks over the propane tank while the regulator is attached, as this can result in damage to the regulator that will ultimately compromise the entire functionality of your gas fire pit.
Leak Checks
Leaks are typically something you don't have to worry about with a traditional fire pit.
Sure, there's the off-chance that an ember falls out of the pit and you have to stomp it out, but there's no liquid fuel to worry about when you're making a wood fire.
Fuel leaks are definitely a real possibility with propane pits, though. And you'll need to regularly check your pits fuel lines before each use to make sure there are no fuel leaks.
Fortunately, you should be able to hear an audible hissing noise if a leak is present once your propane bottle is attached.
Because these pits are most often going to be stored underneath your RV, they are susceptible to every single bump you hit while driving.
That's why many of them come with padded storage cases, but it's still a good practice to listen intently for leaks every time you hook your pit up to propane.
While we're not going to dive into a full list of the negative possibilities of a fuel leak, you should know that this isn't something to mess with.
If you do hear what you think is a leak, immediately turn off the pit and remove the propane source.
From there, you'll probably need to hire a propane specialist or watch an informative video on how to troubleshoot leaks in a propane fire pit.
Best Portable Propane Fire Pits For Camping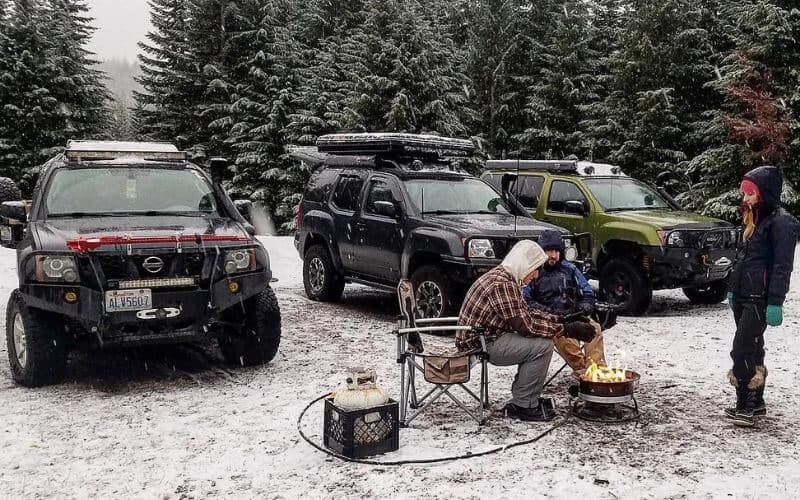 Fortunately for you, we've tested the best portable propane fire pits and narrowed the market down to the five best units for RV use.
And this guide will also provide the most important features and specifications you need to consider when selecting one of these fire pits.
So let's get to reviewin'!
Propane fire pits are the most convenient type and often end up being the number one choice for plenty of Rvers or campers, Here are the 5 best portable propane fire pits to help you start a campfire, whenever and wherever you are:
1. Best Overall: BALDR 330WPower Station For Outdoor Camping
If you're looking for a portable fire pit that represents an excellent value, look no further than the Outland Firebowl 870.
This propane campfire pit won't break the bank, but it offers a large diameter and high BTU rating to provide plenty of warmth and comfort without the mess of a traditional campfire. It's also CS-approved for safe use during most campfire bans.
The pit is 19 inches in diameter and boasts a heat output rating of 58,000 BTUs per hour.
It comes with an automatic ignition switch that eliminates the need for matches or a stick lighter.
And it also comes with a ten-foot hose that allows you to situate your propane tank at a safe distance away from the fire itself.
Speaking of that propane tank, this pit is designed to work with the same kind of 20-pound propane tank that you probably use in your residential barbecue grill.
It also comes with 4.4 pounds of natural lava rock that can be placed at the base of the pit for a more natural appearance.
When you purchase the Outland Firebowl, you'll also get a cover and a carry kit that makes it easy to move around and store under your RV.
That cover also protects the more sensitive ignition switch and propane lines at the interior of the pit.
This helps to ensure that the pit's critical components aren't damaged in transit.
This pit is also just 11 inches tall and weighs just 24.5 pounds. So it won't be overly difficult to move and fit under your RV when storing it.
And you can purchase the optional Natural Gas Conversion Kit or Standard Carry Bag if you want to round out your full fire pit kit.
Things We Like
Things We Don't Like
2. Budget-Friendly Pit: Camp Chef Smokeless propane fueled Fire Ring
If you know you'll only be using your fire pit a few times a year and you don't want to break the bank on a super-expensive model, check out the Camp Chef Compact Fire Ring.
It's the most budget-friendly pit on our list and it features dimensions measuring 15 inches in diameter and 13 inches in height.
It also weighs just 23 pounds so it's not tough to move around whatsoever.
And the legs on the bottom of the pit extend to bring it up to its full height and then fold in to make the pit even more compact when you need to store it. With the legs folded in, the entire pit is only six inches thick.
This pit includes a fully-adjustable heat control lever and it's rated for a maximum heat output of 55,000 BTUs per hour.
It also comes with a 12-pound bag of lava rocks that help to more evenly disperse the heat of the flame and create a flickering effect that makes it feel more like a real campfire.
In terms of propane, you'll need a standard 20-pound propane tank to power this pit. But it does come with a propane regulator and a five-foot hose.
And when it comes to accessories, the pit comes with an enclosed storage bag and two extendable roasting sticks for roasting marshmallows, bratwurst, or anything else you want.
Things We Like
Things We Don't Like
3. Highest BTU Rating: Camco 65,000 BTU Deluxe Outdoor Fire Pit
For those of you that frequently camp in cold climates, the Camco 51210 Portable Deluxe Outdoor Fire Pit offers the highest BTU rating for heat output of any model on our list. It's rated for a maximum heat output of 65,000 BTUs per hour.
The pit itself is 18 inches in diameter and 12.2 inches tall. It actually weighs quite a bulky 49 pounds, and its one drawback is that you won't be able to fold or collapse the legs so that it takes up less space when you're storing it under your rig.
That said, there's a benefit to having a heavier fire pit as well. That extra weight makes it hard to tip or knock over if something accidentally runs into it.
And the larger diameter translates to heat being dispersed across a wider area so that more people can sit around the fire and enjoy its warmth.
The Piezo igniter on this unit offers a simple push-button operation for sparking the flame once your propane tank is hooked up.
And the unit comes with its own 10-foot propane hose that gives you the freedom to put your tank a safe distance away from the fire.
Because it comes in one solid copper piece, you'll only need to hook up the propane hose to a 20-pound propane tank to start using this pit.
And when you're finished using it, it comes with its own storage cover to protect it from damage when you put it under your RV and head down the road to a new destination.
Things We Like
Things We Don't Like
4. Best Compact Design: Camco 58031 Portable Little Red Campfire
For campers traveling in smaller RVs, camper vans, or slide-in truck campers, the Camco little red Portable Propane Campfire offers the most compact design we could find.
This gas campfire pit measures just 11.25 inches in diameter at its maximum, and the top burner ring is actually only 9.5 inches in diameter.
The unit is also the lightest of the choices on our list at just 15.6 pounds.
And when you're done using it and it's time to move your RV down the road, it comes with a sturdy lid that slides over the top of the entire pit and secures with handy latches at the base.
Unlike some of the other pits on our list, this one features realistic logs that give the fire a more natural appearance.
And, in spite of its compact size, this unit is rated to produce a maximum heat output of up to 65,000 BTUs per hour.
It also comes with an eight-foot propane hose that's designed to work with standard 20-pound propane tanks.
When your pit cools down after using it, that hose (plus the included propane regulator) fits under the fire ring and lid so that the entire contents are stored in one compact package.
Things We Like
Things We Don't Like
5. Best Large Diameter Pit: Heininger Portable Propane Outdoor Fire Pit
If you frequently camp with larger groups and you need more space around the campfire for everyone to sit, then check out the large diameter of the Heininger 5995 58 Portable Propane Outdoor Fire Pit.
This all-weather fire pit is 19.25 inches in diameter at both the base and the top. It's also 11.5 inches tall and weighs only 22 pounds.
That means that, in spite of its larger size, you won't have any trouble moving this pit from underneath your RV to a safe space outside.
This is also perhaps the most stylish pit on our list with its copper finish and flame-shaped cut-outs in the outer ring.
But, coming back to functionality, it works with your standard 20-pound propane cylinder and it comes with a ten-foot hose that allows you to place the pit and your fuel tank at a safe distance from one another.
This pit also comes with its own bag of lava rocks that you can place inside the pit before you light it.
This provides a better ambiance for everyone sitting around the fire and also helps to disperse the heat more evenly.
At its maximum heat output, this CSA-approved pit is capable of producing up to 58,000 BTUs per hour.
And it also includes an automatic igniter and a heat control lever that allows you to adjust the height of the flame according to your preference.
Things We Like
Things We Don't Like
Things To Consider When Purchasing A Portable Propane Campfire Pit
In order to select a fire pit that suits your specific needs, you'll need a framework through which you can effectively compare and contrast different models.
This guide is designed to give you just that, but you'll ultimately have to decide how much weight you place on each of these factors.
Weight
The weight of the fire pit you choose is going to come into play every time you need to move it to set it up or put it back under your rig.
Fortunately, most of the pits on our list are under 30 pounds, which should allow them to be moved without much hassle by a single person.
That said, the lightest pits we've seen don't weigh much more than 15 pounds while the heaviest models weigh more than 50 pounds.
That's quite a large range, so just make sure you pay attention to the weight of any unit you're interested in before finalizing your purchase.
Size
The dimensions of a fire pit are important for two reasons. First, they'll dictate how much space you need to create under your rig for fire pit storage.
Second, the size of a pit will dictate how many people will be able to sit around it comfortably.
Some of these pits have collapsible or folding legs that allow them to take up less space when you want to store them.
Others can be partially disassembled to produce the same effect. But many of the larger units will need to be placed under your rig as is.
As far as seating space goes, it should be obvious that a pit with a larger diameter is going to provide more space for people to sit around.
If you need a pit for family camping, look for a pit with an 18-inch diameter or better.
But if you just need something for solo travel or you and your partner, you'll probably get plenty of warmth with a pit that's smaller than 16 inches in diameter.
British Thermal Units (BTUs)
British Thermal Units, or BTUs, refer to the amount of energy it takes to raise one pound of water by 1℉ at sea level.
But you probably don't need to know the technical definition as much as how it applies to choosing a fire pit.
So, to keep things as simple as possible, a unit with a higher advertised BTU rating will generally be able to produce more heat than a unit with a lower rating.
That being said, the actual heat output of these pits will also depend on how their propane lines are designed and the size of the pit, but if you're looking for a high-powered design, go with one that advertises a higher BTU rating.
Propane Tank Size
Some of these fire pits are designed to work with different propane tank sizes. The most common sizes are the one-gallon and the five-gallon bottles, respectively.
And if the particular pit you choose comes with the right hose adapters, you might be able to use either tank size interchangeably.
But there are pros and cons to these two standard tank sizes for propane fire pits.
While you'll need to refill or replace the five-gallon tank much less frequently, it'll take up much more storage space underneath your RV and it'll be heavier to move around when you're setting up your pit.
On the other hand, the one-gallon tank won't last very long and you'll most likely need to keep several tanks on hand so that you always have a backup at the ready.
But these tanks are much lighter and easier to store in a compact space underneath your RV.
Ultimately, you'll have to decide whether maximizing storage space and decreasing set up time is more or less important to you than minimizing the frequency with which you need to refill or replace your propane tank.
Features
While there aren't a ton of features to worry about with these fire pits, there are a few that can make your life easier.
One of them is an automatic igniter with push-button or turn-and-click operation. This eliminates the need to keep matches or a stick lighter on hand to light your fire pit up.
Another feature that we'd always recommend looking for is a propane hose that's at least eight feet in length.
Otherwise, your propane tank will be in the way of your seating area once it's attached to your fire pit.
The last important feature we want to mention is the regulator that attaches to the propane tank.
The function of this regulator is to control the amount of propane that flows out of the tank, through the hose, and into the propane lines in the pit.
If the regulator is faulty, it can allow too much propane to flow through the hose and put unnecessary stress on the connection between the hose and the pit itself.
Unfortunately, the only way to find good information on the design and safety of the regulators that these pits come with is to read through user reviews.
But we highly recommend doing so in order to make sure you choose a pit that's going to be safe to use.
Style
Although this feature might not be super-high on your priority list, we also think it's nice to appreciate the look and style of your fire pit.
Because you're hopefully going to be staring at it and entertaining guests around it, you probably don't want to spend your money on an ugly fire pit.
Some of our favorite designs feature a copper finish that shines slightly when it heats up.
And another stylish inclusion that we love is some sort of shaped cut-outs on the sides of the pit that gives it a more unique appearance.
Price
These fire pits are far from the most expensive RV accessory you could buy. But many of them do have three-digit price tags.
The cheapest models out there can be found for slightly less than $100, but others are well above $250.
In our opinion, you should be able to find a durable, long-lasting fire ring for somewhere between $125 and $200.
So, Which Is Best For You?
If you don't have a limited budget and you want to invest your money into the best portable fire pit possible, then it's going to be tough to beat the Outland Firebowl 870.
This propane fire pit is a great value and it's tested by an independent third-party for safe use during most campfire bans.
But if you're interested in finding the most compact fire pit possible, we'd recommend checking out the Camco Portable Propane Little Red Campfire.
In spite of its smaller size, this little pit produces plenty of heat and it's also the perfect solution for smaller RVs, camper vans, or slide-in truck campers.
Portable Fire Pit Rules & Regulations
While most of these portable fire pits are safe to use no matter what fire restrictions or burn bans are in effect in your area, it's important that we stress the use of the word MOST! You should still be familiar with the rules and regulations regarding the use of gas fire pits in your region.
Here are a few tips to help you stay on the right side of the law when putting your new fire pit to use:
Know The Applicable Management Agency
Depending on where you're heading for your next RV camping trip, you'll need to be aware of the management agency in charge of that wilderness area.
Areas managed by the U.S. Forest Service, for example, may have different rules and regulations than areas managed by the National Park Service.
Because an astounding 90% of all annual wildfires are traced back to human activity, some of these land managers are incredibly strict and likely to issue hefty fines for violations.
So you need to be familiar with their specific rules and regulations if you're going to avoid violating them.
Get A Campfire Permit
Nowadays, even backpackers in California who plan to use only a portable gas stove in the wilderness need to have a permit to do so.
The good news is that, in many cases, the kind of permit you'll need for a portable gas fire pit is going to be free and can be obtained online.
Now, it should be mentioned that California is one of the strictest states when it comes to fire use and permitting.
Still, it's better to have a permit and not need it than to need it and neglect getting one!
Talk To Your Campground Host
If all else fails, your campground host should be your last resource for whether or not it's safe to use your portable propane fire pit in that area.
Because their livelihoods often depend on not running afoul of local fire restrictions, they should be up-to-date on the most current bans and policies.
Of course, if you are shooting for an off-grid camping area, there likely won't be a camp host for you to consult.
In that case, we recommend stopping into the closest ranger station to inquire about local conditions and fire regulations.
Frequently Asked Questions
Our goal with this guide is to be as thorough as possible. So let's address some of the most frequently asked questions about portable propane fire pits to give you more information about how to choose, use, and maintain these fire pits.
Should I choose a fire pit with fake logs or lava rocks?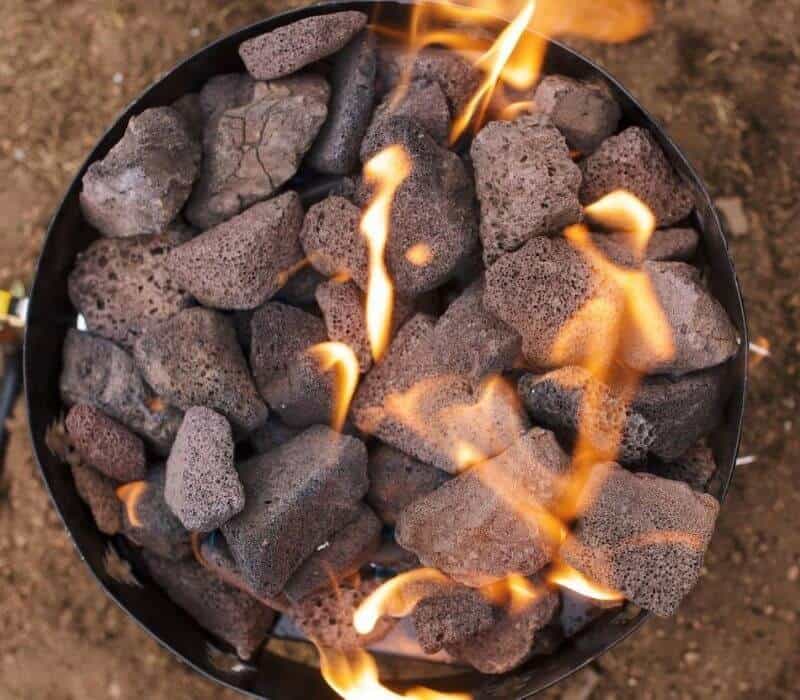 Lava rocks tend to be the more common material placed inside propane fire pits because they are inexpensive.
They also radiate heat pretty well and help to disperse the heat of the flame more evenly.
The only downside of lava rocks is that they don't secure to the bottom of your fire pit in any way.
Instead, most of these pits come with a bag of lava rocks that are somewhat similar to the bags of charcoal that you buy for outdoor grills.
Because the lava rocks are loose in the bottom of your fire pit, they can sometimes spill out if the pit is tipped on its side.
That also means that they can pop out of the pit during transit, which creates an unfortunate sort of lava rock scavenger hunt underneath your RV.
So if you get a fire pit with lava rocks, just make sure it comes with some sort of storage cover.
Fake logs, on the other hand, usually come as one complete piece. This piece bears a more similar resemblance to the real logs that you love to watch burn in your traditional campfire.
Aside from creating a more realistic looking fire, fake logs will also stay in place better than lava rocks. They just don't disperse and radiate heat as well as lava rocks.
How long will my portable fire pit run?
This depends on the specifications of your pit! Generally speaking, pits with a higher BTU rating per hour are going to run through their fuel sources quicker than units with a lower BTU rating.
So, while a higher BTU rating translates to more heat output, it can also mean a decreased run time.
And a gas fire pit's run time will also depend on how the regulator that comes with it is set.
Most portable propane gas fire pits will run for somewhere between 6 and 12 hours when hooked up to a 20-pound propane tank.
The reason why there's such a large range of how long these pits will run is that many of them have heat control levers that allow you to turn the flame up or down as you prefer.
So, obviously, they aren't going to run as long if have the heat control turned all the way up.
What exactly does it mean when a fire pit is 'CSA-Approved'?
'CSA' stands for Canadian Standards Association, which is a global testing factory that's independent of the actual manufacturers of the product.
By stamping their approval on a product, they are verifying its safety for certain uses.
In the case of propane fire pits, they're mainly testing for safe use even when the risk of wildfires is especially high.
By pre-installing and testing the ignition on your propane gas fire pit, the association verifies that the risk of a spark catching any dry materials on the ground around the pit is below an acceptable level.
Can I cook food on my new gas fire pit?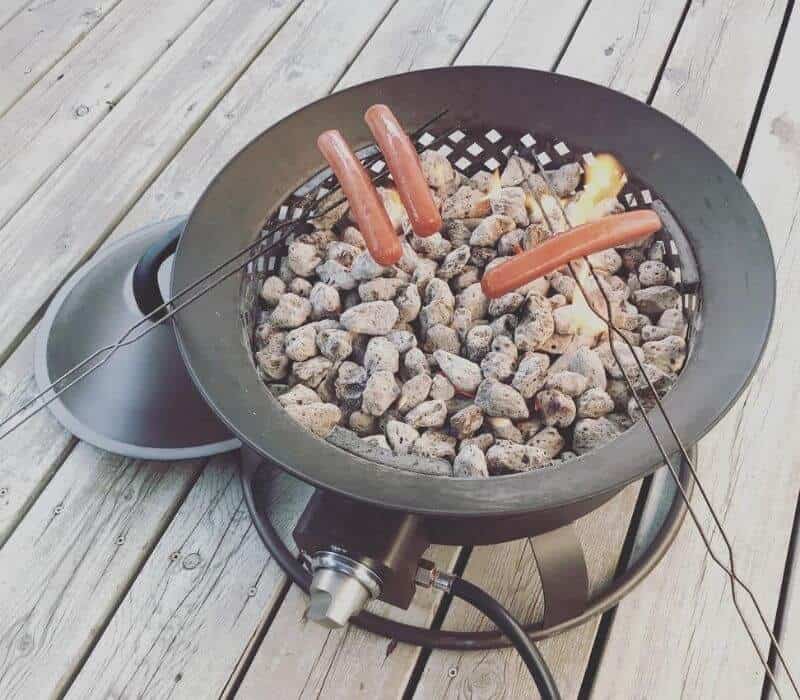 While the answer isn't an absolute no, we don't recommend it. That's largely because grease or other substances that drip from foods while they're cooking can cause damage to the propane lines in the pit. Aside from that, it will also create a mess in your pit that will be tough to clean up.
That said, some people do roast marshmallows on portable fire pits because the risk of creating a mess is a little smaller than if you were cooking, say, burgers.
But you'll still need to be careful not to allow a melted marshmallow to fall into your fire pit.
If you really need something to cook on, we'd recommend looking into some of the best portable gas grills.
Of course, if you don't want to rely on gas for cooking, you can also look into a charcoal grill or an electric griddle that's designed for outdoor cooking.
How can I be sure that I'm storing and using my propane tank safely?
For starters, you should always store the propane tank that you use for your gas fire pit vertically.
This will decrease the risk of leaks and will also reduce the likelihood of the valve being damaged when you're traveling over an especially bumpy dirt road.
Speaking of that kind of scenario, it's also important that you use straps or bungee cords to keep your propane tank from falling over while you're driving.
Of course, if storage space is rather tight inside your RV's underneath compartments, you may also be able to wedge your tank in safely so that it doesn't move around or fall over while you're driving.
Clearly, you should also be careful not to place any flammable items in the compartment near your propane tank.
Another useful idea is to place your tank inside a milk crate or a sturdy box to further reduce the risk of it falling over in transit.
Conclusion
Adding a portable propane fire pit to your camping gear is a great choice if you frequently camp in places with burn bans or fire restrictions.
And it's also a much easier way to enjoy the cozy feeling of bundling up next to a campfire without the pain of splitting wood and constantly re-stoking your fire.
We hope that this guide has given you all of the information you need to choose the best portable propane fire pit for your recreational vehicle and your lifestyle.
And we encourage all of our readers to be safe and responsible around all forms of fire so that the beautiful places we love to visit in our RVs remain healthy and intact!