Feeling like you are home away from home is one of the most appealing things about RV travel. In the past, when you wanted entertainment, you had to settle for old VCR movies and DVDs.
Though today portable satellite technology has evolved to the point where you can go on your favorite RV vacation, and keep up with your favorite TV shows and news programs.
With the rapid evolution in this industry niche, it can leave you feeling a little spoiled for choice. So, we decided to look up to the sky and explore some of the best portable satellite dishes and antennas for an RV.
Right off the bat, the KING DTP4950 DISH Tailgater Pro Bundle and the DIRECTV 4K SWM3 Complete Kit were two of the top contenders for the best portable RV satellite dish.
Though they weren't the only models that showed up strong. So we made a point to present you with a broad field to choose the best portable satellite dish for getting internet and TV service on your RV.
How Does A Portable Satellite Dish Work?
A portable satellite dish is supported by a tripod or some other type of temporary mounting system, rather than the permanently affixed structural satellite dishes you find adorning a lot of homes.
This lets you get to your campsite and carefully position the dish for the best possible reception for that region.
Most people find that placing the satellite dish tripod on the roof of their RV gives them the best possible reception and channel selection.
How To Choose The Best DISH Portable Satellite Antenna To Fit Your needs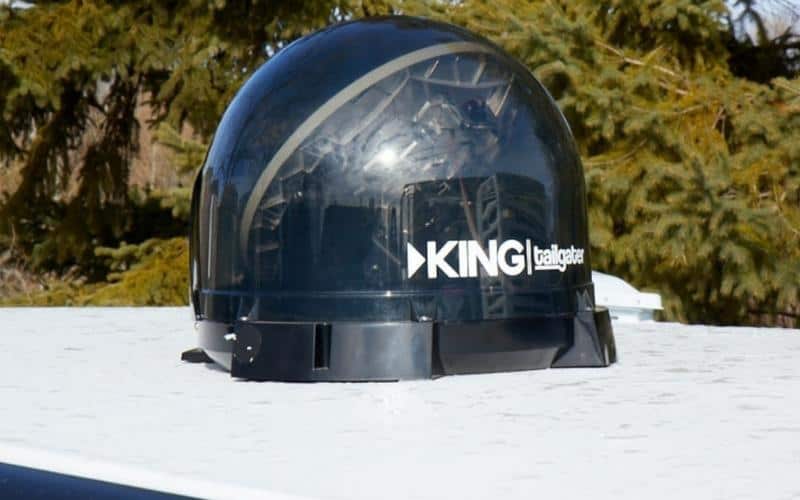 There are a few things to consider when shopping for the best satellite dish for your RV.
This starts with considering if you want to mount it on your roof, or if you are more comfortable with a portable model that needs to be set up and position every time you make camp.
Permanent Install VS Portable
A traditional satellite dish is not safe to travel with. Though some manufacturers do offer dish models that are under an aerodynamic protected dome.
These units tend to have ratings for the kind of wind speed they can handle.
Though you should also check the manufacturer's specs before traveling with a satellite dish permanently affixed to your RVs roof.
Dish or Dome
Most dish models are meant to be portable units. They can't handle the wind shear that comes from being permanently mounted on an RVs roof at highway speeds.
The advantage of a dish model is that you can position it for optimal reception, which can be very handy if you like to camp in forests where you don't always have a choice when it comes to parking your RV for the most open patch of sky.
The disadvantage is that it takes extra time to set up the portable dish, and you might have some trial and error when it comes to finding the optimal reception.
You then lose more time again at the end of the trip packing everything away.
With a dome RV satellite dish, you can usually install it on your RV's roof. Modern models have the aerodynamics to handle wind shear.
They have a dish inside the dome, and most have an automatic mode that will find you the best channels for where you are parked.
Dome models are slowly taking over the portablt satellite dish industry, due to convenience.
The drawback with a dome is that you might not always get the optimum reception for the location you are parked at.
You just have to accept that the dish and it's software are doing their very best.
You also have to worry about the long-term consequences of putting holes in the roof of your RV, and the leaks it could cause later on down the line.
Ease of Installation or Setup
We also factored in the ease of installation or setup that a portable RV satellite dish needed.
In the case of a permanently installed dome model, we looked for units that either came with the hardware included in the purchase, or that were easy to find.
With portable models, we looked for RV satellite dishes that could be set up quickly. Usually with automatic signal finding software.
Subscription Service or Pay As You Go
A few years ago, it wasn't really possible to package your home and portable RV satellite service.
Though today major providers like DISH and Direct TV now have package bundles that let you enjoy your service whether you are home or away.
How Do You Set Up An RV Portable Satellite Dish?
While different manufacturers have their own setup instructions, most follow some form of the following procedures.
Step One: Set Up Camp
Ideally, you want to find an open patch of south-facing sky, which can be a challenge if you are in a forested campsite.
In the northwestern hemisphere, a lot of the best satellite reception is usually to the south or southeast.
Step Two: Set Up Your Mount/Tripod
If you have a collapsible tripod or an adjustable mount you want to get it ready before you even take your dish out of the storage compartment.
This reduces the risk of accidentally damaging the satellite dish during setup.
Step Three: Connect The Dish
You want to install the dish to the tripod or mount and then connect the coaxial line to the main "OUT" on the back of the dish to the "IN" port on the receiver.
Then position it facing south to the southeast or toward the most open patch of sky.
Step Four: Connect The Reciever To The TV
Connect the receiver to the TV before powering anything up. This will ensure seamless communication between all the devices.
If you power up one device in the chain before connecting all the devices, one device might not read another, and the time it takes to diagnose where the problem is can be frustrating.
6 Best Portable Satellite Dishes For RVs
When reviewing the best satellite dishes for an RV, we made sure to include dome-style and traditional dish-shaped models.
We also made sure to review models that were affiliated with some of the major satellite service providers like DISH and DIRECT TV.
Many of them offer optional upgrade packages for current subscribers who want to take their viewing experience on the road.
1: KING DTP4950 Premium Portable/Roof Mountable Satellite Receiver
This KING DTP4950 DISH Tailgater Pro Bundle is a comprehensive package. It is a "Pay as you go" portable satellite dish that is affiliated with DISH TV.
Best of all it is dual output to accommodate two different TVs and comes with a receiver that is designed to work seamlessly with it.
The KING DTP4950 DISH Tailgater Pro Bundle is an intelligent satellite antenna that can automatically lock onto signals.
This shortens the set-up stage significantly. Especially in locations where there is a disparity between the most open patch of sky and the best-known satellite reception.
It also has on-screen setup instructions that are easy to follow, which takes some of the stress out of setting up camp.
The KING DTP4950 DISH Tailgater Pro Bundle is very light. The domed dish only weighs a little over 8-pounds.
It was designed to be weather resistant and comes with 50 feet of coaxial cable, which lets you install it just about anywhere on the roof of your RV.
This makes it one of the rare models that you can truly mount permanently on your rig.
2: Winegard RT2000T Fully Automatic RV Satellite Antenna
Winegard is one of the strongest names in the satellite industry. This T4 RoadTrip model is designed to work with major satellite services including DISH and DIRECT TV.
It was engineered to be a fully automatic roof-mounted antenna with one button on/off operation.
The Winegard RT2000T RoadTrip T4 has a broad elevation range from 18 to 65° and an Azimuth Range- up to 416°.
This takes a lot of guesswork out of setting up camp for the best satellite signal.
It has a protective dome and mounting hardware also means that you can permanently mount it to the roof of your RV. It comes with 25-foot long power and coaxial cables.
Depending on where you want to mount the dish, this distance could be a little short for a Class A motorhome or a fifth-wheel trailer.
3: DIRECTV 4K SWM3 Portable Mobile Camping Complete Kit
The SWM3 by Direct TV is a tripod model, which lets you set it up exactly where you need it for the best signal.
This can come in handy if you are the type of person who loves to camp deep in the forest where you can't always position your RV for the best patch of open sky.
The kit comes with a36″ x 24" Direct TV branded dish, as well as a 1x Reverse Band UHD RBSWM3 LNB. You even get a compass.
A Bubble Leveler, an HDMI Cable, a pair of RG6 Coaxial Cables, an F-Barrel Connectors and a collapsible 3ft Tripod.
Of course, you also need to have an active Direct TV account to be able to make the most out of this service.
In most of the continental US, the best signal for Direct TV reception tends to be biased toward the south or southeast.
4: Winegard PL-8000 Dish Playmaker Dual Portable Satellite RV TV Antenna
This Winegard PL-8000 model was designed to be compatible with DISH and the provider typically offers a package for portable users, that can save you money in a bundle.
This portable RV satellite dish is designed to permanently mount in place on the roof and has a protective aerodynamic covering.
Though you do need to separately purchase the Optional RK-4000 roof kit to properly secure the Winegard PL-8000 White Dish Playmaker to your RV's roof
It is omnidirectional, which can spare you some setup time when you get to camp.
It automatically finds dish HD satellite orbital locations making it easy to watch your favorite TV shows.
This is a Dual portable satellite antenna system that has two coaxial outputs. This means you can watch different programming on two different TVs at the same time.
It's a top option for families who don't want to get stuck watching kids programming all night long. Especially if you have teenagers.
5: Winegard Pathway X2 PA6002R Dual Arc Satellite TV Antenna
One of the great things about the Winegard Pathway X2 is that it uses Dual Arc technology to receive both Western and Eastern arcs.
This means you can use it just about anywhere in the lower 48 of the United States without having to make significant adjustments.
It has an automatic feature, where you input the state you are in and it will find the best possible signal for your location.
The Winegard Pathway X2 PA6002R has been optimized for 2 TV seamless viewing when connected to 2 separate receivers.
It is designed to be DISH compatible with Wally, and you can usually bundle it with your home DISH contract for the best savings.
---
What Are Western And Eastern Arcs?
You often hear the term Western Arc or Eastern Arc being used in the realm of portable satellite dishes.
These are coverage networks for reception based on the geological location in North America.
The Western Arc uses 3 satellites (110°, 119°, and 129°) to broadcast DISH programming. The newer arc, the Eastern Arc, also uses 3 satellites — 61.5°, 72.7°, and 77°.
You don't have to worry about this with omni directional satellite dish systems or dual arc systems, where you input your state and the portable RV satellite dish finds the best possible signal for your location.
This can be handy for times when you might want to catch the local news, for where you are staying.
What If I Don't Have A Home Satellite Dish At Home To Bundle?
There are still people who shy away from satellite dish services at home over cable or DSL.
If this sounds like you, but you still want a portable satellite dish for your RV, you might want to prioritize a pay-as-you-go portable RV satellite dish. We wrote an article about how to use my home dish receiver in your RV.
What Is The Best Satellite Dish For An RV?
There are a few important factors to keep in mind when choosing the best portable satellite dish for your RV.
This starts with deciding the type of service you want to do with, while also considering the geographical areas you will be traveling in as well as how much work you want to put into setting up your RV's portable satellite dish.
If you are already a DISH subscriber and you want a comprehensive package, then the KING DTP4950 DISH Tailgater Pro Bundle might be the best portable satellite dish for your RV.
It comes with everything you need and can be permanently installed on the roof if need be.
If you are a Direct TV subscriber, and you want to be able to customize the placement of the dish, then the DIRECTV 4K SWM3 Complete Kit might be the best portable satellite dish for your RV. The tripod is easy to adjust and you get everything you need in one package.