Many motorhomes, fifth-wheel campers, and large travel trailers have some rooftop air conditioners. When something goes wrong with the unit, or it simply stops blowing cold air, it can turn your exhilarating vacation into a hot, sweaty nightmare.
Has your RV air conditioner not blowing cold air? If so, there are a few things you can do to diagnose the problem. With some of these issues, you might be able to fix the problem yourself.
In this article, we'll look at how an RV air conditioner works and how to check the various components of your RV AC to determine what is causing it not to keep you cool.
Why Is My RV AC Running But Not Cooling?
Here are the 5 common reasons why your RV AC's aren't giving you enough cool air:
A problem with the thermostat
Problems with the fan
Low Freon levels
A dirty compressor
A burned out capacitor
How Does An RV Air Conditioner Work?
Understanding how an air conditioning system works may help you diagnose the problem faster. Many RV air conditioners are also combined with a heating system.
Most include a compressor which essentially circulates a Freon cooling fluid through the fins and coils in the condenser.
A special fan blows cooled air into the RV's built-in ventilation system.
The fan and the compressor are controlled by a built-in switch in a thermostat, which runs off the onboard 12 Volt electrical system. When the desired temperature is reached at the thermostat, it turns the unit off.
What Do I Do If My RV Air Conditioner Isn't Blowing Cold Air?
RV AC unit not blowing cold air; the first place to start looking is with the thermostat and the electric system that power it.
Sometimes something as simple as a loose wire, or a low battery can trigger the thermostat to turn the system off.
Other signs to help you diagnose an issue:
If the RV's air conditioner makes no noise, controls might not receive sufficient power.
You might need to replace the capacitors if the fan or the compressor starts slowly or they don't blow any air, blows air weakly, only blows warm air, periodically stops, and the lights dim when it runs; other air conditioner trips a breaker.
Is It A Problem With The Thermostat?
Sometimes it's a matter of the thermostat itself burning out, or its temperature sensor going bad.
If the thermostat doesn't display the temperature, blinks, or the number it displays is unrealistic, you might need to replace the thermostat.
If your thermostat runs on AA batteries instead of 12 Volt power, it might simply be that the batteries have run low.
How Do I Replace A Burned-Out RV Thermostat?
Thermostats and their internal temperature sensors typically last a long time. Yet they still do have a limited lifespan.
If some part of the thermostat burns out, it could fail to accurately read the temperature or send a signal to the compressor.
When this happens, the compressor sits dormant, yet the fan runs, thinking that it needs to move the air out.
I've had more than once where a thermostat went out, and I wasted a lot of hours poking around at things that turned out not to be the problem.
Fortunately, thermostats are relatively easy to replace.
Is It A Problem With The Fan?
If you notice that the AC fan only works at certain speeds, or cannot go faster than low without dimming the lights, then the fan motor or capacitor might be going bad.
If you notice a slight burning smell in the air when the fan is running, it could be that a bearing or a wire in the fan motor has burned out. In a situation like this running, it could be a real fire hazard!
In either of these cases, the fastest and easiest solution is to replace the fan.
What If It's A Problem With The Compressor?
Sometimes a compressor can go bad or even overheat when over-taxed. In some of these cases, basic maintenance might be needed to get the system operating correctly.
If you're the RV's air conditioner system not blowing cold air or overheating easily, the coils and fins may need to be cleaned and dusted. While you are at it, you should also check the roof portions of the AC unit for leaks, loose bolts, or gaskets.
If you notice ice or frost buildup, you might be low on freon, and the unit needs to be recharged. Some automotive stores sell cans of freon that you can use to recharge a vehicle or RV's AC system.
If you want to go this route, make sure you spring the extra money for a quality one. This isn't the sort of thing you want to skimp on!
If the air conditioner unit is noisy, there may be something out of place or something that is interfering with the motors.
If you have the tools on hand, you can remove the shroud for a closer look. If you see something burnt out or something smells hot, you might have a burned-out motor.
With a minor compressor issue, like a low freon level, or dirty cooling fins, you can fix it yourself.
If the compressor has burned out or there is a major internal leak, chances are you will need to seek out a professional to replace it altogether.
Is It A Capacitor?
Capacitors play a key role in the operation of an RV air conditioner. A capacitor essentially stores electricity, providing the fan motor and the compressor a little extra boost anytime the RV air conditioner starts. They usually look like a small battery, flask, or button.
As time passes, a capacitor can go bad, especially if the RV has sat unused for more than one winter.
Something like a fan or compressor capacitor failing to start can cause various symptoms to keep an eye out for.
This includes:
It's entirely possible that more than one capacitor has gone bad at the same time. If you find a bad one in the fan, you shouldn't assume it's the only problem.
There could be another burned out capacitor in the compressor.
If you don't test both devices, and simply replace one capacitor, you may still have the same problem on your hands after replacing one. So, you always need to be thorough.
How Do I Test For A Bad AC Capacitor?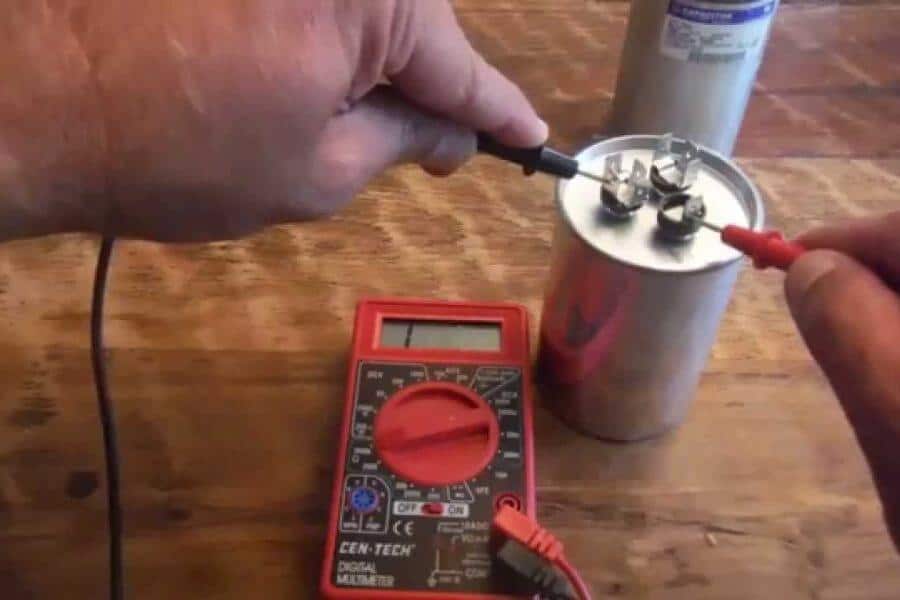 Once you locate a suspect capacitor, you can test it with a standard multi meter.
A good capacitor should show a value on the multi-meter display that slowly decreases over the course of a minute or two.
Fortunately, a bad capacitor is relatively easy to replace. Just make sure you write down the required voltage as well as model numbers on the old capacitor.
With a little bit of luck, you might be able to find a replacement in the electric department of a hardware store.
Otherwise, you may need to order one online. Some sites even offer overnight or one day express shipping.
How To Replace A Burned Out Capacitor
It's important to keep in mind that capacitors keep a modest amount of charge in them, even when the main power is turned off.
You should never touch it with your bare hands, and in the process of replacing it, you will first need to drain the lingering charge.
When Should I Seek Professional Services?
Simple things like replacing a bad thermostat, or installing a new fan are usually things you can do for yourself.
Replacing one or more burned out capacitors and recharging the freon in your compressor might also be within reach if you are handy and have the tools.
When it comes to rebuilding a fan motor, it's usually better to simply replace the entire fan.
Otherwise, I would recommend bringing it to a professional repair shop that specializes in RVs. In a pinch, you can flip through the local yellow pages for an HVAC repair company.
Their service techs are usually well-trained and have the tools to repair just about any air conditioning system.
How Do I Winterize My RV's Air Conditioner?
Winterizing your RV is important for step in maintaining it and prolonging its lifespan. This includes winterizing the air conditioning system.
As the winter goes on, take the time to check on the roof of the RV. It's not unheard of for a desperate squirrel to try to work its way under an AC cover for a safe place to ride out the cold. You should also be wary of ice buildup.