Do you like to boondock off the grid in your RV? If so, chances are good you've had a time or two where you had to worry about your RV house battery's charge level.
For such a seemingly simple thing, not knowing how your battery is charging or discharging can be nerve-wracking.
If this sounds like something you've been dealing with, then you might want to think about installing a battery monitor into your RV.
Battery monitors are a great way to optimize the performance and maximize the lifespan of your RV's house battery bank.
Though there are a few important details that go into the benefits of a battery monitor as well as how to choose the best battery monitor to meet your goals.
Read on to Learn the basics of RV battery monitors and what to consider in terms of voltage, current and size, as well as how to program it for the type of battery you have in your RV, or van.
What Is An RV Battery Monitor And How Does It Work?
An RV battery monitor, which is a special battery monitoring device that closely measures the current flowing into and out of your RV's house battery banks.
It includes an automatic and very accurate shunt that helps prevent overcharging.
Some of the best battery monitors have alert systems that detect when the 12 Volt house batteries are nearing full charge or are depleting from use.
Without it, you would be left guessing how your battery is doing, which can potentially damage your RV's house batteries by accidentally overcharging or undercharging them.
A lot of the best battery monitors will also have data collection and other special features that let you understand usage to help maximize your RV electrical systems performance.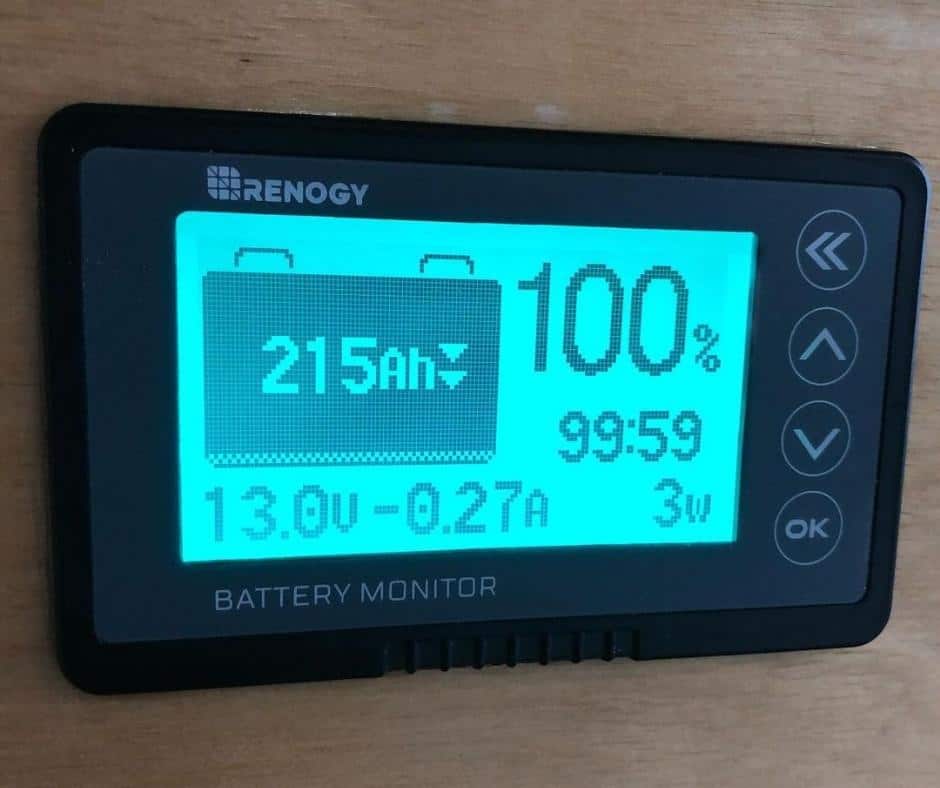 Why You Need a RV Battery Monitor?
You don't technically "Need" a battery monitor in your RV. Though it is very handy, and will greatly reduce the risk of accidentally overcharging or accidentally depleting your RV's house battery bank.
Many of the best RV battery monitors can be set up with alerts or monitoring apps to let you know when the battery level is getting dangerously near 50%, which can also damage your RV's 12 Volt house battery bank.
There are even a few RV battery monitors that come with basic analytics. The data they collect can help you optimize battery use and performance.
Types of Battery Monitors
There are a few differences to factor in when choosing which type of battery monitor is best for your RV's off the grid electrical system.
This includes the ways that the device actively monitors your RV's 12 Volt batteries.
A Voltmeter
As the name implies a voltmeter carefully monitors the voltage in an RV's house battery bank.
One of the possible drawbacks with them is that they don't tend to collect a lot of information beyond telling you what the battery's current charge is.
You don't get to do a lot of optimization, though you still will be able to tell when a battery is getting closed to overcharging or is nearly depleted to 50% or less of the maximum charge.
Ammeter Or Ampmeter
While the correct term is "Ammeter" a lot of people refer to this battery monitoring device as being an "Ampmeter."
It's designed to track the actual amperage being discharged from the batteries, and it needs to be installed inline with the negative terminal of the 12 Volt RV battery.
The power then passes through the battery monitor and provides you with multiple pieces of information that you can use to closely monitor or optimize battery performance.
This includes data such as amperage, and voltage, as well as the remaining amp-hours, along with the battery's current charge level.
How To Use An RV Battery Monitor
The RV battery monitor continuously tracks the outflow amperage, which you can read on a digital bar or gauge that lets you see the percentage remaining at a glance readout for easy reference.
In this way a good battery monitor acts a little bit like a vehicle's fuel gauge, only instead of letting you know how much gasoline or diesel fuel there is in the tank, it tells you how much available charge therein in the RV's electrical system.
How To Choose The Best Battery Monitor For Your RV
There are three important criteria to consider when looking for the best battery monitor for your RV's 12-volt electrical system.
Best RV Battery Monitoring Systems In 2023
There are a fair number of battery monitors on the market today. We did our best to look for models that suited the sometimes rugged lifestyle of an RV, skoolie or van.
This included ones that had certain features which might play stronger for certain niche interests and styles of camping.
1: Victron Energy BMV-712 Smart Battery Monitor
The Victron Energy BMV-712 is part of a new generation of smart RV battery monitors with the ability to quickly calculate ampere-hours consumed.
The analytics then help it the state of charge of a battery and send you necessary alerts via a built-in Bluetooth communication system that links directly to most Apple or Android smartphones, tablets, and Mac Books, as well as other wireless devices.
The Victron Energy BMV-712 was also designed to be easy to program. There is a detailed setup menu with scrolling texts that lets you quickly toggle through the different settings.
The digital display can give you information on voltage, current, and ampere-hours consumed, as well as the state of charge, time to go, and current power consumption in watts.
This level of information and state-of-the-art communication lets you trust that your RV's house battery banks are being properly cared for.
If there is a problem the intuitive interface lets you jump on it quickly without a lot of guesswork.
While an accomplished do-it-yourselfer might be able to install this, it is a good idea to recruit the services of a licensed professional to make sure the battery monitor is installed and set up correctly according to the manufacturer's specifications.
2: INNOVA 3721 Battery Charging System Monitor
The INNOVA 3721 is a convenient, and inexpensive battery monitoring system for an outdoor enthusiast who wants a battery monitor for multiple recreational vehicles, but doesn't want to go through a lengthy or potentially costly install.
It plugs into the vehicle's cigarette lighter or a 12-Voltpower receptacle to actively monitor the battery as well as the charging system voltage.
The INNOVA 3721 was specifically designed for 12-volt negative ground systems.
Since you can easily remove and install it, you can use this battery monitor for a wide range of things including your RV, a teardrop camper, boat, snow machine, or anything with a 12-Volt ground system and standard power port.
The LCD display on the INNOVA 3721 measures voltage via a bar graph that indicates the battery charge level.
Color-coded LEDs tell you the general battery's charge status at a glance. The head of the device was also engineered to pivot, so you can put it in the ideal position every single time.
3: The Renogy 500A 12V Lithium Sealed Battery Monitor
The Renogy 500A Battery Monitor has a Voltage Range of10V to 120V and up to 500Amps. It was designed to be versatile.
It is compatible with 12Volt Lithium-Ion batteries, Sealed 12 Volt batteries, Gel batteries, and even Flooded Batteries.
This is great if you are planning to upgrade your battery bank in the future, but don't want to make the immediate investment without knowing exactly what type of 12 Volt battery you want to upgrade to when the time comes.
It's also handy if you need a battery monitoring system in your motor-home in the summer, and then repurpose it for something like an ice fishing shanty in the winter.
The Renogy 500A Battery Monitor is sophisticated. It's able to monitor the amperage flowing out of the battery bank while measuring current up to 500 Amps.
It also tracks other key information such as voltage, current, as well as consumed power & battery capacity.
This information is then displayed on the LCD screen where you can see it at a glance.
The Renogy 500A has a Voltage range of 10V to 120V and up to 500Amps. It features high precision current detection with a High and Low Voltage Programmable Alarm.
It also employs state-of-the-art data storage to automatically store the last testing data as the system powers down.
It was also designed to be versatile. The Renogy 500A is compatible with most Lead Acid, Lithium-ion Phosphate, Lithium-ion, Nickel-metal hybrid.
Frequently Asked Questions
What Happens If I Accidentally Overcharge My RV's House Batteries?
When too much charge is sent to a battery that has already reached maximum capacity it can damage the internal components and affect the electrolyte levels.
In a severe scenario, the 12 Volt battery's seal can fail to cause it to boil over or spill battery acid onto the RV's electrical system and surrounding components.
Is It Bad To Let A Battery Drain Under 50% Of Its Maximum Charge?
When a 12 Volt lead-acid battery is drained under 50% of its maximum charge it can start to affect the material components and the internal electrolyte levels.
If it happens frequently, it can significantly shorten the RV battery's lifespan.
Having a battery monitor with alerts installed in your RV lets you prevent a damaging drain and lets you know that it's time to attach a traditional battery charger to maintain sufficient levels for the current draw.
Do I Need A Battery Monitor In My RV Solar Power System?
A battery monitor acts a lot like a fuel gauge measuring RV house battery charge.
It lets you know the charge level of your RV's house battery bank as well as how much current is actively being used.
It lets you know how the batteries are charging or discharging at a glance to optimize and protect your 12 Volt batteries.
Conclusion
A battery monitor might not be something that you absolutely "Need" in your RV.
Though it is definitely the sort of thing you "Want" or "Should Have" if you want to optimize your RV battery's performance.
When you consider the energy optimization, and the battery monitor's ability to help prevent overcharging and excess depletion will pay for itself over time.
It's definitely cheaper than having to prematurely replace your RV's house battery bank.
If you have multiple 12 Volt batteries on different vehicles like a boat, ATV, and an RV, then the INNOVA 3721 might be the best battery monitor for you.
It can easily be connected to different 12 Volt systems without having to go through any sort of lengthy installation.
If you are looking for a sophisticated battery monitor for your RV and you want one that will give you alerts then the Victron Energy BMV-712 might be the best battery monitor for your RV or motorhome.
It has Bluetooth wireless connectivity that lets you know how your battery is doing from the convenience of your smartphone.
If you are interested in a unit that lets you perform advanced analytics, then the Renogy 500A might be the best battery monitor to meet your needs.
It has multiple monitoring functions that you can toggle through and the setup was designed to be very easy.