Fiberglass is one of those camper materials that seems to be gradually falling out of favor. In the past, it was prized for its sturdy rigidity and long-term durability.
However many RV manufacturers are trending away from fiberglass in favor of lighter, aluminum or rubber.
Though the tradeoff here is that you lose some of the weather resistance that fiberglass offers. For RV travelers who still appreciate the strength of fiberglass, there are still a few options to consider.
Especially, if you prioritize a fiberglass roof travel trailer to help preserve your RV from hail and other damaging weather, you might be wondering what are some of the best RV brands with a fiberglass roof?
Two of the strongest RV brands with a fiberglass roof are the Forest River Forester 2251S LE and Venture Sonic Lite.
Though they aren't the only options to consider in this gradually shrinking niche. So, we decided to roll up our sleeves and sort through some of the best RVs with a fiberglass roof that might appeal to different interests.
There are very few brands that still make their travel trailers with fiberglass, but that doesn't mean that you can't find what you're looking for!
There are still four companies or brands that make travel trailers with fiberglass roofs.
5 Best RV Brands With A Fiberglass Roof
The following are some of the biggest RV manufacturers that offer campers or travel trailers with durable fiberglass roofs.
1: Forest River RV's With A Fiberglass Roof
As an industry leader, there are several RV models in the Forest River line up. Leading the field are the Forester Classic, LE, MBS, and TS. Each features R-18 strong and durable crowned fiberglass roofs that have luan decking.
Forest River Forester 2251S LE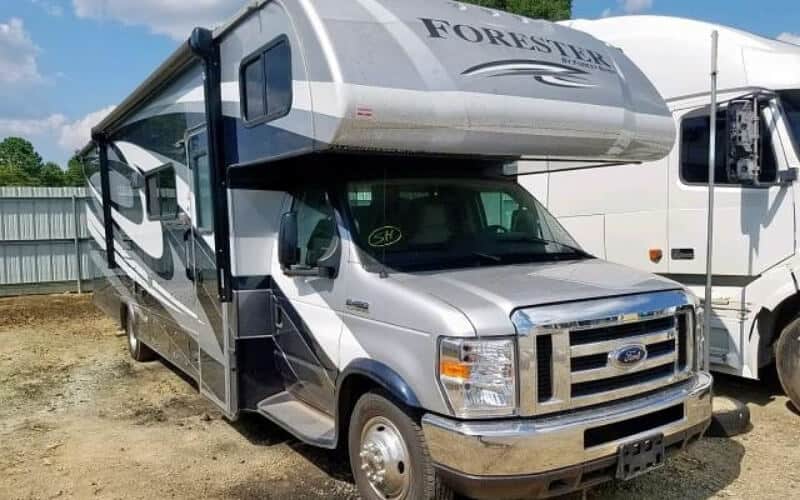 The Forest River Forester 2251S LE is a commanding Class C motorhome with a robust durable fiberglass roof with an R-18 rating.
One of the nice things about the Forest River Forester 2251S LE is the interior sound deadening ceiling panels, and block foam insulation with special sound-deadening characteristics.
The roofing system helps to get rid of the rainwater quickly and doesn't allow marks to form on the rooftop which is generally common with rubber roofs. It also helps to protect the queen size master bedroom in the back. It also has a 6.8 liter 10 cylinder engine to help move its girth.
This also translates into a 7,500-pound towing capacity, which means you can also flat tow a car or a boat behind it when you go down the road.
The kitchen inside the Forest River Forester 2251S LE has a very large kitchen, complete with a three-burner stove, a large 18 cubic foot RV absorption refrigerator, and copious amounts of storage space. There's also a full bathroom to accommodate a traveling family.
2: Happier Camper Trailers With A Fiberglass Roof
Happier Camper is a relative newcomer in the RV industry. They started out with only one single model the H1C, which was so popular it compelled them to expand.
Today they are one of the fastest-growing manufacturers of small travel trailer "Campers" with big innovations infused into the relatively small interior space.
The Happier Camper HC1 Travel-Trailer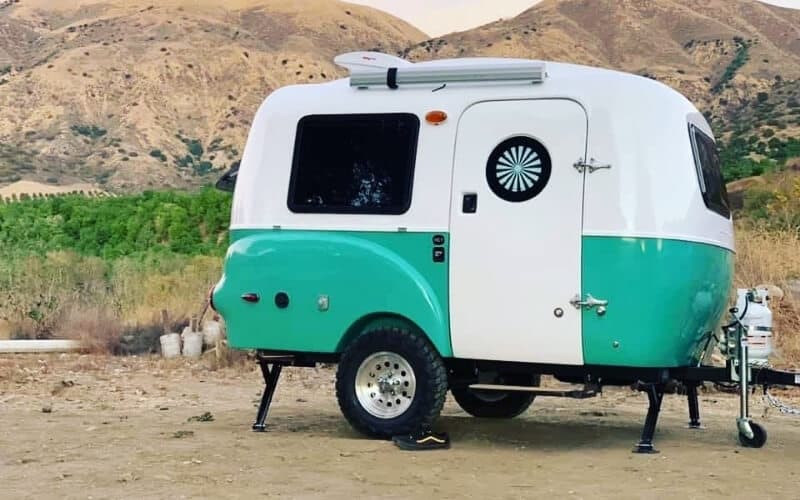 The Happier Camper HC1 Travel Trailer is made completely from fiberglass, including the roof. There is also an optional double insulated hull model, for RV adventurers who like to camp in the winter or at altitude.
The Happier Camper HC1 Travel Trailer was designed to be the perfect marriage between comfort and utility, while also having a little bit of a retro feel. The large rear hatch gives you access and there is a wide side door for even greater accessibility.!
Optional features include porch lights, a rooftop fan, and a double hull insulated fiberglass shell. With careful packing and a willingness to snuggle you can conceivably sleep up to 5 people in the Happier Camper HC1 Travel Trailer though 3 to 4 is more realistic.
3: Sunseeker RV's With A Fiberglass Roof
Sunseeker is technically part of Forest River, though they are largely allowed to act autonomously. The bulk of their lineup focuses on Class C motorhomes that are infused with fiberglass construction as well as thoughtful engineering innovations.
Some of Sunseeker's most popular RVs with a fiberglass roof include the Sunseeker Classic, LE, MBS, and TS. Each has a similar type of multi-layered laminated fiberglass roof, as well as Green Certification by TRA.
The Sunseeker floorplans focus on pass-through storage and maximum headroom in the living area
The Forest River – Sunseeker TS 2380
The Forest River Sunseeker TS 2380 has a multi-layered fiberglass roof that offers superior weather, leak, and crack resistance. There isn't a slide-out section in this Class C motorhome, which further reduces the risks of leaks, which is a salient concern with other models.
It's an impressive feat of engineering thanks in part to the Ford Transit Van chassis the Forest River Sunseeker TS 2380 is built on.
The interior of the Forest River Sunseeker TS 2380 is compact, yet tidy for a Class C RV with a fiberglass roof. The master bedroom is in the rear and has a queen size bed with his and her wardrobe storage. There's also a fair amount of storage throughout the RV.
There are a split bathroom and a full kitchen at midship, which is a nice size for a Class C motorhome built on a transit van chassis. You really do get a lot of amenities in a compact motorhome that rides the line between a Class B and a Class C motorhome RV.
4: Venture RV's Fiberglass Roof Models
Venture RV company is an affiliate of the much larger KZ industries. This gives them access to a broad lineup of components and materials. Under their corporate umbrella Venture, RV tends to specialize in lightweight travel trailers that are easily towable by SUVs.
A few are even light and nimble enough to be towed by a full-size sedan with a tow package. The top two models in the Venture RV lineup with a fiberglass roof are the Sonic and the especially nimble "Sonic Lite."
The Venture RV Sonic With A Fiberglass Roof Trailer
The fiberglass roof of the Venture Sonic is robust, yet not so heavy that it bogs down the overall dry weight of the trailer.
With a hitch weight of 330 pounds and a dry weight of 3,500 pounds, you get the strength and overall good looks of a fiberglass roof, while still being within range of being towed by a full-size SUV or a mid-size SUV with a strong tow package.
There are seven different floor plans for the Venture Sonic as well as three custom color options that new purchasers can choose from.
The Sonic's standard floor plan features a small but fully functional kitchen, as well as a small bathroom, and a full-size bed. If you prefer the bed can be swapped out for a Murphy sofa to provide more available floor space during the day.
Venture Sonic Lite With A Fiberglass Roof Travel Trailer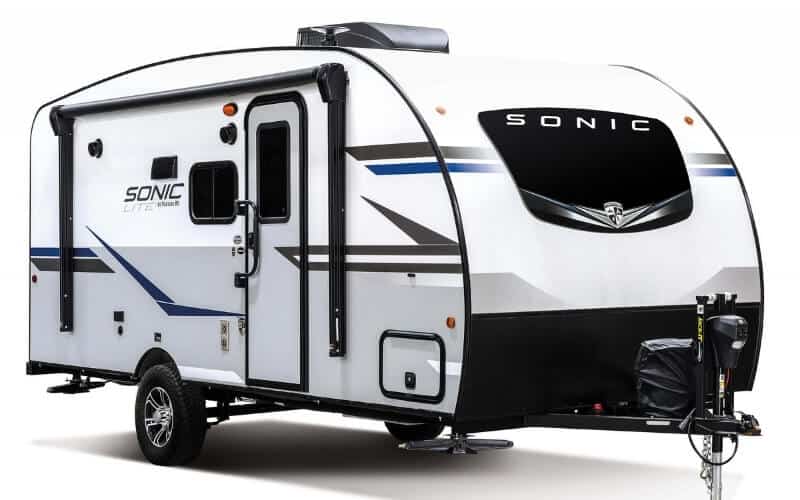 As the name implies, the Venture Sonic Lite was designed to be ultra-lightweight, yet still has the durable fiberglass roof that you want for superior durability.
With only a hitch weight of just 270-pounds and a dry weight of 2,480-pounds, you can feasibly tow the Sonic Lite with a mid-size SUV or even a full-size sedan with a robust tow package.
Just like its bigger sibling the Venture Sonic Lite is available in three different color schemes though it has a variety of different floorplans. This is due to the underlying 36-inch tub that the frame of the Sonic Lite Sits on. It also means that the door is at the back of the camper, facing the full bathroom.
The kitchen features an RV refrigerator, a propane stove, and a sink, with more countertop space than you would expect in a trailer that measures in at just two inches longer than 12-feet.
5: Winnebago RVs With A Fiberglass Roof
Winnebago originally made their name by capitalizing on the motorhome revolution of the 1970s and 1980s.
Though they have since evolved to offer a wide lineup of RVs including travel trailers fifth-wheel trailers and motorhomes.
In recent years they have gravitated away from fiberglass roofs though they still do offer their Minnie Drop travel trailer, which has the weight and aerodynamics that make it very easy to tow, all without compromising too drastically on the interior space. It was created to be easily towable because of its aerodynamic build.
Winnebago Minnie Drop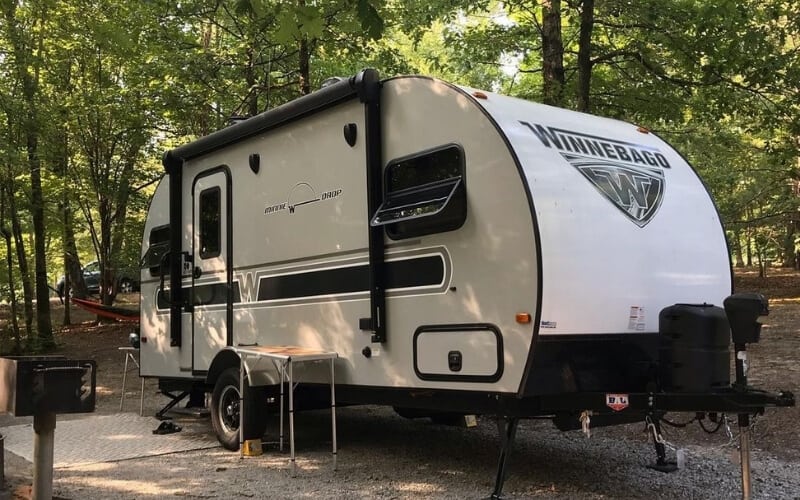 The Winnebago Minnie Drop is the lone RV trailer in their line with a fiberglass roof. This provides this somewhat small travel trailer with superior durability and resistance to the elements.
Though it also helps with the aerodynamics and ease of towing. This means that with a dry weight of only 2,800 pounds you can feasibly tow the Winnebago Minnie Drop with a mid-size SUV.
The floor plan of the Winnebago Minnie drop centers on a U-shaped dinette to your right and also features a bedroom with a tidy set of bunk beds to the left.
Yet for as small as it looks there's even a wet bath as well as a kitchen sink. The Minnie Drop comes with a double stove, fridge, and microwave included in the standard package.
Frequently Asked Questions
Does A Fiberglass Roof Add To The RVs Weight?
Ultimately, the weight of fiberglass and the structural components that marry it to the rest of the RVs frame will increase the weight. This is one of the big reasons why RV manufacturers started going away from fiberglass roofs.
Though modern manufacturing improvements have made it easier to keep the weight of a fiberglass roof lower than in decades past. Some of the best manufacturers producing RVs with a fiberglass roof make sure that the weight isn't a big factor.
Do Fiberglass Roofs Breakdown Faster Than Rubber Or Aluminum?
When it comes to travel trailers, rubber roofs are more likely to allow leaks over time than any other material. This is a frustrating factor that shortens the life of many rubber roofed RVs. Aluminum tends to last the longest when left to the elements.
Though most RVs with an aluminum roof is attached with rivets, which can become prone to leaking over time. Fiberglass RV roofs do have the potential to crack over time. This is more likely to be an issue if you store the RV outdoors and it experiences all four distinct seasons.
If your RV roof does crack or chip it is best to repair it as soon as possible to keep the problem from worsening.
Minor fiberglass damage can often be repaired with a simple inexpensive fiberglass repair kit that you can find in most hardware stores. Whereas a large crack that's been left unchecked may need professional repair.
Conclusion
There are certainly some great, heavy-duty RV's with fiberglass roofs on the market. If you are looking for a small camper that can stand the test of time, then Happier Camper or Venture Sonic might be the best RV with a fiberglass roof for you.
If you are looking for something a little larger and loaded with convenient features then the Sunseeker lineup of Class C motorhomes might be the best RV brand with a fiberglass roof to meet your needs.