Motorhomes offer the greatest sense of feeling like you are in a home away from home. Though a lot of Class C and most Class A motorhomes are too large to use as run about vehicles.
At the same time, flat towing a car can seem like a waste of fuel if all you need is a simple runabout vehicle to get around the RV park or hit the corner convenience store.
One of the new hot trends embraced by RV adventurers the world over, is to bring a lightweight golf cart with you.
Golf carts are great at helping you get around the RV park and the local area. Not to mention giving traveling golf enthusiasts a streamlined experience straight onto the hottest courses.
Yet you can't just flat tow your beloved golf cart behind your rig at highway speeds! The easiest answer to this all-too-common conundrum is to invest in one of the following RV golf cart carriers.
While the MightyHauler 1200G RV Golf Cart Carrier and the Smart Trailers SL 400 are two of the most popular RV golf cart carriers for RVs on the market, they aren't the only ones stepping up to the tee box.
Ultimately, finding the best carrier for transporting golf cart behind your motorhome, or 5'th wheel trailer starts by asking and answering a few important questions.
What Is An RV Golf Cart Carrier?
An RV golf cart carrier is a special add-on, miniature trailer that is connected to the rear bumper of a motorhome or a robust tow vehicle.
Most have a floating platform, though there are a few models that are supported by two or four wheels.
Wheels are more common with heavy-rated platforms to help reduce the vertical shearing force on the bumper of the motorhome.
It also helps take some of the stress off your rig's rear suspension system.
The golf cart is then secured to the platform for safe transport via ratchet straps or some other type of locking safety device. Most even include ancillary indicator lights.
Can I Use An RV Golf Cart Carrier To Haul An ATV?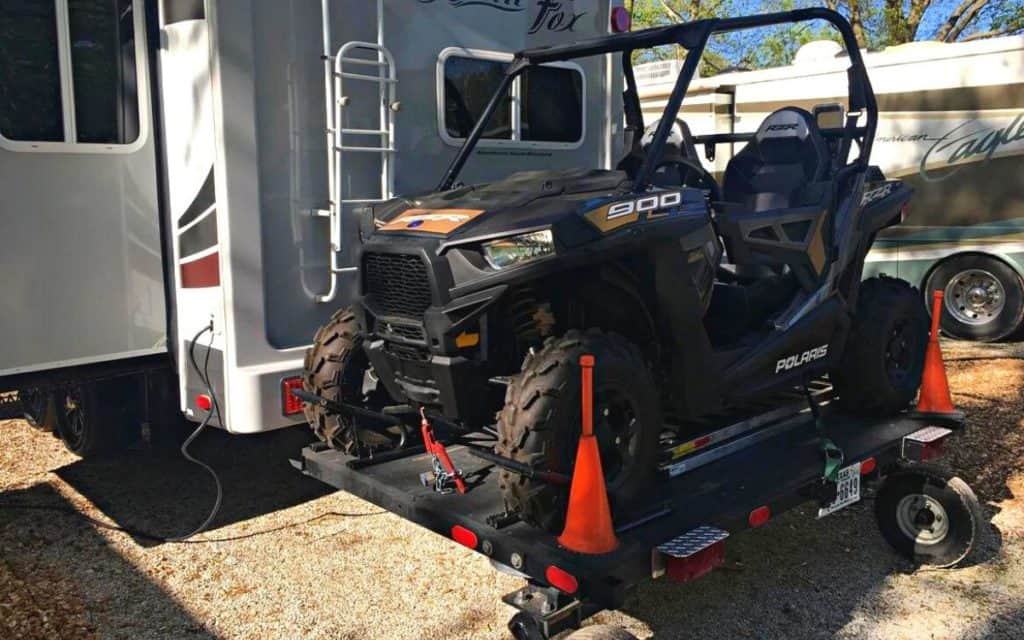 RV golf cart carriers are essentially towable platforms with attachment hard points for straps and other securing mechanisms.
This means you can use them for carrying other small runabout vehicles like ATVs, small UTVs, and possibly even dirt bikes or snow mobiles.
What To Look For In An RV Golf Cart Carrier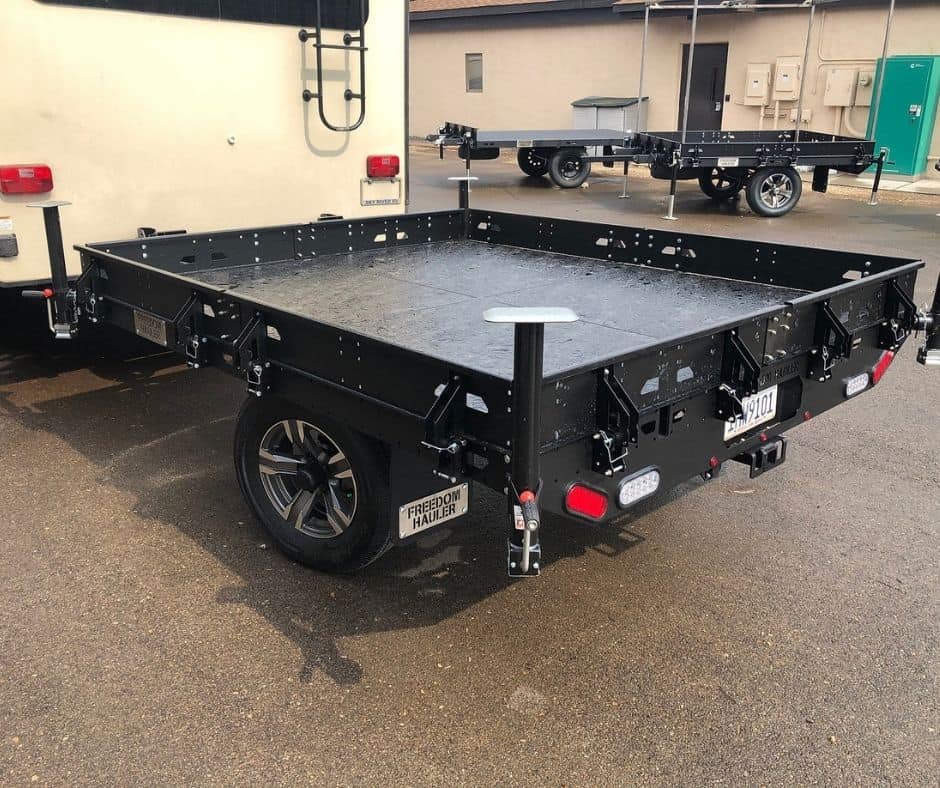 There are a few things you want to keep an eye out for when choosing a golf cart carrier for your motorhome or RV.
This starts with the nuts and bolts details of making sure it will meet the weight and size dimensions of your particular golf cart model.
Platform Dimensions
Most golf cart carriers that affix to the rear of an RV are at least 5 feet by 8 feet. This gives you enough room to park your golf cart and secure it via straps or other securing mechanisms.
Lift Types
Once loaded you need a reasonable means to lift the golf cart carrier's platform up into place to keep it up off the surface of the roadbed.
A hydraulic lift system tends to be the preferred option as it lets you raise and lower the cargo platform with the single press of a button. Though it does raise the overall price of the RV golf cart carrier.
Rated Weight Limit
Most reputable RV golf cart carriers come with some type of rated weight limit capacity. You want a rating of at least 750-pounds, though 1,200 pounds of more would be ideal.
Tie Downs
Without tie downs, and the reinforced hard points needed to lock things like ratchet straps in place, your precious golf cart will most likely bounce off the platform while driving. Especially if you will be on rough roads.
You want a minimum of four tie down hard points to make sure you can properly secure the front and back of your side-loaded golf cart carrier.
Though more certainly wouldn't hurt. Especially if you plan to carry other things like dirt bikes, ATVs, or a snow machine at other times.
Construction Materials
While aluminum might be lightweight, what you really want is steel when it comes to an RV golf cart carrier that can safely bear the weight of the cart, while also having the durability to endure the bumps you have to drive over and the shaking that happens at speed.
Wheels or Free Floating
Some RV golf cart carriers simply attach to the rear of a motorhome or trailer and have a free-floating platform.
However, this can limit their weight capacity to 1,500 pounds or less. RV golf cart carriers with two or sometimes four wheels tend to have a higher maximum weight rating and bounce less.
Though they often cost more, the count against your towing capacity, and in some states can fall under "Triple Axel Towing" regulations.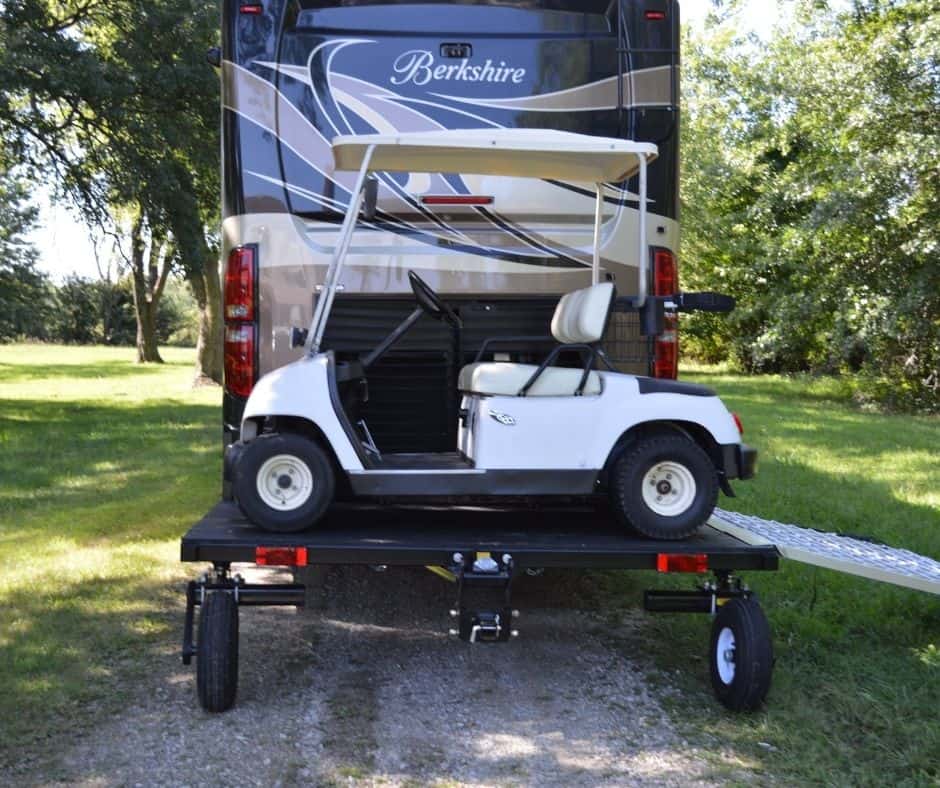 The 5 Best Golf Cart Carriers For RVs
While reviewing golf cart carriers were kept an eye out for the kind of robust build quality that you want to see in a unit tasked with protecting your major investment.
We also stayed mindful of special features like hydraulic lifts and easy loading features. The end result is a collection of some of the best RV golf cart carriers that your money can buy.
1. MightyHauler 1200G RV Golf Cart Carrier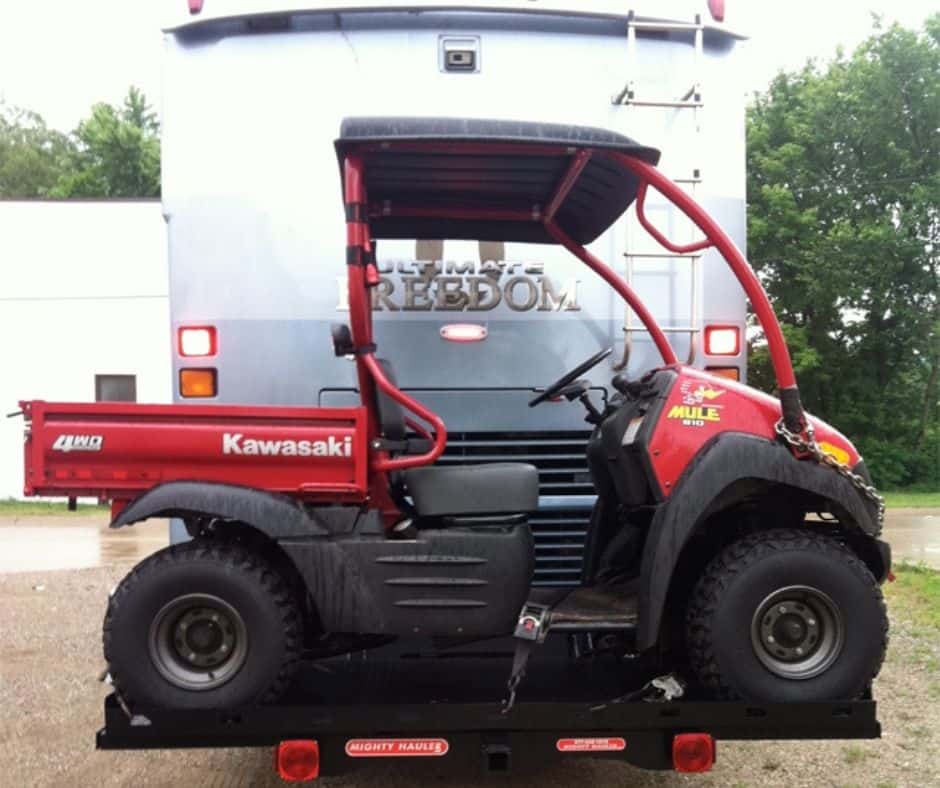 The MightyHauler 1200G is one of the most popular and durable RV golf cart carriers.
It was designed specifically to haul a golf cart or a "Trike Motorcycle" on the back of a Class A motorhome. It is rated to safely carry up to 1,200 lbs.
The MightyHauler 1200G was engineered to attach securely to a motorhome via a pair of receivers for added strength and stability.
Each of the receivers is directly attached to the frame of your motorhome and all the necessary hardware is included in the purchase.
Though you might still need to seek professional help for the installation.
The hardware package also includes a pair of tongues are made of 2″ solid bar. The top of the platform is made from heavy-duty steel diamond plate to reduce sliding while in motion as well as make for easy loading and unloading.
There are optional loading ramps available for a reasonable price. Once your golf cart, trike or ATV is loaded, you can easily store the ramps under the platform.
The ramps were specifically designed to be long enough to prevent the vehicle from scraping, while also being light enough for a single person to manage.
2. The Swivelwheel-58 Dual Wheel RV Golf Cart Carrier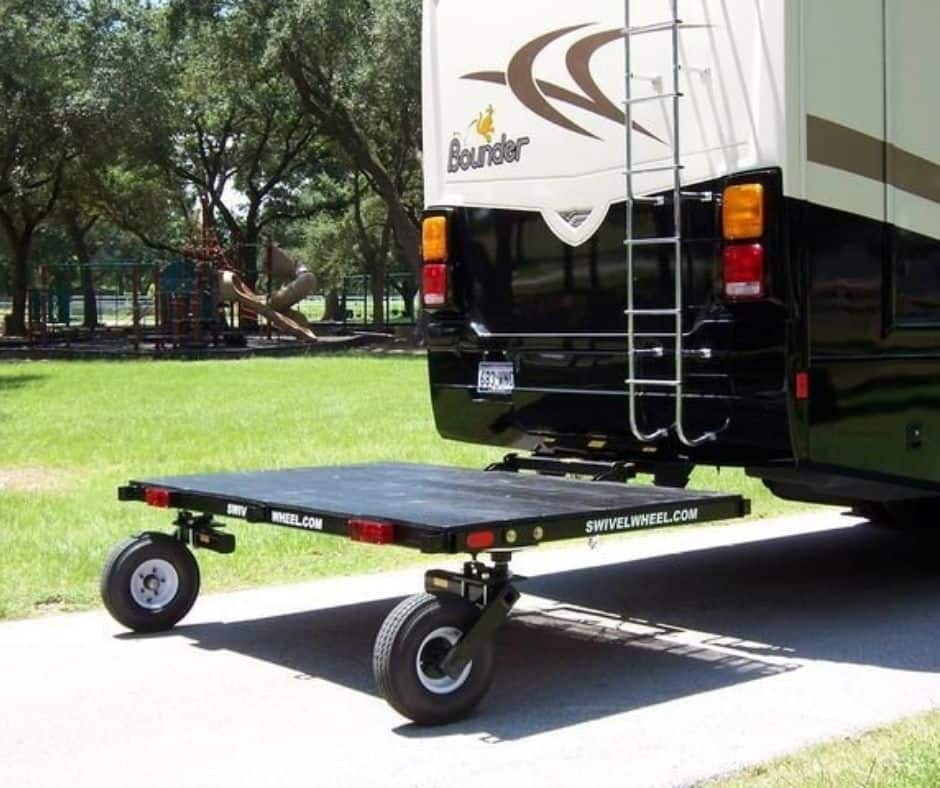 The Swivelwheel-58 was engineered to be versatile. It can be used to transport a golf cart, a motorcycle, or a side-by-side like a Can-Am.
This RV golf cart carrier employs a rotational hitch bar for the dual-wheel models.
The two wheels riding behind the rear bumper of your motorhome improves stability and offers superior durability in the long term.
Something to bear in mind with the installation, is that you will need to have at least a Class-III Receiver Hitch, which limits this golf cart carrier to Class A and robust Class C RVs.
Though there are some newer fifth-wheel trailers that have or can have a Class-III Receiver hitch installed.
The Swivelhead-58 has a maximum weight limit of up to 1,200 pounds, which is more than enough to accommodate most standard golf carts. It also puts a great deal of ATVs and some UTVs in play.
The Swivelhead-58 was designed to let you load and unload it from any side. Though if you prefer you can provide your own ramps.
The platform has six tie-down locations, for custom securing strategies or to multitask it for storage.
It's also worth noting that the manufacturer offers a bunch of other accessories for the Swivelhead-58.
This includes a Spare Tire and Wheel, a Locking Motorcycle Wheel Chock, Power Ramp Loader, a 3-Piece set of loading ramps, as well as a 6-Inch Platform Extension.
While these are optional extras, they let you set this RV golf cart carrier up how you want to use it.
3. The HydraLift 4350sbs Heavy-Duty Platform Lift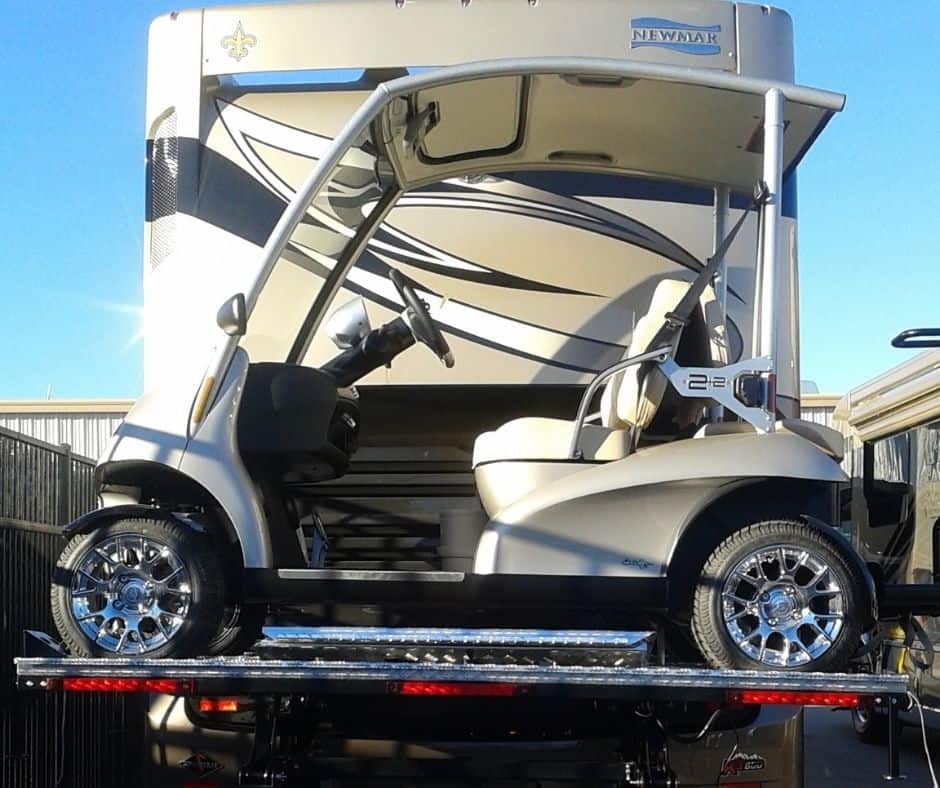 HydraLift has several models in their lineup. Though the HydraLift 4350sbs is the most robust and versatile as well as convenient to use.
With a 1,300-pound lift capacity, you can trust it to carry your golf cart, ATV, and most UTVs with confidence.
The hydraulic lift system also spares you from having to physically rest your golf cart into place, while also significantly reducing the bouncing that happens with a lot of other raised rear cargo platforms.
It uses a universal platform that includes multiple adjustable tie down anchor points.
The HydraLift 4350sbs was also engineered with an automatic locking system. If you need to use it for towing it has a maximum capacity of up to 5,000-pounds.
As an added feather in its cap, the HydraLift 4350sbs was engineered to let you use your own tow bar. It's also made completely in the USA, and folds easily for convenient storage.
4. 8' Freedom Hauler Toy Carrier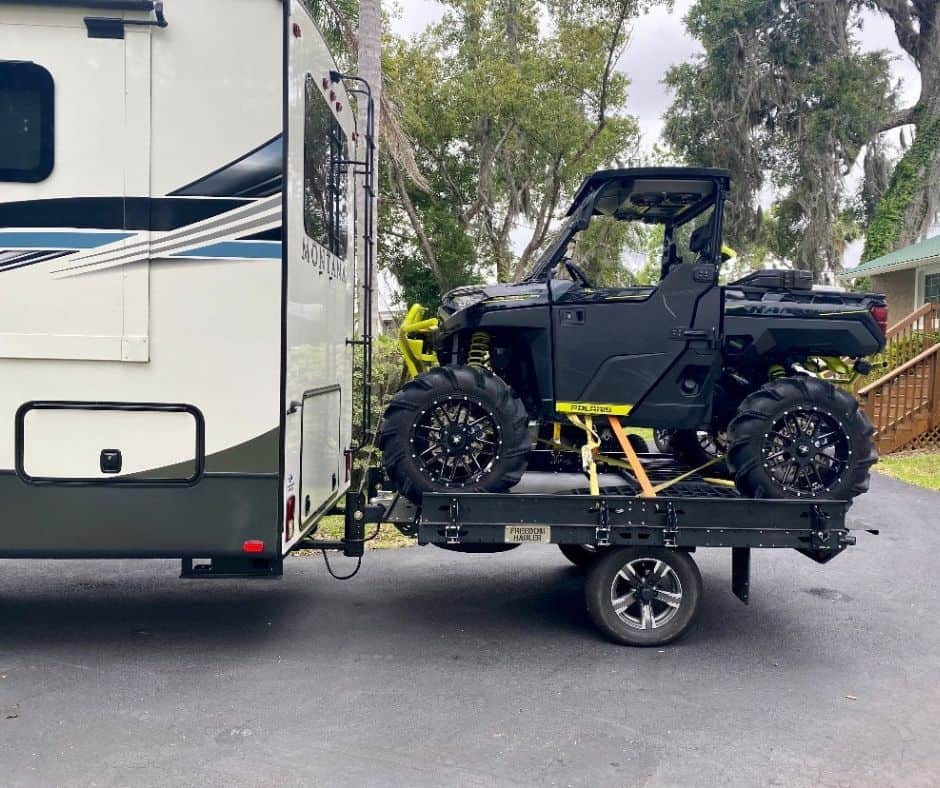 Freedom Hauler is an RV cargo platform manufacturer with a variety of models meant to carry golf carts, ATVs, snow machines, UTVs and more.
While you can technically get by with their 6-foot platform to carry your golf cart, the 8-foot model that you see here is more robust and more versatile.
The Freedom Hauler uses a single wheeled pressure sensing steering axle that tracks smoothly behind your RV.
It also helps to enhance the support and hauling capacity of the cargo platform. This gives it an impressive maximum load capacity of up to 2,400-pounds.
The heavy-duty steel cargo platform has an Integrated 24-28 Point Tie-Down System.
This lets you strap down a golf cart, ATV, UTV or just about anything you want with a custom strapping strategy fit to the machine itself.
5. Smart Trailers SL 400
The Smart Trailers SL400 is more like a miniature tow-behind platform. It is designed to be hitched to just about anything including Class A, Class C motorhomes and even triple axel towed behind a fifth-wheel trailer.
Though state regulations might apply when triple towing. So, be sure to check your state for the regulations if you intend to tow this RV cargo platform behind another trailer.
Of course, with the four wheels supporting the platform, the Smart Trailers SL 400 has the robust weight capacity you expect.
It can hold up to 2,500-pounds and offers a large cargo platform of 66″ X 96″ X 21-inches.
This means you can easily take a golf cart, ATV, or a large side by side UTV with you on your RV adventure.
There are a lot of engineering advantages that come with using a four-wheeled RV golf cart carrier like the Smart Trailers SL 400, which has a free-floating hitch assembly.
While it weighs 750-pounds on its own, the weight won't directly affect the suspension system of your motorhome.
Though it will count against your overall towing capacity, which would be an issue if you are triple axel towing.
Frequently Asked Questions
What Are The Benefits Of Using An RV Golf Cart Carrier With Wheels?
Some RV golf cart carriers have two or even four wheels, which makes them a lot like a closely connected equipment trailer.
Though the platform still benefits from a significant amount of support from the RV's receiver hitch or hitches.
The benefit here is that the golf cart, ATV, or trike being carried will experience less bouncing on rough roads. It also tends to increase the maximum cargo capacity.
Are There Any Special Regulations Governing RV Golf Cart Carriers?
When it comes to connecting your RV golf cart carrier to a Class A or a robust Class C motorhome, there aren't a lot of regulations to worry about beyond safety and road worthiness.
It's when you put an RV golf cart carrier with support wheels behind a fifth-wheel trailer or travel trailer that you have to deal with "Triple Towing Regulations."
It varies from state to state and is also influenced by length. In these states, you are required to have a special license endorsement with this type of set up.
Is An RV Golf Cart Carrier Hard On A Motorhome's Suspension System?
While Class A motorhomes have robust bus-like rear suspension systems that can handle just about anything, smaller Class C motorhomes, fifth-wheel trailers and travel trailers can suffer excess wear and tear on their suspension system when using a suspended platform.
Especially if you are going to be traveling over a lot of rough roads, which increases the risk of bouncing and shaking.
In a scenario like this, you might want to lean toward a wheeled RV golf cart carrier.
Conclusion
RV golf cart carriers have evolved in recent years to become versatile transport solutions for a wide range of other vehicles.
The RV golf cart carrier that is best for you will depend on the type of RV you have, as well as any other runabout vehicles you might want to take with on certain trips.
If you have a Class A motorhome with a robust rear suspension system and you only need to take a golf cart with you, then the HydraLift 4350sbs or the MightyHauler 1200G will probably be the best RV golf cart carrier to meet your needs.
If you sometimes want to take more than a golf cart with you, or you want to tow the golf cart carrier behind a smaller Class C motorhome or a fifth-wheel trailer, then the Smart Trailers SL400 might be the best option.
It's four wheels let you pull it behind you like a miniature trailer and can be used for a wide range of vehicles and cargo.
Just bear in mind that in some states like Michigan you might need a special driver's license endorsement for triple axel towing.