Although they offer many of the same comforts as an apartment, RVs are built for mobility.
Part home, part vehicle, RVs have a long list of elements that could malfunction in some way or another.
Regular RV maintenance will make a huge difference in preventing costly repairs and replacements. It will also help ensure that your RV is ready for the road so that you don't encounter any unexpected problems during your travels.
From annual maintenance checks to regular upkeep, this RV maintenance checklist covers the steps you should take to keep your RV in its best shape.
Routine Maintenance and Checks
A lot of RV maintenance should be done before and after each trip. Making sure that everything works ensures safety on the road and helps prevent unwanted surprises while on the road.
Properly cleaning and storing your RV after and between uses also prevents things like mold and rust that can eat away at the RV itself.
Let's take a look at the various RV components that require routine maintenance.
Headlights/Brake Lights
Ensuring that all headlights and brake lights work is important for motorized RVs as well as tow vehicles.
Before each trip, do a quick inspection to make sure you and your RV are safe to hit the road.
Maintain Your RV Slide Out To keep it operational
Slides require regular maintenance to keep them working optimally. They accumulate dirt and debris. and naturally wear with use.
Each time you use a slide, particularly when parking beneath trees and telephone wires, be sure to clean off any loose leaves and droppings before bringing the slide back in.
This will keep your slide sealing properly, and will prevent acidic droppings like sap and bird droppings from eating away at the RV body.
Any place where there's metal rubs on metal, deterioration will also occur. That's why it's important to keep all slides lubricated, allowing them to move smoothly with the least amount of wear on the metal as well as the motor.
Tires and Lug Nuts
It's important to check your tires and lug nuts every time you get ready to hit the road.
Tire pressure fluctuates with changes in elevation and temperature, and lug nuts have the potential to loosen from use over time.
Proper tire pressure helps to prevent flats and blowouts. Keeping the tire pressure equal in all tires also ensures that they wear at the same rate.
The correct tire pressure for your RV can be found in either your RV's manual, or on a sticker on the side of the door.
While you're at it, it's also a good idea to make sure that your spare tire is also in good condition.
Checking the lug nuts is also crucial. Loose lug nuts can fall off of tires, running the risk of an entire wheel falling off while driving.
Before each trip, check each lug nut to make sure it hasn't loosened in storage or on your last drive.
Be sure to also readjust your lug nuts to the proper torque at least once a year. The right torque for your RV will also be found in the owner's manual.
Awning
Awnings can create a great shaded outdoor space, but repairing or replacing them can be costly.
While repairs can easily cost $600, new awnings can cost over $1,000. Maintaining your RV's awning helps to prevent rips and tears as well as mold and mildew that can cause damage.
After any rainfall, be sure to let your awning dry out completely prior to rolling it in.
When this is not possible, remember to pull it out to let it dry as soon as you make it to your next spot.
Be sure to also brush off any debris that collected on the awning to avoid sticks and branches from poking through.
RV Connections to Tow Vehicle
If you tow a fifth wheel or travel trailer, it is important to check the electrical connection between your tow vehicle and RV.
This connection is what will power the brake lights and blinkers on your RV, both of which are important safety features.
The electrical connection will also charge your RV's battery as you travel, which is especially important for anyone planning to boondock without an external electric source.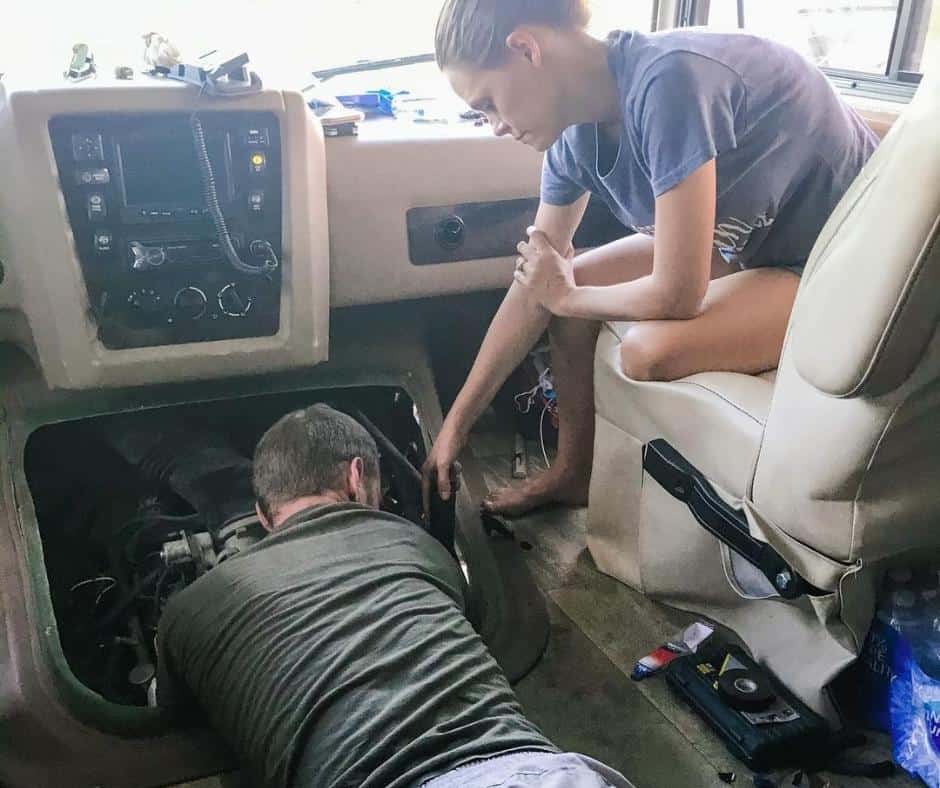 Under the Hood
Before each trip, take a quick look under the hood. Check for loose or broken belts, clamps, and hoses.
Also check for leaks, and top off any low fluids. A quick peak under the hood to make sure everything is in place can prevent some serious problems like overheating of the engine or transmission.
Semi-Annual RV Maintenance Checklist
Some RV maintenance should be conducted a couple times a year as certain elements begin to wear out.
These semi-annual RV maintenance task can also keep your RV running properly by preventing buildup and clogs.
Water Tanks
Maintaining your RV's water tanks will keep them clean and unclogged. The steps taken to do so will depend on which tank you are treating.
For gray and black water tanks, there are specialized chemical treatments that will break down and flush-out any buildup.
Flushing your tanks regularly will prevent potential clogs and valve damage.
Although they will not experience buildup in the same way gray and black water tanks do, fresh water tanks also require maintenance.
It is difficult to know exactly how clean the water at various campgrounds is, but flushing the fresh water tank with bleach will kill unwanted microbes and rinse out any growth or mineral buildup.
engine Oil
Just as with other vehicles, motorized RVs require regular oil changes. How often you get an oil change, however, will depend on how much you use your RV.
If you take it out once or twice a year, changing your oil seasonally should suffice.
For those who go on regular outings, a good rule of thumb is changing your RV's oil every 3,000-4,000 miles.
Batteries
All batteries have a lifespan. Testing them regularly will ensure that you don't get stuck with a dead battery as you head out on your next trip.
Deep-cycle batteries like those found on towed trailers tend to lose capacity after about three years, while start-type batteries that are found in motorized RVs keep their capacity for up to five years.
Lead acid batteries that are commonly found in older RV models have water levels that may need to be topped off.
Be sure to only use distilled water when topping off batteries because even the cleanest tap water has minerals that can leave deposits in the battery.
When checking your batteries, also check that all connection points are secured properly without damage or corrosion.
Moisture, debris, and movement from traveling down the road can all lead to frayed wires and failed connections.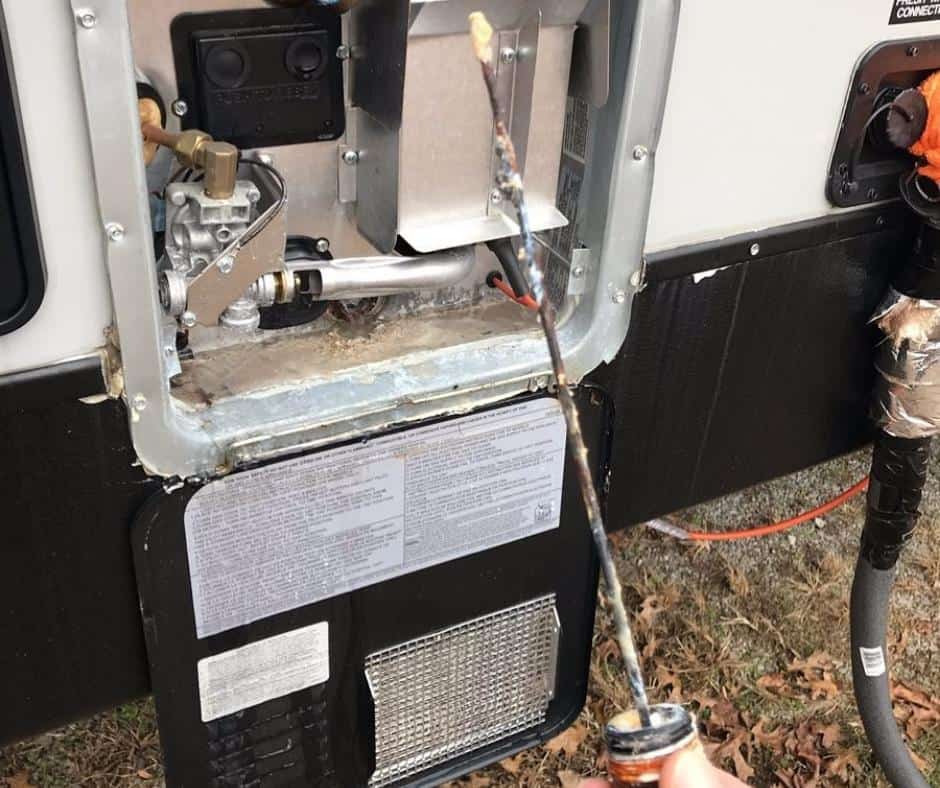 Water Heater
Many water heaters use filters that help to provide clean water. These filters tend to last around six months before needing to be replaced.
Water heaters are also susceptible to rust and corrosion caused by heat, acidity, and oxidation.
Installing an anode rod will attract much of this corrosion to the rod and prevent it from affecting the water heater.
This paired with a semi-annual flush will keep your water heater in its best condition and will keep your water clean.
Electrical System
RVs run on two separate electrical systems. A 120-vold AC system connects to an external electrical source to power larger appliances like the AC unit, electrical outlets, and microwaves.
A 12-Volt DC system connects to the batter to power appliance needing less power, such as lights, water pumps, and televisions.
Running a basic safety test on your RV's electrical system requires connecting to shore power.
Turn on and test all appliances and unites requiring power. If you find any that aren't working, check that all fuses in the circuit breaker are connected properly.
Further issues with the connections of any of these fuses may indicate a larger electrical issue and should be addressed by a professional.
Annual RV Maintenance & Spring Cleaning
Some RV maintenance checks on components that wear out slowly over time can be performed once a year.
Although they may not be as pressing as some of the aforementioned steps, the following annual maintenance checks and and cleaning tasks will keep your RV fully functional and will prevent some unwanted malfunctions as you travel.
Brakes
Working breaks are crucial for road safety. While breaks should be tested before each trip, a closer look should also be taken at the wheel bearings and brake pads at least once a year.
Pack wheel bearings so they are lubricated for the year to come, and make sure that the breaks still have a sufficient padding left on them.
If you happen to need new brakes, this generally includes a repacking of wheel bearings as a package deal.
Roof Seals and Seams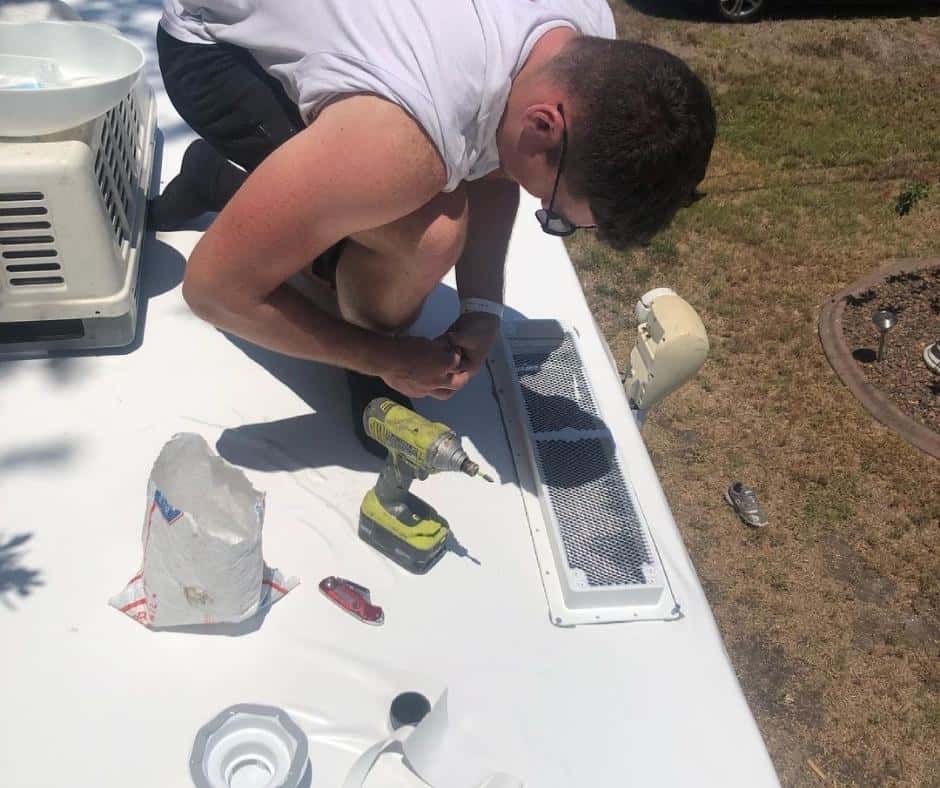 RV seals and seams dry out over time from the Sun's rays and can get pulled and stretched from the moving and shifting that occurs while traveling.
These can lead to leaks, cracks, and even unwelcomed creepy crawlies. By checking your roof seals and seams regularly, you can prevent sneaky water damage that can cause rot as well as mold and mildew.
It is important to choose the right type of sealant for your needs. Doing so will ensure that everything will seal properly, and that it will last.
To choose the right type of sealant for your RV, consider the following factors:
The Climate
Humidity levels as well as extreme hot or cold temperatures can affect the type of sealant that will work best for your RV.
Sealants with UV protection do best in sunnier areas, whereas wetter climates will make mold and mildew a greater concern.
Type of Material
Knowing the type of material that you are sealing can help in determining the right sealant to choose.
This primarily applies to sealing RV roofs, as roofs are commonly made from one of the following four types of materials:
Fiberglass
Aluminum
EPDM (Rubber)
TPO
Area Being Sealed
Roof sealants will differ from those needed for the seams of your RV, so it is important to choose the right sealant for the job. Roof sealants come in the form of:
Liquid
Tape
Adhesive
Self-leveling
This type of sealants can be used to seal leaks and cracks in the roof, as well as cracks and gaps around vents and AC units.
It is important to consider the amount of sun and water exposure your RV will get in order to choose a sealant that will protect your RV's roof from further damage in the future.
Sidewall and corner sealants tend to be puddy and caulking. Puddy can be found under moldings and around cut-out holes such as those for windows and vents.
These seams are then also caulked from the outside. While caulking can patch holes and cracks, older vehicles may also need the base puddy around those seams redone.
Propane System
Propane plays a key role in RVs by providing:
Heat for the furnace
Powers for water heaters and refrigerators
Fuel for stoves and ovens
The rattling and vibrations that occur while driving can damage pipes and loosen fittings.
When checking the propane system, look for leaks, rust, and any place the system is not connected properly.
An annual Timed Pressure Drop Test should also be performed by a qualified RV technician.
This test involves using a manometer and a specialized propane test device to test if the pressure of the propane cylinder drops when these devices are connected.
Any drop in the pressure is an indicator that there is a leak somewhere in the system. This test should also be performed any time you smell propane and suspect a leak.
Air Conditioner
Your RV's AC unit should be checked at least once a year to prevent leaks and debris from getting into the unit.
Checking the air conditioner requires climbing up on the roof to inspect the unit from the top.
Take off the cover to ensure that all cooling fins are straight and pointing in the same direction.
If you find that some are bent, you can gently brush them back into the proper condition or else they will prevent air from properly flowing through the unit.
When replacing the hood, make sure that it fully covers the unit and seals snugly to prevent moisture and debris from getting in.
Air conditioners should also be inspected from the interior of the RV. The filter can carefully be reused after being cleaned with soap and water.
While the filter is removed, vacuum as far into the duct as possible to clear out any dust and pollen.
sensor Detectors
The two main detectors found in RV's are smoke detectors and carbon monoxide detectors. Test buttons can be found on the sides of both devices.
Deep Cleaning
Deep cleaning your RV before it is stored away for an extended period of time, particularly before it is winterized and put into storage for the cold season, will keep it in its best shape until its next use.
A thorough deep clean can prevent moisture from leaking into the RV and causing water damage, mold, mildew, and rust.
It can also keep critters from claiming your RV as their home, and it will save you time and effort when preparing for your next trip.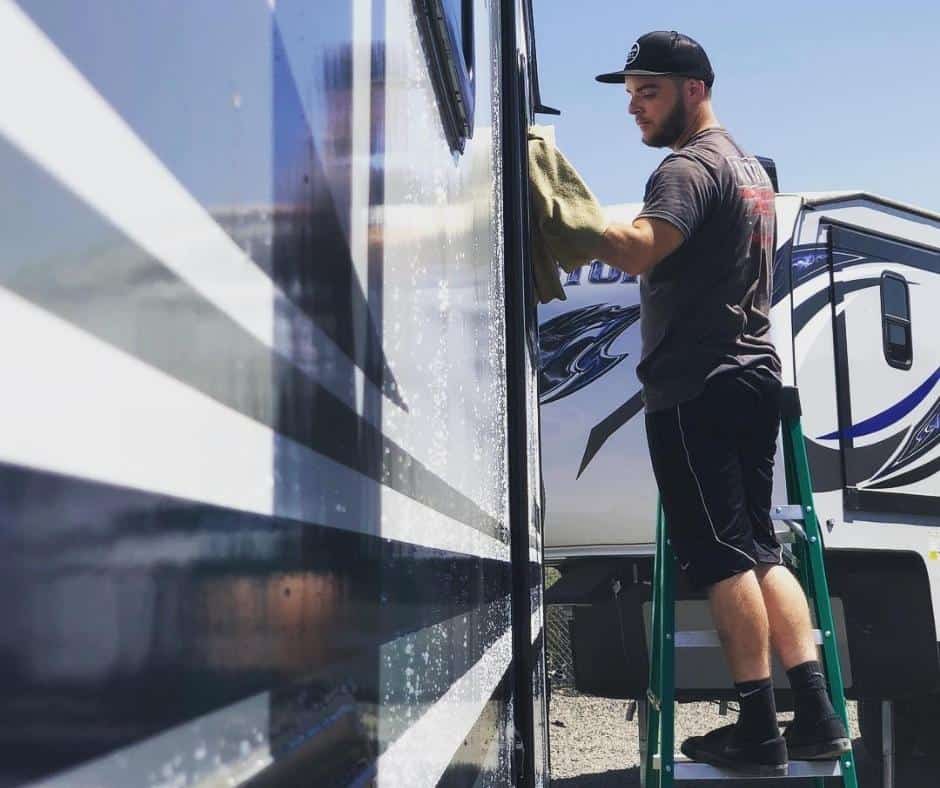 Waxing
Waxing the exterior of your RV doesn't only keep it looking its best, but it can also help to prevent deterioration caused by:
Dirt and grim
The Sun's UV rays
Moisture
Oxidation
Standard car wax works great for painted RVs, whereas a specialized RV wax should be used on fiberglass surfaces.
Tips for Maintaining Your RV
Expert RVers will know that there are some tricks to proper RV maintenance. Along with following the above checklist, taking a couple additional steps will keep you organized and prepared on the road.
Keep a Maintenance Log
Keeping a log of the maintenance performed on your RV is not only useful for owners, but it can be highly beneficial when considering insurance or resale.
An up-to-date log should be complete with the following:
The date that the maintenance is performed
The checks that were made
Whether or not the RV passed each check
Any replacements or repairs performed
Recording these details in a notebook or binder is an easy way to track the condition of your RV.
Stock an Emergency Toolbox
Carrying a stocked toolbox can save you time, money, and a lot of hassle if anything goes wrong on the road.
Depending on the issue, having the right tools on hand could save you a trip to the repair shop, getting you back on the road more quickly and potentially saving your trip.
Along with basic tools and parts, it's a good idea to keep small bottles of all essential fluids on hand.
RV Maintenance Checklist for Before You Hit the Road
Along with performing routine maintenance on your RV, creating a routine checklist before each time that you hit the road will prevent accidental damage from oversights such as forgetting to turn off appliances or leaving doors and windows ajar.
The following points serve as a checklist that can be used each time you get your RV ready to travel.
final thought about RV Maintenance
Proper RV maintenance requires a long list of steps and checks, but is an essential part of keeping your RV in its best possible condition.
Although this long RV maintenance checklist may at first seem daunting, these steps will quickly become second nature the more you go through them.