Cold drinks and fresh food on the road? Sign me up.
Your RV Refrigerator's cool refreshments allow your camper to feel at home, but it's not always up to snuff.
Too many trips have turned sour after reaching into your RV fridge only to find the temperature isn't where you'd like it to be.
If your fridge is not cooling correctly, or you are experiencing ice build-up and freezing temperatures, it's a good sign you need to call in some backup.
Luckily, you don't have to dial up your local repair shop just yet. Instead, a simple solution could give your refrigerator the boost it needs to keep your drinks cold: An RV refrigerator fan.
RV refrigerator fans are installations that help evenly circulate the cold air produced by your fridge, relieving some pressure on your central cooling unit and keeping every corner of your RV refrigerator cool through hot summer days.
Don't let rotten lettuce spoil your next summer vacation. We researched every aspect of RV fridge fans so you can save some power and propane while keeping your food fresh.
What Is an RV Refrigerator Fan?
An RV refrigerator fan is an extra installation that helps keep fridges at a steady temperature in high heat. The fan is nothing more than a small device attached to your refrigerator's fins or exterior vents that grabs onto the cold air and spreads it evenly across your RV fridge.
There are several different types of RV refrigerator fans and various locations you can install your fan depending on where your refrigerator needs back up.
No matter where you hook up your fan, as long as you connect it to a power source, it will boost your fridge's ability to maintain a steady, cool temperature.
We'll explore all the different places you can hook up your fan so you can personalize your plan for fridge relief.
Why Do RV Fridges Need Fans?
Take everything you think you know about refrigeration and throw it out the window.
RV refrigerators don't work like a fridge in your home. Instead of relying on electric compressors, RV fridges work on a heat absorption system.
An absorption refrigerator absorbs heat from inside the fridge using ammonia and sodium chromate.
These chemicals collect the warmer air and pass through a condenser unit, typically located in your refrigerator's fin.
Inside this condenser unit, the warm air and ammonia combine with hydrogen gas, which jumpstarts the air particle's natural evaporation process.
The cooling you feel inside of your fridge is a result of this evaporation. Without a fan, the ammonia struggles to move throughout the entire space on the inside of your fridge.
Hot temperatures magnify the ammonia's struggles. When the weather outside reaches 100 degrees, the heat will creep through your fridge too fast to be adequately absorbed.
RV fridges need fans to step up when the heat is on. By circulating cool air around the fridge's exterior or helping the ammonia and cool airflow throughout the interior, a fridge fan will keep your food cool through extreme weather.
What Does an RV Refrigerator Fan Do?
Depending on where you need help, there are two types of RV fridge fans, each set up in different places with different strengths and weaknesses.
RV Fridge Fin Fan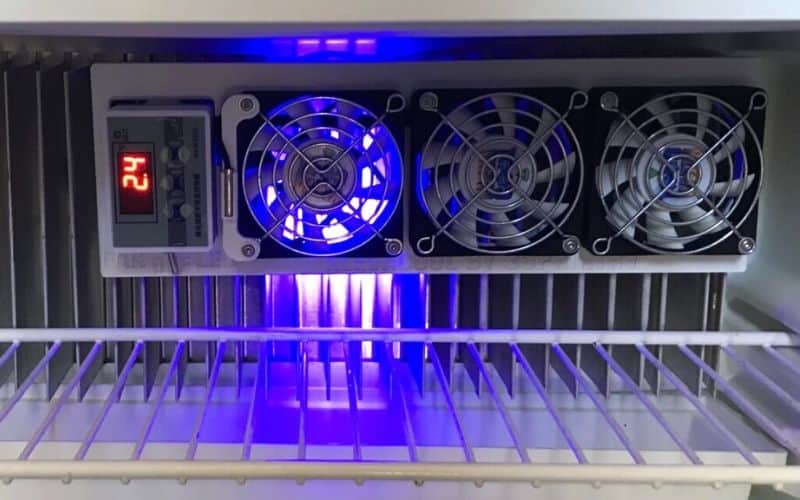 You should install This type of RV refrigerator fan inside your fridge, as close as possible to the cold fins inside the unit.
In an absorption camper fridge, the cold fins are the source of the cool air that keeps temperatures down for the entire fridge.
An RV fridge fin fan will boost the radius that these fins can propel cool air.
The fridge fin fan takes the cool air from the fin and spreads it further out than the fins can do on their own.
As a result, the fan's airflow helps prevent icy build-ups and dead spaces caused by the cool air all staying in one place.
If you are experiencing areas of your fridge that are too cold while also having areas of your fridge that never cool down, hooking up an RV fridge fin fan will better distribute that cold air and make your fridge work smarter instead of harder.
RV Refrigerator Cooling Exhaust Fan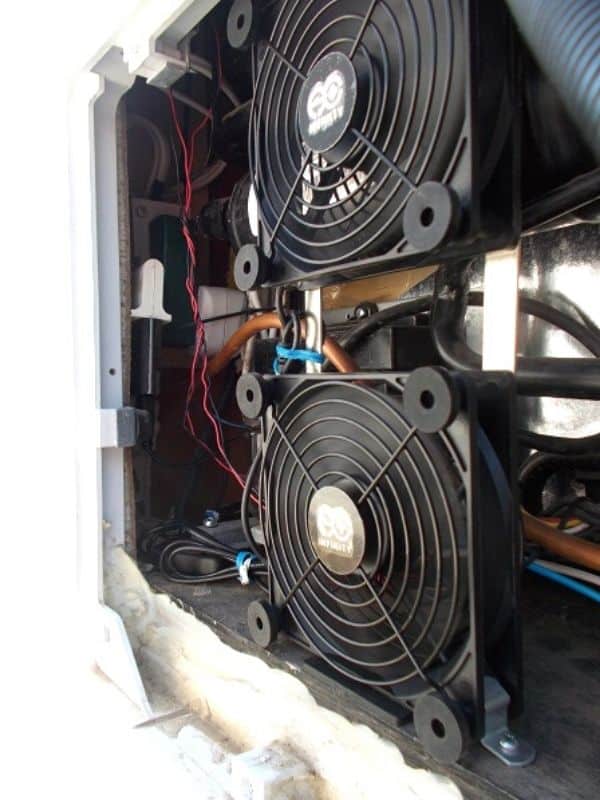 The other main style of RV refrigerator fan works on the exterior of your fridge.
Your RV fridge likely has vents in the back that draw cool air in and blow hot air outside of your vehicle. You can usually find these vents on the outside wall or roof close to your fridge.
On a scorching day, or whenever the fridge side of your RV is in the sun, the natural flow of air through these vents won't get the job done.
Hooking up an RV refrigerator vent fan kick starts air circulation by bringing more cool air and getting warm air out faster.
Vent fans installed in the middle of your cooling unit's backside will force more airflow through your RV fridge's outside vents and cool everything off from the outside.
Fridge owners who can't get the temperatures to stay down no matter the power source should look towards the exterior for solutions and set up a refrigerator vent fan.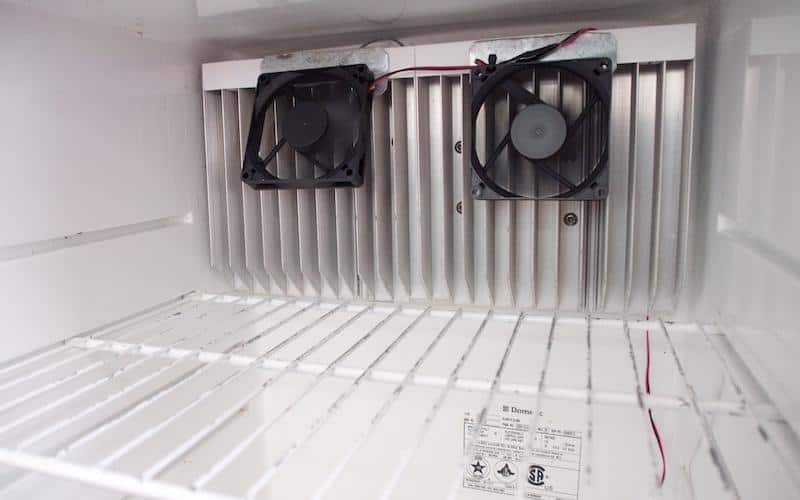 The 6 Best RV Refrigerator Fans
We've laid out the best RV fans in both categories so you can understand all your cooling options.
Any one of these RV refrigerator fans has proven effective at lowering fridge temperatures and has made countless RVers' food last longer.
So, decide which type of fridge fan you want to use on your refrigerator, or use one of each style for the most potent cooling boost.
Fin and Interior Fridge Fans
1: Valterra A10-2618VP 12 Volt Exhaust Fan
We love that this fan automatically turns on and off, preventing excess battery strain and always being ready when you need it most.
In addition, the fan is well insulated using wind tunnel technology, which lets you cool your fridge while minimizing the power draw.
Efficient and mighty, The fan works well enough in high temperatures to provide relief for desert campers in 110-degree heat.
Wow! That's some severe heat relief. This Valterra interior fridge fan is small enough and powerful enough to provide relief to RV fridges of all shapes and sizes.
2: RV cooling Triple Fan Frost Guard Interior Fridge Fan
This three-fan system is best for heavy-duty relief. The one-year warranty will make your purchase feel secure, and the powerful air circulation provided by the unit will keep your entire fridge fresh.
All this extra power still comes at an affordable price, so if you have a high-quality 12V system that can take on an additional load, hooking up this deluxe fan system directly to your fins will bring instant relief.
3: Camco 44124 Universal Fridge Airator
Camco's aerator is a battery-powered option for quick trips. If you are only searching for a temporary solution and don't want to start drilling holes in your fridge just yet, this simple choice sits right underneath your fan and goes to work.
Full-time RVers may not enjoy having to replace the batteries once a week, but if you just want to make it through a weekend in the desert, this affordable option will spread air evenly throughout your fridge's interior.
Exterior Ventilation Fans
1: TITAN TTC-SC22 Double Rack Mount Ventilation fan
Built to last, this Titan is waterproof and comes with two separate fans that provide dual cooling power.
A separate controller allows you to adjust the speed across six different options, and the intelligent unit will automatically turn off once the temperature cools down.
You won't hear a peep out of this fan as it gets the job done. As long as you have an AC plug near your fridge, you'll be able to hook up this fan and find relief within minutes.
2: Coolerguys 8541598066 High Airflow Waterproof Fan
One fan could be all you need, especially if it is this high airflow Coolerguys option.
The fan is guaranteed to run for three years, but with metal ball bearings, you should expect the fan to blow for a lot longer.
Built of high-quality materials throughout, this fan can tackle even the most heavy-duty job requirements to keep your fridge cool all summer long.
Not only is it powerful, but It will also ship to your door ready to be hooked up into 12 volt systems, and, thanks to its simple installation process, your fridge will wield its high airflow before the weekend.
3: TITAN TTC-SC22 Double Rack Mount Ventilation fan
You can't have a list of the best RV refrigeration products without a Dometic option popping up somewhere.
The RV refrigeration powerhouse company provides an exterior fan kit that is simple and effective.
All you need to hook up the innovator is four screws and a 12V DC connection. It can't get much more straightforward than that!
Tips to Keep Your RV Refrigerator Working in Hot Weather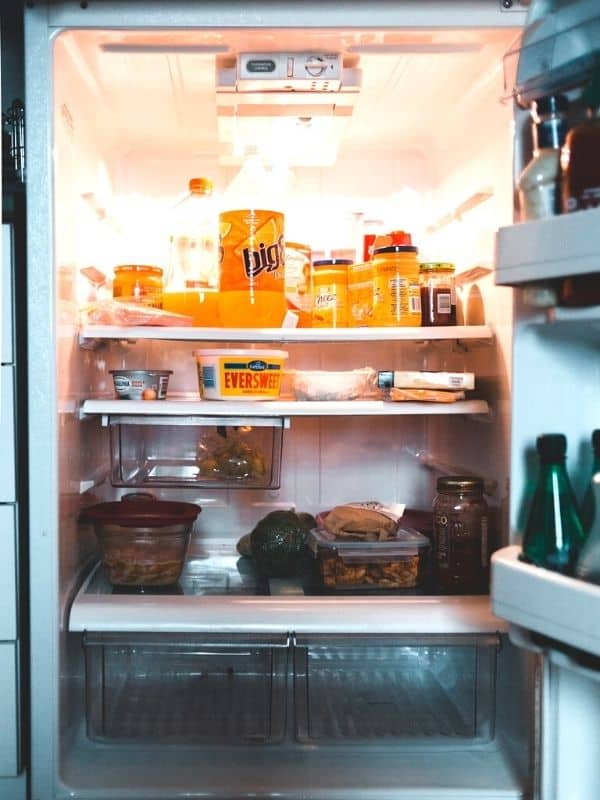 Hooking up an RV refrigerator fan will go a long way towards providing you with endless cool beverages, but that doesn't mean your job is done.
We'll lay out a few strategies employed by veteran RVers that go a long way towards keeping temperatures down no matter how hot it is outside.
Give your fridge and fridge fan a better chance to succeed with these simple tips and tricks.
Turn your fridge on 24 hours early
Give your fridge a head start and allow it to cool off for a full day before you start filling up.
An empty fridge will cool off more efficiently, and some RV refrigerators may struggle to cool down at all if they are full of food before you fire up the propane.
Use Propane to Cool
Propane gas will cool your fridge faster than using 12V power. While either method will work efficiently to maintain cool temperatures, try to initially power your refrigerator on propane energy sources to reach the coldest possible temperature.
Pro Tip: Modern RV fridges will generally work on both 12 V and propane gas. Depending on your specific system, you can use a combination of the two to most effectively power up your fridge.
Use propane in the initial 24 hour period your fridge is warming up to get it to optimal temperatures, and once you hit the road, you can switch over to 12 V to get the most cooling out of your resources.
Organize your fridge
The longer you stand and stare through your refrigerator door, the harder your fridge will have to work to reach baseline cool.
Organize your fridge before you leave the driveway, so you will always know exactly where everything is inside your fridge.
Once you know everything inside your fridge, you can map out your dinner and understand precisely where you need to go to pull out everything you need efficiently.
Closing your door just a few seconds earlier will help heaps of cool air stay where it needs to be.
Park in the shade
The backside of your fridge has little insulation protecting it from the harsh glare of the summer sun.
In the middle of a hot day, make sure the side of your car that houses the refrigerator is receiving direct shade.
Sunlight beating down on your ventilation system will make it practically impossible for your refrigerator to function properly.
Check the Seals
Don't comb over all the inner mechanics of your fridge before first checking the sealant between the fridge door and your RV.
Air sneakily leaking out of tiny cracks and crevices in your seal will cancel out the efforts of even the best RV fridge fans.
Run your fingers along the entire outside edge of your refrigerator door slowly, feeling along for any surprising cold air.
Good News!
A sealant issue is an easy fix.
Your fridge manufacturer will have a new seal built to fit your fridge ready for order, and you'll need a pair of pliers.
Remove the old seal with your pliers and apply the new protection by lining up the frame and putting pressure along the edges.
Use a Thermometer
It's essential to keep on top of your refrigerator's performance. A thermometer will allow you to understand your fridge's average baseline temperature. If you notice the temperature begin to creep up, you can fix the problem before it leads to spoiled milk.
Conclusion
There aren't many RV refrigerators that couldn't use the help of a RV refrigerator fan on a hot day.
If you are experiencing a troubled unit or just want to find a way to boost the performance of your fridge, RV refrigerator fans are affordable options that provide quality relief.
In addition to being affordable, RV owners can install most of the fans on our list in an hour or less, so your RV refrigerator can be ready for desert heat before the weekend.