So, you're considering replacing the floors in your RV. Maybe it has that old, 90s-style carpet that contains three generations of dirt and grime; or maybe you simply want to update the look and feel of your home on wheels.
Whatever reason brought you here, you are probably wondering: What is the best flooring for an RV?
There are several great materials when it comes to RV flooring. Three most popular camper flooring options include carpet, vinyl, and laminate. Out of those 3, however, the best RV flooring type is undoubtedly vinyl. It's lightweight, durable and water resistant! Plus it comes in tons of different colors so you can find something to match your camper décor style.
That being said, there are many factors to consider when choosing the best RV flooring for you.
Each flooring option has its advantages and disadvantages; and while vinyl might be a great option for some, it may not be the best for others.
Because of this, we've created a comprehensive RV flooring guide to help you decide when to replace your floors AND which material is best for you.
Let's dive in.
How to Tell When It's Time to Replace Your RV Flooring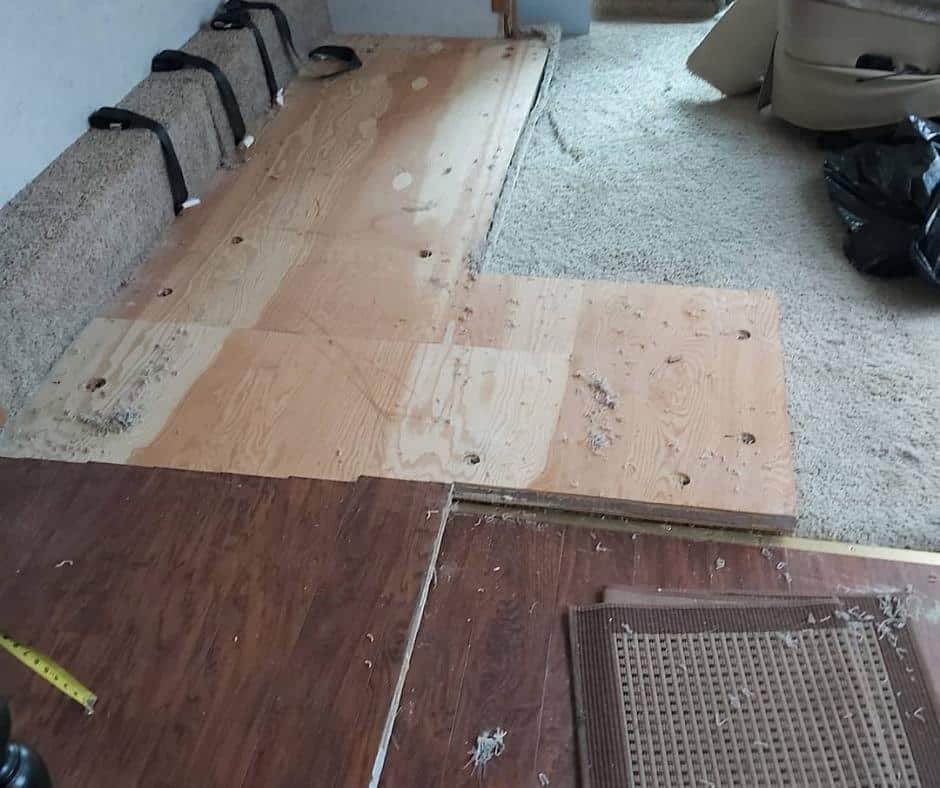 There are many signs to look for when deciding if it's time to replace the flooring in your RV.
Maybe the current flooring is starting to crack; maybe the carpet is becoming frayed and worn; or maybe you're like me and randomly decide to start ripping the carpet up by hand like a lunatic (true story!).
Regardless, I think we can all relate to the sudden urge to renovate your space.
So, if you need some validation for your desire remodel, here are some signs that you should consider replacing the flooring in your RV:
1: Your carpet is frayed, worn thin, or feels impossible to clean.
I have to admit, I am biased when it comes to carpet in RVs: I think it's awful. It's hard to clean and becomes really ugly when it's worn. So if you're here wondering if it's time to rip up your carpets, I say YES.
But if you want more than just my opinion, look for the common types of wear that come with carpeting.
This can include fraying on areas that have the most use, wearing so thin you can see the netting on the bottom, and becoming so filthy that even the most powerful Dirt Devil fails to adequately clean your space.
As carpets age, they become thinner; thus allowing the fine particles of dirt to fall to the sub-floor.
If you feel like your carpet is filthy no matter how much you scrub and vacuum, this may be the case.
It was definitely the case with the carpeting in our Class A, and once we finally ripped it up, we realized just how much dirt and sand was trapped beneath. No wonder it never felt truly clean!
2: Your vinyl flooring is cracking, breaking off, or worn down.
Because vinyl is essentially PVC, it does not wear the same as hardwood or other types of flooring that contain wood particles.
When vinyl becomes damaged or worn, it tends to crack or even break off. This is especially common with older vinyl flooring.
Time and wear will make the floor thinner and brittle, causing it to be more vulnerable to damage.
Are you beginning to see spots of white on the heavily trafficked areas in your RV?
Certain types of vinyl flooring only have pigment on the top layer of the flooring, and if your flooring has been walked on quite a bit, you might see places where this layer of colorant has worn thin.
3: Your wood-based flooring is swelling, moldy, or warped.
Flooring that is made of wood or wood-composite (such as laminate or engineered-wood flooring) is an attractive option.
For one, it's gorgeous. And with all the different styles and textures out there, you can make the interior of your RV feel like your own cozy little bungalow.
Nevertheless, this appealing option is susceptible to moisture, temperature changes, and water damage.
Thus, if you're beginning to find spots that are warped, cupping, or moldy, you may want to consider replacing your wood flooring.
In fact, if you find evidence of water damage with any type of flooring, you'll want to consider both removing the flooring and finding the source of moisture.
Check around your slides, windows, and along seams in your ceiling. If there's anything that will throw a curveball into your travel plans, it's untreated water damage!
Alright, now that we've taken a dive into the various signs of floor damage, let's talk flooring options.
Choosing the Right RV Flooring for Your Lifestyle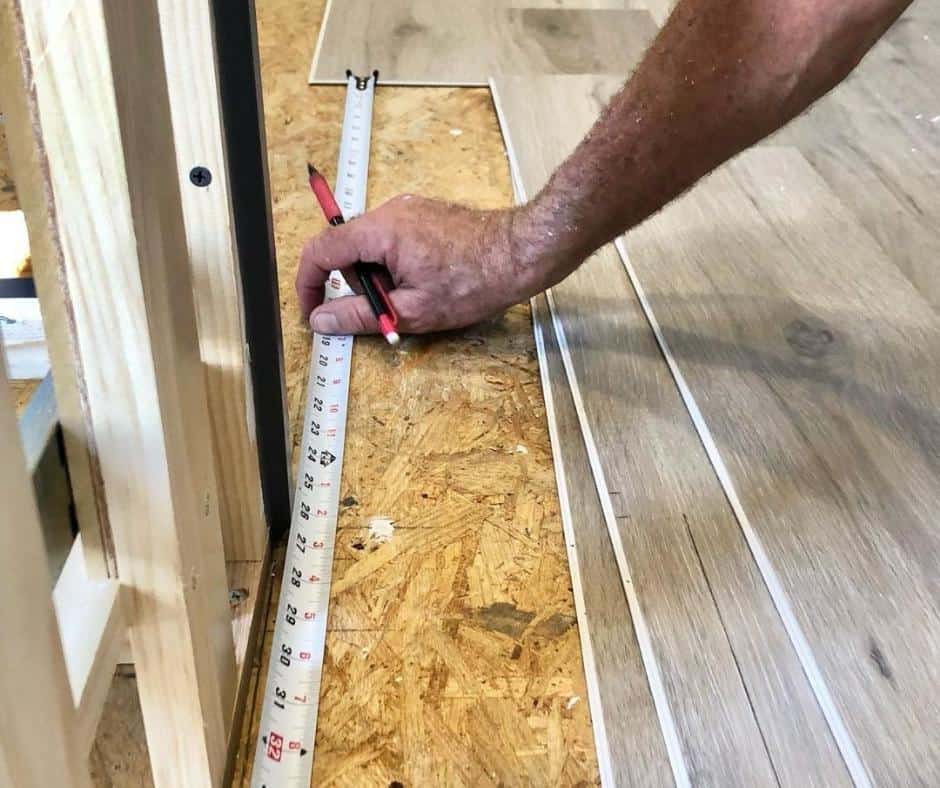 When it comes to flooring options for RVs, there are many components to consider. Indeed, RVs are our homes away from home, but they are designed to be driven (or towed) down the road.
Because of this, choosing flooring for your RV is going to be very different than choosing it for your house.
Sticks and bricks homes are stationary, and common materials used in houses may not withstand the shifting and bouncing of an RV.
Therefore, popular flooring options for houses may be unpopular for RVs.
Here are 3 important factors to consider when choosing best replacement flooring material for your RV:
1. You want the flooring material to be lightweight.
This is why hardwood and tile are typically not used in RVs. And while they are both very pretty, they'll cost you a pretty penny in fuel because they'll weigh your rig down significantly.
For example, laminate flooring usually only weighs about 1.5 lbs per square foot, while hardwood flooring can weigh 2.8 lbs per square foot or more. That's the difference of over 300 lbs in the average Class A!
2. You'll want the flooring to be flexible.
Because your RV is just that: a recreational vehicle, you'll want flooring that will hold up to the constant shifting that comes with driving down the road.
This is why materials such as concrete, porcelain, marble, and other stone tiles are not the best for RVs. Not only are they heavy, but your beautiful floors will crack in no time!
Think: tough yet malleable (just like us RVers, am I right?).
3. You'll want the flooring to be durable.
Because of the small space, RV floors get A LOT of use. Think about it: you probably walk around the living/kitchen area at least a zillion times a day, and if you're a full-timer, times that by 365! (Ok, I know a zillion isn't exactly a real number, but you get the picture).
For this reason, you'll want floors that will hold up. This means finding a sturdy material that is resistant to cracking and water damage AND choosing a good quality option (i.e., you may not want to pick the cheapest product you can find).
Now, with all these considerations in place, let's discuss options for flooring in RVs (including my personal favorite: Vinyl!)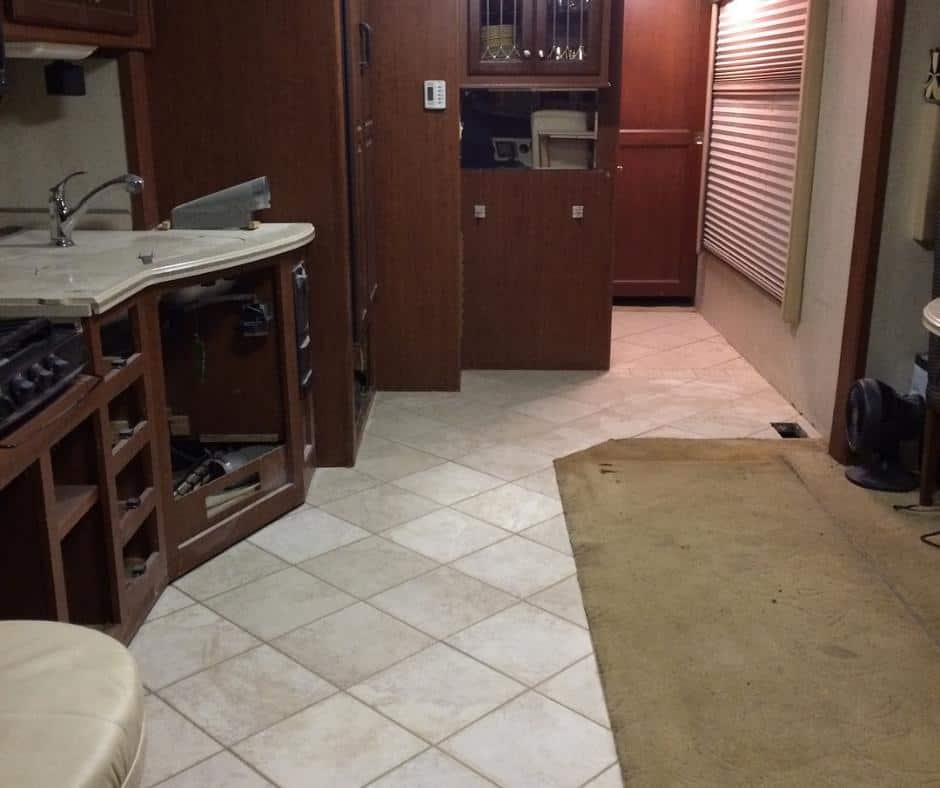 6 Types of RV Replacement Flooring Materials
There are many different options for replacement flooring in RVs and each option has its own list of pros and cons.
Below you'll find RV flooring types for any budget or lifestyle. Whether you are looking for all-natural, eco-friendly materials or floors that will withstand the next natural disaster, we've listed it all.
So grab a pen and some paper (or just open your Notes app), and keep scrolling!
1. Carpet for RVs
I'll say it again: that dang carpet. When we were in the market for a used motorhome, I found myself constantly asking: "WHY? Why the wall-to-wall carpeting?!"
But as I learned more, I understood the reasons why carpet was (and still is) so popular in RVs: it's lightweight, inexpensive, and sound-deadening (all of which are very appealing for RV manufacturers!)
Believe it or not, there are actually very good reasons to choose carpet for your RV; and even I, the staunchest of carpet-haters, can agree with some.
Pros:
Cons:
The Home and Office Needlebond carpeting is your most basic carpeting option (think: libraries and schools) and it is the most affordable at only $0.72 per square foot!
While not very cozy, it is made of polyester and therefore is stain and mildew-resistant. It's also great if you have a tight budget!
This carpeting ranges from $1.50 to $8 per square foot, depending on the material and style you choose.
The company, Mohawk Flooring, has created 3 types of carpeting made from polyester, nylon, and polypropylene; giving you several options for moisture and stain-resistant flooring for your RV.
This option is on the higher end at $150 per 10 feet, however, it definitely has its perks. Rec Pro Extreme Duty is tough, yet soft, and easy to install.
It's made with tightly woven polypropylene and is rubber-backed to further protect your subfloor. No doubt, it's a great option if you want extremely durable carpeting.
2. Rubber Flooring for RVs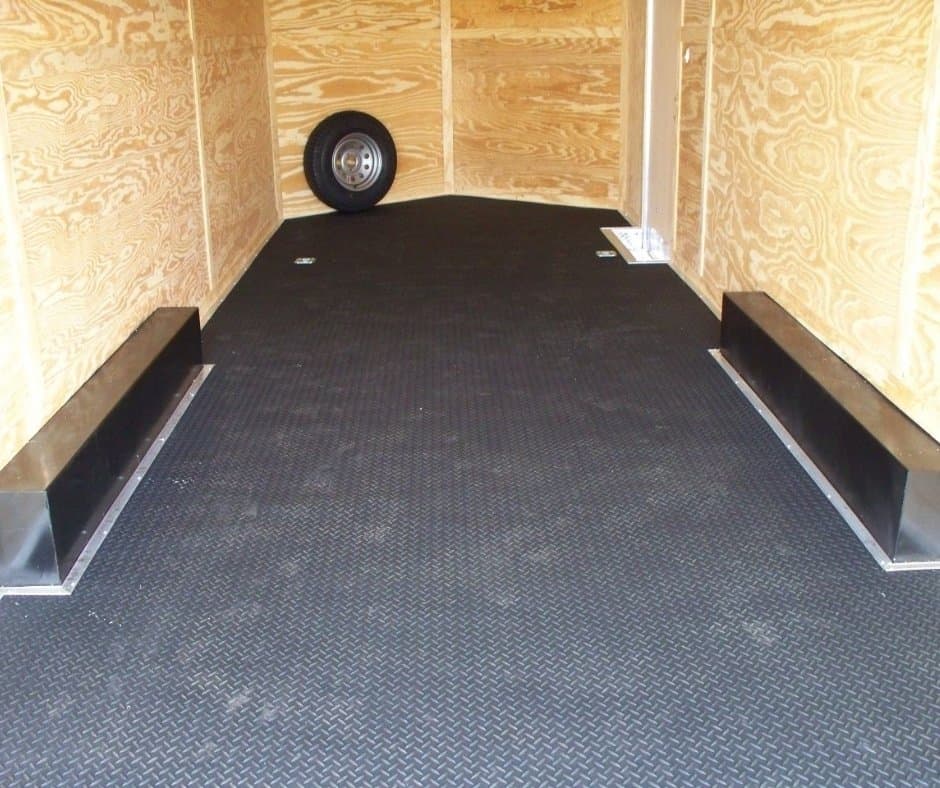 Rubber floors for RVs?! Yeah, that's what I said too. It's definitely not the coziest option, but it is completely indestructible! Rubber flooring is especially great for vans, tailers, and toy haulers.
If you're a weekend warrior who doesn't want to worry about scratches or dents when you load up your dirt bikes or side-by-sides, this option may be for you.
Rubber flooring usually comes in rolls and can lay over the existing floors for extra protection against damage and moisture.
It comes in a variety of different thicknesses and textures, such as non-slip and ribbed patterns, and is great for any budget.
Without a doubt – if durability is a priority above all else, you'll probably want to choose rubber.
Pros:
Cons:
This rubber flooring option is the most economical, at only $1.30 per square foot. It is popular for areas such as gyms, dog kennels, garages, and other utility-type rooms.
It does not have the skid-resistant textures like the more expensive options; nevertheless it is very durable and completely waterproof!
This Rubber flooring option is found on Amazon for $504.95 per 8.5′ x 25′ sheet (this equates to about $2.38 per square foot).
It is resistant to dents, water, sunlight, and temperature changes, and the diamond plate texture makes it non-skid.
RubberCal.com is a great website to visit for a variety of rubber flooring options.
There are many products and price points; however, you're probably going to pay a little over $4 per square foot for basic textured rubber flooring.
In addition to the variety Rubber-cal offers, they also have a 3-year warranty for their flooring and plenty of great reviews to back them up.
3. Hardwood Flooring for RVs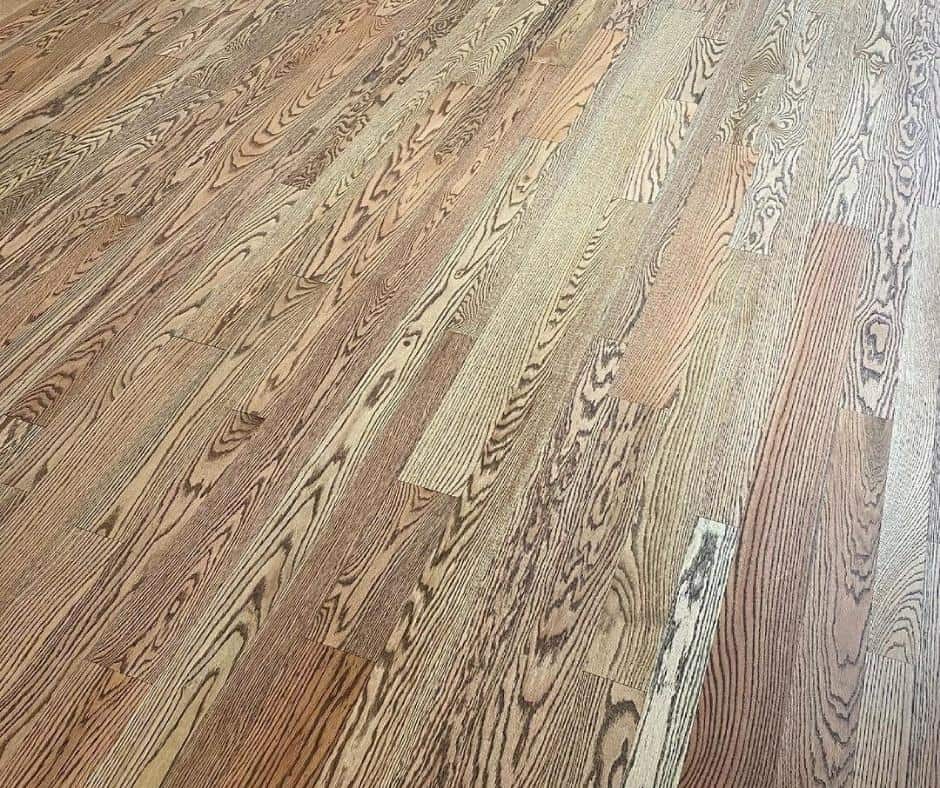 Oh, hardwood flooring – you're everything a girl could ask for. You get better looking with age, you're sturdy yet flexible, you have a unique charm all your own, and you don't even get annoyed when I eat all the ch- wait, what?
Yes, hardwood flooring is the ultimate dream. It adds that authentic style you can only get with real wood and not only that – it adds value to your RV as well.
There are a variety of hardwoods that are used for flooring – some popular types include pine, birch, oak, and maple.
In addition to the unique beauty that real wood floors offer, they can be refinished! Meaning, you won't have to tear them up just because they're worn down a bit.
Simply sand them down and refinish them with your favorite wood protectant and voila – you have brand new floors.
Nonetheless, hardwood has its downsides – especially in an RV. First, hardwood can be extremely heavy and it's not something you should consider unless you know your rig can handle the weight.
Furthermore, hardwood is vulnerable to moisture, mold, and rot. It also expands and contracts with changes in temperatures – something you'll want to be wary of when traveling through different climates.
To be completely honest, I wish I could say that hardwood flooring is a great choice for RVs; but with all the disadvantages, hardwood should really only be used in limited circumstances.
Let's take a look at the pros and cons.
Pros:
Cons:
At $1.99 per square foot, this is probably the cheapest hardwood flooring you will find.
It is unfinished Pine, meaning you will have to finish it yourself by sanding it to your desired smoothness and coating it with a wood protectant (such as polyurethane).
Pine is also the softest of all the hardwoods, making it extremely vulnerable to scratches and dents.
We actually installed a similar product in our sticks-and-bricks home and we love it – but only after accepting all the dents and dings and embracing the "rustic" look.
Oak is a popular wood for flooring because it's relatively affordable and much harder than pine.
This hardwood option is $3.89 per square foot and comes in a variety of different stains and finishes for any look.
It's also completely finished, so you won't have to worry about sanding or staining it yourself. Just nail it down and you're done!
But remember: the harder the wood, the denser it will be. This makes oak an even heavier choice for your RV.
If you're looking for luxury hardwood, look no further. Hearne Hardwoods has a variety of beautiful flooring options such as Cherry, Hickory, Maple, and Walnut.
These high-quality flooring options are sure to satisfy any taste; and ranging from $5.50 per square foot to $25 per square foot, you'll definitely end up paying for it!
4. Bamboo Flooring for RVs
If you want the authenticity of hardwood without the price and weight, you may want to consider bamboo.
Bamboo flooring is becoming more and more popular because it is much more eco-friendly than hardwood flooring.
This is because it is actually a grass that only takes 5 years to grow, instead of the 30 years that an oak tree takes to mature.
And while bamboo is actually twice as strong as oak, it is much lighter, making it a great option for RVs.
Pros:
Cons:
At only $2.98 per square foot, this engineered bamboo flooring is both affordable and easy to install.
It is a floating, click-together floor and therefore doesn't require being glued down. And although it is more affordable than most hardwoods, it is much stronger!
You'll need to pay $4.29 per square foot for this bamboo flooring if you want it in your RV.
BuildDirect's Sonora bamboo floors come in three different styles which are all stunning.
Because this flooring is solid bamboo (as opposed to engineered), the boards have tongue and groove edges which must be nailed down.
This makes the installation a bit more laborious, however, you'll have amazing solid wood floors to look forward to!
This is a great option if you're looking for real wood floors that can stand some wear and tear.
The Cali Bamboo Fossilized flooring has a Janka Hardness score in the 5000+ range. It's also eco-friendly with low VOCs and comes in a variety of styles and textures.
And while this product is on the pricier end, it still seems like a deal compared to some hardwood floors.
The price range for Cali bamboo flooring is around $5.59 per square foot.
5. Laminate Flooring for RVs
If you're like me and obsessed with that real-wood look, laminate just might be your favorite.
Laminate is amazing because it mimics hardwood, but without the price tag or heaviness of the real thing.
And with all the options out there for laminate flooring, you can make the interior of your RV look completely stunning (hello, before and after pictures!).
Laminate isn't all rainbows and unicorns, however. Because it is made with real wood particles, it's vulnerable to swelling, warping, and mold growth.
Thus, it is far from the perfect option (but I'll tell you a secret: we used laminate flooring in our RV and loved it!).
Nevertheless, we were very wary of spills and possible water damage; and if you have pets or young kids, you may not want to take the chance.
Pros:
Cons:
At only $1.09 per square foot, this laminate flooring is one of the most affordable options.
And while it's not waterproof, it can at least withstand wet-mopping.
It's also scratch-resistant and extremely lightweight, making it a decent option for RVs – especially if you're on a budget.
According to Lowe's website, the "Wetprotect technology provides full-coverage technology from surface to subfloor".
They also claim it has scratch and dent protection as well. But of course, with higher quality products comes a higher price tag – $2.99 per square foot to be exact.
With less floor to cover, however, it may feel easier to pay more for better quality.
Just another perk of living tiny! Less space = fewer materials.
Starting at $5.39 per square foot, Shaw Floors' Repel Water Resistant Laminate is a much higher quality flooring and comes with its own warranty to prove it.
According to Shaw Flooring, their Repel brand will resist damage from moisture, stains, or sunlight (limited warranty), and will not warp, cup, buckle, or delaminate (lifetime warranty).
This may be a great option if you want all the perks of laminate AND more durability. As always, it's all about weighing the pros and cons.
6. Vinyl Flooring for RVs
Ah, vinyl; our shining star when it comes to durability, weight, and flexibility. Vinyl is king when it comes to RV flooring because it is so tough.
Since it's made of PVC, it is completely waterproof, scratch-resistant, and dent-resistant.
It'll withstand the rocking and rolling of your rig, excited pets and children, and the humidity changes that come with traveling an entire continent.
It's also fairly affordable and comes in a myriad of faux-wood and -tile looks.
But while vinyl is NEARLY the perfect option, it has a few downsides as well. For one, it doesn't muffle the sound like carpet (or even laminate for that matter).
It also sits directly on your subfloor and doesn't provide much cushion, making it seem cold and hard to walk on.
Pros:
Cons:
At only $1.99 per square foot, this vinyl plank flooring is perfect if you're on a budget.
It uses the click-lock installation method, meaning it is a floating floor that can go directly on your subfloor.
Because it's non-adhesive, you'll be able to remove the flooring with ease (if you choose), and it's much more "slide-out friendly" (I have personally dealt with adhesive tiles under a slide-out and it was a nightmare – I don't recommend it!)
SmartCore is fabulous if you want an indestructible flooring option and don't mind paying a little more for it.
I love this brand because it has beautiful faux-wood and -tile patterns AND commercial-grade durability! Unlike cheaper options, it also meets stricter indoor air quality emission criteria.
At $9.19 per square foot, this vinyl flooring option is definitely pricier; however, not without reason!
The Largo Mix Plus collection has perks such as extreme durability, low VOCs, realistic embossing, and "Soft Silence" noise reduction.
In other words, pretty much everything you could ever want in a floor! It's also non-adhesive, which makes for easy installation and less hassle under slide-outs.
Hands down, if you want luxury flooring that you can install and then forget about, high-end vinyl flooring is probably your answer.
Which Flooring Option is Best for Your RV?
Now that I've talked your ear off about all the different flooring options for RVs, let's discuss which option is best FOR YOU.
First and foremost, think about the ways in which you will use your RV and who will be traveling with you:
Are you looking for flooring that will make your RV feel cozy? Will your wheels never leave pavement?
Are you an individual or couple that keeps their space relatively clean? (If you are, tell me your secret!)
If your answer is yes to all of these questions, carpet may be perfect for you and your rig.
It'll muffle the sound going down the road, add very little weight to your RV, and make your home on wheels feel like just that – a home.
Maybe you're on a tight budget but still want that beautiful hardwood look.
Maybe you're not super concerned about moisture and spills, but at least want a floor you can mop. If so, laminate flooring might be a fantastic option for you.
But of course, if you are prone to spilling any and all liquids, have a large family that includes pets, or maybe you simply want flooring that can withstand the next century – you'll probably want to choose vinyl. As they say: "vinyl is final".
In Conclusion
Each flooring decision should be made based on the unique living situations and travel styles of the RVers themselves.
Even though we think vinyl is the best option for RVs, it may not be the best option for you! As discussed before, there are many different options for every budget and circumstance.
And most importantly, your flooring should withstand your daily use and make your RV feel like home!
Now we want to hear about your experiences with RV flooring! In your opinion, what are the best and worst types of flooring for RVs? Tell us in the comments below!