The open-ended potential of an RV trip can make planning one a little difficult, and sometimes even stressful.
If you've ever planned a cross-country road trip, or even a trip in general, you probably know just how much time and effort it can take.
After all, you need to figure out where to go, how to get there, where to stay, what to do, and how much money you need to budget for gas, food, lodging (or campsites), adventures, and activities.
That's where these tools and apps come in handy. They turn what would normally be hours spent researching online into just minutes of research.
Start by plotting your trip on one of their interactive, user-friendly maps. Then, sit back as they help you track your expenditures, and assist you in locating the best food, gas prices, lodgings, adventures, and activities along your route.
They'll even guide you when you finally hit the road, by navigating you along optimal routes tailored to your specific RV size and class.
So, whether you own an RV, or plan to rent one, you should download these 21 (mostly free) trips planning apps, tools, and websites to organize, plan, and route your RV road trip quickly and easily.
Best RV Trip Planner Apps
A good plan can help you save money, relax, and stay organized, so you can see and do more.
Below are the two best RV Road Trip Planner apps on the market for Planning the Perfect RV Trip Route:
1. RV Trip Wizard (iOS, Android, Web Browser) (PAID)
If you're looking for the best RV trip planner app on the market look no further.
RV Trip Wizard is a versatile and user-friendly that offers a more expansive and diverse list of campgrounds and points of interests than it's closest competitor CoPilot RV.
If you don't believe me, just check out these useful features, including:
It's a web-based program. No installation required so you can use it on any device with access to the web.

No internet, no problem! Download your trip onto a device and use it offline.

A stream-lined, interactive map helps users plot the safest route for their RV's exact class and size.

No stop limit. Users can select as many stops as they want along their route, from a database of over 20,000 campsites and 57,000 points of interest.

Save money. The programs money tracking tool will help you keep track of expenditures and better budget your trip.
But that's not all! RV Trip Wizard recently teamed up with the RV LIFE GPS & Campgrounds app to provide it's users with safe, RV-relevant navigation. All you need is a mobile phone, or other GPS enabled device.
Then you just download the RV LIFE GPS & Campgrounds app from the app store (Android or iOS), sign in using the same credentials as RV Trip Wizard, and voila!
Now you can enjoy the app's full premium features while also being able to navigate any of the trips you saved in RV Trip Wizard.
You can try RV Trip Wizard out with a 7-day free trial, or buy it for $49.99/year.
2. CoPilot RV (iOS, Android) (PAID)
CoPilot RV is a cheaper and slightly lower quality RV Trip Planner than it's competitor, RV Trip Wizard.
It lacks RV Trip Wizard's versatility and range of options, but it's still miles ahead of the free options.
For those of you looking for a cheaper, but still more than adequate RV Trip Planner app this is the app for you.
It provides all the useful features you'll need, including:
Reliable offline navigation. Now you won't lose your route when you lose your connection.

Finds safe routes for any RV. It does so by calculating your route according to your vehicle's height, class, and weight

Save gas money. It allows you to choose up to 50 stops and gives you the best route so you can avoid road closure, traffic, and backtracking.

Safe navigator with RVs in mind. It alerts you about complex intersections and helps you to avoid low bridges and tunnels with propane restrictions.

An in-app search bar will help you find campgrounds, gas stations, hotels, restaurants and more near you
One strength that CoPilot RV has that RV Trip Wizard does not, is it's one-stop shop app.
Unlike RV Trip Wizard you do not need to download two separate apps to plan and navigate your trip. It all comes together in one app.
Try it out for a 14-day free trial. If you like it you can subscribe to CoPilot RV for an affordable $29.99/year.
Best Free RV Trip Route Planning Tools
These apps aren't RV specific, but unlike RV Trip Wizard and CoPilot RV they're free.
Those of you that don't mind putting in a little extra work to save some cash will find these trip planning apps helpful. Check them out:
3. Google Maps (iOS, Android, Web Browser)
They may never let me into an Apple store again for saying this, but, Google Maps is superior to Apple Maps.
It allows for offline use, let's you plan longer trips by selecting multiple stops along your route, and gives you the option to save trips to your home-screen.
Furthermore, it'll show you live traffic updates, speed traps, and even gas prices.
4. RoadTrippers(iOS, Android, Web Browser)
This app makes planning your next road trip easy. I mean, come on, it's in the name people! Don't believe me? Well, RoadTrippers's interactive map let's you plot your trip with ease.
It even calculates your trip's overall driving time and estimates your gas cost based on your vehicle's MPG.
As if all of that wasn't enough, it also helps you locate nearby accommodations, attractions, and restaurants along your route.
Plan Your Accommodations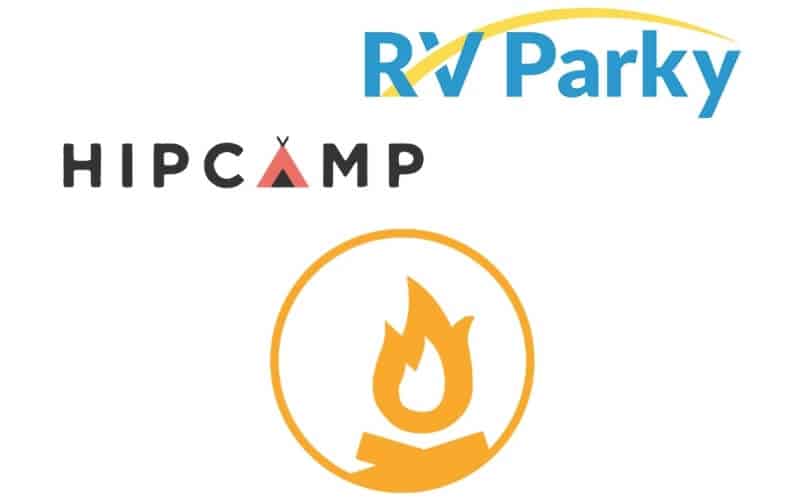 States differ greatly in their laws and restriction regarding RVs. Some are relaxed, while others, will not even let you park your rig on the side of the road.
Needless to say, you're going to need to find places to stay along your way.
I've divided this section into, "Just RV Parks", "Just Boondocking and Camping", and "All the Above—RV Parks, Camping, and Boondocking" to help you find the tool that best fits your needs.
5. RV Parky (iOS, Android, Web Browser) (FREE)
I use this app ALL the time. RV Parky interactive map provides you with over 25,000 options for places to park overnight.
Each RV Park listing provides all the necessary information for amenities and cell service as well as user reviews.
Even better, it will also assist you in locating those elusive overnight parking lots, like the ones you find at places like Cracker Barrel and Walmart as well as overnight rest stops.
6. The Dyrt (iOS, Android, Web Browser) (FREE)
The Dyrt app allows you to find outdoor accommodations across the United States, whether you're in a tent, trailer, RV, or cabin.
It provides millions of listings, reviews, prices, and tips from other campers who have already visited. If boondocking is your game, The Dyrt is the name.
7. Free Campsites (Web Browser) (FREE)
Gotta love simplicity. And that's exactly what Free Campsites provides. The site allows you to plan a travel route through their 'trip planner' option.
Not only will it provide text directions, but it'll also show you any and all campsites along the way (free, or otherwise).
Unfortunately, there's no app for this tool yet, but it's easily accessible through most web browsers.
8. HipCamp (iOS, Android, Web Browser)
If there was one accommodation app to rule them all, HipCamp would be it. It allows you to search for campsites and RV parks all over the United States.
Tired of your RV? They have you covered on that as well. The app provides options for cabins, and even treehouses!
RVs and Campgrounds (Android / iOS) (FREE)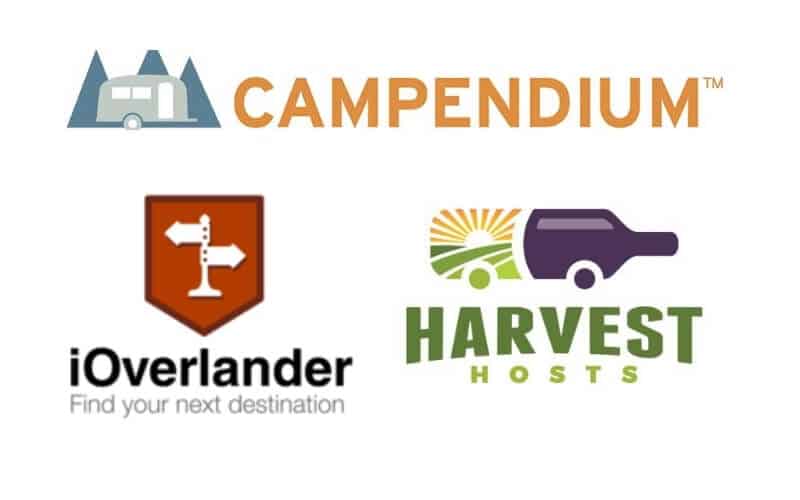 RVs and Campgrounds (Android / iOS) is as straight forward as it's name. You can search for RV Parks and Campground across North America.
Like many of the other options in this article, each listing includes user reviews of these accommodations so you know what you're getting into before you get there.
Unfortunately, there's no web browser version, so you'll need your phone for this app.
9. Campendium (iOS, Android, Web Browser) (FREE)
Campendium is the prettier, more user-friendly version of Free Campsites. It also provides you with more options than just campsites.
You can use filters to locate any, and every, type of outdoor accommodation.
It provides a plethora of useful information for RV-ers as well, including: last paid price, longest RV reported at site, and clearance access information.
And while it doesn't have an app yet, you can add the Campendium's icon to your phone's home screen by following these helpful instructions (iOS / Android).
10. iOverlander (iOS, Android, Web Browser) (FREE)
"There can only be one!"
Oh wait, that's Highlander. But seriously if you're going to plan an RV trip with only one app, iOverlander is the one.
It'll help you find water and propane refill stations, dump stations, mechanics, boondock sites, RV parks, showers, and more.
Best part? The app covers a 100+ countries so you can use it almost anywhere in the world.
11. Harvest Hosts (iOS, Android, Web Browser) (PAID)
With Harvest Hosts you can kill two birds, with one stone. Sorry, proverbial birds.
This app requires that you pay $79.99/year, but connects you to over 1500 host, ranging from museums, breweries, wineries, gift shops, and farms.
Most of these hosts only require you to buy one of their products as payment for staying on their property overnight.
So, you can buy a souvenir for your dear grandma AND pay for a place to stay while doing it.
Love golfing? Well, Harvest Hosts does too. You can pay $119/year and expand that normal subscription to include their hosts' golf courses. Waking up to a round of golf, means money well spent.
Be sure to ask about their amenities before deciding on which host you want to use. Some hosts provide full hook-ups, while others provide no amenities at all
Plan Things to Do in the Great Outdoors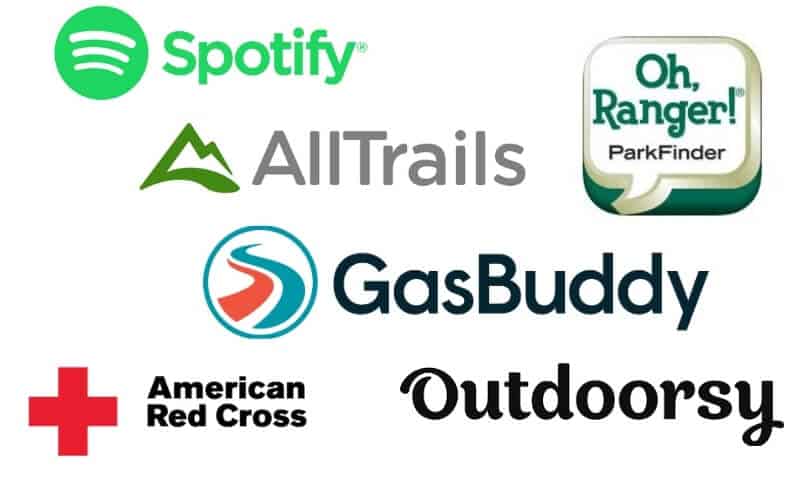 RV's and the Outdoors go together like roads and maps. Once you get to your campsite, you'll probably want to explore nature, do some fishing, or find a good hiking trail. These are the best apps for doing just that.
12. Oh, Ranger! (iOS, Android, Web Browser) (FREE)
Oh, Ranger! app is like having a little park ranger in your pocket (without the kidnapping charges!).
Not only will it help you find National Parks, State Parks, and BLM land near you, but it also provides maps, activities, and other information specific to that park.
Not only can you use it to plan where you want to camp, but also what you want to do and what you want to see.
13. AllTrails (iOS, Android, Web Browser)
There's no better way to experience the Outdoors like a good hiking trail. But how do you know which trails are the best for you? Download AllTrails.
You can use the app to browse over 50,000 trails across North America. Find the ones that best suit your interests by using the interactive map and helpful filters.
Entertainment Apps for Road Trips
Hitting the road in your RV sounds like a blast, until you're on the road. Then it's mostly monotonous scenery and blurring cars. You're liable to drive yourself, and your passengers, crazy unless you plan ahead with these apps:
14. Spotify (iOS, Android, Web Browser)
Spotify a road trip tenet that predates the road: "Go forth, but do it with music". Humans have been rolling around with tunes since the first Homo Sapiens drummed a beat on their knee.
Fortunately, we've come a long way since turning our patella into a rhythm section. For example: Spotify.
This free app gives you access to millions of songs, lets you create that all-important road trip playlist, and even offers podcasts. Best yet, you can download audio for offline use!
The only drawback? Advertisements. Erase them by subscribing to Spotify Premium.
For $9.99 a month you can erase those pesky ads, access exclusive podcasts, use unlimited skips, and more.
15. Libby (iOS, Android, Web Browser)
Got a library card? It's that decaying piece of plastic in your wallet/purse/keychain. Dig it out. Download Libby.
Now, you have access to millions of e-books and audiobooks. The app even works like a library.
You check-out the book, borrow it for a designated amount of time, and then digitally return it.
Libby allows you to check-out up to 25 titles, and renew them when needed. Not impressed? Libby even lets you download the book for use offline. That way, when your cell-service disappears, your audiobook won't.
16. Drive.fm (iOS, Android)
Your passenger won't stop talking about their Aunt's foot fugus. Instead, of turning your wheel towards the nearest cliff, download this app! Drive.fm only has a few free features, but they'll keep you busy for at least one road trip.
If you're a road addict you may want to consider the $4.99/month subscription.
It will give you access to a number of hands-free games, including: quizzes, Jeopardy, movie trivia, interactive stories and more!
On the Road
Helmuth von Moltke famously said, "No plan survives first contact with the enemy". Incidentally, no plan survives first contact with the road either. Be prepared, download these apps:
17. GasBuddy (iOS, Android, Web Browser)
Haven't bought the new, electric Dusseldorf RV yet, huh? Me neither. Don't worry though, you don't have to cry every time you visit the pump. GasBuddy finds you the cheapest gas and diesel prices in your area.
It comes outfitted with a trip cost calculator, gas price map, and even offers a free credit card that will save you up to 25¢ per gallon. Keep your money for what really matters on the road — snacks.
18. MyRadar (iOS, Android, Windows)
Sure, you could just type 'weather' into Google, and get the temperature. The only problem? A road trip requires foresight. MyRadar is free app like a weather prophet! Allow the app to track your current location, or type in a destination.
It'll produce a real-time map of the region. MyRadar will then show you the weather stats for the area, and the forecast for the next couple of days.
But that's not all! The app populates the map with real-time weather systems. Useful when you're trying to avoid blizzards, or track a storm
19. American Red Cross (iOS, Android, Web Browser)
I might be the most accident-prone person I know. If you're not one yourself, you most likely know someone that is.
Do them, and yourself, a possibly lifesaving favor. Download the American Red Cross App. This tool provides solutions to common emergencies you'll run into on the road.
It also includes videos and interactive quizzes that will, not only help keep boredom at bay, but also teach you important, life-saving
Need an RV?
Want to plan an RV trip, but don't have an RV? Normally that would be an issue, if it weren't for an app like this:
20. Outdoorsy (iOS, Android, Web Browser)
Outdoorsy is basically an AirBnB for campervans, trailers, Class A rigs, and Class C rigs.
It connects you with owners in your area who are willing to rent out their recreational vehicles. It's usually cheaper than other rental companies, and with less hassle.
There you have it! The best apps and tools for planning your next RV road trip at your fingertips. But that's enough talking from me. What's your favorite RV trip planning app or tool?