Living in an RV can be freeing and exciting since you can wake up in a new place and explore new parks, cities, and remote locations.
Remember, you invested a lot of your hard-earned money to buy your RV and fit it with all of your adventure gear. There's a lot of value-packed inside your RV.
Unfortunately, burglars can be on the prowl even in unexpected places, and it's important to protect your home on wheels and your property with an RV security system.
While it may not be very likely, you shouldn't get into the habit of trusting your fellow campers over much, and it's a good idea to protect your home on wheels and its contents.
Luckily, there are a lot of different security systems to choose from for RVs, vans, and mobile homes. How do you know what's best?
To help your search, I researched many different RV security systems and discovered the best systems for your RV you should seriously consider investing in.
Here are the best RV security systems of 2023 To Keep Your RV Safe From Theft
These top RV security systems have everything you need to prevent burglaries and stay safe when camping in your motorhome.
Fully integrated with motion sensors, window and door alarms, cameras, and monitoring systems, you can rest assured that your RV security is covered.
1. HeimVision HMD2 Wireless 1080P Security Camera For RV
| | |
| --- | --- |
| Cameras | Yes (1) |
| Monitor | Smartphone |
| Recording | Yes |
| Installation | Easy |
| Price | $75.99 |
For a high-functioning security camera that syncs with your smartphone and comes at an affordable price, the HeimVision HMD2 is an ideal option.
The waterproof indoor/outdoor camera records what it captures from a 130-degree, wide angle range in 1080P video, with night vision (automatically switches to night vision when it gets dark) and 2-way audio.
The system is completely wire-free and can be either solar- or battery powered (there's a built-in rechargeable battery included). If you decide to power the camera with solar, it's compatible with HMS1 solar panels.
The HeimVision HMD2 camera is made for durability and has IP65 weatherproof construction. It has smart PIR motion detection, and will send accurate, real-time alerts to your smartphone if it detects movement.
Control the HeimVision security camera and cloud storage with the exclusive HeimLife app.
This makes it easy to pair your smartphone with the camera, monitor the camera feed and recordings, and browse through your surveillance videos, which are protected with HTTPS Certified Security.
You can pay for unlimited storage for a monthly or annual fee, and browse your surveillance history from anywhere.
2. Guardzilla GZ360 360 degree Security Camera For rV
| | |
| --- | --- |
| Cameras | Yes (1) |
| Monitor | Smartphone |
| Recording | Yes |
| Installation | Easy |
| Price | $111.75 |
When you live in an RV, you probably don't want to clutter your small space with a lot of extra monitors and gear, even if it's for security.
The Guardzilla GZ360 security camera provides monitoring access to your smartphone and detects motion in a 360-degree passive infrared view, so you only really need one in your RV.
You can mount it from the ceiling or a flat surface inside. When the camera is armed, you will get push notification alerts and/or emails sent to your phone if the motion sensors pick up any movement.
You can set the dedicated call buttons on the camera to instantly message up to three individual phone numbers. There's also a 100-decibel siren to deter any intruders.
In addition to HD color video, you can hear and speak using the Guardzilla camera's advanced microphone and speaker.
The camera is equipped to provide geo-fencing, 360-degree night vision monitoring, and manual or automatic arming and disarming.
The Guardzilla records all motion events in 8-second video clips, and retains them for two days. If you need more or greater video retention, Guardzilla offers cloud storage options.
Although you'll probably only need one Guardzilla camera for your tiny RV space, you can add more and manage them in the Guardzilla app's Camera List.
3. Reolink Night Vision & 2-Way Talk google assistant rV camera
| | |
| --- | --- |
| Cameras | Yes (1) |
| Monitor | Smartphone |
| Recording | Yes |
| Installation | Easy |
| Price | $114.99 |
Another great security camera setup is the Reolink Argus 2, with an included solar panel for non-stop power supply.
Installation is very easy and fast in just a few minutes. The Reolink shows video in vivid 1080P HD over its 130-degree wide-view range, with clear night vision up to 33 feet – plenty of range for your RV. It has a starlight CMOS sensor and 850nm infrared LEDs.
Reolink Argus 2's camera allows you to record to an SD card or the cloud, with up to 64GB of storage on SD.
You can store backup videos on the Reolink cloud, and remotely access your camera on your smart device or computer with Reolink's free software. Up to 10 people can view the surveillance camera live.
It has non-stop charging with the included solar panel. The Reolink works independently and completely wire-free on 2.4 GHz WiFi.
With the two-way audio feature, you can listen to anyone outside your RV with the built-in microphone, or warn any uninvited guests with the speaker – even if you're not in the RV.
One perk with this security camera is that it's compatible with Alexa, Echo, and Google Assistant.
So, if you have one of these smart home devices in your RV, you can ask them to pull up the surveillance feed without clicking a single button.
4. Pyle Car Rear View IP68 Waterproof Commerical Grade RV camera
| | |
| --- | --- |
| Cameras | Yes (1) |
| Monitor | 7-inch LCD |
| Recording | No |
| Installation | Easy |
| Price | $169.99 |
The key for choosing the best RV security systems is that they are waterproof and designed for use with a motorhome, van, or other moving vehicle.
The Pyle Car Rear View and Video Monitor system fits the bill, since it is specifically designed for use with vehicles that have 12-volt or 24-volt systems.
You won't need a solar electrical setup to power your Pyle security system.
It comes with two round cameras and two square cameras in box-style housings, and all four cameras are equipped for LED-illuminated IR night vision.
The cameras are all waterproof and designed for travel, with anti-glare technology in the lenses to optimize clarity.
The Pyle system also includes a 7-inch color LCD monitor, so that you can keep track of what's happening outside your RV.
However, the system does not record unless you purchase the $82 add-on recording system from Pyle. Connector cables and a remote are included with the base Pyle security system.
5. SimpliSafe 8 Piece Wireless Professional Monitoring Camera for rV
| | |
| --- | --- |
| Cameras | Yes (1) |
| Monitor | Yes (no video) |
| Recording | N/A |
| Installation | Easy |
| Price | $195.05 |
Although it's technically built for home security, the SimpliSafe system works just as well for RVs, and it even comes with motion and entry sensors and alarms.
However, it doesn't come with cameras or monitoring systems, but you could easily use this system in tandem with one of the security cameras on this list for a comprehensive setup.
It's incredibly easy to set up the SimpliSafe system in your RV. Start by plugging in the base station (you'll need solar power for off-grid monitoring), then place and activate your sensors and you're ready to go.
The system comes with a base station with a built-in 95dB siren, keypad, four entry sensors for doors and windows, one motion sensor, and a panic button.
When activated, you can press the panic button to instantly trigger the system alarm and dispatch police (with paid professional monitoring), or use the silent panic option to get help without making a sound.
SimpliSafe's system is powered by signal burst technology that can accommodate homes of any size, including RVs, and has a range of up to 1,000 feet.
The sensors all come with self-adhesive backing for simple installation and have a button to easily pair with the base station. You can name each sensor using the included keypad (use standard names or add your unique identifier).
The system has Active Monitoring for arming and disarming your SimpliSafe, reviewing alarms and errors in your online Timeline event log, and more.
There's a 24-hour backup battery and dual WiFi and cellular connections to keep your RV secure, even if you're not connected to power.
6. JOINLGO H.264 2.0MP 1080P with Night Vision security system for rV
| | |
| --- | --- |
| Cameras | Yes (1) |
| Monitor | 7-inch VGA |
| Recording | Yes |
| Installation | Easy |
| Price | $269.89 |
Not only is the JOINLGO system an excellent security upgrade for your RV, it also helps protect you as you travel.
There's a built-in G-sensor module that recognizes sudden movements and starts recording so that you'll have a video recording of any accidents.
The JOINLGO security system comes with a 1080P 4-channel MDVR, 7-inch VGA monitor, four cameras (two dome cameras, two in box housings), an external microphone, remote and all of the cables and wiring you need.
Unlike the Pyle system listed above, the JOINLGO security system is equipped with HD real time recording that stores your camera feeds continuously onto two SD cards (sold separately). When the storage is full, the system loops over the oldest recordings.
There are four included cameras with an IP69 waterproof rating, YTOT lenses, IMX323 Sony sensors, and IR LED for night vision.
Monitor your camera feeds from inside your RV with the 7-inch monitor, which supports 4-channel alarm inputs so the screen will automatically show the triggered camera feed.
You can even monitor your feeds remotely on a smart phone or tablet, but you'll need a different MDVR model that's equipped for 4G or WiFi.
3. Tattletale Portable alarm security system with Keychain Remote For RV
| | |
| --- | --- |
| Cameras | No |
| Monitor | N/A |
| Recording | N/A |
| Installation | Easy |
| Price | $275.00 |
If you're looking for a system that monitors access to your RV without the bells and whistles of cameras and monitor screens, the Tattletale may be perfect.
It's highly portable, wireless (no landline or WiFi required), and sets up in about a minute.
The Tattletale Portable Alarm System offers full emergency monitoring for more than just break-ins.
It can integrate with up to 50 sensors for motion, door entry, glass breaking, and smoke with a 300-foot radius range.
With the included key fob remote, you can arm, disarm and set off a panic alarm with your Tattletale.
It is also designed with patented rattlesnake technology to ensure tamper-proof function after it is activated.
You can set your Tattletale to contact you or the police within less than a second if the system is triggered.
There is a built-in motion sensor and motion detector, siren and strobe deterrents, and a 30-foot, 90 degree passive infrared motion sensor for night time monitoring.
You don't have to worry about pets triggering a false alarm with the Tattletale, which has a one-touch pet button feature so your pet can roam your RV while you're away.
There are hot buttons to set alerts for 'high target' areas such as entry doors, which will alert you by text and email even if the Tattletale system is disarmed.
You can even place perimeter sensors outside your RV that will communicate with the system through walls and as far as 300 feet away.
The Tattletale is battery-powered with a 20-hour battery backup, but it's primary power source is electricity, so you'll need to be connected to the grid or a solar power source to run the system continuously.
How to Choose a Security System for Your RV
Now that you have heard about the best RV security systems, there are some things to think about as you choose the right system for your motorhome.
For example, you don't necessarily need a fully integrated security system for your RV. There are also different costs and other features to consider when choosing an RV security system.
Types of RV Security
We featured the best security camera systems and completely integrated RV security systems in this guide, but there are actually a few different types if you're on a budget or you don't need a fully integrated system:
Perimeter Security Systems are essentially virtual fences that you 'place' around your campsite to protect it while you're not there. When activated, a perimeter system will sound an alarm or notify you if someone (or something) crosses the perimeter. The only drawback to a perimeter system is there may be a lot of false alarms, such as if a bird or squirrel enters your campsite.

Window and Door Alarms are an inexpensive and baseline security tool for your RV. They are very simple. You just install them on all doors and any windows that a person could fit through, and once activated, an alarm will sound if someone tries to open the window or door. Some opening alarms will even notify you with an alert. You can buy these on Amazon for as little as $9.

Keyless Entry Systems are another inexpensive security feature that you can easily add to your RV to make it more safe. The factory lock that came installed on your RV door might not be up to snuff, and an easy-to-break door lock could be more attractive to would-be burglars. Keyless entry systems let you program your unique code so that no one can get into your RV without your authorization. Most are very easy to install, and come with a backup key, multiple remote fobs and the programmable keypad. A great option is the BANVIE Car Security Alarm & Keyless Entry System, and it's less than $40.
Security Cameras are a great way that you can monitor activity outside your RV door or around your motorhome without stepping outside. They are often included with integrated systems, but you can also have a standalone camera or two that feeds to your smartphone or tablet without spending a lot of money on a full system.

Integrated Security Systems are the full package, with alarms, security cameras, motion detectors, and more. If you camp in cities or insecure places regularly, you'll probably want an integrated system because it has everything you need to protect your property from burglars as well as disasters such as fire or carbon monoxide poisoning. Most systems have a recording video feed, which you can share with law enforcement if anyone does try to break into your RV.
How Much Does an RV Security System Cost?
Luckily, it doesn't have to cost an arm and a leg to add a security system to your RV. The cost of your security system will vary greatly depending on how technical and how high-quality you want it to be.
You can get a 5-piece window and door alarm system for as little as $25, or find a good quality security camera for less than $40.
A fully integrates system, with alarms, cameras and video monitoring could be as affordable as $70, but most systems cost between $150 and $250.
RV Security System Features to Consider
Beyond the type of security system and costs involved, there are some baseline things you should consider as you choose the right security for your RV.
Your system should protect you, your RV, and your belongings
Theft is probably the main concern and reason for having a security system, but there are other things to be aware of as well, such as fire or carbon monoxide poisoning.
Since you'll be cooking in a small space, often with toxic gases like propane, your security system should include monitors and alarms for these concerns as well as for your windows and doors.
Make sure all alarms are loud enough (such as 120 decibels) to scare away would-be burglars or wake you up if carbon monoxide reaches unsafe levels in your RV.
Your system should function off-grid
Many security systems are connected to WiFi or a landline and can send you alerts if something happens, or even contact the police if a break-in is attempted.
However, if you're off the grid, WiFi or the landline may not work, so be sure your system is set up to function even if you don't have WiFi or phone service.
If you camp off the grid and outside of cell service range often, consider getting a satellite phone or other solution so that you'll be able to call the authorities if something happens.
Your system should be easy to install
​Be sure to check the reviews for the security system you're considering and check to see how easy it will be to install.
Difficult and highly detailed installations can lead to mistakes, which can mean your system won't function properly.
There are plenty of RV security systems available that are simple and take very little time to set up.
Your system should alert you if it detects something
​Whether it's a motion detector, alarm or text alert sent to your phone, your security system must be capable of sending you a detection alert if something happens around or inside your RV that shouldn't.
Most importantly, these alerts should be almost immediate.
Your system should provide some method of monitoring security camera feeds
If you don't have security cameras, this would not apply. However, any security camera should include a monitoring option, whether you can watch the feed on your smartphone, computer, or both.
The feed should be viewable even if you're not on-site as well, so that you can keep tabs on your RV even when you're away.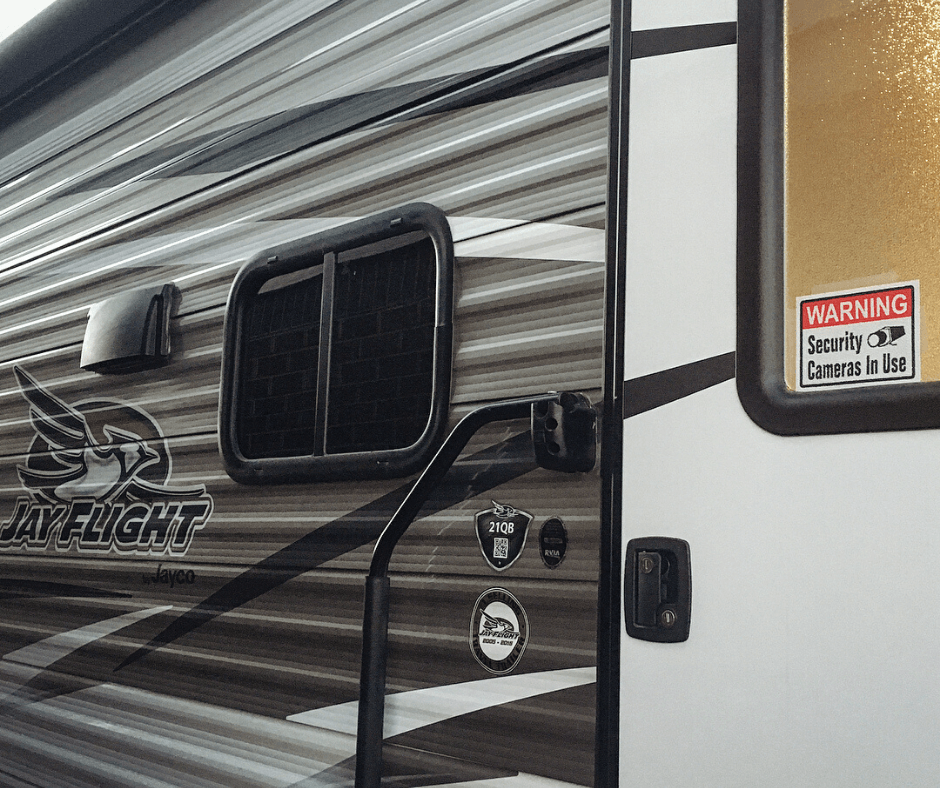 Tips for RV Security
Whether you have an integrated security system or just a camera and some RV door alarms, there are things you can do to make your RV more safe. Here are some tips to increase your motorhome security:
1: Park Safely
Although it might seem smart to reverse your RV into your campsite so that it's easier to pull out when you're checking out, this could also make it easier for someone to steal your camper.
If you're not in a pull-through spot, you can make it harder for thieves to hijack your motorhome if you don't back in or you turn it so that the hitch is further away from the standard access point.
You might also consider adding a hitch and steering wheel lock or a jockey or tongue wheel to further secure your motorhome.
For extra prevention against someone stealing your RV, you can use a boot lock to cover one of the wheels and lug nuts.
The vehicle will not move unless the boot is removed (think about how effective parking enforcement boots are!), and your property is safe.
2: Install Upgraded Locks & Use a Security System
Sometimes, the locks your RV came with may not be sufficient. Keyless entry locking systems are a great way to secure your motorhome door, but you might also consider a cylinder lock or a padlock.
The key is to have a lock that goes around the kingpin, and a cylinder lock will keep the mechanism in place.
There are even some cylinder locks that can only be opened with a special key that cannot be duplicated.
If you're prone to losing your keys, however, you might want to consider upgrading to a keyless entry system for your RV locks.
We've featured some of the best RV security systems on this list, and it's a good idea to consider one for your RV.
Even if it's an inexpensive door alarm or security camera, it might be everything you need to keep thieves away and upgrade your security.
You don't need to spend hundreds of dollars on your security system, and it's totally worth the cost if someone tries to break in and steal your valuables.
3: Use a GPS Locator
No matter how hard you work to secure your RV, there's still a chance that it could be stolen.
You can increase your chances of getting it back with a GPS locator. Since they are so small and don't require much battery power, you can hide them anywhere in your RV.
If the rig is stolen, you can then get its location with a quick phone call, text or email, depending on your locator's capability. Just be sure to keep it charged!
4: Camp in Safe Locations
It might go without saying, but your chances of a break-in or theft are increased in sketchy areas or low-traffic campsites where there aren't a lot of people around.
There's safety in numbers, so try to camp where other RVers and campers are around. Try to avoid dark and unlit areas for camping, since well-lit areas will deter would-be thieves.
You should always research your campgrounds before arrival and then explore the area around the campsite before settling in for the night.
Many campgrounds and free camping areas have reviews from other campers, which will note the safety of the area.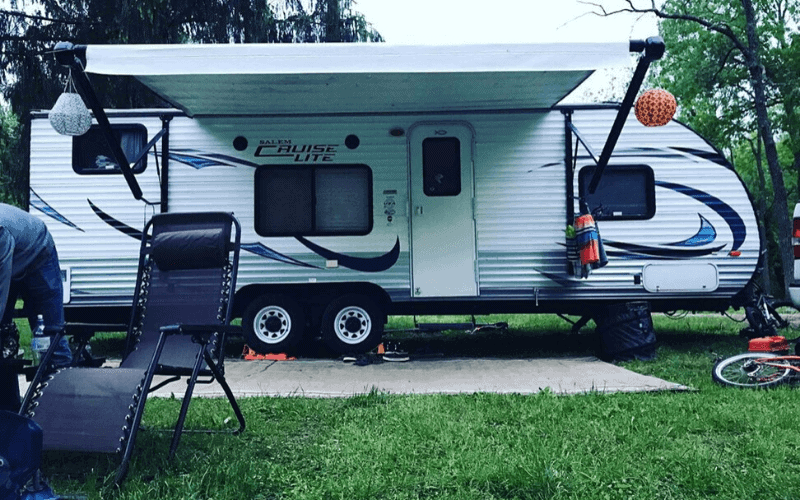 5: Get to Know Your Fellow Campers
Generally speaking, the camping community looks out for each other. When you arrive at a new campground, try to get to know your fellow campers and make some new friends.
Not only is this enjoyable and a great way to meet like-minded travelers, your new friends are more likely to look out for you and your RV if they notice something suspicious.
Just be cautious with how much you trust someone you just met, since even your neighboring camper could be inclined to steal from you if given the chance.
6: Hide Valuables and Cover Up
If you must bring your valuables, such as cash, jewelry, and electronics, be sure to bring along a safe and put your valuables inside whenever you leave your RV.
You can also hide your things in unusual or out-of-sight places in the RV, so that they're harder to find and steal even if a burglar gains entry.
It is always a good rule of thumb to cover the windows and windshield of your RV from the inside at night and whenever you leave it, so that would-be thieves don't know if you're inside and also can't see what valuables they might be able to steal.
7: Turn On Lights and Music
When you leave your RV for a few hours to explore or enjoy some adventures, consider leaving the lights on.
Of course, this isn't something you can do if you are stealth camping, but it may help deter would-be burglars in a regular campground because they might be tricked into thinking someone is inside.
You can also put on some music or the radio to make it look like someone is still inside, even if you're miles away hiking or enjoying the sights.
Final Thoughts About RV Security
From the best security cameras and security systems, to how to choose the best one and secure your RV throughout your travels, there's a lot to consider with RV security.
Remember, you don't have to spend a lot to make your RV more secure, and there are some excellent systems for less than $100, like the HeimVision HMD2.
If you want to invest in a top-notch, fully integrated RV security system, we'd recommend something like the Pyle Car Rear View Camera and Video Monitor or the JOINLGO 4-Channel Video Recorder and Security System.
But even if you just add a $10 set of door alarms or a $40 keyless RV door entry system, you can enjoy more peace of mind when living in your RV. Just be sure to follow our tips for RV security to camp more safely.