Do you have trouble storing shoes in your RV? If you answer yes, then fret not because we have some solutions! With these clever RV Shoe Storage Ideas, you can say goodbye to crowded floors and lost shoes. We'll help you keep your shoes neatly organized and easily accessible during your RV trips, using ingenious organizers that maximize space and inventive storage containers.
As seasoned RV owners, we understand the difficulties of organizing storage in a small area. We combed the RV community and gathered professional advice to provide you with practical and effective shoe storage solutions. These suggestions have been tried and tested by other RV enthusiasts and have been shown to help keep order and tidiness in RVs of all sizes.
Prepare to have your RV shoe storage transformed! In the following sections, we'll look at various innovative and functional solutions that satisfy your requirements. We've got you covered with everything from space-saving organizers to smart storage solutions. Want to say goodbye to shoe clutter and hello to a stress-free RV existence? Then stay with us to learn about the greatest RV shoe storage options to make your trips more pleasurable.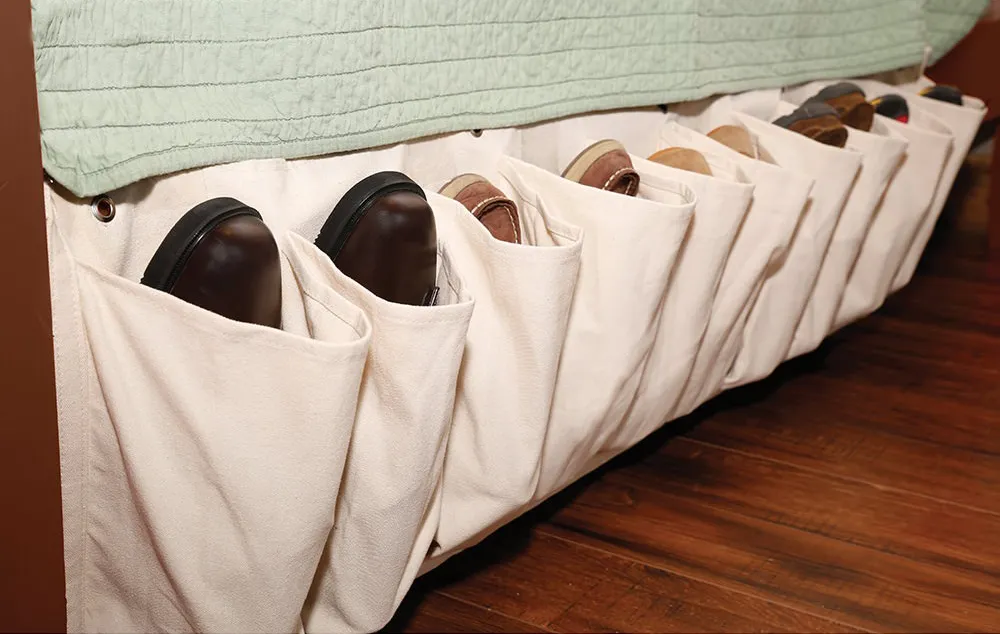 Top 20 Rv Shoe Storage Ideas
Over-the-door shoe organizer: Simply place it on the back of a closet or cabinet door to create various pockets or divisions for your shoes. This not only saves space but also makes your footwear collection more visible and accessible. It's convenient for stuff like sandals, flats, or flip-flops.
Shoe cubbies: These are mainly built for shoe storage and are available in various sizes and layouts. They can be stored in a closet, beneath a bed, or in a specific shoe storage room. Individual compartments or shelves in shoe cubbies allow you to carefully arrange your shoes, making it easier to find the pair you desire.
Hanging shoe rack: A practical solution that utilizes vertical space in your RV. Simply hang it on a closet rod or hook to save valuable floor space by storing your shoes upright. Hanging shoe racks generally feature numerous levels or rows of storage space. This design lets you see your shoes at a glance and quickly pick the pair you want.
Shoe storage bench: Has two functions: sitting and shoe storage. It is a useful piece of furniture that may be placed in your RV's doorway or living space. The bench usually has a pocket under the seat for storing your shoes.
Shoe storage ottoman: Blends usefulness and comfort. It functions as a footrest or extra sitting while concealing shoe storage compartments. The top of the ottoman can be raised to expose ample storage space inside. This allows you to keep your shoes hidden while using the ottoman as a functional and elegant addition to the inside of your RV.
Under-bed shoe storage: This is a great way to use the space beneath your RV bed. These containers are low-profile and may be simply slipped beneath the bed. They offer a practical and organized way to store your shoes close at hand while minimizing clutter.
Shoe bags: Sometimes called pouches, these are a simple yet practical means of storing individual pairs of shoes. These bags may be hung on hooks, put in drawers, or kept in closets. They keep your shoes clean and accessible, protecting them from dust and filth. Shoe bags are convenient for traveling or storing shoes that are seldom used.
Shoe hangers: Clips or hooks are a space-saving shoe storage solution. These hangers are suitable for use in closets or on clothes racks. Simply clip or connect your shoes to the hanger to hang them vertically. This helps organize your shoes and keep them visible and conveniently accessible.
Shoe storage boxes: These are a convenient way to organize and protect your shoes. They enable you to stack and label your footwear collection. Look for boxes with ventilation holes to enhance air circulation and reduce odor accumulation. Shoe storage boxes may be stored in closets, under beds, or in designated spaces to keep your shoes tidy and safe.
Shoe racks with ventilation: Choose one with ventilation when selecting a shoe rack. Proper ventilation is essential, especially in an RV setting where moisture can be an issue. Look for open or slatted shoe racks that allow airflow, reducing mold and unpleasant odors.
Shoe hooks: Install hooks on walls or inside cabinets to hang shoes by their heels. This straightforward and space-saving solution keeps your shoes organized and visible. Hooks can be positioned in entryways, closets, or spaces designated for shoe storage. Hanging your shoes by the heels not only saves room but also aids in preserving their form.
Shoe shelves: Increase the capacity of your RV's shoe storage by putting additional shelves in closets or cupboards. Adjustable shelves are useful since they allow you to adjust the height and fit various shoe sizes. Shoe shelves organize your shoes and safeguard them from becoming damaged or misplaced.
Clear-window shoe storage bags: Clear-window shoe storage bags provide a practical and visually beautiful alternative. These bags allow you to keep your shoes visible while protecting them from dust and dampness. The glass windows let you see what's inside without opening each bag. Shoe storage bags come in various sizes and may be stacked or hung for convenient storage.
Shoe caddies: For easy shoe storage, hang shoe caddies on the back of seats or inside closet doors. Each caddy pocket can hold a pair of shoes, making it simple to keep them organized and accessible. Shoe caddies are especially beneficial in entryways or closets where you remove or put your shoes frequently.
Shoe racks: Place shoe racks on the floor of your RV's closet or storage compartments. These racks may accommodate numerous pairs of shoes and come in various configurations, such as tiered or slanted shelves. Shoe storage racks keep your shoes neatly organized and out of other parts of your RV.
Shoe drawers: Use shoe drawers with pull-out divisions to maximize your shoe storage space. These drawers, which can be put in closets or cupboards, provide separate storage for each pair of shoes. Shoe drawers make reaching your footwear collection easy while keeping it organized and safe.
Shoe cabinets: Use shoe cabinets with adjustable shelves for practical shoe storage. These cabinets usually have doors that can be closed to keep your shoes hidden. The movable shelves allow you to tailor the storage space to your needs based on the size and number of shoes. Shoe cabinets provide an elegant and well-organized alternative for RV shoe storage.
Shoe trunks: Shoe trunks or storage containers with latching lids are durable and protect your shoes. These trunks may be stacked or stowed under furniture to maximize the storage capacity in your RV. Look for trunks with handles for convenient carrying, and consider labeling them so that the shoes inside can be immediately identified.
Shoe storage ottoman with hidden compartments: These ottomans have a cushioned top for lounging or resting your feet, and beneath the top are hidden compartments built exclusively for shoe storage. This creative design blends usefulness and aesthetics to provide a discreet, organized shoe storage solution. The concealed compartments keep your footwear out of sight and your RV interior clutter-free and inviting.
Customized shoe storage options: Use your imagination to create personalized shoe storage solutions depending on your RV's structure and shoe collection. Hooks, racks, shelves, and containers may be combined to build a customized system that maximizes space and meets your demands. Customization allows you to maximize your available storage space while keeping your shoes organized and accessible.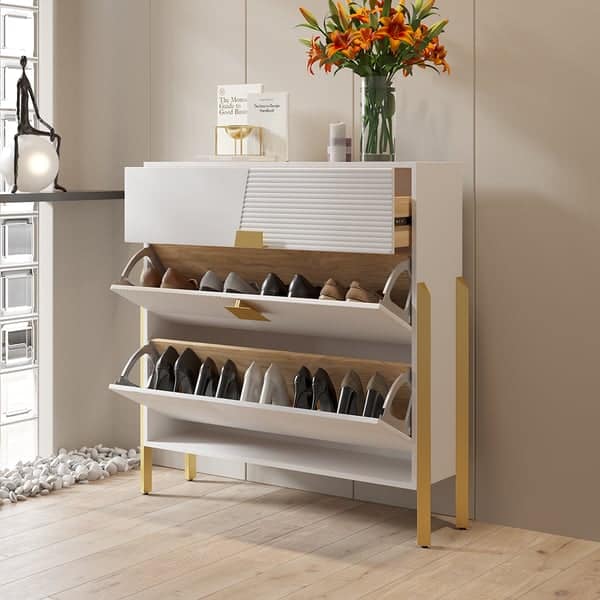 RV Shoe Storage Ideas : Pros And Cons
Here's a table summarizing the pros and cons of the 20 RV shoe storage ideas:
| | | |
| --- | --- | --- |
| Shoe Storage Idea | Pros | Cons |
| Over-the-door shoe organizer | – Maximizes vertical space | – Limited capacity |
| Under-bed shoe storage containers | – Takes advantage of under-utilized space | – Accessing shoes can be challenging |
| Hanging shoe rack | – Easy access to shoes | – Requires vertical hanging space |
| Shoe cabinet with adjustable shelves | – Customizable storage solution | – Takes up floor or wall space |
| Shoe storage bench | – Dual functionality as seating and storage | – Limited shoe capacity |
| Shoe cubbies | – Provides separate storage compartments for each pair | – Requires dedicated space |
| Shoe storage bags | – Portable and easy to store | – Limited protection for shoes |
| Shoe storage boxes | – Stackable and space-saving | – May require additional labeling for easy identification |
| Shoe storage drawers | – Organized and easy to access | – Requires installation and may take up floor space |
| Shoe storage hangers | – Maximizes vertical space and keeps shoes wrinkle-free | – Limited capacity |
| Shoe storage pouches | – Compact and space-saving | – Limited protection for shoes |
| Shoe storage shelves | – Easily visible and accessible | – Takes up wall or floor space |
| Shoe storage baskets | – Versatile and can be used for other storage purposes | – Limited shoe capacity |
| Shoe storage racks | – Efficient use of vertical space | – May require installation |
| Shoe storage net pockets | – Utilizes unused wall space | – Limited capacity for larger shoes or boots |
| Shoe storage ladder | – Unique and decorative storage solution | – Limited capacity and may require additional support |
| Shoe storage hooks | – Easy to install and removes clutter from the floor | – Limited capacity and may not accommodate larger shoes or boots |
| Shoe storage shelves with doors | – Conceals shoes and keeps them dust-free | – Requires wall or floor space |
| Shoe storage bags with compartments | – Separates and protects each pair of shoes | – Limited capacity |
| Shoe storage ottoman with hidden compartments | – Discreet and organized storage solution | – Limited shoe capacity and may take up floor space |
RV Shoe Storage Ideas : Collapsible Shoe Rack For Camping
A collapsible shoe rack is a fantastic solution for camping and RV adventures when space is limited. These adaptable shoe racks are compact and readily foldable, making them great for RV storage or packing your camping stuff. Here are some of the reasons why a folding shoe rack is a must-have for camping:
Space-saving design: When not in use, a folding shoe rack may be folded down to a tiny size, allowing you to maximize your storage space in the RV or tent. It takes up little room and may simply be stored in a closet, under a bed, or in a storage compartment.
Simple installation and disassembly: A foldable shoe rack is simple to set up. The majority of versions have a no-tool snap-together or fold-out construction. When it's time to move or pack up, you can easily disassemble it and store it away.
Organized shoe storage: With multiple tiers or shelves, a collapsible shoe rack provides organized storage for your shoes while keeping them off the floor. You can organize several pairs of shoes and simply find the ones you need without rummaging through a mess.
Portability: Whether camping, hiking, or traveling, a collapsible shoe rack is lightweight and portable. You can effortlessly transport it wherever you go, keeping your shoes organized and accessible during outdoor excursions.
Versatility: While primarily designed for shoes, collapsible shoe racks are suitable for storing other items such as socks, hats, small accessories, or toiletries. Their movable shelves or pockets allow for the storage of a variety of objects.
Purchasing a folding shoe rack for camping can allow you to keep your shoes organized, conserve space, and enhance your outdoor adventures. This handy camping addition lets you say goodbye to unkempt shoe heaps and welcome neat and practical storage.
The Best Rv Shoe Storage Idea And Why
For my RV, I use the shoe storage bench. This is an ideal RV shoe storage option since it does everything:
Versatile functionality: I can use it as a shoe storage room and a sitting area, maximizing space utilization.
Accessibility: I can easily access shoes without bending or rummaging through containers.
Capacity: Plenty of room for numerous pairs of shoes, including different footwear styles.
Aesthetics: Various styles and finishes are available to fit the inside decor of your RV.
Comfort: It gives me a handy seating space for putting on and taking off shoes.
The shoe storage bench is the best solution for RV shoe storage since it combines usefulness, accessibility, capacity, beauty, and comfort. It provides optimal space use, organized shoe storage, and a functional and fashionable addition to your RV.
Conclusion
Selecting the best RV shoe storage solution is critical for keeping your footwear organized and making the most of the space in your RV. The following are the important takeaways:
Consider the limited space in your RV and select a shoe storage option that meets your requirements.
Prioritise accessibility and simplicity of usage to enable easy access to your shoes.
Consider the number of shoes you need to store and select a solution with adequate capacity.
Look at over-the-door organizers, hanging shoe racks, under-bed storage, and foldable shoe containers as storage options.
To survive the challenges of RV living, choose solutions that provide durability, ease of installation, and low maintenance.
An organized and clutter-free RV improves your living space and enhances the enjoyment of your trips. Apply the correct shoe storage solutions to keep your footwear neatly sorted and ready for your next journey.
Frequently Asked Questions (FAQs)
In my RV, can I use conventional shoe organizers made for homes?
Regular shoe organizers may be used in your RV if they suit the available space and fulfill your storage demands. Consider your RV's size and weight restrictions and guarantee correct installation.
How can I keep my shoes from moving or dropping while traveling?
Consider adopting shoe storage options with secure fastenings, such as adjustable straps or hooks, to prevent shoes from moving or falling while driving. Non-slip mats or liners placed inside storage compartments can also assist in keeping shoes in place.
Are there shoe storage alternatives made exclusively for small RVs or limited spaces?
Yes, shoe storage solutions for small RVs or tight places are available. To maximize space efficiency, look for tiny choices such as hanging shoe organizers, slender shoe racks, or under-bed storage bins.
Can I utilize shoe storage ideas for something other than shoes?
Absolutely! Many shoe storage solutions are adaptable and may be used to organize other goods such as socks, accessories, cleaning supplies, or tiny devices. Adapt the storage options to your unique demands by being inventive.
How frequently should I tidy and reorganize the shoe storage in my RV?
It's a good idea to regularly tidy and reorganize your RV shoe storage, especially if it's becoming congested or inefficient. Make a plan that works for you.
Is there anything you can recommend for keeping shoes clean and odor-free in storage?
Ensure your shoes are clean and dry before storing them to keep them odor-free. Use shoe deodorizers or inserts to absorb moisture and reduce odors. Furthermore, appropriate ventilation and regular airing out of your RV may assist in avoiding the accumulation of odors.
Can I utilize shoe storage ideas in the external compartments of my RV?
Yes, as long as the shoe storage solutions are suited for outdoor usage and can resist the conditions, you may use them in the external compartments of your RV. Look for weather-resistant choices and adequately secure storage solutions.