Every RVer is going to have to invest time and money on strategies to beat the heat.
We all want to spend more time in the great outdoors, but it isn't getting any cooler outside, and summer temperatures can make your RV feel more like a slow cooker than a home on wheels.
Unfortunately, Air Conditioning units require tons of energy just to start up.
You won't be able to feel a breath of fresh air without camping at a site with hook-ups or wielding an incredibly high-powered generator system.
To further pursue cooling relief and open up opportunities to camp in more exotic areas or far away from the nearest plug-in, you should consider installing a portable Evaporative cooler in your RV.
It's simply not feasible to rely solely on air conditioning while boondocking. That's where the RV swamp cooler comes into play. They wield natural elements to provide efficient cooling relief to your RV.
The coolers are a step up from fans but have the same energy demands as an air-conditioning unit.
Swamp cooler Coolers heavily rely on the environment to function, so It's not a solution that works for everyone. There are a variety of limiting factors that will impact the efficiency of an Evaporative cooler.
We'll walk you through all facets of the newfangled approach to cooling off the inside of your RV, including showing you some of the best camper swamp coolers on the market, so you can better understand where the technology excels and decide whether or not it's worth a second look for your vehicle.
What is an RV Evaporative Cooler?
Evaporative coolers are also known as swamp coolers. These coolers use the natural evaporation of water to cool the air around you.
A damp, cooling matrix in the center of the machine absorbs warm air and passes it through water, which uses the heat to evaporate.
The fan system sends the newly created water vapor back into your air at a lower temperature.
Water naturally uses thermal energy to convert into steam, which is where the cooler excels at lowering the temperature of your RV.
This system heavily relies on natural elements to function. It's really a glorified fan that mixes hot air with water to remove the thermal energy out of the air and replace it with water vapor.
That all sounds great. An energy-efficient fan that takes hot air and turns it into cool water vapor, sign me up!
Unfortunately, it's not so simple. A swamp cooler won't work in every scenario, and it could make the problem worse rather than better.
We'll show you where these coolers work best and in which cases you'd be better off leaving your Evaporative cooler at home.
Where You Can Use An Evaporative Coolers?
In the right conditions, an evaporative cooler provides more relief than a fan with less work than an A/C unit.
There's a time and a place for everything, and if your next trip lines up with the right conditions a swamp cooler will get the job done right.
Here are a few places an RV evaporative cooler could be the perfect solution:
Cooling the Campsite
Dry Climates
Dry Camping
Cooling off the Campsite
You won't have to stress as much about the humidity levels if you're already outside.
A proper portable evaporative cooler can be easily set up underneath your awning or in your camping space and will quietly begin to cool off the air.
If you don't need your RV cooled off but would love a fresh breeze while tailgating or hanging out at the campsite all afternoon, an RV swamp coolers will begin working as soon as you plug in the device and add water.
Dry Climates
Evaporative coolers pair extraordinarily well with desert environments. Most places on the West Coast of the USA feature a dry climate without a high relative humidity level.
Dry, desert environments provide an ideal space for your RV evaporative cooler to begin cooling things down without bringing the humidity too high.
People living in dry climates can operate swamp coolers inside without having to worry about dampening their environments.
Dry Camping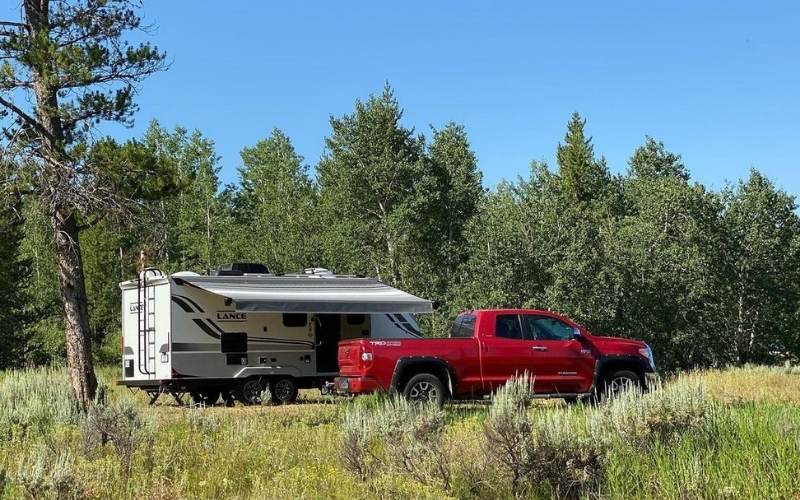 Any Evaporative cooler will reduce any RV electric strain or bill compared to an air conditioning unit. This energy reduction is especially beneficial when dry camping.
Boondockers don't want to spend their week worrying about the generator fuel. Powering a traditional air conditioning unit requires massive amounts of energy.
Even high-end solar systems struggle to provide enough boost to keep cool all week long.
Eco-friendly swamp coolers are straightforward appliances. They won't require much more energy than powering a fan would, and they can provide a more refreshing breeze in a hot environment.
If you have a simple solar setup, you've got more than enough renewable energy to power your Evaporative Cooler.
Sometimes its Best to Leave the Cooler At Home
There can be serious drawbacks to using a Swamp Cooler in the wrong scenario.
Turning on your Evaporative cooler in the wrong scenario can leave the inside of your RV as damp and warm as ever.
Before you head out on a hot weekend with no backup plan, understand the shortcomings of an RV Swamp Cooler:
High Humidity Level
Inside your RV with No ventilation
High Humidity
Once you know where you want to spend most of your time on vacation, it should be simple enough to find your preferred destination's humidity levels.
A swamp cooler will only add more humidity to the air if the levels are higher than 70%.
That means on most of the East Coast and in most beachfront destinations, an evaporative cooler won't be the right solution.
Enclosed Spaces
If you're expecting your Evaporative cooler to replace a traditional air conditioning unit, you may be in for a damp surprise.
Even in the aridest climates, a swamp cooler can increase humidity levels to an uncomfortable place if there is no proper ventilation for the cooler.
That means you'll always have to have a window open to use your evaporative cooler inside your RV.
What You Need To Know Before Buying An RV Swamp Coolers
Now that we know what RV evaporative coolers are capable of, we'll check out the best in class products that each provide unique benefits.
There's no simple answer for the best Swamp Cooler on the market, so figure out what you want out of your cooling unit and find the one that suits your needs.
These factors all vary from cooler to cooler, so find the factors that most line up with your needs and use that to guide your decision.
6 Best RV Swamp coolers for indoor and outdoor
The coolers on this list have considered all variables we have listed on this guide and more to take their place as one of the best Swamp cooler options on the market.
Each one does something better than any other product on the market, and each one would be a valuable companion for your next trip into the desert.
Chill out this summer with this 6 of the best portable RV swamp coolers:
1: Best Value: hOmeLabs HME020396N Evaporative Cooler
This crowd favorite is a simple evaporative cooler option for RV use that will get the job done.
If you're not so sure what you need out of an Evaporative cooler, the features packed into this machine will work in a large variety of scenarios.
Anyone looking to wield the power of swamp coolers for temperature relief can try out this product with confidence.
Homelabs built this cooler to cool a room of over 200 square feet, more than enough power to cover most smaller RV's.
Three different levels allow you to get just the right amount of relief.
You can wield a remote control to adjust the airflow direction, temperature, speed, and mode from anywhere in your RV.
The cherry on top is the addition of a 24-hour timer and sleep setting that will help you stay cool while you drift off without spending the entire night draining the battery.
This low budget RV evaporative cooler packs in the same benefits as a much more expensive option.
This evaporative cooler comes on wheels for easy maneuvering inside and outside of your vehicle.
The myriad of options that come with Homelab's swamp cooler makes it a fantastic tool to bring with you on your next trip into a hot and dry climate.
2: Best Compact Cooler: Evapolar EvaSmart EV-3000 Portable Air Conditioner
If you don't have much more than a Class B RV to cool off, you don't need an all-encompassing evaporative cooler.
The EvaSmart cooler will fit into any nook and cranny of your RV and instantly provide relief to smaller spaces.
While this isn't the cheapest option on the market, the efficiency packed into such a small device will be well worth the investment.
The device covers 33 square feet with the cooling power of evaporation. You can control everything from your phone with the mobile app technology built into this product.
The built-in filter in the Evapolar also cleans up the air enough for a good night's sleep.
Quiet, portable, and practical, Evapolar has provided a perfect solution for solo or couple travelers.
If you don't have the most extensive cooling needs, this tiny product will get the job done.
3: Best Multifunctional: Honeywell TC10PEU with fan Evaporative Cooler
This powerful Evaporative Cooler can take on much larger jobs than anything an RV owner could ask of it.
It only consumes 50 watts of power per hour at its lowest speed, and is capable of spreading 194 cubic feet of airflow per minute.
The tower design saves space without sacrificing airflow, and the versatile evaporative cooler will be a great companion for any days spent under the sun.
You can use it anywhere because the cooler has a fan-only function that allows you to receive the benefits of a fresh breeze even in humid climates.
Built-in safety features will alert you if the water levels in the evaporator are low and remote control allows you to keep a handle on things from throughout your RV.
Suppose you're looking for a cooling solution that can do a little bit of everything.
In that case, this multifunctional tower evaporative cooler will always provide a fresh breeze to the interior of your Recreational Vehicle.
4: Best Effective Range: Frigidaire EC300W-FA Evaporative Air Fan
If you've got a more extensive area to be cooled, you'd be better off calling in the big guns.
This Frigidaire Evaporative Cooler has the ammunition to cool off 640 square feet in the right conditions and will pack a cooling punch to any scenario.
Bigger RV's require larger battery systems, and you'll need a high-quality battery set-up to provide the watts required to fire up this Swam Cooler.
Once you get it started, you can pair the 5.6-gallon water tank with any of four different fan speeds to reach your desired level of cool.
The fan can oscillate to ensure every corner of your RV feels the breeze, and an included remote and timer settings will prevent unnecessary strain on your power system.
With a 30-day no-questions-asked return and a year-long warranty, any larger RV's can feel safe requesting the services of this Evaporative Cooler.
5: Best User-Friendly: Honeywell 470-659 Evaporative Cooler with Remote Control
Honeywell is no stranger to Swamp Coolers, and this product is another in the line of high-quality options that don't break the bank.
Designers initially made this Honeywell portable option a smaller, convenient choice for cooling off specific areas of a house.
The user-friendly experience translates well to an RV, as the cooler has the size to pump fresh air throughout your vehicle without being too much.
The devil is in the details, and Honeywell improved on their design by allowing you to change out the water in this swamp cooler without removing the tank.
To take your cooling to the next level, a built-in ice compartment allows lower water temperatures and a cooler airflow.
The convenience doesn't stop at how you fuel the product; Honeywell also packed in features that make operation less of a hassle.
You can cycle between sound effects to change the white noise from the machine to the sounds of a relaxing breeze.
A built-in sleep setting changes the tone of the cooler to suit a restful night's sleep.
The included remote has a holster on the headquarters of the product, so you can spend less time looking for the controller.
While this evaporative cooler isn't the most powerful option on this list, the user-friendly interface and easy cleaning + operation features make this a wonderful choice if you don't feel like combing through the manual of your Evaporative Cooler.
6: Best Outdoor Evaporative cooler: Honeywell CO25AE Environmental Appliance cooler
This Evaporative cooler rounds out our list of the best RV swamp coolers by providing a build quality made for the great outdoors.
Honeywell built this evaporative cooler with weather and UV ray-resistant materials specifically designed for outdoor use.
This product is the closest you can get to an evaporative cooler made for an RV.
The environmental appliance packs in all the features you'd expect out of a high-quality cooler, with an included remote control and sleep functions.
Rver's who plan on using their cooler outside of their camper will find this cooler a suitable companion for years to come.
Air blows 28 feet out from this product and spreads across 300 square feet to keep the whole gazebo feeling breezy. This evaporative cooler is truly suited for every scenario.
The Choice's in your hands
You can't go wrong with trying out an evaporative cooler on this list to seek relief from dry, hot summer days.
With superior materials, usability in mind, and efficiency in design, these coolers are ready to get the job done.
If you don't want to spend your next boondocking trip in a heat-induced comatose, you don't have to pay thousands of dollars on an air conditioning system.
Try out one of these evaporative coolers that quietly fill the space between fan and A/C and see if they can give your next trip the boost you need.