For those of us that live the RV life – whether full-time or just for a weeklong vacation here and there – one of the easiest ways to live comfortably in such a small space is to get out of the vehicle and enjoy nature.
Many RVers take extra care with their outdoor living space, collecting comfortable camp chairs, putting down an outdoor rug, and hanging those popular "twinkle" lights.
But what if your RV came with a built-in (or should we say, built-on?) outdoor living space? We have shared several RVs with side patios here on the blog before, but what about the RV with porch roof?
In this article, we're going to check out some must-see travel trailers, fifth wheels, and even some RVs with a roof deck.
Types of RVs with Rooftop Decks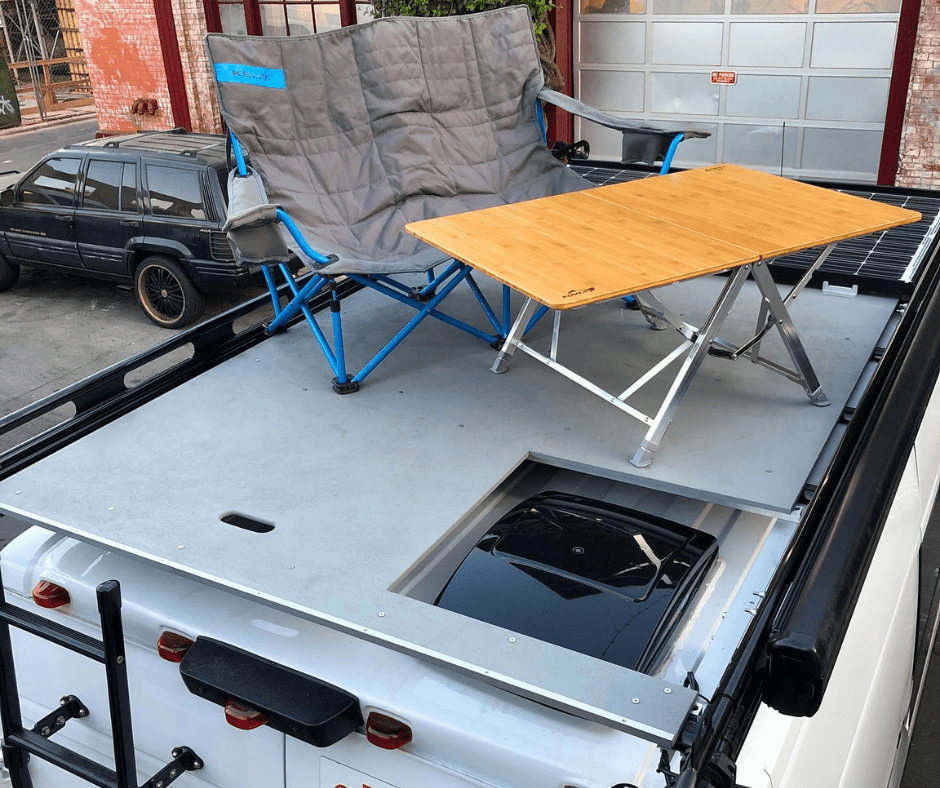 Rooftop decks are growing in popularity among RVers and vanlifers, helping you to maximize your outdoor living space and soak up the views.
For those who have built out their van or bus, a porch roof was a key feature to add to their home on wheels.
But for those who want a more traditional travel trailer or RV, the options are more limited.
You're not going to find a traditional Class A or Class C motorhome sporting a rooftop deck – unless, of course, you're purchasing a used RV and a previous owner built their own deck.
However, there are three types of RVs that you can find featuring a roof deck with a couple of well-known RV brands:
Travel Trailers with porch roof
1. Highland Ridge Mesa Ridge Lite MR2102RB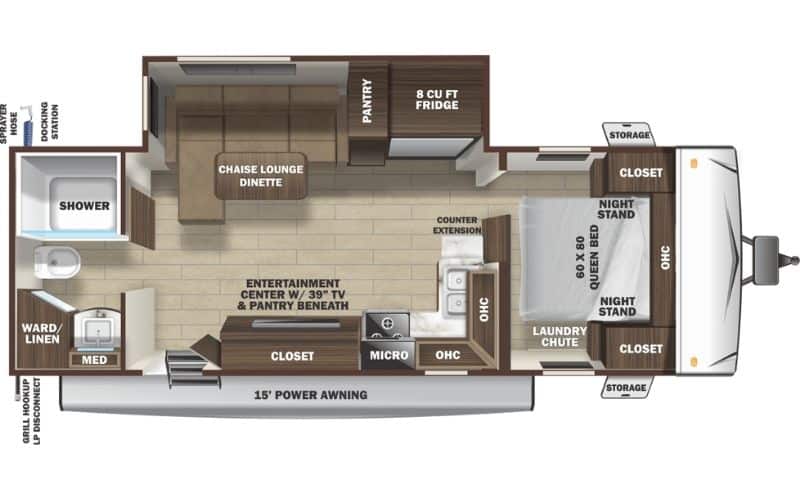 With a single slide-out and capacity for up to four adults, the Highland Ridge Mesa Ridge Lite MR2102RB is a comfortable travel trailer and adventure home.
Although the camper doesn't have a fully built roof deck, it made our list because of its exceptional exterior design and structure.
Particularly the roof, which is fully walkable and can easily accommodate your body weight and that of a couple of camp chairs, so you can enjoy this space just like a deck.
There's also a useful roof access ladder to make it easy to setup your rooftop space.
This travel trailer has an LP gas hookup so you can connect your grill and cook in the great outdoors, either from under your 15-foot power awning or from the roof of your camper.
There's also an outdoor sprayer hose and docking station on the opposite side for easy cleanup or even an outdoor shower.
Inside, you enter the Mesa Ridge Lite MR2102RB from the rear into the main living space.
The bathroom is on your left, and features a large shower on one side of the porcelain foot-flush toilet, with a wardrobe/linen closet and the sink with a medicine cabinet on the other.
The living area is cozy and spacious, with a large chaise lounge sofa and dinette that converts into a bed for two.
The pantry and 8 cu.ft. refrigerator are tucked next to the lounge inside the RV's slide out, with the entertainment center and kitchen on the opposite side of the camper.
The L-shaped kitchen has a three-burner stove, 17-inch gas oven, microwave, and double sink with overhead cabinets and even a counter extension for extra prep space.
The bedroom is situated at the front of the trailer, with closets and overhead cabinets as well as nightstands on either side of the queen bed.
Key Features & Price:
2. Forest River Wildwood X-Lite Midwest 273QBXL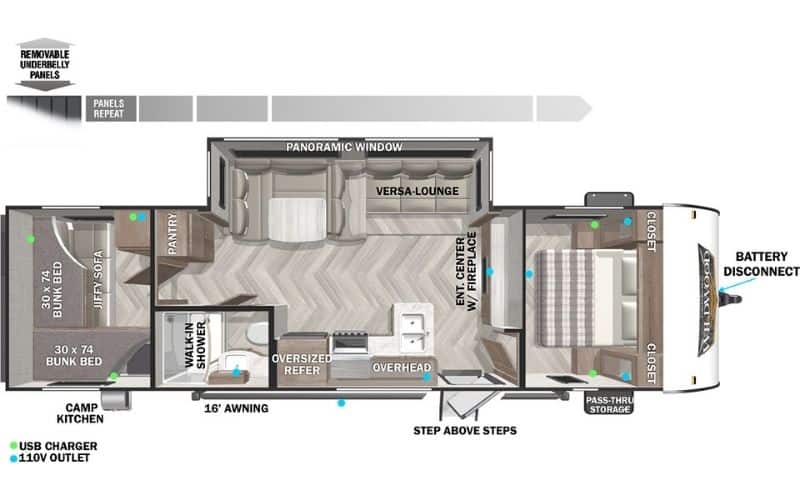 The Wildwood X-Lite Midwest 273QBXL from Forest River is a much larger travel trailer that also has a bunkhouse, which, combined with the master bedroom and convertible dinette and lounge, allows up to 11 people to sleep inside.
The one-piece SuperFlex roof is constructed with ⅝" tongue-and-groove plywood floor decking.
This travel trailer makes your outdoor enjoyment space complete with a 16-foot power awning, outdoor speakers, and a gas-powered camp kitchen with a grill.
Inside the camper, the bedrooms are situated at both ends. The rear bedroom is the bunkhouse, which has three 30×74-inch bunks and a jiffy sofa below.
Stepping back into the main living area, and you'll find yourself beside the spacious bathroom, which has a walk-in shower with glass doors and a vanity sink beside the toilet.
The kitchen area is next, and sits across from the slide out, which holds the convertible U-dinette and Versa lounge.
Get ready to prepare your on-the-road meals in comfort with an oversized 11 cu.ft. refrigerator, 3-burner stovetop, oven, pantry, and large double-bowl sink.
There's plenty of storage throughout the space and in the kitchen, and the entertainment center that flanks the master bedroom wall has a fireplace to centrally heat your home on wheels.
In the bedroom, you'll find even more storage in the closets on either side of the queen-sized bed.
Key Features & Price:
Fifth Wheel RVs With Roof Decks
Fifth wheel RVs are typically larger and often longer than standard travel trailers.
The difference is that fifth wheels must be towed by larger, more powerful trucks, where the hitch rests inside the bed of the truck hauling it – acting as the fifth "wheel".
These types of RVs can be well suited to rooftop decks because they are generally heavier and built to accommodate this weight.
Therefore, if you have a rooftop deck on your fifth wheel, it may be even larger and more spacious than the roof deck on a travel trailer.
Another perk of having a fifth wheel is that it can accommodate more people than a standard travel trailer, in terms of sleeping capacity.
While the Wildwood X-Lite Midwest we just looked at has a lot of capacity, fifth wheels offer more space as a standard.
Let's take a look at a couple of fifth-wheel RVs with roof decks!
1. KZ Durango 294MBQ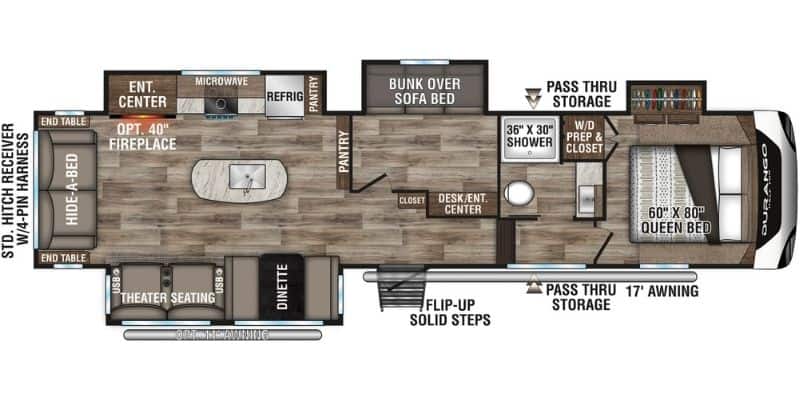 With its 100% aluminum frame, the Durango 294MBQ from KZ RV is an extremely durable and long-lasting fifth wheel travel trailer.
KZ has constructed the roof from a single, solid piece of Tufflex roofing that is completely seamless and walkable.
The trailer comes with a 17-foot power awning, but you can add a second, 11-foot awning as well to expand your outdoor living space above and below.
The outdoor features include LED lights, speakers, and it's even pre-wired for an exterior TV.
KZ RV's Durango 294MBQ has a ton of space inside as well. There are four slide-outs so you can maximize your space when parked in your camping spot.
Two slides are in the main living area, which is situated at the rear of the trailer. The driver's side slide holds the entertainment center and 40-inch fireplace, and most of the kitchen accommodations including the microwave, 3-burner stove, oven, 8 cu.ft. fridge, and one of the two pantry cupboards.
A large island features counter and storage space, and a deep under-mount stainless sink with a cover and a residential faucet with spring sprayer.
Across from the kitchen, you can enjoy a meal from the convertible dinette, or relax in the theater seating or hide-a-bed sofa that flank the entertainment center.
Moving back toward the middle of the camper, where the entry is, you can access the second bedroom and office, which has a bunk over a sofa bed to sleep three, as well as a small desk and entertainment center.
The bedroom shares a wall with the RV's luxury bathroom, which has a spacious linen closet and lots of drawers, in addition to a 36-inch shower with integrated shelf space and a skylight.
At the front of the fifth wheel, the master bedroom has a queen-sized bed with overhead storage and a closet in a mini slide out, plus a space that's prepped for a washer/dryer–unless you'd prefer to use it as another closet.
Key Features & Price:
2. Winnebago Spyder S36GWS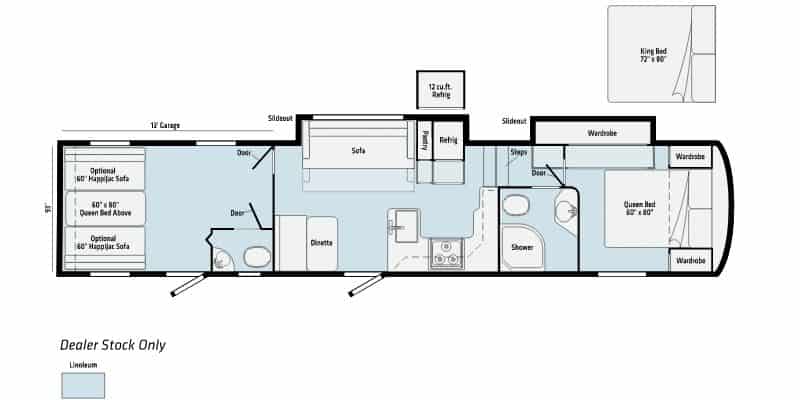 Winnebago is a well-known name in the RV industry, and has been manufacturing campers and travel trailers for more than 60 years.
Their Spyder S36GWS model is a fifth wheel toy hauler, which means it has a rear "garage" for hauling motorcycles, four-wheelers, and other adventure vehicles.
If you're not hauling your toys, the garage can be converted into a bunk room that sleeps four.
The garage also has a small second bathroom with a toilet and vanity sink to make the camper more comfortable when you're traveling with the family or friends.
The Spyder S36GWS has a one-piece TPO roof, so it's completely walkable and carries a durability guarantee and warranty.
The camper also has walk-on roof decking and a side-mounted roof ladder for easy access to your RV's roof deck.
Down below, the trailer has a 20-foot power awning with LED lighting, and additional exterior lights and exterior speakers make your outdoor space just as versatile as its inside.
There's also an exterior shower if you need to rinse off after your outdoor activities.
Speaking of the inside; beyond the garage area, you'll find the main living space of the Winnebago Spyder S36GWS.
There's a slide-out with a sofa and either an 8 cu.ft. fridge and pantry, or upgrade to a 10.3 cu.ft. refrigerator.
Across the room, there's a dinette and the kitchen space, which features a single bowl stainless steel sink with a residential style faucet, a 30-inch convection microwave, a recessed 3-burner cooktop, and plenty of counter space and storage.
Step up toward the front of the fifth wheel to the main bathroom, which has a large shower and skylight, a porcelain toilet, and mini vanity.
The master bedroom has a large wardrobe slide out, and features a queen sized bed (king optional) and additional wardrobes on either side.
Key Features & Price:
Motorhomes with Roof Deck
In addition to towable RVs, there are a couple of motorhomes that feature a rooftop deck.
These are few and far between when considering mass-produced models, because most motorhomes that have a roof deck are custom built, such as schoolies, campervans, and the like.
1. Glampervan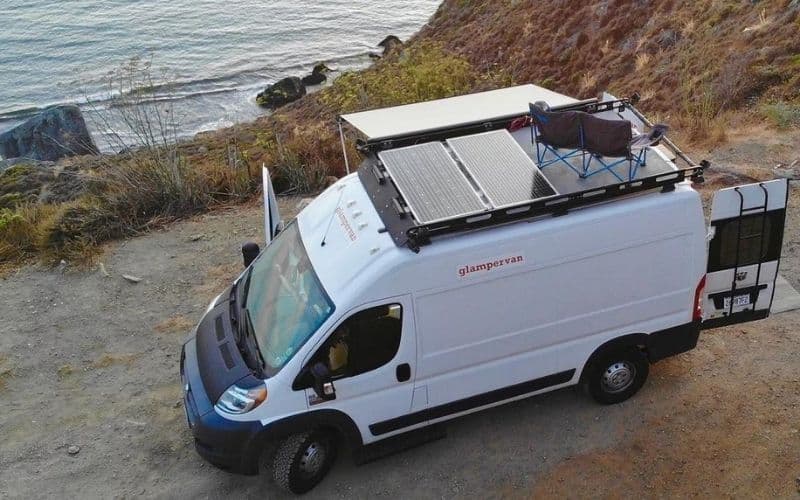 Generally speaking, you won't find roof decks on Class B motorhomes (campervans) made by typical brands that manufacture these types of RVs, but Glampervan is a different story.
The Oakland, California company builds custom RVs on RAM ProMaster chassis you have to purchase the van and also purchase their build package, but it's full of customizations right down to the storage setup beneath the bed and window coverings.
Glampervan's Deluxe build includes a commercial-grade roof rack, ladder, and a deck featuring stained and finished marine plywood that's finished for non-slip texture.
You can also add a 10×10-foot manual awning and four external LED lights (dimmable).
Inside, the setup is completely customizable to your needs. Most layouts feature a queen-sized bed in the back, with "garage" and cabinet storage underneath.
The space can accommodate 50-90 cu.ft. of storage under the bed, depending on cabinet placement.
One of the add-ons you can include is a Camco 2.6 gallon portable toilet, which stows underneath the bed.
The kitchen can have a ton of storage, and has a single bowl stainless steel Ruvati sink with a cover and a drawer for your induction cooktop, plus a 55-liter, top-down Dometic refrigerator with an ice maker.
Add a couple of swivel tables to convert your bed into a dinette area, or swivel your driver and passenger seats around to create a functional workspace.
Key Features & Price:
2. eleMMent Palazzo Superior
We couldn't help but wrap up this list with the most luxury RV with a roof deck we've ever seen, the eleMMent Palazzo Superior, which sold for $3 million in 2014.
This motorhome features top-of-the-line luxuries and the most high-quality materials, along with a streamlined design that makes the interior feel like a palace for two.
One highlight is certainly the fully-built rooftop deck, which you can access through a staircase in one of the sides of the vehicle.
When you're parked, you can deploy the automatic retractable roof walkway and sun canopy with integrated lighting and audio.
The rooftop area includes storage space for outdoor lounge furniture, a safety railing, and an automated lift system for ease of use.
The luxuries just get better inside this motorhome, which has a comfortable indoor lounge area located directly behind the driving cab with an automatically extendable lounge sofa, height-adjustable tables, and bar furniture with a wine cabinet and a coffee machine.
Stepping into the kitchen, you'll find a refrigerator with a freezer and ice maker, sink with electrically adjustable water control system, stove, and more.
The bathroom is situated in the heart of the RV, and has a sink and toilet with Aqua Clean Hygiene.
The spacious 16 sq.ft. rain shower has a light therapy function and electronic water control – there's even a towel dryer!
In the master bedroom, there's a king-sized bed with lots of space to move around, plus a desk/dressing table and generous storage.
It's all enclosed by a brilliant sliding door system so that you can have an open living space by day, and close in the bedroom at night.
Key Features:
Final Thoughts About RVs with Roof Decks
We have looked at some pretty cool travel trailers, fifth wheels, and even motorhomes with a roof deck or walkable roof system that can handle outdoor entertaining.
While the most interesting roof decks on RVs are typically the ones you build yourself, some manufacturers are certainly developing some fascinating RV models that feature a roof deck or structural support that can accommodate one.
If you're considering adding a roof deck to your RV, you will first want to make sure it is actually made to support the extra weight and wear-and-tear when you use it as a deck.
It may be a good idea to first check to see if you need to repair or replace your RV's roof before you start the deck project.