For those of us that can't afford one of the best camper vans or small RVs, camping out of our truck beds is an affordable way to travel while still having a comfortable place to rest our heads at night.
We have seen some pretty cool truck bed camping platform ideas out there and we are excited to share them with you.
Building a sleeping platform for your truck bed has a lot of benefits.
Whether you are planning to live in your truck full-time or just looking to maximize your setup for weekend camping trips, these platform ideas are worth exploring.
DIY truck bed camping platforms are the best because they require a minimal up-front investment. You will, of course, need some crafting skills to bring these ideas to fruition.
But if you have never picked up a Skilsaw, now is as good a time as any to start!
Why Build A Truck Bed Camping Platform?
Sick and tired of pitching a tent every night when you are traveling in your truck?
Here are some compelling reasons to build a level sleeping surface in your truck bed:
It makes it easier to climb in the back to get some rest on road trips.
It saves you the money you'd otherwise spend on hotel rooms or Airbnb rentals
It eliminates having to set up and break down a tent every night.
It can maximize storage space in your truck bed so you can still bring along all of your camping and recreation gear.
It gives you a weatherproof place to sleep when paired with a camper shell!
Best Truck Bed Camping Platform Ideas
Building a camping platform in the bed of your truck is a great opportunity to exercise your creativity and customize your setup to your needs.
That being said, here are a few DIY truck bed sleeping platform platform ideas to give you some inspiration.
1. Just Put An Air Mattress In The Bed Of Your Truck!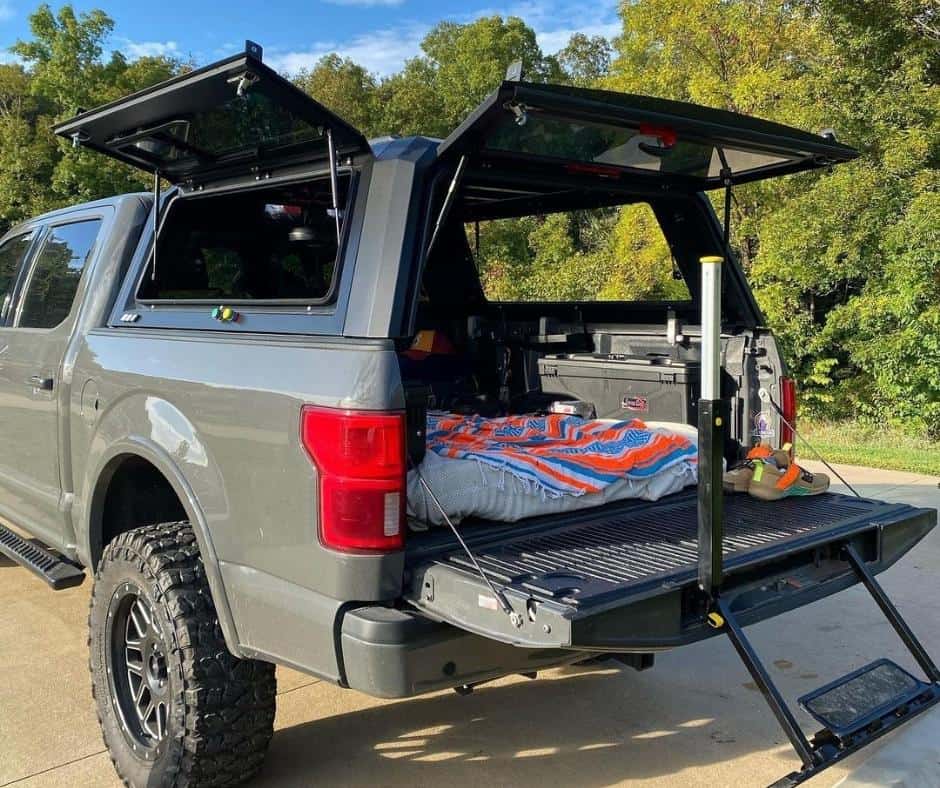 The easiest (and arguably) cheapest way to camp in your truck bed is simply to throw a folding mattress or truck bed air mattress back there. 
What You Will Need:
What It Will Cost:
$50 to $200 (depends on how many bins you buy and whether or not you already have a sleeping pad or air mattress)
How Much It Will Weight:
How To Do It:
2. Build A Truck Bed Sleeping Platform Out Of PVC!
If you want to build a basic sleeping platform in your truck bed, PVC is one of the most affordable materials you can use.
What You Will Need:
What It Will Cost:
How Much It Will Weight:
How To Do It:
For example, let's say you want to build a 6' by 4' (the most common truck bed size) platform that is 10 inches high.
You will need two 6' by 4' rectangles with 4-8 10" segments to connect them.
Doing some quick math, this design will require a minimum of 47 feet of PVC pipe. Let's round that up to 50 feet to be on the safe side!
The nice part about a PVC camping platform is that it is relatively light and easy to disassemble between your camping trips.
So this solution is really best for weekend trips or the occasional week-long truck camping getaway.
This truck bed sleeping platform will also allow you to utilize the area underneath the platform for gear storage.
You just may want to consider getting a couple of wheeled latching bins to keep your gear secure and protected.
3. Go For A Basic Wooden Design!
For those of you that are concerned about the long-term durability of a PVC platform (but the like the relative ease with which it can be built, you can go for a similarly basic design using wood instead.
What You Will Need:
What It Will Cost:
How Much It Will Weight:
How To Do It:
For example, my truck bed is roughly 60 inches long by 41.5 inches wide.
To build my design, I will need a total of four 60" sections (two on each side), a minimum of two 41.5 inch sections (for lateral support), and at least four 10" sections (for the vertical supports).
This assumes I want to build a 10" tall sleeping platform, so you can adapt those vertical sections to your preferred height.
If you have already done the math before me, I'm just catching up and realizing I will need at least 30 feet of two-by-four lumber to complete my design (I'll probably round that up to 35 or 40 feet to give myself some room for error).
It is best to do this inside your truck bed because it will be a bit heavy to move once fully assembled.
4. Try A Wooden Design With Built-in Drawers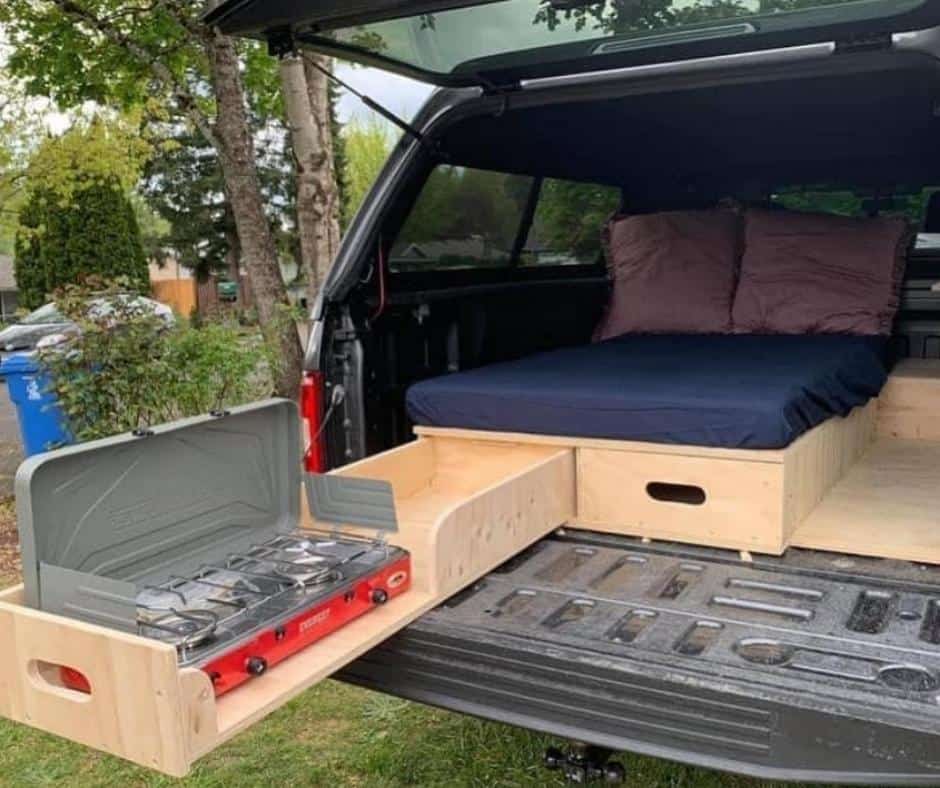 If you plan on exploring full-time truck camping for an extended period, it will be helpful to have dedicated storage drawers for all of your camping gear, clothing, toiletries, and recreation supplies.
So you might try upgrading your wooden sleeping platform to include built-in sliding drawers.
Keep in mind that this solution can be relatively difficult to remove once it is completed.
So it is a better option for truck campers that are looking to equip their truck bed with a permanent sleeping platform.
If you really want to make this option look as clean as possible, you are going to need to become familiar with a few more advanced carpentry techniques.
So check out these videos on how to create hidden joints and how to toenail wood before deciding if you really want to undertake this DIY platform build.
What You Will Need:
What It Will Cost:
How Much It Will Weight:
How To Do It:
If you want to cover the entire truck bed, you will need to cut multiple pieces of plywood to fit around the wheel wells.

For a simpler solution, cover the main part of the truck bed with a single sheet of plywood that you cut an inch or two shorter than the length of your truck bed and leave the areas in front of, and behind, the wheel well uncovered.
You should have at least three supports that are as long as your truck bed and as wide as your desired camping platform height. For example, if you have a 60" bed and you want an 8" platform, the two pieces of plywood you cut for vertical supports should be 60" x 8".

You may also opt to cut additional supports to place in front and back of your wheel wells. These will be placed perpendicular to the longer supports you just cut and will provide support for your platform at the edges of your truck bed. They should also match the height of your other supports.
Measure again!

You will need to account for the width of the plywood as well as the drawer slides when you decide on the width of your drawers.

If you have 16" openings, for example, your drawers can actually be a maximum of 13" wide after accounting for two ¾-inch pieces of plywood and two ¾-inch wide drawer slides.

You should also keep in mind that your drawers will be slightly smaller than the maximum height of your platform. With ¾-inch plywood on top and bottom, the maximum depth of your drawers will be roughly 8.5 inches (with a 10" platform).
During this step, you may find it useful to lay a couple of pieces of plywood under the drawers in order to lift them off the base and make mounting a bit easier (especially if you're doing it solo!).
To create a seamless design, your drawer faces should match the dimensions of the openings at the back of your platform as closely as possible. Cut a curved opening at the top of the drawer faces to allow you to open them easily without installing an exterior handle.

This is where your hole saw kit will come in handy!
Instead of placing all of the weight of the platform on the vertical supports you already installed, but three more 2" by 1" sections of plywood to the exact width of your truck bed. These can lay on top of the vertical supports with even spacing and screw down before you add your platform on top.
You can cut this section to the exact dimensions of your truck bed and simply lay it on top of your frame underneath.

You will then have plenty of options for customization.

You can create square openings at the back corners to created hinged access to areas in front of your wheel wells.

You can leave the openings to the rear of your wheel wells open for easy-access storage or installed flip-down faces on these spaces too

If you feel like you haven't used your hole saw kit enough, you can also create circular openings for storing water coolers and other circular camping items.
Again, you will have lots of options here, including:

Paint on a coat of stain or varnish for waterproofing (if you want to maintain the natural wood finish)
Now it is time to sit back, have a quick celebratory beverage, and appreciate all of your hard work.
Then, load in all of your camping gear and start planning your next off-grid camping trip!
5. Truck Bed Camping Platform Idea: Purchase Decked Drawers!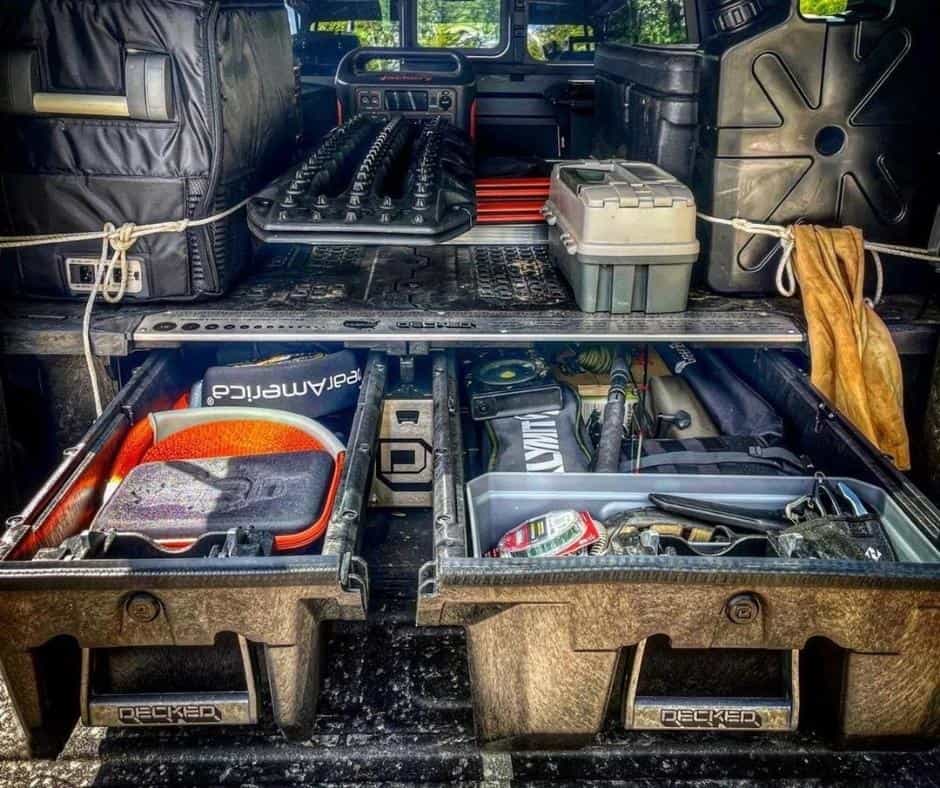 If you have a larger budget and simply want to purchase a ready-made solution, check out DECKED!
They make a variety of storage drawers and camping platform solutions for a lot of different truck models. 
To even see if this is a viable option for you, head over to their website and enter the year, make, and model for your truck to explore options!
What You Will Need:
What It Will Cost:
More than $1,300 (depends a lot on the exact model of your truck)
How Much It Will Weight:
How To Do It:
You can either purchase the compatible set of drawers and install them yourself or you can have them installed for you.
Their drawers come with a complete set of installation instructions, so you will just need to set aside the time to do it!
6. Spend Big On A Sliding Platform!
For those that are interested in going the route of buying a ready-made camping platform, we wanted to outline one more awesome company to look into.
BEDSLIDE makes sliding truck bed platforms that can either be used for sleeping or improving your storage capabilities.
They have four different BEDSLIDE models with different weight capacities. So the best first step is to check out the different options and see what is available for your specific truck model!
What You Will Need:
What It Will Cost:
How Much It Will Weight:
How To Do It:
Fortunately, this company has quite a few installation videos and resources available on its website. So it shouldn't be too tough to install your BEDSLIDE on your own!
Frequently Asked Questions
Just in case you are feeling a little overwhelmed by the steps involved in some of these DIY truck platform solutions, let's address several frequently asked questions to put your mind at ease.
Does it cost a lot to build a truck bed camping platform?
It doesn't have to! But it is important to remember that the cost of all of these platform ideas is variable.
You are going to spend a lot more if you buy all of your supplies new versus recycling or repurposing them.
To that end, you may make your choice of the best sleeping platform for you based on the supplies you already have lying around your house.
Or, if there is a construction project going on in your neighborhood, you may be able to repurpose scrap wood to build your camping platform for much less than if you bought everything from the hardware store.
Do you need to be an expert woodworker to build a platform in your truck bed?
Not at all! Most of the designs are relatively simple rectangles. They don't require precision cuts or crazy technical tools to put together.
That being said, you might consider asking for help if you have never operated an impact driver before.
There's also a lot you can learn from watching YouTube videos on this subject.
And at the end of the day, most of these designs are relatively easy to disassemble and remove if you aren't happy with your work.
Are there pre-made platforms out there?
There absolutely are! If you would rather spend a little more money than taking the time to assembled a DIY truck bed platform, you are in luck.
Companies like BEDSLIDE and DECKED provide a variety of truck storage and camping platform options.
Conclusion
As an owner of a truck with a camping platform myself, I think it is a must if your truck has a camper shell on it.
Don't get me wrong, I love tent camping for what is it. But when I know rain is forecasted overnight, it is great to crawl into my camper shell and know I am completely protected from the elements.
I hope you have enjoyed these ideas to help you build a DIY camping platform in your truck bed.
If you are feeling inspired to start your build-out after reading this post, we would love to hear which one of these ideas you are going to try.
Also, if you have any additional ideas that we didn't include in this guide, we would love to hear from you.
Drop us a comment below with a couple of photos of your truck bed camping platform so that we can share it with our readers!