Small pop-up campers have long enjoyed popularity thanks to their ease of towing, reasonably low purchase price, and low overall cost of ownership.
At the same time, a lot of the best lightweight pop-up campers are also on par with the same level of amenities, and appliances are hard-sided travel trailers of the same relative size.
These pop-up campers are generally minimalistic, but the material builds quality to last for many years to come.
So, if you don't feel comfortable to drive a truck around town on a daily basis, the good news is they are also light enough to be confidently towed behind most mid-size SUVs.
If this sounds like what you are in the market for, you might wonder what some of the best small and lightweight pop-up campers are.
To truly help you find the best small pop-up campers, which are light enough to be pulled by a crossover, SUV, or even a large sedan, we rolled up our sleeves and took a good hard look at this surprisingly deep field.
With all that said, let's dive into some good best pop-up camper ideal for Smaller Tow Vehicles.
7 Best Small And Lightweight Pop Up Campers In 2023
Lightweight pop up campers are very popular with families who enjoy the RV lifestyle but don't want to stay in a tent or invest in a large, gas-guzzling tow vehicle.
While there are a lot of small pop up campers can be towed by an average mid-size SUV or a sedan with a robust tow package equipped, but there are few that don't skimp on the comfort or amenities. But lucky for you, we did the legwork for you.
let's take a look at the 8 best small and lightweight pop up campers weigh less than 3,000 lbs.
1. Jayco Jay Sport Pop-Up Camping Trailer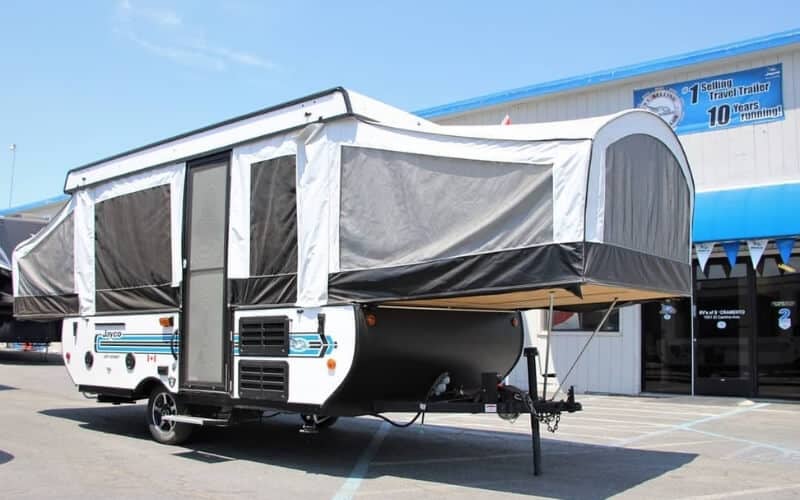 Jayco is known for being one of the strongest names in the RV industry. So, it's little surprise that they put their best foot forward in designing the Jayco Jay Sport Pop Up Trailer to be light enough to be towed by a mid-size SUV, without having to cut any corners when it comes to comfort and convenience.
The 225-pound hitch weight and 14-inch wheels also help it to tow and track easily behind most vehicles.
The interior of the Jayco Jay Sport is surprisingly spacious for a small popup camper. On paper, you can sleep up to four people.
Though I think 5 to 6 is more realistic, which makes this small popup camper a great option for a medium-sized family that loves to travel light and lean.
The kitchen inside the Jayco Jay Sport includes a two-burner propane stove, as well as a single basin sink, which is supported by the large 28-gallon freshwater storage tanks this camper comes equipped with n the standard package.
There are one or two minor complaints about the Jayco Jay Sport. There is no air conditioner included n the standard package.
Though there s a toasty 16,000 BTU propane heater. There also isn't any sort of formal bathroom or toilet.
However, there is a 6-gallon hot water heater to supply the sink for doing dishes or washing hands.
Ultimately, the Jayco Jay Sport is meant more for families that want to stay at a full-service campground or RV park, rather than those who love boondocking off the grid for days at a time.
2. Coachmen Clipper Sport 860QS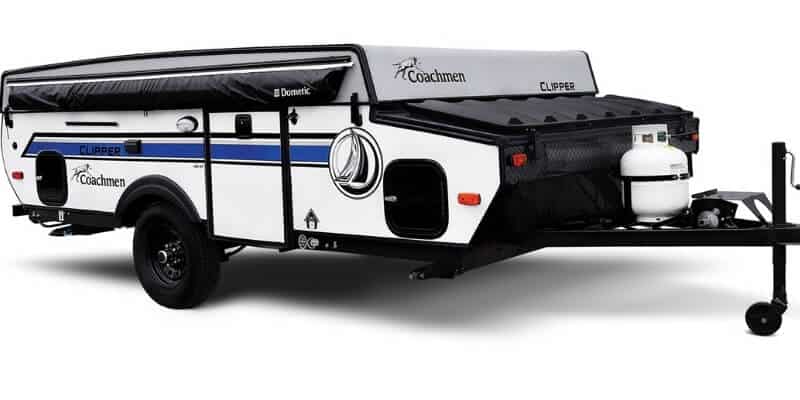 Coachmen is another RV industry leader who knows how to properly engineer a versatile popup camper.
To that point the Coachmen Clipper Sport is available in up to 15 different floor plans.
The 860QS floorplan happens to be one of the lightest pop up tent trailer with only a 230-pound hitch weight and a 1,577-pound dry weight. You can certainly tow it behind most mid-size SUVs.
Some people might knock the 3-person sleeping capacity of the Coachmen Clipper Sport 860QS.
Though it's part of what helps it stay so lgth and nimble, while still being able to haul a ton of gear with the 1,365-pound payload capacity.
This ultimately gears the Coachmen Clipper Sport 860QS to on-the-road tradesmen or a couple that likes to camp with a lot of gear.
3. Forest River Flagstaff 205 Folding Pop-Up Camper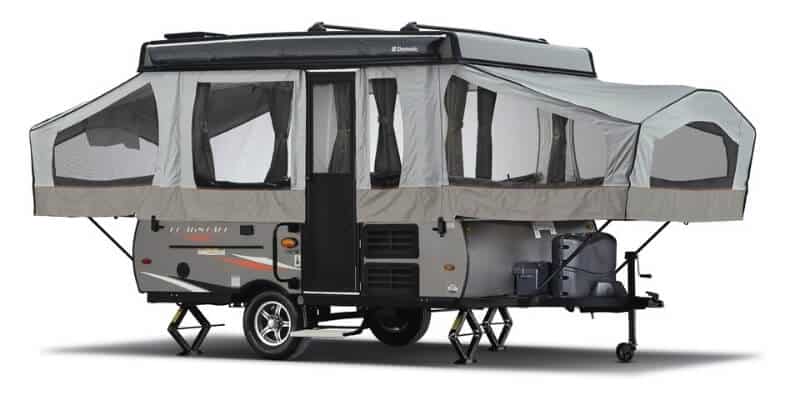 The Flagstaff is one of Forest River's most successful and versatile models. They sell it in a wide range of floorplans, as well as popup and hard-sided camper versions.
This also translates into a lot of optional features and accessories to meet just about any occasion.
The Forest River – Flagstaff 205 is one of their smallest and lightest popup floor plans, while also having a lot of the features and sleeping space to accommodate a traveling family with a mid-size SUV tow vehicle.
The 205 floorplans of the Forest River Flagstaff popup camper can sleep up to 6 people on paper though 5 is more realistic for a family that wants a little more elbow room.
The 26-gallon fresh water storage tank is also a nice touch, for times when you might want to camp off the grid on a little boondocking adventure.
The Forest River – Flagstaff 205 also comes with a 20,000 BTU furnace, which is toasty warm for times when you might want to camp at altitude or use this lightweight popup camper as your base camp on a brisk fall hunting trip.
While there isn't an air conditioner installed in the 205's standard package, it does come with air conditioner prewiring, which makes for an easy aftermarket install.
4. Livin' Lite Quicksilver 8.0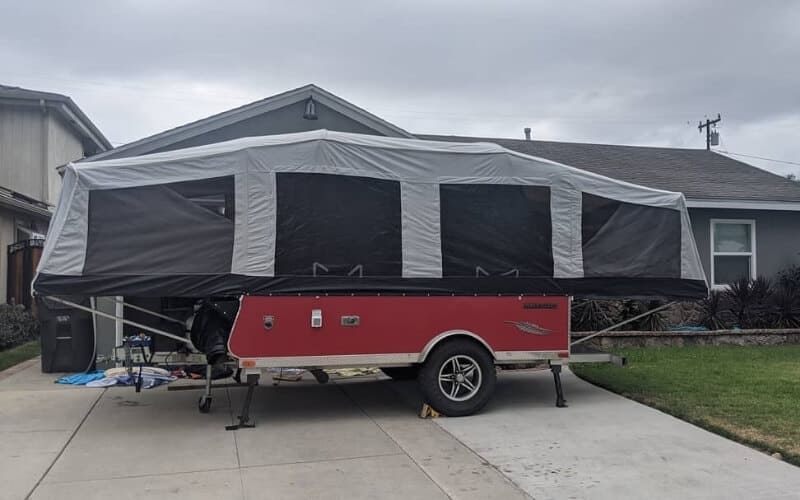 The Livin' Lite – Quicksilver 8.0 is a flyweight "Expandable" small popup camper that can be towed by sedans with a tow package, a mid-size SUV, or even a robust small SUV.
The 124-pound hitch weight and a dry weight of just under 1,000-pounds make it very easy for a family to take this lightweight popup camper just about anywhere, with virtually any size vehicle.
One of the things that really stands out with the Livin' Lite – Quicksilver 8.0 is the fact that it comes with an 8,000 BTU air conditioner installed as part of the standard package.
This is something that's even rare with some of its larger, more expensive competitors! Some models come with the prewriting to accommodate solar panels for times when you want to boondock and camp off the grid.
When fully expanded two flip-out beds and dinette areas can also be converted into a relatively large sleeping area.
On paper, the Livin' Lite – Quicksilver 8.0 can sleep up to 6 people, but five would be more comfortable in the real world.
5. Opus Off-Road Air Pop-Up Camper
With a 2,870 dry weight the 2021 Opus Pop Up Camper does arguably push back on the term "Lightweight."
Though this small popup camper does only have a hitch weight of only 220 pounds, which keeps it in range for a mid-size SUV with a tow package.
The 2021 Opus Pop Up Camper really does pop up and pop out impressively.
Not only can it sleep up to 6 people n the real world, but this popup camper also maximizes the external space with a slide-out kitchen and refrigerator.
On each end, you get pop-out double beds and the C shaped convertible dinette lounge area also provides a bed that is truly large enough to sleep, two people.
You also have to appreciate the fact that it comes with a 40-gallon fresh water storage tank.
This means it can support you comfortably when camping off the grid for several days at a time.
Though you still should slide the fridge and kitchen sections inside f you are going to be away from the camper for more than an hour or two and there's any rain in the forecast.
6. ALiner Expedition A-Frame Camper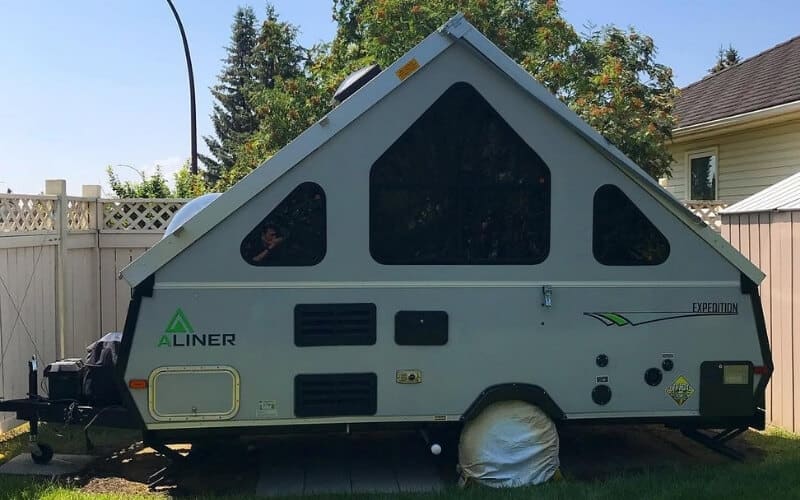 The A-liner might not look like your typical "Tent" style popup camper and that's just fine.
Its non-traditional look means that you get an incredibly stable, compact A-Frame pop up camper that still only tips the scales with a 1,800-pound dry weight and a comfortable hitch weight of only 240-pounds.
All well within the range of a mid-size SUV's towing capabilities.
You can get the A-Liner with either a sofa or a dinette that converts into a bed. This will allow you to sleep up to four people in the real world.
Beyond the sturdy peaked roof, the A-Liner also stands out from the field, in that it includes a cassette toilet as well as a 5,000 BTU air conditioner and a 1,600 BTU propane furnace.
At first glance, the AC BTU rating might seem a little low compared to other popup campers that tend to have 8,000 BTU AC systems.
Though with the A-Liner you don't lose as much cold air to the outside environment as you do with a traditional tent-style popup camper.
This also helps save some overall weight in what is essentially a hard-sided popup camper.
7. Rockwood Tent 1640LTD Pop Up Camper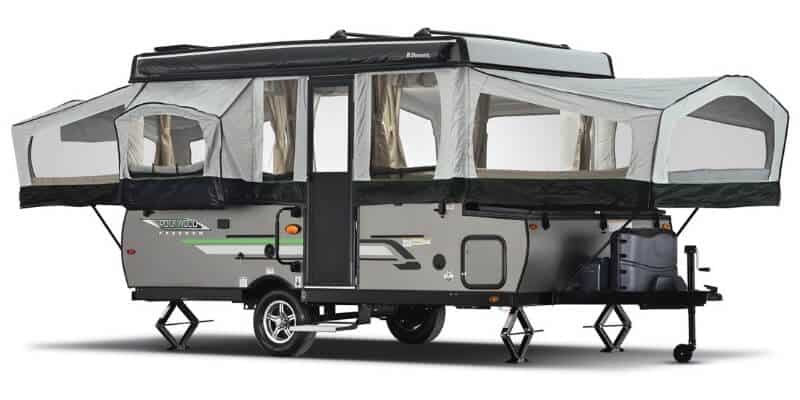 As a Forest River affiliate the Rockwood Tent 1640LTD is infused with a lot of quality for a lightweight popup camper that tips the scales at only 1,465-pounds. 
With a hitch weight of just 162-pounds, this small pop up camper trailer is light enough to easily towed by most mid-size SUVs.
Yet you don't sacrifice a lot of interior space for such a light weight racing. You can comfortably sleep five or even six people in the Rockwood Tent 1640LTD.
There are even a 10-gallon freshwater storage tank and a 6-gallon hot water heater to support the kitchen sink.
Since it weighs so little, you can even travel with this popup camper with the tanks full, and not have to worry about the excess weight or the tracking balance of the trailer affecting the ride quality of your tow vehicle.
Frequently Asked Questions
Can A Mid-Size SUV Safely Tow A Pop Up Camper?
One of the appealing things about pop up campers is that they are relatively easy to tow, which is attractive for families with a mid-size SUV as their so-called "Daily Driver."
Though there are some popup campers that either has too much hitch weight or dry weight to be safely towed by all but the most robust mid-size SUVs.
For the purposes of this article, we tried to keep an eye out for lightweight popup campers that can be towed by a mid-size SUV with a tow package installed.
Can I Tow A Popup Camper with a Car?
Some small pop up campers are indeed light enough to be towed by a car such as a full-size sedan with a tow package installed.
Though you should double-check your car's owner manual to make sure it has the tow capacity and suspension to handle towing a trailer.
Some front-wheel-drive cars don't handle very well when towing something over a 1,000-pound dry weight.
How Much Does A Lightweight Popup Camper Cost?
The price for a lightweight popup camper can vary from as little as $10,000 to over $20,000, depending on the accessories and appliances.
How Does Towing A Lightweight Popup Camper Affect MPG?
Of course, this will vary depending on the tow vehicle, as well as the weight and aerodynamics of the camper.
As a ballpark figure, you can expect to lose around 5 to 7 miles per gallon when towing a small popup camper that weighs around 1,500-pounds.
Do Small Popup Campers Have Toilets?
Larger popup campers sometimes have built-in toilets. Though the fresh and black water storage tanks needed to support a toilet tend to drive the overall gross vehicle weight rating up to the point that it can be a challenge for a mid-size SUV to tow when loaded.
When it comes to small pop-up campers only a handful have cassette toilets with roughly a 5-gallon black water capacity.
Do Small Pop Up Campers Have Heaters And Air Conditioning?
One of the ways some RV manufacturers save weight with a popup camper is to make the AC and heater an optional extra.
Most will put in the prewriting and then you or the dealership can choose to install a propane furnace of an RV air conditioner unit.
Though there are some that come with heating and AC installed in the standard package. This does add to the weight a little bit, but not prohibitively for most mid-size SUVs.
Conclusion
Improvements in lightweight material build quality and engineering have allowed popup campers to get leaner and weigh less than ever before.
This tends to mean that the marketplace is a little bit flooded or spoiled for choice.
When shopping for the best pop up camper for your family's needs it helps to let the specifications of the tow vehicle guide you.
The last thing you want is to pair your intended tow vehicle with a popup camper that it can't safely pull at highway speed.
Especially if you are intending to use a car or a small SUV to tow the mini popup camper.
Once you have your numbers properly dialed in, you can start weighing your preferences and options.
If you are looking for a lightweight popup camper that has a toilet and can handle the elements, then the Aliner – Expedition is probably the best lightweight popup camper for your family.
It has both a heater and an air conditioner as well as sturdy hard sides for added longevity and thermal efficiency.
If you are looking for a lightweight popup camper that has a great payload capacity and doesn't need to sleep a lot of people at one time.
Then the 2020 Coachmen Clipper Sport 860QS might be the best lightweight popup camper for your needs.
With a payload capacity of over 1,300 pounds, it is a great option for a traveling tradesman or construction worker who needs a place to sleep and stow their gear when they are at a remote job site.
Whatever your needs and interests are, chances are good that the best lightweight pop up camper for you is somewhere on this list.