So, you're in the market for a toy hauler but you don't want something so… massive.
Chances are, if you search "toy haulers for sale" on Google, you'll find a plethora of huge fifth wheels capable of carrying you, your entire extended family, a heard of Buffalo, and seven four-wheelers.
But what if you simply don't need all that? Or maybe you want a toy hauler you can tow with your half-ton.
If you've found yourself in this dilemma, you're probably wondering: What are the best small toy hauler campers available?
The best small toy haulers are usually travel trailers. They're between 20 and 25 feet long, have plenty of cargo storage, D-rings to secure equipment, and even a ramp that can double as a deck! They are also lightweight AND capable of hauling plenty of adventure gear.
No, they are not the most common type of toy-haulers; but for those who want to explore the road less traveled with their toys and some basic amenities – they're just about perfect.
In this article we discuss all there is to know about toy haulers, keeping it small, and the 8 best small toy hauler campers on the market right now.
Let's dig in!
But First, What is a Toy Hauler?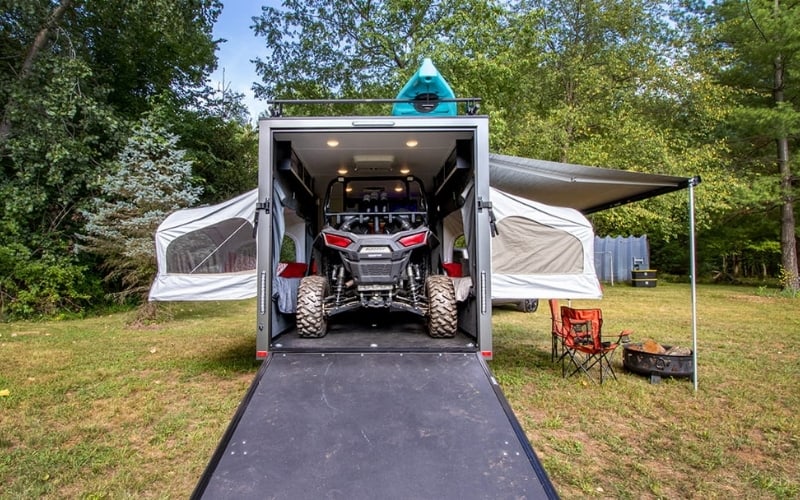 A toy hauler is essentially an RV with a garage. The back end of a toy hauler has a ramp door that folds down so you can load any bikes, ATVs, kayaks, or other "toys" into the garage area.
More often than not, that same ramp converts into a party deck as well (woohoo!).
The garage area typically has D-rings for you to strap down your equipment, vents on the side of the rig to help clear fumes from any motorized toys, and foldable furniture so you can make the best use of the space.
One thing is for sure: toy haulers are built to take a beating. Because they carry heavy equipment, they're usually designed with a tough steel frame and aluminum sides and ceilings.
They also have a higher weight rating than standard RVs and a reinforced ramp and floor as well.
What are the Different Types of Toy Haulers?
Toy Haulers come in many shapes and sizes. The most common types of toy haulers are fifth wheels and travel trailers.
Nevertheless, you'll be able to find Class C and Class A motorhome toy haulers if that's what your heart desires.
More often than not, however, toy haulers are just plain big. Because they are meant to house a family AND heavy equipment, they're built to be large and in charge.
Specifically, your average toy hauler will be at least 30 ft long, taller than most travel trailers, and did I mention heavy?
But what about those people who want a small, basic rig to take off-grid? If you're that person, you'll be glad to know that some RV manufacturers have your needs in mind.
These toy haulers are typically travel-trailers that are small but tough.
You'll be able to tow most of these rigs with a half-ton pick-up (or even a Jeep or cross-over) and easily navigate terrain that you wouldn't dare cross in a big rig.
Besides, what's the point of having a side-by-side if you can't even get to the trails in the first place?
Why Go Small?
One word: Freedom.
If you clicked on this article, you probably already know: smaller is almost always better when it comes to travel.
In fact, most RVers will tell you they wish they went smaller with their first rig, not bigger.
And personally, I have to agree. My first rig was a 35' long Class A Motorhome (in other words, a bus); I truly thought we would be so happy traveling the country in that beast.
But alas, we found we were carrying around way too much unnecessary "stuff" that only held us back from going the places we truly wanted to go.
To put it plainly, you simply won't be able to go certain places with a big rig that you can with a small travel trailer.
This is because large RVs are much harder to tow (or drive) over washed-out or sandy roads, you'll spend more in gas (which may inhibit how far you can travel), and many campgrounds have RV length limits.
So, if you have some toys or adventure gear you want to take with you (or maybe you just want some extra space for your pets!), a small toy hauler just may be your perfect setup.
Toy haulers are multi-functional RVs that provide tons of practical space for any lifestyle, allowing you to make the most of a small space!
Size Doesn't Matter: Our Favorite 8 Small Toy Hauler Campers That Offer Big Space
Now, the reason you clicked on this article in the first place: RVs!
Here we have a list of the best small toy hauler travel trailers on the market right now.
They range from 10' – 26' in length and have a variety of features that will suit just about any outdoor enthusiast.
So sit back, relax, and keep scrolling. Your perfect setup is waiting for you.
These small toy haulers will provide luxury without sacrificing functionality.
1. Forest River Wolf Pup Toyhauler 18RJB
The wolf pup is a 7 foot wide, single-axle toy huller travel trailer; meaning you can tow it with an SUV or a half-ton! At just over 22 feet in length, this little wolf pup toy huller packs a punch.
It has just about everything you need in a camper, including a ramp door that turns into an outdoor patio and an epic outdoor entertainment area that includes a sound system AND TV.
Because of its small size, you might think that you'll need to sacrifice SOMETHING, but I'm here to tell you it has all the amenities you'll want for your next great adventure: a queen bed plus an overhead bunk, a dry bathroom with a tub, a fully functional kitchen, a removable dinette, ample storage, and plenty of room for your bikes, kayaks, or other toys.
The Wolf Pup is also built to last – it has an energy-star rated PVC roof that comes with a 15-year warranty.
It's also built on an upgraded axle system and a rolled I-beam steel frame, making it more sturdy than ever.
I'm not going to lie, just reading about this rig is making me want to go out and buy one!
2. KZ Escape E180 TH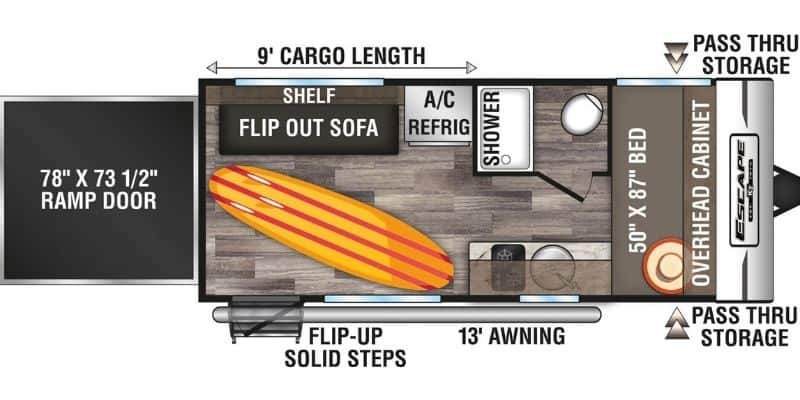 The KZ Escape is a rugged and lightweight little travel trailer. It's only 21 feet long, but it has 9 feet of cargo area (which is almost half of the rig) AND can hold 1,790 lbs of cargo!
In addition to this amazing amount of space, this tiny rig also has a pass-through storage area in the front, allowing for ample amounts of space to put your equipment.
In addition to all of the space for your gear, the KZ Escape can hold 38 gallons of fresh water, 32 gallons of grey water, and 32 gallons of black water.
Not only that, but it is pre-wired for solar – an epic setup for boondocking fanatics, if you ask me!
In a 21 foot rig designed to haul your precious cargo, you might think you'll have to sacrifice in comfort – not so! The KZ Escape comes with a flip-out sofa, a cooktop and sink, fridge, dry bath, and a full-sized bed and twin bunk.
It also has a Furrion sound system to make your camping trips that much more enjoyable.
I genuinely can't think of anything that's missing from this setup, but if you can – no worries!
We have plenty of rigs to show you!
3. Rockwood Geo Pro G19 FBTH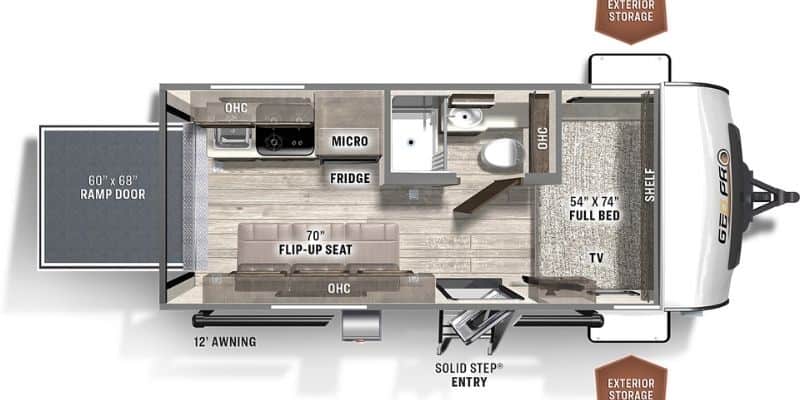 Once again, Forest River's Rockwood Geo Pro series is absolutely killing it.
The exterior length of this mini toy huller is only 20 ft; nevertheless, both you and your toys will be very comfortable in this toy hauler.
For one, it has an air ride system created for smooth riding and preventing your expensive equipment from jostling around, a 60" x 68" ramp door opening, and over 6 feet of cargo capacity.
Moreover, the air ride system is ridiculously easy to adjust (so easy, even I could do it).
So, whether you're hauling some light kayaks or maxing out your 1,498 lb cargo capacity – you can rest easy knowing your camper will glide smoothly down the road.
The Geo Pro Toy Hauler also has a full bed, dry bathroom, fully functioning kitchen, flip-up couch, AND a standard solar set up that comes in all Geo Pros.
Couple that with 31 gallons of fresh water capacity, an outdoor shower and griddle, heated holding tanks, and a wifi/antenna booster; and I dare say this rig is a near-perfect off-grid setup – especially if you want to take some toys with you.
4. Jayco Jay Flight Octane 222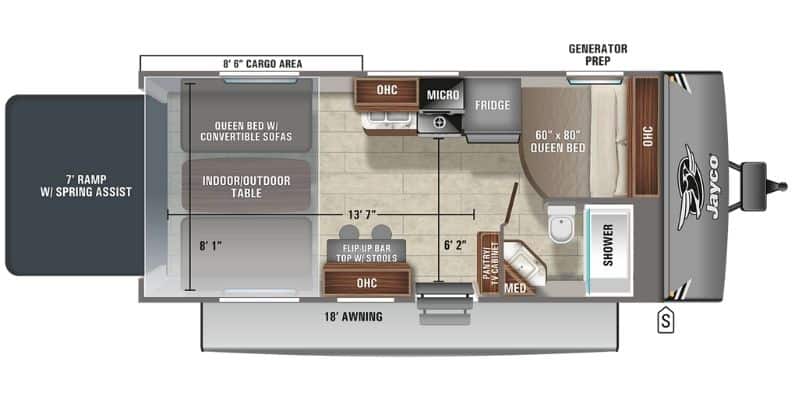 At 26 feet long, the Jay Flight Octane is the largest toy hauler we feature; but with those extra inches comes some fantastic perks.
This small toy hauler has roof-mounted solar prep, over 13 feet of cargo, a fully functioning kitchen, dry bath, 2 queen-sized beds, a table that converts to an additional bed, and a 7 foot ramp that turns into a deck.
It can also haul a whopping 2,465 lbs of cargo, including 53 gallons of fresh water (as an avid boondocker myself, the water storage is my favorite part!).
It also has an electric tongue jack and awning, an outdoor shower, a party deck, screen doors, and plenty of D-rings to secure your cargo.
All that in a rig that can be towed by a half-ton?! You bet.
5. Forest River Wildwood FSX 181RT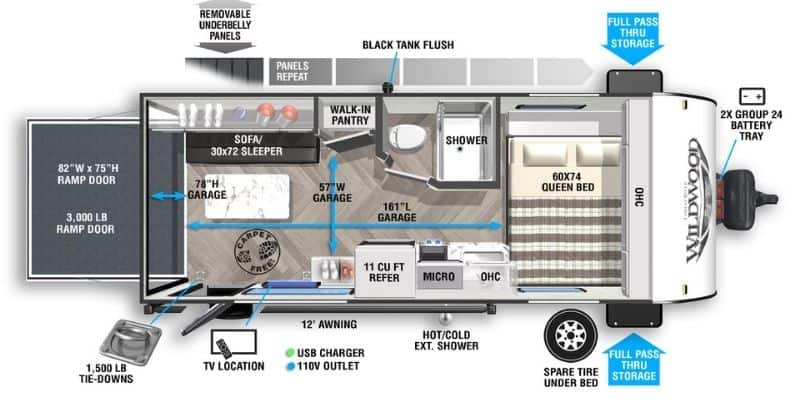 Oh, Forest River, you did it again. First, it was the Wolf Pup, then it was the Geo Pro – now the Wildwood?! Please teach me your ways.
The Wildwood is just 21.8 feet long toy huller but has everything you'll need PLUS 1,636 lbs of cargo capacity.
It's much lighter than the Jay Flight Octane at just 3,204 lbs UVW, but it's also extremely durable and can handle all sorts of terrain.
The Wildwood is made with a SuperFlex one-piece roof, a powder-coated 8-10″ I-Beam frame, and a garage chassis with steel floor supports every 2 feet.
It also has Tuff Coat scratch-proof paint and a steel rock guard in front for extra protection, along with R-7 insulation throughout the rig.
No doubt about it, this toy hauler was built to last, making it a great investment for all of your adventure excursions.
Not only that, but this tiny rig holds 43 gallons of fresh water, 30 gallons of black water, and 30 gallons of grey water.
It also has solar power prep, a 12-volt refrigerator, and the option to upgrade to a 190-watt roof-mounted solar package.
Boondocking fanatics – this one's for you!
6. Forest River No Boundaries NB10.6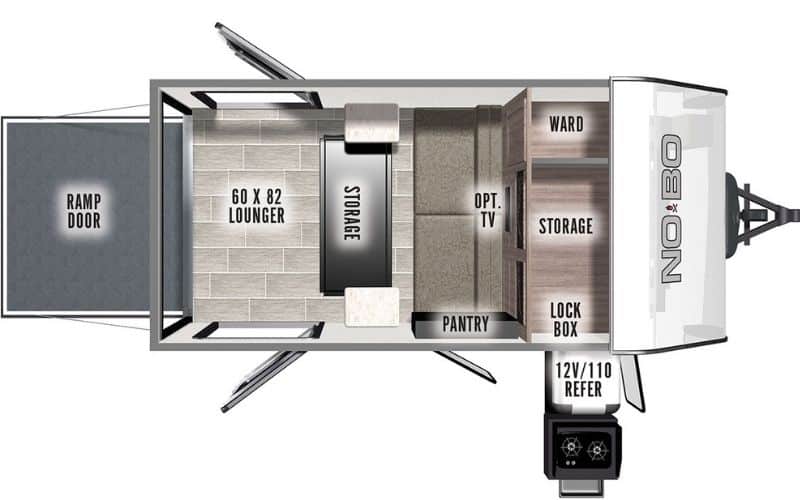 Okay, I promise this is the last Forest River RV (but believe me, you'll be happy we included it!).
We're getting down to the tiniest toy haulers now, and this one is only 13' 10" long.
A perfect off-grid rig, the No Boundaries toy hauler comes equipped for any type of weather and terrain.
It's made with the Lamilux 1000 fiberglass exterior, satin-matte graphics, and comes standard with the cold-weather package.
It also has an outdoor kitchen with a Dometic 12-volt/110 fridge and cooktop, an air conditioning/ heating unit, 12-volt heating pads for the water tank, and a 12-volt TV.
The NoBo also has an epic Bat Wing awning that stretches from the back ramp to the outdoor kitchen, making your outdoor time that much more enjoyable – especially in all types of weather.
In addition, this rig has a foldable queen-sized bed (you can actually fold it into two seats) and comes with the option for a rooftop tent that will sleep two adults.
Would you believe it can fit a full-sized four wheeler in the cargo area when the bed is folded up?
Pretty awesome, huh?
7. Dune Sport Firestorm Toy Hauler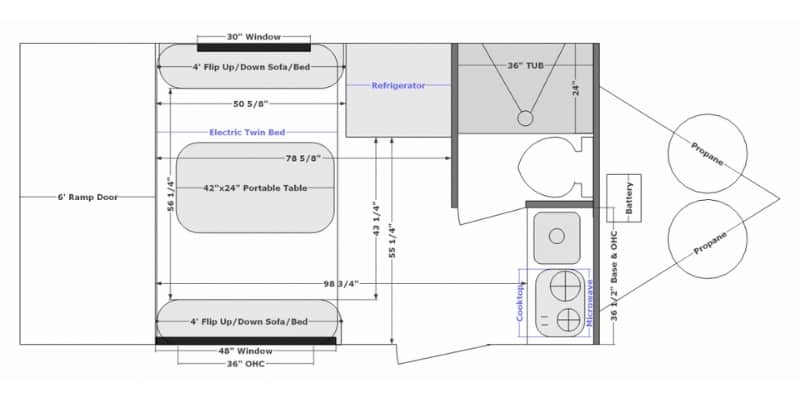 Are you ready for one of the smallest toy haulers ever made? Yep, we found it.
Dune Sport is a company based out of Arizona that makes custom toy haulers and the smallest model they offer is the Firestorm 10' narrow body design.
Yes, I said 10 feet long!
This amazing little vessel has a cargo capacity 1,000 lbs greater than its dry weight, and comes with 4 recessed tie-downs to secure your toys.
The Firestorm also has a foldable/removable dinette that converts into a twin bed, a dry bathroom, refrigerator, cooktop, and sink.
It comes with a gas furnace, a gas water heater, 2 propane tanks, and a propane leak detector as well.
The craziest feature of all? A whopping 50 gallons of fresh water storage – in a 10 foot RV! Add to that 50 gallons of black water storage and you'll be able to make the best of any off-grid adventure.
Again, these miniature beasts are built to order, so you can have any or none of these features if you wish!
8. InTech Flyer Discover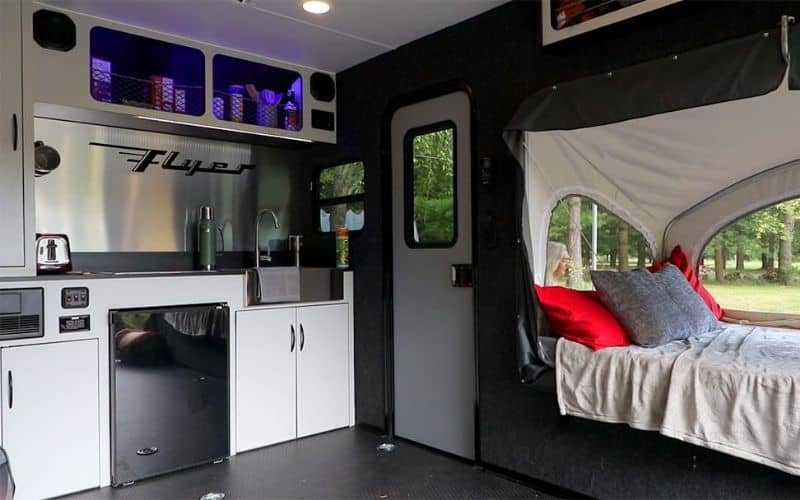 This rig is truly the Swiss Army Knife of toy haulers.
InTech has made excellent use of 81 square feet of space. Believe it or not, this little toy hauler can fit a side-by-side and sleep 4 people – at the same time!
This is because of the tip-out sides that turn into two beds on either side of the camper – leaving room for a full-sized kitchen, as well! Even if you don't load up your rig with toys, the Flyer Discover is amazingly spacious because of those tip-puts – you will truly have a blank slate to do with as you wish.
This little rig is made to be rugged – with an aluminum, fully-welded cage frame to be exact.
Add to that 6 D-rings that are directly secured to the frame, and you'll have everything you need to enjoy a camping trip off the beaten path – toys and all.
It's important to note that the InTech Flyer series features 4 different mini toy-haulers – the Chase, Pursue, Explore, and Discover.
They range from 12′ to 18′ in exterior length and have a wide variety of features for every RVing enthusiast.
In Conclusion
Toy haulers offer many practical features for any lifestyle; even if you aren't hauling around toys, you can make the cargo space into a bunk for your kids or extra space for your pets. Let's not forget that party deck, either!
There are also many advantages when it comes to going small. You'll be able to get into smaller campsites, spend less on gas, and traverse a wide variety of landscapes.
So, did you find your perfect rig in this round-up? Let us know in the comments below!