If you've ever been camping before, you know the feeling of clamminess from waking up overheating in a tent that's baking from the morning sun, achy from a combination of rigorous hiking and sleeping on a deflating air mattress the night before.
Though you may enjoy the outdoors and spending time with family or friends, tents simply aren't the best way to sleep after a long day of adventures.
With the Summer and Fall months are quickly approaching, fantastic weather to road trip and camp is just right around the corner.
Prepare for this predicament by investing in a small truck camper to make your camping experience more safe and comfortable.
Before going any further, if you need to clarify exactly what a truck camper is, click here. A small truck camper can be a great addition to your truck, especially if you want less haul than an RV or larger truck camper gives you, but more room and amenities than car or tent camping.
Below we list the 12 best small truck campers for sale, covering their prices, supported vehicles types and overall descriptions.
1. GFC XL Platform Camper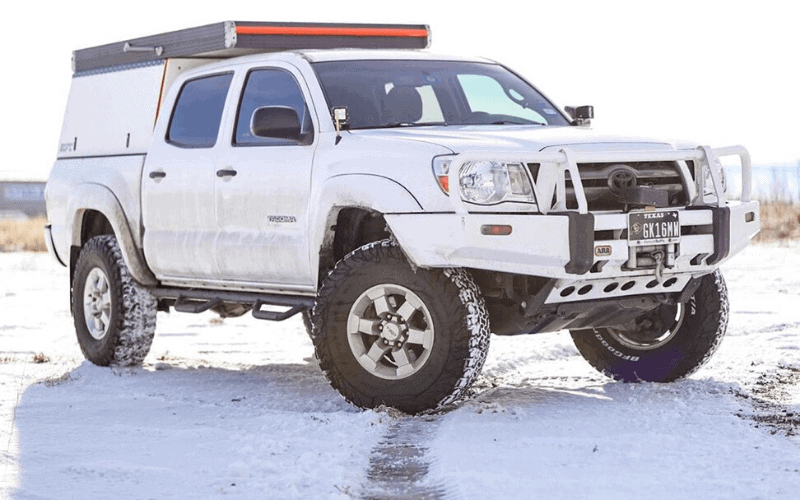 Our first truck camper is made by Go Fact Campers (GFC) on the foot of the Bridger mountains in Bozeman, MT USA. Go Fast Campers pride themselves in smart design and first rate quality.
The XL platform camper is a product for full size trucks. Sleeping area is 6″ wider than the standard size GFC model (queen instead of full mattress), and open living area size is increased accordingly.
For those who are keen on keeping their bed space, this is a great model to consider! This system works as a 'tree house' raised above your truck so that all your usual hauling space is available for your other outdoor adventure gear – like bikes, kayaks, dog kennels, etc.
The Base Of This Camper Includes The Following:
You Can Add Additional Amenities For An Extra Charge, Such As
What I especially love about this model is the custom colorization!
Between 8 and 12 weeks before starting your build, the company will send out a welcome kit that includes powder coat color samples to help you determine your color choice and confirm your vehicle options.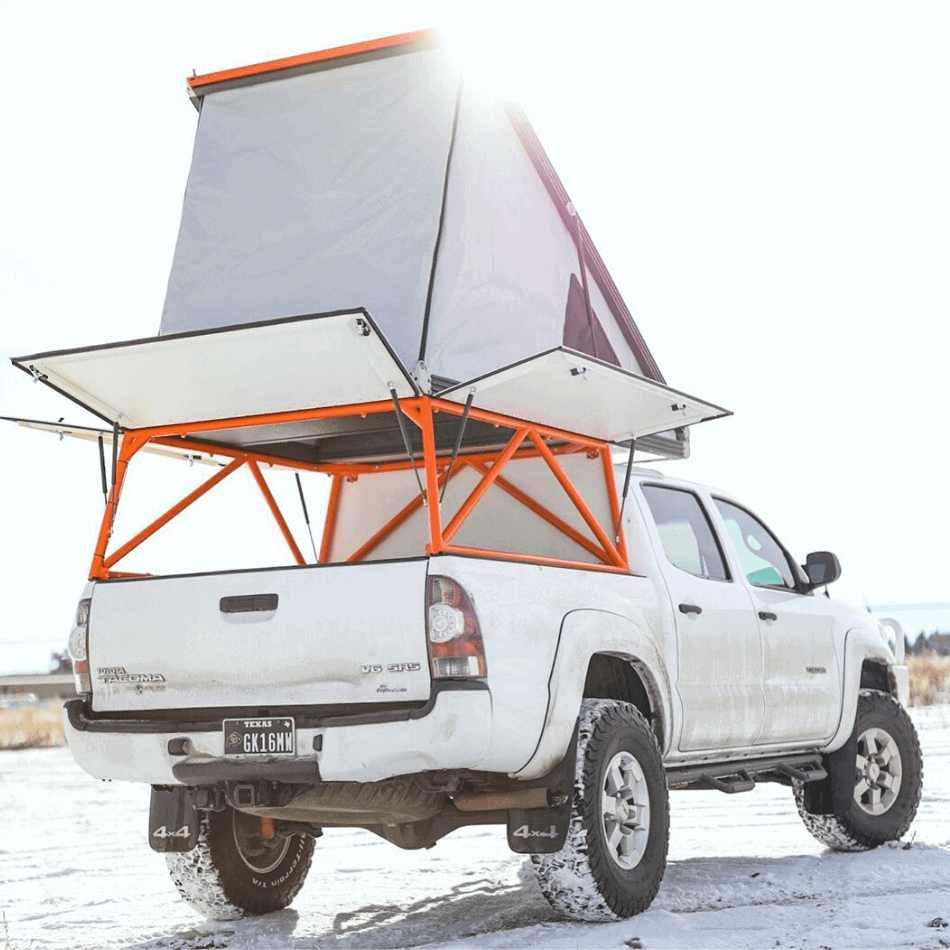 Price:
The GFC Platform XL is a more affordable option starting at $6950. This price increases if additional amenities are added.
A $175 installation fee is available at their shop in Belgrade, MT. Additionally, they offer white Glove delivery in the contiguous United-States.
This service involves hand delivering and installing the camper for you. This white glove delivery and install service costs $1000 to the west coast, and $1400 east of the rockies.
Supported Vehicles:
If you're looking for an incredibly well-made truck camper for sale that you can explore the world with, pencil this guy in!
2. Standard Snap! Treehouse
The Snap! Treehouse company is veteran owned and custom made in Pennsylvania. 
This standard model is an aluminum truck cap with a built in rooftop insulated tent. The roof is easily raised or lowered with gas piston assist.
When raised a sleeping platform is revealed. This platform is waterproof and comes with a memory foam mattress, ensuring a comfortable upgrade from a tent.
Your gear (sleeping bag, pillow, etc) stays in place when the Treehouse is closed and on the road.
The lower platform is open to your personal touches, perhaps even an office to make your camper suitable for a gig full time!
The Base Model Comes With The Following:
Price:
3 models available, $6,500 – $15,000
They will ship your Treehouse anywhere in the nation for $800.00. Installation is do-it-yourself (don't worry, instructions are provided). If you come to them in York Haven, PA, the installation is FREE!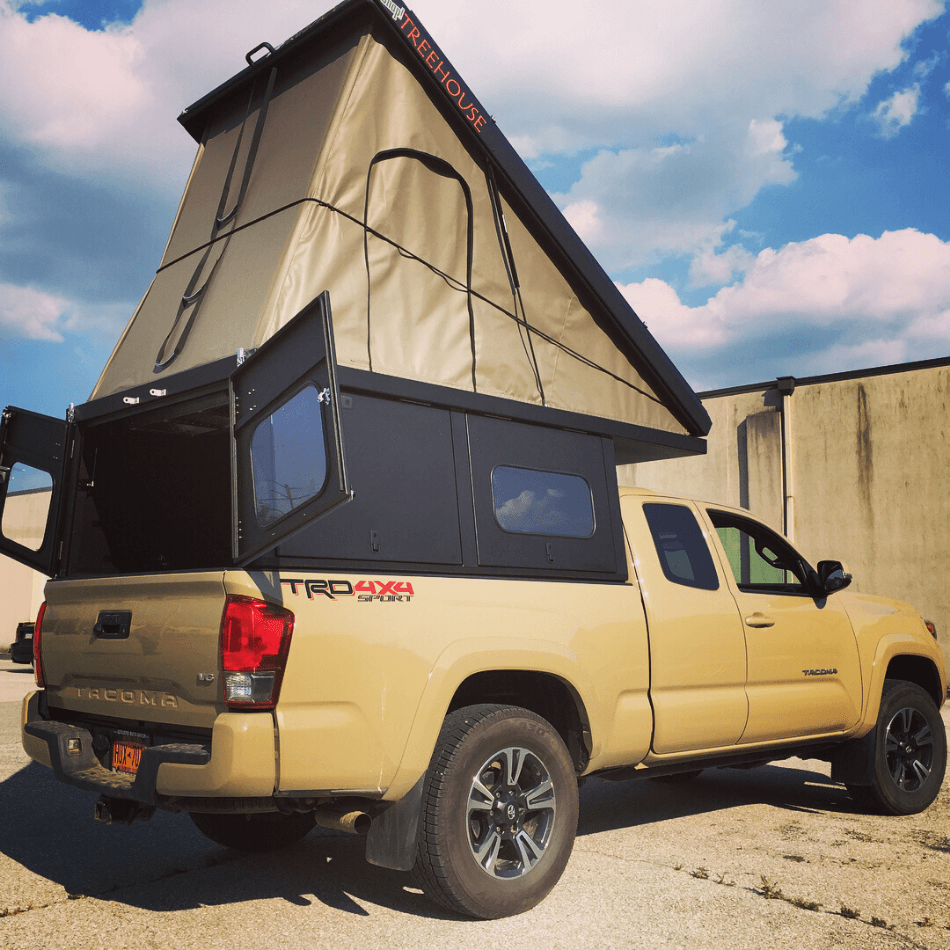 Supported Vehicles:
The Treehouse is custom built to fit mid-size or full-size trucks.
3. EarthCruiser GZL Pop-Up Camper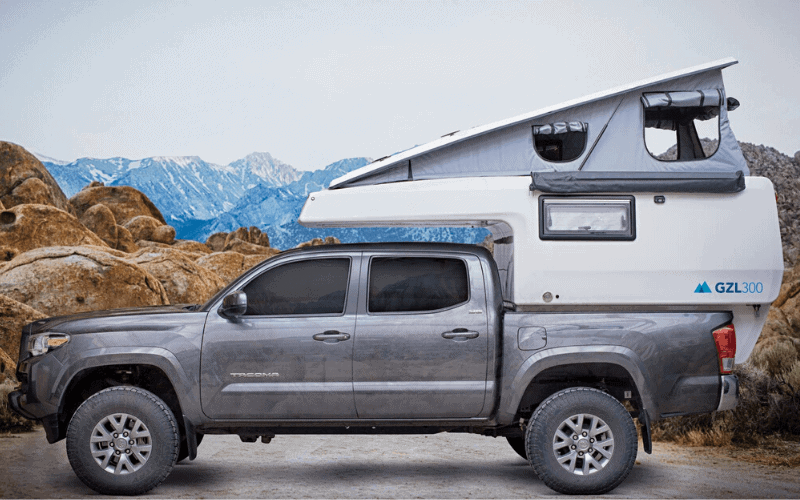 The EarthCruiser GZL is one of the best hard shell truck campers for sale on the market.
With expert craftsmanship and a long standing player in the offroad game, EarthCruisers are one of the most reliable off road vehicles money can buy, and their truck campers (GZL) truly live up to the standard.
This thing is like a studio apartment in the back of your truck. With a fold out full size bed, renewable power capabilities, running water and kitchen appliances, it combines the luxuries of glamping with the ruggedness of being able to travel in remote locations.
The Base Camper Includes The Following:
You Can Add Additional Amenities For An Extra Charge, Such As:
GZL is definitely a good truck camper to consider if you're looking for something easily removable.
It is mounted on a patented rail system that directly mounts it to the chassis of the truck.
This rail system makes it easy to remove and remount the GZL using an auto-alignment system.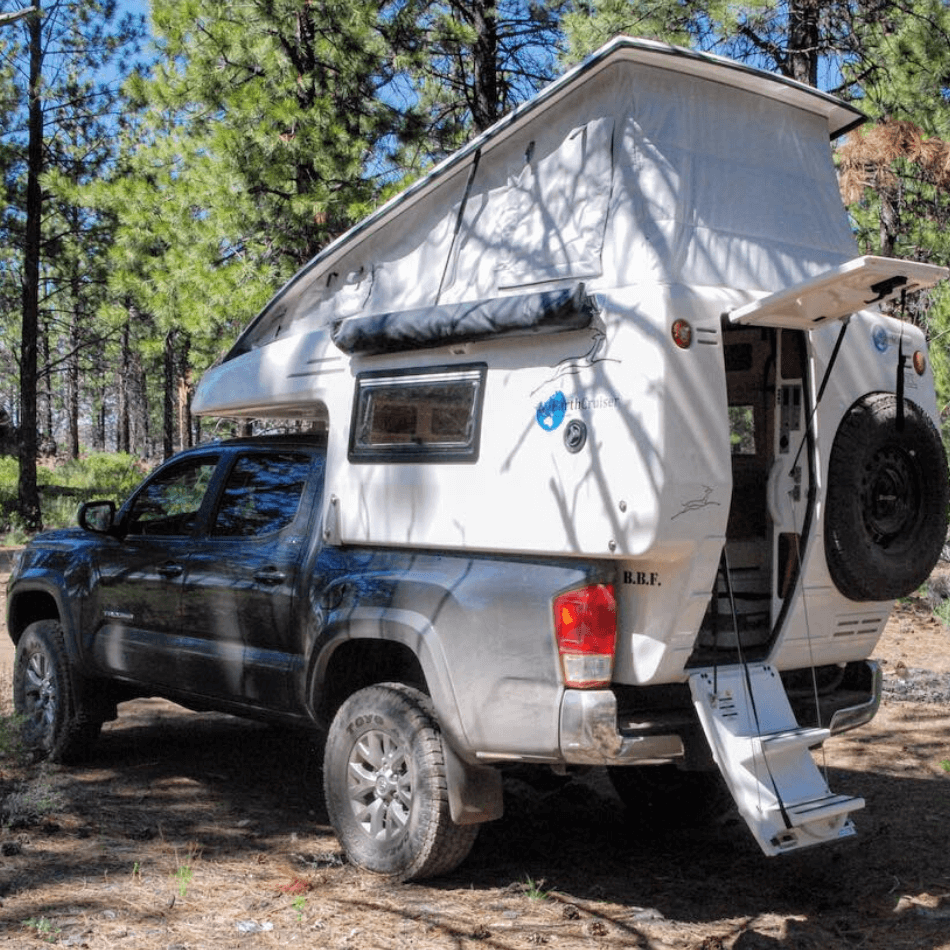 Price:
The EarthCruiser GZL-300 starts at a little over $36,000, with a $5,000 up-front deposit required. Additional amenities will spike this number.
Supported Vehicles:
The GZL pop-up truck camper is engineered to fit light to medium duty trucks beds. The GZL will fit most every truck available that does not have an 8' long bed.
4. Bahn's Custom Truck Campers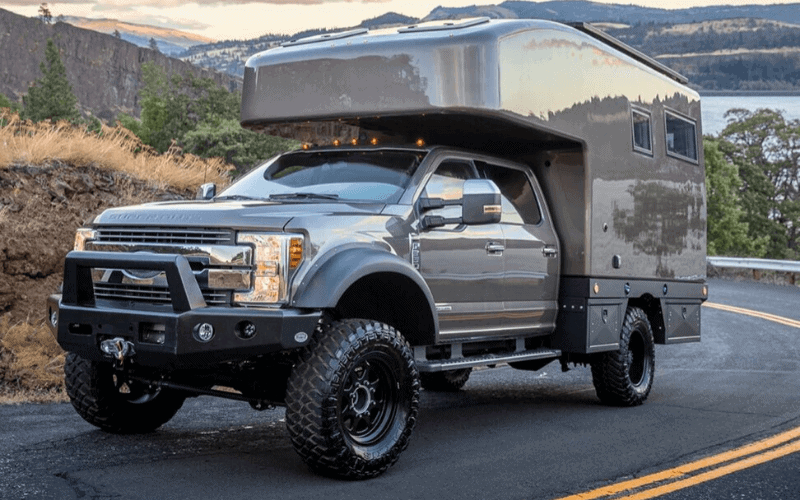 If you have a very flexible budget, it wouldn't hurt to check out the most detailed and aesthetically pleasing truck 5th wheel trailer campers on the market.
With over 30 years of building experience, Bahn Campers closely works with each customer and offers a complete custom interior layout to perfectly match one's adventure needs.
And not to mention, the craft of their customizations are BREATHTAKING.
The Truck's Payload May Include Amenities Like:
Price:
Bahn has quoted as low as $115,000 and as high as $590,000+. The average quote is around $350,000.
Keep in mind this is a 100% one of a kind camper, customized to your exact preferences.
Supported Vehicles:
Because of their customized standard, Bahn campers can be made to fit any bed length on any make and model.
5. Capri Campers Cowboy Model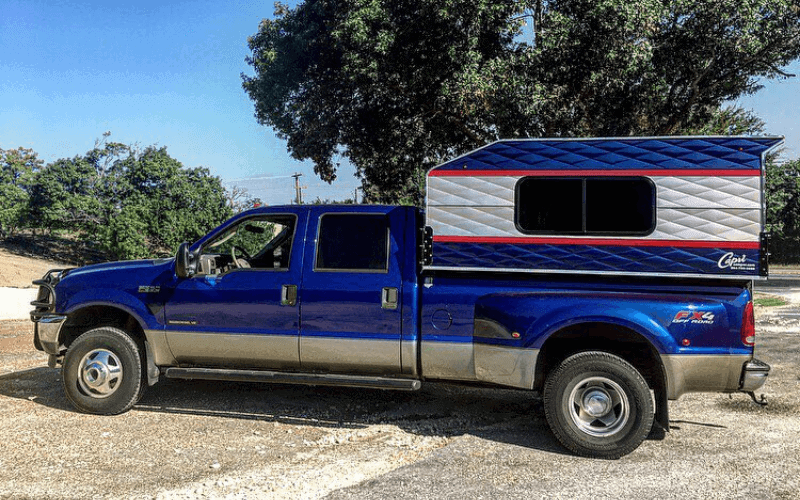 With a 50 year legacy of building one of the most popular truck campers ever for sale, Capri Campers are not a company to ignore when searching for the perfect truck camper.
They have cab over or non cab-over models, but for a more small and cozy feel, we will be covering the Cowboy model.
It's exterior's reflective-cooling technology and lightweight composition make this camper an ideal choice for the off-roader who plans on spending a lot of time in the sun shine.
The Cowboy Model Comes Standard With:
Accessory packages can be added, with amenities like A/C, showers, blackout shades, fridges, and more. If you want upgrades but not an entire package, you can also add specific add ons.
Capri campers also allows you to select from many different color options that will coat the base, accents, stripes, and fixtures of the truck
Price:
The retreat model runs for $7,995 with accessory packages running from $1,895- 8,595. Installation is an additional $395
Supported Vehicles:
Full Size or midsize trucks. Midsize 6 ft, full size 5.5 ft, 6.5 ft, and 8 ft
6. Travel Lite RAYZR FB-M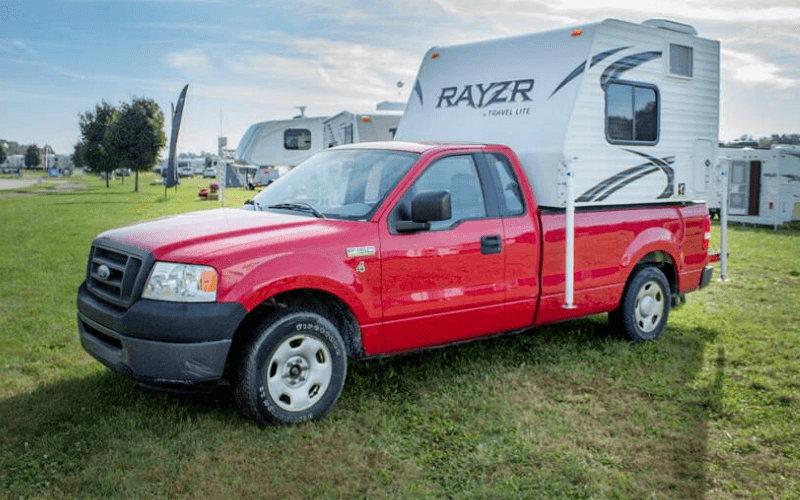 If homey comfort is what you're looking for, look into the Razyr by Travel Lite. With a small design, you can be light as a feather while still maintaining the luxury of having a home on wheels!
The Rayzr FB-M's unique style allows for an easily removable all weather truck camper that provides ample luxuries within the square footage of your truck bed.
Whether you are an avid rock climber, fisher, water rat, or just a back-woods explorer; this truck camper will tow right along with you anywhere to provide you with a place to sleep each night.
The Standard Rayzr FB-M Includes:
As always, additional amenities are available at an extra cost.
Price:
This is one of the cheaper truck camper options, with an average price of $7,550.
Supported Vehicles:
Fits long bed and short bed trucks with adjustable stabilizers.
7. AT Overland: Habitat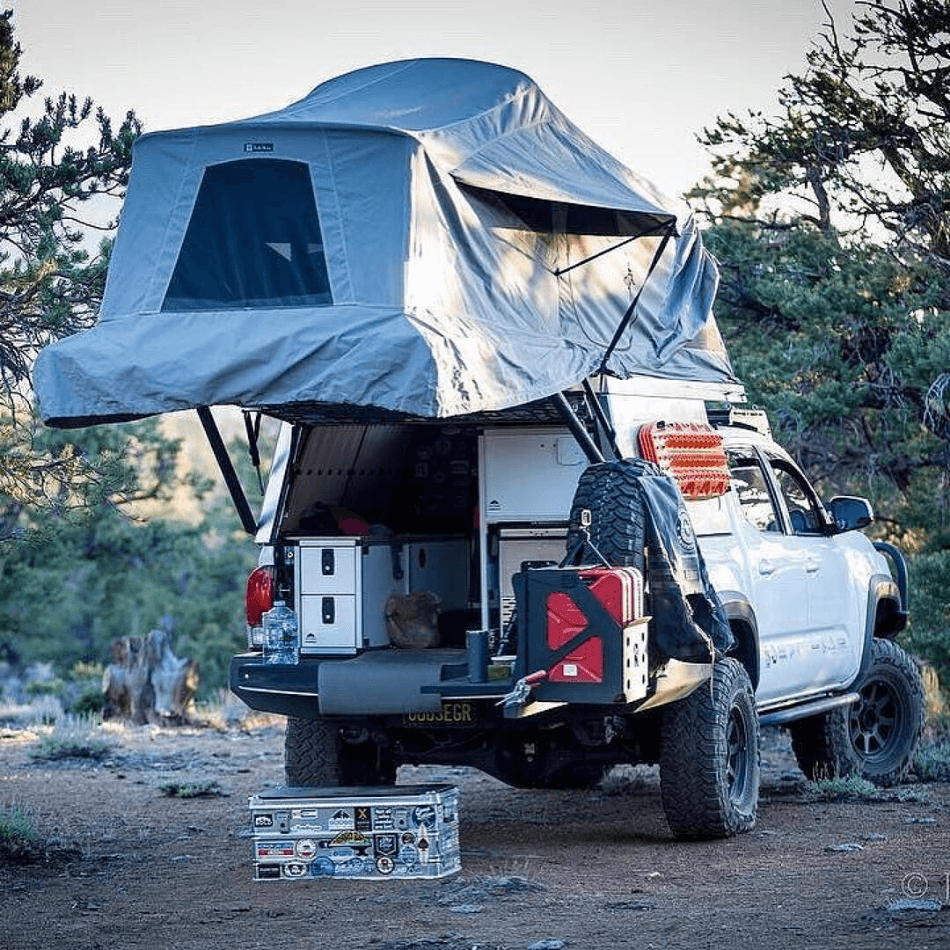 If you're looking for a more primitive model of a truck camper, the AT Habitat may be right for you.
With a durable and easily deployable design, this camper gives you the shelter you need without the glamorous amenities so you can spend more time appreciating your beautiful surroundings.
Built for overland and adventure travel, the Habitat uses high-quality materials and provides a lightweight, yet robust camping platform for your pickup truck.
The Model Comes With The Following:
Price:
Base price starts at $8,900.
Financing is available, more specifications are on their website!
Supported Vehicles:
8. OVRLND Custom Pop Top Camper Shell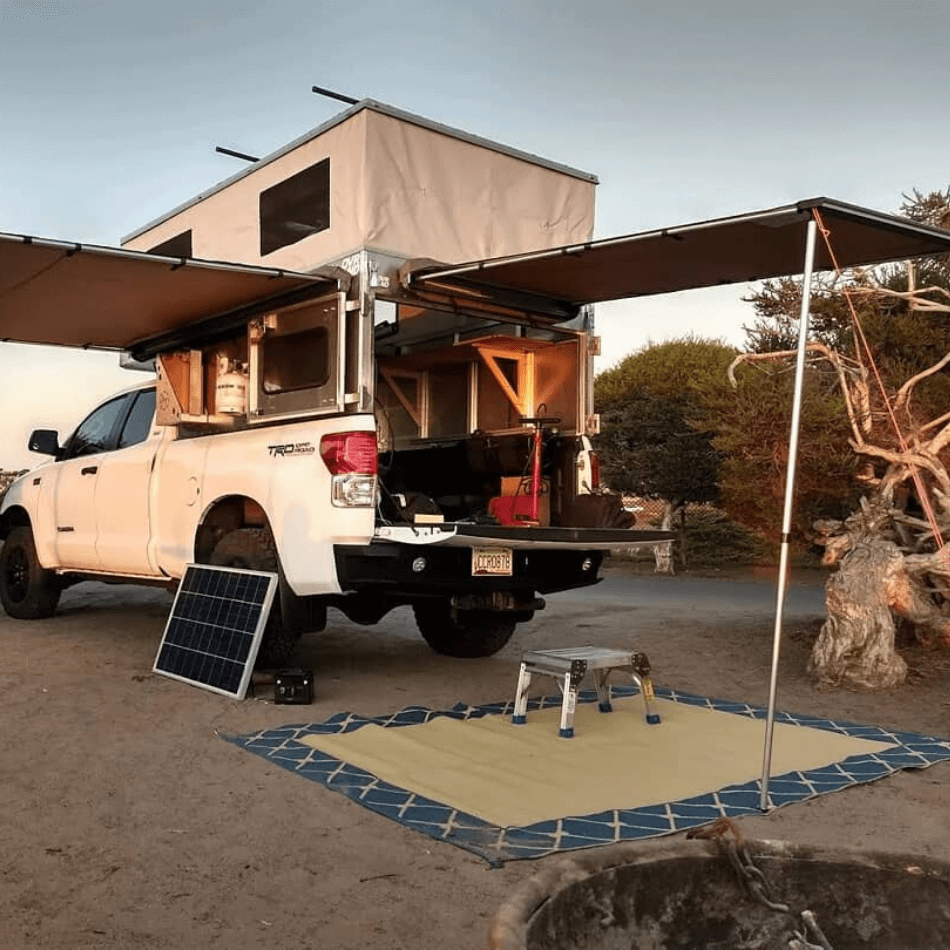 This water and air tight camper is perfect for your rough offroading journeys, handmade in the heart of adventure in Flagstaff, AZ.
It's massive inviting interior makes this camper special and able to keep the fun going on a rainy day.
OVRLND's popup design is ideal for campers who enjoy being able to simultaneously have someone sitting on the bed while another person is below working, cooking, or packing for your next awesome adventure.
The Popup Camper Comes With These Basic Features:
Price & Supported Vehicles:
OVERLAND campers are custom made to fit your midsize or full size truck. However, the price of these campers depends on the size of the truck.
Midsize custom campers (Tacoma, Frontier, Ranger) start at $7,200
Full Size custom campers (F150, Tundra, Titan) start at $8,200
Free installation is available in Flagstaff, AZ where you can quickly try out your new home at the surrounding national parks. Shipping is also available for $1.55 a mile.
9. Camp King Outback Series Camper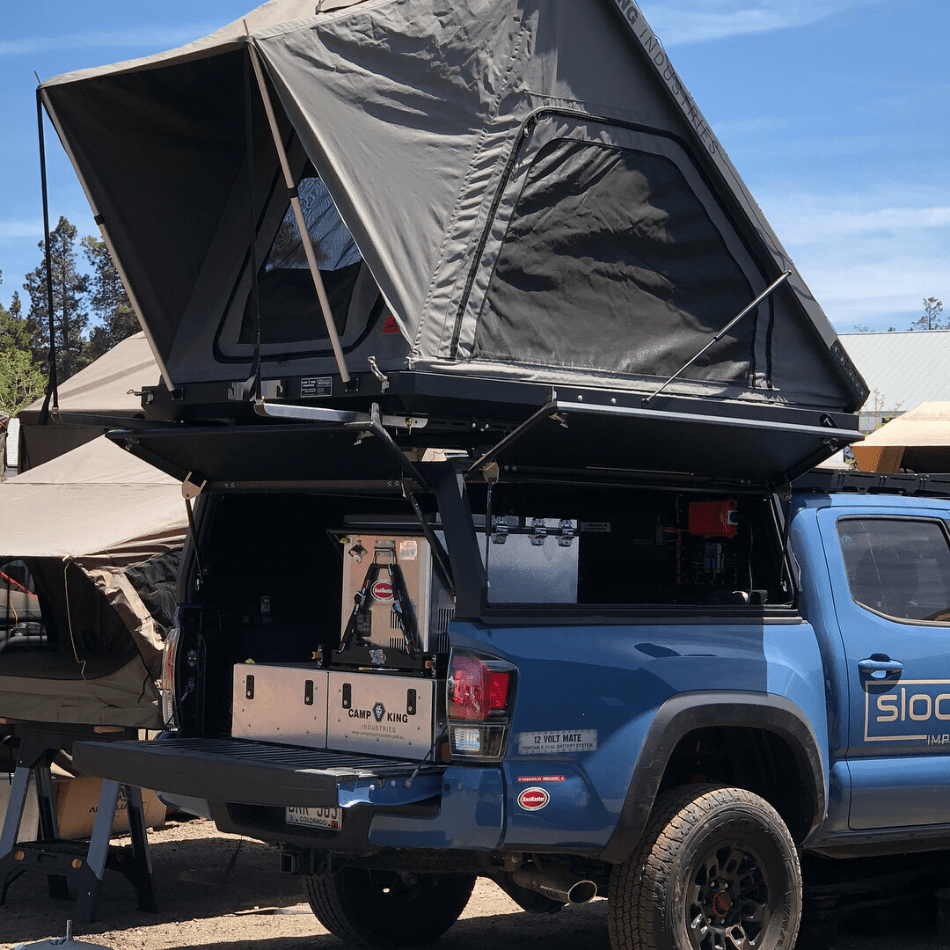 The Camp King Outback Series Camper features a collapsible clamshell sleeping area with your truck bed left with the ability to carry or haul any of your necessities.
Designed 3mm aluminum body, superior quality rip stop canvas, and a one-piece roof design; this model is of the highest quality and one of the most structurally solid campers on the market.
This option is good for people who plan on doing some serious truck camping excursions to ensure that the truck camper is durable enough to withstand possible rough terrain ware.
The Outback Series Camper Includes:
They also do custom camper models made from scratch, where you have the ultimate say on the drawing board! Few companies do this, so keep these guys in mind if you are thinking about a completely unique design.
Price:
$12,500. Shipping fluctuates depending on location.
Supported Vehicles:
Current inventory of Camp King Outback Series Camper as of April 2020:
1- F-150
2-Short Bed Tacoma (2nd & 3rd gen)
They are taking orders for late summer/early fall 2020 deliveries. Call to see if your truck can fit their models!
10. Four Wheel Campers: Grandby Model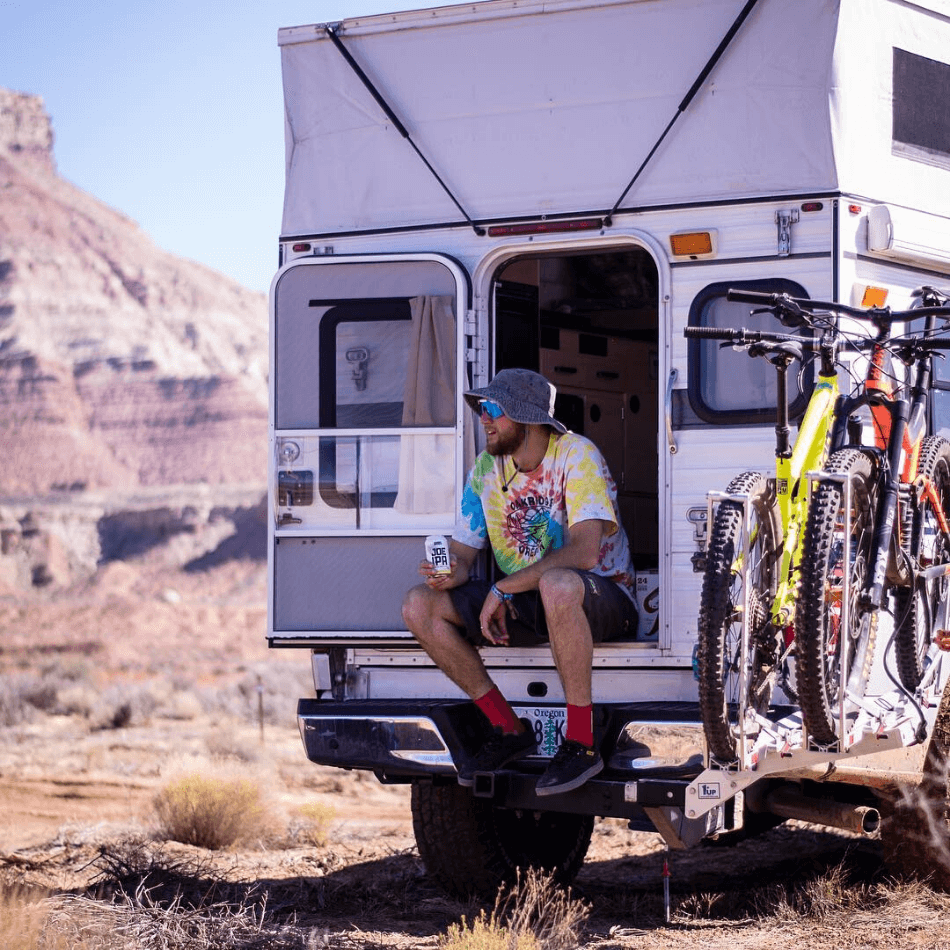 Four Wheel Campers is a well known company for their quality truck campers and adoring testimonials.
"Just got back from another great trip where it was 30 degrees outside when we woke up. But was nice and warm in the Grandby. I know I said this before but we just love the four wheel camper, it just goes to show you how great the camper really is."
-Lary, Loyal Customer
This company is unique as they let customers customize picks from an option of floor plans for their models. You can also choose to order a shell and customize the camper yourself.
Here Is A Quick Overview Of Some Basic Specs:
Though this list may seem long, it goes on a LOT longer! Click the link for a detailed overview of exterior and interior, fabric choices, and 3D video walkthroughs!
Price:
The shell model starts at $12,995, and the floor plan models range from $13,995-$28,995
Supported Vehicles:
These campers are carefully designed and installed to fit your truck, so they are supported by many vehicles. The right height, width, and balance make for a notable better look and ride.
11. Leentu's Flagship Truck Camper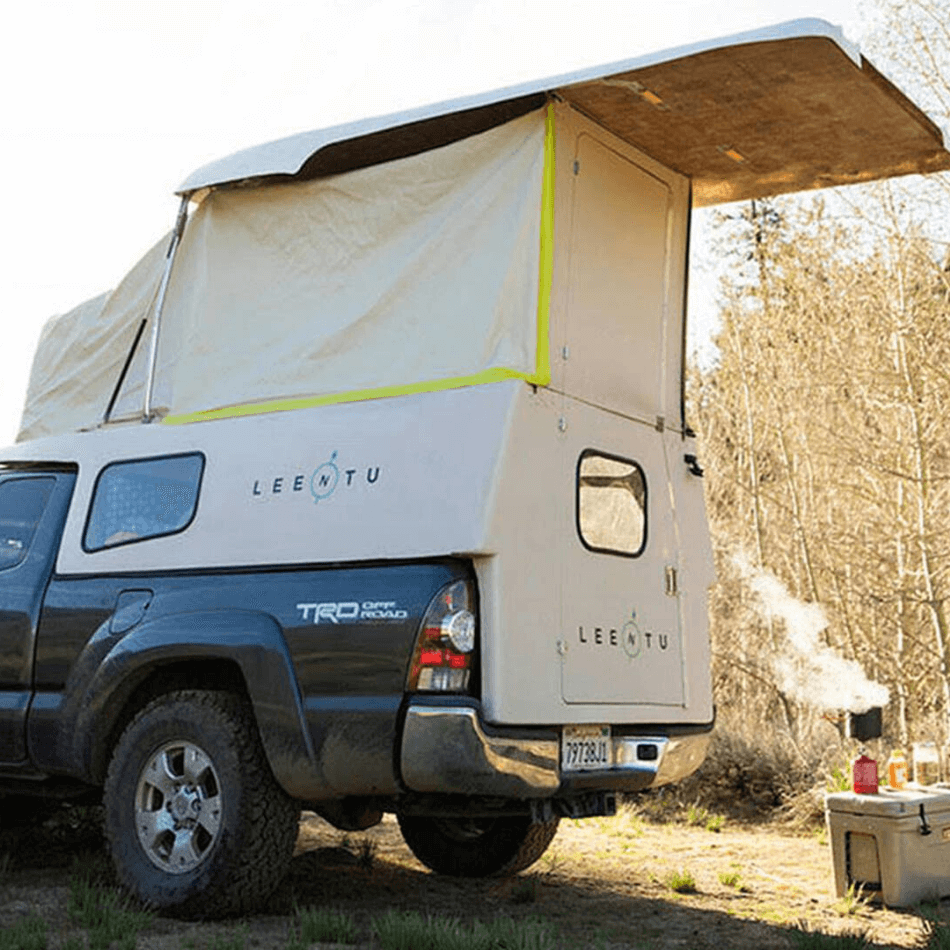 Those who care to offroad know the importance of a truck's weight, or the lack of it.
Leentu's fiberglass model weighs in at 150 lbs, carbon fiber model weighs in at less than 100 lbs, making it an absolute revolutionary lightweight design on the market.
It's lack of mass surely doesn't take away any luxurious features of the average truck camper, and actually adds more freedom as weight saving technology also gives you the ability to bring even more gear to the most remote of areas.
Some Of These Basic Features Include:
Weatherproof marine-grade tent fabric with built-in storage & zippered windows
Price:
$10,295 for the fiberglass model
$13,995 for the carbon fiber model
Supported Vehicles:
Long-bed Toyota Tacomas
12. Vagabond Outdoors – The Drifter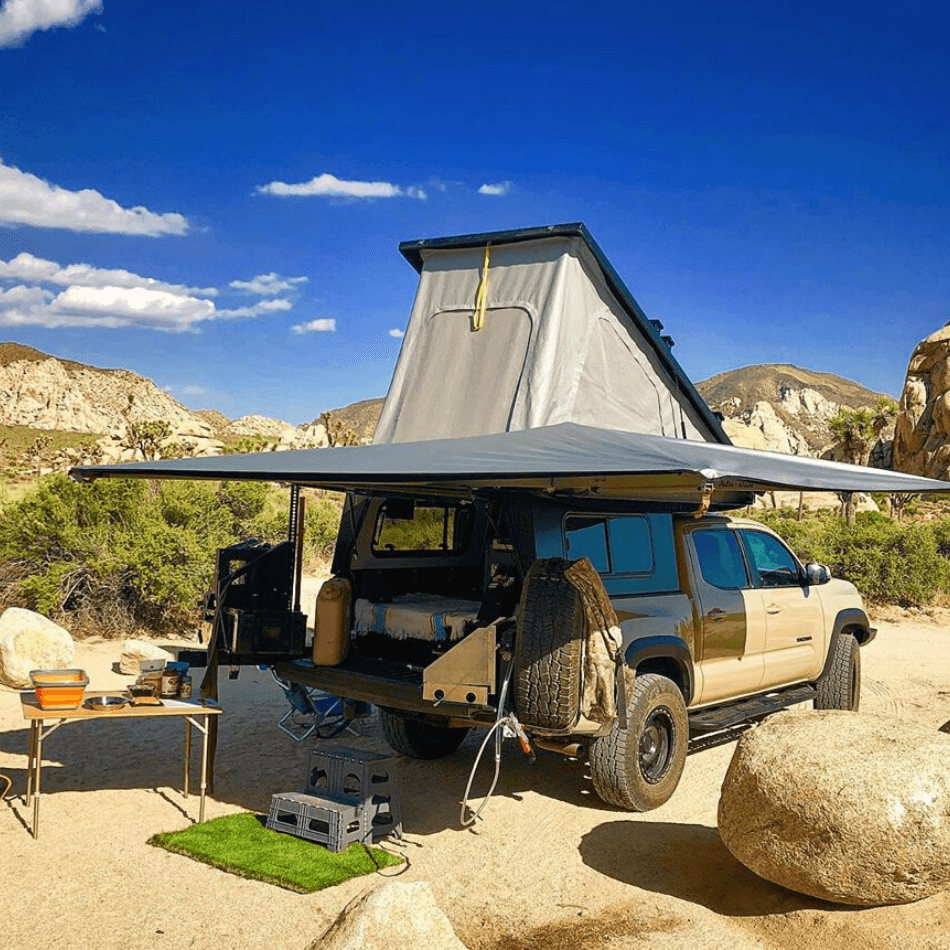 This camper is made from a durable, lightweight aluminum that deploys into a camper in 15 seconds, and packs in 30-60 seconds. You can go anywhere easy breezy with this camper.
The sleeping area pops up in a wedge style, and with an insulated roof and waterproof canvas tent, you're sure to be nice and warm even on the coldest of nights in the wilderness.
This camper allows you to keep your bed area for customizable storage space, but also the sleeping space is Removable for complete open space option, definitely a cool feature in case you ever want to take customization into your own hands!
The Standard Package Comes With:
Price:
This truck retails for $7,250-$7,750 depending on additional modifications.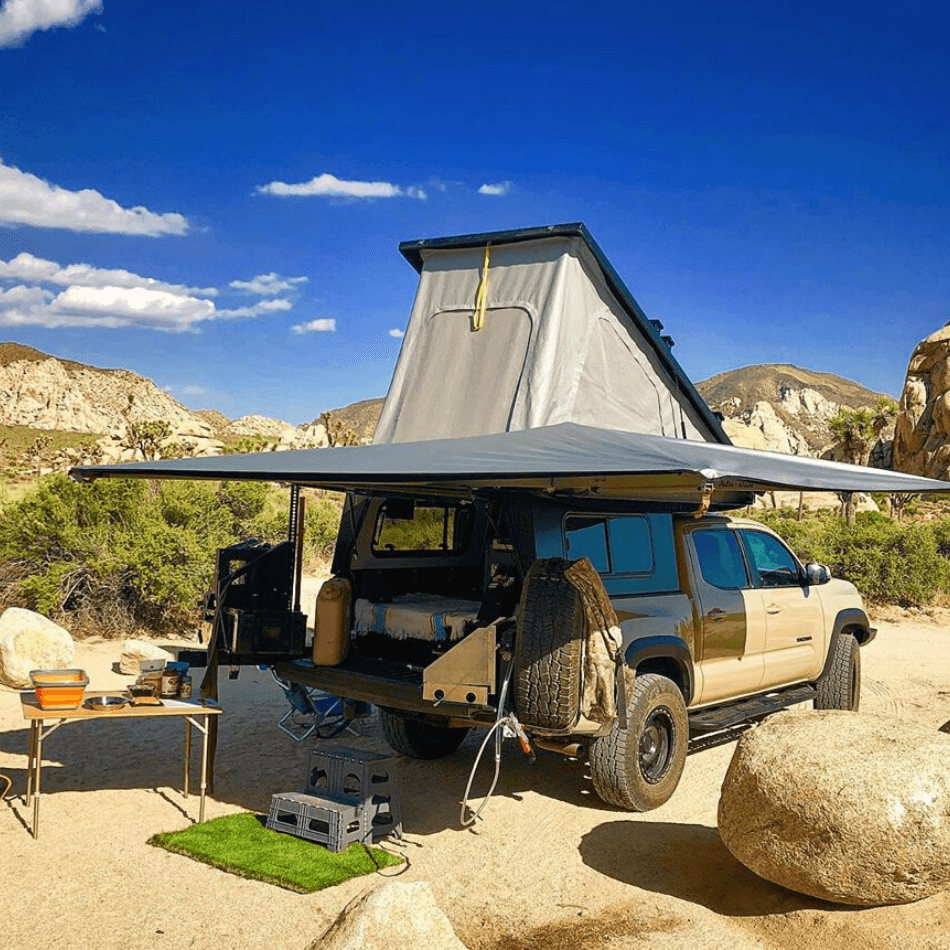 Supported Vehicles:
All support 5" and 6" beds except the Jeep Gladiator (5" only) and the Toyota Tundra (6" only)
---
That is all for our list of the 12 best small truck campers for sale. If you're looking for more information on these listings, click on the links in below each truck camper's title.