Sprinter vans are one of the most popular cargo vans for vanlifers, offering plenty of space inside for a bed, kitchenette and even a wet bath if you so choose!
Lots of DIY-ers choose to convert their own Sprinter vans into living spaces, but the task can be daunting and expensive, especially if you're nervous about your ability to do things like insulating, plumbing, and installing electricity.
Regardless of your skill set or abilities, you can still at least partially DIY your van conversion with a camper conversion kit, and there are several companies to choose from.
In this article, I'm going to provide all of the information you need to find the best Sprinter van conversion kit for to build your own homes on wheels.
We'll get into the cost to convert a van, as well as going into detail about the top companies offering Sprinter van conversion kits.
How Much Does It Cost To Convert A Sprinter Van?
The cost of a van conversion can vary greatly. It depends on the systems and features you want your van to have, such as HVAC or plumbing for a wet bath, as well as the materials you use.
Some vanlifers have been able to do their whole conversion for around $5,000, but the standard cost for a Sprinter van conversion is usually around $30,000.
If you go all-out and build your van with quality materials and all kinds of fancy systems, you could spend as much as $150,000.
The conversion cost is about the same whether you're converting a Mercedes-Benz Sprinter or other similar models like the RAM ProMaster and the Ford Transit; it really comes down to your choice and budget.
If you're looking for a complete price breakdown of the average cost to convert a camper van, check out our recent article about How Much Does A Sprinter Van Conversion Cost?
9 Best Sprinter Van Conversion Kits To Turn Your Van Into A Homes On Wheels
Unless you're working with a small conversion budget or you really want to do the conversion yourself from scratch, you may be considering a van conversion kit.
These enable you to do some DIY, but you're working with a professional plan and pre-sourced materials so it's DIY with some guidance.
You can pick and choose what components you want to build from scratch, and which ones you'd rather get a kit for (such as the kitchenette).
Also, you can pick and choose between different components offered by different companies. For example, you may like the galley from Trail Kitchens, the portable shower from TouRig, and the bed and storage kit from Adventure Wagon.
Or, you may prefer to go with a full conversion kit from Zenvanz – the choice is up to you!
Here are the 9 best DIY camper conversion kits you can buy to transform Sprinter vans into camper:
1. Adventure Wagon Interior Conversion Kit For Sprinter Vans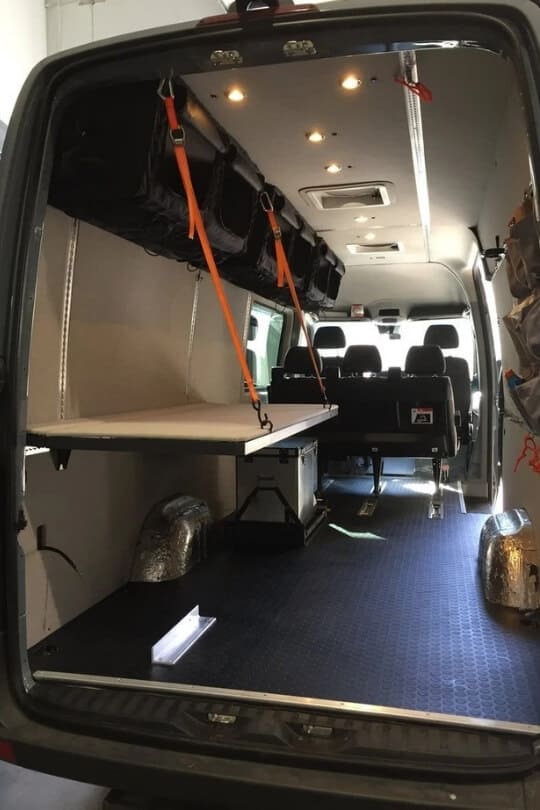 | | |
| --- | --- |
| Van Models | 144WB Sprinter170WB SprinterFord Transit |
| Bathroom? | Not Included |
| Kitchen? | Not Included |
| Price | $12,500/$14,500Base Price (144WB/170WB) |
Adventure Wagon is based out of Portland, Oregon and offers high-quality interchangeable van conversion kits that can be installed in just a few days.
If you're intimidated by doing the base conversion installation yourself, they also have a network of certified professionals and you can hire one to do the build for you (they'll probably also do it faster).
The engineered Modular Interior System from Adventure Wagon is fully integrated with wiring, ventilation, insulation, interior panels, and wall-to-wall anchor points.
This creates a solid foundation for innovative use of your van's interior, with configurable sleep and storage.
Once installed, your Modular Interior set up is customizable to your adventure.
Something to keep in mind if you buy a conversion kit from Adventure Wagon is that the kit is just the basic interior build, and your van will not be ready to live in immediately after installation.
The base kit does not include any bed or storage systems, and Adventure Wagon doesn't have kitchen or bathroom systems (or plumbing for them) in their kits.
So, you'll need to DIY those parts of your van, or purchase kits for them from one of the other companies on this list.
All Adventure Wagon Conversion Kits Include:
Electrical – Complete wiring harness with leads for two fans (one MaxxAir Deluxe ceiling fan is included), six lights, four USB ports and four 12v ports (both marine grade), and two accessories (such as a heater or sink, etc.). The electrical package also includes dimmable LED lights and all installation hardware, with wire end connectors installed. Additionally, it's easy to integrate solar panels, charge controllers and additional cabin batteries such as Goal Zero Yeti and Inergy Apex
Wall and Ceiling Bracers – Powder-coated, pre-assembled bracers and all hardware required for installation.
L-tracks – Aircraft-style, pre-cut and pre-drilled L-tracks, including four (144WB) or six (170WB) vertical wall tracks, four horizontal wall tracks and three ceiling tracks.
Insulation – Hushmat sound deadener, 3M wall and ceiling insulation with reflectix, pre-cut to match the van's interior cavities. Double-sided tape included for installation.
Wall and Ceiling Panels – Cut-to-fit 6mm marine-grade, plywood wall and ceiling panels, upholstered in your choice of 4 standard fabric colors (more available for an added cost), and backed with Reflectix insulation. Each panel is pre-drilled for mounting power outlets where applicable, and the ceiling panels have six LED lights pre-installed and can be pre-cut for fans.
Molded Trim – Custom-made, upholstered interior panels for the area above the sliding door, behind driver's head, rear door jamb, and driver's side crew window.
From the base build, Adventure Wagon has some add-ons such as elevator bed systems, drop-down bunks, storage bags, a second Maxxair Fan, and battery upgrades to an OEM Aux battery or an AdWag Aux battery.
Adventure Wagon kits are compatible with 2007 and newer Mercedes-Benz, Dodge, and Freightliner Sprinter vans, including High Roof Crew, Cargo, and Passenger models, and 144 & 170 wheelbases. The cost starts at $12,500, with a $1,000 deposit.
2. Happier Camper Camper Van Conversion Kits
| | |
| --- | --- |
| Van Models | 144WB Sprinter |
| Bathroom? | Component Available |
| Kitchen? | Component Available |
| Price | $12,000 |
One of the most innovative brands in modern campers is Happier Camper, and while the company focuses mostly on modular interiors for their travel trailers, they now offer a modular kit for Mercedes-Benz Sprinter 144 vans.
They developed their Adaptiv System for vans, providing a stackable modular system to easily build out and rearrange the interior of your Sprinter van.
The kit starts with a, easy-to-install 7-piece flatpack kit, which includes Happier Camper's modular floor grid that's made with incredibly light, yet super strong 1.5-inch thick honeycomb fiberglass.
The floor grid has grooves that work just like Lego® to hold the Adaptiv™ cube components in place, with additional embedded features like table bases, frame-mounted D-Ring tie-downs, seatbelts and inserts.
A key difference with Happier Camper's van conversion kits is that nothing is permanent. Unlike most van builds, which involve permanently installing furniture, fixtures and systems, Happier Camper's kit is completely flexible for your needs.
Each component is made up of small, easily removable building blocks that make up larger components like the galley kitchenette.
Available Happier Camper Components Include:
Storage cubes
Bench/bed cube system
Bunk bed/couch cube system
Nesting table top
Countertop lid
Cooler cube
Standard kitchenette
Dry-flush toilet cube
3. RB Components Sprinter-Centric Van Conversion Kits
| | |
| --- | --- |
| Van Models | 144WB Sprinter170WB SprinterMetrisFord Transit |
| Bathroom? | Not Included |
| Kitchen? | Kit Available |
| Price | Varies |
Although RB Components doesn't have grouped conversion kits, they do have all of the component kits you'll need to turn your van into a camper.
They offer everything from cabinet kits and bed kits, to seats, tie-downs and hardware.
RB Components also has kits for specific vehicles, including 2007-2018 Sprinters, 2019+ Sprinters, Ford Transit vans, and Mercedes Metris vans.
You can use RB Components to fill in the gaps with kits that you might not be able to find elsewhere, or buy their kits and products to complete your entire van conversion.
RB Components has everything you might need, with the exception of components to add a wet bath or bathroom.
They even have sample Sprinter van floor plans that you can use for inspiration, or purchase to use for your build.
RV Components Conversion Kit Options:
Components – Tie down hardware and tracks, brackets, chocks, shelves, trays, and hangers.
Paneling – Wall, ceiling, window and floor panels.
Furniture – Bucket seats, bunk beds, sleeper sofa, convertible dinette, tables, and bed kits.
Cabinets – Wall cabinets, galley kitchen cabinets, base cabinets, tool box inserts, and specialty cabinets such as for a microwave.
Exterior Features – Roof ladder, roof racks, solar systems, awnings, and windows.
Systems – Insulation, ventilation, and water systems.
Accessories – Fabric partitions, window coverings, window nets, and more.
4. Titan Vans Conversion Kits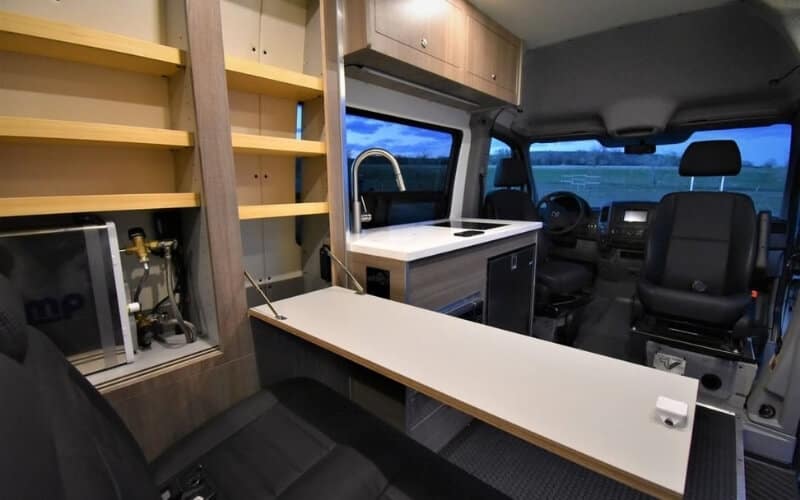 | | |
| --- | --- |
| Van Models | Sprinter (144WB, 170WB & 170 ext.)RAM ProMaster (136WB, 159 WB & 159 ext.)Ford Transit (RWB, LWB & LWB EL)Nissan NV (1500, 2500 & 3500) |
| Bathroom? | Not Included |
| Kitchen? | Not Included |
| Price | $50,000 – $75,000 |
Titan Vans is based in Boulder, Colorado, and offers three great options for van conversions. You can either buy individual kits (such as a kitchenette) to DIY in your own van conversion, or pay TItan Vans to do your build for you.
If you decide not to DIY, Titan Vans can either do a build based on a pre-engineered design with plug-and-play upgrade options for an average cost of $50,000, or work with you to build a completely custom design for a typical cost of $75,000.
As far as van conversion kits, Titan Vans' kits are plug-and-play and can be incorporated into your van alongside kits from other companies.
For example, you could use Titan Vans' Deluxe Sprinter Van Kitchen kit and WeBasto Heating System in tandem with your Adventure Wagon kit to add a kitchenette to your van.
Titan Vans has several other kits including cabinets and shelves, a bike mount, L-tracks, paneling (walls, floor and ceiling), seats and lockers, and water systems.
Each kit includes everything you need to build the item. For example…
Titan Vans DIY Sprinter Van Kitchen Conversion Kit Includes:
Precut Baltic birch plywood
Black formica countertop
Stainless steel sink, faucet and strainer
Assembly hardware (installation hardware not included)
Pump/faucet combo
Two 6 gallon tanks (one for fresh, one for gray water)
Water system tubing
5. TouRig Campervan Conversion Kit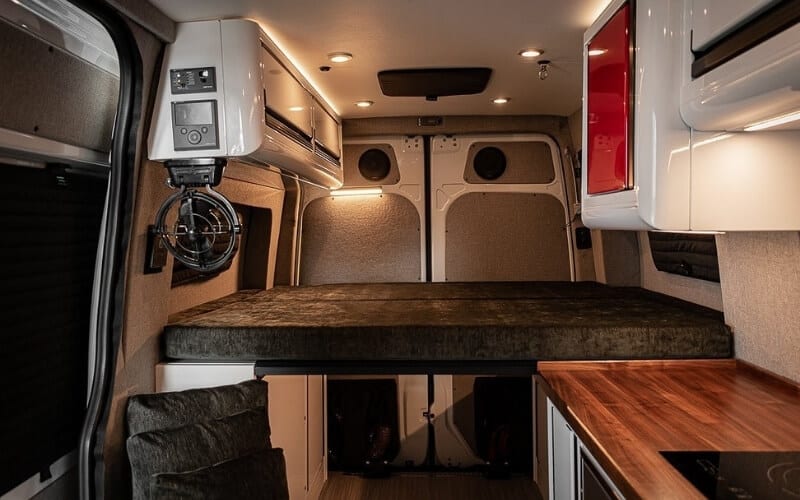 | | |
| --- | --- |
| Van Models | Mercedes-Benz Sprinter 2007-2019+Ford Transit |
| Bathroom? | No |
| Kitchen? | No |
| Price | Varies by product |
Although TouRig provides custom Sprinter and Ford Transit van conversions, they don't offer a DIY van conversion kit.
However, we felt they should still be on this list because of their selection of van accessories and add-ons.
TouRig has a bunch of individual components for your camper van conversion, including window coverings, screens, fan covers, storage systems, and even a bunker basin portable shower system.
TouRig is a great company to look to for these items, as you finish up your conversion with the things that make life on the road more comfortable.
If you want screens, window coverings for privacy and storage bags that are specifically fit to your Sprinter van or Ford Transit, TouRig probably has what you need.
6. Trail Kitchens DIY Van Conversion Kits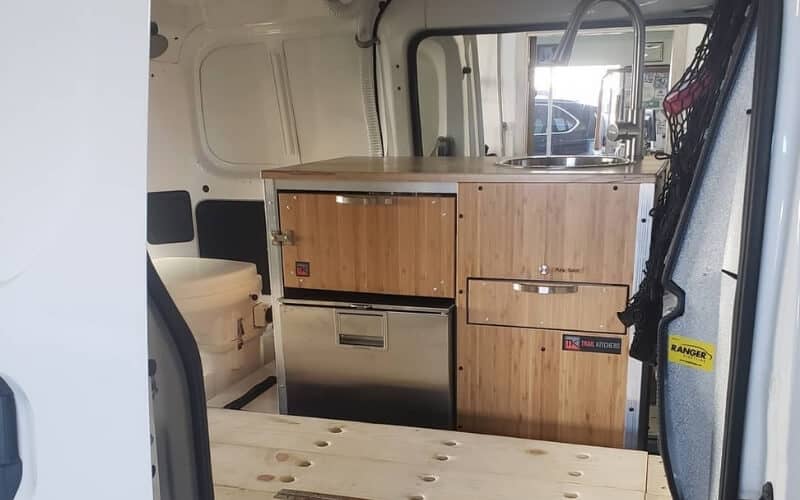 | | |
| --- | --- |
| Van Models | Mercedes SprinterRAM PromasterFord TransitSportsmobileExpress |
| Bathroom? | Shower / water systems |
| Kitchen? | Yes |
| Price | Varies by product |
If you're looking for modular systems that you can add to your DIY van conversion, Trail Kitchens offers some great standalone conversion kits for kitchen pods, water filtration and storage, wheel well cabinets and platform beds, sink/shower systems and more.
Each component kit is designed to be functional and take up as little of your van's valuable square footage as possible.
Trail Kitchens also makes their components with high-quality materials and their proprietary tubular aluminum space frame construction, which is light, strong, and squeak free.
Trail Kitchens Van Conversion Kits & Accessories:
An Example Trail Kitchens Conversion Kit Includes:
Marine grade water system
Portable 15,000 BTU single burner butane stove
Dedicated dining, cooking and utensil storage
Dometic CRX 50l fridge/freezer compatible or cabinet door (option)
Rigid polyethylene 9 gallon fresh water and 6 gallon grey water tanks
Kitchen and Dinnerware – Dining set for 4, coffee mugs, chopping mats, cooking utensils, fry pan, and collapsible dish tubs.
7. Van Works Conversion Kits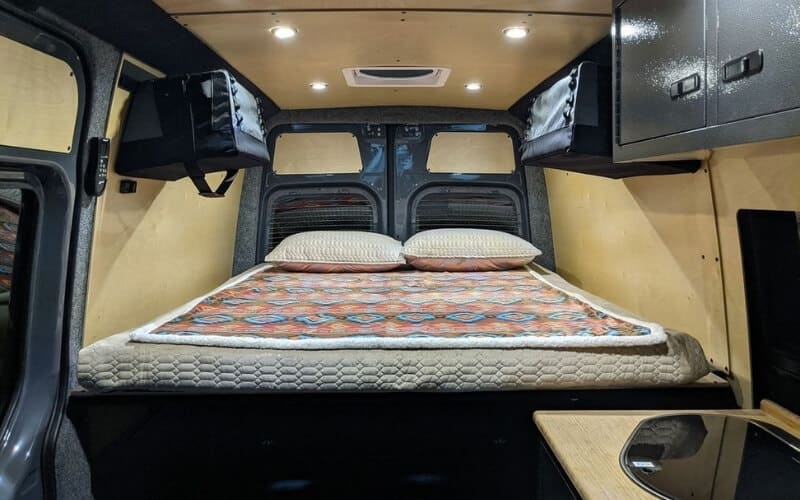 | | |
| --- | --- |
| Van Models | Ram ProMaster, Mercedes Sprinter or Ford Transit |
| Bathroom? | Cassette Toilet option |
| Kitchen? | Yes |
| Price | $60,000 – $80,000 |
Based in Fort Collins, Colorado, van conversion company Van Works has rave reviews about the van conversions they've completed for their customers over the years.
If you don't want to DIY your van conversion with a kit, they're a great company to go to for all of the essentials you need in your build.
Or, if you want to use their products or systems in your DIY build, they offer a ton of components to help you complete your build, including:
Diesel heaters and gasoline heaters
Lighting
Power inverter and battery systems
Roof vents & A/C systems
Seating and sofa benches
Bed systems
Galley kitchen with water & food storage
Exterior mods (tire racks, roof racks, ladders, etc.)
Running boards
Wheel and tire packages
Windows
Custom van awnings
Solar solutions
Sprinter lift kits
All Vanworks Conversion Packages Include:
J-Track Upper Wall Mount System
Wall and Ceiling Finishing – Fabric-wrapped pillars and lower walls, and Baltic birch headliner and upper walls with Thinsulate insulation package.
LED Lighting – (4) Recessed LED capacitive touch lighting system.
Removable Raised Platform Panel Bed – With 36 inches of clearance underneath for storage.
Galley Kitchen – 36-inch aluminum galley with a bamboo countertop, stainless steel sink and manual pump faucet, plus a fresh and gray water system with 6 gallons in each tank.
Storage – (3) 18-inch removable overhead storage bags, (1) 24-inch removable overhead storage bag, aluminum driver-side wheel well storage box with lid, and a quick-release cargo track underneath the bed.
Roof Vent – Deluxe powered with intake/exhaust, a rain hood, thermostat and remote.
Battery System – Goal Zero Yeti 500x portable system with a solar-ready port on the rooftop.
Accessories – Insulated window coverings for the slider and rear door windows and Vanworks floor mats.
Vanworks Conversion Add-Ons & Upgrades:
Yeti 1400 power
Dometic 40L refrigerator (Yeti power upgrade required)
Aluminum galley w/ Novakool fridge (Yeti power upgrade required)
Bifold sofa bench
Second row seat with 3-point seat belts and armrest
Swivel seat adapters
Espar gas or diesel heater
Additional storage (18- or 24-inch removable bags, overhead aluminum cabinet, or aluminum passenger side wheel well box with lid)
C.R. Laurence Driver forward vented window with magnetic, insulated window cover
Rear door windows
Fiama manual awning
100-watt solar panel(s)
Rocky Mount quick-release bike mounts (fork or through-axle available)
8. Wandervans Mercedes Sprinter Conversion Kits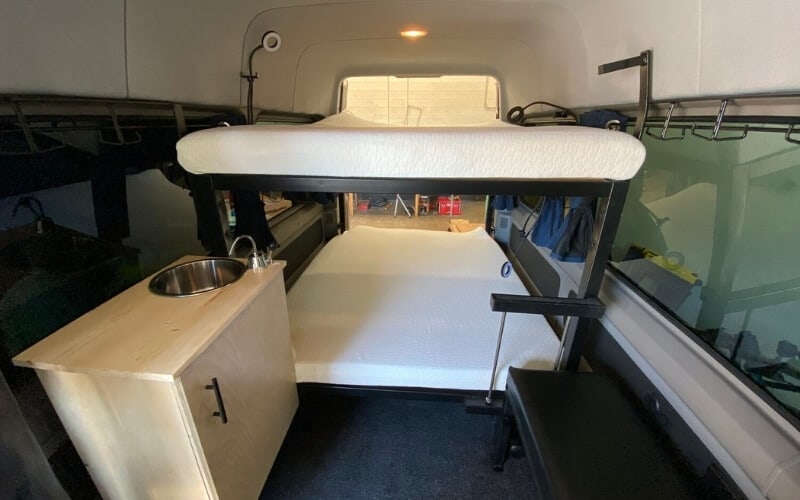 | | |
| --- | --- |
| Van Models | Mercedes SprinterFord Transit |
| Bathroom? | Not Included |
| Kitchen? | Yes |
| Price | $5,000 – $9,000 |
Although they may be better known for their camper van rentals, Wandervans also offers three modular conversion kits for Ford Transit and Mercedes Sprinter vans.
The modular design enables you to install the kit in about eight hours, and severely cuts down on wait times because Wandervans builds the kits ahead of time so they are ready to go.
The small kit has a starting base price of $5,000 and includes a bed frame that sleeps two, a cabinet and sink, ladder, coat racks, hooks and the installation cost.
The medium kit starts at $7,000 and includes everything that the small kit has, with added storage and extra space.
Wandervans' large kit has a base price of $9,000 and has two platform beds with sleeping capacity for four.
All Wandervans Conversion Kits Include:
Powder-Coated Bed Frame (2 in the large kit)
Cabinet with Sink
Ladder
Coat Racks
Hooks
Installation
Wandervans Add-Ons:
Heaters (Espar or Webasto)
Electrical Systems
Solar
Rooftop Fans
Curtains/Rods
Couch Seat
Bug Nets
Queen Mattress
Mattress Covers
LED Bed Lights
Bed Wiring Kit
Dometic Cooler 35QT
Extra Battery
USB/12V Wall Outlet
9. Zenvanz DIY Van Conversion Kits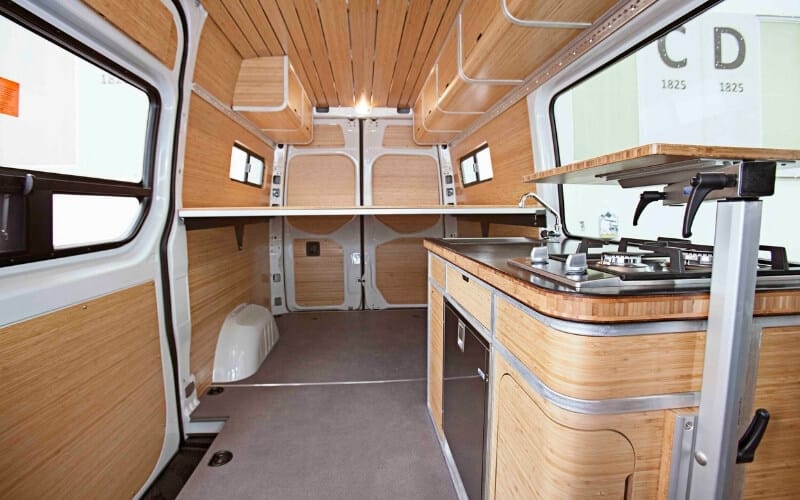 | | |
| --- | --- |
| Van Models | 144WB Sprinter170WB Sprinter |
| Bathroom? | Not Included |
| Kitchen? | Yes |
| Price | $18,000 – $22,000 |
Like many of the vans on this list, Zenvans makes modular DIY conversion kits for standard and long-wheel-base Sprinter vans.
They're based in Oregon, and if you prefer to have them design and do a custom conversion for you, they also offer that option.
The base kit includes a galley, cabinets, a folding gear drying rack, and a three-panel bed system.
Zenvans' DIY van kits are made with a rugged aluminum exoskeleton for lighter weight, and finished with bent bamboo wood panels and high-end stainless steel hardware to create a sleek, natural look.
The edges of the furniture components are curved for function and design, and the storage is simultaneously beautiful, rugged, and functional.
They engineer each modular component for easy installation, and since they design the components to fit factory holes, you can easily remove each component to convert your van back to a cargo space.
All Zenvanz Conversion Kits Include:
Kitchen – Easily removable galley system with solid bamboo cabinetry, a bamboo/Paperstone countertop, and a cutlery/silverware drawer with soft close hardware. Upgrade options include under-counter LED lighting, a fridge/freezer, two-burner propane cooktop, sink/faucet, and/or mounted tabletop.
Bed – Stackable and easy-to-remove three-panel bed system. Bed upgrade options include a 7-inch Extreme Comfort mattress and oversized storage space under the bed.
Storage – Five driver's side and two passenger side overhead storage cabinets with large cavities and user-friendly stay-open hinges. Upgrade to add LED lighting inside cabinets.
Gear Drying Rack – Attaches to upper panel of passenger sliding door, with five fold-out bamboo hooks so that gear dries over the door step. When not in use, rack folds flat so that the sliding door can function normally.
Add-On Options – Sealed bamboo panels for all door and wall panel locations, 1/2" bamboo ceiling slats, and custom cabinetry and components.
Van Conversion Components To Consider
As you plan your van conversion, there are several systems and components that you may want to consider including.
Your van will, of course, be custom to your specific needs and desires. For example, you may want to build an enclosed wet bath, or you may be happy with a portable cassette toilet.
Some of the most common components people include in their van conversion include:
Shower set up (or not)
Refrigeration options
Cooking systems (propane, electric, number of burners, etc.)
LED lighting
Ventilation options (fans, vents, air conditioning, etc.)
Solar systems or alternate power systems (extra battery, generator, power inverter, etc.)
Water systems (sink, tanks, pumps, etc.)
Exterior features (awning, grill, racks, ladders, etc.)
Summary About Sprinter Van Conversion Kits
A Sprinter van conversion is a big task to take on yourself, but these companies offer a lot of options so that you can customize the level of work you'll need to put in.
While you could hire some of these companies to do the whole conversion for you, there's a certain level of accomplishment (and reduced cost) that you can experience by doing it yourself.
The best part is that you can use this list to mix and match van conversion components to create the perfect build for you!
If you haven't purchased your van yet, be sure to check out our article about The 8 Best Vans For Your DIY Camper Conversion before you buy!