Winter RV storage requires that you do it the right way. Failing to take the proper precautions when storing an RV outside in the winter can result in catastrophic damage that's either going to be irreparable or incredibly costly to fix.
This is why many folks opt to move their RV to warmer climates for the winter months.
But keeping an RV safe throughout a cold, wet winter is definitely possible. You just need to know how to protect your motorhome from the winter elements.
Thankfully, you've found yourself in the perfect spot today to learn just that. We're going to cover a few basic strategies for protecting your RV through a full winter.
And then we'll also discuss winter RV storage tips that will help you ensure that your RV's internal systems remain healthy and functional when temperatures begin to dip below freezing.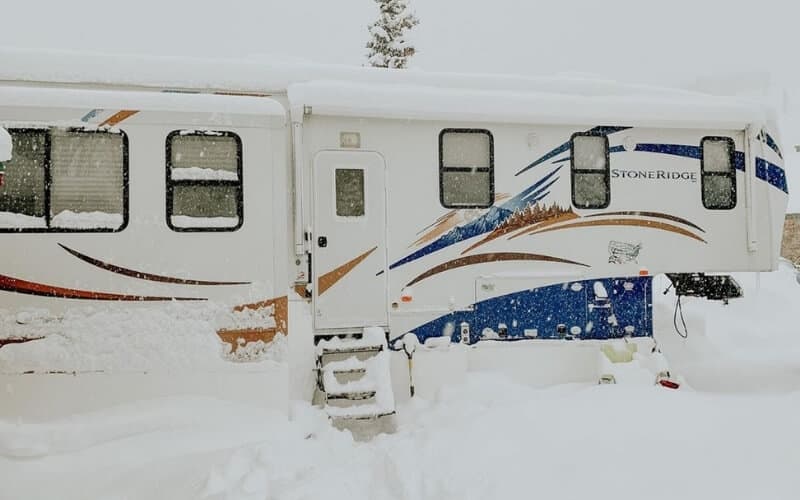 Preparing your RV for outdoor winter storage
Freezing temperatures can pose a significant threat to your RV's health. But the added moisture that many locations experience during the winter months can also wreak havoc on your RV, travel trailer, or 5th wheel.
So let's begin by discussing a few methods for protecting your RV from excessive moisture in the winter.
1. Give It A Wash
Any dust, dirt, or debris that's left on your RV through an entire winter can become a permanent fixture.
That's why you should start the process of storing your RV for the winter by thoroughly cleaning both the interior and exterior of your RV.
On the outside, make sure you also apply a proper coat of RV wax after you finish washing.
This will protect your paint and/or decals and also do well to maintain their shine over time.
Inside, a top-to-bottom cleaning should always be performed before you're going to store your RV for any length of time.
2. Flush The Water Pipes
Before you lock your RV up for the winter, you'll want to make sure that all the water is flushed out of your pipes.
Any remaining water in the pipes can freeze, expand, and cause your pipes to burst.
And if you're not monitoring your RV daily, it can be days or weeks before you realize the extent of the damage caused by burst water pipes in your rig.
3. Add Antifreeze
Once you're absolutely sure you've drained all the water from your RV's pipes, consider adding antifreeze for an additional layer of protection.
This fluid is scientifically engineered to remain liquid when temperatures dip well below freezing.
So even if there is a minimal amount of water left in your pipes, it will combine with antifreeze and prevent it from freezing solid.
4. Fill Your Propane Tank
Even though you're not going to keep the internal temperature of your RV above 60 degrees for the winter, your furnace is still going to be the main source of heat that keeps it above freezing.
So you'll need to make sure that your propane tank is completely full before parking your RV for winter storage.
5. Add Fuel Stabilizer
Perhaps, surprisingly, gasoline can indeed go bad over time. When it does, it often leaves sticky deposits of gasoline resin on the inside of your RV's gas tank.
These deposits can ultimately cause engine damage if left unaddressed.
While it is recommended to store your RV with at least a half tank of gasoline in it, it's also a good idea to add a fuel stabilizer that keeps that gasoline from going bad throughout the winter. A stabilizer keeps these deposits from forming.
When adding a fuel stabilizer, it's important to follow the product's instruction carefully.
Once it's added, you'll usually need to run your engine for five to 10 minutes so that it runs through your entire fuel system.
Some RV manufacturers also recommend using a fuel stabilizer for your RV generator, as well.
7. Choose A Covered Storage Location
The easiest way to protect your RV from rain and snow in the winter is to store it in a covered location.
While it requires a bit more of an up-front investment, building an open-air carport for your RV somewhere on your property is the best long-term solution for protecting your RV during harsh winters.
If you live in an area where rain is more common than snow during the winter, the rain itself isn't the biggest issue.
But when your RV is continuously wet and then temperatures drop below freezing, freeze-thaw cycles can cause significant damage to your RV's exterior.
In the worst cases, I've seen RV windows pop completely out of their housing from the effects of water ingress.
Snow load is also an issue when storing an RV outside in the winter. If you do, you'll need to avoid allowing more than about six inches of snow to remain on top of your RV for any extended period of time.
That weight, combined with the moisture, has been known to cause entire RV roofs to collapse if left unattended.
8. Cover Up Your RV
If you're not able to get an RV port built by the time winter rolls around, your next best option is to find an RV cover that fits your rig.
When selecting an RV cover, it can sometimes be beneficial to choose one that's slightly larger than your rig.
This will allow you to achieve full coverage instead of having too tight of a fit that leaves certain parts of your RV exposed.
An RV cover is a simple accessory that provides a protective layer between your rig's exterior and the weather outside.
It won't protect your RV's roof from the weight of snow load, however, so you'll still need to be diligent about clearing your roof of snow regularly if that's common in your area.
When you begin to look into RV covers, don't be surprised if they are priced a little higher than you might expect.
That being said, I'd sincerely caution you against choosing a bargain cover if you live in a region with harsh winters.
I've had several of my past covers rip or tear during heavy wind storms in the past. So you'll want something that's thick and durable enough to handle the elements.
And one more pro tip: be very careful when operating a snowblower anywhere near an RV cover.
The heat from the snowblower's exhaust will quickly melt the material used in the construction of many cheaper RV covers.
9. Consider An RV Skirt
Even if you put a cover over your RV for the winter, there's still a good reason to consider wrapping the bottom portion of your rig in an RV skirt.
When the temperatures go down, most humans start to spend more time outside.
The rest of the animals that live in your area are out there searching for the warmest nook and cranny to curl up for the winter.
If left unprotected, the storage compartments and areas underneath your RV can easily become those warm nooks and crannies.
And while we sympathize with the plight of animals that need to hibernate for the winter, we're guessing you'd probably prefer that they don't live in or under your RV.
By wrapping the bottom segment of your rig in an RV skirt, you can keep animals out and also hold more heat in.
And these skirts can also make a big difference in keeping your RV's pipes from freezing during the winter.
10. Insulate Your RV Underbelly
If you don't opt for a protective RV skirt, you should certainly think about insulating the underbelly of your rig to reduce heat loss.
A skirt is the most effective way to do this, but there are other DIY options out there that are more affordable if you're on a budget.
If you're looking for more tips on this subject, check out our article on how to insulate an RV underbelly.
11. Raise It Onto Jacks
Regardless of the season, it's never a good idea to leave all the weight of your RV sitting only on its tires for an extended period.
That's why you should raise your RV on jacks when storing it outside in the winter.
This will take most of the weight off the tires and keep them healthy for next summer's RV adventures.
If your RV is equipped with automatic leveling jacks, this will be an easy process. But if it's not, you'll need to consider buying some of the best RV stabilizers.
When you do raise your RV up, just make sure that all of the tires are still making slight contact with the ground.
The idea is that you want to take the weight off of them, but you'll still want them touching the ground for stability.
12. Cover The Tires
Speaking of your RV tires, it's also a good idea to cover them if you're storing your RV outside for a full winter.
This is true even if you're keeping your rig in a covered carport, placing an RV cover over it, or wrapping the bottom in an RV skirt.
If exposed to moisture at all, the fluctuating winter temperatures can cause your tires to crack, which leaves you much more susceptible to a blow out when you de-winterize and head out for your first trip next spring.
So prevent the damage from happening and protect your tires from winterize, you must want to buy some best rv tire covers on the market
13. Turn Off Unnecessary Appliances
When you're storing your RV for the winter, there's no need for certain appliances to pull propane or electricity.
In fact, the only appliance that should continue running is your furnace. The microwave, refrigerator, water heater, and other appliances can all be disconnected in preparation for winter storage.
14. Disconnect Batteries
You can also disconnect your RV's batteries during the winter because you won't have any appliances that require them.
This is assuming that you're able to connect your rig to a source of onshore power, which we highly recommend.
If you do disconnect your batteries, remove them entirely and find a cool, dry place where they'll be safe for the winter.
But don't just leave them unattended after that. It's recommended to check the charge of your batteries every four to six weeks to ensure that they remain fully charged.
Allowing your batteries to discharge fully during the winter can ultimately decrease their overall lifespan.
15. Adjust The Thermostat
Most of us probably keep our RV's thermostat set somewhere between 65 and 70 degrees when we're living in it.
But there's absolutely no reason to keep it set so high when storing your rig for the winter.
That being said, your RV furnace is going to be the primary heat source responsible for keeping critical systems from freezing during the winter.
That's why we recommend adjusting your thermostat to about 50 degrees before closing and locking up your rig for the winter.
This provides enough of a buffer zone to keep things from freezing without being set too high so that you burn through all of your propane in just a month.
16. Consider An Electric Space Heater
We also recommend keeping your RV in a place where you can plug it into shore power for the winter.
And if you're able to do so, we'd highly recommend placing a small electric space heater inside your rig as well.
You'll have to do the math on whether the cost of propane or electricity is more expensive in your area.
But working with these two options can greatly increase your ability to keep RV pipes from freezing in the winter.
Fortunately, there are many space heaters for RV which are safe to leave on overnight.
For winter RV storage, we'd recommend a smaller ceramic heater with an adjustable thermostat.
This will give you the ability to set it to come on in conjunction with your RV's furnace so that they adequately supplement one another.
17. Check Up On Your RV Regularly
While these tips and procedures will maximize your likelihood of safely storing your RV outside for the winter, unexpected circumstances can always arrive.
That's why it's a good practice to regularly check up on your RV throughout the winter. If you're storing your RV right on your property, this should be relatively easy.
But if you choose to store your rig at an off-site location, we recommend making a point to check on it every two to three weeks.
But if you can't manage check-ups that frequently, a once-a-month check-in is an absolute must!
Conclusion
The truth of the matter is that storing your RV away from your property can get expensive quickly.
And even if you find a spot with a relatively affordable rate, it's hard to know whether your RV will really receive the level of supervision you're paying for throughout a full winter.
Those are the primary reasons why many RV owners choose to store their rigs as close to home as possible.
And that's true even if that home is in a location that regularly experiences freezing overnight temperatures and several feet of snow on the ground.
With the tips for storing an RV outside in the winter, you can make sure that you keep your rig close by while also doing everything possible to protect your investment.
We hope you've found the insights and advice we've provided here useful and we wish you the best of luck preparing your RV for winter!