Teardrop campers were the original travel trailer people thought of when they heard the word "Camper."
Though they seemed to fade in the 1980s and 1990s when motorhomes and larger travel trailers dominated the market.
Today teardrop campers are enjoying an impressive resurgence in popularity.
This is due to several key factors like new lightweight materials, improvements in manufacturing technology, and the popularity of SUVs with the towing package to pull a teardrop camper.
You might be wondering just how much does a teardrop camper cost?
The average price of a new teardrop trailers is going to be in the $5,000 to $15,000 price range depending on the style and features. An entry-level teardrop camper, with the basic amenities might cost around $5,000 to $7,500, a mid-range teardrop camper cost between $7,500 to 12,000 and for a luxury model, you can expect to pay between $12,000 to $15,000.
What Affects The Price Of A Teardrop Camper?
Several things can influence the price of a teardrop camper. This includes material construction, as well as the features and the amenities built-in.
Not to mention the fact that several companies offer custom-built teardrop campers.
Some entry-level teardrop campers are little more than a sleeping space on wheels. This usually puts them on the low end of the price range.
Though mid-range, high-end and custom-built teardrop campers can vary widely in price based on whether or not it has a kitchen, other special amenities, and tech innovations that might be built-in.
The following are some of the amenities and special features that you can expect to drive up the price of a teardrop camper.
1. A Stovetop
Two burner stovetops can be found in a lot of teardrop campers with a built-in kitchen. They also require additional lines for the gas and a place to secure a propane tank.
Not to mention the heat they produce can warm up the small interior or a teardrop camper, which also translates into the need for some type of air conditioner.
You can save money, buying a teardrop camper without a stovetop, and simply cook on a propane camp stove outside.
Otherwise, you can expect a two-burner RV stovetop to increase the price of a teardrop camper by $100 to $300.
2. Freshwater Storage Tank
If you want a teardrop camper with a functioning sink or even a small wet bath, then you'll need a fresh water storage tank.
Of course, the cost of the tank itself will drive up the price, as well as the structural components needed to support it, and the plumbing.
A freshwater storage tank and the plumbing can increase the cost of a teardrop camper by $300 to $500.
3. Plumbing Fixtures
Things like a sink, faucet or sprayer are very convenient for washing hands, dishes and maybe even handwashing the laundry.
Though these plumbing fixtures too will drive up the price, as will the gray or black water storage tanks that support them.
Depending on the type of plumbing you want to be installed you can expect it to increase the cost of a teardrop camper by $150 to $300.
4. Furnace
Even a small propane furnace can really drive up the price of a teardrop camper. Here again, you also need the propane tank and gas lines to support it.
If you're only going to be camping during the warm parts of the summer and you don't intend to camp in the mountains, you can probably skip the furnace to shave down the price of a custom-built teardrop camper.
A small RV propane furnace can increase the price of a teardrop camper by $250 to $500.
5. Air Conditioner
Most people prioritize an air conditioner in their teardrop camper. Some see it as being essential for staying cool and comfortable on hot summer nights.
The problem is that it tends to drive up the price. If you're looking at a model that doesn't have an air conditioner or it's an optional extra, you might want to consider opting out of it.
Then you can simply purchase a small, lightweight portable air conditioner as you see in some holder homes.
As long as it's rated to cool 5,000 BTUs or more, you should be just fine in the small confines of a teardrop camper interior. Otherwise, an RV air conditioner can cost you as much as $700
6. Refrigerator
RV absorption refrigerators are more durable than residential electric refrigerators. They use special absorption technology to produce a cool effect.
They can also run on propane or electricity, which is nice for times when you want to boondock off the grid.
Since they have no moving internal parts, RV absorption refrigerators can take the pounding that comes with driving a single axle camper over bumpy roads.
Compact to mid-size RV absorption refrigerators can cost between $250 to $500.
7. Freezer
Freezers are relatively rare in teardrop campers. Though some luxury models include them.
If you're thinking about one as an optional extra, you might want to first compare the price against some of the electric portable cooler/freezers on the market.
You might be able to save a fair amount of money going this route, over the markup that comes with an RV freezer.
An RV freezer can increase the price of a teardrop camper by as much as $500.
8. Rooftop Solar Panel Systems
Solar technology and battery capacity have evolved quickly in recent years, which makes solar panel systems more affordable than ever.
This means you can find them at the consumer level. Though the best solar panel systems are still going to need to be installed by a professional.
Depending on the wattage and the type of batteries to store the charge, it can really increase the cost of a teardrop camper.
Especially if you're having the install performed by the RV dealership. An average rooftop solar panel and battery system can increase the price of a teardrop camper by $750 to $1,500.
9. Custom Exterior Paint
The teardrop shape of a camper is appealing to the eye. A custom paint job not only makes the camper look sharp, but it also makes it feel like the camper is truly yours.
However, custom paint jobs are rarely cheap. Professional labor costs, renting time in a spray booth, and the paint itself all factor into the price of the teardrop camper. A custom paint job can cost as much ad $2,500.
10. Skylights & Windows
Different floorplans might have more or fewer windows. Generally, the structure that needs to go into supporting the window, as well as the window itself will increase the price of a teardrop camper. This goes up even more if you want a thermal glass.
11. TV & Entertainment Hookups
flatscreen TV's tend to take up little space, which puts them in play as a popular optional extra in a lot of small teardrop campers.
The relatively small interior of a teardrop camper also means that you can get by with a smaller, less expensive flatscreen TV than you would normally find in a large residential living room.
A 24 to 32-inch TV in a teardrop camper can cost up to $500.
12. Interior Lighting
These days advancements in technology have made LED lights more popular than ever.
They're especially nice in a teardrop camper, as they have very low wattage draw and tend to produce no heat. However, they do cost more than a traditional lighting fixture.
Still, it's a one-time investment for interior lights that will last for many years. Depending on how extensive it is an LED lighting system can cost between $50 to $150.
13. Exterior Lighting
If you are going to be boondocking off the grid a lot, you might want to opt for some type of exterior lighting.
Not only does it help you to see where you're going if you need to make a midnight bathroom run, but it also lets you see if there are any animals about, before exiting the teardrop camper.
Even a single exterior light can increase the cost of a teardrop camper by $50 to $100.
14. A Sound System
A lot of RV owners like to have a sound system on board. Whether it's just to play a little background music, listen to radio weather reports, or pump up the sound quality of the TV.
Though speakers and installation can be spendy. Depending on the specifics of the sound system it can increase the cost of the teardrop camper by $100 to $500.
15. A Built-In Or Aftermarket Generator
Generators are incredibly popular in the RV marketplace. They can be found in small popup campers all the way up to giant Class A motorhomes.
They power TVs, lights, and sound systems. A gasoline generator with a two-stroke motor might only cost around $500 to $700 to meet the wattage demand of an average teardrop camper.
However, two-stroke motors tend to be smoky and loud. If you step up to a much quieter four-stroke generator, you might be looking at $1,200 to as much as $2,000.
Pricing Luxury Teardrop Campers
In esthetics, they say that luxury is defined by light and space. Which isn't always in great supply in a teardrop camper.
Though many still do have an open concept feeling and large windows. Most of the time when people think of a luxury teardrop camper, they're prioritizing creature comforts and innovation as well as easy of use.
The exterior of a luxury teardrop camper is usually upgraded with things like custom paint and trim work.
Great details are given to the visual lines, and little details like the wheel hubs, and even custom decals. Some type of awning with perhaps a screen tent is also high on the list.
On the inside, a luxury teardrop camper usually has real wood, blended comfortably with the structural components.
Storage is also at a premium with luxury teardrop campers. If you truly want luxury in your camper, you don't want a bunch of stuff lying around looking sloppy. You want things like tasteful closets and overhead storage.
Appliances are also a must in a luxury teardrop camper. This includes kitchen appliances like a two or perhaps even a three-burner stove.
A durable RV refrigerator, and an entertainment center with flatscreen TV.
Sleeping accommodations are also a hallmark sign of a luxury teardrop camper. Full size or even a convertible queen size bed gives you room to sleep in comfort.
Additional sleeping space for a child or an overnight guest is also at a premium with a luxury teardrop camper.
How Much Does A Custom Built Teardrop Camper Cost?
With the growing popularity of teardrop campers, many manufacturers are offering custom-built teardrop campers.
Custom built teardrop campers have a wide average price range depending on the materials and amenities you choose. The price of the custom built teardrop camper you are hoping to buy could land anywhere between $12,000 and $150,000.
The following is a list of some of the most popular custom-built teardrop camper manufacturers.
Colorado Teardrops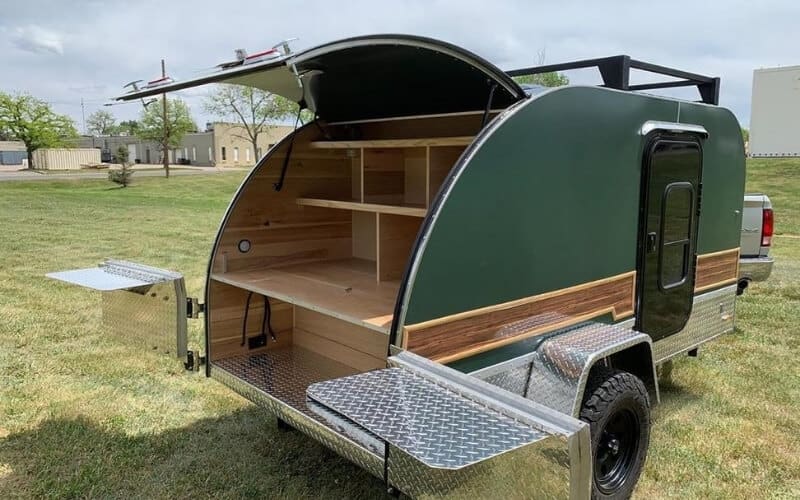 As the name implies Colorado Teardrops is based out of Colorado. They're a family-owned teardrop camper manufacturer.
They often recommend their Basedrop model as the blank canvas for while you can make your own personal touches.
The Basedrop has a dry weight of around 1000 pounds, with a 2,200-pound trailer suspension.
The walls, floors, ceilings, and doors are all fully insulated, which is handy if you want to stay in the mountains or like to camp in the fall.
There's also a solar panel upgrade with energy-efficient LED lights that they recommend.
If you need bathroom facilities, it can be equipped with an 11-gallon freshwater tank, and a tankless water heater, to supply an outdoor shower.
Colorado Teardrops also lets you customize the exterior for a reasonable rate.
This includes things like exterior skin and lighting. You can also customize the interior with shelves and appliances as you see fit.
The average price of the Basedrop model starts around $13,900. They also ask for a $5,000 deposit at the start of the process.
Vistabule Teardrop Trailers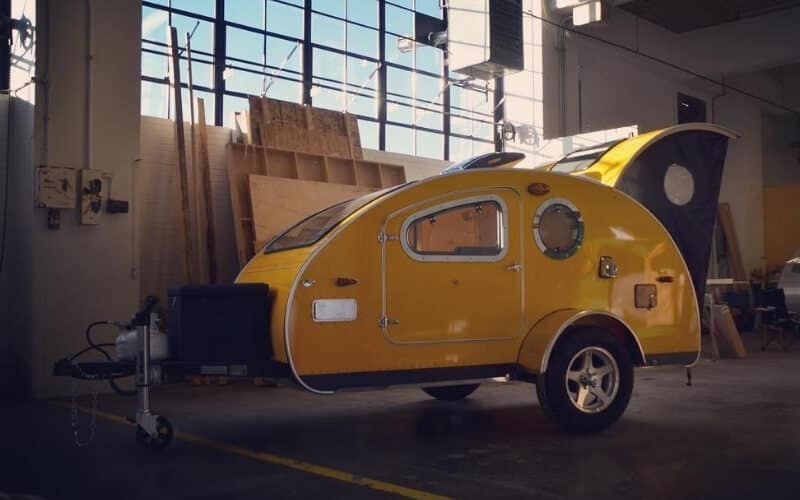 A Minnesota-based teardrop trailer manufacturer who has a reputation for building rugged teardrop campers with customized flare.
They have a base package teardrop camper with a dry weight between 1,100 to 1,200 pounds.
It comes with a painted silver aluminum exterior. It has large windows and a passthrough opening with a sliding screen.
There's also an optional 115-amp hour AGM battery, that is connected to a portable solar panel system.
In the interior, you'll find a clamshell-style kitchen that's designed as a lighted galley. It's great for outdoor cooking in the great outdoors.
An optional The 9-gallon grey water tank helps you stay in the bush for longer, which is great for families who like to boondock off the grid. The kitchen even has an optional refrigerator/freezer combo.
Some of the more popular upgrades include an 11-pound propane system, air conditioners, two-burner cooktop, and an extra-large freshwater storage tank.
There's also an optional custom lighting package available with LED lights.
Pricing can vary a lot with the Vistabule. Though they can easily cost as much as $19,000 for a high-end luxury model with all the bells and whistles.
Hiker Trailers
Hiker Trailers has offices in both Denver, Colorado, and Indianapolis, Indiana. They are a true custom-built teardrop manufacturer.
This is great for making sure you are getting something truly unique to you. However, you might need to wait a little longer to get it.
They have a Highway Basic model that starts out with a 2,000-pound rated axle, or you can upgrade to a 3,500-pound axle rating.
You can then choose a body size of 4 × 8-feet or 5 × 10-feet. This is typically enough room for two decent size windows with screens as well as a large roof vent.
The Highway Basic starts out with a gleaming aluminum exterior with one external electrical outlet.
Then there's also a power strip inside the camper. From there you can choose from a variety of features including cabinets, trim, roof racks, fenders, awnings, and convertible bedding.
showers, and roof racks. Don't forget, you also have the option to customize the exterior color, the diamond-plate trim details, and even add on fenders.
Electrical packaging, cabin, and exterior lighting, and an air conditioner and heat option are just some of the add-on options available as well.
Hikers help to create a simple to more complex customizable camping style for almost every rugged teardrop trailer camper. If you want to explore, the Hiker is an excellent customizable choice.
The base price for the 4 X 8 Hiker Highway basic starts out at $2,895 and can go up depending on what you add on. With the 5 X 10 model, the base price starts out at $5895.
Frequently Asked Questions
Can I Build My Own Teardrop Camper?
There are indeed some people with the tools and skills to try building their own teardrop camper as a fun side project.
A lot of popular custom-built teardrop camper manufacturers started out this way.
Though this isn't something to be taken lightly. Some rules and regulations need to be followed by the department of motor vehicles.
If it doesn't pass all the necessary inspections, it won't be certified as road legal.
If you still take a DIY teardrop camper on the road and something happens, you could be facing some serious insurance and liabilities problems.
The best way to start is probably by investing in a heavy-duty equipment trailer. Then you can start to frame it out from there. At least that way you know the trailer aspect of it is roadworthy.
With this option, you can expect to invest $1,500 to $3,000 in a new heavy-duty equipment trailer. From there you can expect at least another $500 to $750 in the framing and sidewalls.
So, for right around $4,000, you can get an empty shell on a reliable trailer bed, and add what you want from there.
Is A Popup Camper Better Than A Teardrop Trailer?
This is largely a matter of opinion. Popup campers tend to be even lighter than teardrop campers.
Which makes them more popular with people who have mid-size SUV or a sedan without robust tow characteristics.
When you get to your destination, there's a lot more set up involved with the popup camper.
You have to raise the roof, extend the sides, and make sure to secure every last seam in the canvas housing.
Popup campers also tend to have smaller kitchens, less storage, and rarely have bathroom facilities included.
Another drawback of a popup camper is the depreciation. The canvas "Popup" section tends to have a limited lifespan.
You'll be lucky to get 8 to 10 years out of one without a significant rip or mildew problem. It's less likely to hold it's value long enough to resell it with any realistic return on investment.
If you have an SUV or a light-duty pickup truck that's strong enough to tow a slightly heavier teardrop camper, then it's probably the better choice over a popup camper.
Do Teardrop Campers Hold Their Value?
All RVs suffer the same kind of depreciation that cars and trucks do. This is just as true for a teardrop camper as it is a travel trailer, fifth-wheel, or a motorhome.
Though teardrop campers do tend to hold their value better than popup campers and pickup topper campers.
Some teardrop camper manufacturers also have a loyal following, that might be willing to pay a little more for a gently pre-owned model.
Conclusion
Teardrop campers are increasingly popular. The price to buy one and the cost of ownership in the long-term can vary depending on how decked out it is.
You might be able to save some money by investing in a basic entry-level model, for around $4,000, then equip it yourself with the amenities you need.
That way you don't need to worry about paying a dealership or a mechanic to customize the teardrop for you.
Still, if you aren't the kind of person who likes to roll up their sleeves, there are certainly luxury models and custom-built teardrop campers that you can give you everything you want. Just be prepared to shell out $10,000 or more!