Teardrop campers are a classic piece of Americana that is happily enjoying a renaissance.
Modern materials and state-of-the-art engineering principles have made it possible for teardrop campers to now come with complete or partial bathrooms.
With this new influx of compact convenient bathrooms, you might feel a little spoiled for choice.
What is the best teardrop camper with a bathroom? In truth, the list of options is surprisingly long. Here are 9 of the best teardrop campers with a bathroom and toilet.
In this article, we'll take a closer look at some of the best teardrop campers with a bathroom.
This will include a closer look at essential components like freshwater, gray water, and black water tanks, as well as the relationship between the overall weight and comfort.
The 9 Best Teardrop Campers With A Bathroom In 2023
Of course, not all teardrop campers with a bathroom are created equally.
There are several factors like freshwater storage tanks, gray water tanks, black water tanks, and water heaters all play into just what type of bathroom features the teardrop camper can support.
As you can imagine the more components you add, and the larger the tanks, the more weight your tow vehicle will have to take on.
The following is a list of some of the best teardrop campers with a bathroom to help you find the one that's right for you and your family.
1. The Little Guy Max Tear Drop Camper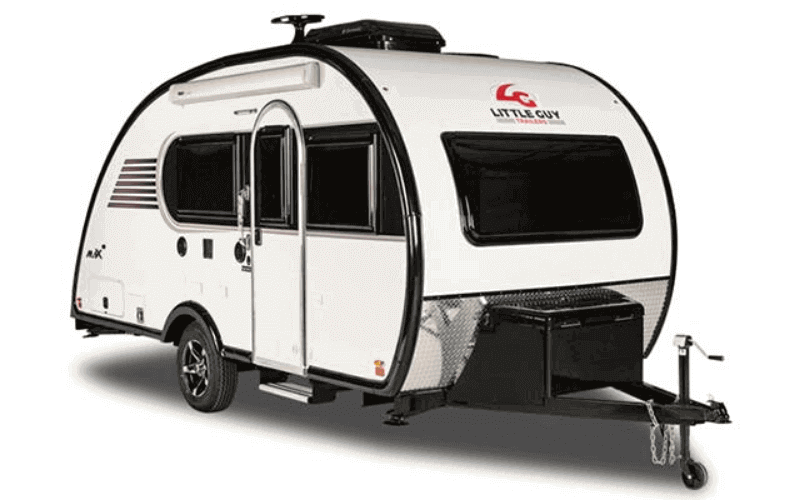 The Little Guy Max tries to bring a little bit of extra innovation and downright style to the once old concept of the teardrop camper.
This starts with ultra-lightweight construction in the form of a tubular steel chassis and other updated materials.
The net effect is a dry weight of only 3,140 pounds, which puts it in a comfortable range to be towed by SUVs and light-duty pickup trucks.
The interior was designed for comfort, visual appeal, and convenient storage.
It includes a queen-size bed, LED lighting, and even a 13,500 BTU per hour roof-mounted air conditioning system.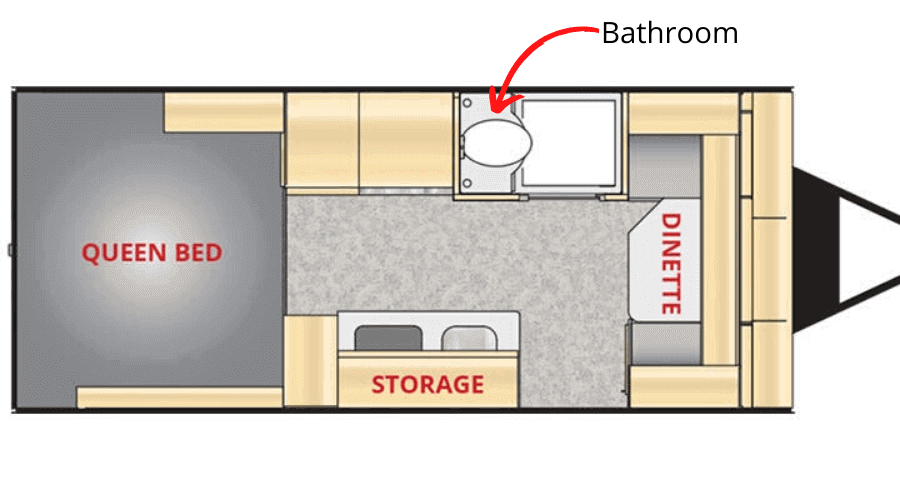 Another place where the Little Guy Max starts to separate itself from the competition is with a full-height kitchen pantry, complete with a large basin sink.
There's also a two-burner propane range top as well as hardwood cabinets.
When it comes to this teardrop camper's bathroom it has a full residential size "Floor-to-Ceiling" surround for superior privacy.
Within you'll find a shower with an adjustable showerhead fixture and a marine toilet with a high seat.
This concept borrows a little bit from some Asian countries like South Korea, where the bathroom serves as a full shower to maximize the available space.
They even went so far as to include a waterproof toilet paper to protect the roll when you shower.
It comes with a 20-gallon freshwater storage tank. This supplies both the kitchen and bathroom fixtures.
The gray water tank can hold up to 14-gallons of water from the sink and shower drains.
The black water tank also has a maximum capacity of 9-gallons to support the plumbing of the marine-style toilet.
2. Timberline By HomeGrown
HomeGrown is an RV manufacturer that takes an ecologically conscious approach to their line.
You see this with the Timberline teardrop camper and its composting toilet. This is a fast-growing trend in RVs, cabins, and campsites.
As the name implies the composting toilet is designed to use microbial processes with little-to-no water to break down waste into organic compost.
Another benefit of this approach is that you save space and weight by not needing a traditional RV black water tank.
It also means you can make more use of the on-board 23-gallon freshwater tank and 2.5-gallon water heater that supplies the shower and modest-sized sink.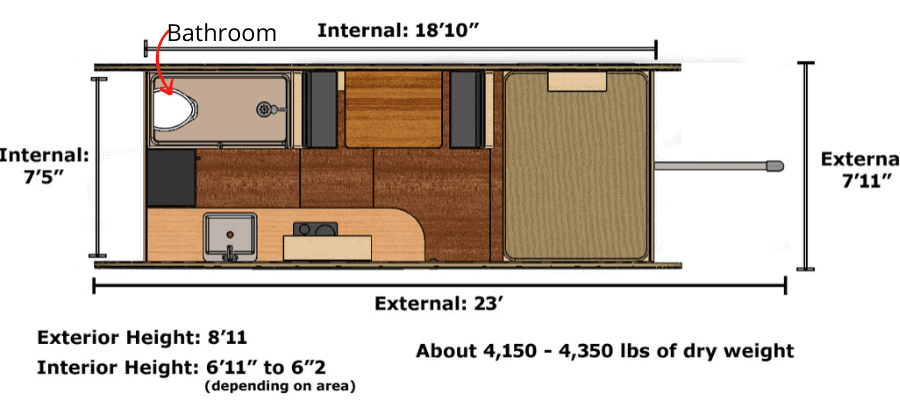 Of course, a composting toilet isn't the only place where the HomeGrown Timberline is efficient and ecologically conscious.
It also has solar panels and energy-efficient light fixtures as well as state-of-the-art batteries that can make the most out of the solar power the photovoltaic cells collect.
It's also built largely from wood and other sustainable materials. The sleeping accommodations in a teardrop trailer can sometimes be sparse.
Especially in a teardrop camper with a toilet. Still, HomeGrown thought long and hard about this with the Timberline.
Depending on how you want to sleep, the queen size bed and dinette bunks can sleep up to five people at one time. It even has a high ceiling up to 7-feet tall in the center.
3. ICamp Elite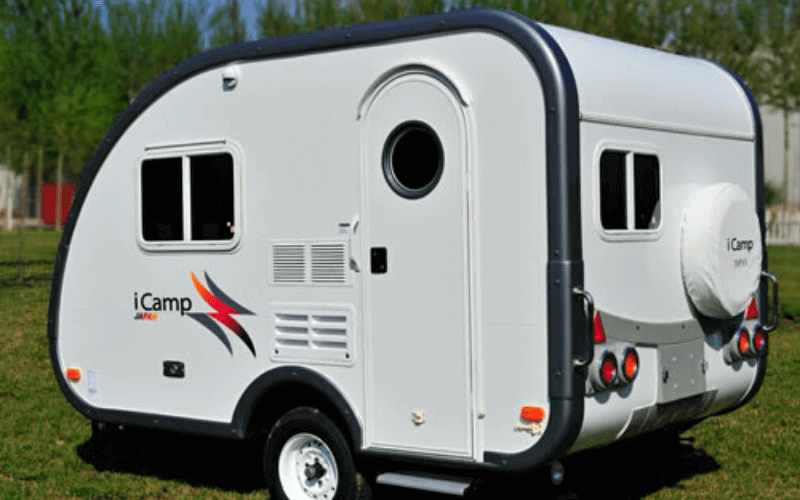 The iCamp Elite was designed to be its own little miniature home on wheels. Just don't lump it into the "Tiny House" revolution.
The body of this teardrop trailer is made from durable fiberglass, which does add a little bit to the overall weight.
Yet it's still small enough that it's not prohibitively heavy. A mid-size SUV could still tow it confidently.
The interior has room for a TV with a modest kitchen. Depending on how you layout the floor plan it can sleep two to three people.
Which makes it a good option for traveling couples or a small family with an only child.
It also has a surprising amount of storage space for a teardrop camper with a bathroom.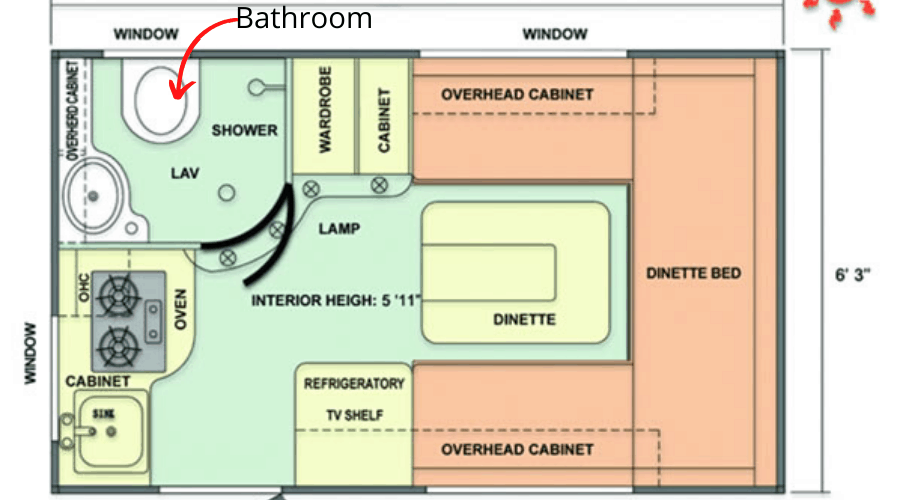 The bathroom includes a small sink, a modest-sized cabinet, a small shower area, and a marine toilet, and the best part: a toilet.
It offers the best use for the small space that it does have. Not only does it have a bathroom, but also a stove, sink, and kitchen area with a refrigerator and a shelf for a TV.
The iCamp Elite has a 22-gallon freshwater tank to support the sink, shower, and toilet.
The gray water tank has a 14-gallon capacity and the black water tank can hold up to 6-gallons.
It also has a 6-gallon hot water tank, which is impressive for a teardrop camper with a toilet.
Depending on how often you shower and use the toilet, this translates into the ability to boondoggle off the grid for two or possibly three days without needing an RV waste dump or a freshwater resupply.
4. The Scamp 13-Foot Teardrop Camper
Scamp is one of those travel trailer companies that has earned a devout following over the years, and for good reason.
Their campers are available in a wide range of sizes and basic floor plans, each is infused with the kind of durable construction to maximize the long-term value.
The Scamp 13-foot isn't geometrically a "Teardrop" shape, but it still has much of the aerodynamics and feel of a classic teardrop camper. It's also worth noting that there are two versions of this camper.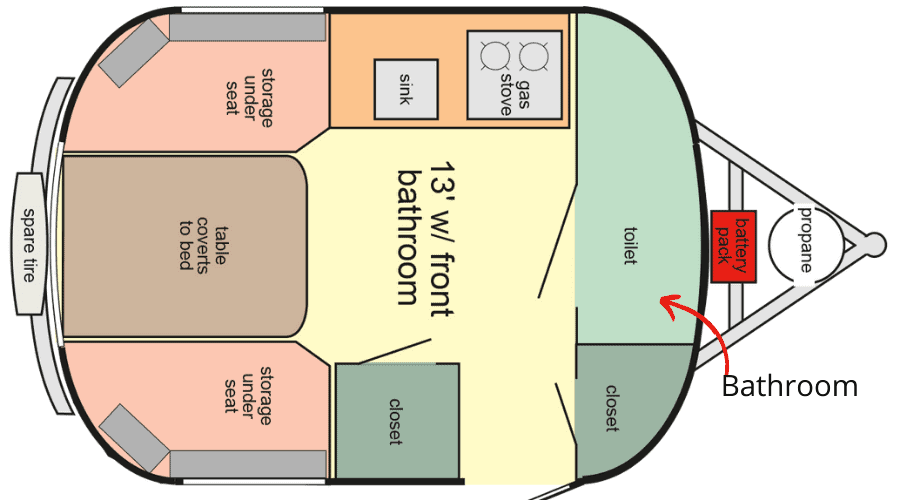 One with a toilet and one without. In this layout, the Scamp can comfortably sleep one to two people, but in a pinch can sleep up to four.
The floorplan with a toilet includes a modest shower as well as hookups to connect it to a municipal water system or RV park utilities.
Though it does also have a 12-gallon freshwater tank for times when you want to use the Scamp 13 off the grid.
The Scamp has a direct drain system for the gray water tank for times when you have municipal hookups, or they do offer an optional package for an 11.5-gallon
5. The Happier Camper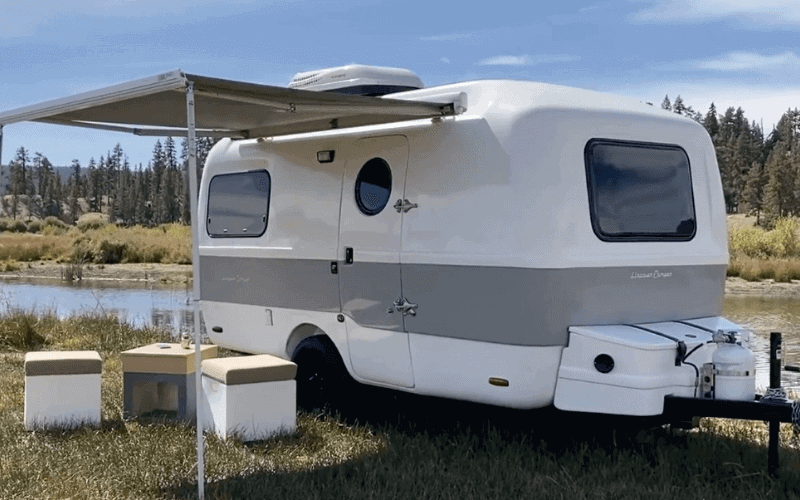 The Happier Camper Traveler is a 14-foot long travel trailer that was designed to be just as home at an off the grid campsite as it is at an RV campground with full hookups.
It was specifically engineered with the weight and balance to be towed behind most mid-size SUVs.
It was engineered with Happier Camper's Adaptiv™ technology which allows you to alter the floorplan to suit your needs.
This means you could set it up as a camper when you want to tour the open road, then transform it into a small personal office for when you want a quiet place to work from home.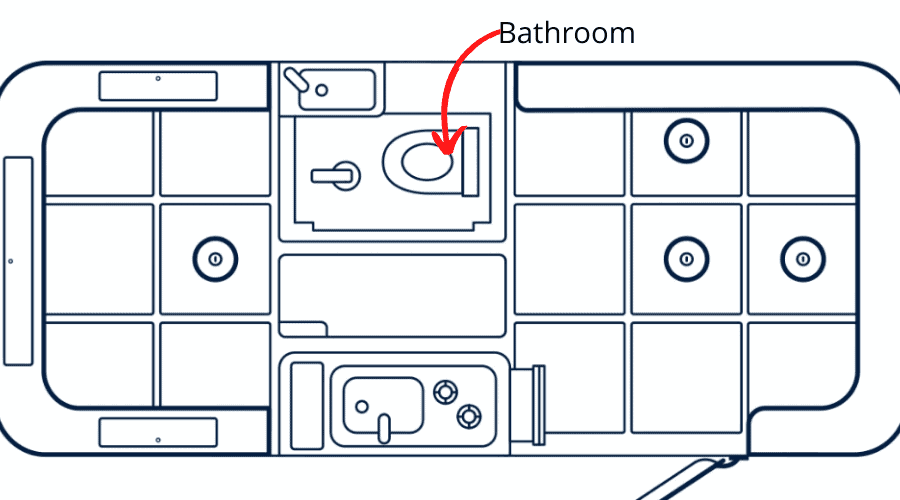 It also comes with a complete kitchenette and bathroom option which can be customized to meet your needs through the manufacturer.
The Adaptiv™ uses a series of cubes, and the bathroom toilet cube is essentially a dry flush toilet.
With this type of RV toilet, the waste is captured in a special sealable bag.
This means the Happier Camper Traveler can save weight and maximize interior size by not having to account for bulky freshwater, gray water, or black water tanks.
6. The KZ Spree Escape Mini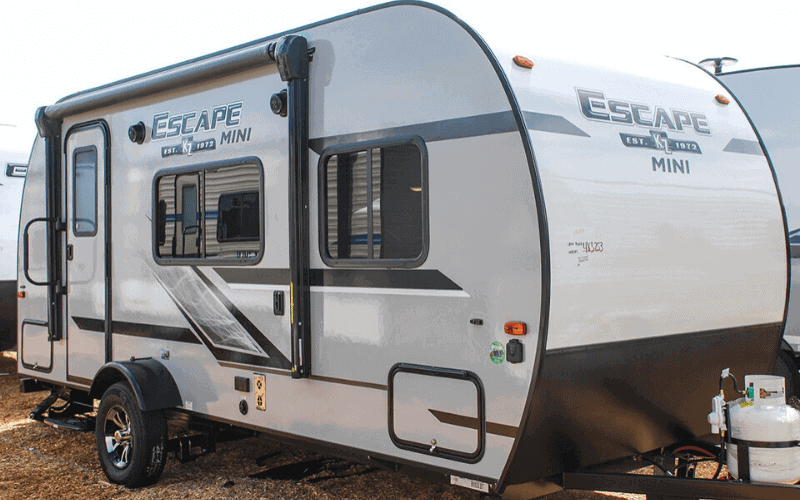 The KZ Spree Escape Mini was designed to be lightweight for people who want to use an SUV as the tow vehicle. You see this reflected in the 300-pound hitch weight.
Yet this teardrop camper still has a functional bathroom space that includes a fully functional foot-flushing toilet as well as a small shower stall.
The bathroom also has a vanity area around the sink with more countertop space than you might expect.
It's worth noting that there are found different floor plans of the KZ Spree Escape Mini, and not all of them have a sink.
All four of the floorplans for the KZ Spree Escape Mini have the same tank capacity.
The freshwater storage tank can hold up to 30-gallons, which is impressive for a teardrop camper with a bathroom.
The black water tank also can hold up to 30-gallon and the gray water tank is rated to hold 32-gallons. There's also a nice 6-gallon water heater.
These features make the KZ Spree Escape Mini a good option for RV travelers who want to take a teardrop trailer off the grid for multiple days.
7. 2019 NuCamp RV T@B 320 S Boondock
The 2019 nuCamp RV T@B 320 S Boondock was designed for couples who want to hitch up a lightweight camper to a mid-size SUV without having to sacrifice the convenience of a fully functional bathroom.
This teardrop camper is very lightweight thanks to aluminum and fiberglass construction. This means it only has a hitch weight of 140-pounds.
Inside you'll find a convertible sofa bed in the primary living area, which will comfortably sleep, two people.
This makes it a good option for couples. Though there isn't a lot of space if you wanted to sleep a child or an overnight guest.
The kitchen has a modest sink, and the bathroom has a plastic toilet as well as a shower.
Each of these plumbing fixtures is supported by an 11-gallon fresh water storage tank.
The drains lead to a 19-gallon gray water tank for the sink and shower, as well as an 8-gallon blackwater tank for the toilet.
When you do the math here, it means that you have 27-gallons of black and gray water storage space, yet 11-gallons of freshwater built-in.
This means that you can bring additional freshwater storage with you in the form of aquatainers or accessory freshwater storage tanks.
Since the waste tanks can hold double the build-in volume of the freshwater tank, you can potentially boondoggle or camp off the grid without the amenities of an RV park for longer than most other teardrop campers with a bathroom.
8. The Micro Minnie By Winnebago
Winnebago is one of the most trusted names in the RV industry. Their Micro Minnie is one of the most popular travel trailer campers.
It is infused with Winnebago's telltale quality and engineering. Made mostly from aluminum and fiberglass, this translates into a convenient hitch weight of 300-pounds.
A light-duty pickup or a robust SUV should be able to tow this teardrop camper confidently.
Just keep in mind that if the storage tanks are full, the weight will be significantly higher, which could call for a half-ton pickup truck as the tow vehicle.
The interior has a lot of hardwood finishes and other stylistic touches that remind you that you are in a Winnebago and that no corners were cut in the engineering or design.
It includes a kitchen with a three-burner stove and sink as well as a 13,500 BTU per hour air conditioning system and an 18,000 BTU per hour furnace.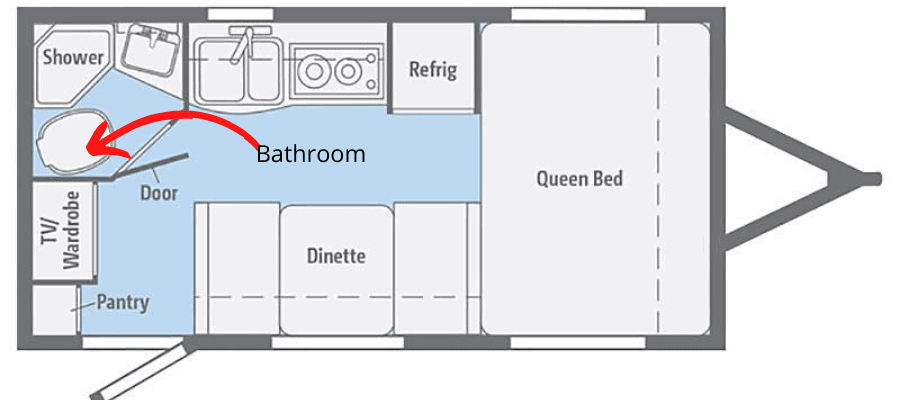 The sleeping accommodations include a queen-size bed as well as a convertible sofa bed in the primary living area.
This means the Winnebago Micro Minnie can sleep up to four people comfortably, which is somewhat rare for a teardrop camper with a bathroom.
The bathroom facilities include a toilet and a shower. The Micro Minnie has an impressively large 31-gallon freshwater storage tank as well as a pair of 25-gallon waste storage tanks for gray water and black water.
This means that you can take the Winnebago Micro Minnie off the grid for several days at a time without needing to resupply or stop off at an RV park.
Just keep in mind that you will need to travel with additional freshwater to support the sink, shower, and toilet.
9. The Jayco Hummingbird 17RB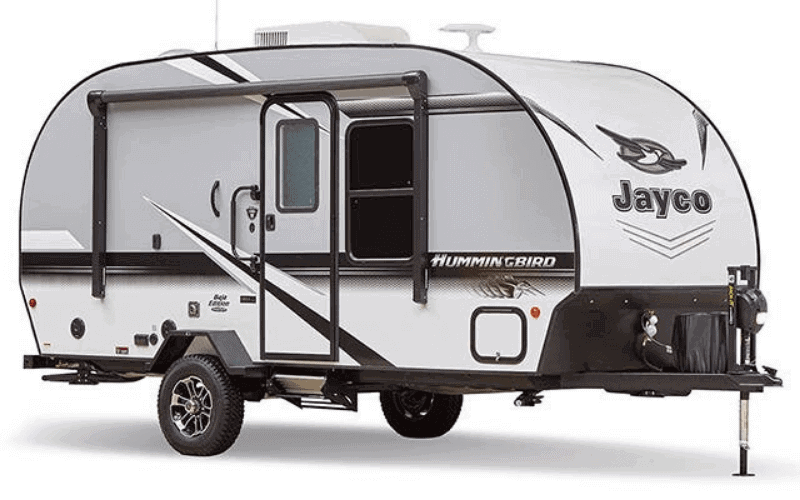 Jayco is another titan in the RV and travel trailer industry. Their Hummingbird model is available in a wide range of floor plans.
The 17RB is second most smallest in this particular line and includes a modest bathroom with a toilet and a shower.
The interior is well-appointed and comfortable. Though for the sleeping accommodations there is only one queen size bed, which means the Jayco Hummingbird 17RB can only feasibly sleep, two adults and a child.
There's also an exterior awning with LED lighting options available. With the inclusion of an accessory screening, you could also use this area as a modest porch to expand the overall living quarters during the day.
The bathroom toilet, shower, and small sink are all supported by a 25-gallon freshwater storage tank that is built-in.
The gray water and black water waste tanks each have a capacity of 25-gallons.
This means you can feasibly carry more water with you for additional time off the grid on a boondoggling adventure.
One other thing to keep in mind with the Jayco Hummingbird 17RB is that the aluminum and fiberglass construction make it very lightweight.
---
Things To Consider When Choosing Teardrop Trailers With Bathroom
The following buyers guide will help you understand some of the important factors that go into finding the best teardrop camper with a bathroom.
This includes things like the different types of bathrooms and showers, as well as the freshwater and wastewater tanks necessary to support them.
Along the way you also need to remember that all of these things factor into the overall weight, which also plays into the size of the to vehicle you'll need to pull that teardrop camper.
Teardrop Camper Characteristics And Terminology
Teardrop campers were once considered the standard in the earliest days of RV travel trailers, as they could be towed by even a light-duty pickup truck or a full-size car with a hitch.
In time they gave way to popup campers, larger travel trailers, and toy haulers that offered more interior living space.
Many of these competitors also had some type of bathroom, which was something the earliest teardrop campers lacked.
Today's modern materials, engineering concepts, and manufacturing technology now make it possible for bathrooms and even a functional toilet in a teardrop camper.
Since they are all roughly the same size and designed to sleep couples or a small family, finding the best teardrop camper for a bathroom for your needs often starts with understanding the different amenities you might find.
Details About The Teardrop Camper Toilets
Standard Or Foot-Flushing RV Toilet
These toilets are a little large and aren't always the first choice with teardrop camper manufacturers.
This is particularly because they require large storage tanks. First, you need one for freshwater to flush the toilet, while still leaving sufficient volume to do things like a shower, wash hands, and dishes in the sink.

Of course, gray water from the sink and shower needs to go to a gray water tank, which takes up further room and adds weight.
A black water tank is then also needed for the toilet, which again takes up space and adds weight.
Once you get done adding these tanks, a teardrop camper with a bathroom can potentially weigh more than a mid-size SUV is capable of towing.
Composting Toilets
Composting toilets originally gained popularity with off the grid cabin owners who didn't want to shoulder the additional costs of installing a traditional septic system.
In time, they have evolved out of being a backwoods convenience to become a real option for small RV's like teardrop campers that need a toilet.
Since they use very little water, you don't need to worry about the composting toilet draining away from your precious freshwater reserves.
It also doesn't require a blackwater tank, which saves on the overall weight and space.
Special microbes gradually break the human waste inside the storage receptacle down into organic material that can later be added to a compost pile or an RV waste dump.
Dry Flush Toilets
A dry flush toilet borrows a little from space-age technology. It essentially captures human waste and seals it inconveniently sealed bags, which are stored in a special receptacle compartment.
This again spares the RV from needing a black water tank and reduces the demand placed on the freshwater storage system.
The other benefit to a teardrop camper with a dry flush toilet is there is virtually no odor coming from the sealed bags.
Marine Toilets
Originally designed for boats a marine toilet is engineered to prevent blackwater from sloshing around and potentially spattering back up.
There is essentially a small pump engineered into the plumbing to seal any human waste away.
It's a great option for times when you want to take your teardrop camper off the beaten track.
Hot Water Heater
If you just want a teardrop camper bathroom with a toilet and a handwashing sink station, then you don't need to prioritize a water heater.
While it is nice to wash your soapy hands in warm water, it's not entirely necessary.
Especially when you contrast it against the weight of the water heater and the space taken up by the tank.
It's when you add a shower into the equation that a water heater becomes more important. Especially if you need to shower up more than one person at the end of a day.
In a case like this, you should try to find a teardrop camper with a bathroom and a water heater with a capacity of at least 4-gallons.
Frequently Asked Questions
How Do I Dispose Of Composting Toilet Waste?
There are a few teardrop campers and RVs that either come with or are designed to accommodate a composting toilet.
This type of toilet uses little-to-no water, and microbes gradually break it down into organic material that is rich in the nutrients that plants love.
However, the product of most RV composting toilet is still going to be too rich in potentially harmful microbes to simply be spread on your garden.
If you ever want to use it to feed something edible, you will need to put it through a slower composting process like an existing green and brown compost pile.
It's also worth bearing in mind that some RV travelers want a composting toilet but have no interest in gardening.
In a situation like this, there are a few options for dumping the collected waste at the end of your journey.
One crude, but surprisingly legal option is to thoroughly bag it and add it to a dumpster. If you think about it, people are doing this with non-biodegradable diapers every day!
If you happen to be at an RV park with a full-service dump station, chances are they might have a special facility just for composting toilets.
This is a growing trend and an increasing number of RV parks are supportive of composting toilets with systems in place to make the best use of the waste they produce.
Can I Install A Tankless Water Heater In A Teardrop Camper?
By the very nature of their design teardrop campers have internal space at a premium. Especially a teardrop camper with a bathroom.
If your particular model has a shower, or you simply want to be able to wash your hands with warm water on demand, you might be debating on whether or not you want a water heater.
The downside here is that it eats up space while also adding weight. This could be a real problem if you are already weight conscious when towing with a mid-size SUV or a rear-wheel-drive car.
One way around this is to install a tankless water heater. Many RV versions use propane and can be tapped directly into your main propane system.
There are even a few that use electricity, which might be handy if you only need a small one for a warm water handwashing station.
The cost is surprisingly affordable and often well worth the investment. Especially if you want to customize your teardrop camper, or you are interested in a modular unit and don't want a traditional water heater tank getting in the way.
What Size Hot Water Heater Do I Need For An RV Shower?
If you are interested in a teardrop camper with a built-in shower and existing water heater to support a shower, and you want a decent warm shower, then you want the tank size to be at least four gallons.
This might not be enough for two people to shower in a row, without the second one running out of hot water halfway through.
Though you could get in the habit of having one person shower in the evening and another shower in the morning. This will also leave you with enough hot water left over to wash some dishes.
Conclusion
Teardrop campers with a bathroom can have a lot of differences. Showers, toilets, sinks, water heaters, freshwater, and storage tanks all factor into the trailer's weight as well as functionality.
Finding the best teardrop camper for you starts with identifying the features you prioritize most.
If you have the pickup truck or some other type of robust tow vehicle, then you might want a teardrop camper with a full bathroom like the iCamp Elite which has a 6-gallon water heater, fresh water, gray water, and black water tanks to fully support it.
If you want a camper that can be customized while you are on the road, or simply to double as an extra home office space, then the Happier Camper might be the best teardrop camper with a bathroom for you.
Its modular Adaptiv™ technology can even be used to include an optional dry flush toilet.
For the ecologically conscious, the Timberline by HomeGrown has a bathroom that features a thoughtful composting toilet as well as solar technology.
Even if you don't have a dedicated compost pile in your home garden, the waste stored in the composting toilet can be easily disposed of at most RV park dump stations.
As you can see, couples and small families that are looking for a teardrop camper with a bathroom are a little bit spoiled for choice.
Whether you want a full bathroom with copious hot water on demand, the simple convenience of a built-in RV toilet, or an ecological solution to your travel needs, you can find it. chances are the best teardrop camper with a bathroom for you is on this list.