Am I the only one that has noticed all these weird-looking small trailers on the road? It is hard for me to spend a night in a campground recently without seeing a teardrop trailer and their numbers seem to be growing exponentially.
But why are teardrop trailers so popular?
For a type of trailer that can actually be more expensive than you'd think, the popularity of teardrop trailers cannot be solely attributed to their affordability.
Many teardrops don't even have enough room for you to stand up inside comfortably.
So is this just a fad or is the popularity of teardrop trailers here to stay? Are we destined to be confronted by the luring cuteness of teardrop campers in every campground from here to eternity?
Let's examine why teardrop trailers are so popular and what types of camping they are best designed for!
What is a Teardrop Trailer?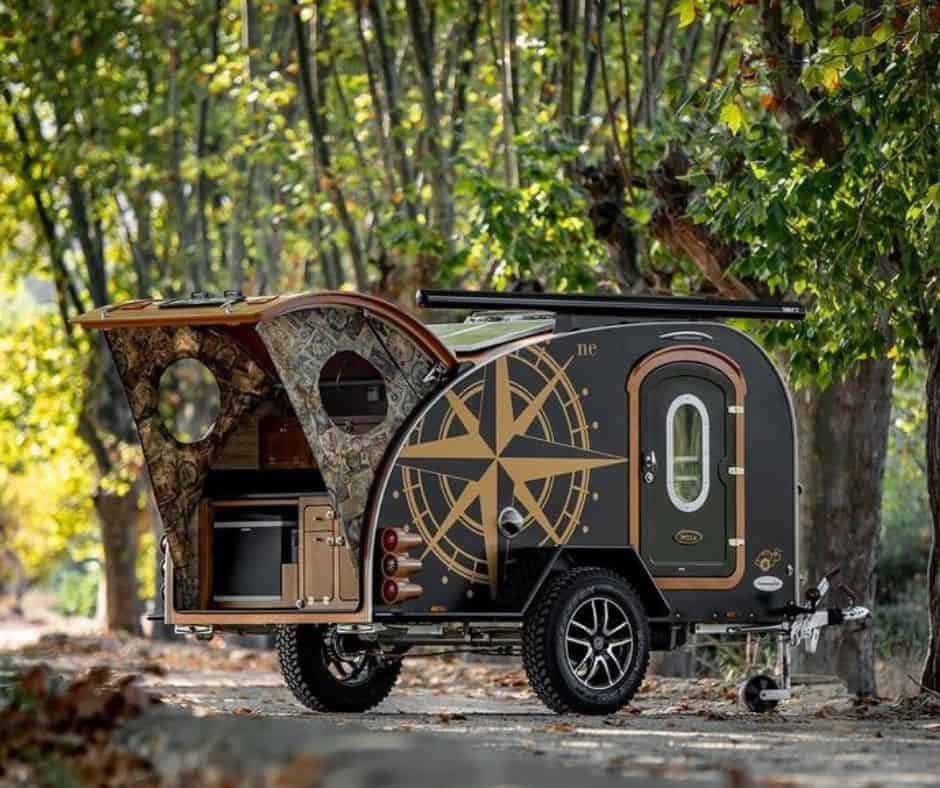 A teardrop trailer is a small towable trailer with a rounded that tapers down into a point at the back.
They have a much smaller footprint than a traditional travel trailer and also tend to be lighter so that they can be towed by smaller trucks and SUVs.
Why Are Teardrop Trailers So Popular?
The proof that people are loving the cuteness of teardrop trailers like never before is undeniable in every campground you turn into these days.
Here are the best reasons for the current surge in teardrop camper popularity.
Teardrop Trailers Can Be Customized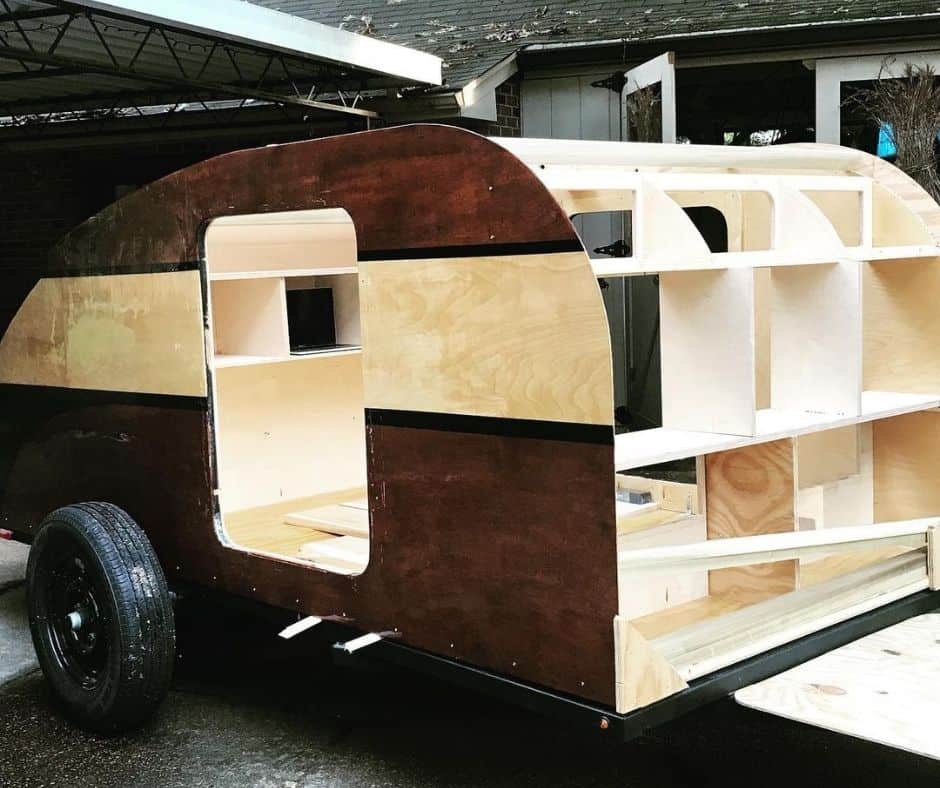 One thing that seems to be drawing a lot of people to teardrop trailers is their ability to be configured according to your unique preferences.
Unlike many large RV and travel trailer manufacturers, many teardrop designers build their new rigs upon request.
This means that buyers have the option to add certain appliances or features that they know will make their camp life easier.
The ability to optimize a teardrop trailer for your unique style of camping is a stark contrast to the "stock" RV models that you will find on most dealership lots.
Teardrop customization options even include paint colors and decals on the exterior, as well as options for heating and air conditioning units, skylights, and other interior features.
So, the ability to configure a trailer that is 100% unique is certainly an important factor that is driving the popularity of teardrop campers right now.
Teardrop Campers Can Be Towed By Just About Any Vehicle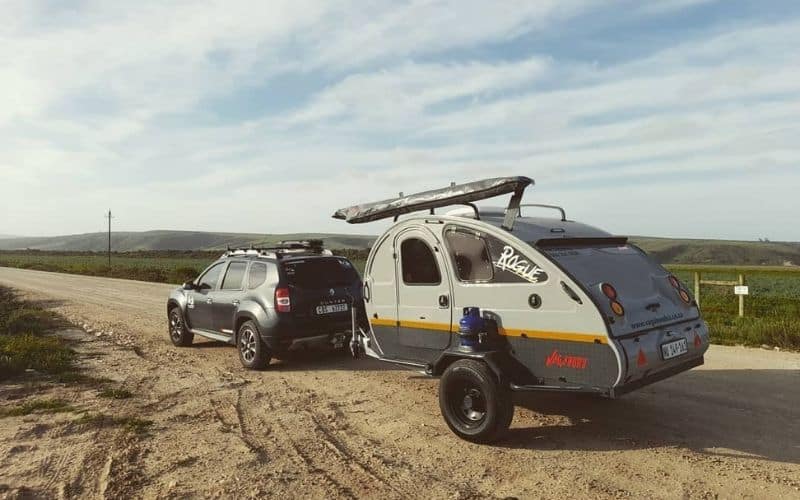 The small size of teardrop trailers allows them to be towed by just about any vehicle.
You will not need to sell your RAV4 and upgrade to a Chevy 1500 in order to tow most teardrop campers, which makes them more accessible for a larger number of potential buyers.
For SUV owners that have grown sick of tent camping, a teardrop is arguably the most logical upgrade you could pursue.
You won't need to upgrade your vehicle and you also won't need a ton of extra space on your property to store it between your trips.
The ability to be towed by almost any vehicle out there is certainly a plausible explanation for the growing popularity of teardrop campers.
We would still, however, caution you to check the tow ratings of your vehicle and compare them to the tongue weight and dry weight of the trailers you are interested in before you complete any purchase.
This will help you ensure that your vehicle will be able to tow the trailer you buy safely.
If your vehicle is slightly underrated for the camper you would like to tow, we highly recommend upgrading your vehicle or choosing a lighter teardrop trailer.
There Are Teardrop Trailer Options To Fit Almost Any Budget
Because of the ability to customize these camping trailers, you can design one that fits just about any budget.
There are trailer models on the low end of the price scale that range from $5,000 to $10,000.
If you want a fully-loaded trailer with all the best and whistles that the manufacturer offers, you will obviously pay a bit more.
Higher-end models are usually going to cost somewhere between $16,000 and $25,000.
But if you are an experienced craftsman yourself, you may spend less upfront to get a teardrop camper shell and then perform a lot of the finish work yourself.
This is a popular option for people that will be transferring from an older RV or trailer into a new teardrop.
If you aren't planning to sell your older rig, you may be able to transfer some of the appliances into your new teardrop.
TVs, solar panels, and even some smaller RV air conditioning units may be transferred onto a teardrop if done carefully (or by a trained professional).
This makes teardrop camper shells one of the more popular options for DIY trailer builders. And it is also a plausible explanation for the continued increase in teardrop trailer popularity on the whole.
Teardrops Expand Your Campground Options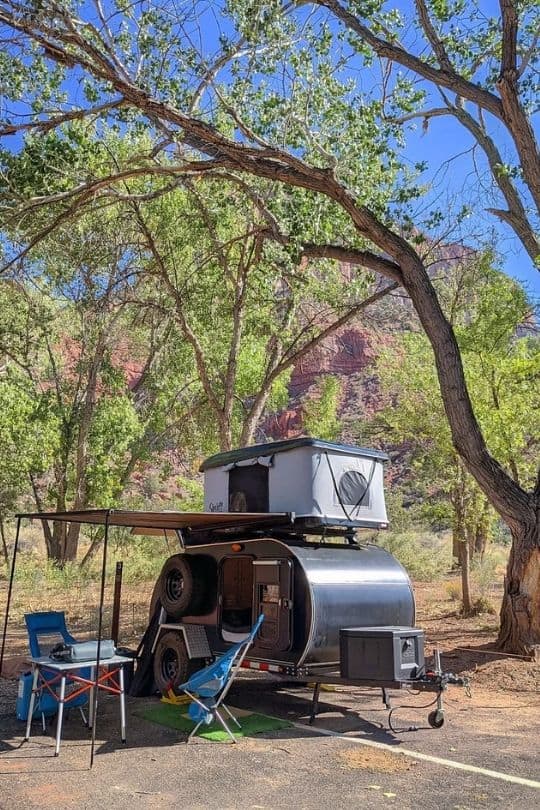 Some long-time campers are selling their larger rigs and downsizing to a teardrop trailer because it will allow them to fit into campgrounds that their old rigs wouldn't fit in.
Some campgrounds are impossible to navigate if your trailer is over a certain length.
Unfortunately, this tends to be true for many national park campgrounds.
Even if they do have sites for larger class A RVs and fifth wheels, the number of sites designed for those types of rigs is typically pretty limited.
So another plausible explanation for the increase in teardrop trailer popularity is that established campers are downsizing so that they can expand their campground options.
If you choose a teardrop that also has off-road tires, you will have even greater access to dispersed camping locations that are a little farther off the beaten path.
Teardrop Campers Are Fuel Efficient
There has been a recent uptick in domestic travel that has resulted from global sociocultural events.
In the U.S., more people are hitting the open roads to explore national parks, wildlife refuges, and other natural destinations.
America alone is a huge country that there is a vast variety of environments and ecosystems to explore.
Until electric vehicles catch up with the towing capacities of their gas-powered counterparts, gas prices are largely going to dictate just how far you can go on your next camping road trip.
A trailer is always going to decrease your vehicle's fuel economy, but larger trailers are obviously going to be more detrimental.
Even the most fuel-efficient RVs out there struggle to average more than 10 or 15 miles per gallon on long trips.
So another reason that teardrop trailers are so popular right now is that they are more fuel-efficient than other types of travel trailers, fifth wheels, and luxury RV campers.
While you will not get the same gas mileage you normally get in your vehicle, you also won't get five miles to the gallon like you would with some of the largest RVs out there.
This is why teardrops are a popular choice for folks that want to cover more ground on their camping trips.
Three Popular Teardrop Trailer Models
To give you an idea of what the teardrop trailer market is like right now, we are briefly going to highlight three of the most popular teardrop campers currently available on the market.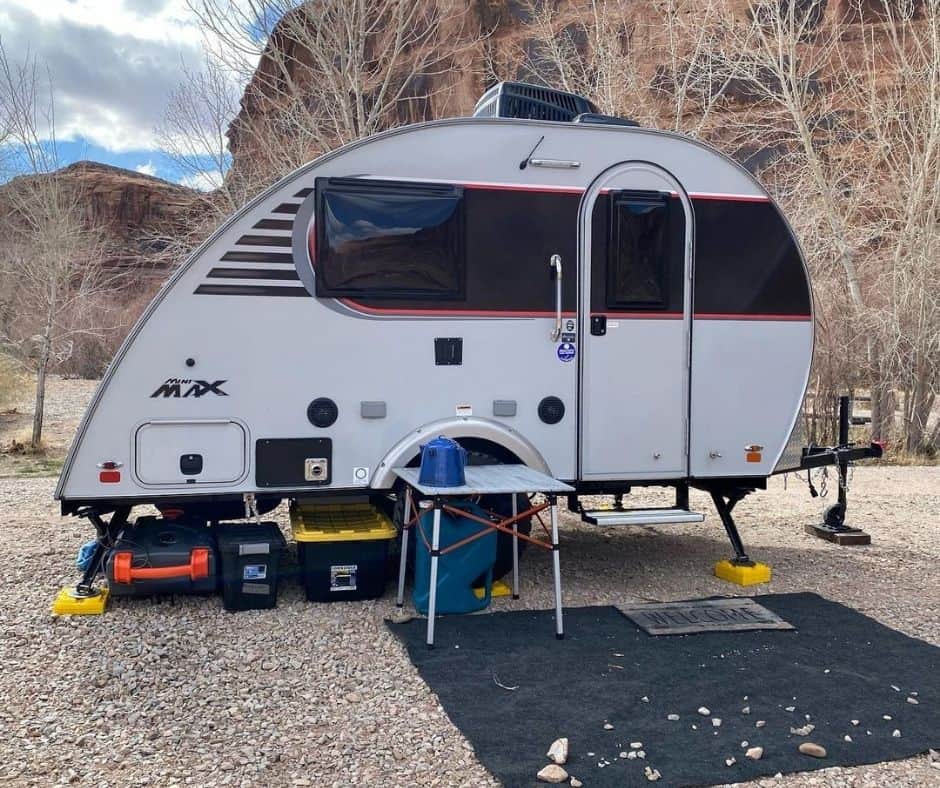 The Little Guy Mini Max teardrop camper is a great choice for those of you that want a compact trailer that still allows you to stand up inside.
With a maximum interior height of six feet, that might not be the case for all of you, but it certainly offers more interior space than most other teardrop models.
It is also one of the few teardrop trailers out there that include freshwater, greywater, and blackwater holding tanks.
That also allows it to provide a full kitchen inside with a deep stainless steel sink, two-burner gas stove, three-way refrigerator, and stainless steel microwave.
The Mini Max trailer also comes with a central furnace and roof-mounted air conditioning unit, which makes four-season camping much more comfortable.
It also comes with premium 15-inch tires that allow it to handle more rugged terrain and a Keder rail that makes it easy to attach an aftermarket awning to provide shade over your outdoor lounging space.
2. The Pika From Timberleaf Camping Trailers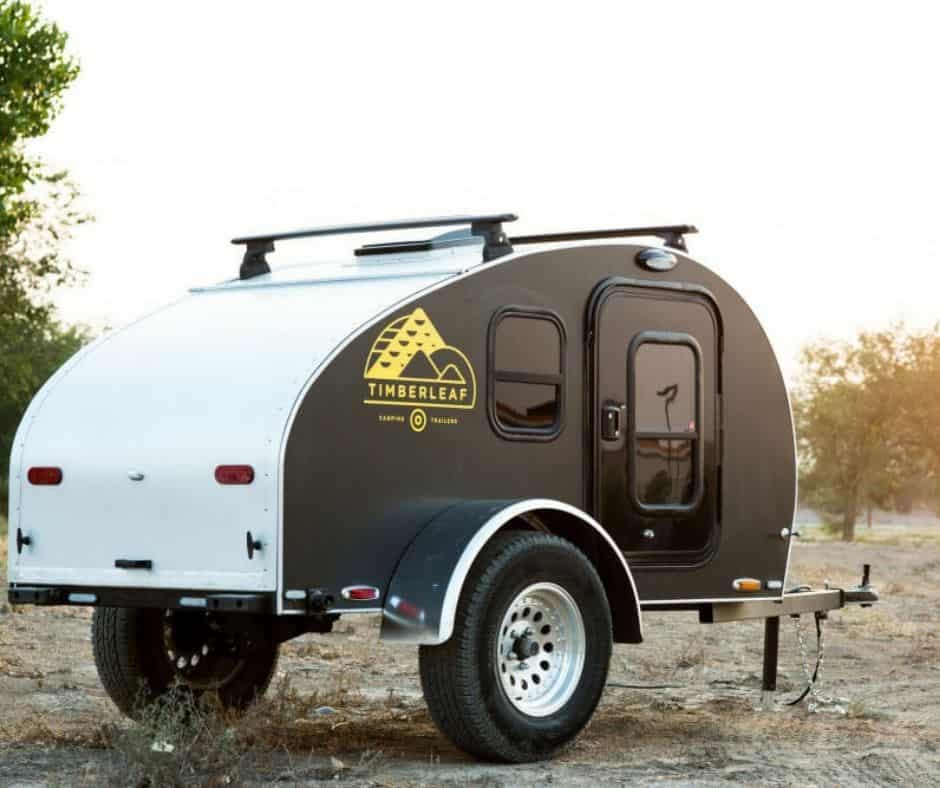 Like the animal it is so fondly named after, The Pika is compact, nimble, and extremely hearty.
It is built with an insulated ceiling that boasts an R-7 insulation value and Timberleaf's patented skylight for optimal night sky viewing.
It also features Baltic birch plywood construction and dual overhead LED dome lights in the interior.
The exterior is built with aluminum and the frame is welded using 11-gauge, powder-coated, 2" x 3" steel tubing.
All builds come with a 100 amp-hour deep cell marine battery and comprehensive power center to help you manage your converter and your power sources (110-volt or 12-volt).
Like so many of the best teardrop trailers out there, you also have lots of customization options to choose from when building your Pika.
Some of the best accessories you can choose include a roof rack, a galley fridge, an upgraded queen-sized mattress, and a solar panel with a charge controller.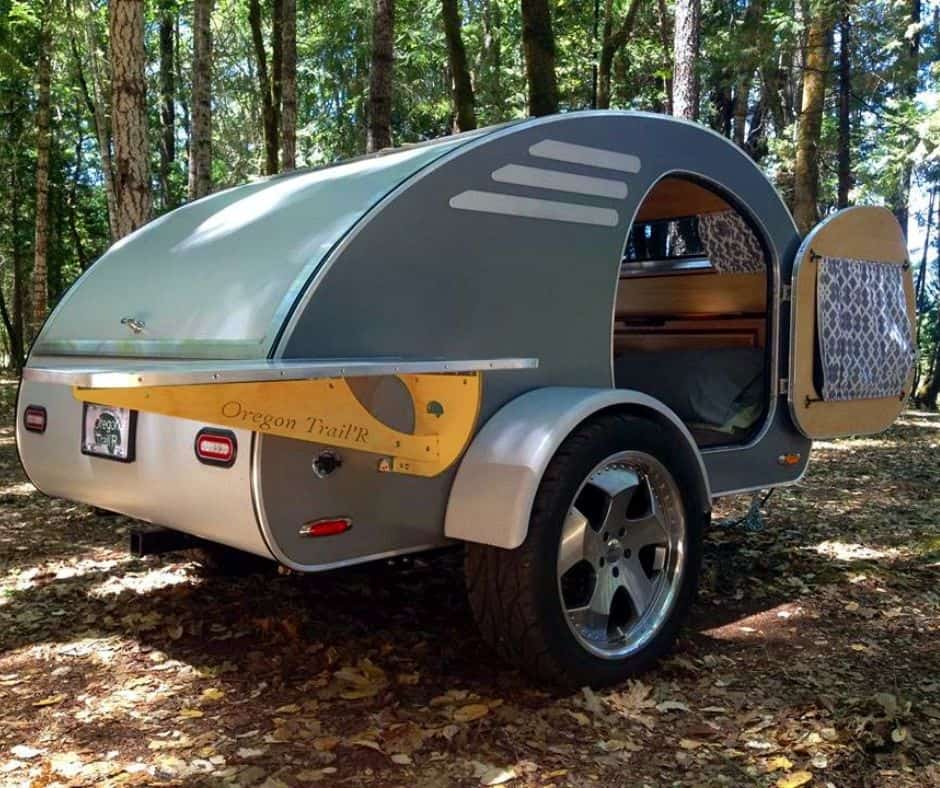 Many of the early western settlers would have loved to keep their gear in an Oregon Trailer FronTear camper versus the cumbersome wagons they used at the time.
These teardrops are super lightweight and provide a rear kitchen area that can remain set up on a more permanent basis.
The entire rear hatch of the trailer flips open and you can have the option of including two side tables for your build to provide a wrap-around kitchen feel.
You will also have options to add crossbars on the roof for securing bikes and other recreation gear.
The lightweight nature of the FronTear camper means it can be towed easily and even unhooked and repositioned in campsites by hand.
The FronTear is also built on a rugged chassis made of square tube steel that is powder-coated to provide a textured and durable finish.
Are Teardrop Trailers Worth The Money?
The BIG question is whether these SMALL trailers are really worth the investment.
Their customizability and tow ability may be the major drivers of teardrop popularity, but are they enough to warrant you dropping your hard-earned cash on one of these campers?
Teardrop trailers are a worthwhile investment for couples and solo campers that know exactly what they want. They are also a worthy investment if you have a smaller vehicle and don't want to buy a new truck just to tow a large travel trailer.
For established or growing families, however, teardrops can be pretty tight on space.
They are also not the best choice if you are completely new to RV or trailer camping because they require you to customize your rig according to your preferences.
If you haven't done much camping in an RV or trailer before, how will you know which features, appliances, and upgrades to choose?
So, really, the best buyers for teardrops are usually established campers that know what they want, don't want to tow something monstrous, and don't need a ton of indoor living space for their camping style.
Conclusion
Teardrop campers seem to be all the rage right now and we hope this guide has helped to explain some of the reasons for their popularity.
If you want to build a custom rig that is perfectly suited to the kind of camping you do, teardrops can be a great option.
This style of teardrop camper is accessible to more people than many others because it can be towed easier and customized to fit any budget.
So if you are looking to upgrade your camping setup, we would definitely recommend including a few teardrop models in your search.
We hope that you have found our tips and insights into the fascinating popularity of teardrop trailers useful today.
As always, we wish you the happiest and safest of RV adventures in the future and we thank you for trusting RVing Know How as your go-to RV, trailer, and camping resource!