Ford is one of the leading global manufacturers of pickup trucks and SUVs. Just like the Ford F-150 the Ford Explorer has also enjoyed increasing popularity for years.
What was once built on a light-duty pickup base, has now evolved into a true sports utility vehicle.
In many parts of the United States, you will find the Ford Explorer being used by municipalities, law enforcement, and family commuter vehicles.
With so many people enjoying the Ford Explorer as their daily driver, and the increasing popularity of entry-level campers it's natural for you to wonder about the real towing capacity of a light-duty truck like the Ford Explorer.
Is the Ford Explorer be a good option for towing a travel trailer? And if so, So, what size travel camper can a Ford Explorer pull?
The highest trim level of the 2019 Ford Explorer has a maximum towing capacity of up to 5,000-pounds, and a gross combined weight rating of between 9,150-punds and 10,150-pounds. This puts RVs like teardrop campers, popup campers, and even some hard sided travel trailers within the Ford Explorer's towing ability.
To fully understand the potential of this popular sports utility vehicle, we're going to need to roll up our sleeves and take an in-depth look at both the Ford Explorer towing capacity as well as the different types of travel trailer campers it can tow. A few key questions will help to get the ball rolling.
What Are The Different Types Of Campers That A Ford Explorer Can Tow?
The term "Travel Trailer" is a little bit of a catch-all term. Depending on who you ask it could mean a popup camper, a teardrop camper, a toy hauler, a single axle camper.
Each of these has its own basic characteristics that can come into play.
Teardrop Campers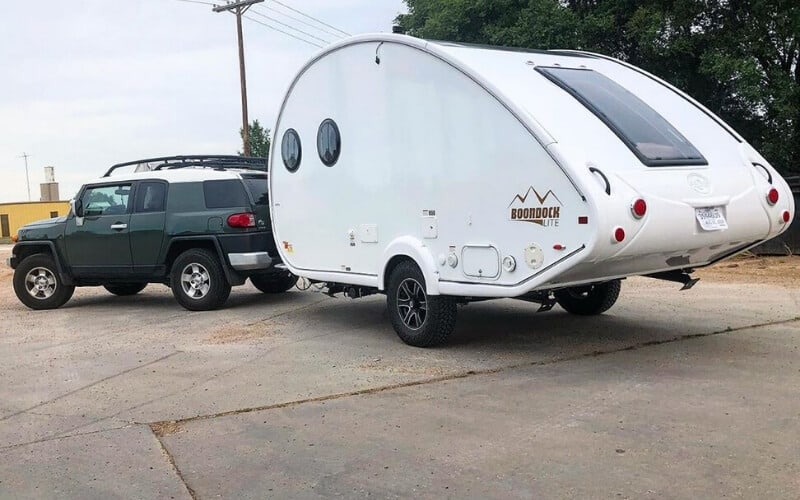 Teardrop Campers are a small class of camper that was enormously popular in the 1960s and 1970s until they fell out of favor in the early 1980s.
With the renewed popularity of sports utility vehicles like the Ford Explorer teardrop campers are seeing a renaissance.
Especially thanks to new innovations in lightweight materials and manufacturing techniques.
They also tend to be aerodynamic, which helps save on fuel when towing them from Point A to Point B.
Average Weight of a Teardrop Camper
GVWR averages from 950 lbs. to as much as 4,000 lbs.
Popular Teardrop Campers
Earth Traveler T250LX

nuCamp Tab 400 Teardrop Camper

Polydrop Trailer

Tiny Camper Mini Standard

Vintage Overland Great Escape Caravan
Popup Campers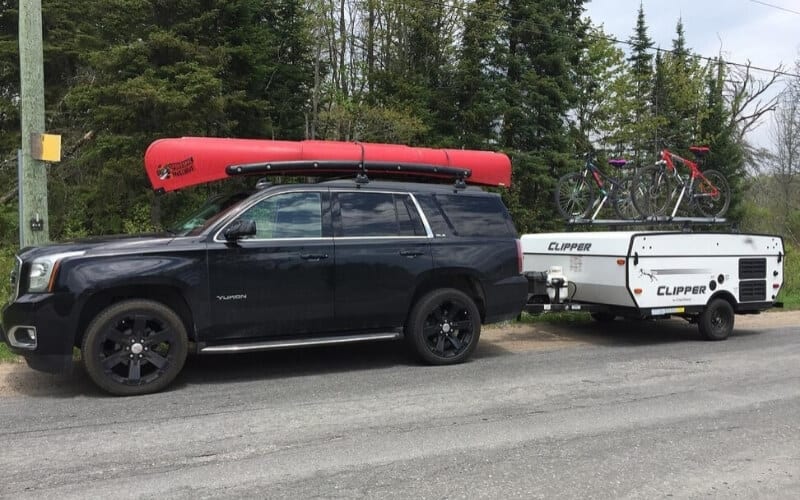 Popup campers rose to popularity in the 1970s and 1980s as being small trailers that you could tow behind a robust family sedan.
Of course, a lot of sedans in those days had rear-wheel drive, robust suspension, and powerful V8 or V6 engines.
When vehicles started getting smaller and lighter in the late 1980s popup campers saw a decrease in their popularity, as the family car couldn't truly tow them safely any longer.
Today popup campers are lighter and leaner. The increased popularity of modern-day SUVs like the Ford Explorer makes it easier to tow them from Point A to Point B.
When you get to your intended destination you open the hardtop, which lifts to create a formal roof.
Then side sleeping areas expand out to hold beds inside a heavy-duty canvas enclosure.
Average Weight of a Popup Camper
The GVWR of a popup camper can vary from as little as 1,200 lbs. to as much as 2,700 lbs.
Hard-sided popup campers tend to be a little heavier, whereas popup campers with a tent canvas body tend to be a little lighter.
Popular Popup Campers
Jayco Jay Sport Pop Up Camper

Coachmen Clipper Sport Pop Up Camper

Forest River Flagstaff Popup Floorplan

Forest River Rockwood Pop-Up Camper
Toy Haulers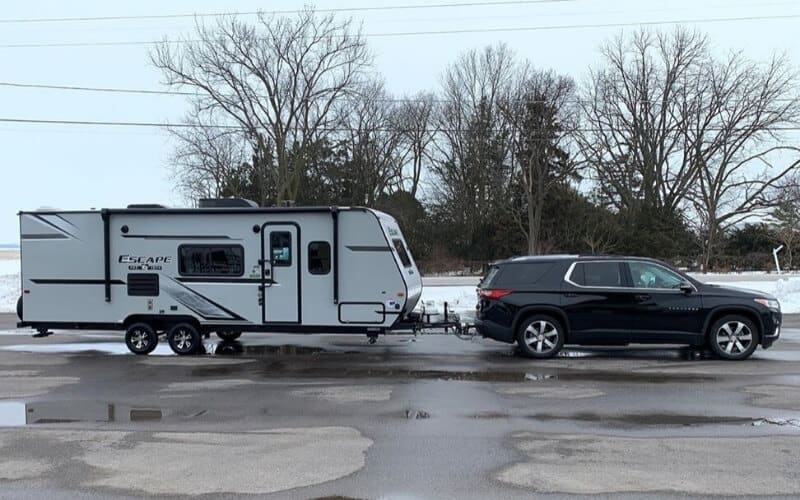 As the name implies a toy hauler is a type of travel trailer camper with a rear cargo bay for holding "Toys" like an ATV, UTV, golf cart, or a snow machine.
With toy haulers, the weight problem tends to be from the toy in the cargo bay. The dry weight of the toy hauler on paper might be within the range of a powerful SUV like the Ford Explorer.
Then once it's loaded, it might push the maximum capacity that the SUV can safely tow.
Problems with trailer sway and climbing up a steep grade might not be too apparent until you find yourself in a tough situation at highway speeds.
So, even if everything looks perfectly fine on paper, you always want to factor in the toy hauler's payload capacity as well as the gross weight of the ATV or toy you are loading into it.
Average Weight of a Toy Hauler Camper
Toy hauler dry weight can vary from as low as 3,750 lbs. to as much as 14,200 lbs.
Then add in an additional 300 lbs. to 800 lbs. for your toys.
This tends to put all but the lightest of toy haulers out of range of the Ford Explorer.
Popular Lightweight Toy Hauler Campers
Forest River Rockwood Geo Pro G16TH

Forest River No Boundaries NB10.6

VRV XTR 614

Jayco Octane Super Lite 161

KZ Escape E180TH
Travel Trailer Campers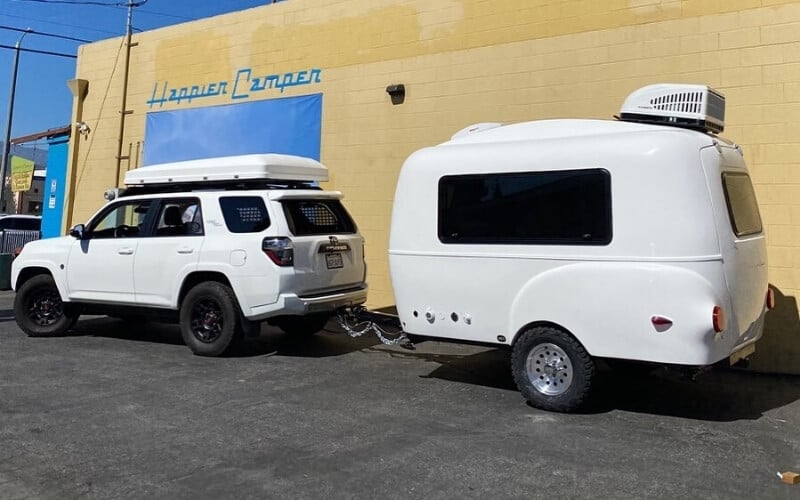 When it comes to hard-sided travel trailer campers, the marketplace is rife with options.
In general, things like freshwater storage, gray water storage tanks, and black water storage tanks tend to be indicators of weight.
If you have any hope of safely towing a hard-sided travel trailer camper with a Ford Explorer SUV, then you want to also keep an eye on things like aluminum and lightweight fiberglass construction.
You also need to bear in mind that the overall length of the travel trailer camper and the number of axles will also add to the gross vehicle weight rating.
Make sure to thoroughly comb through the fine print to make sure that your Ford Explorer has the towing capacity and hitch weight rating to handle the camper you have in mind.
Average Weight of a Hard-Sided Travel Trailer Camper
If we exclude the giant travel trailer campers over say 25 feet long, the average weight rating can vary from as low as 3,700-pounds to as much as 5,800 pounds.
Popular Lightweight Travel Trailer Campers
Forest River R-Pod Travel Trailer

Scamp 13′ Fiberglass Trailer

A-liner Classic Travel Trailer

Sportsmobile Sprinter

iCamp Elite

Jay Sport Camping Trailer

Happier Camper

Timberline Trailer
What Is The Maximum Towing Capacity Of The Ford Explorer?
At a glance, the 2019 Ford Explorer with the 2.3L EcoBoost I4 engine and front-wheel drive has a maximum towing capacity of up to 3,000-pounds, and a Gross Combined Weight Rating of 8150-pounds.
There's also an optional 4 wheel drive version that's worth considering if you live somewhere with rough winter road conditions, or you plan to tow your RV on rough gravel roads.
Though you should note there are different trim levels and drive train options for the Ford Explorer that is available.
Each one has slightly different gross combined weight ratings and maximum towing capacity.
Towing Characteristics Of The Ford Explorer
2.3L EcoBoost I4 – Front Wheel Drive – Maximum Towing Capacity = 3,000 lbs. GCWR = 7,950 lbs.

2.3L EcoBoost I4 – Four Wheel Drive – Maximum Towing Capacity = 3,000 lbs. GCWR = 8,150 lbs.

3.5L V6 – Front Wheel Drive – Maximum Towing Capacity = 2,000 lbs. GCWR = 6,900 lbs.

3.5L V6 EcoBoost I4 – Four Wheel Drive – Maximum Towing Capacity = 2,000 lbs. GCWR = 7,110 lbs.

3.5L V6 – Front Wheel Drive – Maximum Towing Capacity = 5,000 lbs. GCWR = 9,950 lbs.

3.5L V6 EcoBoost I4 – Four Wheel Drive – Maximum Towing Capacity = 5,000 lbs. GCWR = 10,150 lbs.
As you can see the engine and drive train can significantly influence the towing statistics of the Ford Explorer. You can also rest assured that it influences the price.
So, if you have some budget concerns, you will need to weigh the gross vehicle weight rating (GVWR) and the hitch weight of your travel trailer camper, against the maximum towing capacity of your preferred trim level of the Ford Explorer, against the cost of both.
Important Towing Terminology
If you are new to tow vehicles and the world of RVing then you might be hearing a few standard terms being thrown around.
While it might seem like a lot of technical jargon, at first, some specifications really do matter in the grand scheme.
The following are important terms to take into account when pairing the right travel trailer camper with the ideal trim level of the Ford Explorer.
What Are Some Of The Best Travel Trailers The Ford Explorer Can Tow?
There are a few travel trailers, popup campers, and teardrop campers that popup on the top of the list.
Some of their base characteristics will influence whether they are the best option for you and your family.
1. The Forest River – Rockwood Extreme Sports Package 1640ESP
The Forest River Rockwood 1640ESP is technically a popup camper.
It only has a hitch weight of 178-pounds and a total gross vehicle weight rating of just over 2,300-pounds.
This puts it in rage for Ford Explorer with the 2.3L EcoBoost I4 – Four Wheel Drive, as well as the 3.5L V6 – Front Wheel Drive and 3.5L V6 EcoBoost I4 – Four Wheel Drive, trim levels.
2. The 2020 Jayco – Jay Feather X19H
The 2020 Jayco – Jay Feather X19H is classified by some as a "Hybrid Camper."
Its hard-sided frame is very much like a standard travel trailer, but it has expandable side sleeping areas just like a popup camper.
This allows for more interior floor space to accommodate a small kitchen with a 3-burner stove and an RV absorption refrigerator that runs on propane as well as electricity.
The freshwater, gray water, and black water storage tanks do add to the overall weight.
Though this also means you get a full bathroom in the 2020 Jayco – Jay Feather X19H that includes a flushing toilet, a sink, and even a shower area with a shower curtain.
With a gross vehicle weight rating of 4,975 pounds and a 340-pound hitch weight the 2020 Jayco – Jay Feather X19H can only be towed by the 3.5L V6 – Front Wheel Drive Ford Explorer or the 3.5L V6 EcoBoost I4 – Four Wheel Drive trim level.
3. The Little Guy T@G XL MAX
The Little Guy T@G XL MAX is a classic teardrop-shaped camper that has been innovated with modern-day lightweight materials.
This translates into a camper that's easy to tow, tracks smoothly behind the tow vehicle, and is light enough that all trim levels of the Ford Explorer can tow it.
The tradeoff here is that you only get a simple sleeping area and some basic amenities.
Since it only sleeps a maximum of two people this teardrop camper is better suited to traveling couples or a single person.
4. The 2020 Coachmen – Clipper Cadet 17CFQ
Coachmen is another one of the more well-established RV manufacturers in the travel trailer niche.
They have a reputation for infusing their units with quality and convenient features. You see this shine through with their 2020 Coachmen – Clipper Cadet in the17CFQ floor plan.
It has a kitchen with a two-burner stove and proper ventilation. There are even a 13,500 BTU rooftop air conditioner and a 20,000 BTU per hour propane heater.
With a little reinforced insulation or skirting, you could truly use the 2020 Coachmen – Clipper Cadet 17CFQ as a four-season travel trailer.
The bathroom includes a flushing toilet as well as a modest shower. There's also a 6-gallon hot water heater, which is enough to let one person have a nice long shower or two people to have separate short showers.
The bathroom and the kitchen sink are supported by a large 33-gallon freshwater storage tank and a pair of 25-gallon wastewater storage tanks.
With a gross vehicle weight rating of 3,792 pounds and a hitch weight of 292-pounds, it is in range with the top two Ford Explorer trim levels.
Just keep in mind if you do have the Ford Explorer with the 3.5L V6 – Front Wheel Drive or the 3.5L V6 EcoBoost I4 – Four Wheel Drive model that you don't want to push this trailer's payload capacity to the maximum.
Doing so could move you into a weight range that could lead to a trailer sway problem if you tow it over 55 miles per hour.
Frequently Asked Questions
What Is The Difference Between Four Wheel Drive And All-Wheel Drive?
All-wheel drive uses a series of sensors and an intelligent system in the vehicle's computer to alter the driving force and torque of each wheel independently.
This provides maximum traction for the current road conditions. It's worth noting that most all-wheel-drive systems are continuously active. This will inevitably cause all four tires to wear down at a relatively equal pace.
With a four-wheel-drive vehicle, there is a selector knob or dial near the driver's console. When you engage it, all four tires apply torque for superior traction.
You can turn it on and off as needed for the road conditions. When it's of only the primary drive tires are propelling the vehicle.
In the Ford Explorer, this is typically the two front tires. With this type of drive train the tread on the drive tires wears down faster, but you can periodically have the tires rotated to get more overall tread life.
Do I Need A Ford Explorer With Four Wheel Drive To Tow A Travel Trailer?
Certain trim levels of the Ford Explorer do have slightly better towing statistics, which can be a factor if you are towing a particularly heavy travel trailer.
Though the difference between the front-wheel-drive trim level and the four-wheel-drive trim level is usually minor.
The more important consideration here is to consider how you'll be using the Ford Explorer both as a tow vehicle as well as a daily driver.
If you live somewhere that sees a lot of ice and snow in the winter, and you are planning on taking your proposed travel trailer on rough roads or climbing steep inclines than you will likely benefit from the superior traction and control of a four-wheel-drive Ford Explorer.
If you live in the sunbelt where snow and ice rarely rear their ugly head, and you'll be towing your travel trailer on well-maintained roads to an RV park, then the front-wheel-drive version of the Ford Explorer will suit you just fine.
Can I Tow 100% Of A Ford Explorer's Maximum Towing Capacity?
The prevailing wisdom is to never tow 100% of a vehicle's maximum towing capacity. This is just as true for the Ford Explorer as it is for a one-ton diesel pickup truck.
The good rule of thumb is to only go up to 80% of the maximum towing capacity of the Ford Explorer.
Not only will this reduce the risk of experiencing trailer sway problems at highway speeds, but it also means you have some power available for times when you might be driving over a loose surface or needing to pull your travel trailer up a steep incline.
What Is Trailer Sway?
Trailer sway is a dangerous situation where the trailer towed behind your vehicle starts to wobble or "Sway" back and forth.
Left unchecked it can damage the trailer, and potentially force your vehicle off the road or into another lane.
It's more common in smaller vehicles like the Ford Explorer, and it's definitely something to be conscious of.
How Do I Prevent Trailer Sway From Affecting My Ford Explorer?
There are a few things you can do to keep your trailer or Ford Explorer from being affected by the dangers of trailer sway.
This includes things like, only loading the travel trailer up to 60% of the payload capacity rating, as well as evenly distributing the weight of the gear in your travel trailer. Especially near the rear axles.
While you're at it, you also need to avoid overloading the Ford Explorer and try to keep your speed under 55 miles per hour.
What Do I Do If My Travel Trailer Starts To Sway?
When a trailer starts to sway the natural inclination is to stop on the tow vehicle's brakes.
However, this is the wrong thing to do, as it will dangerously transfer the swaying force. Instead, you need to take your foot off the accelerator pedal to let the trailer and tow vehicle slow down on their own.
If you are on the highway or there are other vehicles around, make sure to turn on your hazard lights to let them know you are having an issue.
Try to keep the steering wheel as straight as possible while the Ford Explorer and the travel trailer slow down.
If your trailer has electronic brake assist, you can apply it gently, once you see the swaying motion coming under control.
What Is Axle Ratio?
A tow vehicle's axle ratio plays an important role in how it uses the torque produced by the engine. This then influences the maximum towing capacity.
It essentially determines how many times the wheels will turn to effectively use the energy the engine produces.
In the case of the 2020 Ford Explorer, it has an axle ratio of Axle Ratio (:1). 3.58. Comparing this to the standard trim level of 2020 Ford F-150 which has a 3.55, you'll see that they are both very close.
This is one of the fine print specifications that has helped promote the Ford Explorer as a tow vehicle for lightweight travel trailer campers.
Conclusion
The Ford Explorer is one of the most popular sports utility vehicles in the United States and Canada.
Its recent reinvention translates into a lot of stable towing power, while still having the comfort and versatility to serve as your daily driver.
This isn't always the case with half-ton and three-quarter-ton pickup trucks that are needed to tow larger travel trailers and fifth-wheel campers.
Just keep an eye on the relationship between your travel trailer's gross vehicle weight rating, the hitch weight, and the capacity of your Ford Explorer's trim level.
Ideally, you want a travel trailer that tips the scales at no more than 80% of your explorer's maximum towing rating.
This will go a long way toward preventing trailer sway problems, and you get to spend more time enjoying the adventure of the RV lifestyle.