Travel trailers provide more freedom than RVs for overlanding adventures, since you can leave your trailer parked in your campsite and use your vehicle to go exploring.
You also do not always need a huge truck to pull your travel trailer, in fact, Jeep Wranglers and other small SUVs are capable of pulling many travel trailer models.
But, what are the limitations of the size and weight of travel trailer you can pull with a Jeep Wrangler? Do you need special equipment? What are the best travel trailers that you can tow with a Jeep Wrangler?
​I'll cover all of these questions and more in this article, so that you can hit the road with your Jeep Wrangler and your tiny home on wheels in tow.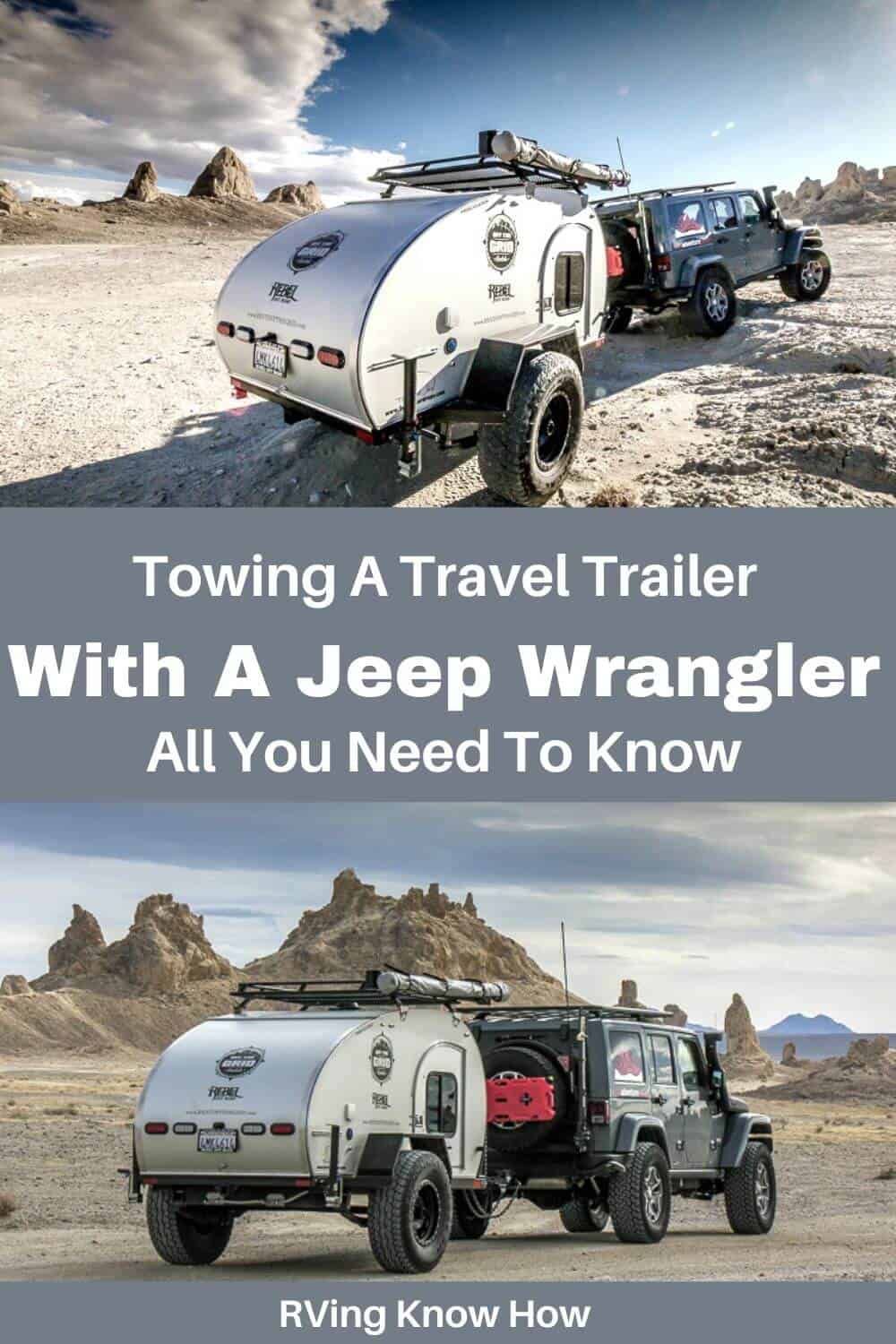 What Is The Towing Capacity of a Jeep Wrangler?
When towing anything with your Jeep Wrangler, it's important to keep three things in mind:
The Vehicle
The Trailer
The Driver
What Can the Vehicle Handle?
First things first, you need to know your Jeep's towing capacity. Most Jeep Wranglers have a towing capacity of 2,000 to 3,500 pounds, depending on the model that you have.
In general, two-door Jeep Wranglers can tow a travel trailer that's weights up to 2,000 pounds, while the four-door models have a tow rating of up to 3,500 pounds.
Newer Jeep Wranglers have a higher towing capacity. The JK Wrangler (2006 to present) has some trailer hitches with towing capacity up to 5,000 pounds.
The TJ Wrangler (1997-2006) has bumper mounted towing hitches, but chassis-mounted hitches are also available and can tow up to 4,000 pounds.
After towing capacity, the Jeep's payload rating is important to keep in mind.
The maximum payload capacity is the total weight of everything in or on your Jeep, including the driver, passengers, fuel, winch, skid plates, and any gear you pack inside or on the vehicle.
You should be able to find your Jeep's payload rating on the driver's side door or B-pillar. Never tow if your payload exceeds the vehicle's capacity.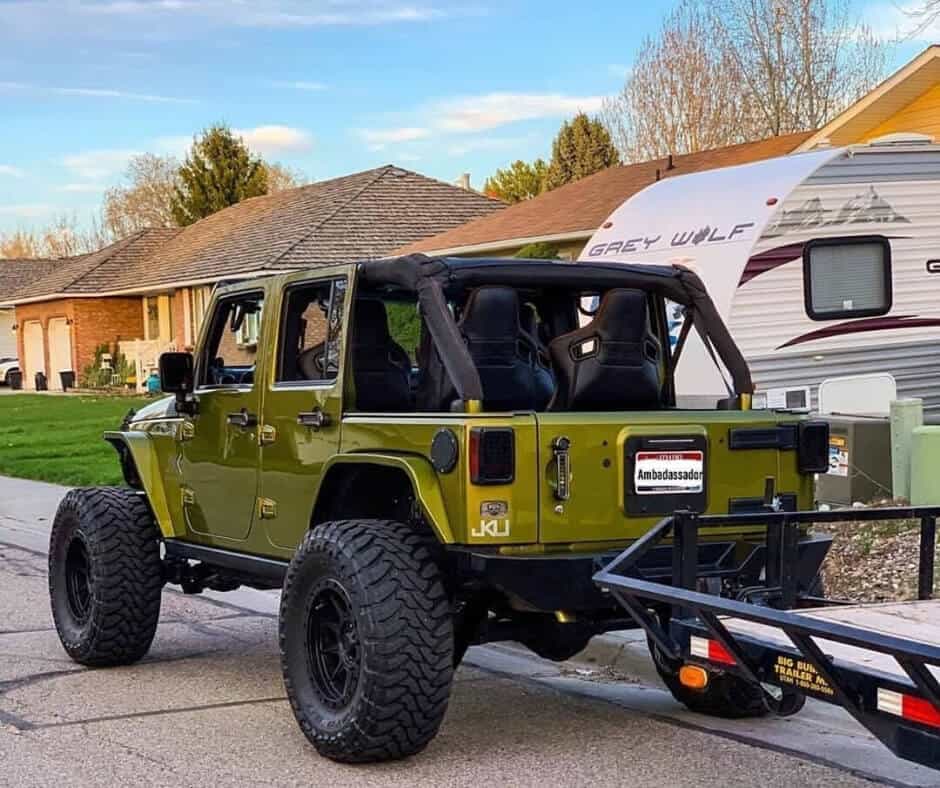 What is the Condition of the Trailer?
Even though the Jeep will do the majority of the work when towing, you need to make sure your travel trailer is safe to pull.
Check for damage or rust, especially on the trailer base (axles, frame, etc.). Make sure that the exterior lights are working properly, especially the brake and turn signal lights.
Your trailer tires should also be in good condition with plenty of tread to good contact with the road when you're on the move.
You'll need to consider the trailer's GVWR before you buy, since it will need to be light enough to meet your Jeep Wrangler's capacity for towing.
As you calculate what you can pack and bring with you on your travels, remember to account about 10% of your trailer's GVWR for payload (clothes, gear, water, food, cooking fuel, etc.).
Are You Ready to Drive With a Trailer in Tow?
Your ability to drive with a heavy trailer in tow is also very important for safety.
​Even if you have driven a vehicle with a trailer in tow before, you should take a couple of practice drives to get a feel for how this Jeep and this trailer maneuver.
You'll need to be comfortable with the extra length, how to handle sharp corners, how to reverse and how the trailer reacts in reverse.
A helpful trick is to steer in the opposite direction that you want the trailer to go when you reverse.
Remember that any little change in direction from the Jeep will likely result in a big change at the back of the trailer, no matter what its length.
Can A Jeep Wrangler Pull A Travel Trailer?
With an average maximum towing capacity of 3,500 pounds, you can definitely tow more lightweight travel trailers with your Jeep Wrangler. However, you'll need to consider the trailer's gross vehicle weight rating (GVWR), and not the dry weight.
This is because the GVWR takes into account the weight of your clothing, gear, water (fresh, gray, black) and gas.
In general, the kinds of travel trailers that have this low of a GVWR include pop-up trailers, teardrop trailers, hybrid trailers, and some Airstream trailers:
What Campers Can A Jeep Wrangler Tow?
Pop-Up Trailers
Pop-up trailers are campers that collapse as you travel, which you then crank up to full height with standing room inside when you're parked at your campsite.
Other names for pop-up trailers are tent trailers or fold-out campers. These trailers are much lighter, since the sidewalls are usually canvas or another weather-resistant material that's far more lightweight than aluminum or fiberglass.
The bed areas slide out as well, so you can have everything you need, including a kitchen and bathroom.
Average GVWR: 600 – 2800 pounds
Teardrop Trailers
A newer addition to the mini travel trailer scene is the teardrop trailer, which is shaped like a teardrop.
Inside, there's typically only room for a bed, and the back of the trailer has a hatch that opens to cover your kitchen and cooking area. Sometimes, these trailers have an outdoor shower option.
​Although they usually don't have bathrooms or living areas inside, there are some lightweight teardrop trailers that do.
Average GVWR: 500 – 3,200 pounds (most are around 1,000 pounds)
Hybrid Trailers
Combining the design of a standard travel trailer and pop-up trailer, a hybrid trailer has hard sides with pop-out sleeping areas on one or both ends.
These pop-outs are canvas, tent-like material just like you find with a pop-up trailer, but hybrid trailers are more insulated and durable because of the hard side walls.
However, they tend to run a little heavier because of the use of heavier materials, so you'd need to get the lightest weight option if you're towing it with a Jeep Wrangler.
Average GVWR: 3,000 – 7,000 pounds
Low-Weight Airstream Trailers
Airstream trailers are the "old school" classic, silver bullet travel trailers, and many people love them not just for their retro ambiance, but for the durability and design style.
Most Airstream trailers are too heavy to tow with a Jeep Wrangler, but the Airstream Sport 16RB is just lightweight enough, with a GVWR of 3,500 pounds.
That's cutting it a little bit close, but if you're careful to pack minimally, you can tow it with your Jeep Wrangler.
Lowest GVWR: 3,500 pounds
What Equipment Do You Need to Tow a Travel Trailer With a Jeep Wrangler?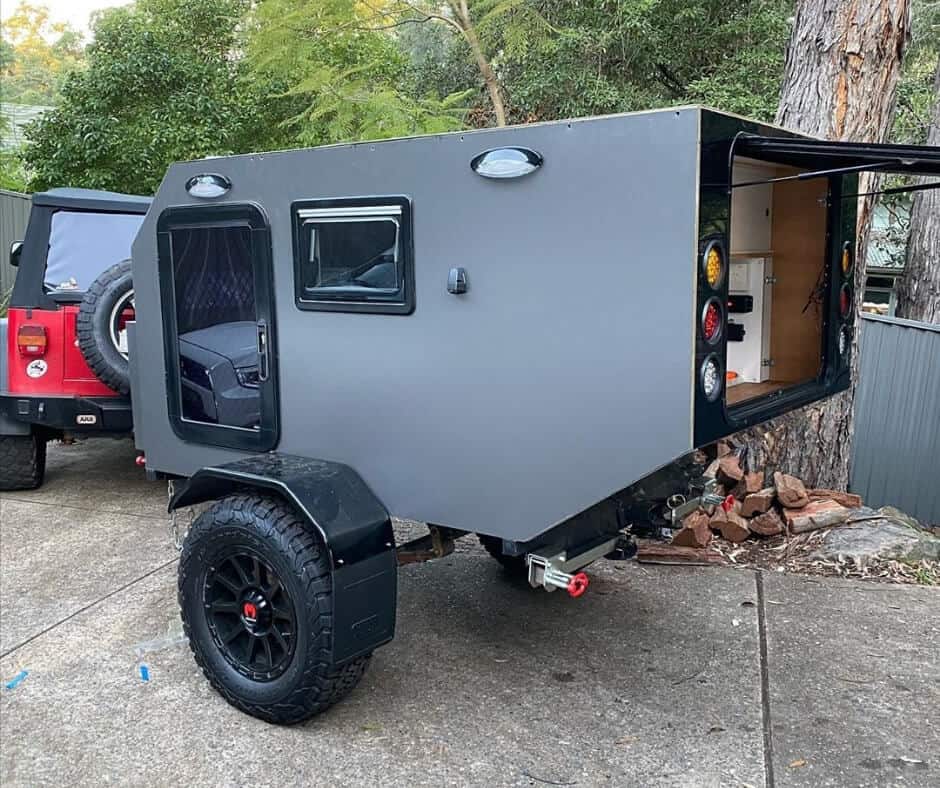 ​The baseline equipment that you will need to safely tow a travel trailer with any vehicle are a receiver hitch and a trailer wiring plug so that you can connect the rear brake and turn signal lights.
You will also need a hitch ball and a mount with a hitch pin that match your trailer, and safety chains crossing underneath the tongue to catch it just in case the hitch fails.
Most aftermarket bumpers are equipped with a hitch receiver that's only intended for things like a cargo rack, and not a heavy travel trailer.
So, it's important to make sure your hitch receiver is rated for towing. It should have a Class II or Class III designation, and be a 2-inch receiver instead of a 1.25-inch receiver to handle more weight.
The weight capacities of the towing tongue and hitch ball are also important considerations as you purchase or upgrade your towing equipment.
The tongue should only carry about 10% of the trailer's GVWR, and certainly no more than 15%.
​The rule of 10% also applies to the weight on the hitch ball, and you should be sure to load your trailer with balanced weight distribution.
Otherwise, you might see reduced performance as you travel at high speeds or even unsafe conditions such as sudden movements to the left or right.
There are also a couple of additional upgrades that might be good to consider when towing a travel trailer with a Jeep Wrangler.
For example, towing extra weight may cause your Jeep to overheat, so you might want to consider upgrading your vehicle's cooling system.
You might also want to upgrade the brake pads and rotors, especially if they are older. Other good safety upgrades you might want to look at are sway control or a brake controller.
Benefits of Using a Jeep Wrangler to Tow Your Travel Trailer
A Jeep Wrangler is a fantastic SUV to own, whether you're just driving around town or you're towing your travel trailer into nature for an off-grid camping trip.
Some of the biggest advantages of using a Jeep Wrangler for pulling your travel trailer include:
5 Amazing Travel Trailers You Can Tow With a Jeep Wrangler
​Even though you're limited to only the more lightweight travel trailers when towing with a Jeep Wrangler, there are still lots of options.
Luckily, there are many travel trailers with a GVWR of 3,500 or below, and I'll highlight some of the best ones below.
1. Scamp Trailer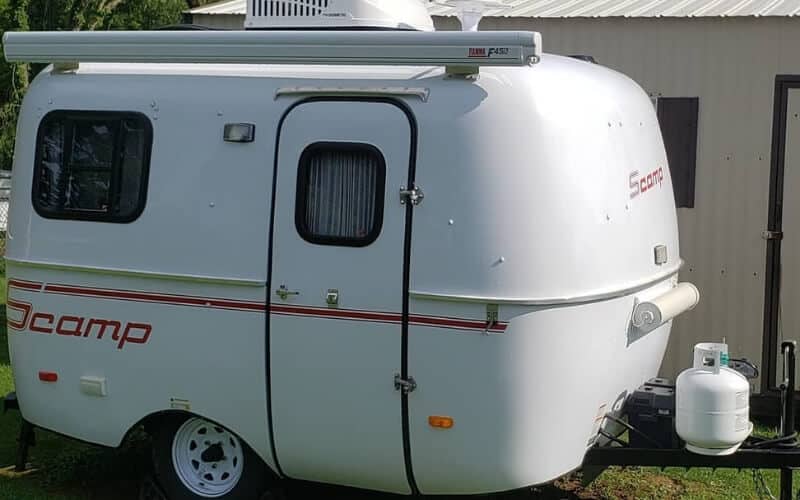 | | |
| --- | --- |
| GVWR | ​2,200 lbs |
| ​Dry Weight | 1,200 – 1,500 lbs |
| ​Cargo Capacity | 700 – 1,000 lbs |
| ​Length | ​13' |
| Bathroom | ​Yes |
| Sleeps | 2 – 4 |
There are some normal travel trailers in addition to Airstream campers that are light enough for a Jeep Wrangler to tow, and the 13-foot Scamp Trailer is one of them.
This tiny camper has a kitchen area, dinette that converts into a bed, a shower and toilet room, and plenty of closet space for storage, all coming in at 2,200 pounds even when fully packed.
The kitchen features a two-burner propane stove with a window over the range, a 1.9 cu.ft. fridge, small sink, and fiberglass cabinets with wood panel doors for kitchen storage.
The dinette space has storage under the seats and converts into a spacious sleeping area at night with four-inch cushions.
For the bathroom area, you can choose to have a sofa that converts into bunks or an enclosed bathroom with a shower and Sani potti or toilet only.
Enjoy nature outside your Scamp Trailer with the option to add an 8-foot awning.
Scamp Trailers are equipped for towing and ready to hit the road, with a 100-pound hitch that has a 2-inch hitch ball, a 25-foot 30amp electric supply cord and safety chains.
Scamp even offers helpful tips and a checklist for towing, so that you have all of the specifics for towing your Scamp Trailer with a Jeep Wrangler (or any other vehicle).
Key Features:
Super insulation (R15) for all-weather camping
Optional roof mount air conditioner and 16,000 BTU furnace
Mounted rear stabilizer jacks
Porch light
Price: Starting at $11,500
​2. ​Airstream Sport 16RB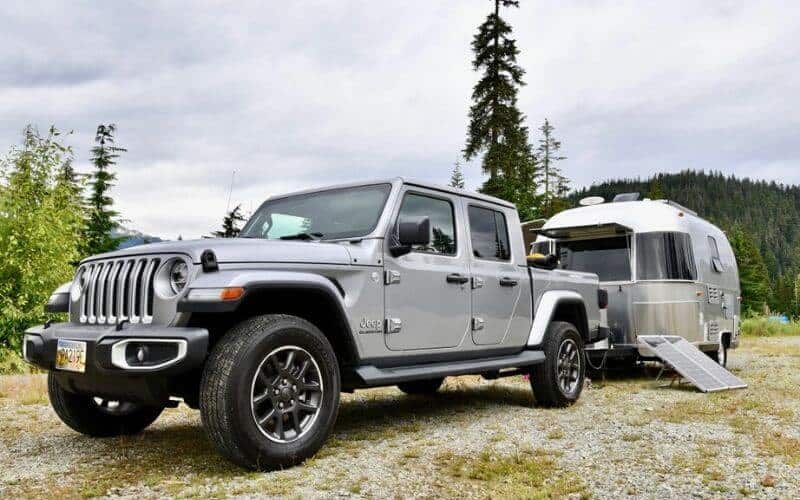 | | |
| --- | --- |
| GVWR | 3,500 lbs |
| ​Dry Weight | 2,860 lbs |
| ​Cargo Capacity | 640 lbs |
| ​Length | 16' 4" |
| Bathroom | ​Yes |
| Sleeps | Up to 4 |
For a little more in a trailer you can still tow with a Jeep Wrangler, the Airstream Sport 16RB has a bathroom as well as additional sleeping and living space.
There's a convertible dinette and a dedicated bed with a pillow top memory foam mattress in addition to the bathroom and kitchen area.
Next to the bedroom, there is a closet for hanging clothes storage, and there's also under-the-bed storage for more places to put your gear.
In the kitchen, you'll also find some upgrades from the Scamp Trailer with the two-burner LP gas stove with glass cover, stainless steel sink with a cutting board cover, microwave and a 2-way, 3 cu.ft. refrigerator.
There's also plenty of upper and lower cabinet and drawer storage for food and dishes, in addition to an included flatware organizer and lockers above the dinette.
Across from the kitchen area, you'll find a European-style wet bath with a porcelain toilet, a lavy sink with Moen® faucet, and a shower with a removable handheld shower head.
The Airstream Sport 16RB has a pass-through built into the exterior wall so that you can use the removable showerhead outdoors.
Outside, the Airstream Sport has a retractable manual ZipDee® patio awning with weather max fabric so you can enjoy your campsite when the weather is nice.
The Airstream Sport 16RB is ready to tow with your Jeep Wrangler, and comes with a manual hitch jack and a 378-pound hitch with LP and batteries.
Key Features:
11,000 BTU 30amp service single A/C with heat strip and 12,000 BTU ducted furnace
JVC Stereo with Bluetooth®
LG LED HD TV with Omni Directional Antenna
Outdoor storage locker
USB ports and 110V outlets
Optional 90w Solar Package with Interior Monitor and AGM Battery
Price: Starting at $48,900
​3. ​iCamp Elite
| | |
| --- | --- |
| GVWR | ​2,890 lbs |
| ​Dry Weight | 2,366 lbs |
| ​Cargo Capacity | ​524 lbs |
| ​Length | 14' |
| Bathroom | ​Yes |
| Sleeps | Up to 3 |
iCamp makes some exceptional travel trailers with a tiny footprint and lightweight materials so that you can tow their campers with ease using just about any SUV, including a Jeep Wrangler.
With 70 square feet of interior space, the iCamp Elite might feel small but the floorplan is expertly laid out to maximize your space and still provide everything you need.
The large, U-shaped dinette doubles as the bed, and can sleep up to three people, with an adjustable table for dining and lounging.
There are overhead cabinets on either side of the trailer for your clothes and other gear, in addition to the cabinet and wardrobe.
iCamp Elite's kitchen comes equipped with a stainless steel sink, two-burner LP stove with an oven, 3-way 1.9 cu.ft. refrigerator, and 6-gallon water heater that ports into the bathroom shower.
The modular fiberglass wet bathroom has a marine toilet, lavatory sink and shower, with a curved door that exits into the living area.
It's also prepped for safe and easy towing with the 2-inch ball hitch towing bar, safety chains, and electric brakes.
Key Features:
Converter (110VAC-12VDC, 60 Amps)
Interior lights and 110v AC power outlets throughout
Option to add a DVD Video/Audio system or a flat screen TV
Option to add a 12,000 BTU LP Furnace or a Cool Cat 2-in-1 A/C and heat pump unit
Price: Starting at $11,500
​4. ​Happier Camper HC1
| | |
| --- | --- |
| GVWR | 3,500 lbs |
| ​Dry Weight | ​1,100 lbs |
| ​Cargo Capacity | 2,400 lbs |
| ​Length | 10' |
| Bathroom | Toilet only |
| Sleeps | Up to 5 |
The Happier Camper is the smallest camper on this list at just 10 feet long, and it's also the most lightweight with a dry weight of only 1,100 pounds.
It's easy to tow the Happier Camper HC1 with your Jeep Wrangler, and you can even tow this camper with a standard sedan!
Although its size is tiny, the innovative Adaptiv™ interior design makes it extremely spacious and functional for camping, even with a family of five.
It has a grooved floor design to keep the Adaptiv™ cube components that make up your layout in place.
The different cube component options include drawer cubes, a convertible bench/bed, a swivel nesting table top, a countertop lid, a cooler cube, a standard kitchenette cube with a sink, a bunk bed/couch, and a toilet.
Arrange and re-arrange these cubes to build your Happier Camper floorplan for every trip.
The standards of the Happier Camper HC1 design is perfect for function and cute design, including a large rear hatch, wide entry door, honeycomb fiberglass floor, large panoramic windows, and classic wheel fenders.
Key Features:
Extremely lightweight and versatile
Adaptiv™ modular interior that's easy to rearrange
Sleeps up to five
Off-the-grid and solar-ready
Price: Starting at $24,950
​5. ​​High Camp Teardrop Trailer
| | |
| --- | --- |
| GVWR | ​2,500 lbs |
| ​Dry Weight | 1,450 lbs |
| ​Cargo Capacity | ​1,050 lbs |
| ​Length | 10' |
| Bathroom | ​No |
| Sleeps | 2 |
If you're going to be camping in campgrounds or other locations with facilities and don't want to sacrifice your limited interior space for a shower or bathroom, the High Camp teardrop trailer is an excellent choice.
It comes in at a GVWR of 2,500 pounds, so most Jeep Wranglers can easily tow it with capacity to spare.
However, it's quite a bit smaller than the other trailers I've mentioned on this list so far, and you'll likely only use the interior space for sleeping since it's designed completely around the queen-sized bed inside.
Despite the tiny size, the High Camp still feels quite spacious for sleeping inside, with 40 inches of headroom and entrance doors with windows on either side.
There are also storage cubbies at the head and foot of the bed, with folding cup holders, DC outlets in the headboard for charging devices, two coat hooks, two swiveling LED reading lights, and an overhead LED light.
The interior feels cozy and sleek, with warm birch cabinetry and paneling. The bed is a standard queen (80" by 60"), with a firm foam mattress.
Your cooking space is out of the back hatch with the High Camp teardrop trailer, and features slide-out drawers for the three-burner stainless steel cooktop and Coleman cooler (you can upgrade to a Dometic CC40 12-volt fridge).
There's plenty of storage for all of your cooking and camping gear, with a cubbies and cabinets above and a large (36″ L x 18″ H x 8″ D) cubby underneath.
The hatch keeps you covered while you cook, with a 48-inch LED overhead light, heavy duty automotive hatch lifts and a locking hatch handle.
There's no shower or bathroom in the High Camp teardrop trailer, but it is equipped with an Aquacube on-demand water heater that you can connect to a 5-gallon "Jerry" can for washing dishes or even taking a hot shower.
High Camp has fitted their trailers for easy and safe towing, and include a 2-inch hitch ball, emergency breakaway switch, drop-down trailer stabilizers, and 10-inch electric drum brakes on every trailer.
While most trailers have a 4-pin trailer connector, the High Camp comes with a 7-pin trailer connector equipped with tow vehicle charging and brake line (requires brake controller installed either in vehicle or on trailer).
Key Features:
Duracell 100 amp-hour Group 27 deep cycle battery and Progressive Dynamics 3-stage intelligent battery charger/converter
Zero-maintenance clear anodized aluminum skin
Solar-ready with universal solar panel plug
Aquacube on-demand water heater
Price: Starting at $17,150
What's the Best Travel Trailer for Your Jeep Wrangler?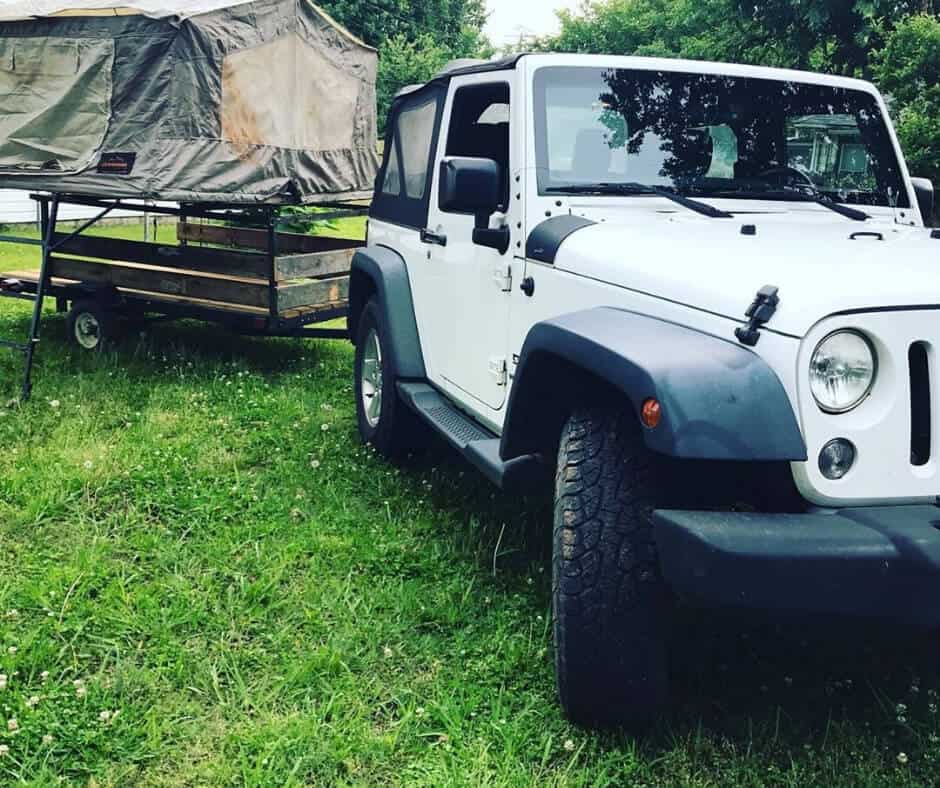 It's certainly exciting that you can take your Jeep Wrangler adventure vehicle on the road with a cozy travel trailer in tow.
Now that you know how it can be done, I hope this list has helped highlight some of the best trailers to use for your travels.
If you're on a budget, I'd recommend either the Scamp Trailer or iCamp Elite, since you can purchase these trailers for around $11,500.
If space is a top priority, the Airstream Sport 16RB is the most equipped to fit your needs.
The Happier Camper HC1 is by far the most versatile, and the High Camp packs everything into the most compact trailer for towing behind your Jeep Wrangler.
​Whatever you choose, you're bound to have some memorable adventures as you head out on a road trip in your Jeep Wrangler with a trailer in tow.