One of the top contenders in the world of Tacoma campers is the Toyota Tacozilla. This fully-equipped, ingeniously designed camper turns your Toyota Tacoma into a comfortable, fully functional campsite. The Tacozilla camper offers ample sleeping space, an integrated kitchenette, and ample storage for all your camping gear.
The Toyota Tacozilla camper attaches seamlessly to the Tacoma truck bed, efficiently utilizing the vehicle's payload capacity. This innovative camper offers a compact design that fits the Toyota Tacoma perfectly and ensures that you don't compromise on comfort when exploring nature.
When considering the cost of a Tacozilla camper, factors such as features and customization options will play a role in determining the final price. The Tacozilla camper price range starts at a reasonable level, making it accessible to many off-road enthusiasts. As you add more accessories, the price can quickly escalate, but the investment in comfort and convenience is well worth it for many.
Another great option for the Toyota Tacoma is the Tacoma Tacozilla, which marries the legendary performance of the Toyota Tacoma with the innovative design of a top-of-the-line camper. The Tacoma Tacozilla offers off-road enthusiasts a unique camping experience that combines the rugged capability of the Tacoma with a cozy, comfortable living space.
When planning your next adventure, exploring the great outdoors with your Toyota Tacoma and one of these fantastic truck campers ensures a memorable experience.
Whether you choose the Scout Yoho, Overland Equipment Habitat, Toyota Tacozilla, or Tacoma Tacozilla, you can trust that your camping setup will be reliable, functional, and the perfect companion to your capable pickup truck.
Things To Consider When Choosing A Truck Camper For The Toyota Tacoma
There are a few key factors to consider when choosing the best truck camper to pair with your Toyota Tacoma.
Payload Capacity & Dry Weight
The payload capacity of the Toyota Tacoma ranges from 1,050 to 1,685 pounds depending on the trim level.
You want the truck camper's dry weight to be roughly 80% of the maximum payload capacity.
Box Dimensions
The dimensions of the Toyota Tacoma box can vary from 60 to 73.2 inches based on the cab style.
The box width is 41.5 inches wide. You need to ensure that the floor plan of the truck camper you are considering will fit within these dimensions.
Number Of People It Sleeps
A lot of smaller truck campers will sleep two to three people. However, some can sleep up to four people.
You must factor in your family's sleeping capacity to ensure everyone can sleep comfortably at night.
Insulation & Ventilation
Summer nights can be hot and humid. The heat can build up when you pack two to three people into a truck camper on a night like this.
A truck camper with good insulation might support a small RV air conditioner.
Some have advanced ventilation systems in their optional extra package that help move fresh air into the camper all night.
Ease Of Installation
Many Toyota Tacoma truck owners will uninstall their truck camper in the winter months.
A lighter truck camper tends to be easier to install and uninstall on your own or with the help of a few friends.
A heavier rigid hard-sided truck camper might need professional installation, increasing the long-term ownership cost.
Best Truck Camper Options That Are Perfect for the Toyota Tacoma
A handful of truck campers are light enough and have a floor plan to fit the payload capacity and dimension of the Toyota Tacoma's cargo box.
The one that is best for you might vary depending on the number of people you need to sleep, your preferred creature comforts, and the style of camping you do the most.
Here are seven of our favorite self-contained truck campers for Toyota Tacoma.
1. The Scout Yoho 6.0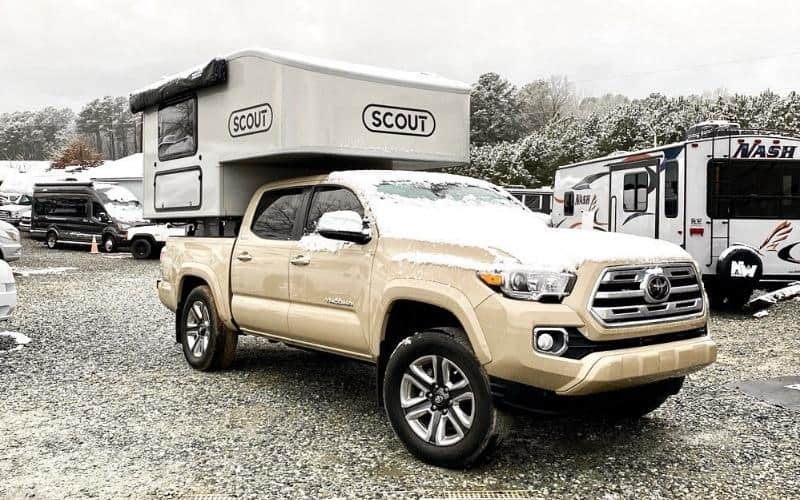 The Yoho by Scout is one of the vanguard hard-sided truck campers for mid-size pickup trucks on the US domestic market.
The 913-pound dry weight is comfortably within the Toyota Tacoma's payload capacity.
Though when you fully load it and fill the water tanks, you could push the upper limits of what the lower Tacoma trim levels can handle. So, it's best to travel with it dry.
The Scout Yoho 6.0  can comfortably sleep 3 to 4 people on paper, but two adults and two small children are more realistic.
It comes standard with a 160-watt solar panel, a moon roof with a screen and solar reflective shade, a four-person dinette with sleeper conversion, and dual 5-pound propane bottles.
There are many optional upgrades to consider, including a popup tend, a 75-liter RV refrigerator & freezer and a 4.9-gallon portable water tank.
2. The Vagabond Drifter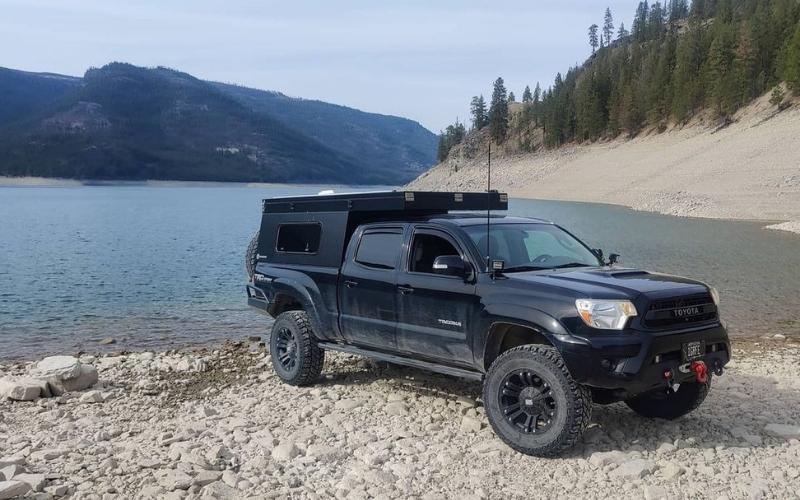 The Vagabond Drifter is a customizable popup truck camper that will easily fit the payload capacity of the Toyota Tacoma.
The all-aluminum construction and hardware help keep it exceptionally light, with a dry weight of just 315 pounds.
When collapsed, it is sleek and has minimal impact on the aerodynamics of the Tacoma.
The Vagabond Drifter was designed to be customizable for RV travelers who want to tailor it to their camping style.
This includes energy-efficient lighting, power connections, specialized doors, windows and insulation.
They also offer add-ons like a 14-inch Maxxair Low Profile 4-speed Fan and a 100-inch L-Track Roof Mounts for strapping down additional gear.
3. The Overland Equipment Habitat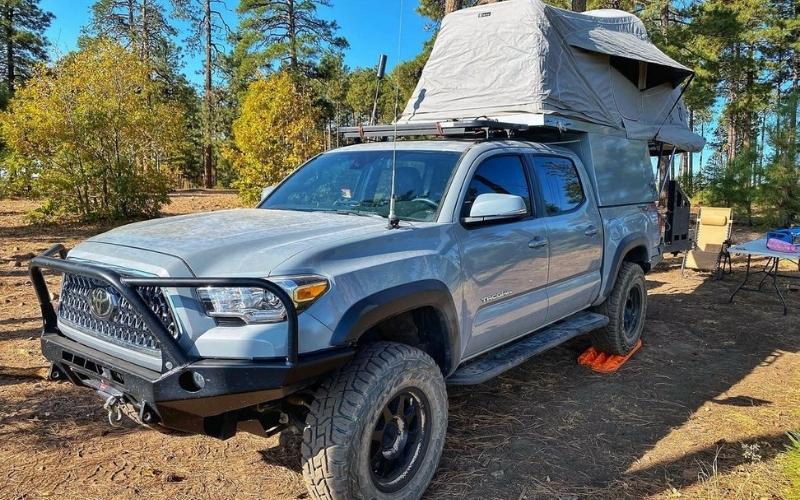 The Habitat by Overland is a popup camper with an expandable tent that can live its life Monday through Friday as a high-quality truck topper that you can easily leave installed when you aren't traveling.
Then when you want to use it for camping, the enclosure expands to offer you a lot of the same functional living space that you would get from a much larger, and heavier truck camper. It is a best-of-both-worlds solution.
The Habitat can comfortably sleep two adults and a child, which might make it the best truck camper for a small family with a Toyota Tacoma.
Just bear in mind that there are several iterations of the Habitat. Some have a floor plan that is too large for Tacoma's cargo box.
So make sure you compare the dimension to what's listed in your owner's manual.
4. The GFC PLATFORM CAMPER (XL)
The GFC PLATFORM CAMPER XL is a pop-up truck camper frame that expands out into a comfortably spacious tent.
This helps keep the weight as low as 80-pounds without any optional extras installed.
It's a great option for a Toyota Tacoma owner who wants to be able to uninstall the truck camper when not in use and doesn't want to recruit a ton of other people or employs special equipment to move the truck camper around.
The GFC PLATFORM CAMPER XL has a compact queen-size mattress, which makes it a great option for a couple that loves to travel together.
There are also a few optional extras to consider having the manufacturer installed.
This includes front or rear topper windows or tent-side double doors to let two people come in simultaneously.
5. The Kimbo 6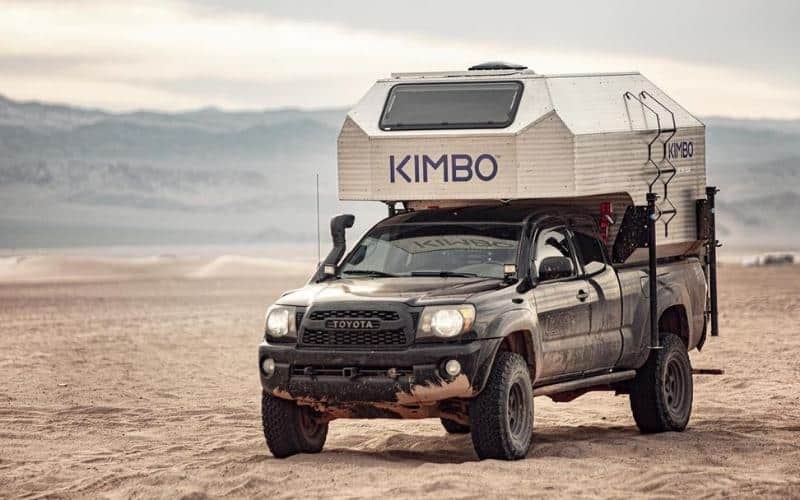 The Kimbo 6 is a hard-sided truck camper designed with the Toyota Tacoma in mind, yet it weighs only around 1,100 pounds. It is constructed using a single riveted aluminum wall that improves rigidity.
Then they insulated it with R5 foam which helps it hold in the heat in the cool months of the year and helps keep the interior cool when camping on hot summer nights.
It works with a three-speed roof vent fan to give you some semblance of a climate control system.
A few bells and whistles built into the Kimbo 6 further elevated it over much of the competition.
This includes removable lift jacks, three Arctic Turn double pane windows, a Yeti 400 solar generator with 12-Volt USB ports, and energy-efficient dimmable LED lights.
6. Four Wheel Camper Fleet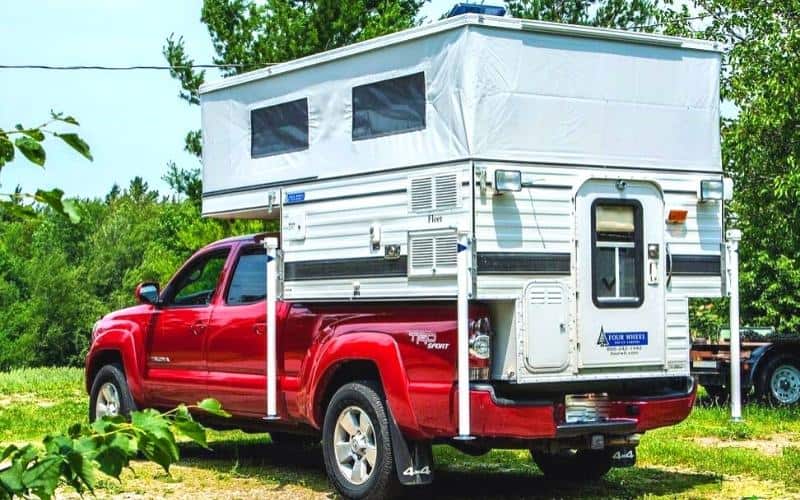 The Four Wheel Camper Fleet is a popup truck camper with four different floorplans available.
The model with the rollover couch tends to be the most compatible with the Toyota Tacoma.
It offers an impressive amount of interior space and creature comforts for a small family.
It's also worth noting that the Four Wheel Camper Fleet is technically a "Pop Up" truck camper, which makes it easier to live with if you want to keep it fully installed throughout the summer travel months.
It also helps with the aerodynamic impact on the MPG fuel consumption. On the interior, you get a lot of home-away-from-home comfort features.
This includes a kitchenette with a two-burner stove and sink, an east-west 60×80-inch queen-size bed, and a three-way 1.7-cubic foot RV absorption refrigerator.
It's also supported by a 20-gallon freshwater storage tank, which is somewhat rare with truck campers in this class.
7. Phoenix Mini-Max
The Phoenix Mini-Max is a hybrid hard-sided truck camper with a roof that pops up to expand the interior space.
It is one of the rare truck campers that will fit the dimension and payload capacity of a Toyota Tacoma, including a fully functional wet bath.
An 18-gallon fresh water tank and an 8-gallon gray water storage tank support the wet bath and the kitchenette. There's also a cassette toilet.
The Phoenix Mini-Max employs an all-aluminum double-welded tube cage frame carefully insulated with high-density closed-cell foam.
It also has a tough outer shell made from pre-laminated Crane fiberglass. This gives it superior rigidity, insulation quality, and long-term value.
Frequently Asked Questions
Can A Toyota Tacoma Carry A Truck Camper?
Some truck campers are light enough and have a floor plan to fit in a mid-size truck cargo box like you find with the Toyota Tacoma.
The trick is to pay attention to the gross weight of the truck camper compared to the payload capacity of the Toyota Tacoma.
If you aren't sure about the cargo box payload capacity of your Tacoma's trim level, you can find that information in the owner's manual or printed on an information plate in the driver's side door well.
What Is The Difference Between A Hard-Sided &Soft-Sided Popup Truck Camper?
As the name implies, a hard-sided truck camper has rigid, static sides. This gives you more interior space and better insulation but tends to increase the weight and affect the aerodynamics.
A soft-sided popup camper is a frame that expands into a larger for when set up at your chosen campsite.
They tend to weigh less and have less impact on aerodynamics when traveling at highway speeds. However, the canvas material of the tent tends to have a shorter lifespan.
Hybrid truck campers tend to offer a little bit of both. Most have a rigid lower section and a rigid ceiling that popups up.
They give you more headroom and superior durability without sacrificing aerodynamics when driving down the road. However, the tent portion of the truck camper tends to suffer a shorter overall lifespan.
What Is The Payload Capacity Of A Toyota Tacoma?
Depending on the trim level, the Toyota Tacoma has a payload capacity of 1,050 to 1,685 lbs, enough to support a handful of truck campers.
If you need your pickup truck to work for a living when you aren't traveling, this is more than enough weight to handle most contractors' tools or a fair amount of lumber.
How much does the Toyota Tacoma Tacozilla cost?
The Toyota Tacoma Tacozilla is an impressive off-roading vehicle with various features and customization options. Unfortunately, the exact cost of the Tacoma Tacozilla varies depending on the specific model and configurations you choose.
The base model of the Tacoma Tacozilla starts at around $30,000, but prices can quickly increase depending on what kind of engine, wheels, and other features you choose. You can also add optional packages to your Tacoma Tacozilla to further increase its price.
What are the different types of Toyota Tacoma camper shells?
There are a variety of camper shells available for the Toyota Tacoma. The most popular type is the hard shell, made from fiberglass and provides extra protection against the elements.
These shells come in various colors and styles, so you can find one that matches your vehicle's look. Softshell campers are also available, providing a more lightweight option with less insulation.
These shells are often made from canvas or vinyl and come in different sizes to fit any size truck bed. Finally, pop-up campers provide an easy way to turn your truck into a comfortable camping space without taking up too much room when not in use.
Conclusion
The Toyota Tacoma is one of the most popular mid-size pickup trucks in the US domestic market.
Its dependability and thoughtful design endears it to people who need a pickup truck that can get work done while accommodating their travel interest.
This has encouraged many truck camper manufacturers to produce models that pair nicely with the Toyota Tacoma's payload capacity and cargo box dimensions.
If you have a small family and need a wet bath to keep everyone clean, then the Phoenix Mini-Max might be your best Toyota Tacoma-compatible truck camper.
It has a nice size wet bath and a cassette toilet, fresh water and wastewater storage tanks to support you for multiple days of boondocking off the grid.
If you want to leave your truck camper installed for the summer travel months but don't want it causing aerodynamic and fuel-efficiency issues, then the Overland Equipment Habitat might be the best Toyota Tacoma-compatible truck camper to meet your needs.
It's a high-quality truck topper when you want it to be, then transforms into a relatively spacious truck camper when needed.
Whatever your camping needs and preferences are, if you have or are considering investing in a Toyota Tacoma, the best compatible truck camper can be found somewhere on this list.