When it comes to hitting the open road, the newest trend in larger family RVs is about maximizing luxury and comfort. And one feature that's quickly becoming a must-have for many full-timers is the inclusion of not one but TWO bathrooms.
If you have a large family or need extra privacy when you're on the road, having two bathrooms in your RV is helpful. And when it comes to RVs with dual bathrooms, they can be different in size and amenities offered in each bathroom. Some RVs will have two full baths, while others will have a bath and a half.
Though two bathroom RV may seem ideal, having multiple bathrooms has advantages and disadvantages. First, dual bathrooms occupy a lot of space in a floor plan; Motorhomes, 5th wheel, or travel trailer that features two separate bathrooms must be reasonably large. So, you won't be able to tow it with just any vehicle. And second, most RVs that have a dual bathroom setup will also be considered "luxury RVs," so they don't come cheap.
However, if you need the added convenience and luxury of having an extra bathroom in your home on the wheel, read on to discover our top picks. You can find them in fifth wheels, travel trailers, and motorhomes.
10 RVs with Two Bathrooms
While our list is not all-inclusive to the RVs on the market today with two bathrooms, we tried to provide a wide variety of options, so you can begin your research into the best RV with two bathrooms in a wide variety of styles and options.
Here are mind-blowing RV options with an extra bathroom, split into categories of motorhomes, 5th wheels, and travel trailers.
Motorhomes
1. Fleetwood Discovery LXE
1 Full Bath | 1 Half Bath
This is a Class A Diesel Motorhome. Fleetwood has been manufacturing luxury motorhome RVs for about 20 years, and all of the models are spot-on amazing.
The Discovery has a more diverse selection of two bathroom floorplans than most of the RV models on our list. That makes it perfectly customizable for your group travel needs.
Other Stand-Out Features:
2. Forest River Legacy SR 340
2 Full Bathrooms
This Class A Diesel Motorhome has multiple floorplans, one of which is equipped with two full bathrooms.
Beyond the fantastic features already included to make this a luxury motorhome, Forest River has optional add-ons like a stackable washer/dryer, electric easy bed lift, and theater seating in place of a sofa.
Other Stand-Out Features:
3. Tiffin Phaeton 40 IH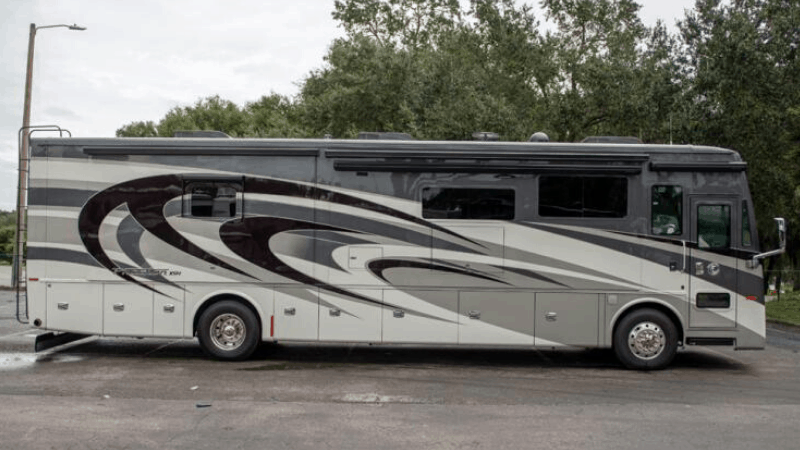 1 Full Bath | 1 Half Bath
One of the most popular motorhomes on the list is the Phaeton. Along with its popularity, it should be considered the ultimate luxury RV.
The Tiffin Phaeton has six different floorplans, and four of those have two bathrooms.
They are all one full bath and one-half bath equipped with no double full bath options available.
Other Stand-Out Features:
4. Winnebago Horizon 42Q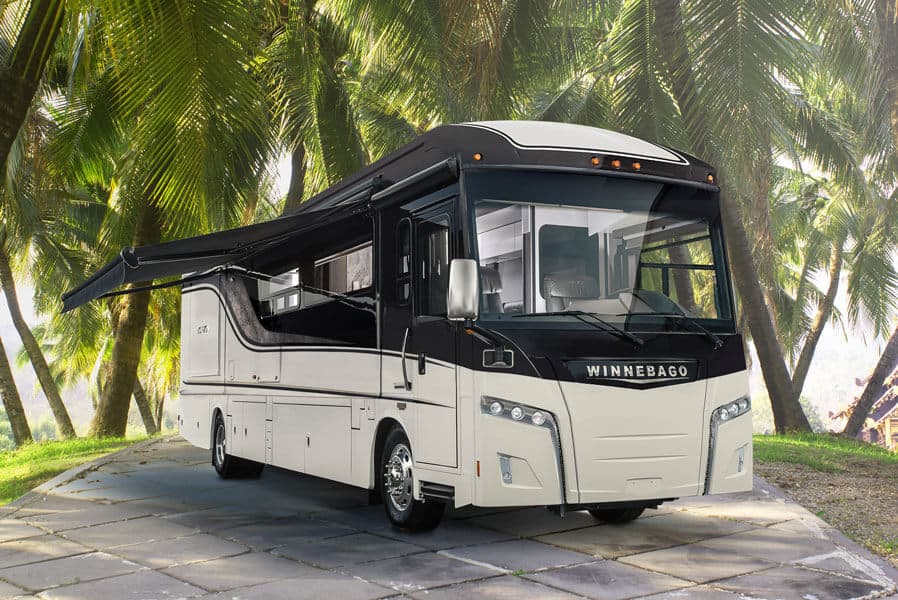 1 Full Bath | 1 Half Bath
Winnebago has some amazing RV designs, but the Horizon was our top choice for their 5th wheel with two bathrooms.
It is a Class A Diesel Motorhome with two floorplan options. However, only the 42Q plan has two bathrooms included in the design.
The master bathroom is located behind the bedroom on the back of the motorhome while the half bath is located more centrally for convenient use in the living area.
Other Stand-Out Features:
5th Wheels
5. Dutchman Voltage 3915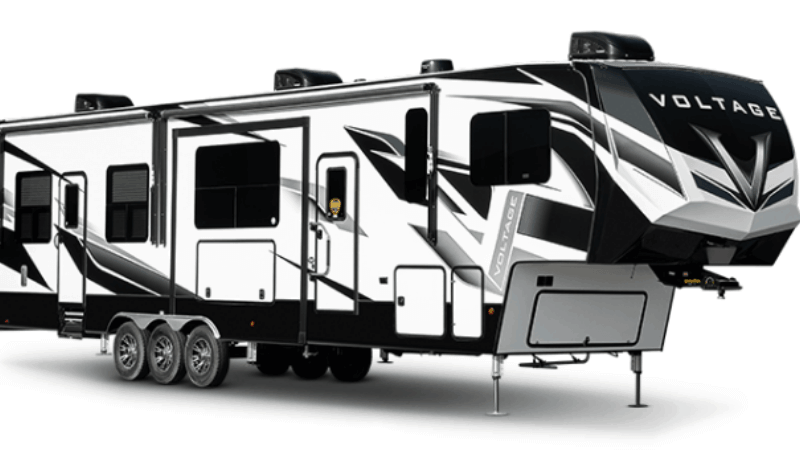 1 Full Bath | 1 Half Bath
Our first 5th wheel Dutchman Voltage has 11 floorplans, but only five of them have two bathrooms.
The other floorplans have some other great features to check out if you are trying to decide which style is best for you.
Plus, the best thing about this 5th wheel trailer is the toy hauler garage. This is a perfect trailer for outdoor junkies that love motorized toys!
Other Stand-Out Features:
6. Jayco North Point 379DBFS
2 Full Bathrooms
Jayco has tons of fantastic RV options, and this 5th wheel is great for anyone that wants to live full-time or take extended trips.
There are some really popular features in this model beyond the two bathrooms as well.
Other Stand-Out Features:
7. Heartland Milestone 389TB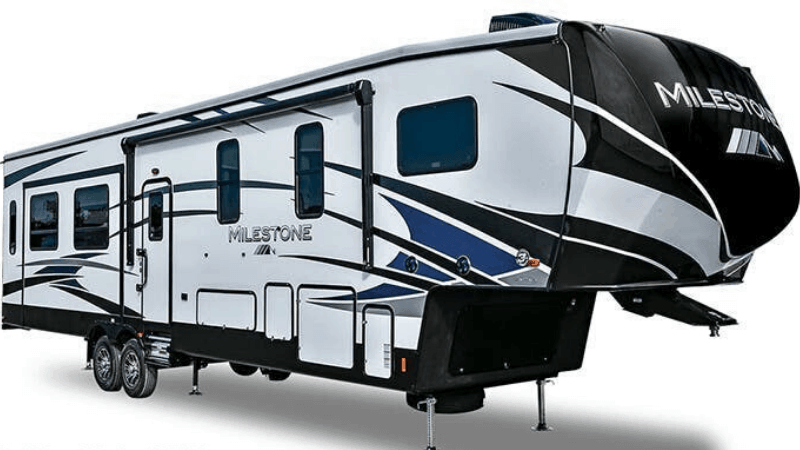 2 Full Bathrooms
Not only does this 5th wheel have two full bathrooms, but one is equipped with a bathtub as well.
There are a variety of other Milestone floorplans to choose from to personalize your design.
The 389TB design also gives you ample living space inside and out.
Other Stand-Out Features:
Travel Trailers
8. Jayco Jay Flight Bungalow 40BHQS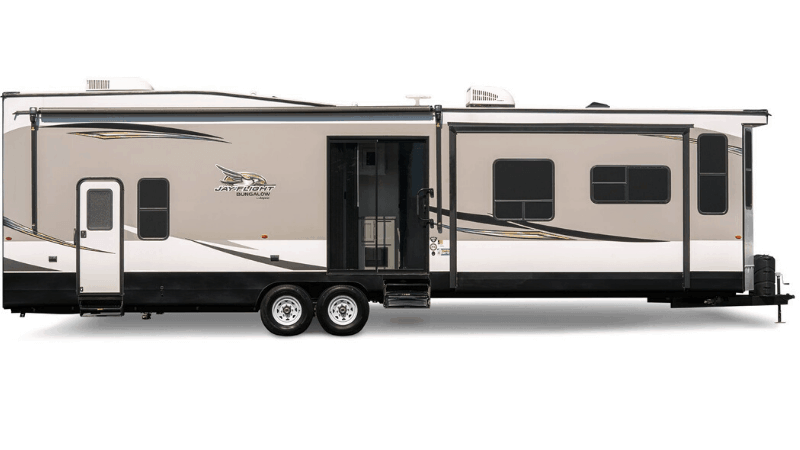 1 Full Bath | 1 Half Bath
Although the Jayco Jay Flight Bungalow has six different floorplan options, there is only one of them that has two bathrooms.
The other designs are unique, though, and worth looking into if you have a family.
In one floorplan, they have a loft built into the space for an additional sleeping area.
Other Stand-Out Features:
9. Crossroads Sunset Trail SS331BH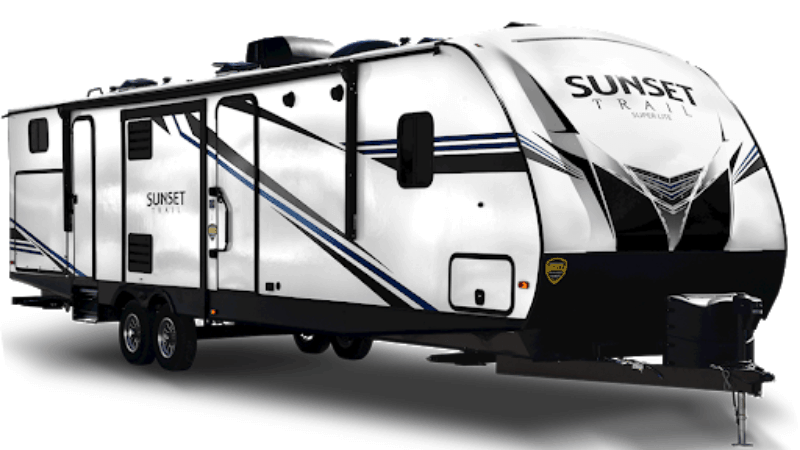 1 Full Bath | 1 Half Bath
The Crossroads Sunset Trail floorplan that we chose not only has two bathrooms, but their positioning is perfect for large group use.
There is plenty of seating that converts into sleeping areas as well as a master bedroom.
The master bathroom is accessible without having to walk through the bedroom, and the half bath is situated on the other end so other campers can use it.
Other Stand-Out Features:
10. Keystone RV Passport 3351BH GT Series
1 Full Bath | 1 Half Bath
The Keystone Rv 3351BH final travel trailer on our list is a favorite. The two bathrooms are positioned perfectly into the layout for ease of use, and the half bath even has an outdoor entrance.
This accessibility makes it perfect for outdoor entertaining. The master bath is connected to the bedroom, but there is also a door to access it without having to go through the bedroom for additional privacy.
Other Stand-Out Features:
Benefits of RVs with Two Bathrooms
If you are looking into RVs with two bathrooms, then it is probably because you are going to be traveling with a large group of some kind.
Having two bathrooms is also great for large families! The main benefits of having two bathrooms include more privacy, you have a backup, and it is more conducive to group travel.
Being on the road can take a toll on any group, no matter how tight-knit they may be.
So, having that extra space during our ritualistic morning and evening routines can be beneficial.
It also gives you an additional bathroom when someone is in the shower.
This is especially important with young kids! If someone is using the shower and taking too long, it can be hard for them to wait.
Along with that idea, you also have some extra privacy. Maybe it is just you and your spouse traveling together, but you like extra space.
You can each claim one bathroom and make it your own. That way, no one is taking up too much counter space or taking too long in the bathroom while the other one waits their turn.
With two bathrooms, you also have a backup in case something breaks or malfunctions.
It can be stressful to try and fix things on the fly, and you can't always repair them yourself.
So, if you're in a remote location, you would usually have to head into town to get things fixed up.
If you have two bathrooms, you may be able to wait it out until you've finished your stay.
Are There Downsides to Two Bathrooms in an RV?
While in most scenarios, the benefits of having two bathrooms in your RV outweigh the downsides, there are still some cons we should mention.
The biggest gripe RV owners may have is that two bathrooms take up too much space.
You will have to make a compromise on space with an additional bathroom in another area of the living space.
This could impact the bedroom or living room in most cases. However, if the privacy factor or if you travel in large groups, the removed space in the living area may be worth it for the convenience of two restrooms.
Although an extra bathroom may be great for a backup at times, you still should factor in the fact of additional maintenance.
After all, you now have two bathrooms instead of one! On top of that, you should expect to have a larger black tank and more frequent dumps.
Despite those few cons, the additional bathroom in RVs has become widely popular.
The convenience of an extra bathroom makes it worth it for most RV travelers.
Two Full Bathrooms or Bath and a Half?
Another consideration that was not explicitly discussed earlier in this article is how to decide between two full baths of a full and a half.
The main thing to consider here is how many people you'll be traveling with and the general intent behind having two bathrooms.
If you have a large family or large group of friends going somewhere for an extended time, having two full baths may be the best option.
This is especially true if you will be hooked up at an RV park. If you have immediate access to a water source and aren't using tanks, two showers won't be an issue.
On the other hand, if you are only planning to use the extra bathroom as a backup if someone is in the shower, then a half bath should suffice.
Overall, it will depend on who you're traveling with and why you think an additional bathroom would be helpful.
Choose the RV Right for You
Now that we have given you a starting point for your research into RVs with two bathrooms, you have a few decisions to make.
We hope that our list helped to narrow down your search and give you some good ideas of what to look for when shopping.
Remember, shopping is half the fun! Take your time to go and view the RVs in person and go on multiple tours.
These tours will give you a real feel for how the two bathrooms fit into the space and if it is worth it or not.
In the end, the RV you choose will be up to you! You want to make sure that you find one that fits your personal needs and lifestyle seamlessly. Happy camping!