If you drive a truck of any size, you have a lot of options at your disposal for creating the ultimate truck camping setup. From pop-up campers to rooftop tents, there are a lot of cool-looking rigs out there these days.
But truck bed tent is one of the most overlooked option for sleeping in your truck. These pickup truck tent are super affordable and they have a lot of benefits over the other types of setups for truck camping.
Instead of taking up to 30 minutes to set up a regular tent (and having to sleep on the ground), these tents pop up quickly and they're super easy to set up.
Plus, they give you the ability to sleep on a raised platform that's free from animals and other curious critters.
The truck bed tent niche is a relatively new one. But many companies are beginning to recognize the popularity of this type of tent. This means you have plenty of quality options to choose from.
In this guide, we're going to cover some additional benefits of truck bed tents and review five of the best tents for truck beds on the market today. We'll also break down the features and specifications of these tents so that you can choose the best model for your truck type and personal preferences.
So let's get to it!
What Is A Truck Bed Tent?
A truck tent is designed to secure right in the bed of your pickup truck. Some of them have floor liners that provide extra insulation between you and your truck bed. Others feature floorless designs that allow you to set the tent up without removing anything from the bed of your truck.
Truck tents are a cheaper alternative to a camper shell or an even more expensive truck bed camper. They are also a substitute for a rooftop truck tent, a slide-in pop-up truck camper, or a traditional tent that you'd set up on the ground.
Are Truck Tents Worth It?
Truck tents are definitely worth it…for the right people. These tents have a very specific place in the truck camping niche. They are best for weekend getaways and overnight off-grid camping.
They allow you to set your tent up on a higher platform to avoid getting wet or having curious wildlife sniff around the base of your tent in the middle of the night.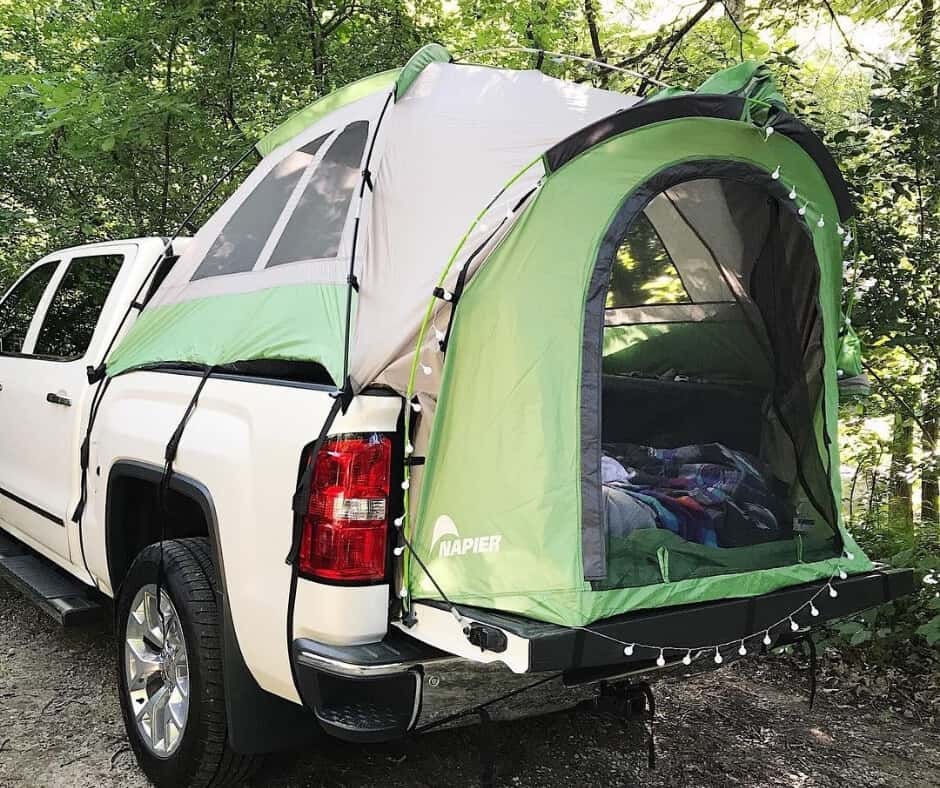 Why Use A Truck Bed Tent Instead of a Camper?
The main benefit of using a truck bed tent over a camper is that you'll retain the majority of the space in your truck bed for storing additional gear when you're not actually setting up camp.
With a slide-in truck camper (whether it's a pop-up style or not), your entire truck bed will be dedicated to the camper instead of gear storage.
With a truck bed camper, you'll also usually have to worry about dumping and filling holding tanks every few days.
While you won't have a dedicated indoor shower or toilet with a truck bed tent, you also won't have to deal with the headaches that sometimes come with maintaining a truck bed camper.
They are also more compatible with air mattresses than ground tents, which allows you to enjoy a more comfortable night's sleep when truck camping.
And they still pack up small enough to allow you to use the majority of your truck bed for additional camping gear storage.
Truck campers and camping trailers will also make your truck less fuel-efficient.
And this is another reason why folks that like to cover a lot of ground on their camping adventures will choose a truck bed tent over a camper.
Additionally, truck bed tents have certain benefits over tow-behind camping trailers. For one, you won't have to put the extra wear and tear on your truck's engine and transmission.
You'll also keep the tow hitch on your truck free for a bike rack or another recreation accessory.
Finally, truck tents are also much more affordable than truck bed campers.
This makes them a great option for casual campers that don't need to spend a fortune on a larger camper or camping trailer for their truck.
5 Best Truck-Bed Tents For Camping In 2023
We've tested and reviewed the following truck bed tents based on their durability, ease of use, features, and several additional factors.
If you pay close attention to what we liked and didn't like about each of these tents, you'll be able to start narrowing down your options as you move through our Tent Buying Guide.
Truck camping is far more enjoyable when you sleep better at night, and here are the best 5 truck bed tents for the most comfortable sleeping experience for vehicle-based camping adventures:
1: Best Overall: Napier Backroadz regular bed Truck Tent
Our choice for the best overall truck bed tent is the Napier Backroadz Regular Bed tent because it features a complete floor that provides additional underneath insulation and keeps the interior of the tent protected from the elements.
The full-size regular bed Napier tent will fit the 6.6' Chevy Silverado, 6.4'-6.5' Dodge Ram, 6.6'-6.7' Ford F Series, 6.6'-6.7' GMC Sierra, 6.5'-6.6' Nissan Titan, and 6.5'-6.7' Toyota Tundra truck beds.
But there are also several other Backroadz models that will fit trucks of other sizes. Click here to see their full sizing chart.
This pickup truck tent can also be set up in truck beds that already have toolboxes or bed liners and it comes with a full-coverage rainfly for additional weather protection on rainy days.
But, of course, that rainfly can be removed when you want to look for shooting stars from the comfort of your tent.
The interior area of this tent boasts more than 5.6-feet of headroom and provides plenty of space for two people to sleep comfortably.
During assembly, you'll be able to use its color-coded system to match poles to their appropriate locations and complete the installation quickly and easily.
The poles themselves are made of fiberglass, which provides great strength and durability.
And the benefit of fiberglass poles is that they can be replaced relatively inexpensively if they do happen to snap or break under intense wind loads.
This pickup bed tent also weighs just 16 pounds and packs down to 30" x 9" x 9" so that it can fit behind the seat in the cab of your truck without anyone hardly noticing.
It's also worth noting that the tent's fabric is 68-denier polyester taffeta and the floor material is polyethylene.
Things We Like
Things We Don't Like
2: For Midsize and Compact Trucks: Kodiak Canvas Truck Bed Tent
If you're looking for a pickup bed tents for a midsize or compact truck with a bed length from 5 to 6.5 feet, check out the Kodiak Canvas Truck Bed Tent.
This is also one of the few truck tents on the market that's rated for four-season use.
The Kodiak tent is made with 100% cotton duck canvas material. This material is watertight, breathable, and highly durable.
The frame is made with ¾-inch steel tubing that provides a heavy-duty structure for the tent fabric.
It should be noted that, while this pickup truck tent is rated for year-round use, it's not necessarily designed to handle heavy snow loads.
It is, however, compatible with many different truck models, including the Toyota Tacoma, Nissan Frontier, Chevy Colorado, GMC Canyon, Dodge Dakota, and Ford Ranger.
And even though it's designed for smaller trucks, this tent can either be used with your tailgate up or down.
And the tailgate down design expands the amount of usable interior space.
Speaking of that interior space, this tent features a dome-tunnel design that further maximizes your ability to move around comfortably inside.
And it also boasts a cab access window that allows you to reach into the cab of your truck without leaving the comfort of the tent.
Although it's rated for four-season use, this truck tent also features a total of five windows that help to provide excellent ventilation during the hotter months.
And the tent clamps directly onto the rails of your truck bed for a secure fit and easy installation.
Overall, this entire pickup bed tent is a bit on the heavier side with a total weight of 41 pounds. It also boasts packed dimensions measuring 47" x 10" x 10".
It does, however, come with its own convenient carry bag that helps you keep all of its components organized and protected when you disassemble the tent.
Things We Like
Things We Don't Like
3: Best Floorless Design: Rightline Gear Truck Bed Tent
The Rightline Gear Truck Bed Tent is the best floorless design we've seen out there.
And that means it sets up over the entirety of your truck bed in just a matter of minutes, which can be highly beneficial when you arrive at a campsite in adverse weather conditions.
This particular model is made to fit full-size standard truck beds of 6.5 feet in length.
But it should be noted that Rightline Gear does manufacture a handful of other tent models for truck beds of almost any size you can imagine.
The really great part about a floorless design is that you can set up your tent without taking all of your other camping gear out first.
This will allow you to get your tent completely set up and then maybe enjoy a little scout mission around your campground before you unpack the rest of your camping gear.
Like the Napier tent, this one also boasts color-coded poles and pole sleeves that help you complete the setup even more quickly.
But the first step is to secure the attached straps to accessible attachment points on the outside of your truck bed.
The convenient part about this design is that you won't need a ladder or step stool to complete this setup.
This tent uses 2000-millimeter thick waterproof material for the walls and it also comes with a rainfly for increased weather protection.
The setup guide for this tent is also sewn right into the fabric so that you don't have to worry about losing it.
Another feature we love about this tent is the sky view vent on the top.
On clear nights when you don't have the rainfly installed, you'll be able to use that vent to enjoy the feeling of sleeping under the stars without truly being exposed to all of the elements.
This three-season tent weighs just 8.7 pounds and fits all Ford F-Series, GMC Sierra, Chevy Silverado, Dodge Ram, Nissan Titan, and Toyota Tundra truck models.
Things We Like
Things We Don't Like
4: Best For Large Truck: Napier Backroadz Truck Tent
If you have a long bed truck that's 8 to 8.2 feet in length, the Napier Backroadz Long Bed Truck Tent is going to be a great choice for you.
This tent is similar to the regular bed tent from Napier, but it's obviously designed for long truck beds.
In fact, this tent is compatible with long bed versions of the Chevy Silverado, Dodge Ram, Ford F-Series, GMC Sierra, Nissan Titan, and Toyota Tundra truck models.
And it features additional storm flaps that cover the windows and doors during inclement weather.
While this is only a three-season tent, it does offer large windows and a screened-in mesh door that provides excellent ventilation during the hotter months.
Inside, a gear loft, gear pocket, and lantern holder help you keep your personal items organized and keep the inside of the tent well-lit in the evenings.
It also boasts the same full tent floor that you'll find on the regular bed version, which keeps you protected from the elements and provides additional insulation.
And you'll be able to enjoy up to 62" of headroom inside this tent.
Things We Like
Things We Don't Like
5: Best Waterproof Design: Quictent Waterproof Truck Tents with Removable Awning
If you want a tent with a waterproof design without spending the extra money to get a fully cotton canvas tent, then look no further than the Quictent Waterproof Truck Tent.
This tent boasts 2000-millimeter thick tent material with a full-coverage rainfly and a polyurethane tent floor with fully-sealed seams.
This tent fits full-size trucks and you'll be able to pick your size.
They make one model to fit truck beds from 5.5 to 5.8 feet in length and another to fit beds from 6.4 to 6.7 feet in length. Their mid-size tent also fits trucks with a 6 to 6.3-foot bed length.
Inside this tent, you'll be able to enjoy up to 63 inches of headroom. Outside, a removable awning can be extended to provide a shade structure or a covered area for removing shoes before climbing into the tent.
This awning measures 48" x 48" and can be removed when shade or rain protection isn't needed.
The polyurethane floor of this tent is 4000 millimeters thick to provide additional moisture resistance where you need it the most.
And the full floor of the tent also helps to keep critters from crawling in on days when rain isn't your primary concern.
This tent also weighs just 12 pounds and features all of the interior elements that make life inside of a tent much easier.
That includes a gear loft, internal storage pockets, and an openable rear window to provide cab access without leaving your tent.
Things We Like
Things We Don't Like
---
Thing To Ensure When Choosing The Best Truck Tent For Camping
Unfortunately, there is no one-size-fits-all option when it comes to truck tents.
But these are the most important criteria you can use to select the model that is best suited to your truck and your camping preferences.
Choose the Right Type Of Truck Tent
As you begin your search, you'll notice that there are several different types of truck bed tents out there.
So, it makes sense (to use at least!) to begin by defining the three main types of truck tents and discussing some of their pros and cons.
A-Frame Truck Bed Tent
The A-frame truck tent provides the same shape as your traditional A-frame cabin.
This design is quite common because it's very easy to set up and also packs down to a very compact size so that you retain plenty of space in your truck bed for other gear.
But it doesn't come with quite the same amount of headroom as you'll find with some of the other tent types.
Umbrella Pickup Bed Tent
Most of the umbrella-style truck tents on the market are characterized by their floorless design. This tent style is also well known for its abundant headroom and spacious entryways.
These tents are also fairly easy to set up because they don't have a floor and they simply attach to the sides of your truck bed and then assume their shape naturally.
When set up, these tents usually boast large windows with tough, mesh screens that provide great views and plenty of bug protection.
They also leave a reasonable amount of space in your truck bed for other gear when they're packed up.
Dome-Shaped Tent For Truck Camping
This style of truck bed tent is increasing in popularity because of its versatility.
You can find models out there that will fit many different truck beds and these tents are generally quite durable for two or three-season use.
Most of them will come with flexible poles that provide interior support for the tent.
Much like traditional tents for use on the ground, many of them also boast a rainfly that can be installed if you're expecting overnight weather or removed if you want to enjoy stargazing while lying in the safety of your truck tent.
Choose Truck Tents That Can Be Easily Set Up
Some of these tents are a bit bulkier and more difficult to install than others.
If you know you're always going to be camping with a friend or significant other, you really shouldn't have a problem.
But if you're looking for a truck tent for solo adventures, ease of installation will be a bit more important.
Generally speaking, a lot of new truck campers fall for heavy-duty designs because they offer great weather protection and four-season versatility.
But these designs also often come with a more complicated installation process.
That means you probably won't want to go through the process of setting up and breaking down your tent more than once per weekend.
If you plan on moving about quite a bit and camping in a different spot every night, a bulkier truck tent that requires 10 or more minutes to set up is going to get old really fast.
So just be honest about the type of camping you plan to do before you buy a tent that has a really tricky installation process.
Choose A Tent With A Spot For Cab Access
Retaining access to the cab of your truck from the interior of your tent is often overlooked.
But unless you have an outlet or charging port in the bed of your truck, you'll probably want to be able to reach through the back window to plug in electronics and other powered camping equipment.
While this isn't essential, it can make life in a truck bed tent much more enjoyable, especially on rainy days when you just want to cuddle up in your tent and enjoy music or a movie.
Just make sure you bring along a power cord extension so that you can plug your electronics in and still reach them back into your tent.
Make sure you got the right size tent for your make and model truck?
The good news is that choosing the right size tent for your truck bed should be relatively simple.
You'll simply need to know the length and width of the bed in your truck and that match those dimensions to the right tent.
In many cases, you'll also get away with only knowing the length of your truck bed because the width is a more standard measurement across different vehicle makes and models.
Most short bed trucks have the same truck bed width. Most long bed trucks have the same bed width. And so on and so forth.
How Much Space Will A Tent Takes Up To Your Pack?
In addition to considering the size of the tent once it's set up, you should also look at its packed dimensions.
This will help you determine how much space the tent will take up in your truck bed when you're loading up for your camping trip.
While it might not seem too important, remember that you'll likely have a cooler, camping table, chairs, portable grill, sleeping bags, and a host of additional camping gear to pack if you really want to be prepared for everything.
So the tent you choose can't take up too much space in your truck bed when it's packed up.
Tent Materials And How They Are Made
When you're evaluating the quality of the craftsmanship in any truck camping tent, you'll want to look at the materials used to construct the walls, floor, rainfly, poles, and any other elements of the tent. This usually comes down to fabric and pole materials, and the thickness of those materials.
You'll usually be safe if you choose a tent that's primarily made of a canvas or waterproof polyester material.
And it will help you if you get familiar with the term 'denier', which is often used to refer to the thickness of the material used in a tent's construction.
A higher denier count refers to a thicker material and vice versa. But denier count and the material choice itself must be considered hand-in-hand.
For example, 200-denier canvas material may actually provide more insulation and weather resistance than 300-denier polyester material, even though the polyester (as advertised is thicker).
If you're looking for a tent that you can really use in almost any weather, we recommend going with something made of canvas material.
But if you're primarily going to be camping in favorable weather, you can save a little money by opting for a tent made with waterproof polyester.
Look For Truck Tent With Larger Windows
The number and size of windows included in a tent's construction will also play a role in internal temperature regulation.
Generally, a tent with more, larger windows is going to be more effectively ventilated than a tent with fewer, smaller windows.
But windows are also nice from an aesthetic perspective. Nobody goes camping just to sit inside their tent and look at the wall fabric the whole time (at least we hope not!).
So more, larger windows can help you enjoy the colorful skies during sunrise and sunset while you're tucked away in the comfort of your tent.
Get A Truck Tent With A floor
We've already mentioned that one of the benefits of this type of tent is that most of them can fit an air mattress inside.
If the air mattress is compact enough to fit in the bed of your truck, it should also work with most of these truck bed tents.
But some tents boast a floorless design while others come with some form of floor liner.
Floorless tents will leave you to sleep directly on the floor of your truck bed as if you were just sleeping out on a warm, summer evening.
Tents with floor liners provide a little extra insulation from the cold air that will accumulate underneath your truck bed during the cooler seasons.
But even this design doesn't add much padding to your otherwise rigid truck bed.
And another downside of getting a tent with a floor liner is that you'll have to completely clear your truck bed of gear before you set up your tent.
You don't want to risk tearing the floor liner on a multi-tool or camping axe that you forgot to remove.
Floorless tents, however, allow you to set them up over anything and everything that's already packed in your truck bed.
And this can have the added benefit of allowing you to quickly set up a dry, covered space for all of your gear if you arrive at your campsite in the rain.
Included Accessories
If you're comparing two tents side-by-side and they're almost identical across all of the factors we've already outlined, the difference might be in the details.
Does one tent offer a removable gear loft inside? Does the other tent have an extendable awning over the doorway of the tent?
These are just a few examples of some of the accessories that these tents will come with.
And, in many cases, these accessories can make all the difference between a stellar truck bed tent and one that's just functional or average.
For our money, one of the most important accessories you should look for with these tents is a screened-in entryway.
This will give you an intermediate zone to store dirty shoes and other gear that you want to keep close by but you don't necessarily want to get the inside of your tent dirty.
And these entryways can also be useful in further helping you keep biting and annoying insects out of your sleeping sanctuary.
And finally, because you'll be sleeping in the bed of a truck after all, some of the coolest truck tents we've seen include some sort of skylight or upper window that provides excellent stargazing ability without sacrificing the weatherproof nature of the tent as a whole.
Truck Bed Tent Price
At the end of the day, your budget is also going to come into play.
How much are you willing to spend on one of these tents? And how often do you plan to use it every year in order to get your money's worth?
The good news is that, as we mentioned earlier, these truck bed tents are considerably more affordable than truck bed campers or pull-along camping trailers. Of course, if you have a healthy budget for this purchase, you'll find that some of the most rugged, four-season truck bed tents out there come with price tags in excess of $1,000.
That being said, if you want to get a high-quality tent without breaking the bank, we recommend being prepared to spend somewhere in the $170 to $220 range.
So, Which Is Best Truck Camping Tent For Your Pickup?
If you're looking for a truck tent that offers a full floor, great durability, and excellent value, look no further than the Napier Backroadz Regular Bed Truck Tent.
With a color-coded assembly, setting this tent up should be no problem and it's designed to fit most trucks with bed lengths from 6'4" to 6'7".
But for those of you that have a smaller mid-size or compact truck, the Kodiak Canvas Truck Bed Tent would be more appropriate. And this tent happens to be the best choice on our list for four-season camping.
And, finally, if you're craving a tent for your long bed truck, Napier's Backroadz Long Bed Tent provides all of the features that make their regular bed tent a great value. But this one is designed to fit trucks with bed lengths from 8 to 8.2 feet.
Frequently Asked Questions
If you're new to the world of truck bed tents (or tents in general), there's a lot that goes into choosing the right tent and then maintaining it for years to come.
So let's address those topics, and a few others, in our Frequently Asked Questions section.
What's the difference between a three-season and a four-season Truck tent?
As their name implies, three-season tents are only built for use in the spring, summer, and fall.
Their four-season counterparts, on the other hand, are made for year-round use. The main difference is going to be the level of insulation the tent provides.
Four-season tents achieve additional insulation by having thicker walls that are more effective at preventing heat loss.
Some of them also use different fabrics (such as canvas) that don't breathe as well as some of the tents made for use during the warmer seasons.
It should be noted, however, that even though four-season tents provide more insulation than three-season tents, they still aren't quite as insulated as most slide-in truck campers or popup camping trailers.
Can truck tents be washed?
Yes! But we don't advise putting them through your washing machine. The best way to clean these pickup tents is to hose them down thoroughly in your backyard and then hang them on a clothesline to dry.
If you had a particularly dirty camping trip, you may also need to use a sponge and a mild soap to clean off mud, dirt, or other debris that gets stuck to the interior or exterior lining of your tent.
It's also a good idea to clean both the inside and outside of your tent before you hang it to dry. Also, you should be sure that your tent is 100% dry before you pack it away again.
This is because packing away a wet tent can cause mold to start growing between now and the next time you unpack your tent for a truck camping trip.
Can UV radiation damage a truck bed tent?
Yes! Excessive exposure to UV radiation has the potential to degrade any outdoor pickup tent, regardless of how tough it's constructed.
And that type of radiation is beaming down from the sun on a daily basis (unless you're only camping when there's 100% cloud cover).
Eliminating all exposure to UV radiation is impossible. But you can be cognizant of the angle of the sun and how it will move across your campsite throughout the day.
That will allow you to park your truck and set up your tent with an orientation that limits overall UV exposure for the duration of your camping stay.
How to park my truck for a truck bed tent?
How you park your truck when you arrive at a campground is going to factor into how easy (or difficult) it is to set up your truck tent.
And it will also determine how comfortable you are sleeping in your tent once it's set up.
This is mostly true for any type of truck tent, pop-up camper, or truck camping trailer.
And the main thing to remember is that you'll want to park your truck on as level of a spot as possible before you start setting up your tent.
If you're mostly sticking to developed campgrounds, it should be relatively easy to park your truck on a level site when you arrive.
But if you're more interested in getting a truck tent so that you can explore more remote locations, you might need to purchase a few additional accessories to help you set up your truck once you arrive at your sites.
One must-have accessory for camping with a truck tent is leveling blocks. These blocks will allow you to lift one side of your truck or the other to make it level.
And they will also help you level it from front-to-back. Generally, you'll always want to have your head slightly uphill when you lie down in your tent, so keep that in mind when you're parking your truck to set up a truck bed tent.
Can I drive with a truck bed tent set up?
No! These truck tents are not meant to handle the force that will be placed on them when you're going down the highway at 70 or 80 miles per hour.
They must be disassembled and packed away in their storage bag before you drive home or to your next camping destination.
Please don't try to drive your truck anywhere (not even 5 miles per hour inside a campground) with your truck tent set up!
Conclusion
If you're just getting into camping out of your truck, these tents can be a great way to make things easier and more comfortable.
You won't have to worry about the downsides of setting up a traditional tent on the ground and you'll also be free of the maintenance that often comes with larger truck campers.
We sincerely hope that you've found the insights on these truck bed tents useful today. And as always, we wish all of our readers the best of luck on their upcoming RV travels!