Ah, I can still remember the joys of my first RV trip. But I can also recall the struggle of having a 3000-pound camper trailer.
I've learned my lesson; it is better to own an ultra lightweight travel trailer under 2000 pounds.
Here's the catch—there are many lightweight models in the market ranging from 400 to 1,800 pounds. When you add up some stuff, you won't even go beyond 2,000 pounds.
Don't worry, these small trailers have the same efficiency as their larger counterparts. The main difference is the downgraded size.
Even with this humble space, you can install significant features for your road trip.
We've prepared recommendations and explanationsto help you find the most lightweight travel trailer that would suit your needs. In this article, you'll discover:
Top picks of camper trailers that are a good value for the money.

How to choose models when you have a mid-sized SUV or a small car.

Can you add appliances or rooms?

How to maximize the floorplan.

What amenities to include so you won't exceed 2000 pounds.
14 Best Lightweight Travel Trailers Under 2000 Pounds
The products on this list have a dry weight or unloaded vehicle weight of 2,000 pounds or less. All of them don't need a full-size SUV or truck to be functional.
1. Jayco Hummingbird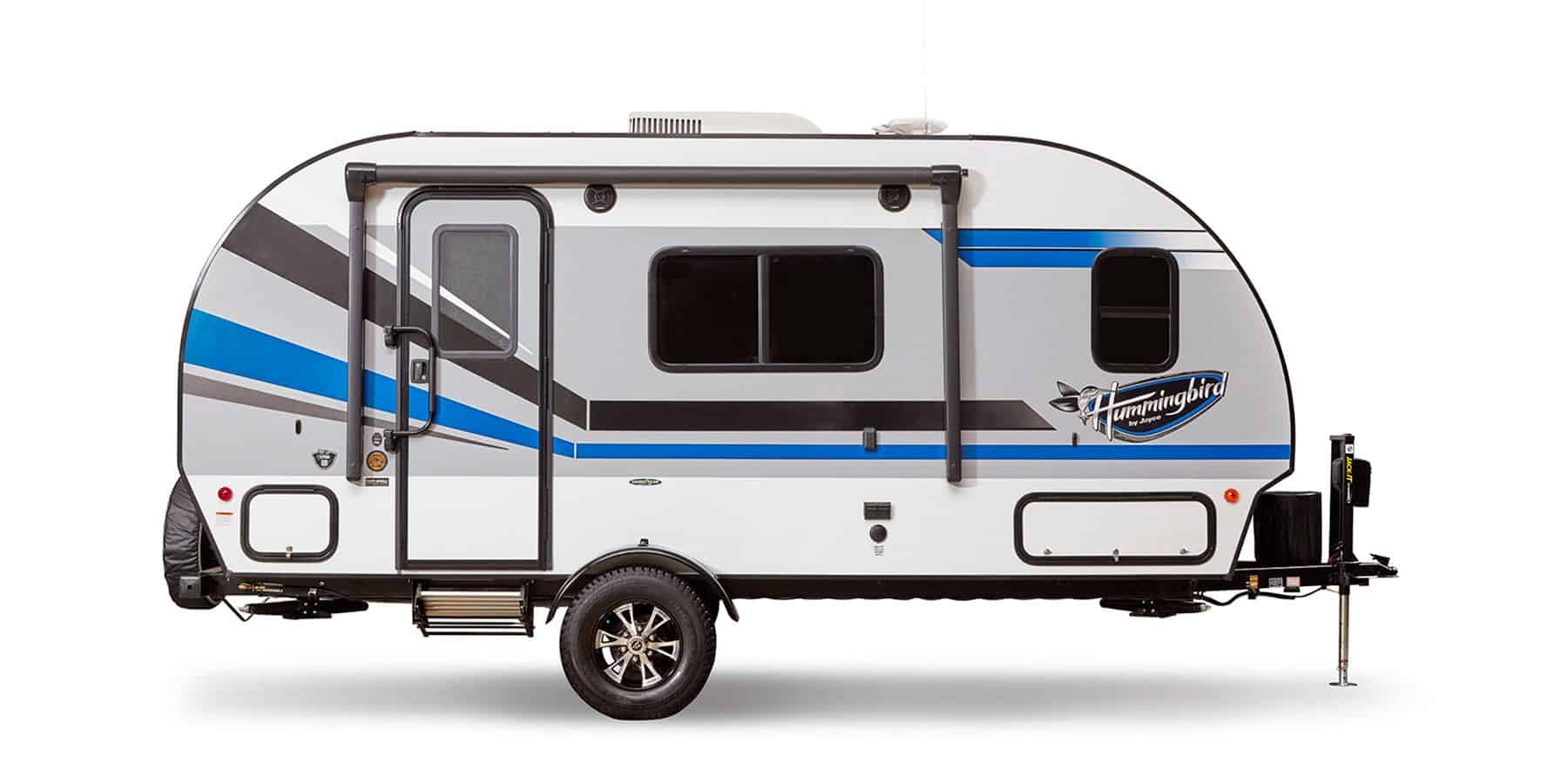 Jayco is popular for its legendary construction methods. One of its masterpieces is the Jayco Hummingbird, which delivers a lightweight and comfortable camping experience.
Hummingbirds are the smallest species of birds, which makes it the perfect name for this unit.
Don't let its small size fool you because this trailer is armed with a unique design, spacious layout, and useful features.
It comes with a full-size bed with overhead storage. For convenient cooking, head onto the cooktop with glass cover, which doubles as extra countertop space.
What makes this lightweight camper trailer valuable is its rear outdoor kitchen. Here you can enjoy lots of storage, a TV, a fridge, and a sink. You can even install grill propane.
Aside from that, the trailer space provides a rear camera, marine-grade exterior speakers, and a power awning. There's also a LED light, which serves as a tailgating travel trailer.
For the construction, the trailer boasts a TuffShell aluminum frame and enclosed underbelly with AstroFoil insulation.
It also has a roof-mounted solar prep and decorative windows with pleated nightshades.
Bonus Features:
Rubber torsion axle
Goodyear 15-inch radial tires
Self-adjusting breaks
2-way 12V/110V LED TV & refrigerator
30-amp service with detachable power cord
2. Forest River Flagstaff E-Pro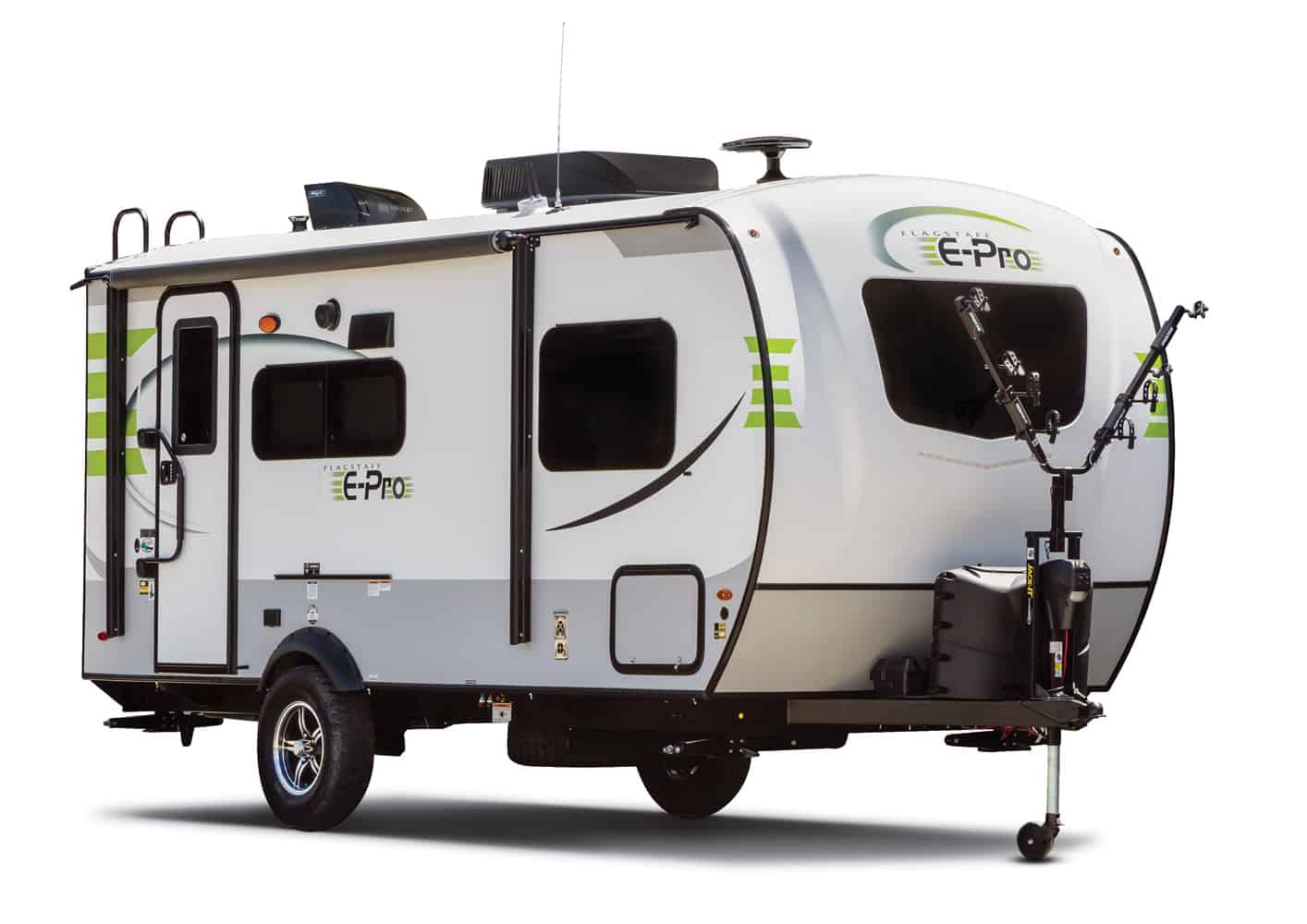 The design of the E-Pro makes towing convenient for minivans, SUVs, and small trucks. You can choose from its 10 floorplans to make the unit even lighter.
As a result, you get an easy-to-tow, yet spacious trailer. This is applicable especially if you pick either the E-Pro 17PR or the E-Pro 16BH.
The best part about the E-Pro? Looooooots of storage! The modern interior design makes the trailer useful when you need to pack murphy beds or food.
Another good thing about the trailer is its durable aluminum construction. It also boasts a fiberglass cap, as well as vacuum laminated walls and roof.
Aside from that, the trailer is equipped with nitro-filled radial tires and tinted bonded frameless windows.
For those who love to cook, enjoy the outside kitchen that comes with a microwave shelf. Additionally, you can use the gas grill and recessed cook-top with flush mount cover.
Bonus features:
WiFi range extender
Extra expansions
Torsion axle, Rubber-Ryde suspension
Pre-wire for backup camera
Power awning
3. NestEgg Trailers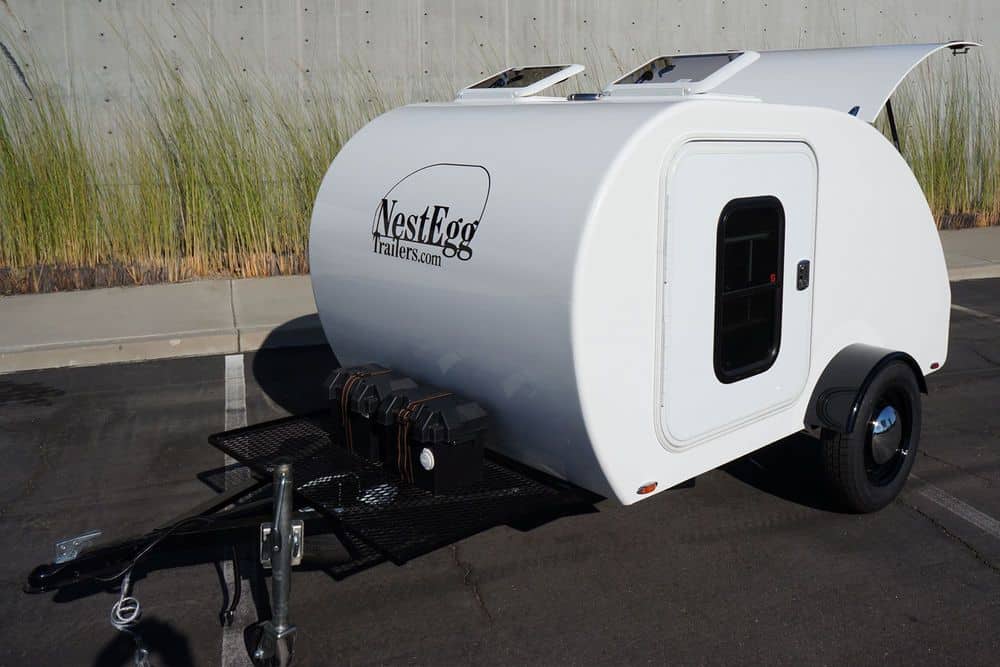 NestEgg Trailers are popular for their ultra-lite, compact, and teardrop designs. Even though the unit is minimalistic, you'll still get the necessary amenities for camping.
What's unique about this brand is that its trailers are made of 100% composite materials. Since there's no wood material, the trailer becomes waterproof.
Bring the comfort of your home on the road using the trailer's kitchen with running water, drawers, and shelves.
Other features include a queen-size bed, built-in ice chest, nine-gallon tank, roll-out work furnace, and double skylights.
Bonus Features:
Power pack
Heating and AC
Carpet
Shower tent
4. Little Guy Trailers TAG Basic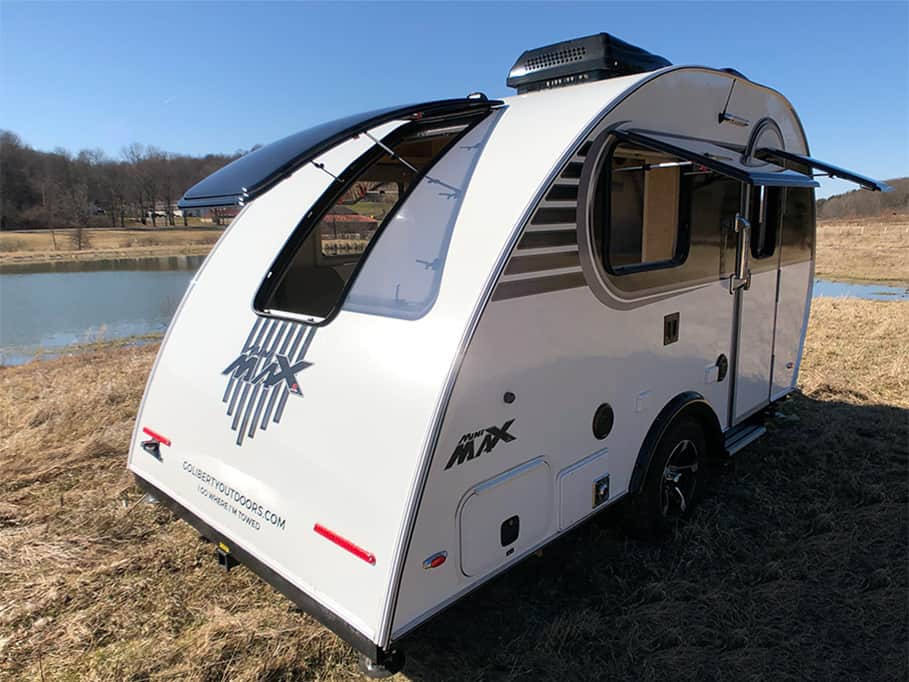 The Little Guy Trailers TAG features a teardrop design of 995 pounds. This is enough space for essentials and two occupants.
You can enjoy cooking in the camper's rear using the stove and sink. For further relaxation, there are stereo and television at your disposal.
Aside from a fiberglass sidewall construction, the body material is made out of aluminum while. Also, the interior is wood finish.
There is no actual space allotted for sofas nor recliners, but there's ample area for a queen-size bed.
For prewiring, this lightweight travel trailer lets you install air conditioning, cable, radio, and TV antenna.
Bonus Features:
1 propane tank
Interior speakers
Mini TAB doors with double locking
Portal window with circular blind
Full galley in the rear with stove and sink
5. Taxa TigerMoth Trek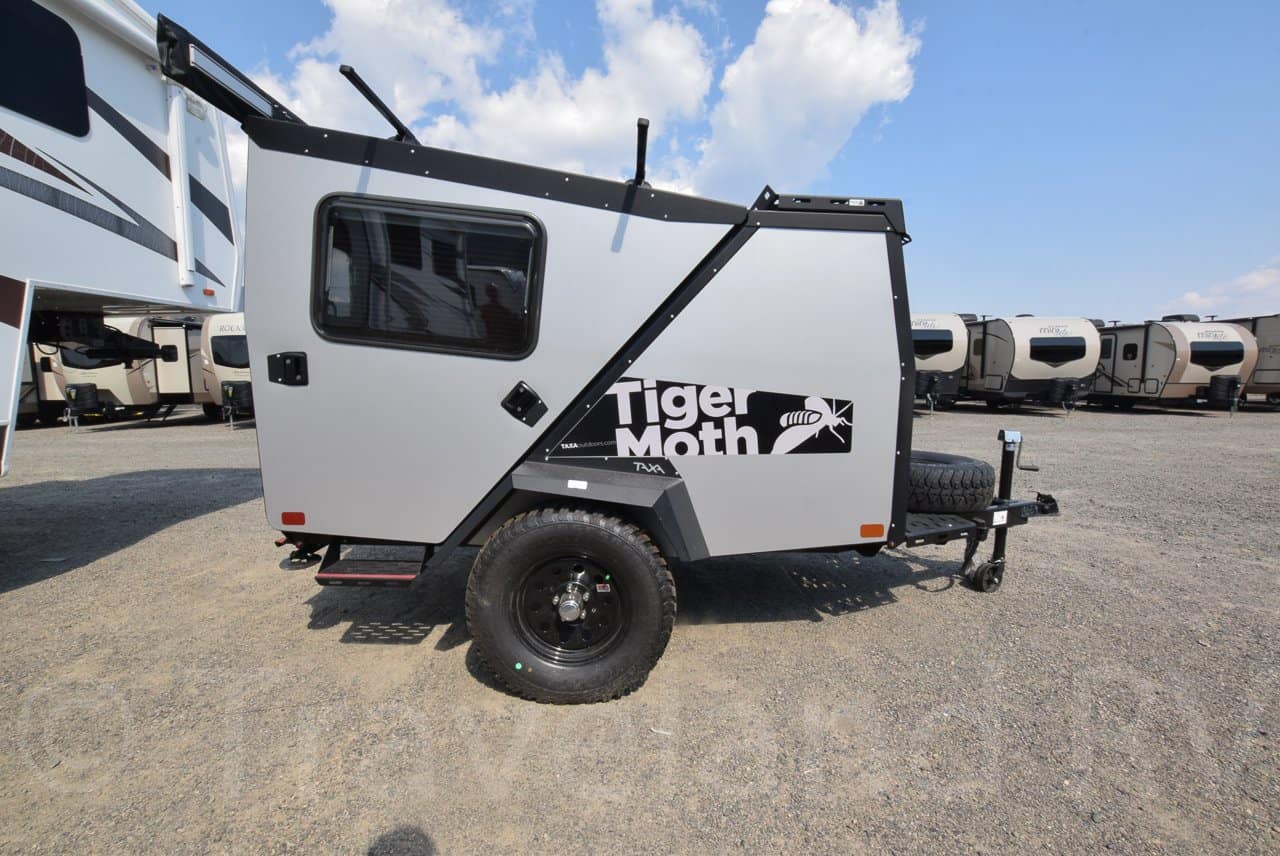 You can depend on the Taxa TigerMoth Trek when you want to be off-the-grid for at least seven days. This towable trailer has one floorplan that can house two people.
The highlight is its 5.5-square feet pull-out kitchen. It even includes a counter-top space with three large cubbies for cookware and other kitchen items. In effect, you can feast while enjoying the outdoor view.
Since this is designed for outdoor lovers, you can use the angular hatch for access, loading, and unloading.
Meanwhile, the attachment points can secure bike racks, gears, climbing equipment, and fishing poles.
More than that, this lightweight travel trailer has a sleeping couch/bed with storage. Also, it comes with a cargo deck, patio awning, and a spare tire.
This camper is armed with LED lighting and onboard toolbox. What's more, you can use the rooftop deck to position a tent.
The light trailer is composed of aluminum composite panels, steel structural skeletons, and Birchwood. These materials help prevent damage from dirt and dust.
Bonus Features:
5-gallon freshwater tank for cooking and drinking
Integrated electrical system
Rugged 15-inch radial tires
Wall-mounted and ceiling-mounted cargo
6. Palomino PaloMini Travel Trailer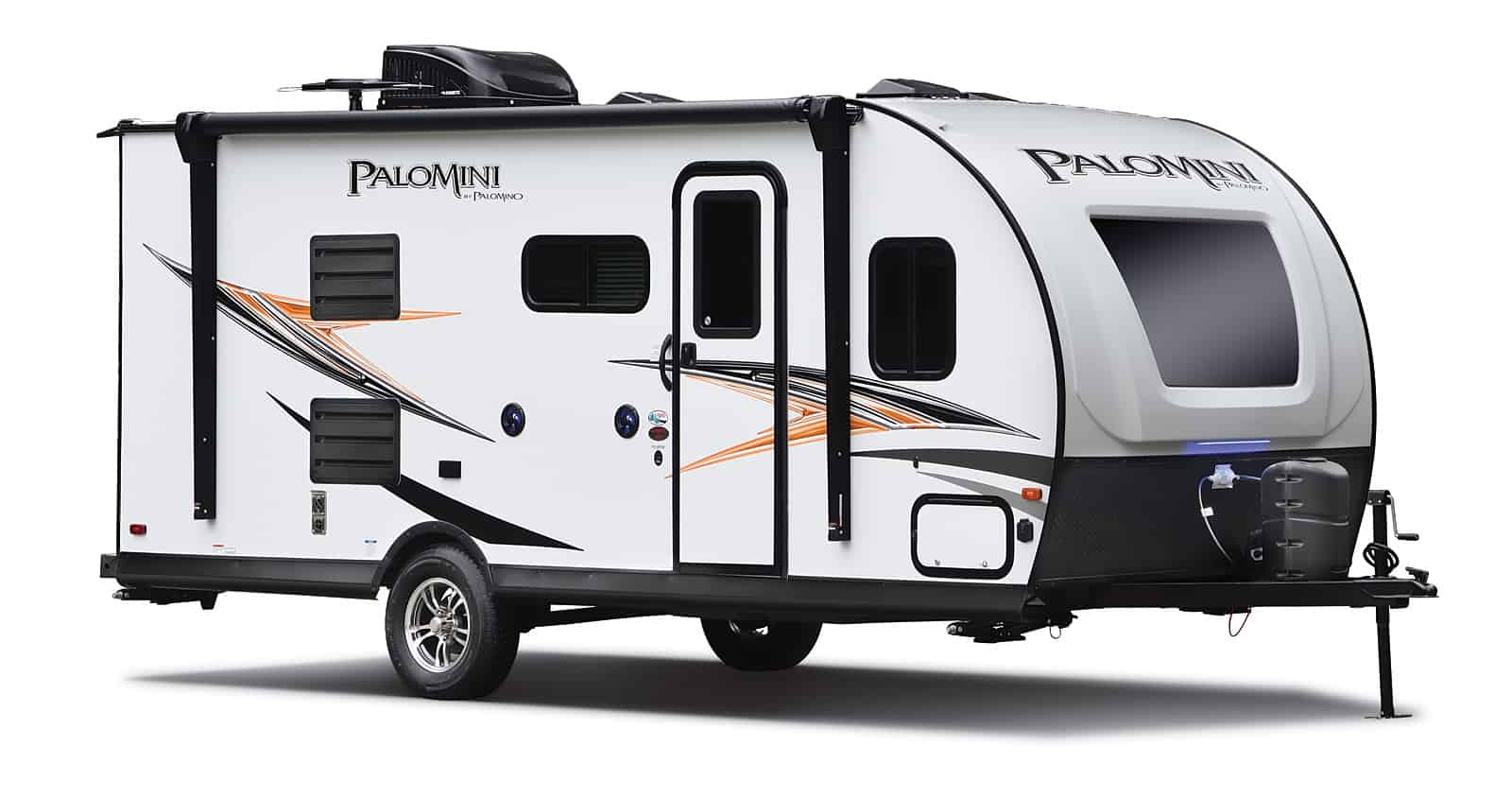 The Palomino PaloMini travel trailers perform well in terms of security and interior aspects.
The 177ORVBH weighs the lightest at 403 pounds. Meanwhile, the 183RDB peaks at 465 pounds.
Aside from a high-density mattress, this top-performing trailer comes with bunk beds to let five adults sleep comfortably. There are storage spaces throughout the trailer for all your necessities.
Additionally, this lightweight camper provides durable hardwood cabinets, power awning with LED lights, dry bath with porcelain toilets, and a water heater.
For all your nightlife needs, you get an entertainment system, 2-burner cooktop, microwave, power bath vent, pantry, sink, and refrigerator.
The standard all-aluminum construction also includes a fiberglass front cap with an integrated automotive-grade windshield. The functional, yet elegant design results in lightweight construction.
Bonus Features:
Tanks for fresh water, gray water, and black water
Walkable roof deck
Carbon monoxide detector
Aluminum wheels and flared fenders
Residential style backsplash
7. Taxa Outdoors Cricket Camper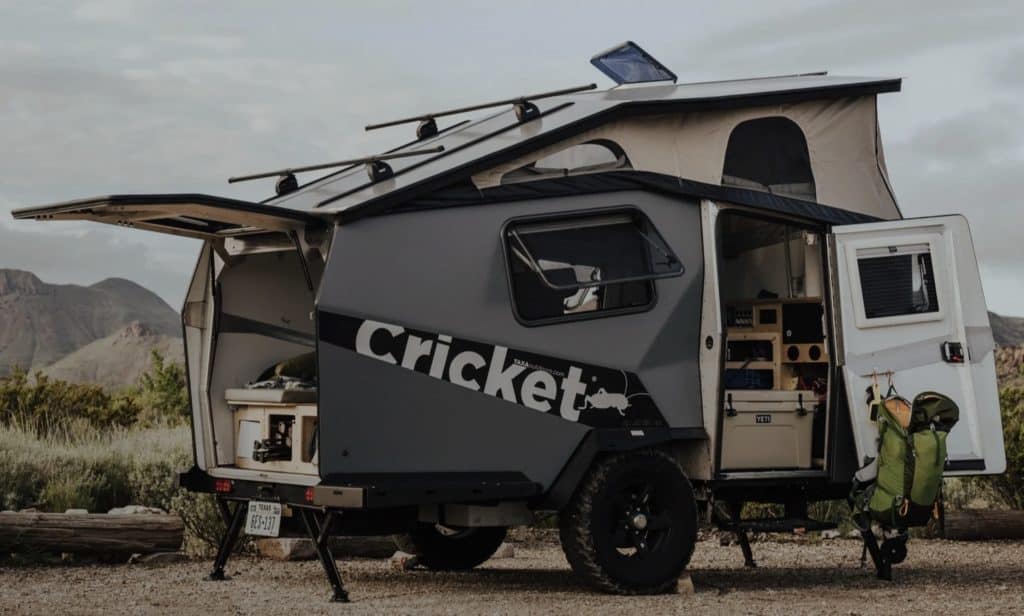 This Houston-based trailer combines safety, rugged, and comfort for a family who frequents the great outdoors.
Since most 4-cylinder vehicles can tow the Taxa Outdoors Cricket Camper, you can bring this trailer almost anywhere you want.
This is recommendable for adventurous families. Aside from a queen size-bed, there's enough space for two adults and two kids to roam around.
You can improve your camping trip using the top-loading fridge and window-mounted air conditioner.
The portable toilet is an optional feature, but you can install an exterior shower with hot and cold water. You won't worry about water because this travel trailer has a 15-gallon tank capacity.
What makes this lightweight camper trailer extra special is the interior's insulated aluminum panels that keep people inside warm during cold months.
Furthermore, you can use the pop-up roof for optimized ventilation and added headroom. It also features four swing windows for excellent cross ventilation.
For the construction and design, you will love the laser-cut aluminum structure. The trailer also brags galvanized steel frame, as well as Kynar-painted and UV-treated aluminum panels.
Bonus Features:
CO detector, a smoke detector, and a fire extinguisher
Breakaway switches
15-inch Aluminum Wheels with All Terrain Tires
Solar pre-wired and LED porch lights
Efficient rack system and roof rails
8. Riverside RV Retro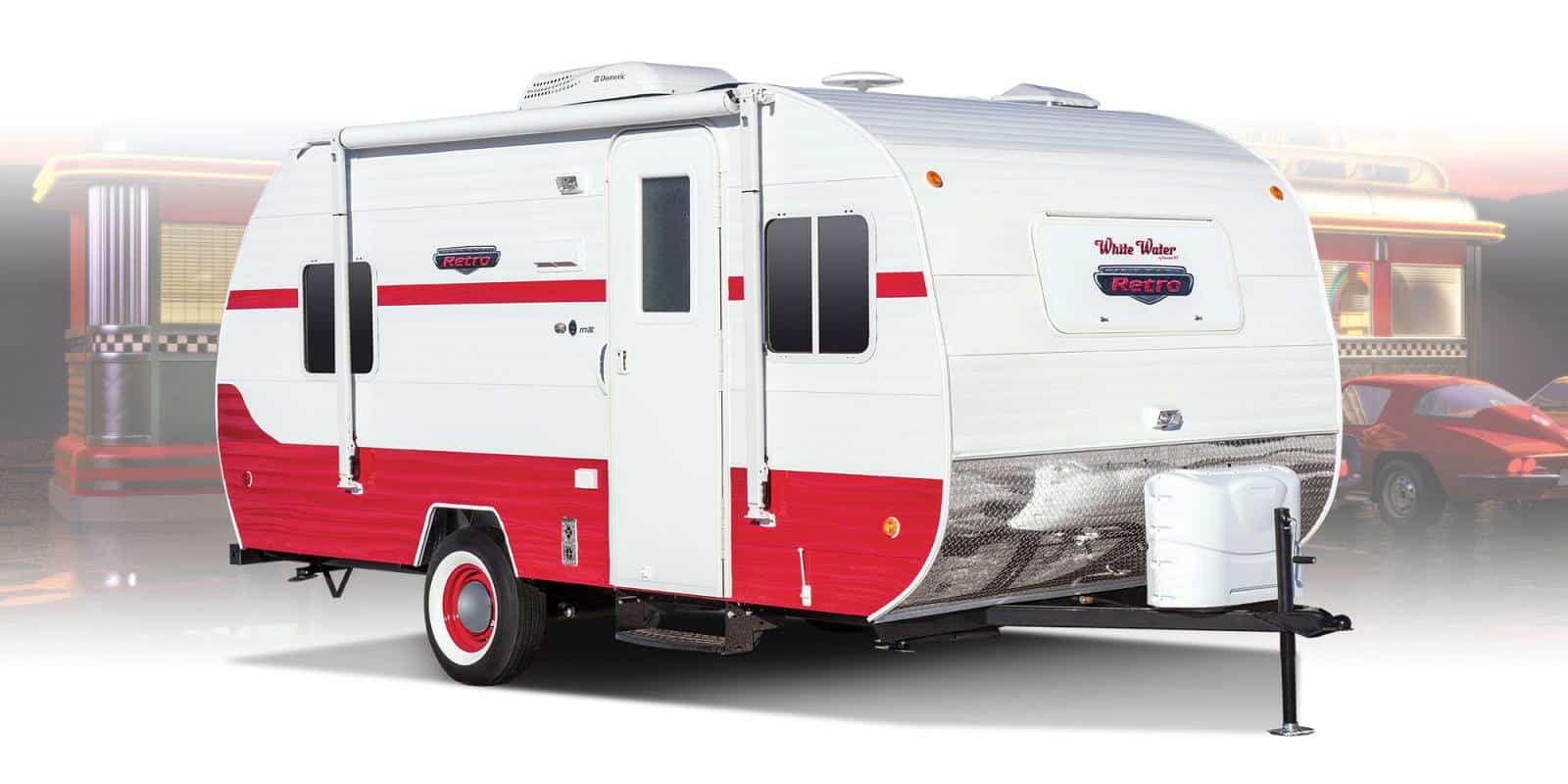 If you want a touch of old school style, but still need modern amenities, then the Riverside RV Retro is a good pick.
You can choose between the Retro 509 JR and Retro 155XL. They both have retro American ambiance, bright colors, checkered floor, and a Birchwood furniture.
In general, this model combines expandability, durability, and awesome features. For example, there are roof vents with rain sensors and a 14-inch awning.
The vintage feels don't sacrifice the amenities and ruggedness. In fact, the trailer is equipped with a one-piece floor decking and a TPO/rubber roof.
Despite its teardrop shape, this lightweight travel trailer can house a queen-size bed and storage. It comes with exterior showers, outside speakers, and an outdoor kitchen.
Moreover, the trailer also includes electric jacks, USB charging ports, and solar operated prep.
Bonus Features:
Two-burner stove and stainless steel sink
Radiant barrier insulation
6.0 cubic foot refrigerator
15-amp solar port
Aluminum cage construction
9. Scamp Standard Travel Trailer
The Scamp Standard Travel Trailer's lightweight version is a wise pick for couples or small families on a budget.
Despite being an affordable trailer, the unit has a fiberglass design with multiple well-designed floor plans.
A homey feel comes from the interior's upholstered cushion, curtains, and carpet. You will also find a cooking galley, fiberglass cabinets, and wood panel doors.
This compact trailer is preferable for travelers who do not like exterior showers. Good thing that this unit includes a bathroom with a shower and toilet.
In addition, you can convert the rear dining area into a double bed. This gives enough sleeping space for up to four people.
For exterior features, this lightweight trailer provides a gray water tank, water heater, 12-gallon fresh water tank, water pump, battery pack, screen door, porch light, safety chains, and stabilizer jacks.
Bonus Features:
1.9 cubic feet refrigerator
Two burner propane stove
Extra lights and outlets
Crank open windows and screens
30-amp electric supply cord
10. Armadillo Trailers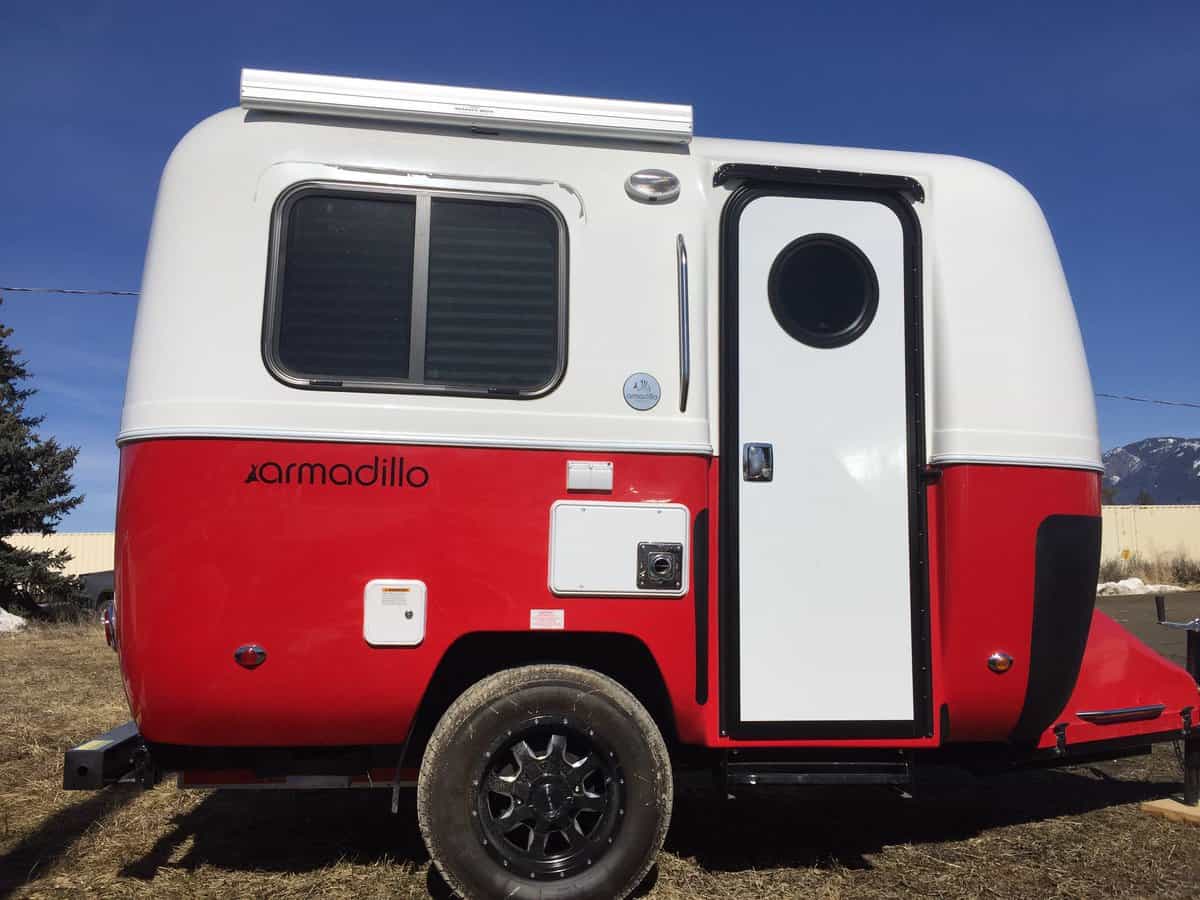 The Armadillo Trailers from Canada are one of the most unique campers you'll ever see.
With 5 floorplans available, you can definitely strategize how to add several features for a group of 4 travelers.
The brand partnered with Industrial Steel Fabrication Inc. to develop a steel frame for the trailer.
The body uses a two-piece fiberglass shell while marine-grade sealants and material were optimized as well. Finally, there's a temperature-resistant linoleum floor.
What's astonishing about this lightweight trailer is its safety and comfort features. For one, there is a rock guard protection on the front of the wheels.
You'll also get heavy insulation, which can diminish heat transfer during the hot months.
Moreover, this camper delivers several appliances and kitchen options. It's as if you have transported your home kitchen to the road! You can use the two-burner stove, Nova-Kool fridge/freezer, stainless steel sink, two-stage propane regulator, and a six-gallon water heater.
Other useful amenities include foam cushions, cabinets, roof air vent, porch light, 12V interior LED lighting, 38-liter fresh water tank, Bluetooth stereo, and 30-amp DC power converter with a battery charger.
Bonus Features:
Carbon monoxide and smoke detectors
Emergency escape window
110V outlets
Fire-rated automotive-grade tapestry fabrics
30-amp service cable hatch
11. Meerkat Trailer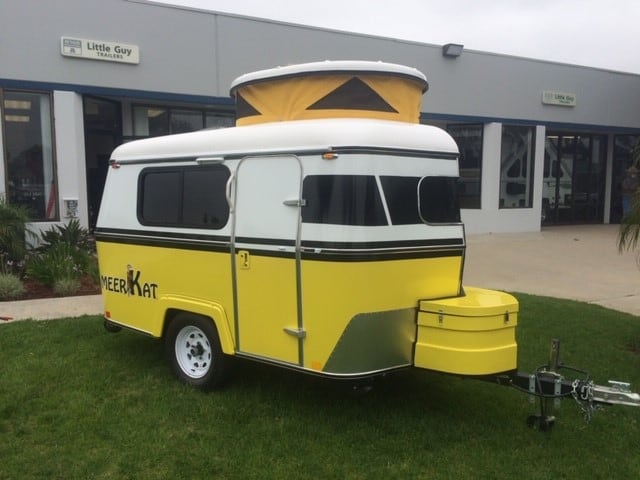 The Little Guy Trailers has designed the Meerkat Trailer to be towed by almost any 4-cylinder car.
The unit's lightweight and compact design enables it to fit even in a standard garage.
The interior provides a dinette and seating area. You can transform this into a roller system bed for two people.
Under the cushions, you will find storage for all your camping needs. There is even a hanging closet for your clothes.
The kitchen is its star factor because this lightweight trailer includes a camp stove, a sink, an icebox, and wood cabinetry.
I bet you'll love that the Meerkat has a portable potty. Additionally, the trailer itself pops open for more headroom.
Finally, the trailer is fully insulated. Yet, you can improve ventilation with the help of the screen windows on the back and sides.
Bonus Features:
120V electrical system
4 stabilizers
Interior LED lighting
Fan-Tastic fan
Window blinds
12. Roulotte ProLite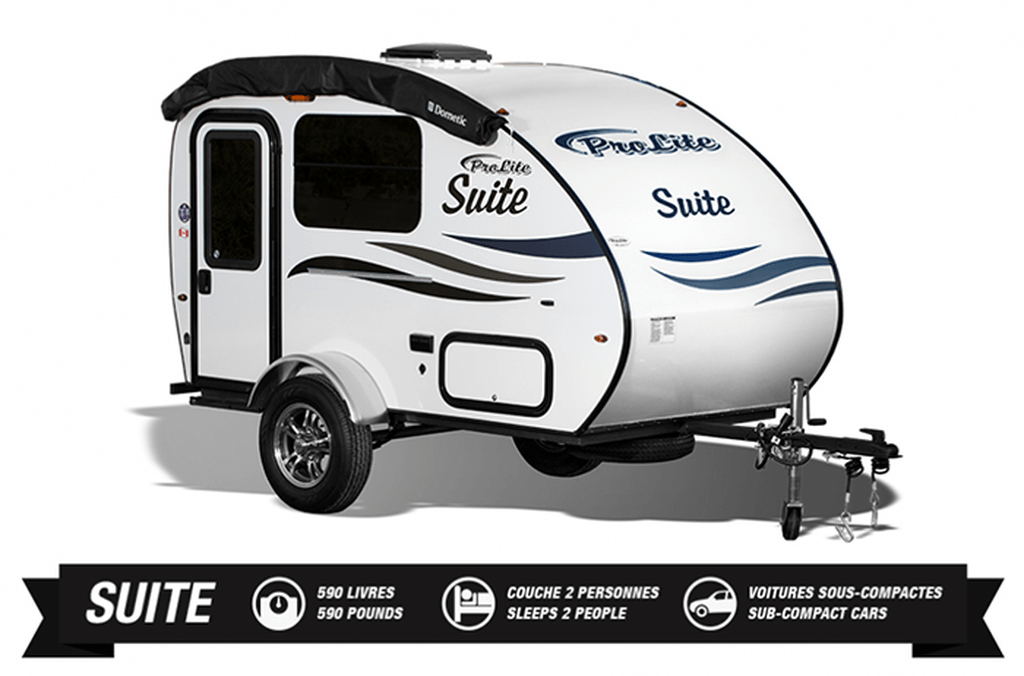 Roulotte is another well-trusted Canadian manufacturer of ultra-lightweight travel trailers.
Suite, the smallest model, weighs 550 pounds. Yet, it can provide up to 11 floorplans for two occupants.
The most recommendable is the Prolite caravan because of its one-piece shell roof cover with fiberglass.
The walls have Duro-Foam insulation, which can resist water and thermal infiltration.
For beneficial features, this lightweight camper provides front, rear, and bunk beds. You can even convert the sofa-bed and shelf into a table during the rainy days.
More than that, you'll get a toilet with shower, two-burner Coleman propane stove, refrigerator, stainless steel sink, and water heater. You can also use the roll-up awning over the door to make more space.
As for the construction and materials, the floor is plywood covered with Tekmodo composite panels.
The exterior is also aerodynamic, which delivers greater fuel efficiency. Lastly, the sides and walls are glued to metal and wooden supports.
Bonus Features:
Alloy wheels and electric wheels
Four stabilizer jacks
Optional A/C, exterior shower and radio
12V DC internal power supply
12V LED interior and exterior lights
13. Aliner Ascape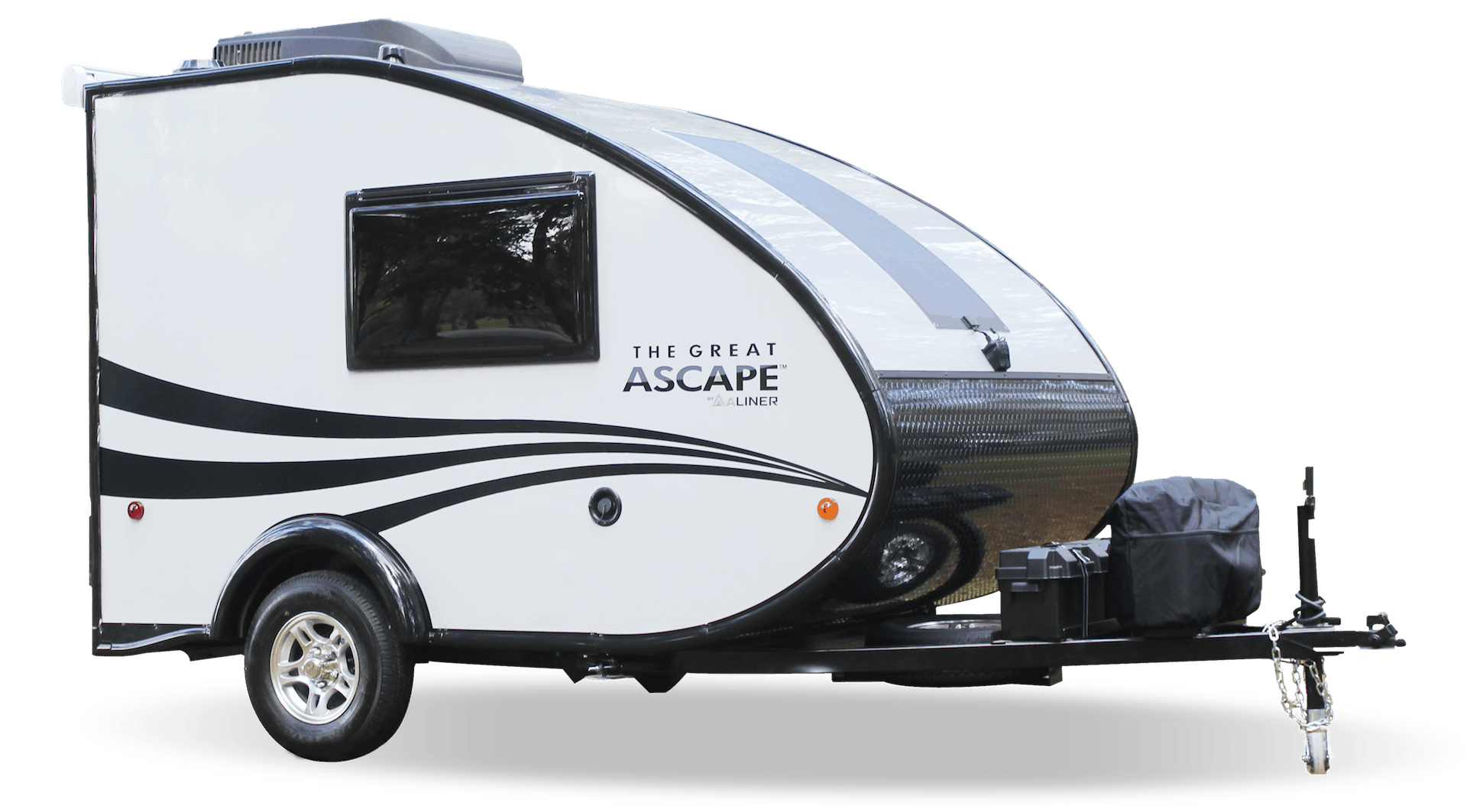 Aliner has two models that have a dry weight of less than 2,000 pounds. The Ascape MT is the lightest trailer at 1,700 pounds.
This teardrop-shaped camper has basic amenities such as a burner stove, 13-gallon gray tank, water pump, and water heater. You'll also find an outside shower, hardwood cabinet doors, and LED running lights.
More than that, this unit includes PlastoForm double pane windows, Zamp Solar port, and Coleman Mach 8 Roof Mounted AC.
Most of the exterior frame is aluminum skin. The high quality automotive finish is robotically welded. Aside from lots of storage, the dropped floor increases interior height.
This front profile of this lightweight trailer is aerodynamic, which boosts fuel efficiency.
On the other hand, the lower section is diamond plated for protection. This also puts frameless windows on each side.
Bonus Features:
3-way refrigerator
13-inch aluminum wheels with full-size spare
2,500 pounds Dexter independent torsion axle
4 stabilizer jacks
E-Z lube hubs
14. InTech RV Luna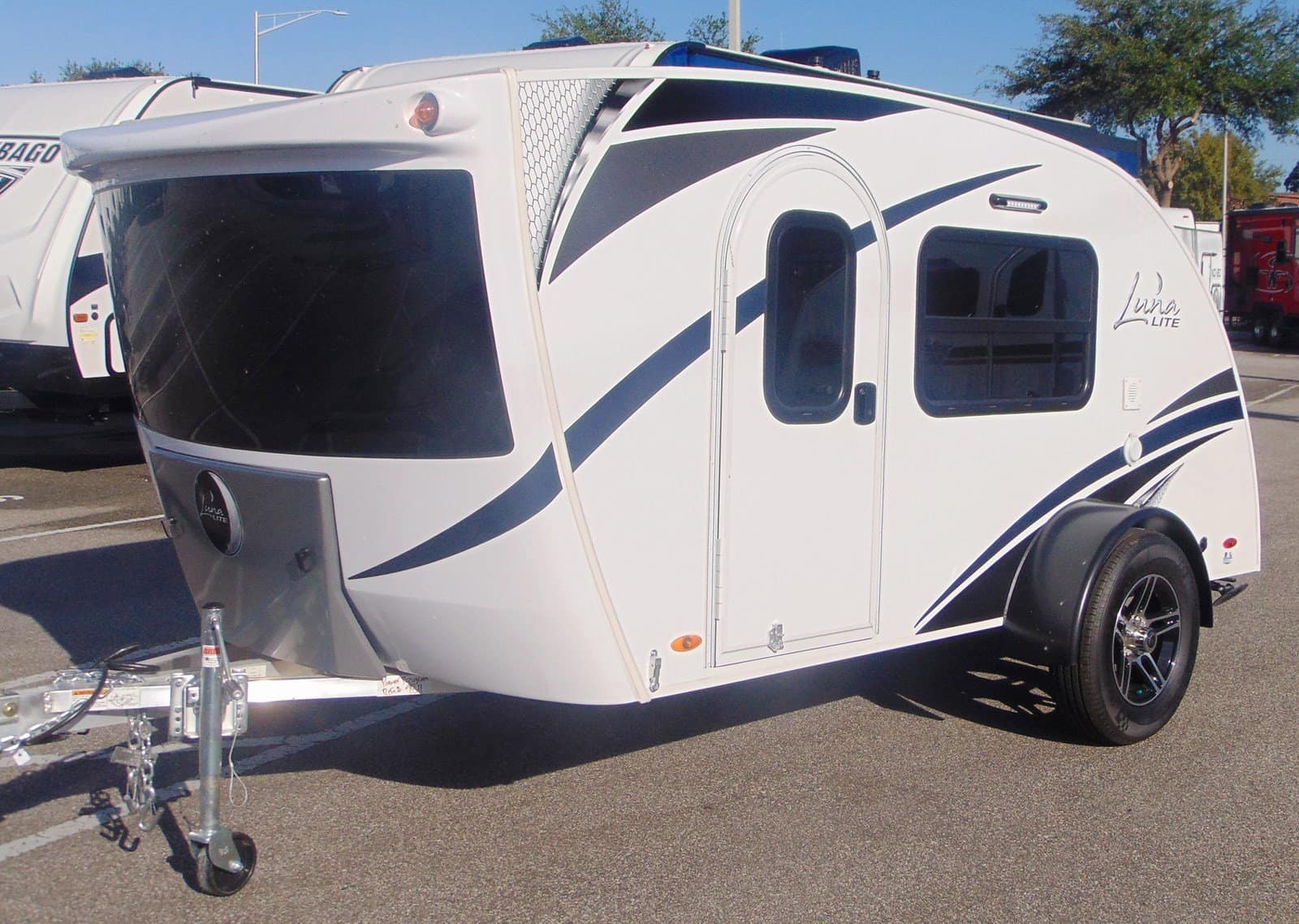 The InTech RV Luna shines because of its quality build for outdoor adventures. This 1,700-pound trailer packs in fiberglass sidewalls and roof, as well as vinyl walls and flooring.
Furthermore, the model also features one of the sleekest outdoor kitchens. It comes with a 12V fridge, microwave, dual-burner stove, 3-burner grill, and stainless steel sink.
As for the design, this lightweight camper offers two kitchenette wood options and four exterior colors. You'll also get two tinted windows with screens and white aluminum walls.
For entertainment, you can maximize the stereo speakers and rear entertainment center. Meanwhile, the under-floor storage compartments and center table can keep your stuff organized.
Another asset of this lightweight teardrop is its front profile. Instead of the usual sloping teardrop profile, you get a huge panoramic window. In addition, there are LED lighting and pre-readied solar charge for your convenience.
Bonus Features:
All-white aluminum frame
Triple tube A-frame
7-way trailer plug
Nitro filled tires with aluminum wheels
Underframe mounted spare tire
What Makes a Camper Trailer Ultra Lightweight?
Travel trailers are less expensive than RVing. If you have a truck or SUV, then it is easier to tow a camper trailer.
Although we're focusing on the most lightweight units, there are still designs and features you must be aware of.
The only problem you could encounter is owning a model that does not have your necessities or won't allow you to make adjustments.
What Should Know About the Weight
While large units weighing more than 3000-pounds tend to be bigger, they are also more likely to slow you down.
Back when I first had my RV trip, my vehicle took the tool. Now that I have a crossover vehicle, I discovered that it is best paired with a travel trailer that weighs 2,000 pounds or less.
It is easy to check the actual weight, but you must be aware that it is the unloaded or dry weight. When you add things and accessories, you can go beyond 2,000 pounds.
Typically, you'll need to bring propane, groceries, water, air conditioner, generator, sleeping mats, and the like. Simply put, the gross weight depends on your needs.
Most of the time, a brand specifies how much added weight you can safely tow.
How Does the Floorplan Affect Weight?
The key formula is = Floorplan and Layout > Size
The floorplan could either make your trailer heavier or lighter. Hence, a well-designed floorplan is necessary.
For example,some travelers like to include household amenities such as loaded kitchens, dining area, storage, and bathrooms.
There are even models that allow users to pull out a section of the wall to create larger spaces.
Although there's limited space, you can plan how to install a stove or an off-the-ground sleeping area.
If you have an excellent floorplan, you can even include solar panels, roof vents, WiFi booster, and an outside grill.
This is the very reason why I prefer ultra lightweight models because they keep a low profile outdoors.
With a good floorplan and manageable weight, it is easier to set up the trailer at campsites, especially as small camping grounds. At times, it's even more convenient to set up a trailer than a tent.
This mobility gives you the freedom to pack your gears fast and then move to another location.
Convenient Towing
Although camper trailers are created to be spacious, they should be towable. It's preferable to use a minivan or SUV for trailers weighing 2000 pounds or less.
Construction
The materials and construction add up to the unloaded weight.Even if a trailer is lightweight, it must have solid, sturdy walls.
This enables the trailer to keep intact during long hours of travel and unexpected weather change.In addition, rigid and tough walls should be capable of providing insulation from noise or cold.
Economical Features
There goes the saying that less is more. Larger trailers tend to use fuel fast, which leads to bigger operational costs. Meanwhile, small units will save you both on fuel and maintenance costs.
Compared to RVs, travel trailers are approximately 2 to 3 MPG better in terms of fuel economy.
Keep in mind that towing a loaded camping trailer diminishes the fuel efficiency of a towing vehicle by a couple of miles per gallon.
Therefore, owning a lightweight trailer means your towing vehicle won't need 8 to 10 MPG when towing.Furthermore, a lightweight trailer means less space for an AC unit to heat or cool.
Taking Care of a Travel Trailer to Sustain Lightweight Operation
Maintaining a trailer depends on your usage. If you are a frequent traveler, do some maintenance works after each trip or at least once a month.
Here are some ways to keep your unit in good condition:
Check batteries before each trip.

Wash the trailer after each trip.

Open the vents after washing.

Drain the black and gray water waste (which comes from the sink and shower).

Drain the freshwater tank at least once a month.

Always check the tire conditions.

Buy a generator and battery charger in case of emergencies.

Install six-gallon water tanks for backup.

Keep your stuff organized.

If there are some mechanisms or parts you are unsure of, it's better to let a professional fix it.
Make Camping Fun and Comfortable!
From solo travelers to couples and families—there's an available ultra lightweight travel trailer!The efficiency and mobility are great investments for every wanderlust out there.
All of the lightweight trailers in this article are affordable and easier to drive and maneuver. Likewise, they require little setup time and have a better fuel economy.
The ultimate decision depends on your requirements and preferences. Yet, I can assure you that any of the models we've introduced would suit your needs.