DirecTV is a great option for home entertainment. But is it a reasonable option for mobile entertainment in an RV? If you are a current DirecTV account holder, it is natural to ask: can I use my home DirecTV receiver in my RV?
While it is certainly possible to use your home DirecTV receiver in your RV, it is not practical. Not only will you have to physically relocate your antenna and the location of the DirecTV satellites when you want to use it in your RV, but you will also have to make changes to your account information if you want to receive service wherever you travel in your RV.
Fortunately, DirecTV's choice mobile package can help you outfit your RV with television and streaming services.
DirecTV RV package is uniquely designed for DirecTV customers that want to enjoy their entertainment services from the road.
In this guide, we will detail what exactly that choice mobile package offers and what other RV TV and cable accessories you will need to use a DirecTV receiver in your RV.
Plus, we will cover how to choose the best programming package to get DirecTV in your RV.
Let's get started!
Can I Use My Home DIRECTV Receiver In My RV?
Technically, you can move your home DirecTV receiver into your RV as long as you have its matching antenna together in order for it to be usable.
That being said, you may risk violating AT&T's rules if you do so. All residential DirecTV accounts are associated with a specific physical address.
When you sign the contract with AT&T to open one of these accounts, the fine print states that you will not use receivers from the same account to watch television in two different locations.
For example, let's say you get a second receiver on your original account and then place it in your RV.
You and your partner head out for a summer vacation while you are renting an accessory dwelling unit at your residence.
Your tenants use your AT&T DirecTV account to watch cable television or enjoy their favorite streaming service.
Then, you get to a campground in the next state over and turn your receiver on to watch your shows as well.
AT&T is going to find out. When your receiver connects to a new Wi-Fi network or phone line at a campground, they will know.
They also have a team of attorneys dedicated to tracking down anyone that misuses their service.
In many cases, you will receive a warning after the initial offense. But repeat offenders can be subject to fines and suspension of service.
It simply isn't worth the risk to use receivers from the same account in two different locations.
That being said, empty-nesters won't necessarily be violating these terms if there is no one using your service back at your original address.
However, you may find that your account is suspended or placed on hold every time you change locations, which will cause you to spend more time on the phone with AT&T than you probably want to spend.
DIRECTV Offers A Mobile Service For RVs And Other Vehicles?
To get TV in your recreational vehicle, you will need to connect your DirecTV receiver. For those of you that are already subscribed to DirecTV service, you can move the receiver from your home into your RV before you leave for a trip.
Of course, you will also need to hook it up to the satellite dish on your rig (provided you already have one installed).
You can also rent an additional receiver from DirecTV if you do not want to worry about disconnecting and reconnecting your existing receiver every time you change locations.
If you are the only one using your DirecTV account, you will be treated as if you were watching TV in a new room of your home every time you change locations.
You shouldn't be subject to any additional fees from DirecTV.
Do I Need A Specific Package To Use DirecTV In My RV?
The best option for DirecTV customers to use their receivers in their RV is the choice mobile package.
DIRECTV mobile package includes a second receiver that can be permanently installed in your RV and connected to a satellite dish that is mounted on the roof.
This package features more sports programming than any other service and also includes a total of 185 channels.
This package includes nationwide programming such as CNN, ESPN, The Weather Channel, The Disney Channel, and many others. Plus, you will be able to tune into local channels wherever you travel.
One upgrade to this package that might interest some folks is the Distant Network Service (DNS).
For an extra $15 per month, this broadcast network service is perfect if you like to keep up with news and current events.
DIRECTV RV package with Distant Network Services boosts your service with an additional six channels, which include ABC, CBS, FOX, PBS, an NBC feed from either New York or Los Angeles, and a CW feed from either San Diego or Washington D.C.
How To Set Up DIRECTV For Your RV
If you do want to explore setting up DIRECTV for your RV, there are two main ways to do so. So let's break down those processes quickly.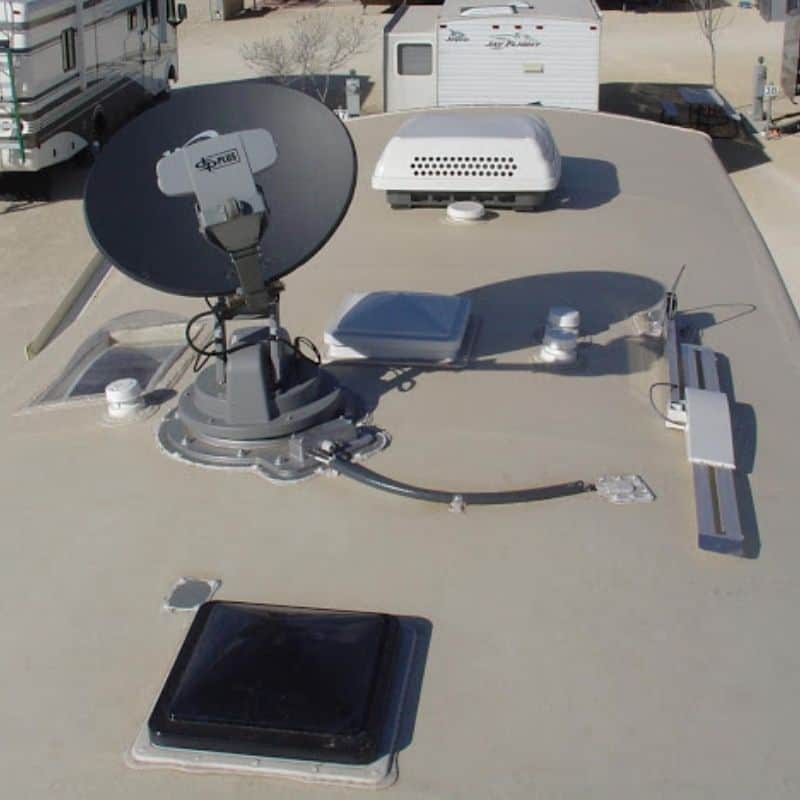 The Most Affordable Way
The easiest and least expensive manner in which you can set up DirecTV for RV use is to integrate your receiver with a tripod stand and a satellite dish mounted to the roof of your rig.
One of the downsides of the DirecTV receivers is their size and bulky nature. This makes them risky to permanently install it on the roof of your RV and it takes setting the receiver up inside your RV out of the question completely.
So, the best way to set up your receiver is to secure it to a tripod stand outside of your RV.
Of course, this will require you to set up and position your receiver every time you arrive at a new campsite.
Then, you will need to hardwire your receiver to both your satellite dish and your television monitors.
For these reasons, this option is more realistic for full-time RVers and folks that stay multiple weeks (or even months) in one location.
The Best Way To Set Up Your DIRECTV On The Road In Your RV
For folks that move around a lot, the best option is to install a satellite antenna from a distributor that works with DirecTV.
These portable satellite TV antennas will eliminate the need to set up a DirecTV receiver every time you arrive at a campground, but they will require a bit more upfront installation.
Best DIRECTV Compatible Satellite Antennas
There are four main distributors that produce satellite antennas with DirecTV capability. They are Winegard, King Controls, KVH Industries, and Signal Connect.
Let's dive a little deeper into the pros and cons of these distributors.
1. Winegard
Winegard sells both roof-mounted antennas and dish + tripod stand kits. This is an affordable option to get a roof-mounted satellite antenna along with a DirecTV subscription, which is why it is the preferred option if you don't already have a DirecTV account.
When you purchase an antenna (or dish and tripod kit) along with a DirecTV subscription, you will also be eligible for up to a $150 cashback rebate on your purchase.
Winegard's full line includes three roof antenna models and one dish + tripod kit. You will also get to choose from five different DirecTV packages to get the channels and entertainment services you want.
2. King connect
King Connect actually offers the least expensive antenna of these three distributors. Their King Quest antenna is an automatic satellite TV antenna that is made specifically for use with DirecTV service.
The Quest antenna comes with the hardware you need to either mount it to the roof of your RV or set it up as a portable antenna. It also comes with 30 inches of coaxial cable and a power injector.
It should be noted that this distributor's antenna is not compatible with HD channels or SWM receivers.
However, it does allow you to set up multiple TV viewing if your RV is equipped with multiple television screens.
3. KVH Industries
KVH Industries offers two different antenna systems that are compatible with DirecTV service.
These systems are their TracVision RV1 and TracVision A9 models and they are both compatible with HDTV.
If you are willing to spend a little more to get better entertainment quality, KVH Industries is the distributor that you want to go with.
The TracVision RV1 is the more affordable of the two antenna systems, but it is only compatible with KU-band services.
On the other hand, the A9 system is a great choice for taller RVs because it is a much shorter antenna than most other models.
At just five inches high, it won't impact your RV's clearance when passing under bridges or overpasses. Plus, it can automatically switch between KU-band and KA-band services so that you don't have to do it manually.
4. Signal Connect
Signal Connect is a DirecTV dealer that is specifically dedicated to bringing mobile DirecTV service to owners of RVs, motorhomes, travel trailers, and even vans.
Their representatives are experts on DirecTV service and can help you decide which option will be the best for your rig and your travel style.
While they don't necessarily provide their own antenna models, the major benefit of this distributor is personalized service.
Getting on the phone with a Signal Connect representative is the best way to find out which DirecTV programming package will best suit your needs.
Their Solid Signal division is responsible for providing the actual DirecTV receivers and equipment that you will need to install this service on your RV.
After you and your representative decide on the right programming package for you, he or she will suggest what equipment you need to get your service going.
From there, they can even connect you with local installers to get your receiver and antenna set up by a professional.
They can also easily activate your account remotely once it is installed and you can contact them for lifetime support once you become a customer.
Are There Drawbacks To DirecTV RV Service?
On the whole, DirecTV's mobile RV service options are reliable and more-than-satisfactory.
However, there are certain drawbacks to this service, just like there are to almost anything.
For one, you will not be able to enjoy all of the features and programming that you would enjoy with your home DirecTV service.
Typically, DirecTV RV packages do not give you the chance to subscribe to seasonal subscription packages that many of us now use to keep track of the latest scores and highlights from our favorite sports leagues.
In addition, DirecTV Cinema and pay-per-view services are not offered with the company's mobile service.
Finally, the local channels that you will be able to tune into are largely restricted to feeds coming from the major markets in New York and Los Angeles, respectively.
To be honest, however, this lack of local channels can't necessarily be blamed on DirecTV.
Instead, it is the result of an FCC rule that prohibits that kind of service from being offered by a nationwide satellite TV provider.
Plus, DirecTV's Distant Network Service (DNS) is designed to alleviate this problem to some degree.
Does DirecTV Offer Good Reception?
When we are talking about signal reception, DirecTV is one of the most reliable brands on the market when it comes watch live TV on the road.
In fact, a loss of signal will more often than not be attributed to user error instead of a problem with DirecTV's service or equipment.
The most common user error we are referring to is improper dish positioning. If you get an automatic antenna, it should do the work for you to find the best signal strength and quality when you park in a new location.
With a manual antenna, you will need to conduct the repositioning on your own. So, let's provide a few tips for positioning your satellite TV antenna when you arrive at a new campground or off-grid campsite.
How to Position Your Satellite TV Antenna To Get Better Reception
For RV owners in the U.S., the satellites that you acquire signal from will be passing through the southern sky.
That is because they are orbiting the Earth roughly over the Equator. Knowing this, you will mostly need to be pointing your antenna to the south every time you set up in a new location.
This can help you determine the best way to park your RV and will certainly get you started when positioning your antenna.
Once you have your antenna pointed south, turn on your TV and make micro-adjustments until you get the best sound and picture quality possible.
As you venture further north, you are obviously moving further away from the Equator. This will require you to point your antenna at a lower elevation to acquire the signal.
As such, it becomes even more important that the campsite you choose offers a clear view of the southern sky.
Campsites naturally have a lot of obstructions to the sky, with tall trees arguably being the most common.
Signal quality will naturally be harder to obtain in campgrounds with dense trees or in valleys with significant rock formations blocking your view to the south.
Plus, excessive humidity and heavy rain can even cause natural signal fade for a satellite TV.
None of these obstructions are the fault of DirecTV (or any other service provider), but knowing this is the case can help you align your antenna for the best signal strength possible in your location.
Are DirecTV Mobile Service Worth Anything?
The bottom line is that DirecTV mobile service is certainly an option for your RV.
That being said, the presence of streaming services these days should at least make you question whether or not it will be worth it to jump through these hoops to have cable television in your RV.
In our opinion, DIRECTV's RV package is worth it for full-time RVers and folks that spend full seasons living in their rigs.
For folks that use their RV for weekend trips or 2-3 week-long trips per year, you just might benefit from spending that time away from the comforts of television and streaming entertainment services.
Plus, it's not like you won't be able to stream movies or television shows on a laptop or tablet if you camp in a location with Wi-Fi or decent cell service.
In many cases, these are the more affordable options and they will allow you to keep money in your pocket to spend on other RV-related recreation gear and travel experiences.
As always, we hope that you have found this article useful and that, in some ways, it has helped to increase your RVing Know How.
If you have personal experience using or connecting DirecTV for your RV, we'd love to hear your feedback in the comments below!
You May Also Like
FAQs
DIRECTV for RV package cost: How much does it cost to get DIRECTV for my RV?
If you want to enjoy DIRECTV in your RV, you have two options: a mobile receiver or a streaming device. A mobile receiver lets you watch live satellite TV anywhere you park your RV, while a streaming device lets you watch on-demand shows and movies using a Wi-Fi connection. The cost of each option depends on your current DIRECTV subscription and equipment.
A mobile receiver costs $99 for the device and $199 for the installation. You also need to pay a monthly fee of $7.99 for the RV account, plus the cost of your regular DIRECTV package. A streaming device costs nothing if you already have one, such as a Roku, Apple TV, or Fire TV Stick. You must download the DIRECTV app and sign in with your account. However, you may incur data charges using your mobile hotspot or a public Wi-Fi network.
DIRECTV tailgater: What is DIRECTV tailgater and how does it work?
The DIRECTV tailgater is a portable satellite dish that allows you to watch live TV anywhere. It works by connecting to a compatible receiver and TV, automatically finding the best satellite signal for your location. You can use it for camping, tailgating, RVing, or any outdoor activity where you want to enjoy your favorite shows and channels.
DIRECTV rv satellite: What satellite does DIRECTV use for RVs?
DIRECTV is a satellite TV service that offers a variety of channels and packages for RV owners. Depending on the type of RV and the location, DIRECTV may use different satellites to provide the best signal and coverage. Generally, DIRECTV uses three main satellites for RVs: 101°W, 110°W, and 119°W.
These satellites are part of the Ku-band frequency range and require a dish antenna to receive Ku-band signals. Some RV owners may also use the SWM (single-wire multiswitch) system, which connects multiple TVs and receivers with one cable and dish. The SWM system uses the 99°W and 103°W satellites, which are part of the Ka-band frequency range and require a dish antenna that can receive both Ku-band and Ka-band signals.
DIRECTV rv package cost: What are the different DIRECTV RV packages and how much do they cost?
The most basic package is the SELECT package, which costs $59.99 monthly and includes over 155 channels.
The next package is the ENTERTAINMENT package, which costs $64.99 monthly and includes over 160 channels.
The CHOICE package costs $69.99 monthly and includes over 185 channels, plus NFL SUNDAY TICKET for the 2021 season.
The XTRA package costs $79.99 per month and includes over 235 channels, while the ULTIMATE package costs $84.99 per month and includes over 250 channels.
The most comprehensive package is the PREMIER package, which costs $134.99 per month and includes over 330 channels, plus HBO Max, Cinemax, SHOWTIME, STARZ and EPIX.
DIRECTV rv package: What features and channels are included in the different DIRECTV RV packages?
They offer different plans that include various features and channels to suit your needs and budget.
Here are some of the main differences between the DIRECTV RV packages:
The Choice RV package includes over 185 channels like ESPN, HGTV, and CNN. It also includes a free year of HBO Max and NFL Sunday Ticket.
The Ultimate RV package includes over 250 channels, including all the channels from the Choice RV package, plus more sports, movies, and entertainment options. It also includes a free year of HBO Max and NFL Sunday Ticket.
The Premier RV package includes over 330 channels, including all the channels from the Ultimate RV package, plus premium networks like HBO, Cinemax, Showtime, and Starz. It also includes a free year of HBO Max and NFL Sunday Ticket.
DIRECTV for rv setup: How do I set up DIRECTV in my RV?
To set up DIRECTV in your RV, you will need a compatible satellite dish, a receiver, a TV, and a power source. Depending on your preference and RV type, you can use a portable or roof-mounted dish. You must also activate your receiver with DIRECTV and align your dish to the satellite signal. For more details, visit the DIRECTV website or call customer service.