There are many great campsites and dispersed camping locations across the country, but none are as convenient as a Walmart parking lot.
That's why it's no surprise that Walmart parking lots are a popular spot for overnight RV parking.
You've probably seen RVs parked in the back corner of the lot before, but are they even allowed to be there, and what should you know before ever spending the night?
Sam Walton, the founder of Walmart, saw campers and travelers as great customers. He knew that they bought many of their supplies from his stores, and wanted to extend the welcome by offering free overnight parking.
Of course, Walmart parking lots are private property, so there are some rules and etiquette that need to be followed.
Sometimes you just need a place to rest your head along the way to another destination.
When parking overnight at a Walmart is your best bet, it's good to know what to expect. We gathered the inside scoop on the dos and don'ts of Walmart RV parking.
The Dos of Walmart RV Parking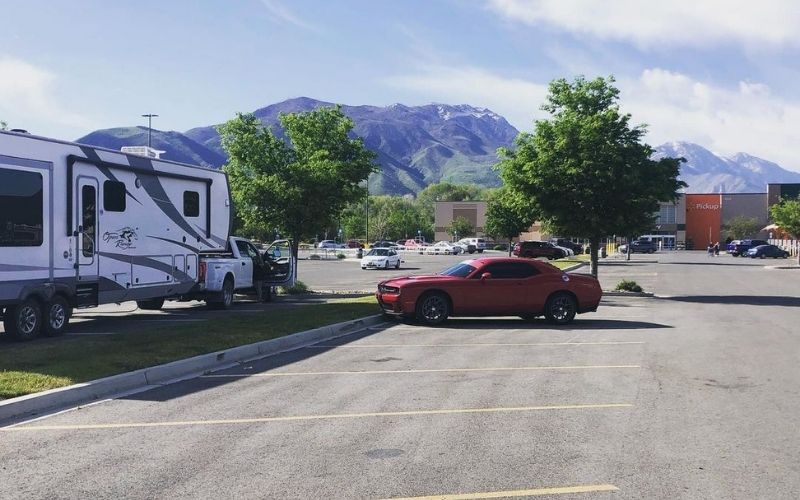 There are several things you should be sure to do when staying overnight in a Walmart parking lot.
From being mindful of your safety to showing respect and gratitude, your experience should go smoothly when you follow these 'dos' of Walmart RV parking.
1: Check Ahead That the Walmart You're Going to Allows Overnight Parking
Many Walmart stores allow overnight parking, but not all. While some Walmart locations no longer allow overnight parking thanks to problematic campers, others can't permit it because of local ordinances.
To make sure that the Walmart you plan to stay at overnight is one that allows it, we suggest calling ahead of time.
The manager at each location will be the best person to tell you whether or not they allow overnight parking, along with any other details you may need to know.
If the state doesn't allow overnight camping, you'll usually find signs posted in the parking lot as well.
2: Keep Your Noise to a Minimum
One of the main rules of etiquette when spending the night in a Walmart parking lot is to keep your noise to a minimum. This can include any of the following:
Keep music, gaming, etc. at a low volume
Stay inside unless you need get something
Turn off noisy generators overnight
Don't start your vehicle in the middle of the night (unless absolutely necessary, of course)
Most people who stay overnight in a Walmart parking lot are just looking for some shut eye, and keeping the noise to a minimum is a simple curtesy to your sleeping neighbors.
3: Take the Appropriate Safety Measures While Parking At Walmart Overnight
Walmart parking lots are generally considered to be a safe place to park overnight. However, they're also open, public spaces through which anyone can pass.
Safety always comes first, so when you're parking overnight in a Walmart parking lot, remember to take the following safety measures when parking at Walmart overnight:
With just a few simple safety measures, you can avoid potentially dangerous situations and get a good night's sleep.
4: Stock Up on Essentials
Overnight Walmart parking is free where permitted, but a great way to give thanks is by stocking up on any essentials that you may need at the store where you parked.
Walmart has everything from breakfast food to toilet paper and toothpaste, so it usually works out as a convenient one-stop-shop anyway.
5: Leave the Area Cleaner Than You Found It
This one is a general rule for anywhere you camp, but it's always worth a reminder.
Whether you're sleeping at a campsite or in a Walmart parking lot, always leave the area cleaner than you found it.
Dispose of your trash properly, and take any that you see along the way with you as well.
We all want to enjoy traveling and outdoor spaces, and we also want Walmart to continue allowing us to stay overnight.
Keeping the spaces that we visit clean will keep them usable and open for everyone.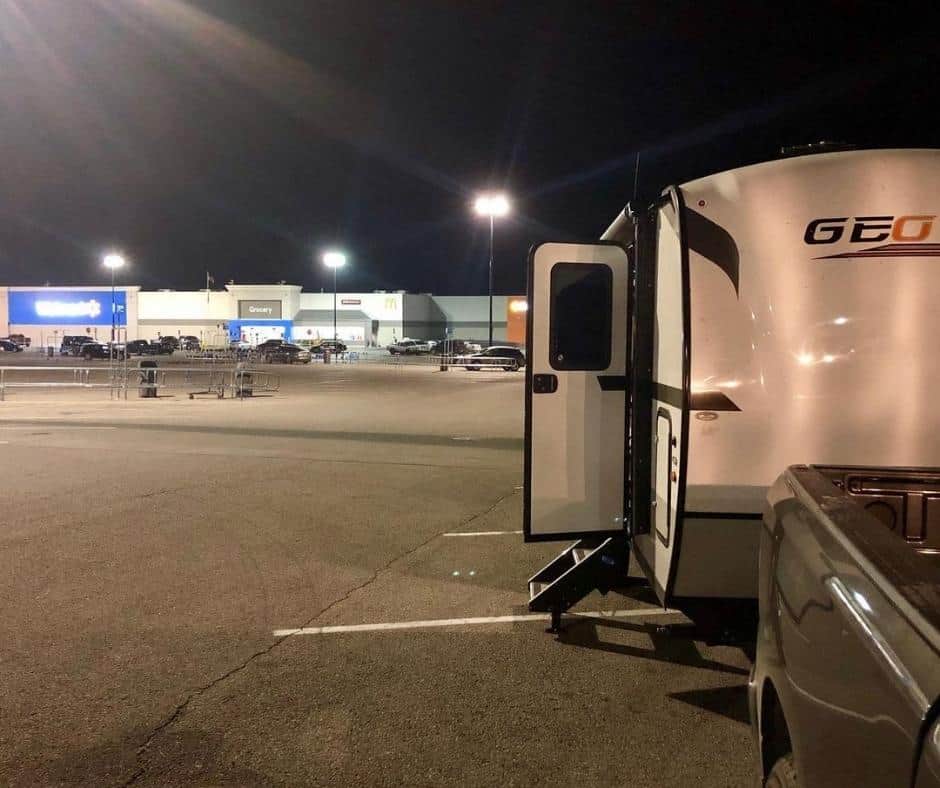 The "Don'ts" of Walmart RV Parking
Now that you have some tips on what you should do when staying overnight in a Walmart parking lot, you're ready to learn what you don't want to do.
The following are some behaviors and actions that are not permitted for Walmart RV parking.
2: Don't Take Up More Room Than You Need
Many Walmart parking lots are pretty big, but they can also get pretty packed. If the Walmart is located on a popular route, it may also host a good number of travelers at any given time.
As a curtesy to other travelers, don't take up more room than you need. Instead of pulling in and disregarding the outlined parking spots, park in a way that takes up as few spaces as possible so that others can also take advantage of the free parking.
If you have slides, be mindful of the space they take up as well. Only extend slides the slides necessary to move around your RV. Also, when possible, extend the slide over an island so it doesn't take up extra room.
2: Don't Overstay Your Welcome
Walmart overnight parking can be extremely convenient, and it's made even better by its low price (Gotta love FREE parking!) However, as generous as these accommodations are, it's important that you don't overstay your welcome.
Walmart parking lots are meant to be used as no more than rest stops, and you should never exceed a 12 hour stay.
However, it would be ideal to arrive late and leave early. Only stay long enough to catch some shut eye and prepare for the next leg of your trip, then it's time to get back on the road.
3: Don't Treat the Parking Lot Like a Campsite
Walmart parking lots are not campsites and should not be treated as such. Don't pull out your lawn chair, and don't start grilling hot dogs.
As mentioned above, Walmart stays should only be a night long rather than used as a regular camp spot.
Although a Walmart parking lot can be a very comfortable place to sleep, designated campsites and public lands that allow camping are better suited for anyone looking to spread out and make themselves at home.
The Dos and Don'ts of Walmart RV Parking
Walmart is one of the largest retailers in the country, which makes for a lot of convenient and free overnight parking opportunities.
Many weary travelers have taken advantage of this opportunity, and hopefully many more can continue to do so in the future.
So if you decide to get some shut eye at a Walmart along your next journey, be sure to follow these dos and don'ts of Walmart RV parking.