A Nissan Rogue is a small SUV that's great for families or anyone who needs a bit more space than a sedan. But can this vehicle tow a camper or other large trailer?
The simple answer is yes, you can tow a camper with a Nissan Rogue. In fact, the new 2022 Nissan Rogue has an increased towing capacity of 1,500 pounds, which is perfect for teardrop trailers and pop-up trailers.
The increase in power gives you a little bit more flexibility than an older model.
Not only that, but the compact nature of the Nissan Rogue gives you much more maneuverability while towing.
You're not like those big rigs that has to worry about whether they'll fit through the gas station pump line. You can go almost anywhere.
However, there are a few different trim levels and the towing capacity varies. Your Nissan Rogue won't be able to tow just any camper, so check your vehicle specifications and towing capacity.
Keep reading to learn more about the Nissan Rogue, its towing capacity, and what it's capable of.
Vehicle Trim Levels and Specifications
The 2022 Nissan Rogue comes in 4 different trim levels. These levels include:
Each trim level offers a number of different features, specifications, and even towing capacities.
1. 2022 Nissan Rogue S
The Nissan Rogue S is the base level trim and it's the most affordable. This trim level doesn't offer a ton of features, but it does come with some standard equipment that's great for towing.
The S trim comes standard with a 1.5-liter 3-cylinder engine that produces 170 horsepower.
This engine is mated to a continuously variable automatic transmission. The S trim also comes standard with a front-wheel drive, but you can upgrade to an all-wheel drive if you need it.
Here are some of the additional specs:
As for towing, the S trim can tow up to 1,500 pounds. This is more than enough for most small campers and trailers. Some examples of what this might be able to accomplish are:
If you're an outdoorsy type that travels light, this a perfect solution. If you need to tow a larger camper or trailer, you'll need to upgrade to a higher trim level.
2. 2022 Nissan Rogue SV
The SV trim is the next step up from the S trim and it offers a few more features.
The SV trim comes standard with the same 1.5-liter 3-cylinder engine as the S trim.
However, this engine is mated to a CVT with an auxiliary oil cooler. This means that the SV trim can tow up to 1,500 pounds as well.
Some of the additional features on this model include:
This is a significant increase from the S trim in terms of features and it's enough to tow the same amount.
You can also upgrade this model to the SV Premium package, which offers roof rails, a power liftgate, dual panel panoramic moonroof, rear door sunshades, leatherette seats, Prima-Tex™-wrapped steering wheel, heated front seats, and a heated steering wheel.
3. 2022 Nissan Rogue SL
The SL trim is the next step up and it's a significant upgrade from the SV trim.
The SL trim comes standard with the same 1.5-liter 3-cylinder engine as the other trims.
However, this engine is mated to a CVT with an auxiliary oil cooler and an integrated motor-generator. This allows the SL trim to tow the same 1,500 pounds.
Upgraded features include:
This is a great option for those who want a few extra features while still keeping the same towing capacity.
Upgrading this model to the SL Premium package adds:
4. 2022 Nissan Rogue Premium
The Premium Package is the top-of-the-line trim and it offers the most features.
The Premium Package comes standard with the same 1.5-liter 3-cylinder engine as the other trims.
This engine is also mated to a CVT with an auxiliary oil cooler and an integrated motor-generator.
However, because of the weight of the additional features and specs, this model can only tow 1,350 pounds.
Here are some of the extra features that cause you to sacrifice towing capability:
You can also add a heads-up display to this model for an additional cost.
It may not seem significant, but the reason this model has a reduced towing capacity is because this extra equipment adds weight that reduces the engine's ability to pull any extra weight.
While you can still tow some lightweight trailers, you'll have to make sure your trailer weight is below this number so you don't damage your vehicle.
Nissan Rogue Towing Capacity
As you can see from the various trim levels, the maximum towing capacity for the Nissan Rogue is 1,500 pounds.
This means that you can tow a small trailer or camper behind your Rogue as long as it doesn't weigh more than 1,500 pounds.
If you try to tow anything heavier than this, you risk damaging your vehicle and voiding your warranty.
Make sure you check the weight of your trailer before you hit the road so you don't damage your Rogue.
So, Can You Pull a Camper With Your Nissan Rogue?
Yes! You shouldn't have a problem towing a small trailer or camper with your Rogue, as long as it doesn't exceed the maximum towing capacity.
It's also important to keep in mind that the dry weight of a camper or trailer is how much it weighs without anything in it.
If you plan to load a trailer for moving, or you plan to put items like dishes, clothes, and other supplies in your camper, you need to take this additional weight into account.
This should be included and this added weight should not make your camper or trailer exceed the maximum towing capacity.
How Big of a Trailer Can You Pull?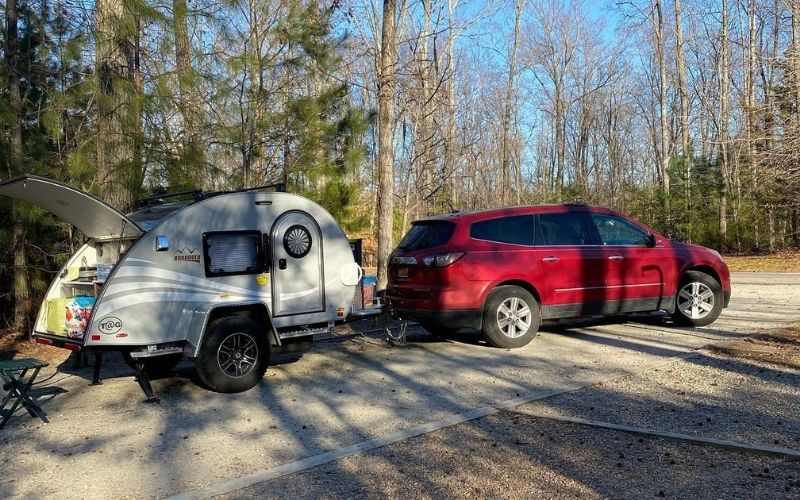 This is a great question, because 1,500 pounds may not mean a lot to many people.
Here are some examples of trailers or campers you can pull with a Nissan Rogue without exceeding the towing capacity:
Small pop up trailers
Small pop up trailers are convenient because the tops are made of a softer, lighter weight material that makes the whole camper light.
In addition, they're easy to tow because they collapse, making your visibility better than a taller trailer.
These campers are very lightweight and can be towed by many smaller SUVs. A small pop-up camper usually weighs around 1,000 to 1,500 pounds dry.
This means you can tow one of these campers with your Rogue without any problems.
Teardrop campers
Teardrop campers are named for their shape. They look like drops of water. They're sometimes called pods or pod trailers.
They are very small and lightweight, typically containing a full-size bed, a sink, and a small amount of storage.
However, because these trailers are constructed with some variation of metal siding on the exterior, some can weigh as much as 4,000 pounds.
You'll have to read the specifications carefully before picking one that you can tow with your Nissan Rogue.
Specific Camper Models You Can Pull With Nissan Rogue
If you're looking for a camper you can tow with your Nissan Rogue, there's no shortage of options. Here are just a few of the choices you have.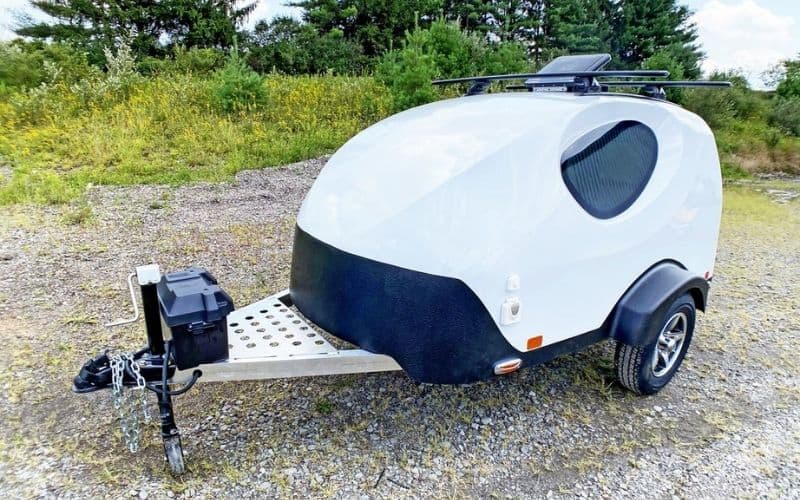 This adorable little pod trailer weighs just 760 pounds dry. It's made of molded fiberglass and sleeps 2 people.
Its aerodynamic shape means that it will be so much easier to tow than something boxy.
You'll have better visibility that will make it feel like you're pulling a feather. And even though the inside is quite small, it's well-equipped.
It features an entertainment center that makes being indoors a little more pleasant.
The built-in air conditioner is standard while an optional tent gives you a place to relax outside in the shade or take off your muddy shoes before coming in.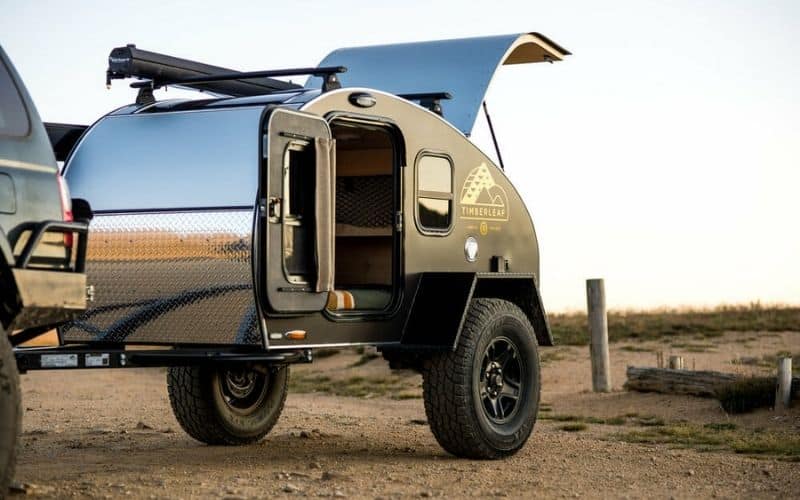 The Pika is slightly larger, but at a dry weight of 1,025 pounds, it's still plenty light enough for a Nissan Rogue.
The fully-welded frame provides the extra weight that comes with a lot of durability, and there are a lot of extras to choose from.
The interior space is 54 by 96 inches, so the sleeping space for 2 is quite roomy, and there's even a rear kitchen hatch.
The most striking thing about the Pika is the breadth optional suspension systems. You can choose standard, all-road, or off-road packages.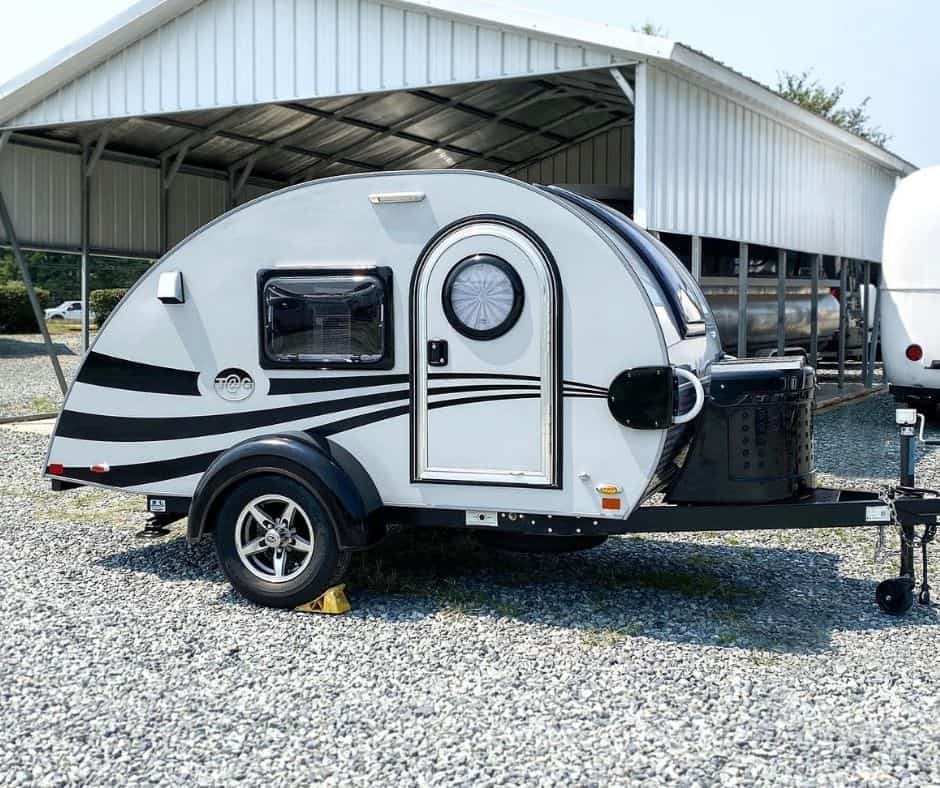 You might be cutting it a little close with a dry weight of 1,284 pounds on this one, but it's doable.
Be careful, because if it's fully loaded, you could reach as high as 2000 pounds.
However, the best thing about this model is that it has a lot of configurations and options that allow you to customize it to your needs.
There's a boondock package that gives you more off-grid camping amenities.
There's also an 8-gallon onboard fresh water tank that makes dry camping a bit easier.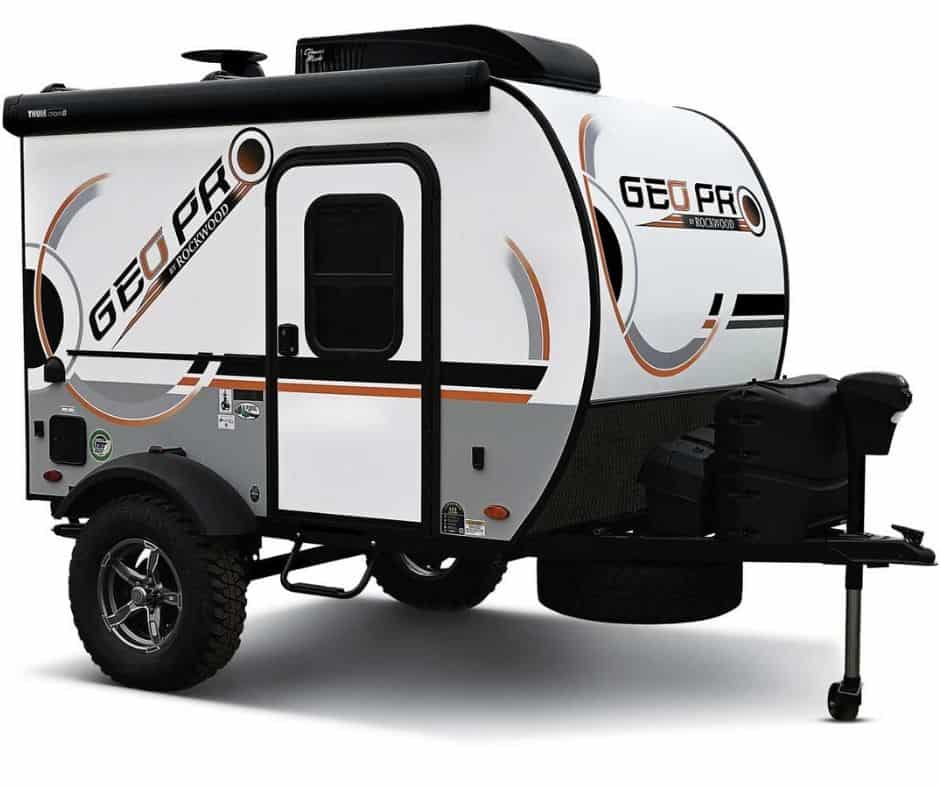 Once again, you'll have to be careful with this model, at 1,252 pounds dry.
It has a remarkable 20-gallon fresh water tank that gives you plenty of water for dry camping. This is a lot larger than most small trailers.
The 6-gallon gray water storage tank will also hold you over for a while until you can find a place to dump.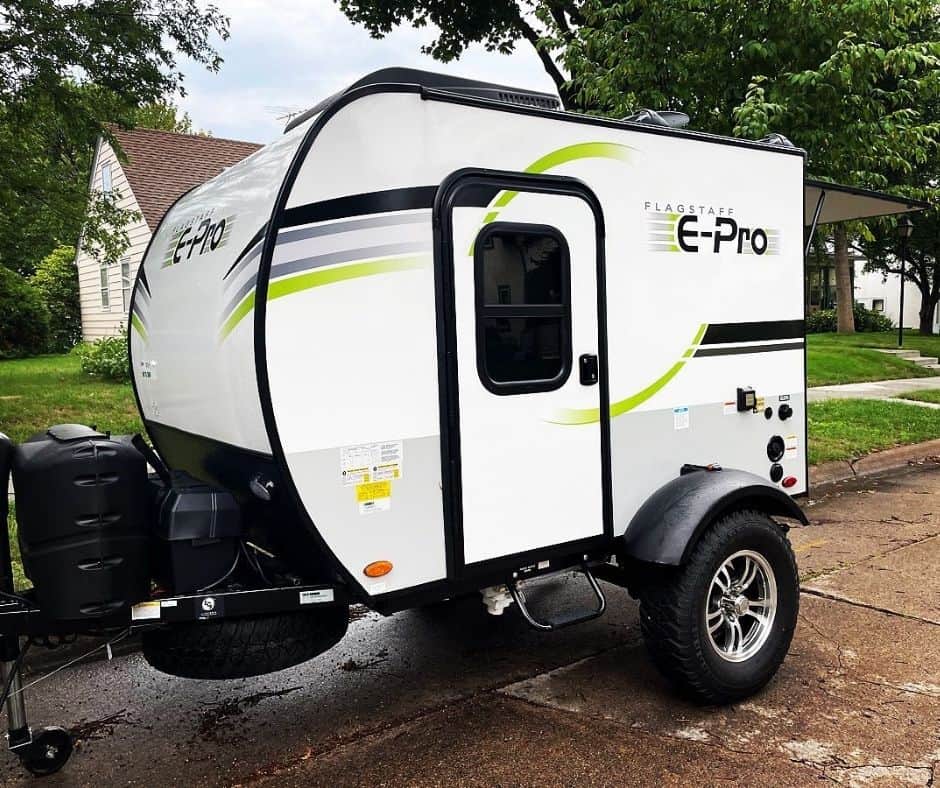 This compact teardrop trailer weighs 1,252 pounds dry. It features a lot of creature comforts like a 13,000 BTU air conditioner, a rear hatch kitchen, and a cozy sleeping compartment for two.
You're really pushing your luck with this 1,310-pound camper, but it just might be worth it. It can sleep up to 5 people! That's a lot for a trailer of this size.
The interior is full of durability and innovation. There's a steel frame that will increase the longevity of the trailer and the upper tent increases your sleeping capacity.
You can add extras like a 5,000 BTU air conditioner, additional cargo space, and heavy-duty loading bars.
The manufacturer also allows for additional customizations if you work with them directly.
Final Thoughts
The best camper for you is the one that fits your needs the most. If you're looking for something light and easy to tow, go with the LG My Pod.
If you want something that's a little more versatile, try the Pika.
For the maximum amount of space and sleeping capacity, go with the Taxa Outdoors Tiger Moth.
And if you're looking for a middle ground, the 2021 NuCamp Tag is a great option.
There are a lot of great campers out there that you can pull with the Nissan Rogue, so do your research and find the one that's right for you. Happy camping!