Anytime you finance something, like an RV, the loan underwriters are going to require you to carry extensive insurance. They do this to make sure their investment is covered should the RV ever be written off after an accident or act of God.
Though even if you don't have an extenuating loan on your RV, carrying insurance is still a very good idea. Especially since most states require RVs to have some level of insurance, and motorhomes need a minimal level of liability coverage to be considered road legal.
Though this begs the question, what does RV insurance cover, and what kind of RV insurance do I need?
Most RV insurance policies are dual purpose, covering both the on-the-road vehicle transportation component of the RVs life as well as treating it as a living property. This second component of RV insurance has several things in common with home or renters' insurance. Except there isn't a specific address used.
To understand the types of RV insurance, what they cover, and the types of insurance you might need for specific situations, we'll have to take a closer look at some critical details. After all, the last thing you want is for something to happen, and you're left without the critical coverage you need to take care of your major RV investment.
What's Covered By An RV Insurance Policy?
It's important to note that there are some differences between the kind of insurance you have on your daily driver car or SUV and RV insurance. You might be surprised to hear that RV insurance has several different components, and What is covered by your RV insurance policy will differ on the policy policy you buy, how you use your vehicle and types of RV you own.
The most common components of a general RV insurance policy include the following:
1: Travel Trailer Insurance
When you are hitched to your pickup truck or SUV, your regular auto insurance extends to the trailer. Some auto insurance policies will require you to maintain a higher level of liability or comprehensive insurance if they know you will use it frequently as an RV tow vehicle.
So, it's best not to assume you have full coverage through your auto policy without checking first.
However, the moment you unhitch your RV trailer, the coverage stops. If something happens to it after that, your regular auto insurance won't cover the expense of repairs to the RV. This is where the Travel Trailer component of your RV insurance comes into play.
It's exactly the sort of thing that will give you a sigh of relief should something happen like hail damage, a tree limb falling on it, or someone vandalizing your trailer while you're away. It could also be damage that your travel trailer suffers while parked in your yard or if something happens to it while sitting for months unseen in winter storage.
In these instances, the Travel Trailer insurance coverage kicks in to cover the damages. Most lenders stipulate a specific amount of travel trailer insurance you must carry during the life of the loan. This typically goes beyond general liability insurance to include collision insurance.
2: RV Emergency Roadside Assistance
RV Emergency Roadside Assistance is also a critical component of most RV insurance policies. This covers things like mechanical failures, an accident, or a breakdown on the hard shoulder.
When you consider that towing an RV can cost double or even triple what it costs two other vehicles, this type of coverage quickly pays for itself with the first claim.
Just be sure to check the fine print on what it covers and where coverage might not be applicable. For instance, some Emergency Roadside Assistance coverage stops if you take the RV more than a certain distance from a designated road. If you have an ice castle or portable ice fishing shanty, RV Emergency Roadside Assistance generally stops the minute that the tires touch the ice.
So if you love Over landing, off-road camping, hunting deep on public land, or using your RV as an ice fishing shanty, you might need additional coverage.
3: RV Replacement & Loss Prevention
Comprehensive coverage comes with pretty much all RV insurance policies. It's there to replace your your motorhome or travel trailer if it is ever damaged, destroyed, or stolen. This includes things like your RV being damaged or destroyed in an accident, a hail storm, a collision with an animal, or a fire.
Just bear in mind that this total loss coverage amount will be based on what the insurance provider would have to pay to get you a duplicate RV. This can affect your premium in some scenarios.
For example, let's say that you found a sweet deal on an older travel trailer, maybe your Grandpa sold it to you for $200, and the NADA book value on it is $5,000.
The RV insurance provider will require you to carry enough coverage to replace it with a $5,000 model in the real world. They won't value it at the discounted $200 that you bought it for.
Sometimes the RV insurance provider will stipulate this plainly. Sometimes it is hidden in the fine print. So, if you get an RV at a steeply discounted rate, be ready to ask about the level of RV replacement protection you will need.
If something unforeseen does happen, you don't want to be left without the proper coverage. It's certainly not something you want to cut corners on with one of those cut-rate customizable insurance plans!
You should also note that some RV total loss replacement insurance policies will protect you from the total cost if your RV is 5 years old or newer.
Chances are good; you won't be able to get replacement coverage, or the coverage will have some sort of percentage limitation if your RV is 6 years or newer. Keep this in mind if you are looking for a customized RV insurance policy that lets you choose your specific level of coverage.
4: General Liability
In RV insurance, general liability coverage is more than just the vehicle coverage you'll need to drive a motorhome on public roads legally. In this case, general liability RV insurance is for accidents that cause damage to other vehicles, property, or public areas.
Let's say that despite your best efforts to hitch up your trailer, it accidentally comes unhitched while you're driving down the road.
It veers off and damages another vehicle and possibly hurts someone else. In a case like this, the legal system will likely hold you partially or completely liable for the damages to other people and their vehicles.
This is not the time to have sparse insurance from a cut-rate customizable plan.
Unfortunately, general liability is one of the most common places where people give in to the temptation to lower their coverage levels in hopes of having a lower premium. Only to later find out that they are on the hook for a crippling level of debt from what would otherwise be an honest accident.
5: Emergency Expense RV Insurance
When your motorhome or travel trailer breaks down or is damaged beyond the point that you can safely use it while you're on vacation, it can leave you in the lurch. In a time like this, you can tap into RV emergency expense insurance. This handles things like mechanical repairs and even damage to the RV.
Some RV insurance policies even include underwritten coverage in the emergency expenses insurance clause to cover things like hotel rooms, meals, and sometimes even transportation expenses to a safe location.
Here again, this is one of those areas where you might be tempted to reduce the coverage in a cut-rate customizable RV insurance policy.
As long as you never have a problem or make a point to always travel with a robust emergency slush fund, this is one potential place to shave a little cost off your annual premium.
6: Interior Contents Coverage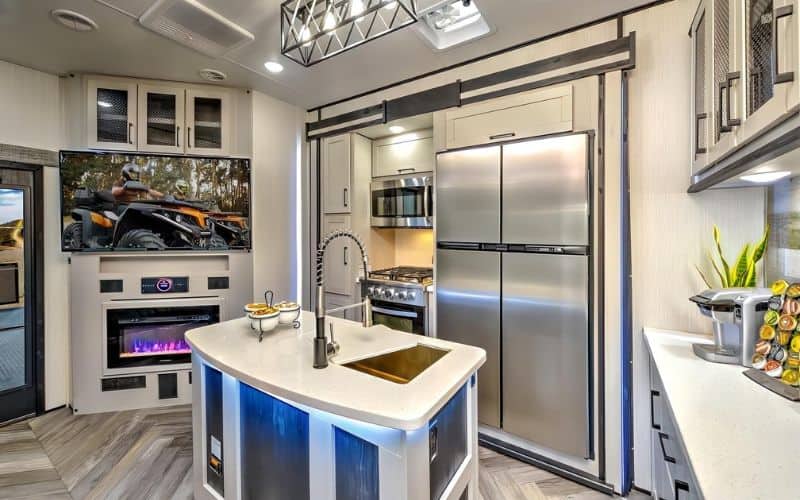 A lot of RV insurance policies will cover the replacement of interior appliances and equipment. This can include things like electronics, TVs, and personal items that might be damaged if your RV is ever broken into and/or vandalized.
7: RV Roof Protection Coverage
Many travel trailers and motorhomes end up suffering some type of roof damage or roof leak in the course of their lives. Especially if you frequently stay at primitive campgrounds that tend to be poorly maintained or you like to camp in forested campgrounds with low-hanging tree branches.
RV roof protection comes in handy if your motorhome or travel trailer's roof is punctured, damaged, or develops a roof leak near a skylight, vent, or air conditioner. It can help cover the damage and/or repair costs. However, there are a few things to bear in mind.
Most RV roof protection clauses include some type of deductible in them. This is a previously stipulated amount that you must first pay out of pocket before the coverage claim kicks in. The higher the deductible, the lower the final annual premium for your RV insurance.
This is another one of those places where you can adjust a customizable plan to lower your premium. However, you do so at your own risk. Suppose you are a traveler who rarely stays in a primitive or forested campsite, preferring wide-open RV parks instead.
In that case, you might just be able to get away with a higher deductible on your RV roof protection clause. With proper maintenance, you might not ever have to make a claim. Though it would come in handy if your RV suffers an unforeseeable major roof problem.
Here again, RV roof protection might not be offered for older RVs, especially if you are buying a preowned RV with signs of a previous roof repair in the inspection photos or the RV's maintenance records.
8: RV Pest Protection Coverage
A lot of RV insurance providers offer optional coverage for damage to motorhomes and non-stationary travel trailers. This helps cover the cost of exterminators and damage caused by insects, birds, rats, and other rodents and vermin.
Here again, there is usually a deductible that will influence the annual premium. A lot of times, older RVs may not qualify for pest protection coverage.
Many RV insurance providers also have stipulations that won't allow pest protection coverage for destination travel trailers, fifth-wheels, and other RVs that remain semi-permanently parked in place as a "Park Model." Though seasonal RVs that spend just three to five months in one RV park can usually still qualify for pest protection coverage.
9: Heavy-Weight Trailer Coverage
Weight can be a factor in many auto insurance policies.
As we mentioned earlier, if you frequently use your pickup truck or SUV as a tow vehicle for your travel trailer, toy hauler, or fifth-wheel trailer, your auto insurance provider will likely require you to carry a higher level of coverage.
This ensures that you have proper coverage for any incidents that might occur when your tow vehicle is hitched to your trailer on a public road.
With many of these policies, trailers over 10,000 pounds often need additional coverage in both the RV insurance policy, as well as the auto insurance policy.
If you have an accident with a heavy-weight trailer hitched to your pickup truck, you might not be covered under your normal auto policy.
So, it's important to know the gross vehicle weight rating of your trailer and ensure you have insurance coverage for the RV and the pickup truck you use to tow it.
What Does Full-Time RV Insurance Insurance Cover?
If you are thinking about living full-time in your RV, meaning that you will be using it as your primary residence for at least six months and one day per year, you should strongly consider getting special full-timer coverage. This is very much like homeowner's insurance except tailored to the specific details of an RV.
This includes all the previously mentioned layers of coverage as well as extra coverage areas such as:
1: Personal Liability
Personal liability RV coverage protects you from liability issues that cause bodily harm and/or property damage should there be an accident that is considered your fault.
This could include a guest slipping and falling on a wet floor, an electrical shock caused by faulty wiring in a light switch, or even an accidental gas grill fire that damages a friend's property.
2: Medical Payments Coverage
Medical payment coverage is an additional layer of RV insurance that full-timers often add to their coverage. It helps shoulder the financial cost of any necessary medical payments to others involved in an accident.
3: Extended Loss Coverage
RV Extended Loss Coverage can be added to a full-time RV to cover amounts that might be charged to you, the RV owner, as part of an association. This is an addition to the typical loss coverage that you might acquire as part of your general RV insurance.
What Are The Best RV Insurance Companies?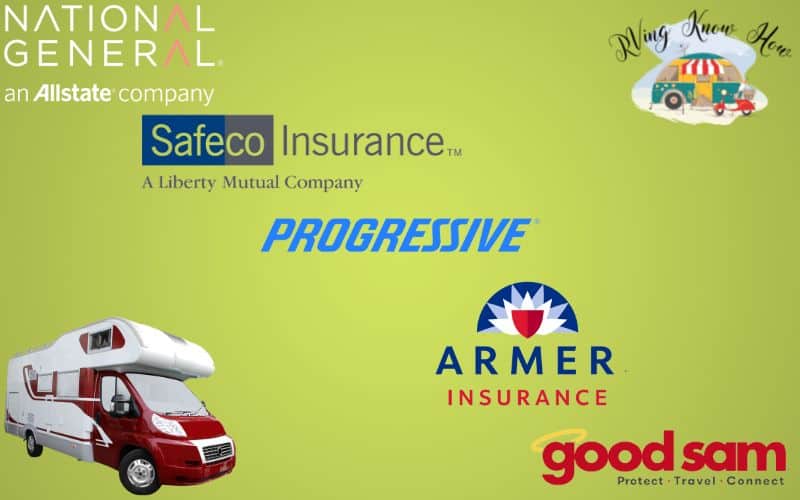 There seems to be an insurance company claiming to specialize in just about everything these days. Many are all too happy to offer you cut-rate plans or customizable plans.
Then later, when you need to make a claim or you need coverage in your time of need, you find out that there are all kinds of Swiss cheese holes in your policy. When you need to get a hold of a real person, you find yourself stuck in revolving phone mail systems or sitting endlessly on hold listening to elevator music.
The best RV insurance providers tend to be:
1. National General RV Insurance
National General RV insurance is known for offering customizable policies. They don't have as many customizable options as other RV insurance providers, but they are still in the vanguard of insurance companies, as they focus largely on recreational vehicles.
One of the other nice things about National General RV insurance is that they offer a plethora of minor discounts that can further help shave a few dollars off your annual RV insurance costs. This includes things like paid-in-full, paperless, and auto pay discounts.
2. Progressive
Progressive offers a lot of customizable RV insurance options. They let you adjust your deductible on specific things like RV roof protection and emergency expense costs. They also offer a lot of optional extras, such as RV pest protection, which can come in handy depending on where you will be storing the RV.
3. Safeco RV Insurance
Safeco RV Insurance is known for doing a good job of paying the highest value for claims, and they tend to take the fewest shortcuts. At the same time, Safeco RV insurance tends to have friendly annual premium rates that are competitive, to say the least.
Though if there's a knock on Safeco as an RV insurance provider, it's that they have a long-standing reputation for having slow customer service. They also tend to have very little in the way of customization options available with their standard RV insurance policies.
4. Farmers RV Insurance
As an insurance company, Farmers has been around since the 19th Century! Though they've only recently started growing their presence in the RV industry. They bring their strong reputation with them when providing competitively priced RV insurance policies with a modest amount of customizable coverage. Though they are more well-versed in motorhome RV insurance than travel trailers, fifth-wheels, or other towable RVs.
5. Good Sam
Good Sam is a fast-growing RV-perks company that has started offering customizable, affordable RV insurance plans are part of its vast menu of member benefits. They are at least worth shopping for a comparison quote if you're already a member.
They tend to be the strongest in things like roadside assistance and emergency insurance coverage. If anything, you might want to get your primary coverage from a more established RV insurance provider and add a Good Sam roadside assistance bonus coverage!
What Does RV Insurance Cover FAQ
Does Collision Damage Continue Even When My RV Is In Storage?
The good news is that even though you have to pay extra for RV collision insurance, most policies extend this coverage to the months your RV will likely spend in storage during the winter. Most lenders require you to maintain collision insurance on an RV throughout the life of the loan. This means you will still need to carry collision coverage, even when your RV is in storage.
How Much Does RV Insurance Cost?
The annual premium cost of RV insurance is going to vary widely based on the age, value, and type of your RV. The national average lingers around $1,500 per year for a Class A motorhome. Though you can expect to pay between $850 to $1,000 for a Class C motorhome or a fifth-wheel RV trailer.
Conclusion
RV insurance is required to some degree in most of the 50 states and Canada. Especially for motorhomes that will need at least automotive liability insurance to drive on public roads legally. If you are financing your RV, you can expect the lender to require you to carry RV insurance, with collision coverage to protect their investment throughout the life of the loan.
Even if you buy your new RV outright, carrying some level of RV insurance is wise. For a towable RV, the automotive liability coverage only applies while the trailer is hitched. Once you unhitch it, you need other protection, such as general liability, interior contents, and loss protection coverage, to protect what is ultimately a major investment.
While working with a customizable insurance company might be able to save you some money on your annual premium, you need to be careful not to completely strip the essential coverage out of your RV insurance policy. You also need to ensure that you meet any/all stipulated requirements by your lender.