It goes by many phrases: 'dispersed camping', 'dry camping', and 'boondocking'—to name a few.
In my opinion, it's the best way to enjoy nature while RV camping. Dispersed campsites are on public lands throughout the U.S. and include, BLM and Forest Service land.
They allow you to escape crowded RV parks and avoid spoiled wilderness.
They're also free and require no reservations. Which means you can be spontaneous, and lower your travel costs at once! Still confused?
You might be wondering, what is dispersed camping, how does it work, and why do people do it?
No sweat, I'm going to give you a dispersed RV camping crash course and help you find a dispersed campsite on public lands near you.
What Is Dispersed Camping?
Dispersed camping is a term that refers to camping on public land for FREE. This type of camping is also called: boondocking, freedom camping, dry camping, and wild camping. Since it's free, dispersed campsites often offer no amenities. That means no running water, electricity, or civilized society.
But that's why they're so great! You can experience some of the most isolated and pristine wildernesses in the country from the comfort of your RV. It's truly an exhilarating experience.
Want to know more? Well, let's get started!
What Is Considered Public Land?
Public land includes most Bureau of Land Management and Forest Service land.
The BLM manages somewhere around 245 million acres, while the Forest Service manages approximately 193 million acres. Combining them gives you a land area double the size of Texas.
Tarnation! With so much land to explore for free you're going to need an RV to get around.
Why Is Camping On Public Land Legal?
Well, public land belongs to—you guessed it—the public (that's you). This means you can use the land in a way that doesn't infringe on other's people's right to use the land.
This includes dispersed camping in your RV! All you need to do is pull-off the road and you can camp.
Since this is public land there's no private companies or services so, as I've mentioned before, it's the most pristine wilderness you can use for RV camping.
There's some rules and limits to dispersed camping, of course, but we'll get into those later.
How Can I Dispersed Camp With Some Amenities?
It's easy. If you have an RV you get to experience the best of two worlds—nature and modern society.
It's commonly referred to as boondocking, or off-the-grid camping. You can use your in-house electrical system, or generator, to power your RV.
After that, just make sure you have a full fresh water tank, and an empty black/grey water tank, and—voilá! You can now dispersed camp with the modern comforts of any RV park.
This excellent BLM video series will help introduce you to dispersed camping.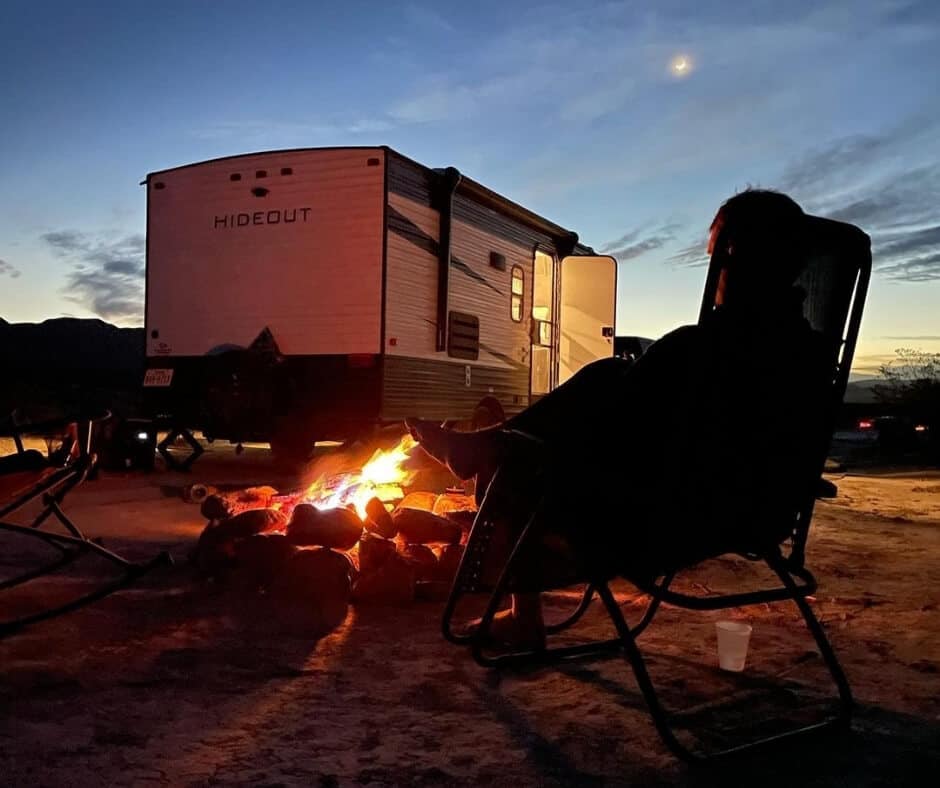 Why Go Dispersed Camping In Your RV?
That's like asking why you should eat frozen dessert. Isn't it obvious? Just like frozen desserts, dispersed camping in your RV is indisputably awesome!
In case you don't believe me, here's four of the prime reasons you should go dispersed camping in your RV:
Privacy And Isolation And Solitude, Oh Yes!
RV Parks stack as many people onto their lot as possible. That means you'll often find yourself less than six feet away from the RV next to you.
Paid campsites are a little better but, no matter what, you're always in seeing and hearing distance of the camp next to you.
This is not the case with dispersed camping. They're far removed from any kind of civilization, and you can sometimes go days or weeks without seeing another camper.
If you're an introvert, or just like the freedom of isolation, dispersed camping is for you.
Camp For Free All Over The U.S
What's better than free? Not much. On public lands you can usually RV camp from 14 to16 days with no fees.
After those allotted days, you can just move to another spot outside of the 25-mile radius and continue camping.
It's a great way to camp for RVers because it helps lower your budget, so you can travel for longer.
Encourages Spontaneity—No Campground Reservations!
When you're in your RV, you want to drive without being restricted by a rigid schedule of campsite reservations.
Public lands are first come, first serve which means you don't need to make a reservation.
Furthermore, they usually encompass a huge area, so you don't need to worry about all of the campsites being taken by other RVers.
More Nature, More Wildlife, And Beautiful Night Skies
My favorite part about taking my RV on a dispersed camping trip is the pristine environment that often characterizes them.
Due to their distance from civilization public lands are often unspoiled. There's less trash, more animals, denser forests, and gorgeous night skies.
Without the light pollution from the city, you can breakout the telescope and view thousands of stars. You might even spot an asteroid as it burns through the atmosphere.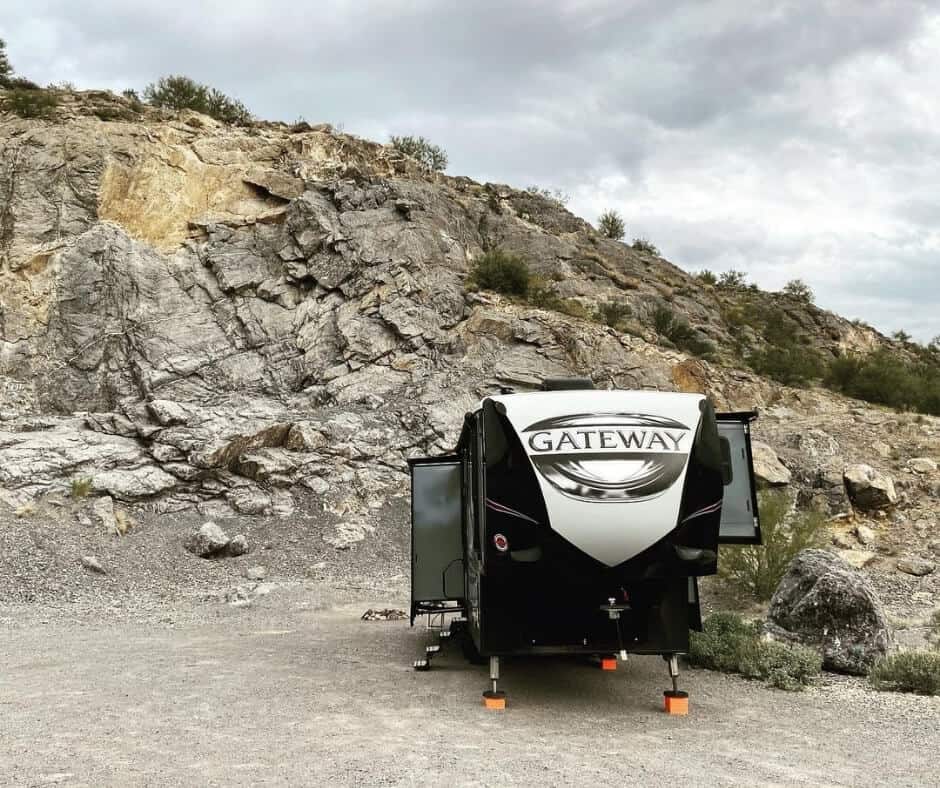 Where Can You Take Your RV Dispersed Camping?
As I mentioned earlier, you can find federally designated public lands everywhere. It's totally legal to camp on any of this land (unless otherwise specified).
These are the specific public lands that you can use to dispersed camp:
How Do I Know When I've Entered A Public Land?
Usually, you'll see a yellow or brown sign announcing that you're entering public land.
Once you pass this sign you can dispersed camp anywhere (unless otherwise specified). Unfortunately, it's not always specified. So, how do you know for sure?
First, always call a ranger and check with them. They're the law in public land, and they're usually really helpful and friendly.
Other than that, you can use one of the apps and tools I've provided below.
They're updated regularly by other RV campers so they're a good resource for finding specific places to dispersed camp.
Wait… Is Dispersed Camping Legal In National Parks?
Yes… And no. Dispersed camping is legal in most National Parks, but it's limited to certain areas of the park.
These areas are often in the backcountry so you most likely won't be able to reach them in an RV.
If you want to ditch your RV and go backcountry camping you can do so, but you'll need an overnight parking permit. Ask the ranger station if they offer one.
So, Which States Have The Most Public Lands For Dispersed Camping?
Find the full list HERE.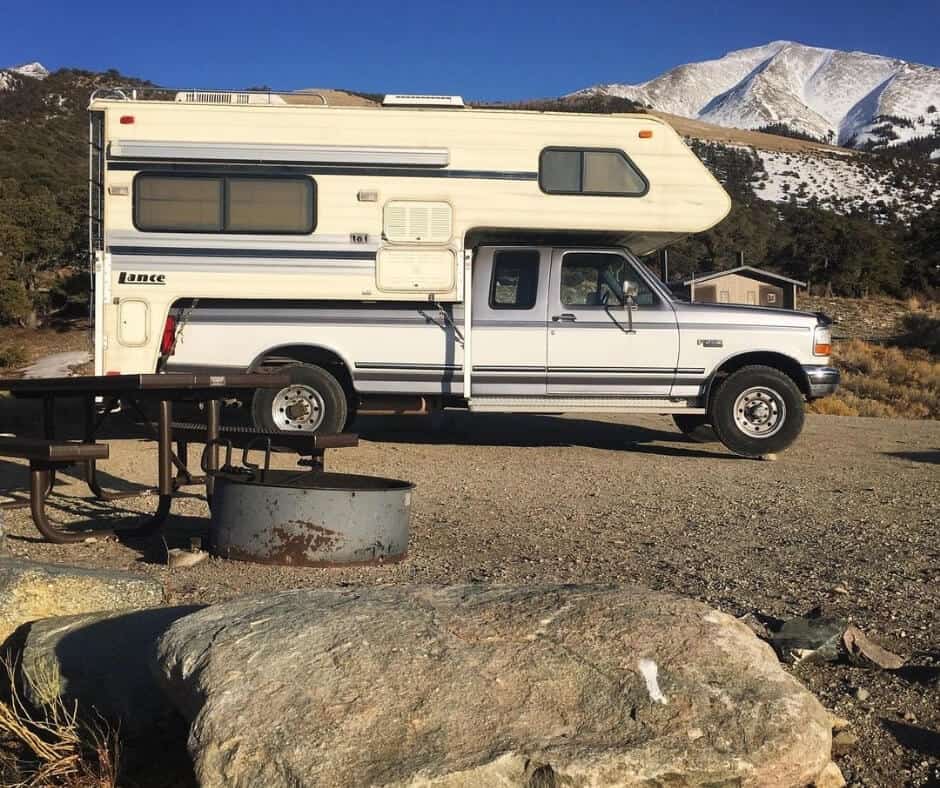 Is Dispersed Camping Dangerous?
In short—yes. Like anything else in life, dispersed camping has it's potential dangers. Afterall, you're going to be isolated, and among some of the most pristine wildernesses in the country.
You'll have a higher likelihood of running into wild animals, getting stranded, or getting injured.
How To Stay Safe While Dispersed Camping In Your RV
However, I've gone dispersed camping for years now, and never had a serious problem (knock on wood).
Here's my tips on how to stay safe, so you can have fun!
Watch Out For Wildlife
Keep your food in a bear bag suspended from a tree, or at least lock it away in your RV. Wildlife, and especially bears, are attracted to human food.
They'll pay you a visit while you're gone, trashing your campsite and damaging property.
Or they could visit while you're at the dispersed campsite. This might result in injury or death.
It's serious stuff. To protect you, your property, and the wildlife, please properly secure your food.
Lock Up
Always lock up your RV when you leave to go on a hike, or do another outdoor activity.
We'd all like to think that RV campers are a tight-knit community with no thieves, but there's always exceptions.
Hide your belongings and secure your vehicle so you don't come back to find everything stolen.
Research Roads Ahead Of Time
Public roads, especially forest roads, are often underdeveloped dirt paths that pass through heavily forested areas.
You need to keep an eye out for low hanging branches and pot holes that could damage your RV, or get you stuck.
Try to travel these roads during the day so you can clearly see your surroundings, and always stay vigilant.
Have An Emergency Plan
What do you do in an emergency? Panic. Of course, that's the wrong response, but that's what most people do.
You need to have a plan in place to help guide you through your panic. Your emergency plan should include:
An evacuation route—in the event of a fire, or other natural disaster
Emergency contact information—ranger station number, or other emergency numbers
First aid supplies—bring them with you at all times and keep them stocked
A first aid manual—You can download a free app called Offline Survival Manual which, surprise-surprise, you can use offline. It includes a bunch of survival tips, including information on medical emergencies.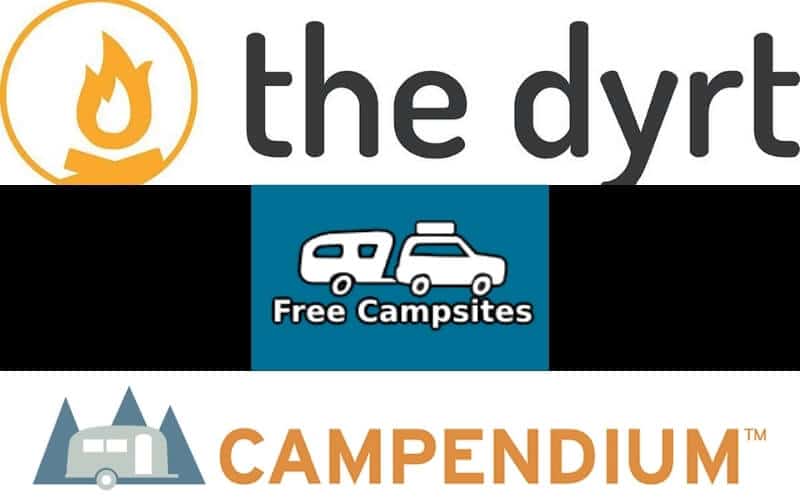 Apps And Tools To Help You Find Dispersed Campsites For Your RV
Finding dispersed camping sites can be tough. They're often unmarked and far from main highways.
These app and tools will make it easy for you to find dispersed camping for your RV.
They also provide reviews of each site and important information about the area like maximum RV size and road conditions.
1. The Dyrt (IOS, Android, Web Browser) (FREE)
Dirt is the best app for finding RV dispersed camping. It provides millions of listings, reviews, prices, and tips from other campers who have already visited.
This breadth of information allows you to find outdoor accommodations across the United States, whether you're in a tent, trailer, RV, or cabin.
Most importantly it's interactive map allows you to scour BLM land and National Forest Service land for specific, popular campsites.
2. Free Campsites (Web Browser) (FREE)
Free Campsites is perhaps the simplest and easiest site to use when finding RV dispersed camping.
It requires no downloads. Just use your web browser! Once you're on their site use the search bar to locate the area where you're currently driving.
It'll populate the website's interactive map with both free and paid options.
3. Campendium (IOS, Android, Web Browser) (FREE)
Campendium is the prettier twin to Free Campsites. It allows you to get more specific with your dispersed camping search.
The site has filters to locate any, and every, type of outdoor accommodation.
It uses information provided by the website's users to tell you about the last paid price, longest RV reported at the site, and road access information.
Unfortunately, it doesn't have an app version yet, but you can still add the Campendium's icon to your device's home screen by following these helpful instructions (iOS / Android).
If you like these apps and tools you might want to add more RV trip planner tools and apps to your device.
Check out our article on it: Best RV Road Trip Planner Apps And Tools For Route Planning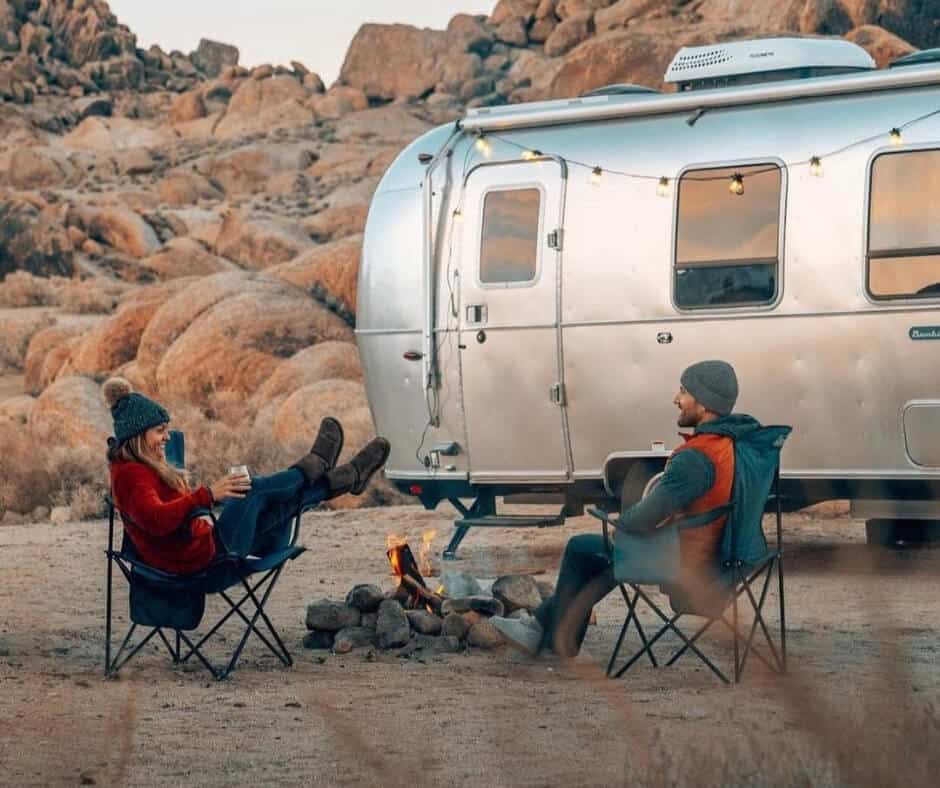 General Rules For Dispersed Camping
14-16 Day Limit, 28 Consecutive Day Reset Period
When it comes to something free there's always a catch. Luckily, this one isn't too bad. Dispersed campsites have a14 to 16-day limit.
Usually, this specific limit is posted in the area, but if it's not, you should probably skedaddle after two weeks.
You're required to move 25 miles away from the spot that you camped with your RV.
Outside of that 25 miles you can disperse camp again. This is easy since most public lands are enormous with plenty of space for camping. If, after two more weeks, you still want to keep camping you can.
Just move 25 miles away again. Rinse and repeat as many times as you want.
The only catch to this, is that you need to wait 28 consecutive days before you're allowed to use the same spot again.
Leave No Trace
It's difficult for park rangers and other government workers to keep these massive dispersed camping areas clean. Help them, and keep nature pristine, by leaving no trace.
This means taking all trash with you and refusing to dump any other refuse or pollutants such as sewage.
Doing otherwise can result in fines, and worse, a degradation of the wildlife in the area.
Fire Restrictions
Smoky the Bear is cool until you start a forest fire. Then he blocks your number, and bad mouths you on Twitter.
In all seriousness, be careful. Fires are a natural part of nature's cycle, but they should be just that—natural.
Avoid starting a man-made fire by following the fire restrictions specific to your area.
Many dispersed campsites say no fires at all, some let you have them in designated metal rings, and a few will let you have a fire wherever.
These restrictions are usually posted somewhere near dispersed camping sites, but you should always call the ranger station to make sure.
All the general rules can be found on the BLM website. However, it's good practice to ask a park ranger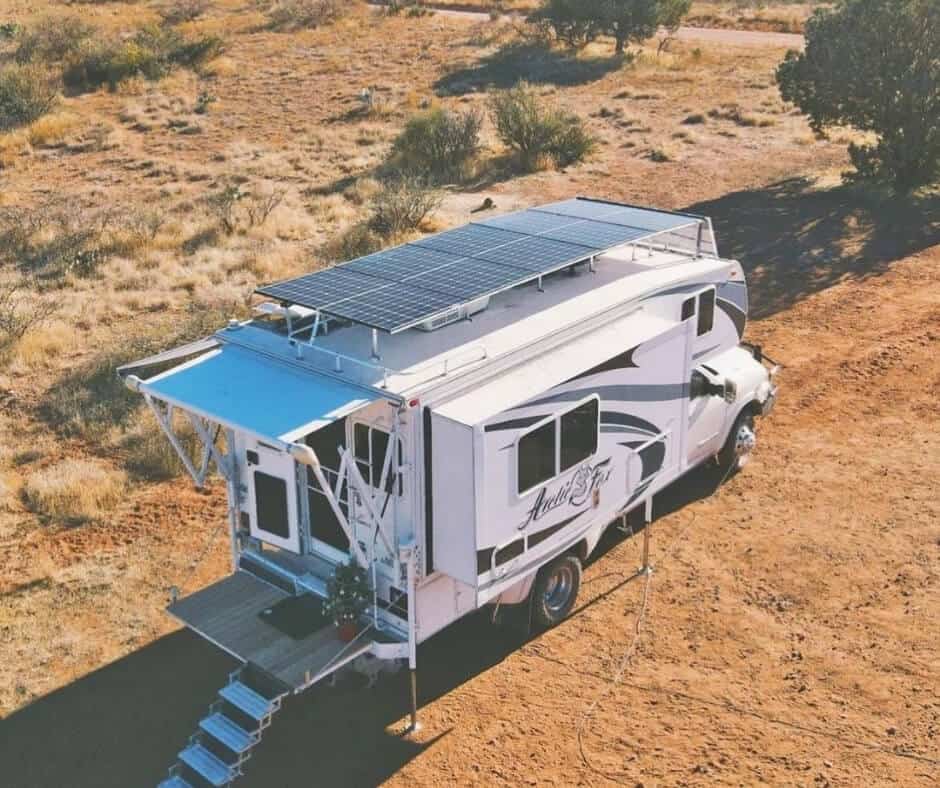 How To Prepare For An RV Dispersed Camping Trip?
You've chosen to abandon the comforts of modern living and rough it on public land in your RV. Being prepared is your surest way to survive, and even thrive, in the wild.
Forgetting these items could, at best, force you to drive a long distance to retrieve them, or at worst, endanger your life.
The best way to avoid disaster is to create a camping list and check it before leaving.
It should include everything you'll need on your RV camping trip. Here's some items that every camping list should include:
1. Check Fluids and Gas
You'll be driving down isolated roads with no services. Avoid getting caught in an emergency situation with a blown engine or empty gas tank. Check all your fluids and top off your tank.
2. Spare Tire
Public lands are normally under developed in their roadways. You'll often find yourself driving down rocky forest roads, or pothole crusted public roads.
A flat tire can happen on these precarious roads pretty easily, and it helps to be prepared with a spare. Make sure you bring one.
3. Full Fresh Water Tank
Fill up your fresh water tank. You'll need that precious H2O to wash dishes, use your toilet (pee only people), and prepare food.
4. Empty Grey/Black Water Tanks
Last thing you want discover when you reach your dispersed camping spot is that you forgot to empty the grey and black water tanks.
You can camp up to 16 days in some dispersed camping spots. You'll want to make sure your tanks have as much room as possible.
5. Drinking Water
Research in hydration suggests that an individual should consume somewhere from 6-8 bottles of water a day depending on your size and gender.
Multiply that by the number of people on your camping trip, and then multiply it again by how many days you're planning on camping.
6. Food (And everything that comes along with it)
Ugh, eating is such a burden. I mean I'm not advocating starvation, but come on. If you plan on eating, you'll not only need food, but also condiments, utensils, plates, bowls, cups, and napkins.
And that doesn't even include the pots and pans you'll need to cook the food, nor the soap and sponge you'll need to clean the dirty dishes. See why a camping list is important.
7. Anything Else You'll Need
You want to have a fire? Bring logs and matches. S'mores? Marshmallows, grahams, and chocolate.
Anything you want, bring it. It's rare that you'll find a store within a reasonable distance from your dispersed campsites.
8. OPTIONAL: Bring a Generator, or electrical system
This isn't a necessity, and some die-hard dispersed campers might even slap me for saying it, but if you need electronics bring a generator.
For those of us that work remotely having a full charged is a necessity. If you don't have a solar system, you'll need to bring an extra gallon of gas and a generator.
Tips And Tricks For Dispersed Camping In Your RV
I've stayed at countless dispersed camping sites. Like anything else they have cheat codes that allow you to use them better than other people. Here's my tips and tricks for dispersed camping in your RV.
Get There Early
Public lands are huge, so it's hard for them to fill up with RV campers. Nonetheless, if you want a good spot you should get there early.
On weekdays you normally won't have a problem, but on weekends the best spots get scooped up quick. Getting there before everyone else gives you the option to choose the spot you want.
You can choose the one with the most privacy, the best views, or even the closest proximity to a natural feature you want to use, like a river for fishing.
Ask A Ranger Station About Collecting Firewood
Firewood can be expensive. Want a cheaper option? Ask the ranger station in your area if they allow firewood collection.
If they say yes you can collect fallen sticks and logs that surround your campsite.
This will help you eliminate bringing wood with you, which can be dangerous for the environment, and let you save money.
Slow Down
Breathe. Good—relax. It can be difficult to adjust from the speed of modern life to the slow, sluggish relaxation provided by dispersed camping.
Give yourself a day to sit in nature and enjoy your surroundings. 
No need to rush off to some outdoor activity, or speed off for the first hike. It feels good to recharge in the solitude of the outdoors.
And there's no better way to do that than at a dispersed campsite with your RV.
---
That's your crash course in dispersed camping! It's one of my favorite parts about living in my RV full-time.
What do you think is the best part about dispersed camping? Tell us about it below.