If you live in an RV full-time or you need a place to store your rig during the offseason, you'll need to investigate answers to the question of where can I park my RV long term in my area.
Most full-time RVers find it much easier to keep their RV or travel trailer in one place for a full season rather than having to move it every few weeks.
And when it comes to storing or parking your RV long term while you're not using it, there are probably several options in your area.
Unfortunately, most state parks and some private campgrounds have maximum stay limits of about 14 days.
While that's usually not a problem if you're on vacation or frequently traveling in your RV, you'll need to find an RV park or campground that offers a monthly rate if you're looking for a place to park your RV long term to live in.
But if you're just looking for long-term RV parking for storage purposes, your options will expand a bit.
And some of them might be even closer to home than you might have initially imagined.
If you're looking for a place to park your RV long term to live, here are a few options to consider:
Best Places to Park Your RV For Long Term to Live Out of for Months or Full-Time
Now that you're familiar with a few places you can park your RV long term for stationary living or as a long-term residence, let's evaluate some of the advantages and disadvantages of each.
1: Permanent and Long Term RV Parks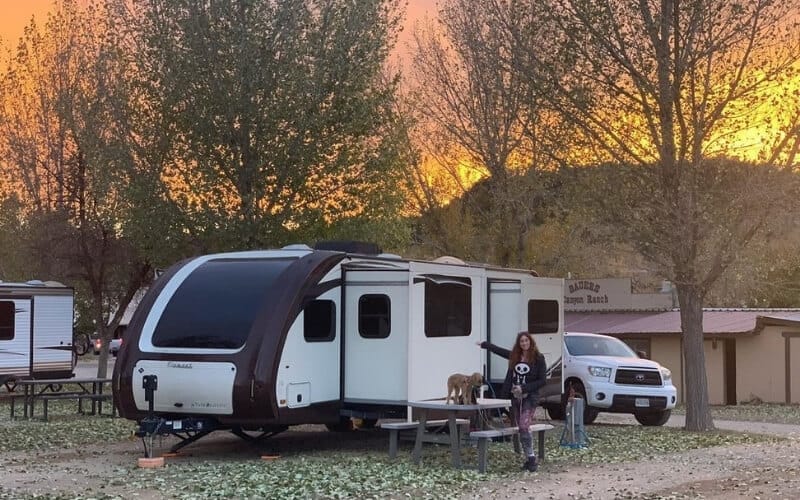 If you can find one in your area, long term RV parks are a great choice to park your RV in for an extended period.
If you're interested in this option, you'll have to do your research because, unfortunately, not all RV parks offer long term stays.
And while you'll most likely have to pay for a spot, a long term RV park with full hookups will allow you to park your RV and hook up to water, sewer, and electricity. If you're living in your RV full-time, these services are essential.
Without them, you'll have to pack up and find a station to dump and refill every week or so.
And RV parks are also a great option for long term RV parking if you've recently moved to a new town or city.
They can offer a great stop-gap while you're getting to know a new town or searching for a primary residence in a new city.
And your fellow RV park campers can be a great resource for learning about your new community and discovering the hidden gems that other tourists simply won't come across.
If you're interested in parking your RV in a long term park or campground long term, we recommend planning for it well in advance.
Most RV parks only offer a limited number of long-term sites and they will often have a long waitlist of other RVers that are interested in those spots.
So it doesn't hurt to call around, check availability, and place your name on several waitlists months in advance of when you actually need a spot.
Additionally, state and federally maintained campgrounds are less likely to allow long-term camping than privately-owned parks or luxury RV resorts.
And many KOA campgrounds also allow long term RV parking because they cater to full-time RVers more than some other parks and campgrounds.
That being said, RV parks aren't always the best option for long term RV parking if you don't live in your rig full-time.
But we have heard of certain RV parks that offer long term RV storage for a nominal fee, so it's always worth exploring long term storage options at your local RV parks as well.
2: Park It In Your Your Garage
One of the easiest and safest places to park your RV long term is right inside your garage.
This offers a weatherproof storage area to keep your rig out of the rain and cold while you're not using it.
It also doesn't require that you pay anything extra for space at a storage facility or a spot in an RV park.
Unfortunately, the way most garages are built in primary residences doesn't provide enough height for taller RVs to fit safely.
In fact, most garage doors on single-car garages are just eight feet wide and seven feet tall. And even double car garages measure just 16 feet wide by that same seven feet tall.
When you consider the fact that the average height of RVs is anywhere from 10 to 14 feet, you can see clearly that there is a problem with using your garage to store your RV.
Unless you have a garage that has specifically been built to store a taller recreational vehicle, the fit simply won't work for you to store your RV in your garage.
3: Parking Your RV In The Driveway
The limitations of standard garage dimensions are why you'll see many RV owners storing their motorcoaches in their driveways.
But, of course, the size of your driveway will dictate whether or not your RV will fit for long term parking.
In addition, you should always consider the height of any eaves or overhangs that come off the roof of your home.
We've seen a few RVers that only measured the width from the edge of their driveway to the side of their house when evaluating whether or not their RV would fit.
But eaves often extend past the side of a house and can reduce the total width of the area in which you're planning to store your RV.
And we want you to avoid backing your rig into the eaves of your home because you failed to account for them before pulling your RV into your driveway.
Also, make sure that you have a reasonably level spot in your driveway if you plan to use it to park your RV there long term.
The critical appliances in your RV (heat, your refrigerator, etc.) will require that your rig is as close to level as possible to continue functioning efficiently.
And if you plan to plug your RV into your home's electrical supply, you should also consider the distance from the nearest outlet to the plug that extends from your RV.
As a side note, beware of plugging your RV into a standard 110-volt AC outlet in your garage or the exterior of your home.
Unless you have a separate circuit for your RV, you can overload other circuits in your home and damage appliances both inside your home and in your RV.
4: A Covered Storage Facility
If you don't have space in a garage or your driveway, you might consider finding a covered storage facility in your area.
This is a popular option for long term RV parking if you live in a colder region where you tend to winterize and store your RV for the entire winter season.
For example, if you live in a mountain town with access to a covered storage facility at a lower elevation within about an hour's drive, you might consider driving your RV down to that facility to store it in a slightly warmer and drier location for the winter months.
But, regardless of the weather conditions in your region, we always advise parking your RV in a covered storage facility if you plan on leaving it there long term.
This will decrease the amount of moisture that can impact the integrity of your RV's roof, roof seams, windows, window seals, and other components during the rainy or snowy season.
Parking your RV in a covered storage facility long term will also decrease the likelihood of any unwanted animal inhabitants taking up residence inside or underneath your rig while you're away.
Mice, chipmunks, squirrels, bees, spiders, and other small rodents, mammals, and insects will be attracted to the warmth and shelter that an RV can provide if parked outside long term.
So, while you'll need to pay a monthly fee to park your RV in a covered storage facility long term, that fee will typically be much less than the costs of larger repairs that can result from animals inhabiting your RV for months at a time.
Plus, nobody likes opening up their RV for the summer to find lots of mice droppings in their living space.
5: Create Your RV Parking Space In Your Side Yard
If you live in a favorable climate, you might even be able to park your RV in your yard long term.
Many RV owners that opt for this solution actually tend to keep their RV parked in their yard indefinitely once they get it situated there.
This is because simply getting your RV into your desired yard location can be quite the task depending on the layout and slope of your property.
In some cases, we've even known RV owners who have had to rent a crane to lift their RV over their house and onto blocks or chocks in their yard.
As you might imagine, this isn't necessarily a great solution if your definition of long term is a few months or so.
But there can also be several advantages to parking your RV in your yard long term.
If you need inlaws quarters for when family visits or you'd like to rent out your RV for temporary residents, this is a great way to create additional living space on your property without having to build an entirely new structure.
The downside of parking your RV in your yard is that it will also be more accessible to animals and insects.
So, if you choose this solution, you'll probably want to explore boarding up the entire area around the underneath of your RV to restrict animal's ability to access the storage areas and underbelly components of your RV.
Additionally, this is one of the more permanent long term RV parking options on our list.
If you go through the effort to get your RV parked on a level spot in your yard, you probably won't want to go about preparing it to move again in a month or two.
So, just be sure that you want your RV situated in your yard permanently and make sure your neighborhood or homeowner's association doesn't have any rules or regulations that prohibit you from parking an RV in your yard.
6: The Curb In Front Of Your House
In a pinch, you might also be able to park your RV along the curb in front of your house long term.
Your ability to do so, however, will largely depend on the neighborhood you live in and how much traffic your street receives on average.
Some cities have little to no restrictions on long term street parking. But some have traffic police that will continuously survey and mark vehicles that have been parking in one location for many days at a time.
In some places, vehicles must be moved every 14 days or they will be towed and impounded.
But, if you live in a less populated area without long term parking restrictions, you might be able to simply leave your RV parked along the curb until your next adventure.
In the interest of being a good neighbor, however, we recommend checking with your neighbors to make sure that parking your RV on the curb long term won't be an inconvenience to the fellow members of your neighborhood.
You should also keep in mind that this isn't a good option for long term RV parking in places that receive several feet of snow during the winter months.
If your local municipality needs to come by and plow the snow off of your street, they could easily damage your RV by piling up several feet of snow on its side.
Many snowy locations also forbid long term street parking during the winter months.
This is both to make life easier for the folks that wake up at 2 am to plow the roads and it's also to avoid your personal property being damaged by a large snowplow that might not be able to see or avoid your rig in wintery or slippery road conditions.
So, to recap, parking your RV on the curb long term is really only feasible in locations without long term street parking restrictions or extremely wintery weather.
For the rest, it's an option as long as it won't upset and/or anger your neighbors!
Long Term RV Camping Tips
In addition to the various places you can park your RV long term if you're living in it full time or just storing it, you might also consider long term RV camping if your RV or travel trailer is your primary residence.
Tips For Long Term RV Camping During Busy Season
When you're looking for long term RV camping destinations during the busy season, you'll need to think a bit out of the box.
Consider where most other RV campers might be heading. Then, do the opposite!
Unfortunately, this can mean heading for cooler destinations when others are flocking south to escape the snow.
This, of course, will require an RV, travel trailer, or 5th wheel that is equipped for four-season living.
And you'll need to research parks that remain open year-round if you're heading to more wintery regions.
So make sure you plan ahead and call in advance to make sure the destination you're interested in has a long-term RV campsite available.
Tips For Long Term RV Camping During The Offseason
If you plan it correctly, you can secure a long term RV campsite during the offseason when availability is much greater.
For many tourist destinations, there are two offseasons in the transition times from winter to summer activities.
Generally speaking, the spring and fall seasons can be the best times to find a long term RV campsite because other RVers either haven't pulled their rigs out of storage yet or are already done with their adventures and ready to winterize their rigs for the season.
But, just like traveling north when everyone else is heading south, you'll need to keep in mind that certain RV campgrounds are only open seasonally.
So you'll need to make sure the park you're hoping to secure a long-term campsite in is open year-round if you're going to secure a site during the offseason.
Conclusion
Considering where you'll park your RV long term is a really important thing to do before you purchase an RV.
It's similar to needing a truck to transport a travel trailer before you buy the trailer itself.
While you can go things in reverse order if necessary, it's much simpler to put the proverbial cart after the pulling horse.
But the goods news is that there are most likely several options for long term RV parking within an hour or so of your home.
And some of them might be right next to your house. So we hope that you feel more confident about where you'll park your RV long term after reading this list.
And, as always, we wish you the best of luck with all of your RV adventures and, in this case, long term parking endeavors!