The Airstream name has become iconic in the travel trailer industry. But it hasn't always been that way.
The company's founder, Wally Byam, actually organized international caravans that played a significant role in the growth of the Airstream community.
The fact that the Airstream name has developed into somewhat of a niche brand partly explains the answer to the question,
How much does an airstream cost?
New Airstream trailer can cost between $37,900 up to $164,400 depending on the style and features. A camper trailer like Airstream Basecamp, that you pull behind a mid-sized SUVs might cost $37,900, while a Airstream Classic could cost as much as $164,400 to $170,900.
When the company was bought out by Wade F.B. Thompson and Peter B. Orthwein in 1980, the Thor Industries company was created.
The buyout ensured that Airstream trailers would remain one of the most recognized luxury travel trailer brands in the country for years to come.
Now you might wondering "Why Are Airstreams So Expensive?"
The three major reasons why Airstreams are so expensive are: aluminum body construction, legendary reputation, and the use of high-quality components. Over the years, Airstream's brand name has become internationally synonymous with class and luxury, which has also helped to elevate the price of their trailers.
But it doesn't quite tell the whole story. So, in this article, I'm going to detail how the design of Airstream trailers and the materials used in their construction plays a role in their expensive price.
I'll also detail other fine qualities of Airstream trailers and highlight some of the most popular 2020 Airstream models and how much do they cost.
5 Reasons Why Airstream trailers Are So Expensive
1: The Design
In order to understand the design of Airstreams, we must start with a little bit about the company's history.
In 1929, the company's founder, Wally Byam, set out to convince his wife that camping could be enjoyable.
She didn't particularly enjoy sleeping in tents, so he designed a teardrop shelter for his Model T Ford that included an ice chest and a stove.
Byam's initial design wound up becoming the inspiration for the classic Airstream look.
The streamlined shape of Airstream trailers has a silver bullet feel, which some believe was inspired by the company's ability to withstand the economic downturn of World War II while many of their competitors collapsed.
From a practical standpoint, this shape serves to significantly decrease drag when towing your Airstream behind a car or truck.
The Airstream design includes a double aluminum shell that's wrapped around a steel frame.
This design gives each trailer exceptional durability without making it weigh too much.
That is another reason why Airstreams are easier to tow than many of their competitor's trailers.
2: The Construction Process
The expensive price of Airstream trailers is really tied to the painstaking nature of their construction.
The entire outer shell of each trailer is made with aircraft-grade aluminum that is wrapped over a steel frame.
The sheer amount of aluminum needed for each trailer is a huge reason why Airstreams are so expensive.
After the initial outer shell of aluminum in place, insulation is added and then an inner shell of aluminum is riveted from the inside.
All rivets on every single Airstream trailer are put in by hand. This is done to avoid damage to the frame and to ensure a watertight seal.
Once all of these rivets are in place, each and every appliance is carried inside and installed by hand, one-by-one.
This labor-intensive process is another major factor in the expensive price of Airstream trailers.
The cost of materials and the labor hours needed to build each trailer are generally much higher than other travel trailer models.
3: Durability
Another factor that sets Airstream apart is the lifespan of their trailers. The only plywood that is used in their construction is for the subfloor.
This is only necessary because you need something to which you can anchor the finish flooring and large RV appliances, like the stove and refrigerator.
But because of the double-frame design, even the plywood subfloor is completely contained within the frame.
This means that it is much less likely to rot than wood in other RVs and also extends the lifespan of the trailer.
It's not uncommon to see 30 or 40-year old Airstreams that still look nearly brand new.
In fact, more than 75% of all Airstream trailers ever built are still on the road today.
In some cases, this even includes original models built way back in the 1930s.
Due to their extremely durable design and construction, Airstream's typically require much lower annual maintenance costs, on average, than RVs from competing manufacturers.
4: Reputation and Resale Value
Airstream trailers also tend to hold their value much better than their counterparts.
On average, RVs and travel trailers depreciate in value by as much as 20% in the first year alone.
But Airstreams historically boast some of the highest resale values amongst RV brands.
One reason for this is Airstream's "pop culture" reputation. These trailers have been featured in many famous television and movie productions, including in 2018's Jurassic World: Fallen Kingdom and in 1998's Armageddon. Airstream's reputation alone is another major reason why their trailers are so expensive.
5: Additional Airstream Qualities
In addition to their design and reputation, Airstream trailers stand out from their competition in a number of additional ways.
It's clear that it's a company that goes above and beyond to deliver exceptional quality.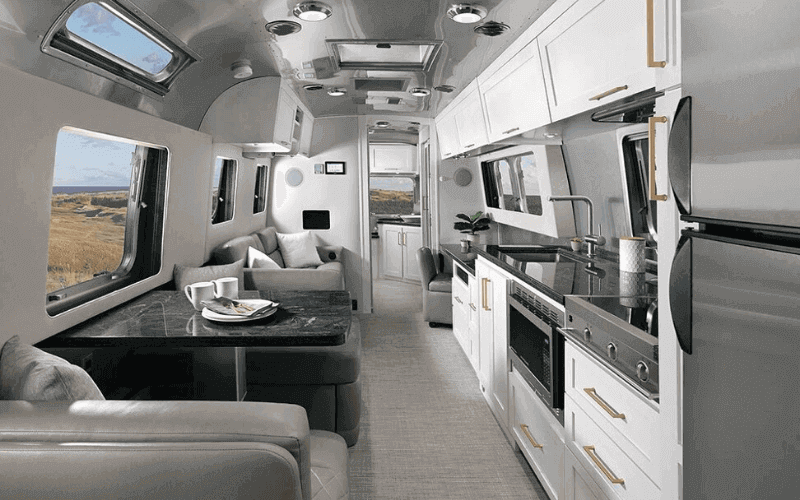 Carpentry and Finish Work
Airstream also does all of their own cabinetry and they pick furniture that's made from high-quality materials.
Each piece of furniture selected has to be carefully chosen to fit the trailer's unique shape.
Luxury Appliances
Airstream selects appliances from quality third-party providers, such as faucets from Moen.
Other RV brands utilize high-end appliances from trusted providers in some of their luxury models but, with Airstream, every trailer is essentially a luxury model.
Windows
Unlike some RVs that only have small portholes or tiny square windows that only partially open, Airstream trailers have lots of big windows.
They use tempered glass on all their windows and their large size allows you to feel close to Nature while you enjoy a cup of coffee at your kitchen table.
The "On-the-Road" Components
Airstream also sources the brakes, axles, and wheels used in their trailers from highly reputable brands.
These are the primary components to be worn out when you travel a lot, so it's good to have the peace of mind that they didn't skimp in this area either.
Style
Another great quality of Airstream trailers is their modern style, especially when compared to the "country home" aesthetic that you'll see with many other RV brands.
The clean lines and curved surfaces that Airstreams are known for tend to be a little more costly to manufacture.
But Airstream spends that extra money and time to ensure that each and every one of their customers get a quality travel trailer that's really like no other.
2020 Airstream Models With Example Prices
Since their inception, Airstream has continued to innovate with new designs that are better suited for different users.
Let's take a look at the specifications and features of seven different 2020 Airstream models and how much do they cost to buy.
1. Airstream Bambi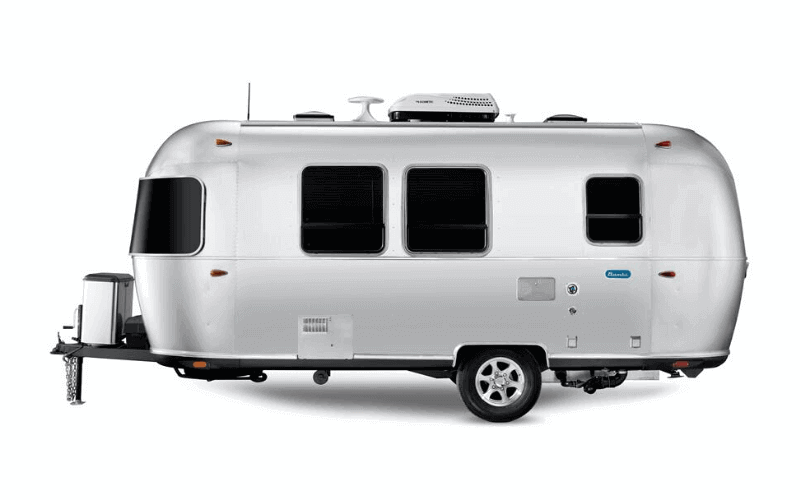 The Bambi is available in lengths from 16 to 22 feet with an unloaded vehicle weight (UVW) between 3,000 and 4,000 pounds.
With four different floor plans to choose from, this model sleeps a total of four people.
Bambi prices start from $49,600 to $52,600.
2. Airstream Basecamp
Airstream's Basecamp model is 16 feet long and has a 2,585-pound UVW.
It sleeps up to two people and can be designed with one of two different floor plans.
The cost of this model starts between $37,900 and $40,600.
3. Airstream Caravel
The Caravel is available in lengths ranging from 16 to 22 feet. These trailers have UVWs between 3,500 and 4,300 pounds and they can sleep up to four people.
Buyers have four different floor plans to choose from and prices start between $61,900 and $70,900.
4. Airstream Classic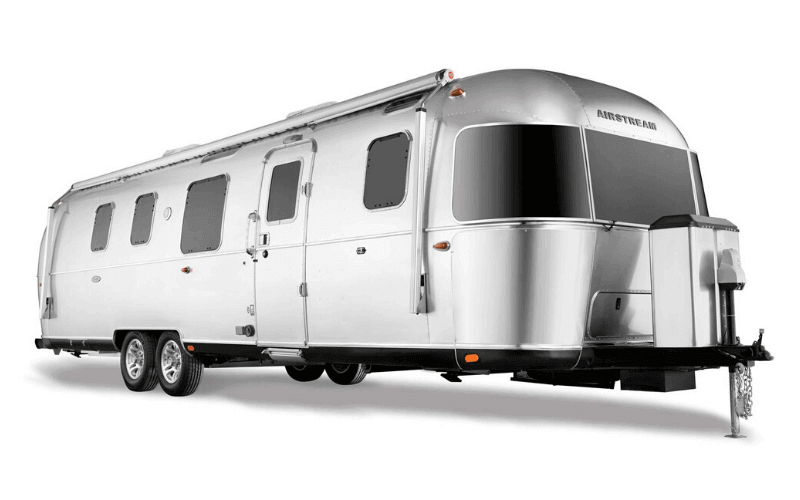 Airstream's most Classic design is 30 to 33 feet long with a UVW between 7,788 and 8,261 pounds.
These behemoths sleep up to four people and are available with four different floor plans to choose from.
Prices on the Classic Airstream start between $156,400 and $170,900.
5. Airstream Globetrotter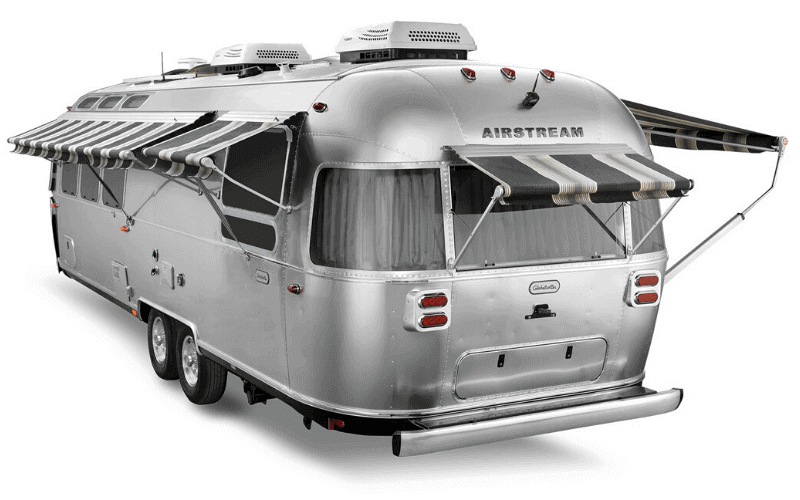 The G​​lobetrotter model comes in lengths from 23 feet up to 30 feet.
These trailers have UVWs between 5,297 and 6,990 pounds and are capable of sleeping up to six people.
You'll have eight different floor plans to choose from with the Globetrotter and prices start between $95,400 and $120,900.
6. Airstream International Serenity
The Airstream International Serenity is available in lengths from 23 up to 30 feet and these lengths have UVWs ranging from 4,761 to 6,517 pounds.
All of the twelve floor plans you can choose from with this model can sleep up to six people.
Prices on the International Serenity start between $89,900 and $113,400.
7. Airstream Nest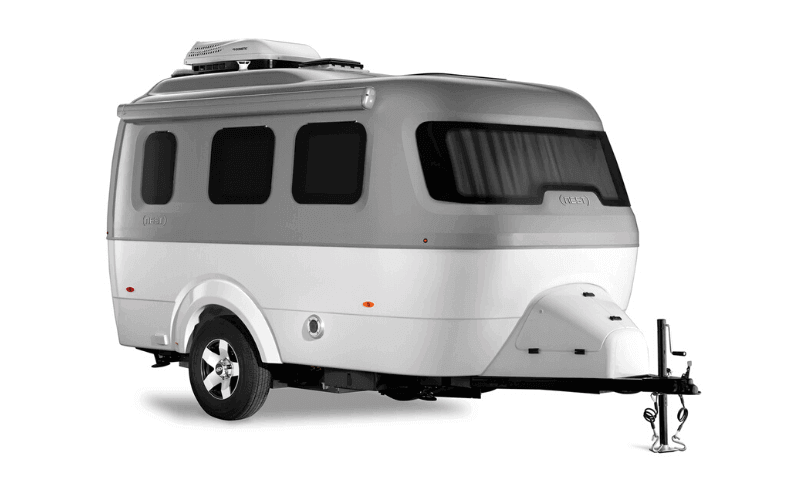 The Nest is Airstream's 16-foot fiberglass trailer that boasts a 3,300-pound UVW.
This trailer sleeps up to two people and is available in two different floor plans.
Prices on the Nest start between $42,900 and $45,900.
Are Airstream Trailers Worth the High Cost?
You'll be hard-pressed to find an Airstream owner that hasn't be extremely satisfied with their trailer.
The fact that three out of every four Airstreams ever made are still on the road speaks to their worthiness.
If you're looking for a long-term investment in a trailer that's going to go the distance, it's hard to beat the Airstream brand.
Sure, you might pay a little extra up front, but many cheaper RVs and travel trailers are going to wind up costing you more in maintenance and repair costs over their lifespan.
That being said, it should be noted that Airstreams don't come with absolutely zero maintenance costs. Things will happen and specific repairs will be required.
And one reason why some buyers have shied away from Airstreams is that, when repairs are needed, they might be a little more costly than repairs on a more standard RV or travel trailer.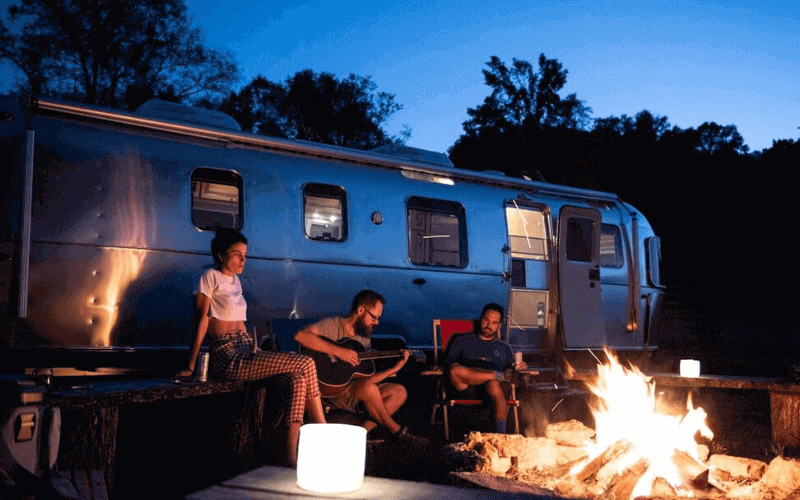 If you're a taller individual, Airstreams might not be for you.
I'll just put that out there because the curvature of the roof in these trailers tends to result in less headroom overall.
I actually stayed a few nights in an old Airstream that had been parked in someone's backyard and rented out via Airbnb.
In those couple of days, I definitely noticed the difference in headroom between the Airstream (less) and my 1997 Fleetwood Bounder (more).
Folks that live or travel close to the ocean may also be wary of purchasing an Airstream trailer due to the corrosive nature of salty air.
Generally, corrosion on Airstreams occurs in small patches and is more of a cosmetic issue, but this should still be considered for anyone that plans to park their Airstream with a beautiful view of the ocean out the windows.
Some unsuspecting new Airstream owners have quickly realized that these travel trailers have very little underneath storage capacity.
Additionally, some of the interior cabinet storage can be compromised by the roof's curved design.
While you'll still have the space in the bed of your truck to store a lot of gear, this should be noted before you buy an Airstream.
Finally, Airstream trailers can acquire dents a bit more than other trailers.
This is mainly due to their aluminum construction but, to be honest, I think it is more of a product of the fact that aluminum shows dents a bit more than other materials.
As a trailer owner, I think it's hard to be upset about dents when you are most likely the one who caused them.
Nevertheless, the rounded edges of Airstreams can be more susceptible to dents and dings if you do happen to miscalculate or misjudge how far you are from a tree while maneuvering into a new campsite.
For me, I would seriously consider upgrading to an Airstream trailer if I had a capable truck to tow it with.
The downside of almost no underneath storage, however, would be tough for me to get past.
If you're like me and you have a lot of outdoor gear, an Airstream might not be the best travel trailer choice for your lifestyle.
Frequently Asked Questions
I'm sure there are a few things about Airstream trailers that I didn't quite mention above.
So, in this section, I'm going to answer some of the most frequently asked questions about Airstreams.
Where is Airstream located?
Airstream is an American company! Their headquarters are located in Jackson Center, Ohio and, if you're looking for a factory tour, you can find the lobby on the northeast side of 420 West Pike Street (also known as State Route 274).
How long does it take to build an Airstream trailer?
According to their website, it takes approximately 350 hours to build each and every trailer manufactured by Airstream.
This is mainly due to the rigorous construction process that each trailer undergoes.
What are the red numbers on some Airstreams?
In the company's early days, the founder, Wally Byam, started the Caravan Club International.
Each Airstream trailer in the caravan was given its own unique number.
Some of this early history is really fascinating, and Airstream has kept that history alive by giving new owners the ability to registe​​r their Airstream with its own unique, official name.
Conclusion
To me, one of the defining qualities of Airstreams is their durability.
Especially in a world where so many products aren't designed to last more than a year or two, the fact that Airstream trailers last for decades certainly makes them stand out.
And that doesn't even account for the elegant design and stylish finish that aesthetically sets Airstream apart from any and all competitors.