Teardrop trailers are perfect for towing behind small trucks and SUVs. For being one of the smallest recreational vehicles out there, however, they can be quite expensive.
There are solid reasons teardrop trailers are so expensive and you need to understand them before investing in one.
Most teardrop trailer manufacturers sell base models and then allow you to choose from a host of add-ons. This level of customization is the main reason why teardrop trailers have higher price tags.
But it is not the only reason.
Today we'll discover why teardrop camper suddenly gained such popularity? and what makes these small RV's so expensive?
We will also provide a definitive answer on whether teardrop trailers are worth the cost so that you can decide if they are a feasible option for your budget.
What Is A Teardrop Trailer?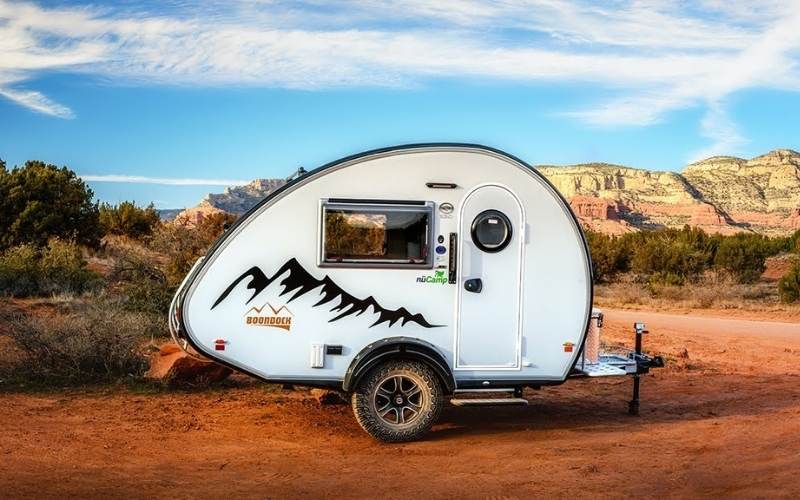 Surprise! Teardrop trailers are named for their unique teardrop shape. They are rounded at the front and taper to a point at the rear.
You might just have to turn your head sideways to see the teardrop, but it is there!
Teardrop trailers are small, light, and can be easily towed by vehicles that can't handle the higher hitch weights of larger travel trailers and fifth wheels.
Most feature a base model and then you get to select customized add-ons based on preference. Or, the base model can be bought as is and then built out as a DIY project.
While there are other small campers out there, that iconic teardrop shape is what sets these apart from all others.
How Much Do Teardrop Trailers Cost?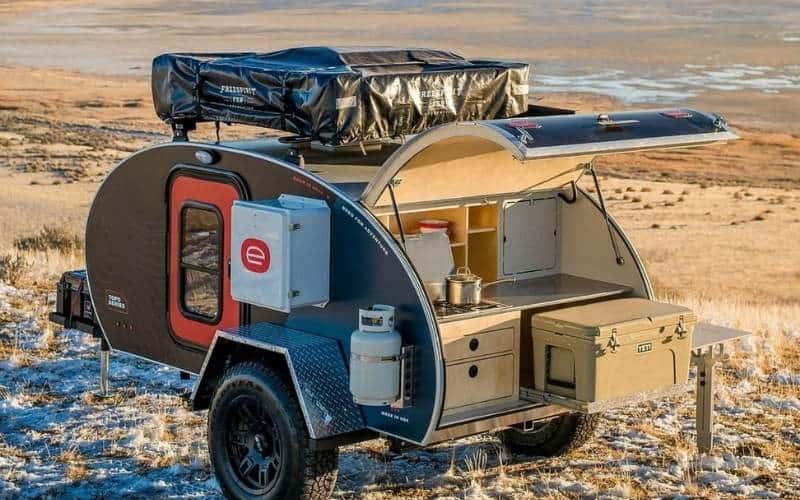 The average price of a teardrop trailer in 2021 is $23,900.
In part, that higher average price is a result of RV sales increasing by nearly 54% over the course of the last year (according to Nasdaq).
To give you a broader range, however, you can find used teardrop trailers for as low as $1,000 or $2,000.
You will also find that the most amenity-laden models on the market come with price tags upwards of $30,000.
For the most part, you will find the vast majority of teardrop trailers costing in the range of $5,000 to $25,000.
Within that range, you can find a basic, entry-level teardrop for $5,000 to $7,500. Mid-level teardrop trailers cost between $7,500 and $15,000.
High-end teardrop campers are going to cost $15,000 to 25,000, typically.
Hiker Trailers is one example of a teardrop manufacturer that provides an extremely reasonably-priced trailer.
Their most affordable model (the 5' by 8' Highway Deluxe Trailer) starts at $5,595.
On the other end of the spectrum, their most expensive teardrop trailer (the 5' by 9' Extreme Off-Road Hiker) starts at $11,895.
8 Reasons For why Teardrop Trailers Are So Expensive
While teardrops are not as expensive as the best travel trailers or lightweight toy haulers, their prices can be unfortunately higher than you might think.
So let's discuss some of the reasons teardrop trailers are so expensive and other factors that determine teardrop prices.
1: Teardrop Trailers Have Exploded In Popularity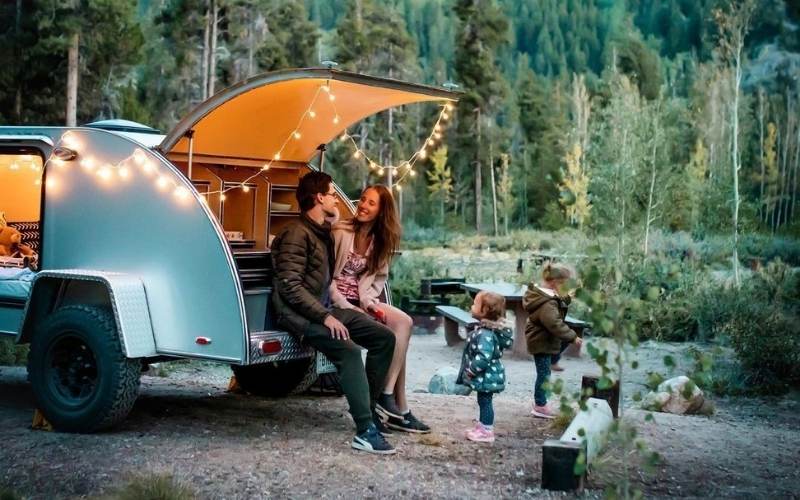 The market for teardrop trailers is quite a bit smaller than the market for larger travel trailers or RVs.
As a result, even the busiest of teardrop manufacturers typically produce fewer trailers annually than larger RV manufacturers.
That reality somewhat limits the supply of teardrop trailers for interested buyers. It seems that the demand for this type of trailer is increasing rapidly, however.
That combination of factors (lower supply with higher demand) allows teardrop trailer manufacturers to elevate their prices.
Additionally, there is some nostalgia and history behind the teardrop trailer market.
Trailers with this design originally began being produced back in the 1930s and even some older teardrops earn "vintage" status if they are maintained well.
Because of that, you will sometimes find used teardrops are more expensive than other types of used trailers and RVs.
In part, this is the result of people interested in owning a piece of history and buying a trailer that reminds them of a time when things were a little simpler but still incredibly well-built.
2: Many Teardrop campers are Custom Made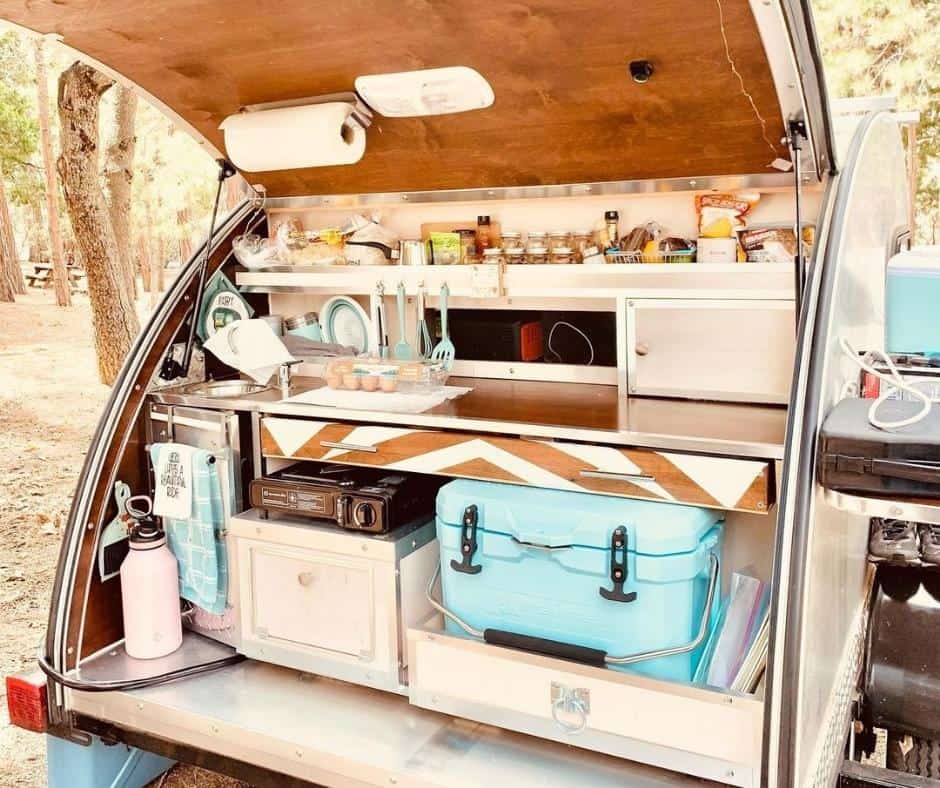 Many teardrop trailer manufacturers only build their trailers on-demand. They create "base" models that buyers can then customize according to their preferences.
Sometimes, you can actually get a deal on a teardrop trailer if you are skilled and willing to do the interior customization work on your own.
If you are not, however, you will be paying for labor as well as the cost of the appliances and materials that you decide to add to your custom teardrop trailer.
You will also get to choose which add-ons and amenities you want inside your trailer.
As you might imagine, the price of your trailer is going to go up as you choose more and more amenities.
This can be frustrating if you are not prepared for it because you were initially enticed by a price tag that said something like, "Now Starting At Just $4,999."
While that might be a reasonable starting point for your budget, that price can easily double or triple when you choose to add solar panels, an extra battery, a fold-out awning, a water heater, and other amenities to your build.
If you are unaware that this is how the process works for this type of trailer, it can easily be frustrating.
So it is important to know that this is how many manufacturers work and that you can also find a very reasonably priced teardrop if you are willing to do some of the add-ons and construction yourself.
3: They Still Include Essential Appliances
Even though they are smaller than a travel trailer or fifth-wheel trailer, a nice teardrop trailer still includes many (if not all) of the appliances you will find in larger trailers.
Some of the appliances we are referring to include refrigerators, microwaves, heaters, air conditioning units, entertainment centers, generators, stovetops, freshwater storage tanks, and many others.
So while you may not have as much living space as you would have in a larger camper, you will still have all of the appliances that you rely on to live comfortably in a teardrop trailer.
4: Teardrop campers Are Built With High-Quality Materials
The sad reality of many newer RV models is that manufacturers cut corners to build them as inexpensively as possible.
While that translates to a more affordable price for buyers, it also translates to lower construction quality.
Teardrop trailers, on the other hand, are known for a higher level of construction quality.
Teardrop manufacturers use high-quality materials and many of them build their trailers by hand instead of relying on an automated process.
Sourcing higher-quality materials can be more challenging and require more time and energy.
In addition to that, hand-building your trailers takes more time and energy than if you were to build them using automation.
In many ways, teardrop manufacturers need to be adequately compensated for a design and construction process that requires more time and energy.
Ultimately, you will always pay more for something that is custom-made than for something that is produced using a cookie-cutter design and build process.
5: Teardrop Campers Are Designed To Make The Most of A Small Space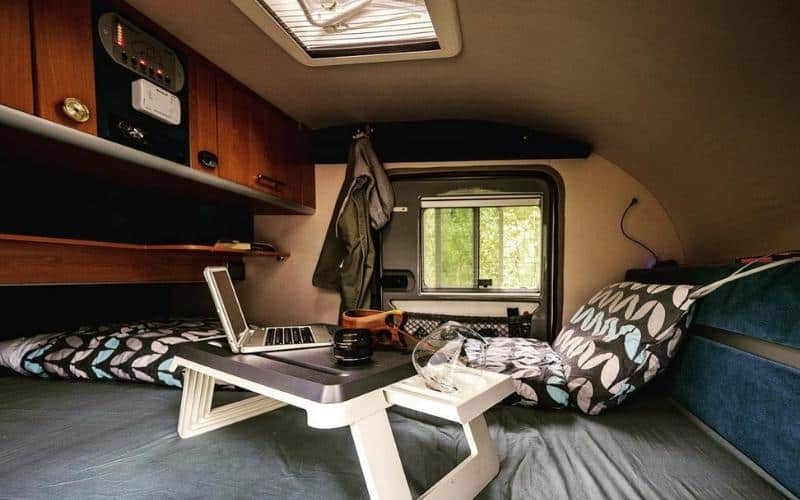 In spite of their smaller size, teardrop manufacturers go to great lengths to make every single square foot of interior space usable.
There is seldom wasted space in any recreational vehicle, but teardrop trailer manufacturers work extra hard to maximize your ability to live comfortably in a small space.
In most cases, that effort requires innovation and outside-of-the-box thinking. That is why there is really no such thing as a "standard" teardrop trailer.
Every manufacturer tends to have a unique solution to the issue of how to maximize usable space in a small area.
As a result, this requires more time in the design phase and also more customization in the build process.
Their unique shape makes maximizing the space in a teardrop trailer more difficult than doing so in a square or rectangular RV or travel trailer.
Ultimately, this translates to an extended design and build process, which also reduces the number of trailers a teardrop manufacturer can produce in a season.
So they must sell the models they do make at a slightly higher price in order to cover costs and still turn a reasonable profit.
6: They Retain Their Value Well
Teardrop trailers also retain their value quite well compared to other types of recreational vehicles.
This means that you will be able to resell your teardrop trailer for more than you will be able to sell a larger fifth wheel or travel trailer, provided you maintain it well.
One of the reasons for this is that teardrop trailers don't really have "living space" inside of them.
Instead, they usually have an outdoor kitchen and awning that helps you create a comfortable "living room" outside of your trailer.
That means that you really only climb inside of your trailer when it is time for bed or you really need to escape the elements.
This leads to less tracking of dirt, debris, and moisture inside of a teardrop trailer.
These elements are the most likely to cause wear and tear inside a larger RV camper.
Because exposure to the elements is more limited inside a teardrop, they tend to stay in better shape for a longer period of time.
8: Many Teardrop Trailers Are Designed For Off-Road Use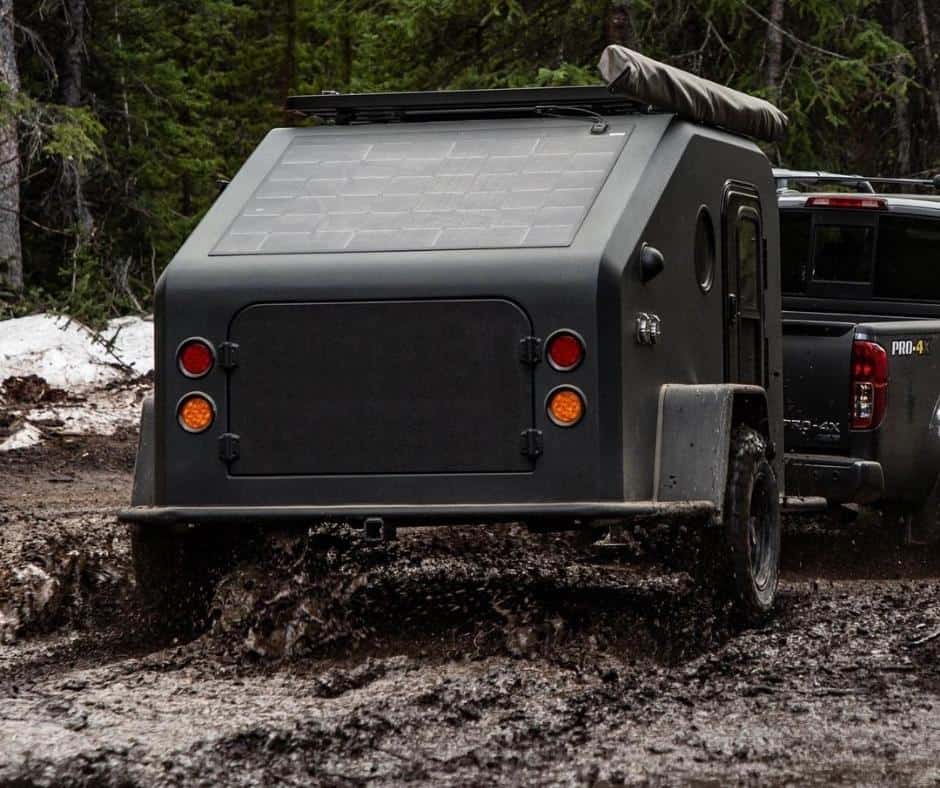 While this isn't the case for 100% of teardrop trailers out there, they are a more popular choice for people interested in boondocking or dry camping.
That is why you will find roof-mounted solar panels as an add-on option for most teardrop models.
Being designed for off-road use usually means larger tires and more heavy-duty shocks and suspension.
These features provide more ground clearance and allow you to explore off-the-beaten-path destinations more safely.
But just like you will pay more for a truck with larger tires and beefed-up suspension than you will for a smaller SUV, the same is true for teardrop trailers versus standard campers.
Are Teardrop Trailers Worth The High Cost?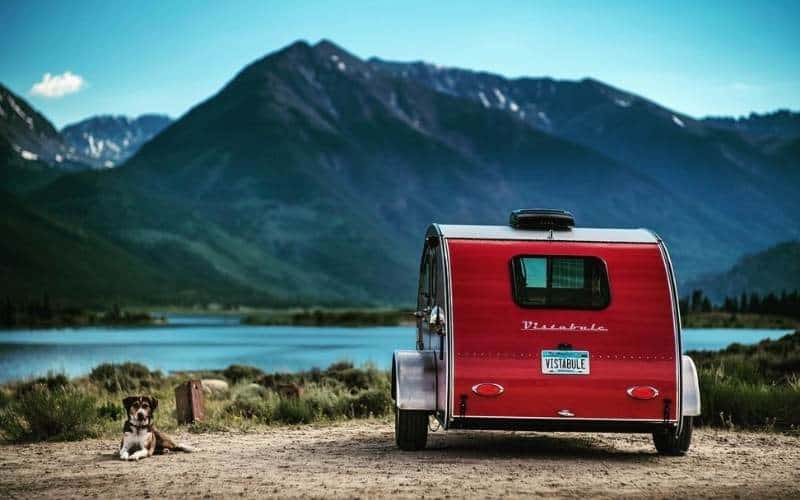 When you compare teardrop trailers to larger travel trailers, you might be able to find a model at a similar price point that offers much more interior living space.
That being said, you have to consider what the ideal trailer is for your travel style.
Teardrop trailers are worth the high cost for off-grid camping because many models can handle rough, unmaintained roads. They are also great for smaller vehicles because they are lighter and also won't negatively impact your fuel economy as much as a larger trailer.
That is an important point to consider a little further…
While you might spend a little more upfront to get a teardrop trailer, they can help you save gas money in the long term.
Because they are lighter, they also will not tax the engine, suspension, and drivetrain of your vehicle as much as a larger trailer.
Overall, teardrop trailers are worth the high cost for certain buyers. You have to want something small, lightweight, easy to drive, but still plenty comfortable when you need to stop and crawl inside.
They are also best for travelers that prefer to spend 90% of their camping time outside but don't necessarily want to have to set up a tent every evening.
That being said, we recommend renting one of these trailers and getting some experience using them before proceeding to buy one.
You will learn whether you are comfortable with a trailer that encourages you to do most of your cooking and lounging outside instead of having a model with more interior living space.
You will also get a sense of how easy (or hard) it is to tow one of these trailers and navigate into the types of campsites you will typically be frequenting.
All of this experience will be quite valuable when you do decide to buy a teardrop trailer.
Conclusion
If you have a smaller vehicle or you are traveling alone, a teardrop trailer is an excellent option.
It gives you less trailer to worry about cleaning while still providing a setup-free living or sleeping space to crawl into when it rains.
It also allows you to park your trailer in a campground as a "base camp" and then keep your vehicle free to explore nearby trailheads, restaurants, paddling locations, and other natural and man-made attractions.
If you are looking for a compact, lightweight trailer to tow behind a small truck or SUV, a teardrop trailer is a great option.
Check out our article on teardrop trailer brands to learn about some cool teardrop manufacturers!