Today Lance trailers are some of the best travel trailers on the road. Yet a lot of experience RVers will note that most of their models carry a high price tag and aren't exactly known for being tailored for camping families with a tight budget.
If you're looking for a new travel trailer that's well worth the investment, you are surely being tempted by Lance travel trailers.
Though with a $50,00 price tag for a 19-foot model and as much as $76,823 for their top-of-the-line 29-foot model, you might be wondering why lance trailers cost more than other RVs?
Lance Camper Manufacturing Corporation is considered one of the highest-quality travel trailers and truck campers on the market today, which means they come at a premium price.
Understanding the value of their models and whether the quality affects the price or if you're paying for the brand name itself requires a deeper dive into some important details.
Let's look at all the factors that make the lance trailers so expensive, and is the premium price worth it?
History of Lance RV
Lance campers have been rated as the #1 truck camper in the USA on and off since 1965. This is a longer, richer history than many other RV manufacturers can claim.
While they arguably made their name with high-quality truck campers, they also have one of the fastest-growing lines of travel trailers on the North American market.
Lance is known for continually embracing innovation and holding itself to high standards in manufacturing to build quality throughout their line. They focus on quality, style, and comfort, with a reputation for offering superior customer satisfaction.
This has translated into a 40% market share in truck campers and some of the most premium quality travel trailers money can buy.
10 Reasons Why Lance Trailers Are So Expensive
When it comes to why lance trailers are so expensive, we have to look beyond the metaphors and the rich history of this well-known RV manufacturer.
Like a lot of high-value RVs and travel trailers, there are a lot of different details that go into the expensive price tag attached to so many Lance camper trailers.
1. Material Build Quality & Construction
Lance's material build quality stands at the top of the RV industry. You see this in their award-winning lineup of truck campers as well as their growing line of travel trailers. Some of Lance's key construction features to note include:
I) Thick Alodine®-Coated Aluminum Frame
With a typical thickness of .062" and coated steel bonding plates, the underlying structure of every Lance trailer is ready to endure years of adventure.
II) EnergyStar®-Rated TPO Roof
This is a tough, seamless, marine-grade roofing material. It uses a white Thermoplastic Polyolefin (TPO) base to create a single single-piece roofing system that doesn't chalk. This goes a long way toward preventing streaking while also providing added insulation and superior puncture resistance.
This is a major bonus if you love to camp at primitive forested campsites. Lance believes so much in this style of roof engineering that they back it with a 12-year warranty.
III) Superior Block Insulation
Lance's block-style insulation in all their trailers is precision-fitted to leave no voids available for any possible air intrusion.
Combined with their fully laminated and insulated floor, ceiling, and fiberglass walls, it provides an unmatched level of insulation in the interior. This further translates into less demand placed on the air conditioning and furnace!
IV) Solid Aluminum Exterior Seam Moldings
All the exterior panels on a lance trailer use solid aluminum seam moldings, which provide superior weather protection.
This is a major step up in quality compared to a lot of other RV manufacturers who use brittle vinyl insert strips that tend to lose their weatherproofing quality quickly.
This type of exterior seam also helps to hide their screws, reducing corrosion concerns.
V) A Lightweight, Powder-Coated Chassis
This is one of those understated manufacturing features that doesn't get a lot of glory in the world of marketing speak. Yet, each Lance travel trailer superstructure is mounted on a lightweight, high-strength-engineered, powder-coated tempered steel chassis. This provides superior durability as well as corrosion resistance.
It extends the lifespan potential of a Lance trailer and helps the trailer hold its resale value. Many travel trailers end up suffering from steep depreciation due to rusting, which could have easily been prevented by the kind of powder coating Lance uses under each of their chassis.
VI) Torsion-Bar Suspension
This is another under-spoken build quality feature of Lance trailers. Yet the torsion bar suspensive system with its rubber torsion-bar-suspension axles and EZ-lube wheel bearings ensure a smooth ride.
2. Thoughtful Design & Floorplans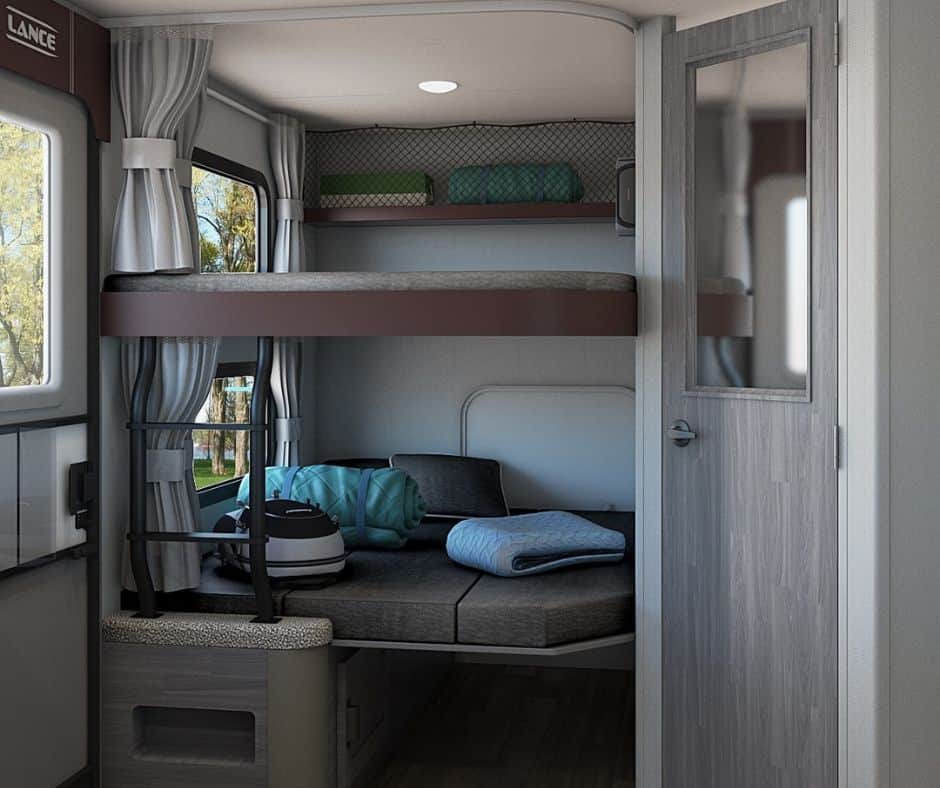 Lance has been in the RV business in one form or another since 1965. This gives them a good understanding of their customers' changing interests and demands.
They have a reputation for superior customer service, which further translates into trailers that have thoughtful floor plans and engineering to meet a wide range of needs.
Lance makes it a point to create trailers that appeal to every camping style. Whether you love to boondock off the grid for days at a time, or you just want a model to let you live in comfort while you stay connected to the amenities of your favorite RV park.
This shows up in major features, like spacious wet and dry bathrooms, kitchens that have larger than average appliances, and a perfect three-point layout. Not to mention living rooms where the seating and the viewing angle of the TV mean everyone has a decent viewing angle.
You also see this in the smaller touches. Like bathroom showers that have the most elbow room for the total square inches and surrounds that don't have you knocking over the shampoo bottles every time you move.
3. Embracing Innovation
Lance has built their name as a premium RV manufacturer for high-end truck campers and travel trailers by embracing innovation at every level. You see this in their construction techniques in things like powder-coated chassis, Energy Star TPO roofing, and torsion axles.
It also carries through to electrical systems and 21st Century appliances. A lot of Lance Trailers come with USB charging ports built into the standard electrical system. Many of them have Bluetooth speaker systems,
Wi-Fi capabilities and digital instrumentation systems. Many of their trailers come prewired for things like solar or are designed to let you easily fit a tankless water heater system into the existing plumbing.
Lance leads the way in RV innovation year after year while many RV manufacturers rush to follow up.
4. Superior Resale Customer Service & Warranty
Lance makes customer service a top priority. When you call them up with a question or concern, you get a representative with experience who can help walk you through your question patiently.
You aren't just a number to them. This includes things like warranty claims and helping you find licensed Lance dealerships near you to handle repairs right the first time.
Lance further backs up their customer service reputation with one of the better warranty protection plans that comes standard with most of its models. They also offer somewhat affordable extended protection programs.
These "Extended Warranties" might not be worth the money if you stay in a seasonal campground with full hookups.
However, they tend to pay for themselves if you love to camp in primitive campgrounds or off-road campsites, where your Lance trailer is going to take a bit of a beating with every single trip.
5. Interior Finishing Touches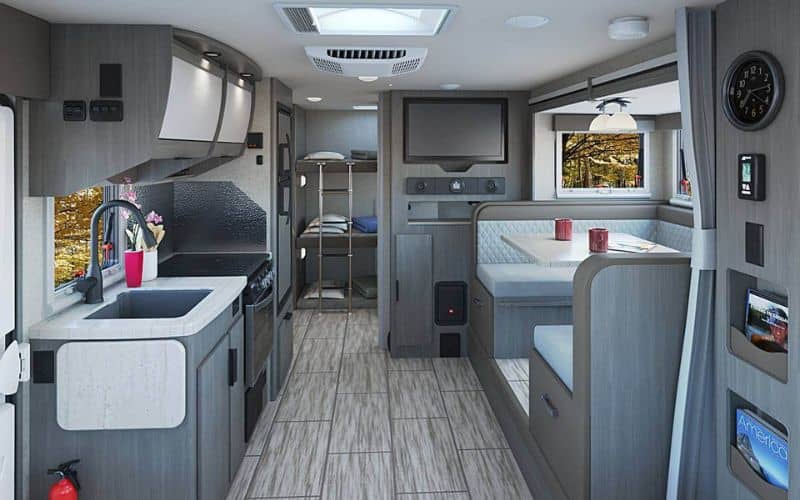 The interior finishing touches you find in many Lance trailers are high-end. This includes things like sturdy RV absorption refrigerators in their off-road campers and stylish residential style refrigerators in their luxury travel trailer models.
Their furniture and furnishings also tend to be high-end, even in their standard floorplan models. Though this might not be ideal in some of their rough and rugged models that are kitted out for off-road campsites and primitive camping.
Sometimes you just want to come in from a muddy day in the wild to put your feet up without having to worry about making a major mess out of high-end upholstery.
6. Resale Value of Lance Campers
All of the superior material construction and engineering also tend to translate into Lance trailers being able to hold their value better than a lot of the competitors. This includes things like the powder-coated chassis,
the TPO roof, and the panel seams that reduce the risk of long-term corrosion problems. Routine mechanical maintenance, taking care of the appliances, and being safe with the interior furniture further helps preserve the value a Lance trailer can return to you.
So, while you might pay more for a Lance trailer up front, it can still be a good return on your investment. Especially if you start out with one of their smaller models and you need to upgrade as your family grows or downsize when the kids finally leave home.
Explore the Cost of Lance's High-End Camper Trailers
Lance's TT (Travel Trailer) is known for being a diverse lineup of trailers and campers with various floorplans and features throughout a spectrum of sizes. To understand the Lance trailer that is the best value for your needs,
we'll need to take a quick look at some essential specs for some of their most popular models. While the following table isn't the be-all-end-all list of Lance trailers, it's a helpful baseline to get you in the ballpark for finding the right one to meet your family's camping needs and budget.
1. Lance – TT 1475 Travel Trailer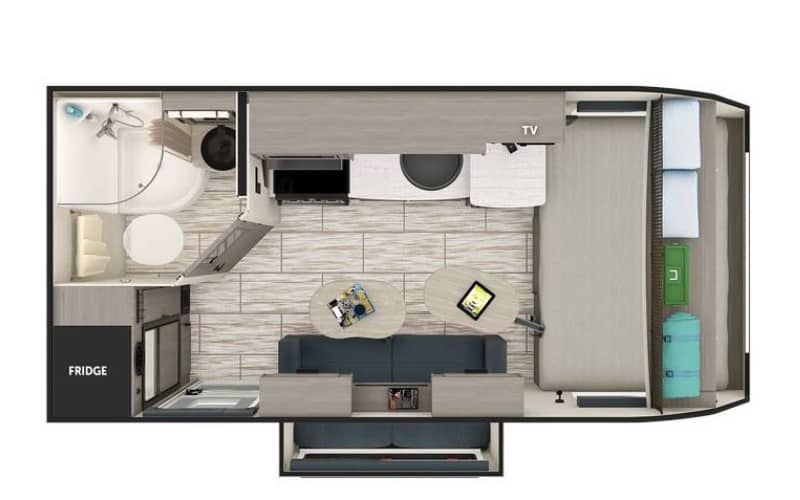 The Lance – TT 1475 is the smallest travel trailer in their line, but it certainly isn't the least. It starts between $40,000 and $45,000, which is the perfect price range for a family with one or two small children.
With a dry weight of just 2,600 pounds, you won't have to worry about sinking additional costs in a pickup truck to tow it. It's well within the range of what most family SUVs can tow.
2. Lance – TT 1995 Travel Trailer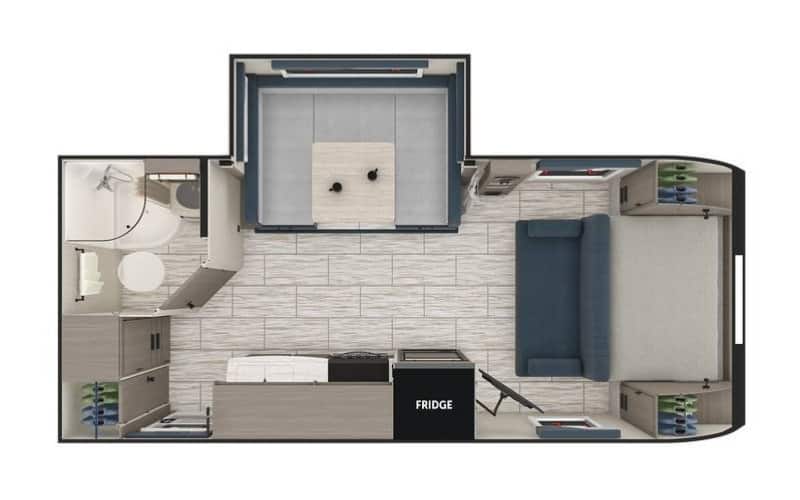 This is the mid-range model of Lance's TT, travel trailer lineup. There are a lot of optional extras to consider, which can vary the price from as little as $70,000 for a basic model to as much as $80,000 for one with all the bells and whistles.
With a dry weight of 4,625pounds and a maximum gross vehicle weight rating of 6,200pounds, it rides the top of what you can conceivably tow with a robust mid-size family SUV like the Dodge Durango. If you go for a large Lance travel trailer, you'll have to prepare yourself to fork out additional money for a pickup truck capable of towing it, and all the extra gas it takes.
3. Lance – TT 2075 Travel Trailer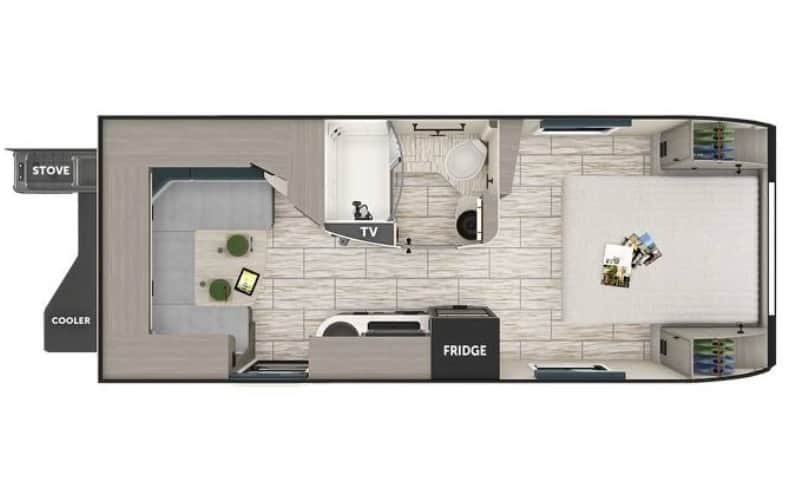 With an MSPR that starts between $55,000 and $60,000 the 2022 Lance – TT 2075 shows off what one of their trailers can be with bells and whistles added to it. Though the more things you choose in their optional menu the higher the price can soar.

Still, it shows off a little with an outdoor rear-mounted exterior kitchen with a stove and cooler. It also features the app-enabled iN-Command Control System that lets you control the awning, lights, and the HVAC system as well as monitor the holding tanks all from one centralized keypad.
4. Lance – TT2445 Travel Trailer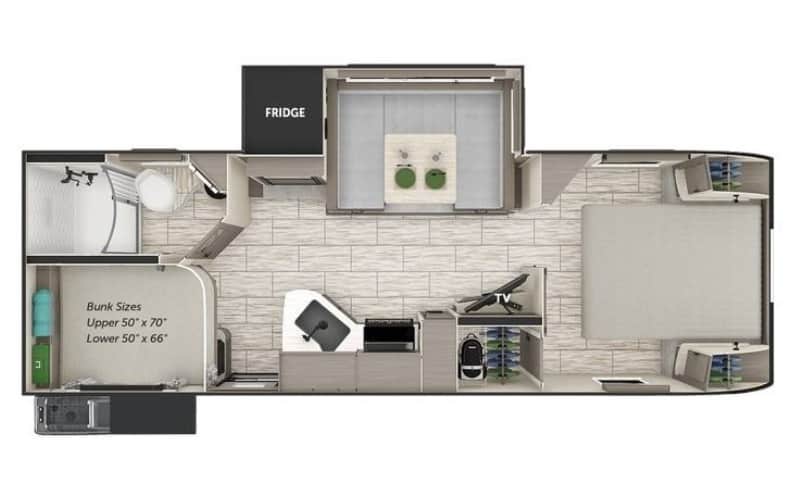 If price is no object, but sleeping capacity and comfort take top priority, then the 2022 Lance – TT 2445 might be the perfect Lance trailer for your needs. There are a lot of optional extras available, but you can get the basic, somewhat stripped-down model for as low as $58,000. Though when you start pouring optional extras onto it, the price tag can get as expensive as $70,000.
What you get with the 2022 Lance – TT 2445 at its purist form a 29-foot-long travel trailer that can comfortably sleep up to 8 people. It also comes with an exclusive "StarGazer" dual-pane radius front window, a master suite, and a residential-styled powder room. You can also get the popular new Lance Load Roof Rack system fitted to the top to let you make the most out of the robust 2,075-pound maximum payload capacity!
Frequently Asked Questions
How Much Are You Paying For The Lance Brand Name?
One of the reasons Lance trailers are so expensive is that you are paying a little extra for the recognizable brand name. Though Lance certainly doesn't pass along as much brand name markup in their travel trailers
as other manufacturers do like Airstream and Winnebago. When you turn your eyes on Lance's highly popular lineup of truck campers, you start seeing a higher percentage of brand name markup.
Where Are Lance Trailers Made?
Most Lance trailers and truck campers are made here in the USA in Lancaster, California. This gives you the opportunity to support an American business.
However, the sky-high tax base of the State of California also adds a little bit to the cost of a Lance trailer.
Why Lance Trailers Are Worth the Investment
Lance trailers are certainly worth the slightly higher price compared to a lot of the competitor models of the same size. They aren't prohibitively priced, and there is a lot of sound material build quality and thoughtful engineering put into them, which further boosts their resale value. Great for a family that might need to upgrade or downsize in the next 5 to 10 years.
If there's a segment of Lance's line where their brand name price markup is perhaps a little too high, it's probably their truck campers and camper shells. Lance made their name in that market segment and they fly the flag with more than above-average prices.