America's weirdest roadside attractions you should to add to your road trip bucket list when you're in the mood for some serious relaxation!
A road trip across the United States has been a popular American pastime since the founding of Route 66.
After this scenic road was finished in 1926, entrepreneurs invented a strange idea that would become synonymous with the American road trip—the roadside attraction—a feature along an interstate, highway, or street meant to attract travelers.
Since then, tourists have flooded to the best roadside attractions in each state. These wanderlust-inducing activities most often include wacky sculptures,odd pit stops, and peculiar museums.
The most common roadside attractions advertise their locations using billboards, but the really wonderful ones are often hidden.
These strange roadside attractions are are perfect if you're dying of boredom, so we've put together the biggest and strangest roadside attractions in each of the 50 U.S. states.
Along with why You MUST stop at these roadside oddities, location info, entry cost, hours of operation, and the nearest RV Park.
Here are the weirdest roadside attractions in all 50 U.S. states (ordered alphabetically by state) that are well worth the trip.
1: The Drive-Thru Museum, Alabama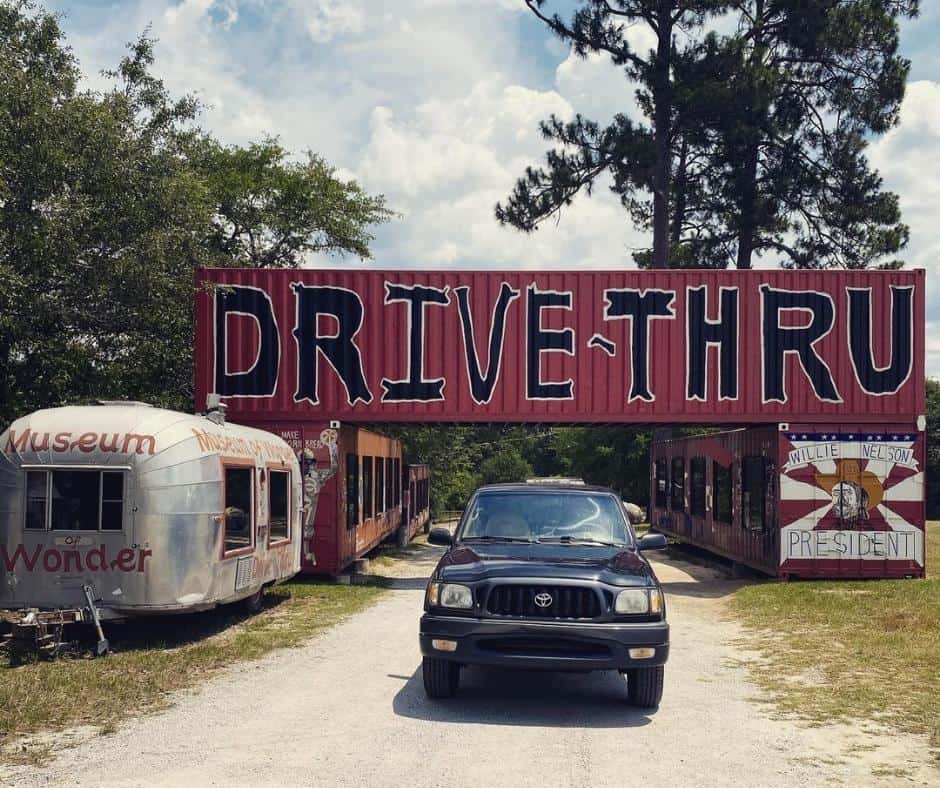 Sometimes you want to see a roadside attraction, but you don't want to go through the hassle of stopping and exiting your RV.
Butch Anthony, the creator of The Drive-Thru Museum, solved that problem!
He built this museum using stacked shipping containers, and filled it with a plethora of items that he either created or collected.
The collection includes two-headed ducklings, junk art, taxidermy creations, and more!
Best part? You can drive your RV right through this museum without ever leaving it!
Furthermore, you're encourage to take your time, and take as many pictures as you like. It's worth the detour.
You can find out more about The Drive-Thru Museum by visiting its website.
2: Largest Santa Claus Statue in the World, Alaska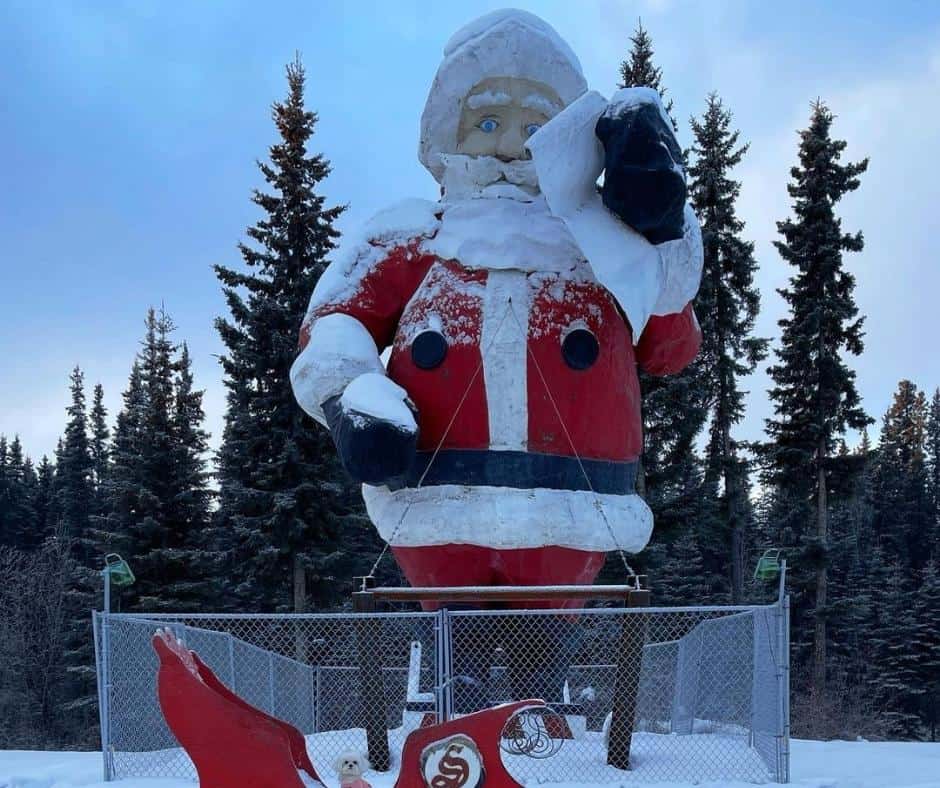 Santa Claus is real! And he's a 42-foot behemoth standing tall in the frozen tundra of North Pole, Alaska.
This little town draws Christmas lovers from all over the world, but it's main attraction is the Santa Claus House.
This is the business that built the largest Santa Claus in the World. They write 'authentic' Santa letters to kids and offer a myriad of other Christmas themed gifts and souvenirs.
The store isn't always open so check hours before you go; however, the Santa statue is outside and can be viewed anytime.
You can find out more about The World's Largest Santa Claus by visiting its website.
3: Bowlin's The Thing, Arizona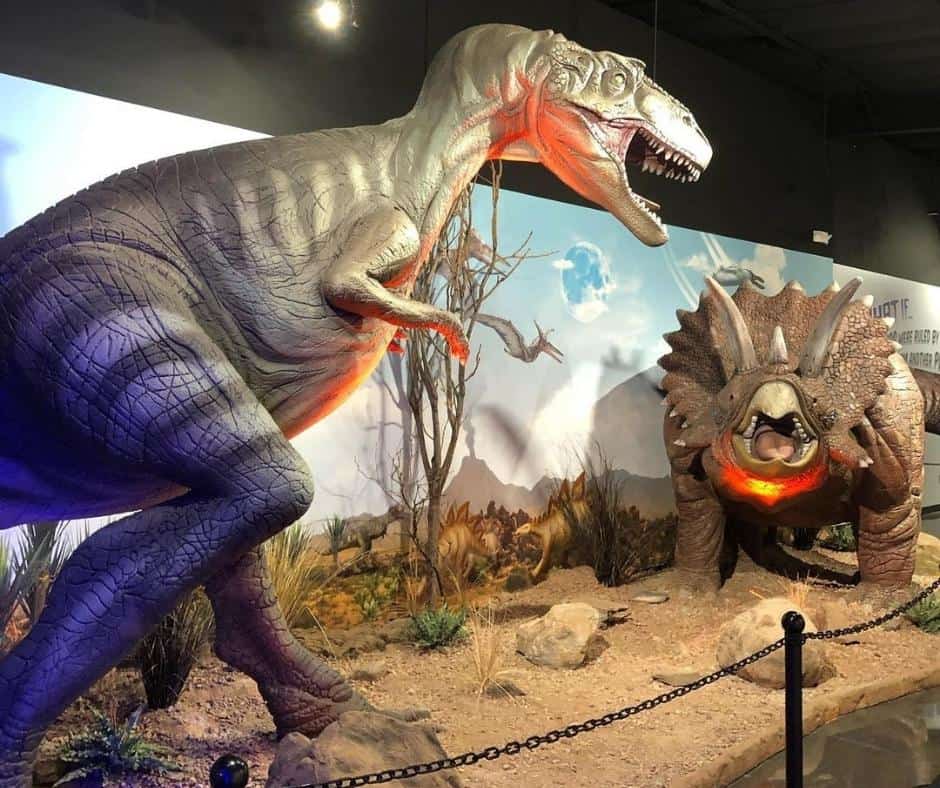 We'd be re-missed if we failed to include the 'mother of all weird roadside attractions'—The Thing.
A seemingly endless supply of billboards advertises for this popular tourist pit stop, making it hard to miss.
Inside you'll find a series of curious oddities including a woolly mammoth leg and an old Rolls Royce driven by an alien.
But the main attraction is The Thing. So, what is it? You'll just have to pull-over and find out.
You can find out more about Bowling's The Thing? by visiting its website.
4: The Merman of Alligator Farms, Arkansas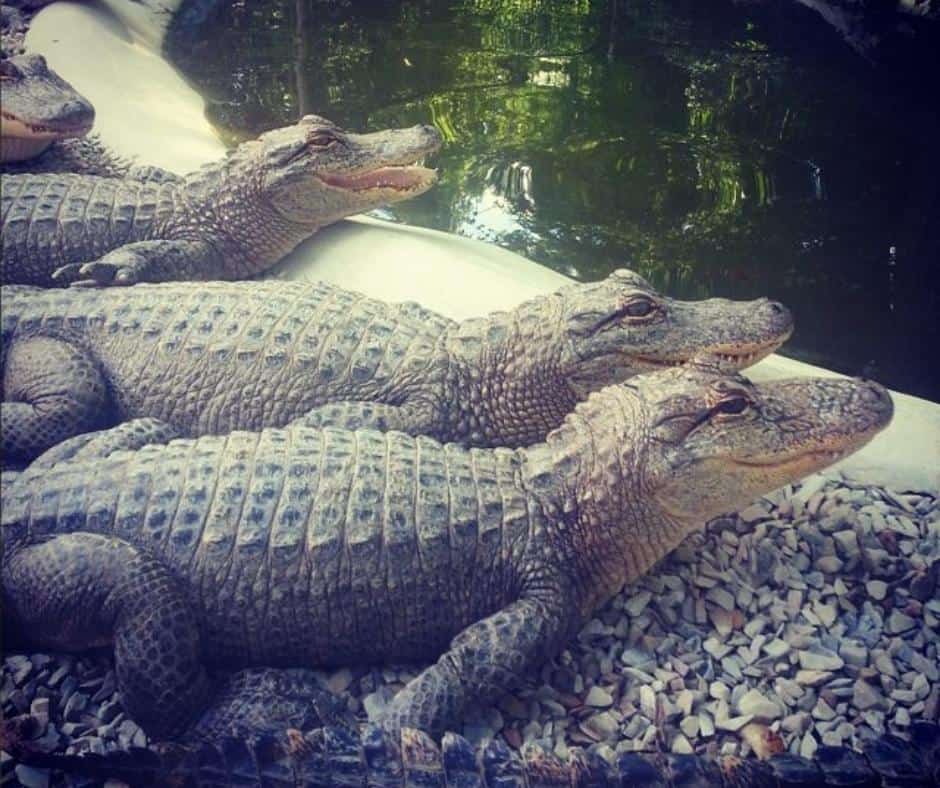 You've heard of beautiful mermaids, but have you heard about horrific mermen?! You haven't? Well, mosey on down to Hot Springs, Arkansas, and you can view the preserved body of a 'real' merman.
It's one of the few specimens in the world so don't miss your chance to check it out.
Furthermore, Arkansas's Alligator Farm and Petting Zoo is a fun place in it's own right.
They have a plethora of different animals, and a large petting zoo. Overall, it's a great place to visit with the family.
You can find out more about The Merman of Alligator Farms by visiting its website.
5: Winchester Mystery House, California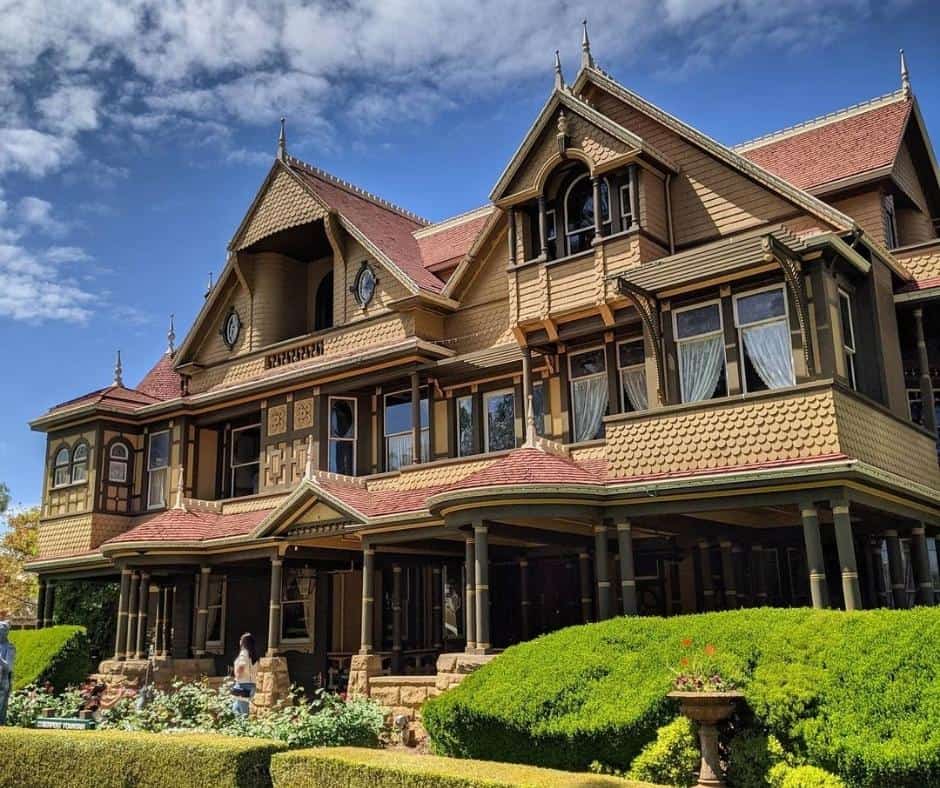 When William Winchester, firearm magnate, died in 1881 he left behind his wife, Sarah Winchester. She inherited his vast fortune.
Shortly afterwards, a Boston medium (ghost-whisperer) told her that she must go to California and continuously build a home for herself and the spirits of people killed by Winchester rifles. That's right, he told her to build a home for ghosts.
The Winchester Mystery House was the result. It's an enormous mansion containing haunted hallways, staircases and doors that lead nowhere, and tons of other strange and creepy features.
You can find out more about The Winchester Mystery House by visiting its website.
6: Bishop Castle, Colorado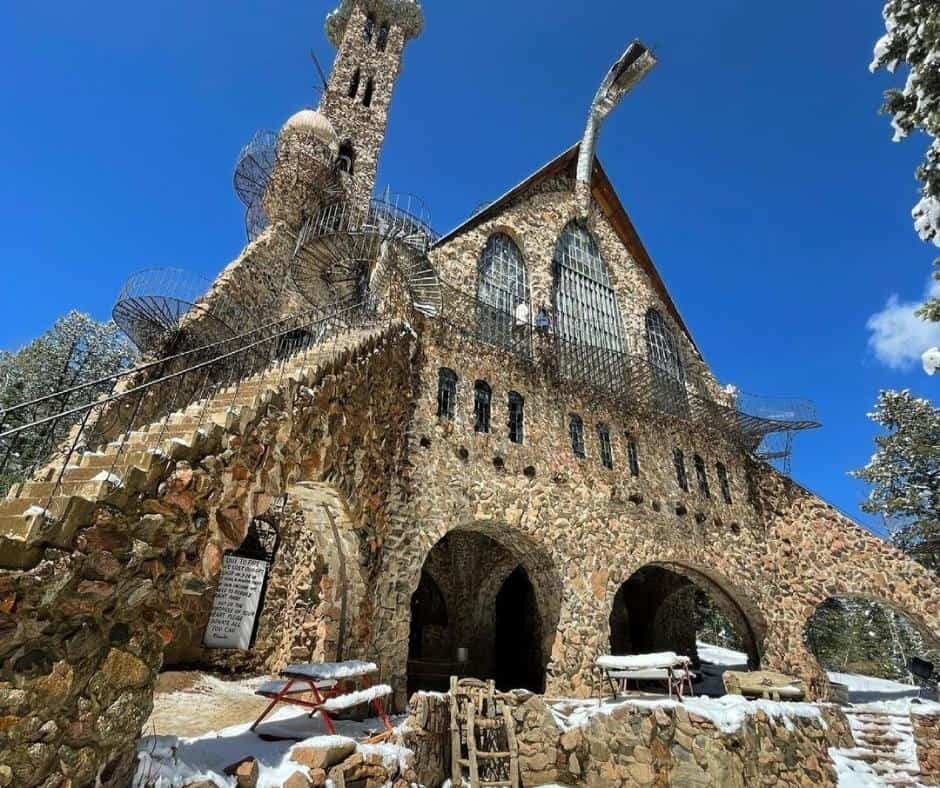 Have you ever built a sand castle on your own, and experienced the self-pride that came with it? Well, Jim Bishop built a real castle.
Not so proud now, are you? Seriously though, this enormous castle took Bishop 60 years to construct.
It's a full three stories tall, complete with a Grand Ballroom and a Fire-Breathing Dragon.
The entirely hand-built premises are open and free to the public, and offer incredible views of the surrounding wilderness. There's no excuse not to go!
You can find out more about Bishop Castle by visiting its website.
7: Zaffis Museum of the Paranormal, Connecticut
If you've ever seen The Conjuring movies, or Annabelle, you know about the Warrens.
This power couple investigated paranormal occurrences and demonic possessions, while also delivering lectures on their findings.
Both of them passed away, but their nephew Zaffis continued their legacy. He runs a museum containing the cursed objects they collected during their lifetime.
All of them were involved in either a violent crimes, paranormal occurrence, or demonic possession.
If you want to scare your children, or have nightmares for a week, visit this creepy museum.
You can find out more about Zaffis Museum of the Paranormal by visiting its website.
8: Miles the Monster, Delaware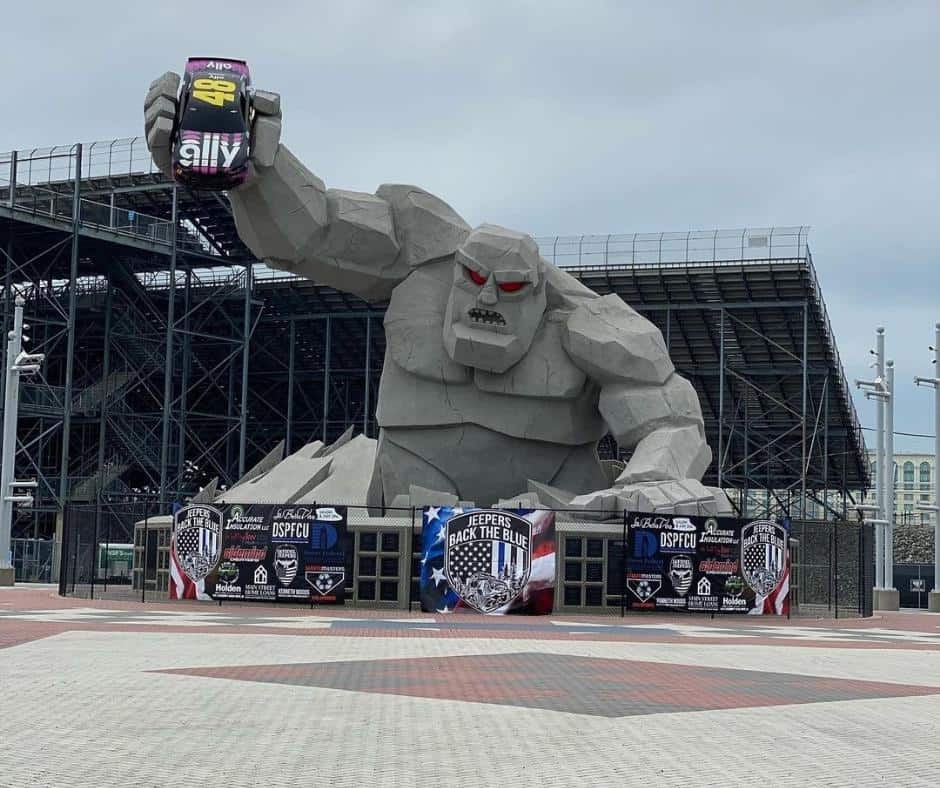 Godzilla and King Kong have nothing on this stony behemoth. Miles the Monster is a 46-foot tall stone golem erupting from the roof of Dover International Speedway.
In his hand he holds a race car, preparing to launch it across the parking lot.
He's the largest monster sculpture in the world, and the world's most expensive, with a construction cost of $6 million.
There's actually a secret staircase inside the monster that leads up his arm, and to a sitting area inside the car he clutches. Unfortunately, due to liability issues, this is not open to the public.
You can find out more about Miles the Monster by visiting its website.
9: Weeki Wachee Live Mermaid Show, Florida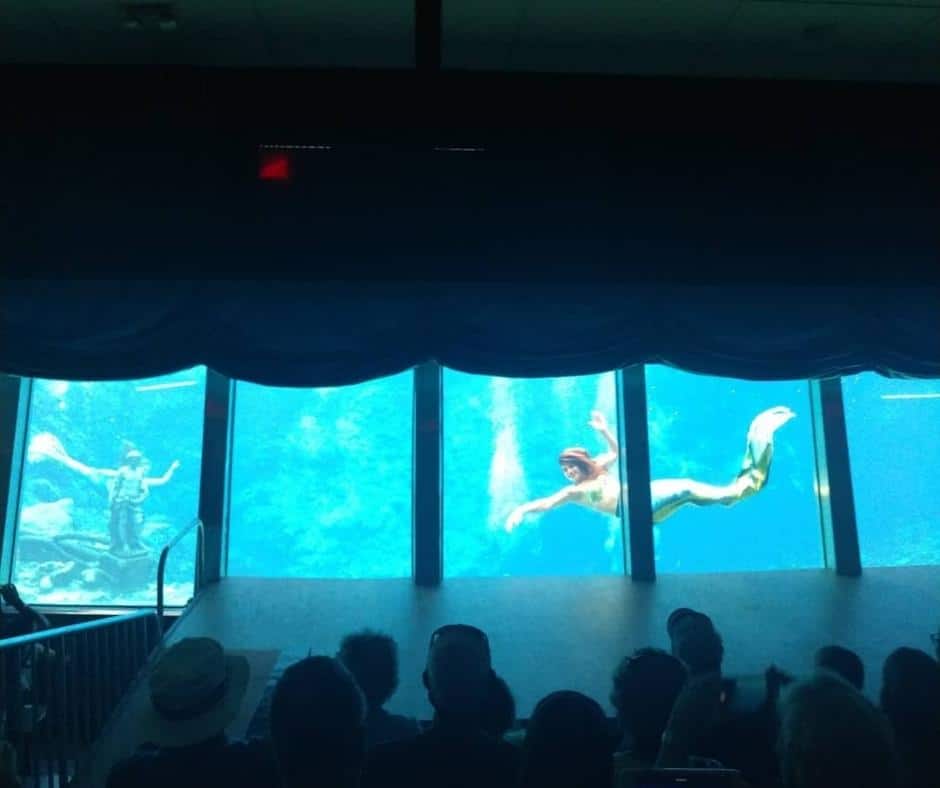 Your visit to Florida wouldn't be complete if you missed seeing a mermaid.
Fortunately, Weeki Wachee makes that easy! They've been offering live Mermaid shows since 1947. It's actually a really impressive sight.
The 'mermaids' hold their breath while performing underwater acrobatics. They do it with a smile, making it appear like they really can breathe underwater.
Besides mermaids, this roadside attraction, also offers an abundant wildlife preserve and the deepest freshwater cave system in the United States.
You can find out more about Weeki Wachee Live Mermaid Show by visiting its website.
10: Georgia Guidestones, Georgia
Where is the first place you would go when the world ended? We all probably have a different answer, but really, they should all be the same. Why? Because of the Georgia Guidestones.
This roadside attraction is something akin to a love-child between Stonehenge and the Rosetta Stone.
No one knows the identity of the man that built them, but their message is clear: "Let these be guidestones to an Age of Reason".
It presents readers with the '10 Commandments of Reason' in 8 different languages.
The stones also serve as an astronomical calendar, and a daily calendar. No better place to rebuild society than the Georgia Guidestones!
You can find out more about the Georgia Guidestones by calling 7062832551
11. Dole's Pineapple Garden Maze, Hawaii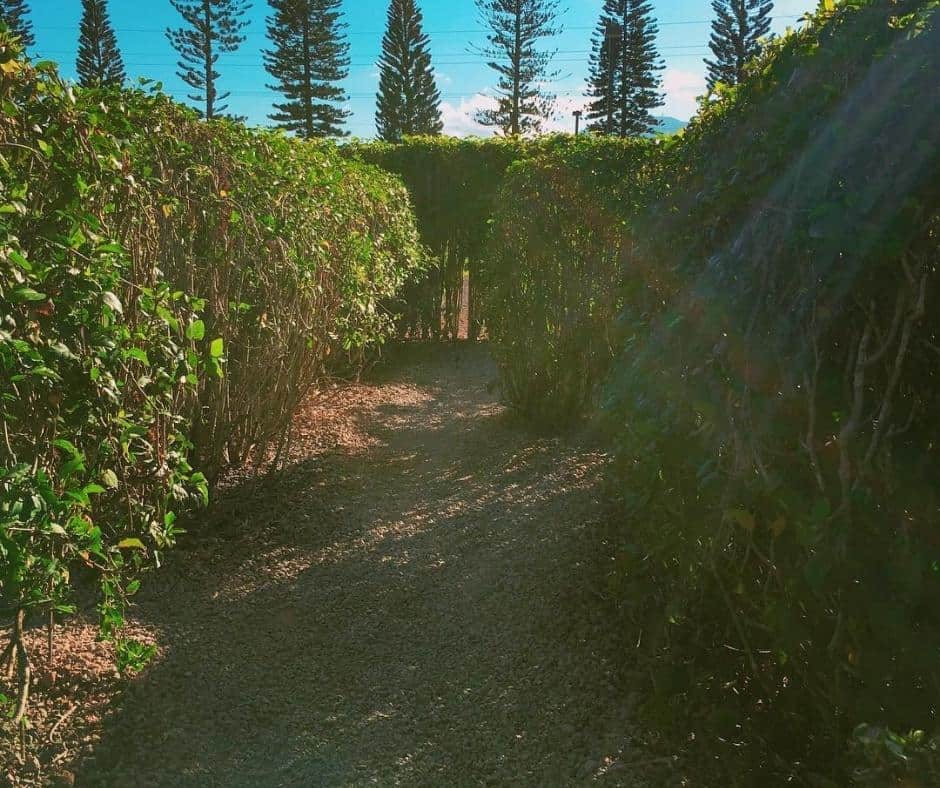 The Dole Plantation's Pineapple Garden Maze was acknowledged as the world's largest maze by the Guinness Book of World Records in 2008.
It encompasses three acres and includes 2 and a half miles of colorful Hawaiian plants.
Your mission will be to seek out 8 secret stations that each bring you closer to the mystery at the center of the labyrinth.
If you want the full maze experience you should download the FREE Dole Plantation app.
It'll automatically track your time and show you the maze stations you've already found.It's a great way to enjoy a beautiful Hawaiian Day.
You can find out more about Dole's Pineapple Garden Maze by visiting its website.
12. Shoshone Ice Caves, Idaho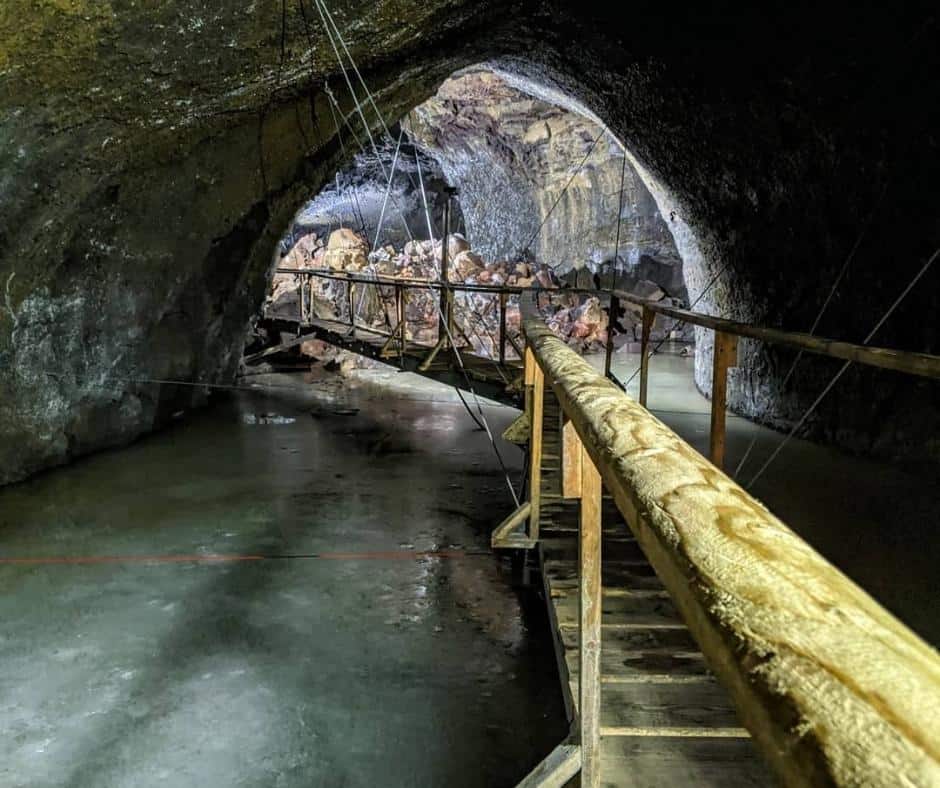 On a ninety-degree day in Idaho you expect sweltering potato fields and hot asphalt, but you don't expect to find a frigid ice cave with a completely frozen floor.
That's what makes Shoshone Ice Caves so unique! The roughly 45 minute walking tour takes you on 3/4 mile hike down a flight of eighty stairs.
Thus, unfortunately, the tour can be accessed by neither wheelchairs nor strollers.
No need to bring a flashlight but you should bring a jacket and a camera. This roadside oddity offers plenty of picture opportunities!
You can find out more about Shoshone Ice Caves by visiting its website.
13. The Rockmen Guardians, Illinois
If you could choose anything to guard your home city, what would it be? The people of Rockford, Illinois chose four massive, granite golems.
Built by a local artist named Terese Agnew in the late 1980s, these 12-foot sculptures have attracted road trippers for decades.
They're constructed from stones weighing a few hundred pounds apiece, and cement holds them together.
You can find them by taking a short stroll from the road, into Sinnissippi Park.
It's a nice place to take a picnic free from worry—After all, you have the Rockmen Guardians to protect you.
You can find out more about The Rockmen Guardians by visiting its website.
14. Old Ben – The Largest Cow Ever, Indiana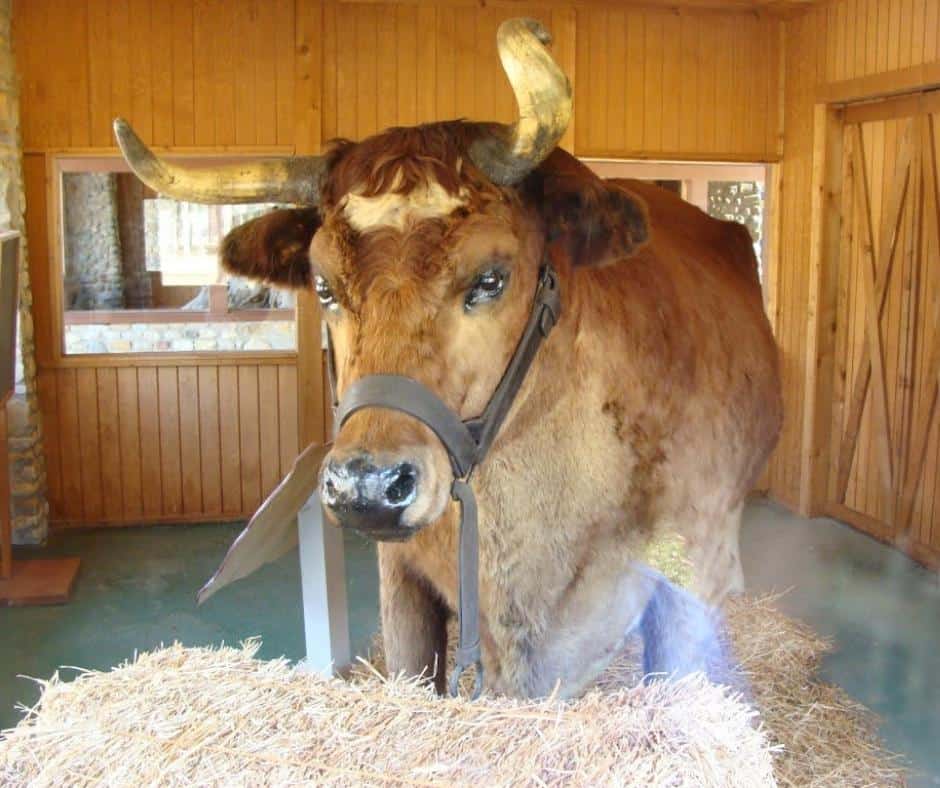 It's no secret that cow's are big animals, but which one is the biggest? Head on over to Kokomo, Indiana and find out! Old Ben may not be alive anymore, but his owners decided to preserve him so that future generations could marvel at his size.
He's a thicc boy, weighing in it at over 4,000 pounds before his untimely death.
His story is actually pretty fascinating, and can be found on the placard in front of his taxidermy body.
If you really enjoy big things you can also check out the remains of the largest sycamore tree while you're here. It's a visit that will remind you of your smallness.
You can find out more about Old Ben by visiting his website.
15. Elwood – The World's Largest Concrete Gnome, Iowa
Elwood got beat for largest gnome in the world by one being created in Poland.
So, his builder simply decided to change his designation to the largest concrete gnome in the world, since the Polish one was made of Plexiglass.
He cost $8000 to make, stands 15ft tall, and weighs 3500 pounds.
He's a great opportunity to snap a picture one your RV road trip! Plus, the gardens in which he lies are beautiful and worth seeing.
You can find out more about Elwood the Gnome by visiting its website.
16. Giant Van Gogh Painting, Kansas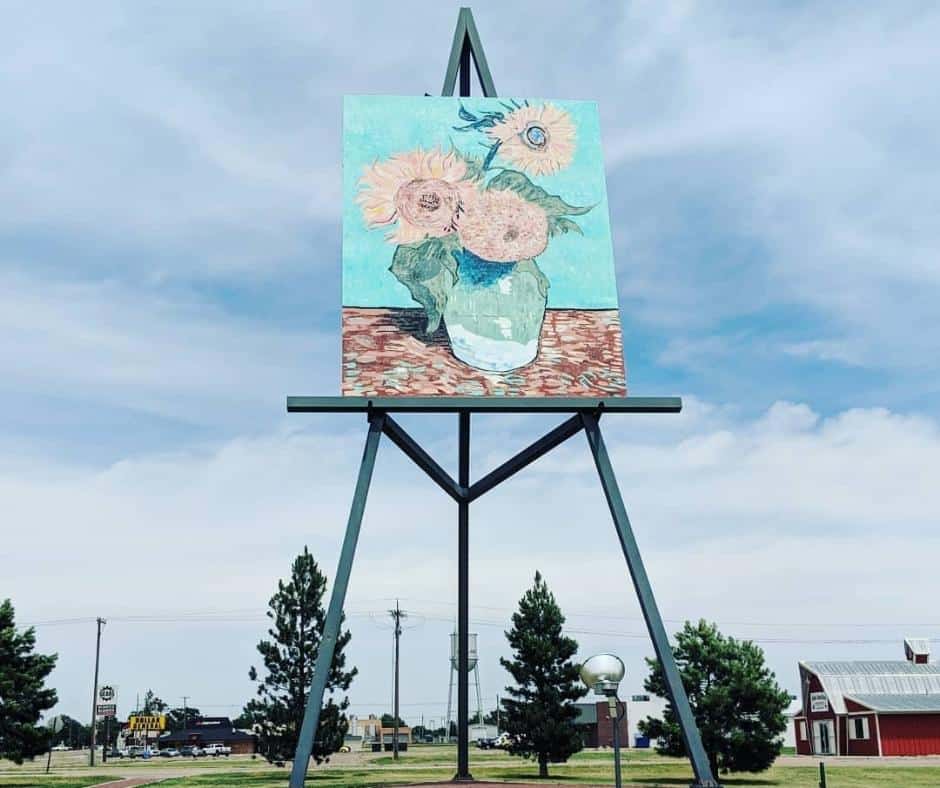 In 2001 Cameron Cross started the 'Big Easel Project'. It involved the recreation of Vincent Van Gogh's Three Sunflower's in a Vase with only major one difference—it's on a 24ft by 32ft canvas.
Yes, it's enormous, and held high above the town of Goodland by a 70ft tall steel canvas. Free parking lot is located behind the easel.
And a spot light in front of the easel makes night time viewing possible. Don't feel like pulling over? That's fine! You can see the enormous painting from the Interstate.
You can find out more about the Giant Van Gogh Painting by visiting its website.
17. Apple Valley Hillbilly Garden and Toyland, Kentucky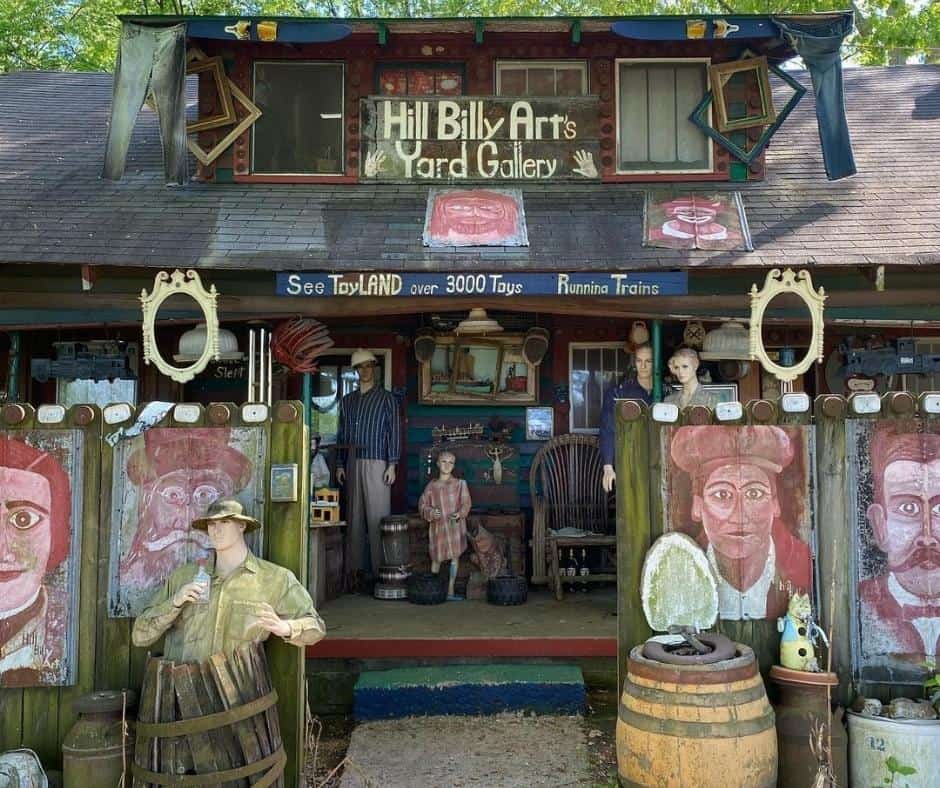 Keith Holt built this artistic wonderland after his grandfather passed away.
It now comprises of three different areas: The Hillbilly Garden, Toyland, and Apple Valley Country Store Museum.
The Garden features all kinds of punny creations and folk art, including such favorites as: Potty Mouth Tree, Lawn Mower Ranch, Gulfman, and Thronehenge. Toyland is a diorama that features over 3500 toys.
Finally, the Museum houses all sorts of old artifacts. It's really got something for everyone, and the best part is that it's free.
If you want to be a stand-up person you'll leave the art exhibit a small donation.
You can find out more about Apple Valley Hillbilly Garden and Toyland by visiting its website.
18. Bonnie & Clyde Ambush Museum, Louisiana
The celebrity couples of today have nothing on this historical duo. Kate and William Middleton? Ha! They got nothing on Bonnie and Clyde.
These two went on a robbing and murdering spree during the Great Depression.
They reportedly murdered nine officers and four civilians while they robbed countless small stores and gas stations.
Eventually, their luck run out and police ambushed them in Gibsland, LA. A little over a 100 years later they decided it would be a good idea to open a museum about them in the very same city.
The museum features every available piece of information on Bonnie and Clyde as well as criminal artifacts including guns and money.
You can find out more about Bonnie & Clyde Ambush Museum by visiting its website.
19. Eartha – Largest Rotating Globe in the World, Maine
This has been the largest rotating globe since it's creation in 1999. It's 41ft diameter fills a 3-story atrium.
Eartha tilts on a23.5 degree axis, which reflects the real Earth's angle. 792 panels compose the surface, all created using a computerized database.
According to DeLorme, it's creator, it's the largest Earth image ever constructed.
It takes 18 minutes for the giant globe to make a full rotation so stretch your limbs, and take your time before hopping back into your RV.
Or you can view Eartha at night through the atrium's glass. It looks truly spectacular lit by lights!
You can find out more about Eartha, the Largest Globe,by visiting its website.
20. Vanadu Art House, Maryland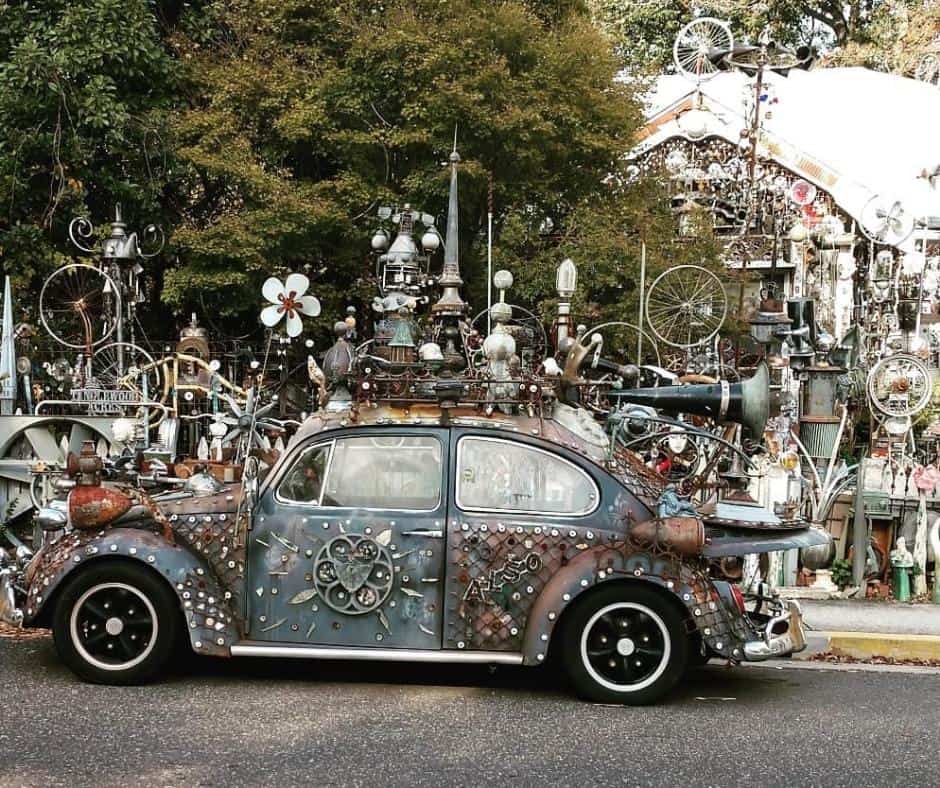 Clarke Bedford found himself with spare time one day, and decided to do something with it.
So, he started using found objects to decorate his house. Pretty soon, his house, fence, and several cars were tricked out with junk art.
It's truly a sight to see from the street, but it's even better to tour the grounds.
There's no official admittance but you can introduce yourself to Bedford, and he'll most likely let you take a tour. It's been called Burning Man in the suburbs, visit and see why.
You can find out more about Vanadu by visiting this website.
21. Lawson Tower, Massachusetts
A medieval tower is the last thing you expect to find in the United States. That is, until you come across Lawson Tower in Massachusetts.
This incredible piece of architecture was built by a rich author, and used to store water since 1902. It's 150ft high observation deck is open to the public.
Furthermore, you can tour the rest of the grounds which has been preserved as a historical site, and includes old buildings, artifacts, and brass bells. It's a great place for history buffs and nature lovers.
You can find out more about Lawson Tower by visiting its website.
22. American Museum of Magic, Michigan
Who doesn't love magic? It's been around for as long as the first caveman made a stick materialize from behind his buddy's ear.
The magical craft grew even larger in America with famous magicians like Houdini.
Now you can learn all about the history of the practice by visiting the American Museum of Magic.
Visitors can see magical artifacts, discover famous magicians, and attempt a few simple tricks of their own.
Whether you want to be a magician, or just love good ol' fashioned magic, this is the place for you.
You can find out more about the American Museum of Magic by visiting its website.
23. Paul Bunyan and Babe the Blue Ox Statues, Minnesota
Gigantic statues of Paul Bunyan and his Blue Ox, Babe, are all over the country.
They can be found in California, Oregon, and Maine, but none of them are the originals—these are the originals.
Built in 1937, these two statues are the oldest Bunyan and Babe caricatures in the country.
As testament to their historical importance the government entered them into the National Register of Historical Places in 1988.
Kodak even claims they're the second most photographed statues in the country, so bring your camera with you when you visit.
If you're going to see Paul Bunyan and Babe, you might as well see the originals.
You can find out more about the Paul Bunyan and Babe the Blue Oxby visiting its website.
24. Birthplace of Kermit the Frog Exhibit, Mississippi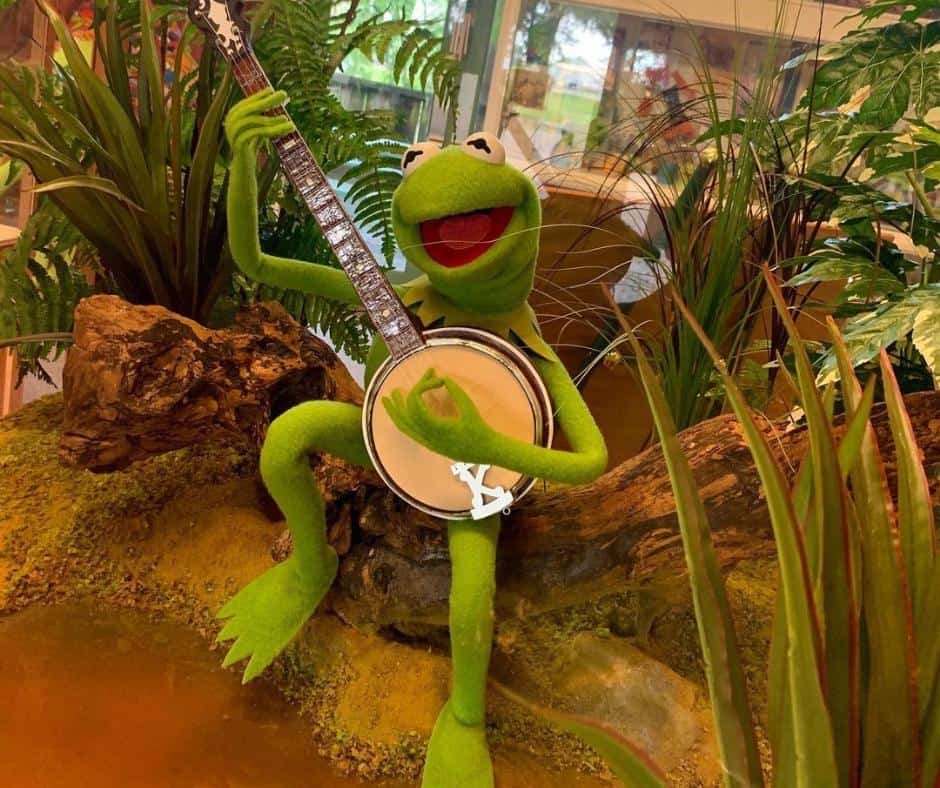 Jim Henson grew up in Leland, Mississippi. When he died in 1990 the city decided to open a small museum in his honor.
It's only a couple rooms, but it features Muppet memorabilia, the life-story of Jim Henson, and classic episodes.
The museum is a great place for Muppet fans, or even those curious about puppeteering.
In case you find yourself unsatiated after the tour, you can peruse the massive library containing Muppet facts galore!
You can find out more about the Birth place of Kermit the Frog Exhibit by visiting its website.
25. The Awakening, Missouri
Everyone interprets this statue in a different way. Is it creepy? Funny? Inspiring? Who knows?! One thing is for sure, it's worth seeing.
The 70ft long and 17ft high statue is mostly buried, only it's hands, face, left leg, and right foot protrude from the ground.
It was created by J. Seward Johnson in 1980 for an exhibit in Washington D.C.
The 2nd cast, made from aluminum, was placed in Missouri's Central Park. Now, it makes for a popular picture destination for road trippers.
You can find out more about The Awakening by visiting its website.
26. The Garden of One Thousand Buddhas, Montana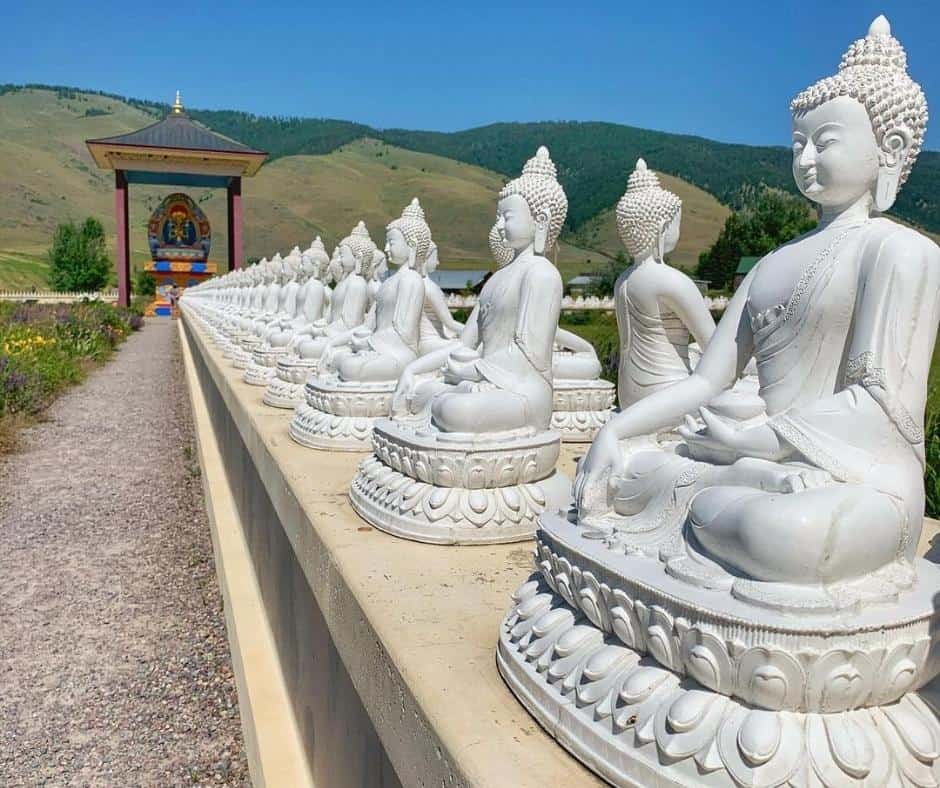 A short drive from US-93 will bring you to one of the strangest and most peaceful sights you've ever seen.
Gleaming in the soft Montana sun sits one thousand pure white Buddha statues.
It might just be Montana's most unique attraction! According to the website, the purpose of the garden is as follows:"to bring about positive transformation within those who visit, in response to the negativity that abounds in the world today".
The only way to see if this purpose is being fulfilled is by visiting yourself. Spend a day in Nirvana, visit the Garden of One Thousand Buddhas.
You can find out more about The Garden of One Thousand Buddhas by visiting its website.
27. Carhenge, Nebraska
In the future, alien road trippers will stop over in Nebraska and marvel at the ancient Carhenge.
As they gaze upon it they'll ask questions like, what peoples built it, and, how did they lift the massive vehicles without anti-gravity propulsion like we have today.
For now, us humans, know exactly how Carhenge came to be. Jim Reinders, it's artistic creator, built the sculpture to mimic Stonehenge in England.
He used 39 junk cars to create the final product. It now towers over the Nebraska plains for centuries to come. Check it out before the alien invasion!
You can find out more about Carhenge by visiting its website.
28. The Republic of Molossia – A Micronation, Nevada
This one might take the cake for the weirdest roadside attraction. After all—It's an entire country.
Founded by Kevin Baugh, it's permanent governmental leader, this micronation has thrived for over 40 years.
It encompasses 1.28 acres of land in Dayton, Nevada, its official currency is cookie dough, and it's been at war with East Germany since 1983.
While, not an official country observed by the United States (Baugh still pays taxes, he just calls it foreign relief aid), The Republic of Molossia still remains convicted to its claim as an official, sovereign state.
You can visit this rising micronation by setting up a tour via their website.
You can find out more about the Republic of Molossia by visiting their website.
29. The American Classic Arcade Museum, New Hampshire
Pacman and Galaga and Pinball, oh my! Visit this Museum, and find yourself transported back to the 1980s, when arcades reigned supreme.
It's a nostalgic place to visit for adults, and a fun place for kids. The dimly lit arcade hall features over a 100+ games ranging from pinballs to classic arcade machines to old simulators.
It's the largest arcade museum in the world, and deserves your attention. Help keep the video game golden age alive! Visit the American Classic Arcade Museum.
You can find out more about the American Classic Arcade Museum by visiting its website.
30. Lucy the Elephant, New Jersey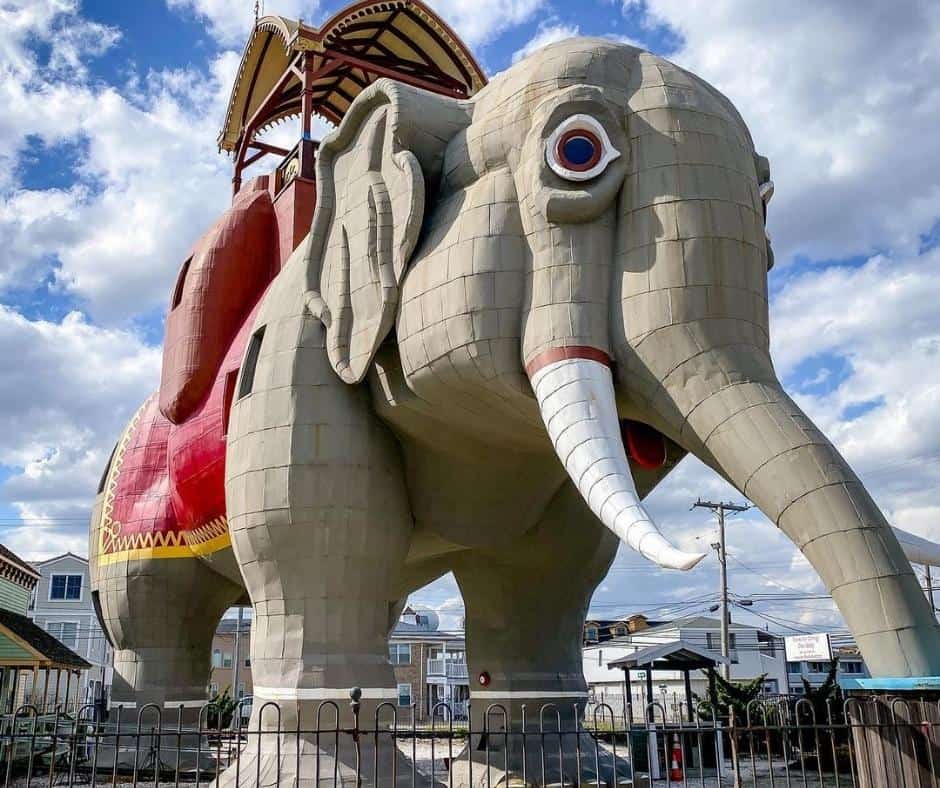 This weird roadside attraction predates the automobile. It's been providing New Jersey visitors with a unique experience since 1881, and with no signs of stopping.
Lucy the Elephant stands 65ft tall, and gazes over the Atlantic Ocean.
You can tour it's 6-story structure which includes vintage furniture and history about Lucy.
Its ticket price is worth the ocean and city views alone, both of which are spectacular!
You can find out more about Lucy the Elephant by visiting its website.
31. Roswell – Yes, the Whole Town, New Mexico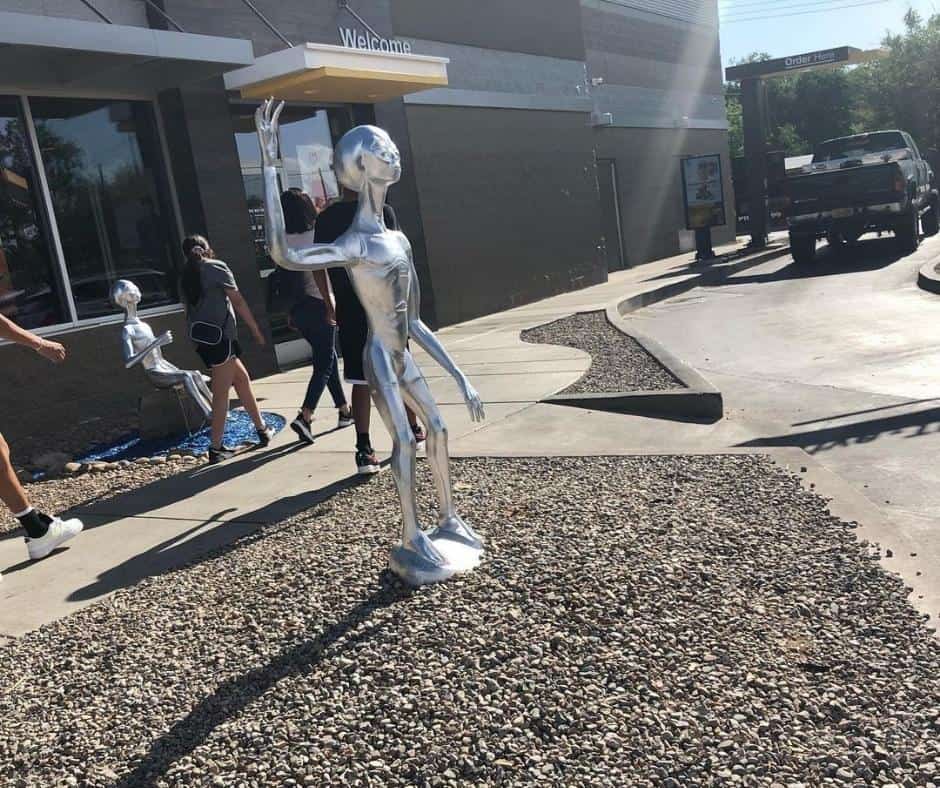 If a town could be a roadside attraction it'd be Roswell. Anyone that loves aliens and UFOs has heard of the infamous Roswell UFO incident that took place near the town in 1947.
A resurgence in the story happened in 1970, and since then, the town has become a mecca for UFO enthusiasts.
You'll find alien gift shops, alien virtual reality games, alien museums, and even alien haunted houses.
I mean, come on, even the city's streetlights are shaped like aliens! Outside of it's more touristy persona, Roswell also offers great nature experiences and beautiful, historic buildings.
Whether or not you believe in extraterrestrial beings, Roswell is a fun place to spend a few days with the family.
You can find out more about Roswell, New Mexico by visiting its website.
32. Cross Island Chapel – World's Smallest Church, New York
This 3 foot by 6 foot, non-denominational church rests on a tiny, man-made island in the middle of a pond.
It can fit five people total—two sitting and three standing. Over the years, Cross Island Chapel, has hosted numerous weddings.
Newlyweds reach and leave the island on a boat paddled by a preacher.
You can take a picture from far away, or contact the church if you wish to see the inside. Either way, it's a great photo opportunity, and a unique overall experience!
You can find out more about the World's Smallest Church by visiting this website.
33. Metal Man Riding a Pig-Dog, North Carolina
Is this six-shooter carrying, flower-wielding, metal-man riding a pig, or a dog? No one can decide, and it's creator isn't offering any answers! In fact, not much at all is known about this art piece.
Its one of many unique sculptures featured in the Burton Street Community Peace Gardens.
Make sure you bring a camera so you can get a picture with this whimsical, cartoon-like statue!
You can find out more about the Metal Man Riding a Pig-Dog by visiting this website.
34. W'eel Turtle, North Dakota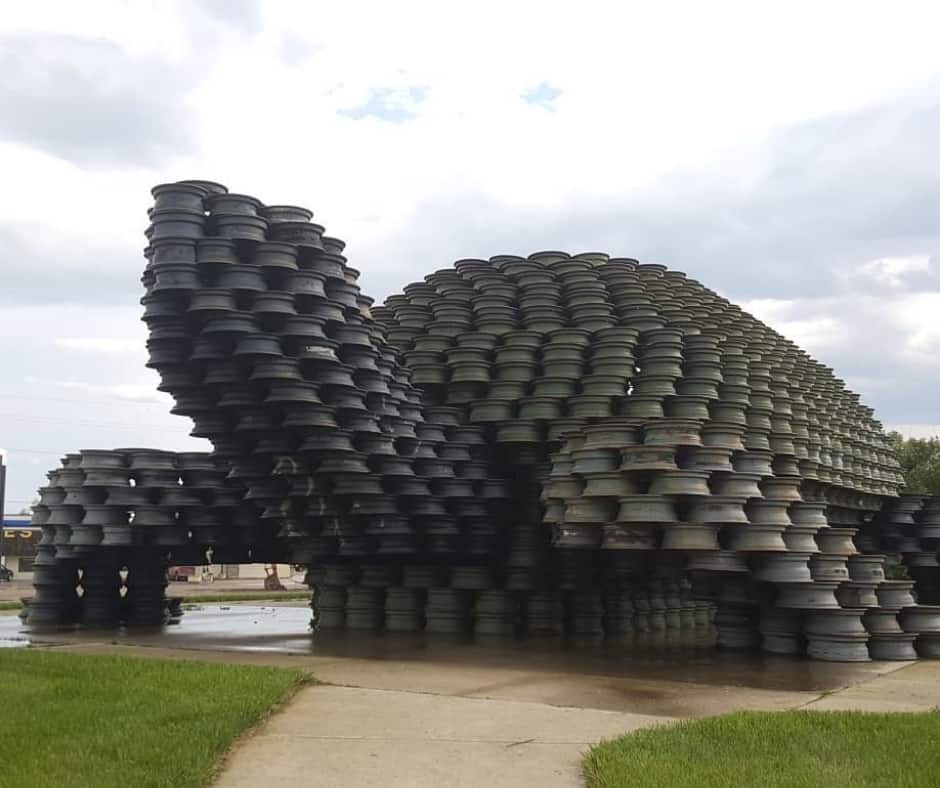 Another giant monster joins our weirdest attractions list! It's an enormous turtle made from 2,000 tire rims melted together.
It has been a local tourist destination since 1982. The best part? You can climb all over it.
Go to the top, and take a picture sitting on its head. You won't spend a whole day at this one, but you will spend one super fun hour.
You can find out more about the W'eel Turtle by visiting this website.
35. Hartman's Rock Garden, Ohio
Most people look at rocks and say, meh, cool, a bit of mineral—but not, Ben Hartman.
No, he saw art! Starting in 1932 Hartman began constructing the rock garden that visitors can see today.
He built it using concrete, glass, metal, rock, and whatever else he could find. The art installation reflects the man's personal views on the world and humanity.
In 1944, when Hartman died, his wife, Mary, took on the monumental task of preserving what he created.
Today, the rock gardens remain a fascinating component of Springfield culture, drawing in thousands of visitors every year.
You can find out more about Hartman's Rock Garden by visiting its website.
36. Joe Hargrove's Route 66 Museum, Oklahoma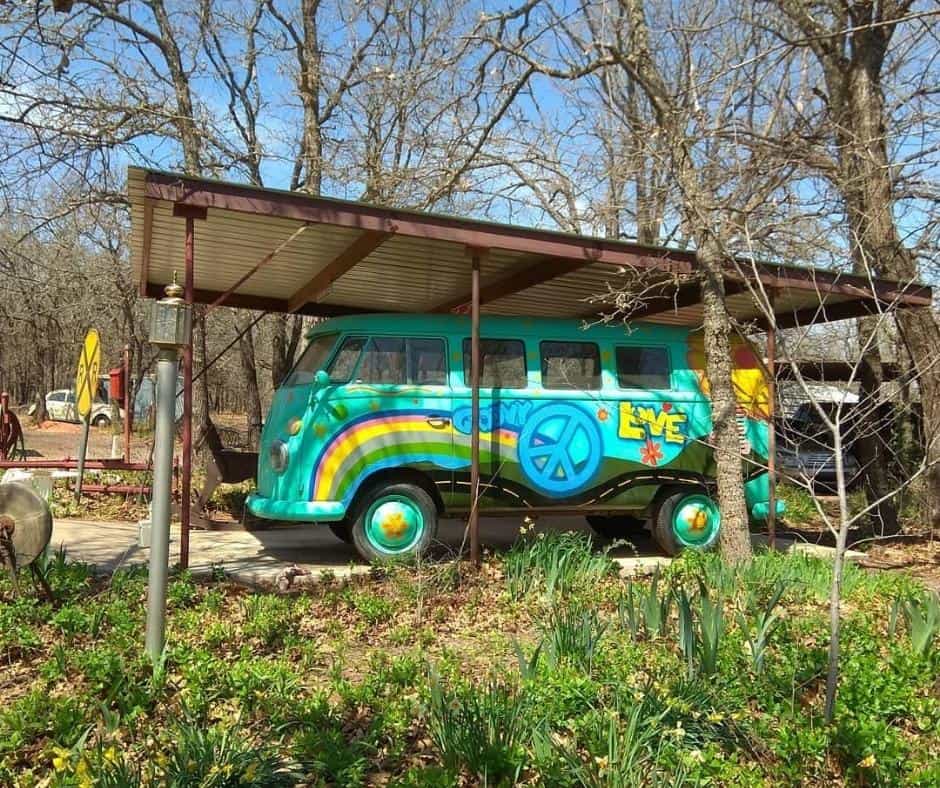 We couldn't make this list without giving some love to The Mother Road. Joe Hargrove felt the same way, so he opened this museum to pay tribute to Route 66.
You'll find replicas of Route 66's most famous roadside attractions.
Hargrove included the Twin Arrows from Arizona, a Volkswagen Beetle half buried in the dirt, and even a small "Route 66 diner", among others.
His diner seats a few dozen people and features a movie screen showing iconic Mother Road imagery.
It's even free so don't miss your chance to learn about the road that started it all!
You can find out more about Joe Hargrove's Route 66 Museum by visiting its website.
37. Enchanted Forest, Oregon
You ever wanted to teleport into a Grimms Brother tale? Now you can! Enter the Enchanted Forest Amusement Park through the mouth of a wretched witch, and find yourself in a land of sprung from a story book.
There's several amusement park rides inside, including a water log ride, and bumper cars.
The park is also divided into Storybook Lane, Western Town, and an Old European Town, all with their own attractions, dining, and shopping options.
It's a great place for the family to relive the old tales they heard when they were kids!
You can find out more about the Enchanted Forest by visiting its website.
38. Magic Gardens, Pennsylvania
A funny, creative, and whimsical typhoon of handmade tiles, bottles, bicycle wheels, mirrors, and international folk art used to chronicle the life and influences of its creator.
Isaiah Zagarhas been building the two indoor galleries, and bi-level outdoor sculpture garden, since the 1960s.
It's breathtaking and unique. You can spend all day walking its grounds, and still not see everything it has to offer. If you're lucky, it might even inspire the artist in you!
You can find out more about Philly's Magic Gardens by visiting its website.
39. Musée Patamécanique – Cabinet of Curiosities, Rhode Island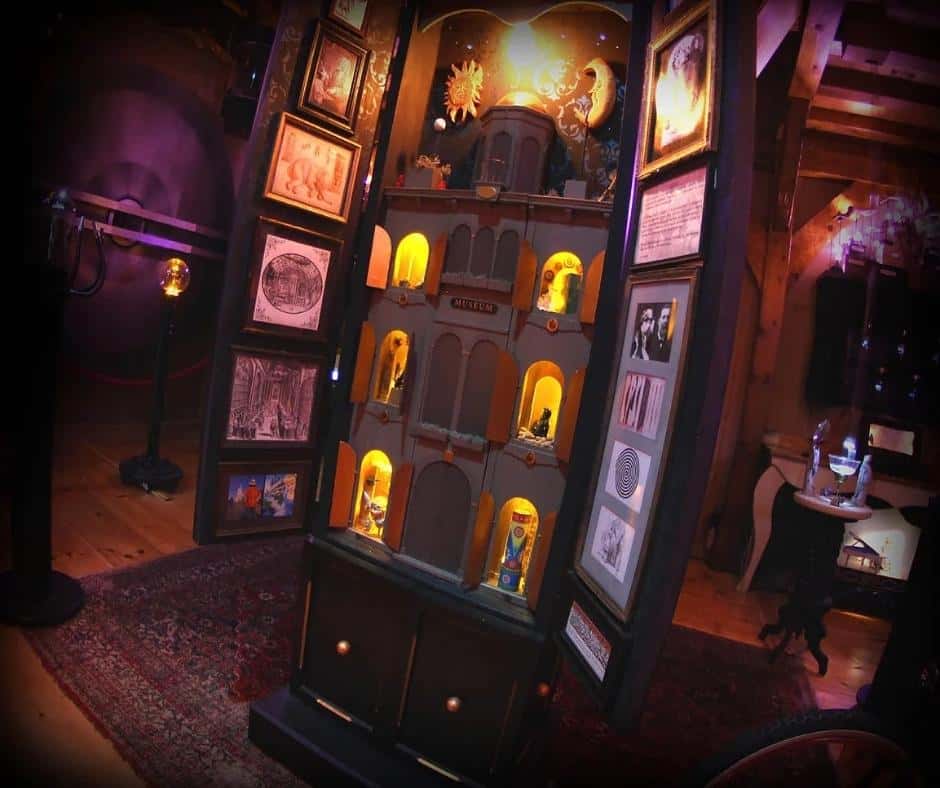 There's a lot of mystery surrounding the Musée Patamécanique. Its constantly changing locations, mysterious venue, and practically paranormal existence makes it a difficult roadside attraction to find.
Start your search in Downtown Bristol, and you might get lucky enough to come across this otherworldly museum.
Or you can just contact them through their website and make a reservation, either way.
They'll give you secret instructions on when and where to meet your tour guide.
We won't ruin the allure by telling you what's inside, so you'll need to visit the museum if you want to uncover its mystery!
You can find out more about Musée Patamécanique by visiting its website.
40. WonderWorks – Science Museum, South Carolina
Yes, it's a tourist trap, but it's a good one. The price for the museum is relatively low compared to other contemporaries of its like.
This upside-down museum offers an entire day of fun. It has a number of exciting and informative science exhibits as well as tons of other fun activities.
When the cerebral entertainment begins to bore you, you can go have some mindless fun in their laser tag arena.
Since it's open 365 days a year, and housed indoors, you can visit anytime!
You can find out more about WonderWorks by visiting its website.
41. Petrified Wood Park, South Dakota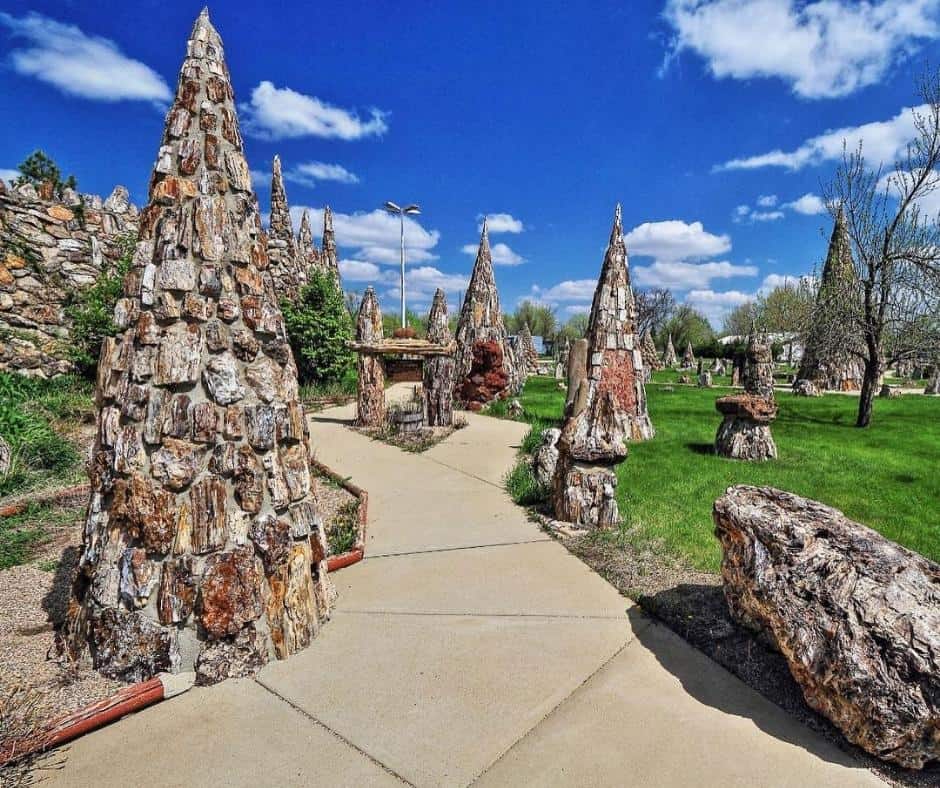 This Petrified Forest doesn't look like a forest at all. Instead, artist, Ole S. Quammen, used pieces of petrified wood and stones to build artistic sculptures. Its purpose was two-fold.
For one,"thirty to forty otherwise unemployed men received sustenance during this period",a time of economic upheaval in the later years of the Great Depression.
Quammen, ageologist, had themen search forfossils and rocks in the vicinity and thenbring them back to the city of Lemmon.
Their work yielded a castle, a wishing well, a waterfall, and hundreds ofsculptures. Today, the city continues to preserve this otherworldly work of art.
You can find out more about Petrified Wood Park by visiting its website.
42. Backyard Dino Park, Tennessee
Who needs a time machine to see dinosaurs?! Just take an RV road trip to this dinosaur replica park.
They currently display 50 prehistoric creatures with more being added annually.
They also offer a picnic area, and pizza from a local restaurant can be delivered here for a discount.
Chris Castner built the first dinosaur in 2007, and since then, continues to grow the park in a number of different ways including a haunted house.
You could visit once a year, and find yourself in a different park every time!
You can find out more about Backyard Dino Park by visiting its website.
43. Cadillac Ranch, Texas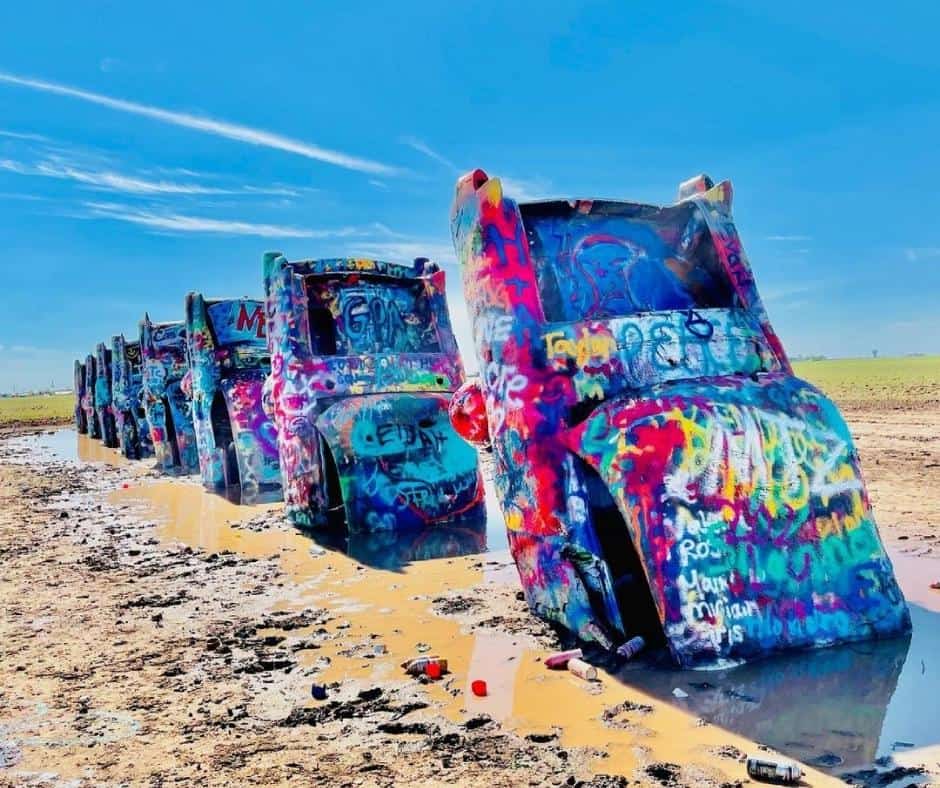 At most roadside attractions you stop, you take a picture, and get back in your RV. Not this one.
Cadillac Ranch outside of Amarillo, Texas is unique, in one big way—everyone that visits gets to add to it.
Buckets of paint cans sits next to the ten nose-down Cadillac cars. These paint cans can be used by visitors to paint their own message or image on the sculptures.
A group of art hippies called the Ant Farm, and a mysterious billionaire started Cadillac Ranch, but since then it's grown into a cultural phenomenon. Be a part of it, pull over!
You can find out more about Cadillac Ranch by visiting its website.
44. Hole N' The Rock, Utah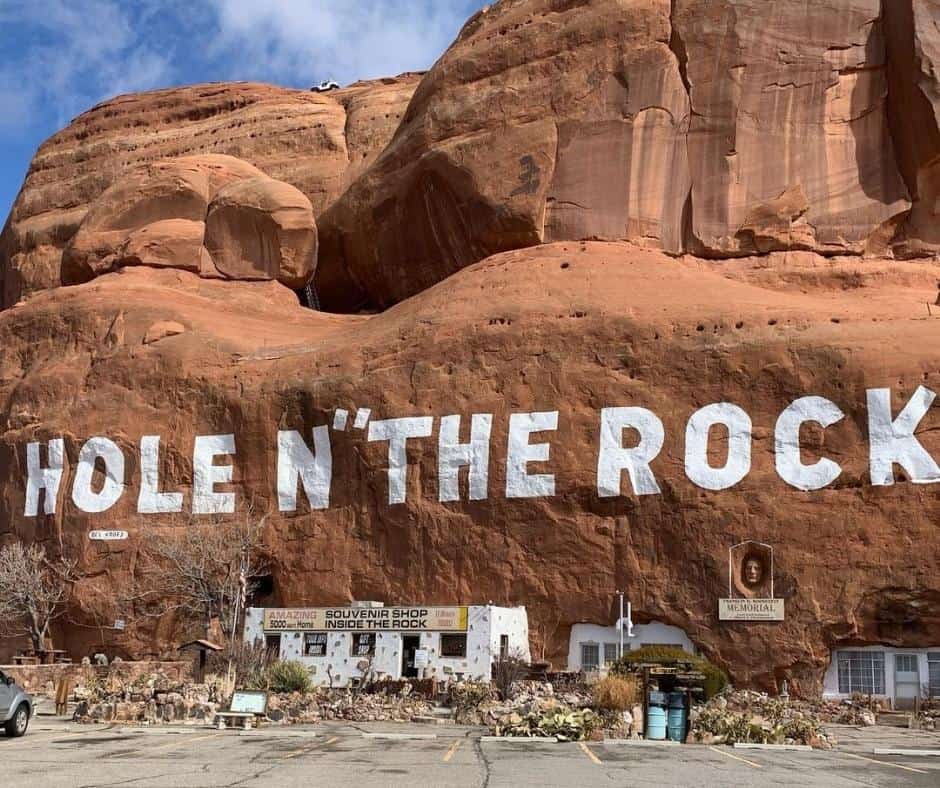 It's no wonder this little, hidden gem pulls in 500 visitors a day. The historic pit stop features a 5,000 square foot home carved into a sandstone cliff face.
You can find out about its history by taking the 12-minute tour which consists of antique tools, mining equipment, vintage neon signs, and an exotic zoo.
The zoo includes a Camel, Watusi, Albino racoon, and others! It also features the largest collection of Lyle Nichols art sculptures in the world.
Needless to say, Hole N' The Rock is worth the visit, and may even keep you busy for an entire day.
You can find out more about Hole N' The Rock by visiting its website.
45. Queen Connie – Gorilla Holding a VW Beetle, Vermont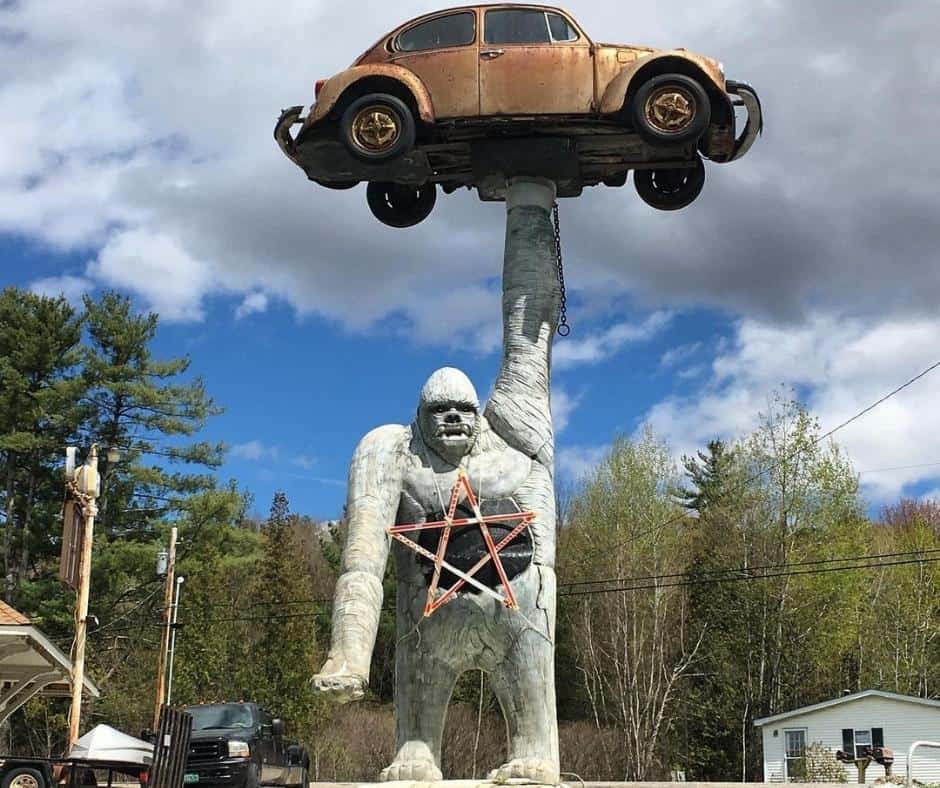 A lot of people don't know this, but King Kong had a wife. Her name is "Queen Connie", and she lives in Vermont.
This 20ft ape sculpture holds up a real Volkswagen Beetle in her stretched out left hand.
The artist, T.J. Neil,constructed this roadside attraction in 1987 using steel-reinforced concrete.
The gorilla's other armis stretched down, palm up, so visitors can sit on it and take picture with this local icon.
You can find out more about Gorilla Holding a VW Beetle by visiting its website.
46. Dinosaur Kingdom II – Sculpture, Virginia
Everyone loves a little bit of alternate history, but this one is really odd. Remember the Civil War between Union and Confederate troops?
Well, imagine if a portal from Jurassic era suddenly opened up, and poured dinosaurs onto the Yankee army.
That's the mad artistic vision that artist Mark Cline, created in Natural Bridge, Virginia.
Dinosaur Kingdom II displays an array of dinos attacking Union soldiers, a mad scientist, and a statue of Stonewall Jackson wielding a 15-foot-long robotic arm.
You can find out more about Dinosaur Kingdom II by visiting its website.
47. The Fremont Troll, Washington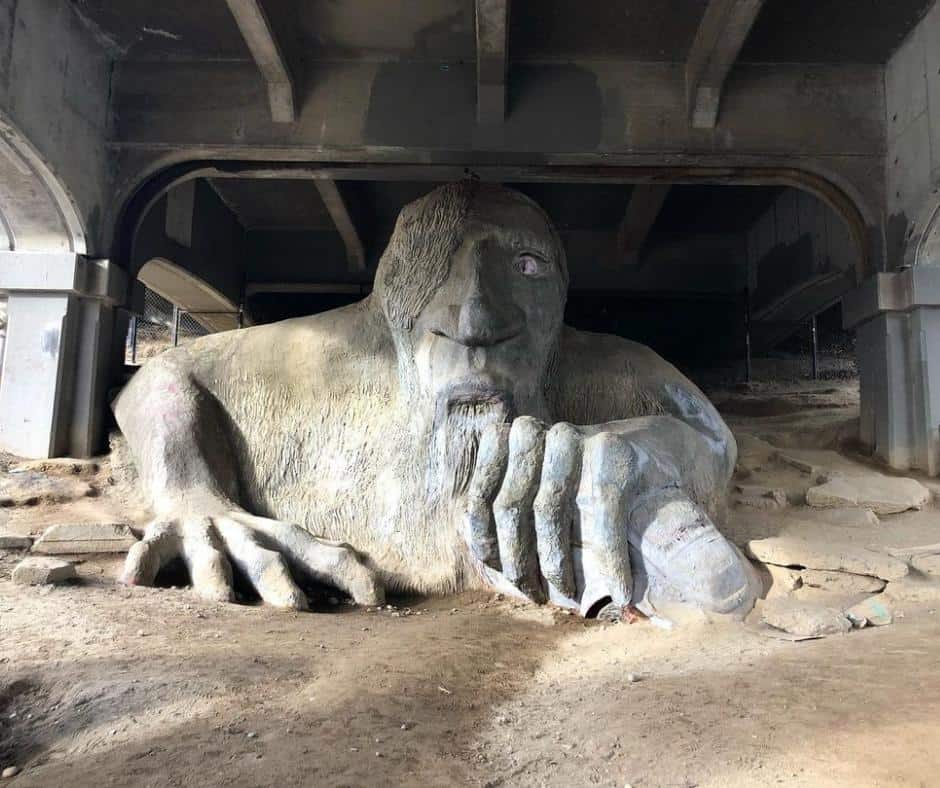 Trolls under bridges have been menacing kids for decades, but not this one.
The Fremont Troll is a 6.5-ton, silver-eyed, concrete monster grasping a Volkswagen Beetle.
This 'mixed media'' sculpture stands beneath George Washington Memorial Bridge at 18ft tall.
It was created to revive the area around, and under, the bridge which had become a dumping spot, and hangout for drug dealers.
The troll now stands watch over this area, and provides visitors with photo opportunities.
You can find out more about The Fremont Troll by visiting its website.
48. Prabhupada's Palace of Gold, West Virginia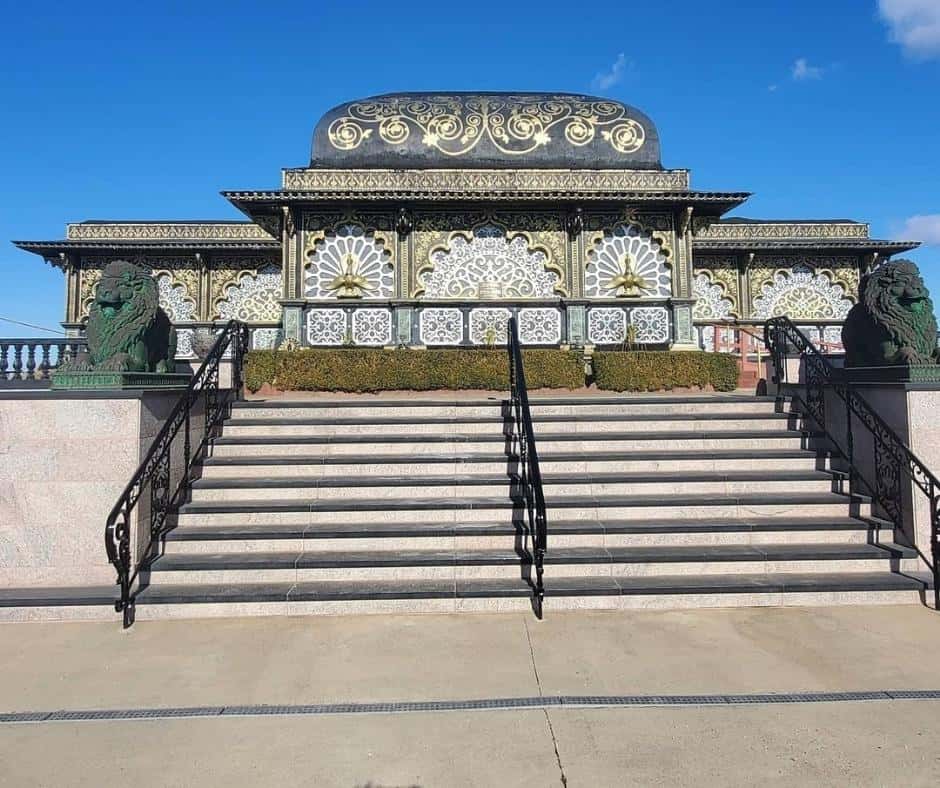 When you're driving through West Virginia you expect to see the war-time forts, the old government buildings, even the crumbling plantations.
What you don't expect to see is an ornate Hindu Palace made from gold. Nonetheless, that's what you'll find in Moundsville, WV.
The residence once belonged to the Hare Krishna leader Srila Prabhupada.
His followers built it as a quiet retreat where he could meditate and study the scriptures. Today, it's a tourist attraction, and one who's over-indulged opulence is worth seeing.
You can find out more about Prabhupada's Palace of Gold by visiting its website.
49. Concrete Park, Wisconsin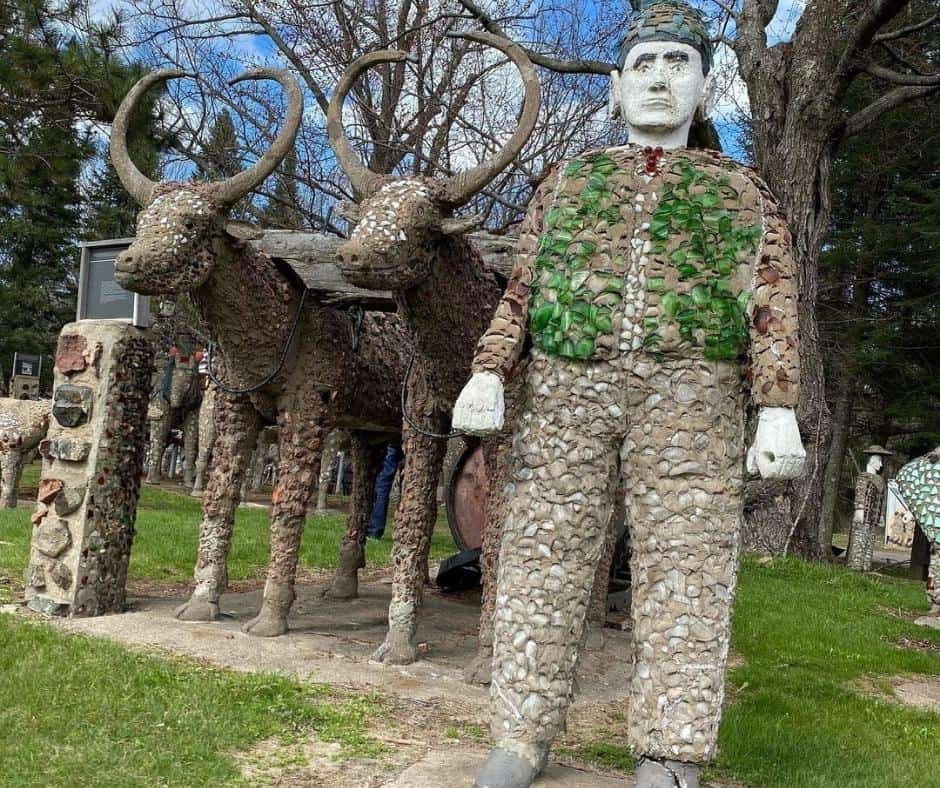 The Wisconsin Concrete Park features an outdoor museum with 237 sculptures constructed from 1948 to 1964 by Fred Smith.
He was a retired lumberjack as well as a self-taught musician and artist.
The concrete sculptures create a historical panorama of both life-size and larger-than-life sculptures, portraying everything from people to animals to local history and lore.
Smith's expansive imagination brought this place to life, and he depends on visitors to keep it alive so please drop by!
You can find out more about Concrete Park by visiting its website.
50. The Ames Monument, Wyoming
This roadside attraction looks as though it belongs in Egypt. However,it's located in Buford, Wyoming.
The Ames Monument was built by the Union Pacific Railroad in 1881 to pay homage to two brothers responsible for finishing the transcontinental railroad from beginning to end.
H. H. Richardson, an American architect, designed the pyramid. It includes portraits of the Ames brothers, created by sculptor Augustus Saint-Gaudens.
These bas-reliefs sit on the east and west sides of the pyramid respectively. This roadside attraction is certainly worth a stop, and a picture!
You can find out more about The Ames Monument by visiting its website.
Visiting all 50 of these roadside attractions should be on everyone's bucket list! Not only is it an excuse to take a road trip across the United States, but it's also an opportunity to see some of the weirdest sights this country has to offer. Which roadside attractions have you seen? Tell us your story in the comments below!