Chasing sunshine and beautiful weather is one of the best benefits of camping year-round. The problem is that you aren't the only one wanting to pursue an endless summer! 
Finding year-round campgrounds requires planning because many of these sites will be fully booked 6-12 months before the year's warmest months.
Sure, you can get away with booking later (and finding some discounted deals) if you go against the grain and book year-round campgrounds during their off-season.
Still, because competition for these campsites is fierce, having a healthy directory of campgrounds open year round near me at your disposal when needed pays. 
What is a Year-Round Campground?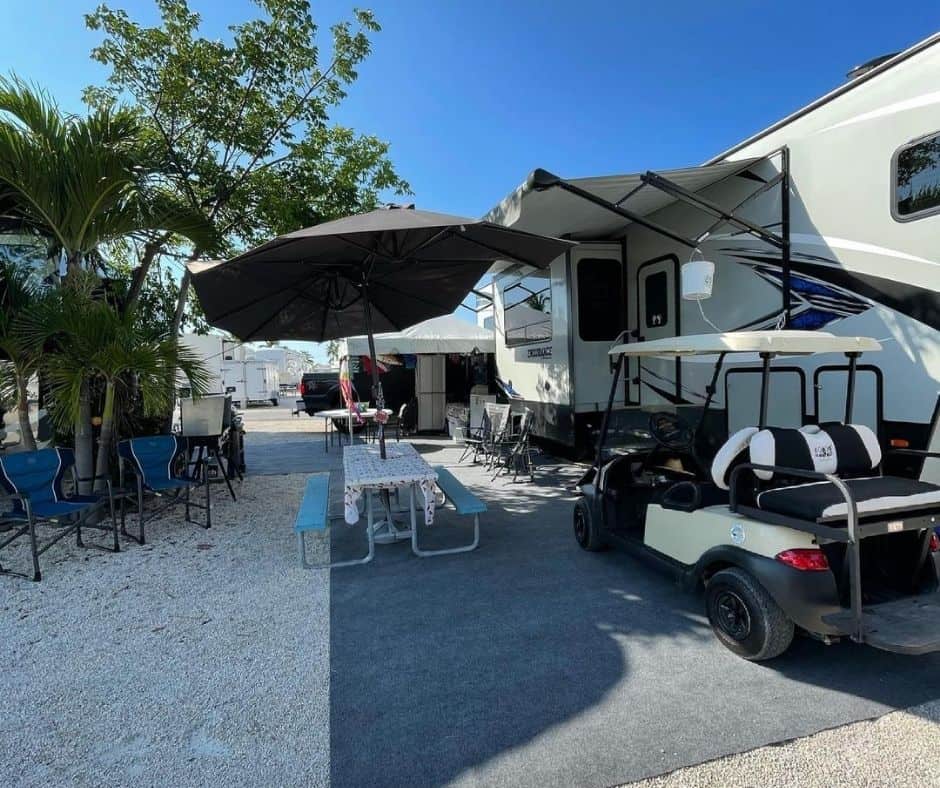 A year round campgrounds near me is a campground that stays open 365 days a year, at least for certain types of camping.
Depending on the exact location, they may have some restrictions that apply to the types of camping allowed during the colder months of the year.
With year-round campgrounds, overnight camping fees can often shift seasonally.
Many offer lower off-season rates and then hike their prices during the busiest months of the year. 
If you are tent camping, you will have the most difficulty finding year-round campgrounds in places that experience freezing overnight temperatures.
For RV and travel trailer owners, you will enjoy a more extensive selection of year-round campgrounds. 
Still, some campsites may offer limited services and amenities during the off-season, requiring you to be more self-sufficient regarding water refills, power conservation, and waste disposal.
How to Find Year-Round Campgrounds Near Me?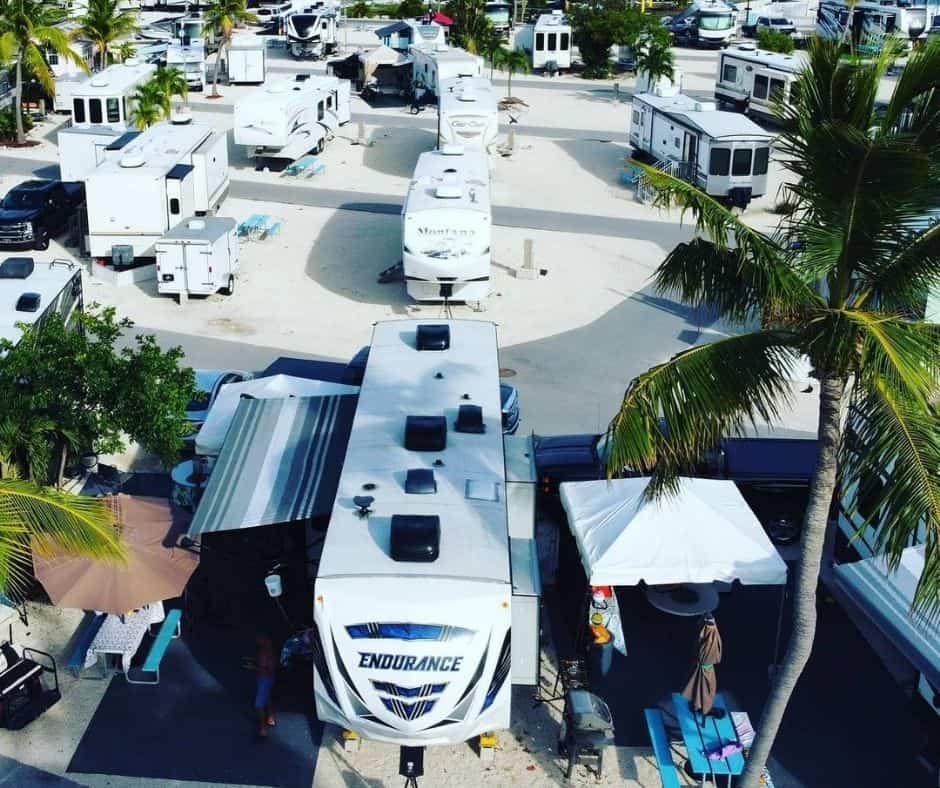 Between Google searches, printed campground directories, and online campground databases, you have plenty of valuable tools to help you find year-round campgrounds near you.
Let's highlight a few of our favorite all year round campgrounds near me to help with your search: 
1. An Updated Camping Road Atlas
Not only will a road atlas come in handy to help you navigate when you don't have cell service, but many of them also include a printed directory of campgrounds nationwide.
They might not organize them all by year-round versus seasonal. Still, they include updated contact information so you can call ahead to check on seasonal hours, campsite availability, rates, and other critical details. 
If you are a Kindle Unlimited member, you can also download Bob's Essential RV Resort Directory to help you find year-round campgrounds!
2. Good Sam's Campsite Search Engine
If you are a Good Sam member (and you should be if you are interested in year-round camping), you can use the search engine on their website to find year-round campgrounds near your area.
As a bonus, you can also filter for Good Sam-affiliated parks that will provide discounts for members!
3. Kampgrounds of America (KOA)
The KOA website offers a huge directory of U.S. campgrounds open 365 days a year.
Their site also makes it easy to narrow your search by state and then by smaller regions within each state.
4. The Dyrt Camping App
The Dyrt is a growing campground database that incentivizes users to leave reviews on campground stays.
While their platform doesn't yet offer a way to filter for year-round camping, they are still relatively young and making new updates regularly.
The major benefit of this platform is reading what real people say about the campgrounds you are looking into.
Plus, the most accomplished reviewers get entered into monthly contests to earn discounts on cool outdoor gear brands!
5. Freecampsites.net
For those looking to save a little money on your year-round camping choices, freecampsites.net is one of the complete databases for dispersed camping and boondocking.
While they don't offer a specific filter for year-round campgrounds, you can check the date of the most recent customer review and grab contact information to call established campgrounds directly.
6. Pitchup.com
Pitchup.com is another online resource allowing you to filter for campgrounds open all year.
They also allow you to filter for the exact type of camping you are doing, including tent camping, RV or trailer camping, lodges, cabins, glamping tents, yurts, and much more.
7. Hipcamp
Hipcamp is another great online search engine that can help you find year-round campgrounds in your area.
Private property owners usually offer these campsites, and a ton of variety is available.
You can filter by price, amenities, type of terrain, activities available on the property or nearby, and more.
8. Boondockers Welcome
Boondockers Welcome also consists of a network of campgrounds hosted on private property.
It is a membership-based platform that requires an annual fee. From there, you will have access to a search engine with more than 2,850 hosts throughout the United States.
Once you join, you can enjoy free year-round campgrounds in exchange for sharing travel stories with your hosts!
9. Harvest Hosts
Like Boondockers Welcome, Harvest Hosts also requires an annual membership.
This platform, however, consists of thousands of operating farms, wineries, and breweries that allow free camping on their premises.
Of course, you have to pay the annual membership fee, but the only expectation after that is that you enjoy a cold beer, a tasty glass of wine, or grab some extra groceries during your stay!
15 Best Long-Term RV Parks And Campgrounds That You Will Love To Stay In Year Round
Fortunately, we have compiled a list of 15 rv parks open year round near me throughout the United States.
These are some of the highest-rated campgrounds for year-round RVing and camping.
It is hard to beat a campground with a hot spring nearby! Even if it is located in California (where it is already warmer year-round), this campground is remote and affordable.
Currently, their advertised rates are just $15 per person per night.
It sits on 160 acres and includes the original Bowen Ranch property, which has provided limited access to the Deep Creek region for over 100 years.
In addition to being an affordable year-round campground, it is also a hiker's paradise.
You can access thousands of miles of public lands managed by the U.S. Forest Service (USFS) and Bureau of Land Management (BLM) for as much hiking as your heart desires.
Views of the San Bernardino Mountains and the Mojave Desert will also entice amateur and professional photographers!
Location: Apple Valley, California
Rates: Start at $15 per person per night
How to make a reservation?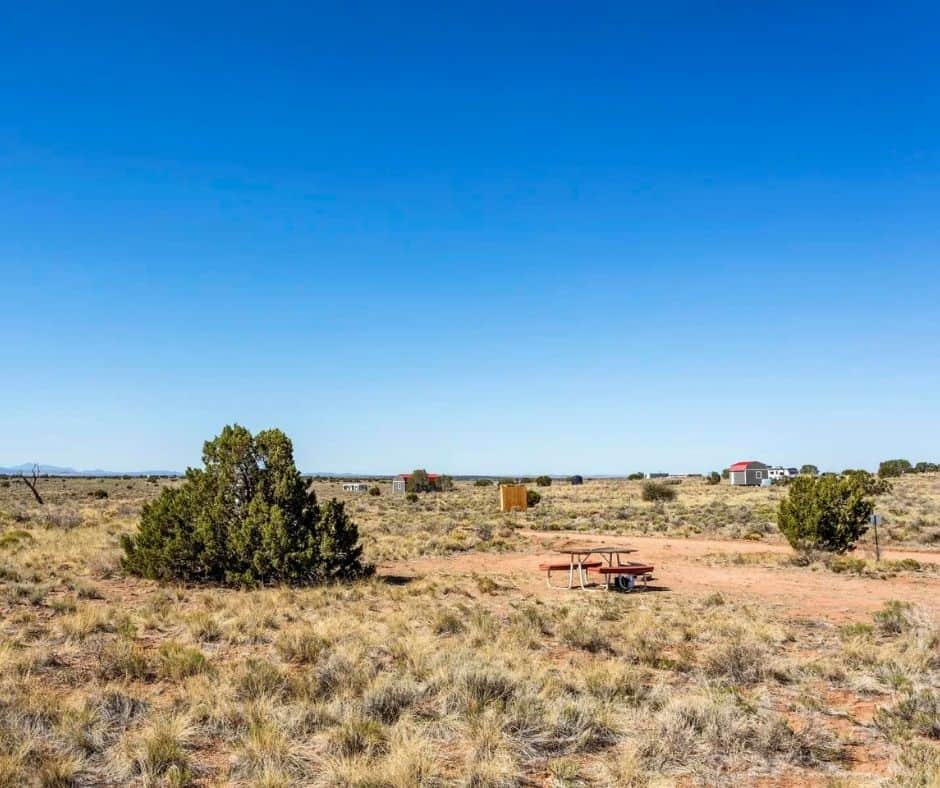 Little Heaven Ranch is a year-round Hipcamp just south of the Grand Canyon.
No matter what time of year you plan to visit one of America's most popular national parks, this is a great campground to avoid camping amongst the masses.
If space is your thing, this campground is for you. Each site is unique and sits on more than an acre.
You will barely know you are camping with several other groups nearby, starkly contrasting from most other year-round RV resorts.
The coolest part about this year-round campground is that 100% of the proceeds that the owners make are re-purposed to host youth groups for free or at reduced rates through educational grants.
Location: Williams, Arizona
Rates: Start at $5 per night
How to make a reservation?
The Moonlight Lake RV Park is a small year-round campground near the spectacular North Carolina coast.
It offers 40 full hookup RV sites, tent sites, cottage rentals, and a reservable farmhouse event venue.
You can enjoy the use of the indoor swimming pool and spa year-round, as well as the on-site theater, exercise gym, and game room.
The Farmhouse is a great venue for hosting weddings, birthday parties, and other family gatherings.
It is a full-service campground with a bathhouse, laundry facility, and propane service.
Just down the road in Fairfield Harbour and James City, you can find several outfitters to rent kayaks or paddle boards for a family paddle on the Neuse River.
Location: New Bern, North Carolina
Rates: Start at $45 per night
How to make a reservation?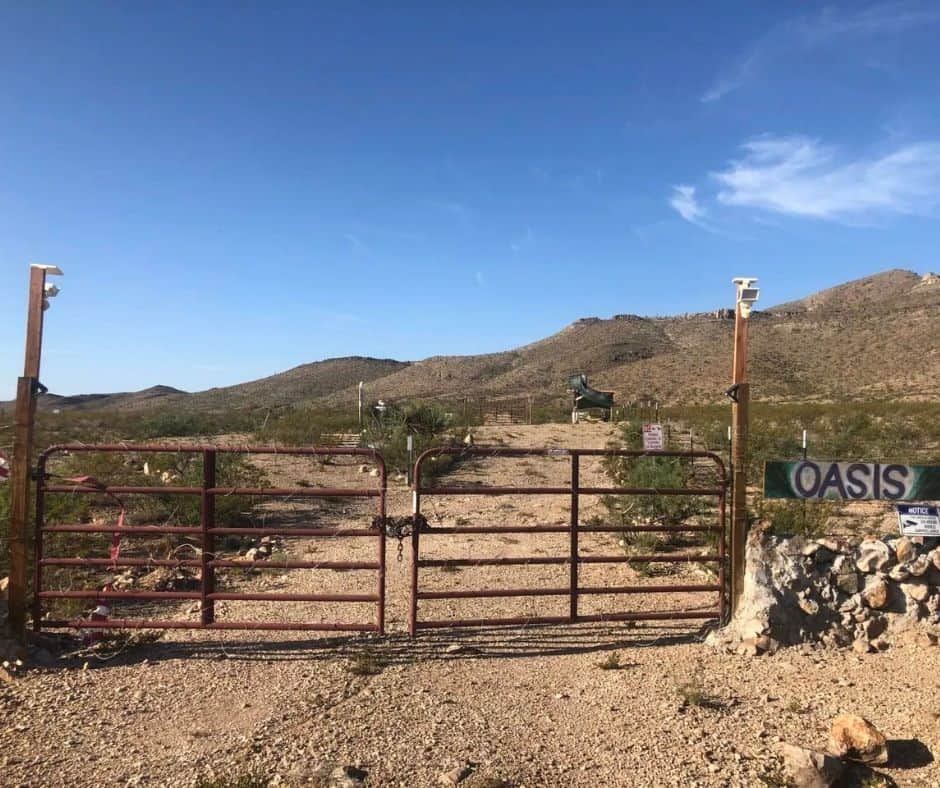 Located near Davis Mountains State Park, the Desert Gardens Oasis Hipcamp is designed for prepared boondockers seeking a remote year-round camping opportunity.
If you've never visited southwestern Texas, the scenery here will blow you away!
While it feels very remote once you arrive, this campground lies about 15 minutes south of Interstate 10 as it passes through Van Horn, Texas.
This makes it more accessible if you pass through this area to Big Bend National Park or other natural wonders in West Texas.
On-site, there is plenty of space to explore the Chihuahuan desert. Keep your eyes open for geological artifacts and ancient native drawings and pictographs.
There is even a nearby landing strip here for enthusiastic paragliders!
Location: Lobo, Texas
Rates: Start at $12 per night
How to make a reservation?
Sunshine Key RV Resort and Marina is one of the premier destinations for snowbirds looking to escape the cold temperatures of the north country.
In addition to full hookups, this campground offers a swimming pool, high-speed Internet, and courts for tennis, volleyball, pickleball, and basketball.
It is located centrally to easily get down and explore Key West or head up to Marathon to check out the rehabilitation efforts at the Turtle Hospital.
Big Pine Key, however, stays quiet enough for you to sleep well and avoid noisy nights during the busiest times of the year in the Keys.
The resort property hosts a total of almost 400 RV sites, and there is even a boat rental company located on-site.
Keys Boat Tours provides kayak, paddleboard, bicycle rentals, fishing charters, and snorkeling tours.
Location: Big Pine Key, Florida
Rates: Start at $150 per night
How to make a reservation?
If you need a base camp for winter skiing or summer hiking, look no further than the Colorado Springs KOA Holiday.
Even if you don't leave the campground, the morning views of Pikes Peak alone, which sits 14,115 above sea level, are worth a visit.
Plenty of nearby attractions exist, such as the Garden of the Gods and Cave of the Winds.
Colorado Springs is also home to the Team USA Olympic and Paralympic Training Center, which normally offers tours and various recreational facilities.
The year-round campground offers RV sites, tent spots, and fully-equipped cabin rentals.
The KOA's heated pool and splash park are popular during the summer, while the hot tub with mountain views gets more active during the colder months!
Location: Colorado Springs, Colorado
Rates: Start at $35 per night
How to make a reservation?
The Green River KOA Journey is the perfect base camp for checking off the Utah Super Six.
Not many campgrounds offer the proximity to visit all six of Utah's most beautiful and unique national parks, state parks, and natural attractions.
Located just off Interstate 70, this KOA offers a heated pool from Memorial Day through Labor Day, aldog park, WiFi at all overnight sites, pickleball and horseshoe corts, propane service, and much more.
In addition to the Super Six, Little Wild Horse Canyon offers exciting canyoneering for all ages and experience levels.
The John Wesley Powell Museum is also a great indoor stop to learn about the history of early Colorado River explorers!
Location: Green River, Utah
Rates: Start at $35 per night
How to make a reservation?
Heading up to the Pacific Northwest, the Lynden/Bellingham KOA is the perfect year-round destination for exploring the region's stunning scenery.
Head over to experience the San Juan Islands' seasonal splendor or view the 10,778-foot peak of Mount Baker in the distance.
Campers will need rigs with their restroom facilities from October 1 through March 1, but the campground's remaining facilities are open year-round (aside from the pool).
The Lynden Windmills are a unique nearby attraction, and three nearby fishing ponds are great for casual recreation on warm days.
Gamers will enjoy the on-site arcade room during their stay, and families must check out the 18-hole miniature golf course on the property.
This KOA offers RV sites, tent camping, cabin rentals, and extended stays for those needing a few months to explore the magic of this area.
Location: Lynden, Washington
Rates: Start ar $35 per night
How to make a reservation?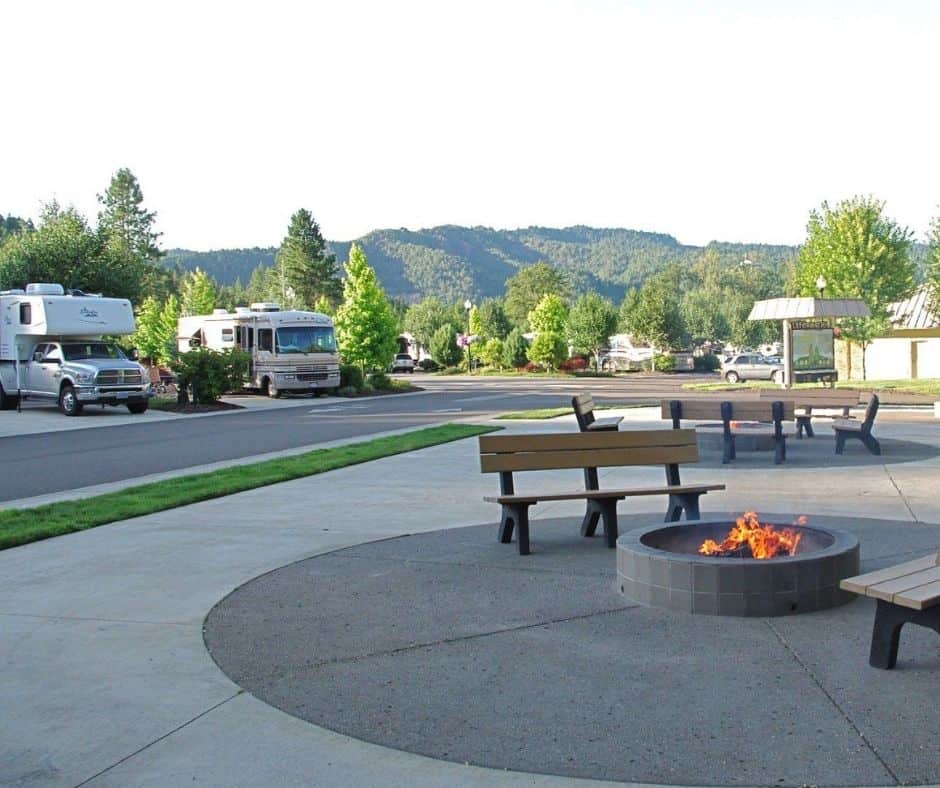 This year-round Oregon campground lies on a plush 23 acres and offers the ability to enjoy everything from the indulgent nightlife at the Seven Feathers Casino to the relaxing heated pool and hot tub on the campground premises.
It also boasts fitness and media centers, horseshoe courts, a barbecue pavilion, and an on-site market for RV and camping supplies.
It is convenient for anyone traveling down the I-5 corridor and can also be a useful stopover for folks on their way to Crater Lake National Park.
Yr-round campers will also enjoy complimentary high-speed Internet, cable TV hookups, message and mail service, and a peaceful stroll along the Garden Walk with views of the pristine Jordan Creek.
Location: Canyonville, Oregon
Rates: Start at $73 per night
How to make a reservation?
South Carolina beach days are all about sun, sand, and salt. That's what you'll get (and much more) if you stay at the Apache Family Campground and Pier.
This resort boasts RV site rentals, beachfront campsite rentals, and leisure living vacation home rentals.
They even boast their fishing pier, which happens to be the longest wooden pier on the entire East Coast!
The pier is open daily all year and offers a bait and tackle shop, an arcade, and a casual restaurant and bar for oceanfront drinks and dining. In the summer, the pier even offers nightly live entertainment.
Their event calendar is full of fun things to enjoy during your stay, such as cornhole tournaments, water aerobics, beach parties, and bingo nights.
If you do somehow get bored, it is not far for you to check out local attractions like the Pirates Voyage Dinner Theater and Ocean Annie's Beach Bar.
Location: Myrtle Beach, South Carolina
Rates: Start at $42 per night
How to make a reservation?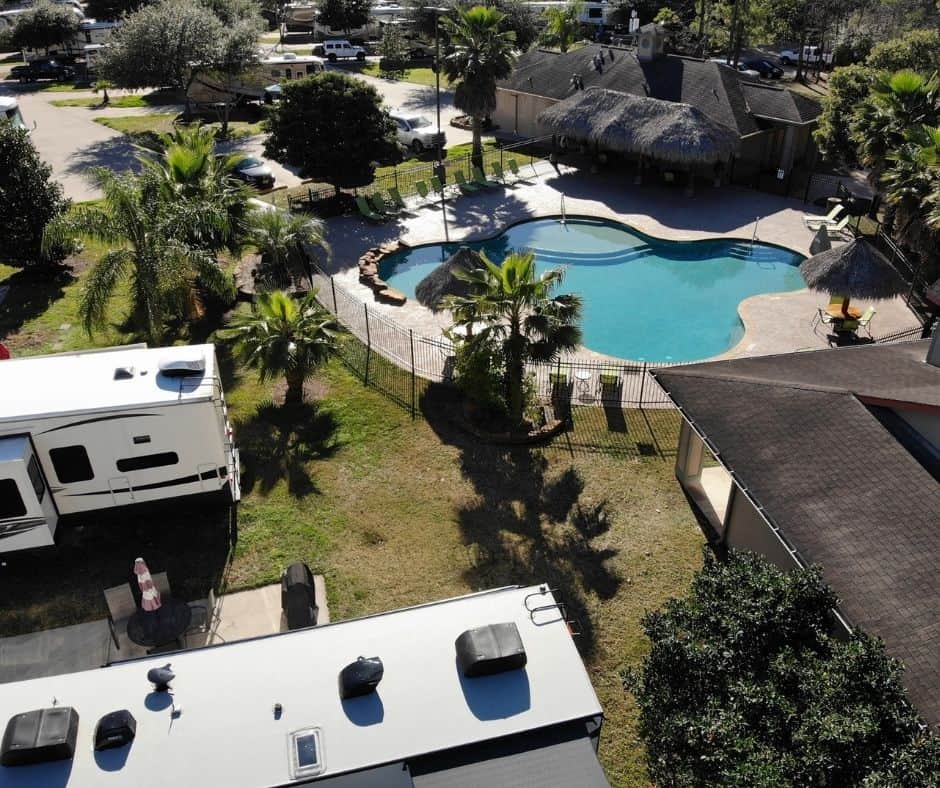 Lake Osprey is a gorgeous year-round destination for inshore fishing, and the RV campground offers 188 large sites for class A and class C RVs and large fifth-wheel trailers.
There are even RV lots for sale at this resort so that you can purchase your private year-round campsite.
In addition to boasting the largest RV lots on the Gulf Coast, this campground provides guests with a unique experience.
The lifestyle is about recreation and comfort, from spotless white sand beaches to country club amenities.
Guests can access pickleball courts, a zero-entry heated pool, a hot tub, a putting green, a fitness center, and much more.
The campground hosts weekly game nights in the recreation hall, and Elberta's Baldwin County Heritage Museum is a great activity for a rainy day!
Location: Elberta, Alabama
Rates: Start at $72 per night
How to make a reservation?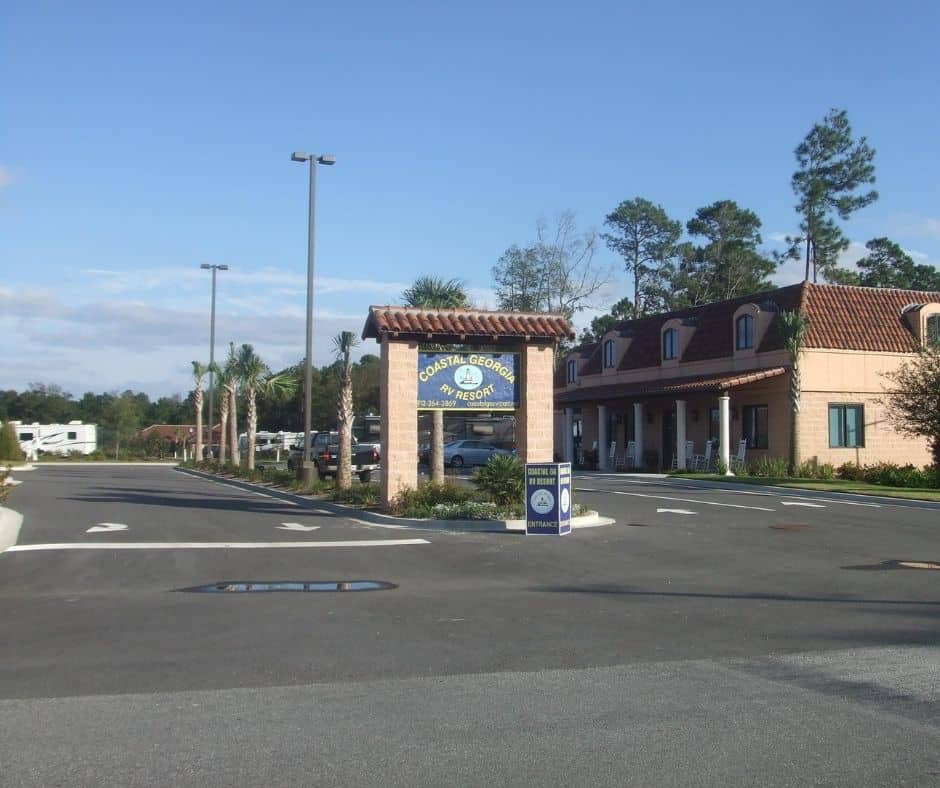 The Coastal Georgia RV Resort is one of the best year-round campgrounds for exploring fishing, scuba diving, and other ocean activities on the Georgian coast.
If you want to eat seafood, this resort lies in the Shrimp Capital of the World!
Surrounded by the Intracoastal Waterway to the east, Oglethorpe Bay to the west, and the Brunswick River to the south, this area is popular for inshore, offshore, and deep-sea fishing.
You can also fish at the lake on the campground property and bring your catch up to the grill at the nearby pavilion.
Other fun amenities include horseshoe pits, a swimming pool, and shuffleboard courts.
There are more than 100 sites at this campground, and they offer a maximum length of 70 feet.
If you are organizing a large gathering, they offer discounted rally rates if you are booking for 20 or more RVs.
Location: Brunswick, Georgia
Rates: Start at $50 per night
How to make a reservation?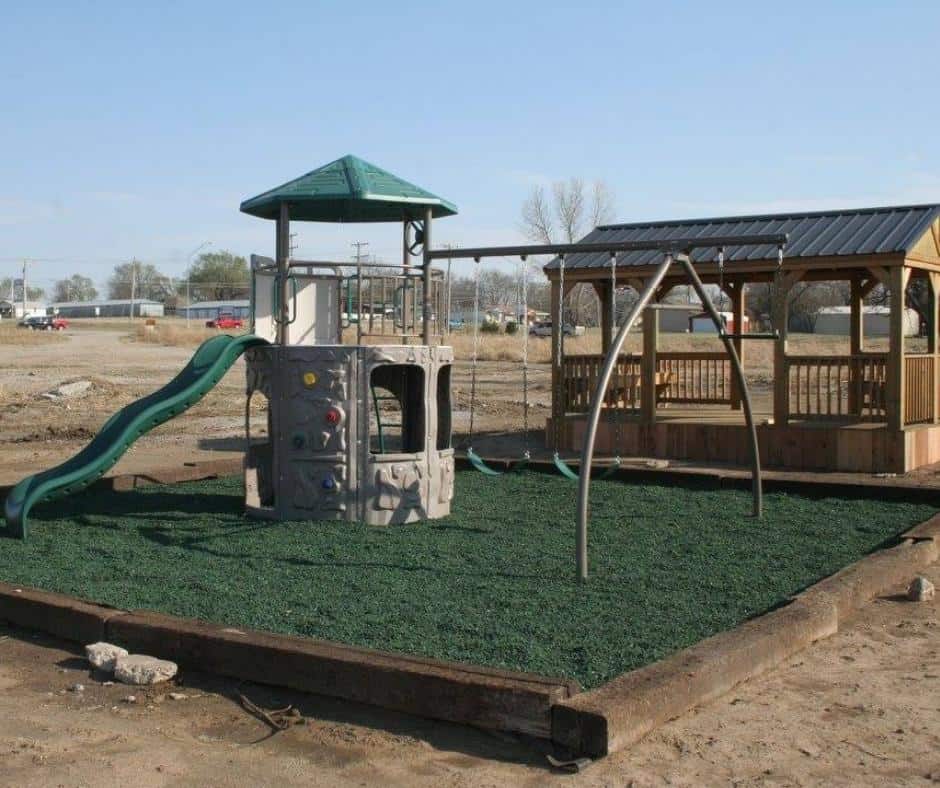 The newest year-round campground in Bartlesville, Bell RV Village, is great for those seeking a pet-friendly getaway.
Their resort features 23' by 102' Bark Park, and the 2.5-acre Cooper Dog Park is just down the road.
For its human visitors, you will enjoy free cable and high-speed internet at each site.
You can choose either a 30-amp or 50-amp electric service; all sites also offer water and sewer hookups. 
If you have a huge RV or are camping with multiple smaller rigs, the Bell RV Village campground offers five 74-foot-long pull-through sites.
Once you are settled in your preferred campsite, this also plenty to do in the heart of Oklahoma's Green Country, including hunting, fishing, and touring the museum dedicated to the country's first cowboy movie megastar!
Location: Bartlesville, Oklahoma
Rates: Starts at $39 per night
How to make a reservation?
The Riverside RV Park is a wonderful year-round family camping destination five minutes from downtown Dodge City.
Walk to the river, waterslides, and the Long Branch Lagoon waterpark in just 20 minutes during hot summer days.
The grocery store and the Depot Theatre Company (known as 'Broadway on the Prairie') are also both 10 minutes walking distance from this campground.
Plus, you can get out to the historic Santa Fe Trail west of town in just a 20-minute drive.
For rainy or cooler days, you can enjoy your favorite shows in the TV room or play indoor games in the recreation hall.
Heated restrooms and showers also provide much-needed comfort for year-round tent campers.
Location: Dodge City, Kansas
Rates: Starts at $20 per night
How to make a reservation?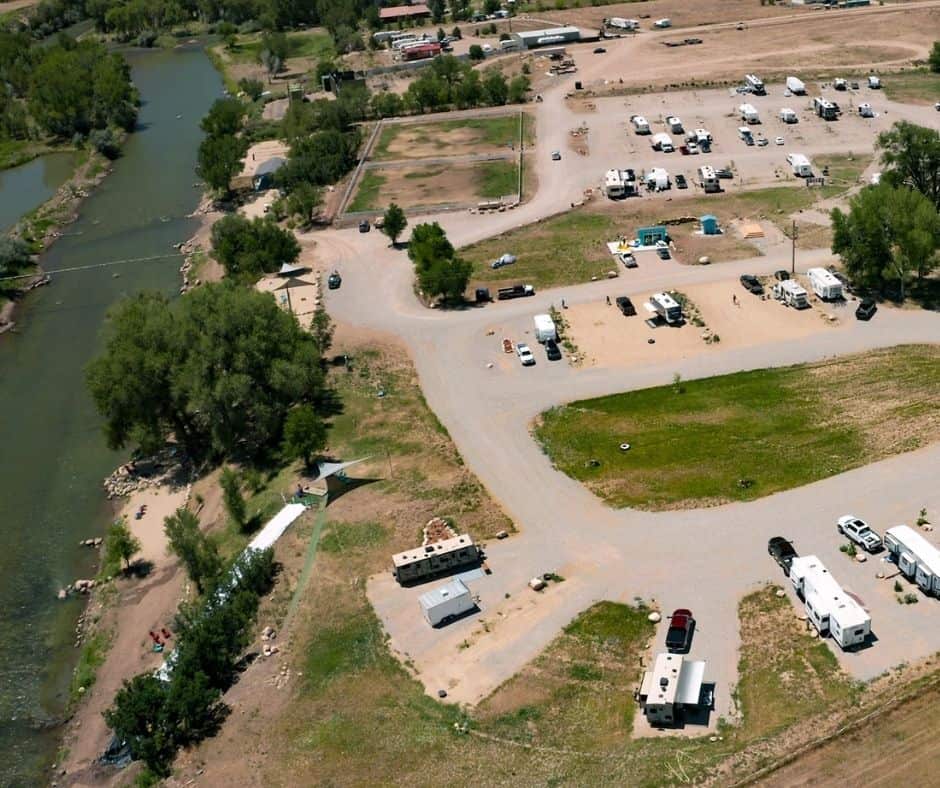 Enjoy a tropical vibe without worrying about plane travel at the only Costa Rican-inspired year-round campground in the U.S. Located in northern New Mexico and just 20 minutes south of Durango, Colorado; the Tico Time RV River Resort sits on 74 acres of prime riverfront property along the Animas River.
This campground offers both tent camping and RV sites year-round, and they offer a unique events calendar that includes music festivals, fundraisers, and more.
It is also a great spot to explore nearby national monuments like Aztec Ruins and the Canyons of the Ancients.
Even if you stay on the property, you can enjoy their zip-line, 60-foot ropes challenge course, 18-hole disc golf course, and 130-foot waterslide, plus tubing on the river during the warmer months.
Location: Aztec, New Mexico
Rates: $10 to $49 per night
How to make a reservation?
FAQs
Where can I find campgrounds that are open year round near me?
The best way to find campgrounds open all year round near me is to search online. Many websites provide comprehensive lists of campgrounds in your area, including their seasonal availability. You can also check the local tourism office or park and recreation department for information about nearby campgrounds.
Additionally, many national parks offer camping throughout the year, so be sure to check out their websites for more information. If you're looking for a more rustic experience, consider searching for private campgrounds that may not be listed on any website but offer year-round camping opportunities.
Finally, don't forget to check with your friends and family who may know of local campgrounds open year round. Word of mouth can be a great resource for finding unique camping spots!
Where can I find year round campgrounds near me?
The best way to find year-round campgrounds near you is through an online search engine. You can type in your location and the words "year round campgrounds" to get a list of nearby options. You can also use a camping or RV park directory website to find listings for campgrounds open all year.
Another great resource is local tourism websites, which often feature information about camping opportunities in the area. For example, many state parks have campgrounds that are open year-round. Visiting the website for your nearest state park can provide details about campsite availability and amenities.
Also, ask around! Your friends and family may be able to provide recommendations for good places to go camping in your area. They may even know of hidden gems not listed on online directories or websites!
Where can I find all year round campgrounds near me?
Rv parks near me open year round is a great way to explore the outdoors and enjoy nature. Depending on your location, there are several options available.
If you live in the United States, consider searching for nearby state parks or national forests. Many offer camping opportunities yearly and may have cabins or other facilities. Additionally, private campgrounds may be open all year round in some areas and can provide a more comfortable camping experience.
You can also search online for camping resources specific to your area. Websites like CampgroundReviews.com provide reviews of nearby campgrounds and can help you find the best option for your needs. With a bit of research, you should be able to find an all-year-round campground that meets your needs and allows you to enjoy the outdoors no matter what season it is!
Where can I find RV parks that are open year round near me?
The best way to find RV parks that are open year round near you is to use an online search tool. A variety of websites offer comprehensive listings of RV parks in your area, including their availability and amenities. You can also check with local tourism organizations or state park offices for more information on the RV parks in your area.
For specific research, such as an RV park offering certain amenities or pet-friendly, narrowing your search using keywords may be helpful. Many websites offer advanced search filters that allow you to specify exactly what type of park you're looking for.
Read reviews from other travelers who have stayed at the RV parks you're considering. This will give you a better idea of what to expect when you arrive and help ensure that the park meets your needs and expectations.
Where can I find campgrounds that are open all year round near me?
The best way to find campgrounds open all year round near you is to search online. Several websites list campgrounds by location and whether or not they are open year-round.
For example, camping.com has an extensive list of campgrounds with filters for amenities, activities, and seasonal availability. You can also use the US Forest Service website to search for campgrounds.
Another option is to contact local state parks or national forests directly. Many of these have campgrounds that stay open throughout the year, although it's important to check ahead of time as some may close during certain seasons due to weather conditions or other factors.
You can also ask your local community for recommendations on nearby campgrounds that stay open all year. People who love camping often know the best spots and can provide helpful advice on where to go and what to expect when you get there.
Where can I find RV parks that are open near me year round?
Finding RV parks that are open year round can be a challenge depending on your location. The best place to start is searching online for "RV Parks near me" or "year-round RV Parks near me."
You can also use the website of the National Association of RV Parks and Campgrounds (ARVC) to search for campgrounds in your area that offer year-round services.
You may want to contact local RV dealerships or state tourism offices, as they can provide more specific information about local campgrounds and their availability. Also, don't forget to check online reviews from other travelers who have visited the campground before you make your decision.
Conclusion
Year-round camping can either mean chasing sunshine or avoiding crowds by pulling into sought-after campgrounds in the off-season.
Whichever approach you take to your next camping trip, we hope this collection of 15 year-round campgrounds and places you can find even more will prove helpful!