The Dicor 501LSW Lap Sealant is a top-rated RV roof sealant for long-lasting protection and leak prevention due to its self-leveling formula that guarantees a tight seal on horizontal surfaces. Many RVers praise its easy application, weather resistance, and durability. 
Numerous crucial things get compromised when you have a leaky RV roof, including your comfort due to rotting and damage, safety due to possible cross wires that risk fire hazards, and your wallet since you'll need to spend more on repairs. With these in mind, you need a leak-prevention sealant that can withstand time.
Ever since I fixed the leak in the nose cap area of my 2018 Winnebago Minnie Winnie 31K, I have helped a lot of motorhome owners on RV online communities pick suitable sealants for their vehicle roofs. In my experience, one of the biggest challenges RVers face in choosing roof sealants is selecting one that can guarantee longer-term waterproofing.
There are many things to consider – your roof material, compatibility with the type of sealant you want, mode of application, and even budget. It's not always easy to pick the perfect product, so I've done the research and testing for you. You're welcome.
In this article, I ranked the best RV roof sealants ideal for long-lasting protection. You can use them to fix cracks or areas on the RV roof where you have antennas, TV satellites, A/C units, air vents, and similar accessories.
Here's a rundown on the sealants I'll review in this article:
| | |
| --- | --- |
| Top Sealants | Verdict Summary |
| Dicor 501LSW-1 Lap Sealant | Self-labeling tube for lateral sealing. Cost-friendly |
| RV Roof Magic | An impressive dry time and efficient coating as a Liquid Butyl Rubber. |
| Liquid Rubber RV Roof Coating | It runs fluidly enough for more minor leaks and cracks; offers a variety of application options. |
| EternaBond RoofSeal MicroSealant Repair Tape | Perfect for preventing leaks around accessories on the RV roof. |
| RV Flex Armour | High-end, permanent complete RV roof sealant |
How I Picked These RV Roof Sealants
When testing and ranking RV roof sealants for this guide, I prioritized these five crucial areas:
UV resistance: No matter the budget you have in mind, you need a sealant that can offer long-term durability. To achieve this, I filtered my search by products that contain materials that do not degrade from sun exposure.
Excellent water prevention capabilities: I only handpicked products with a reputation for safeguarding against leaks and potential damage.
Tough but flexible seal: During testing, I looked for models with tough seals yet flexible enough not to break when you drive over bumpy roads.
Easy application: Not all sealants are easy to apply. Some even require the intervention of a professional if you're a new RV owner. But I have included models that save time and effort during application.
Not too expensive: Even if you have enough to splurge on sealants, you need a product worth its value. I've ensured these ranked sealants satisfy RVers on a budget and otherwise. For context, the options in this guide are within the price range of $20 to $200, depending on the quantity required and the application area.
Now let's dive into the full review.
1. Dicor 501LSW-1 Lap Sealant

Price: $21
For good reason, Dicor 501LSW-1 Lap Sealant is a popular name in RV communities. It creates a secure, secondary seal along the RV roof's edges, air vents, vent pipes, and screw heads.
The remarkable thing about this 10.3 oz (290 grams) white sealant is its self-labeling, which means you can use it for lateral sealing, such as that on your RV roof. Beware to avoid picking the non-leveling version, which Dicor produces specifically for vertical sealing, such as points where the sides of your RV meet the end cap.  
According to Dicor, the 501LSW-1 Lap seals on most RV roof types, including aluminum, wood, vinyl, galvanized metal, fiberglass, and concrete. 
Also, remember to seal the Dicor tip after use. If the sealant remains after the first usage, use a screw or wooden dowel that fits snugly into the tip hole to keep air out and prevent it from drying up.
If you want the best sealant for RV roof seams, consider the Dicor 501LSW-1 Lap Sealant. 
What I like about this sealant
Strong reputation in RV communities for leak prevention
Affordable
Two years of shelf life
Versatile usage for most RV roof materials (Compatible with EPDM and TPO sheeting)
What I don't like about this sealant
I couldn't pinpoint any downside to using the Dicor 501LSW-1 Lap Sealant. So far, it has been nothing short of excellent for preventing leaks. 
We earn a commission if you make a purchase, at no additional cost to you.
2. RV Roof Magic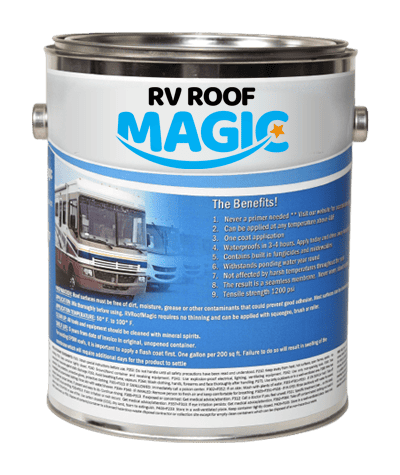 Price: $94 for one gallon.
Roofing can be expensive because of the labor element. The DIY application is a perk that's hard to ignore with the RVRoofMagic sealant. If you've got basic handy skills and are on a budget, the RVRoofMagic sealant is worth considering for re-coating your RV roof.
RVRoofMagic has a tensile strength of 1200 PSI, which is above the average for regular RV roof sealants, and it also prevents UV degradation and premature roof failure.
When I tested the RVRoofMagic, I had no leaks on my RV. But it was an opportunity to try something different from Liquid roof material with the primary objective of increasing protection since I spend most time "dry camping" in state parks that expose the vehicle's roof to trees and foliage branches.
The dry time was impressive. The daytime temperature was above 50 degrees F, and it took about 3 hours to dry. According to the manufacturer, the lower the temperature, the longer it will take to dry.
RvRoofMagic stands out in the area of thicker consistency than other coatings. It results in a 20-mil film thickness, while most other coatings may require 2 or 3 coats to achieve the same thickness.
You can apply it directly over non-silicone products such as Dicor, Kool Seal, and Elastomeric. It also works on alpha rubber roofs made by Fleetwood RVs from fiberglass, butyl rubber, hypalon rubber, and metal.
However, using this sealant on PVC roofs or silicone coatings is not ideal, as it may cause tackiness. The shelf life is three years, with the lid adequately sealed. I've not had enough time to see how true this is, but testimonies from review platforms are convincing.
One gallon of this RVRoofMagic sealant will cover 50 square feet. So if you need to cover an area of around 200 square feet, then it's more profitable to buy the 4-gallon pail option ($324).
What I like about this sealant
Versatile for numerous roof types
Ten years warranty
It doesn't require multiple coats 
Fast dry time
It comes with an activator already in the product
What I don't like about this sealant
You must seal around your AC and vents first with an excellent non-silicone caulk before applying the RVRoofMagic.
3. Liquid Rubber RV Roof Coating
Price: $90 for a gallon.
The fantastic thing about this Liquid Rubber RV Roof Coating is that you can either brush, roll or spray the sealant onto your roof. This presents a straightforward variety of applications. And it's solar reflective and UV resistant.
Liquid Rubber RV Roof Coating is a water-based rubber roof coating without solvents or harmful odors. The coating works best on any RV with rubber roofing material. So if you have an EPDM, this is the sealant for you.
According to the manufacturer, you get optimal results with a minimum thickness of one gallon per 50 square feet.
My 2018 Winnebago Minnie Winnie 31K is approximately 32 feet in length. So I used a five-gallon pail for the entire roof. If you plan to coat the whole roof, expect to use about two or three heavy coats.
What I like about this sealant
It's runny and liquid, allowing it to flow into smaller gaps and leaks on the roof.
Superior coating.
Many users testify how it stands in extreme weather conditions. 
What I don't like about this sealant
Purchasing five one-gallon for thick consistency is expensive.
Requires several applications.
We earn a commission if you make a purchase, at no additional cost to you.
4. EternaBond RoofSeal MicroSealant Repair Tape
Price: $60
With 35 miles of total thickness, this waterproof and airtight sealant ranks Amazon's number one best-selling RV sealant.
It creates a moisture barrier with its four-mil aluminum backing for heavy-duty applications. It holds all roof coatings, sealers, or paint while providing fabric backing.
This particular tape is 4 inches wide by 50 feet long, but there are three sizes to choose from 2″ x 50′ long, 4″ x 50′ long, and 6 inches wide by 50 feet long. It's represented on the package as 2-50, 4-50, and 6-50, respectively.
If you're looking for an easy-to-apply sealant on your RV roof, this is a perfect product when attaching flexible solar panels or accessories to your roof. It prevents leaks and is long-lasting.
The tricky part of using this sealant is its application, which many RVers discuss on review platforms. You'll need a razor knife to cut the tape and wash the blade with acetone if it gets gunked. You then use your fingers to press down to ensure surface adherence (not the roller).
Look at how an auto-maintenance expert DIY Mechanic explained the application process of EternaBond RoofSeal Tape in the YouTube video below:
With a 15-year limited warranty, you can use the tape on TPO, EPDM, aluminum, steel, fiberglass, and wood RV roof materials. It is available in white, grey, tan, and black.
What I like about this sealant
Stands the test of time
Less complex application
Affordable for its value
What I don't like about this sealant
The application requires great attention. You won't be able to remove it and re-position it if placed wrongly.
5. RV Flex Armour
Price: $165 per linear foot with a minimum per job of $3,950.
Unlike other options reviewed earlier, the RV Flex Armour coating option is a spray-on roof installation service. So instead of getting the product and applying it yourself, you should expect a team of experts to handle the entire process. You must drive your RV to the nearest location, where you'll find RV Flex Armor installers.
This is the best solution if you're looking for a one-stop, lifetime roof sealant for your RV roof and your budget allows.
FlexArmor can only be applied on location at an RVRoof.com installer. It's a 3/16-inch thick coating that covers the entire RV roof, and wraps around your roof edges, rear and front nose. 
The RV roof coating company offers a lifetime warranty – for the life of your RV. And once sprayed, the sealant eliminates EPDM or TPO windshield streaks.
It's also an excellent value-for-money sealant as RV Flex Armor guarantees one treatment to last an entire year, thanks to its advanced UV inhibitors and 3,500 psi tear strength.
The best part? Flex Armor has a fast cure time. The product has a six-second gel time. FlexAmor has created a handy tool to find your nearest locations to get your RV attended to. 
But before investing in this option, remember that it's not a one-and-done sealing solution without maintenance. This is the perception many RVers have with RV Flex Armor.
California RV specialist, Dustin Simpson, explains this issue in detail in the YouTube video below:
What I like about this sealant
It takes away the hassle of self-application as experts handle the installation.
Offers a lifetime warranty, or as long as the RV lives.
The 3/16-inch thick coating covers the entire RV roof.
No more caulk.
What I don't like about this sealant
It's expensive.
The sealing process can only be done by an RVRoof.com installer in designated locations.
While it's a long-lasting sealing, adding roof components after application may not be feasible.
How Do I Choose The Best RV Roof Sealant For My Specific Needs?
No matter how perfect a sealant product may seem, it can never satisfy everyone because roof material and preference on sealant type vary. Here are some key considerations to help you decide which product is ideal for your situation:
Roof Material
Determine the material used to make your RV roof. Some RV roofs are rubber (EPDM), while others are fiberglass, aluminum, or TPO. Different sealants adhere and work best with specific roof materials.
Sealant Type
RV roof sealants come in various forms, including liquid coatings, tapes, and caulk-like compounds. Liquid coatings generally provide a more seamless and long-lasting seal, while tapes are convenient for quick repairs. So your choice will be based on your needs.
Application Method
Some sealants require special tools or expertise, while others are for DIY applications. Choose one that matches your skill level and comfort. Fortunately, all the options reviewed in this guide are easy to apply and will not necessarily require the service of an RV technician except the RV Flex Armor.
4Ease of Maintenance
Some products may need periodic reapplication, while others provide a more maintenance-free solution. If you can't accommodate the time and energy to perform regular roof maintenance tasks, it's best to stick with options that provide maintenance-free solutions.
Your Budget
The average cost of a reliable RV roof sealant starts from as low as $20 per tube and goes up to $500 per pail gallon, depending on the quantity and the square feet area you need to cover. You can compare different sealants within your budget range. But I recommend prioritizing quality and performance over cost alone. Low-quality sealants may result in costly repairs.
If you're unsure which sealant to choose, consult a professional RV technician or a trusted dealer. They can provide expert advice based on your specific RV and requirements.
Parting Thoughts
RV roof sealants come with different unique selling points. Some are excellent for UV resistance and provide tough, flexible seals that don't break when driving over bumpy roads. In contrast, others are remarkable only for preventing water from seeping through.
The idea is to get an all-rounder product that gets the job done in all areas. The sealants reviewed in the above article meet this expectation. However, it doesn't end with buying a long-lasting RV roof sealant. You also want to get the application process right.
Before applying these products, carefully inspect the roof surface, ensuring it is free from debris, dirt, and sealant remnants. Also, follow the manufacturer's instructions for application, cure time, and specific precautions.
If you need extra guidance, you can check out my recent article explaining the step-by-step process of how sealants are used on RV roofs. 
FAQs
What are the top-rated RV roof sealants available in the market?
Dicor 501LSW-1 Self-Leveling Lap Sealant and EternaBond RSW-4-50 RoofSeal Sealant Tape are top-rated products leading in the RV roof sealants market. Both products, along with a few competitors from brands like Proguard, Alpha Systems, and Geocel, get praised by many RV owners for their effectiveness in preventing leaks and protecting the roof.
What are the key features when selecting the best RV roof sealant?
When selecting the best RV roof sealant, focus on options that guarantee long-lasting durability and weather resistance. You also need a sealant with UV protection to prevent damage from the sun.
Other key features to remember are flexibility to accommodate RV movement and temperature changes and compatibility with the RV roof material for proper adhesion.
Are there any customer reviews or testimonials for the best RV roof sealants?
Customer reviews and testimonials can help you decide when buying an RV roof sealant. You can find reviews on these top-rated RV roof sealants on popular E-commerce platforms such as Amazon, where users share their experiences. You can also leverage RV forums such as RV Forum Community and iRV2.