Waste management isn't the most exhilarating part of owning an RV. But without one of the best RV toilet selections, things can get ugly really quickly. Aside from managing your waste, selecting a good toilet for your camper also has a lot to do with your comfort.
RV restrooms are much, much smaller than the restroom in your house. For larger individuals, this can make it difficult to find a comfortable position to do your business.
That's why it's so important to know how to select the right type of and style and type of toilet for your specific RV bathroom.
Beyond considering your personal comfort, there are many other factors to consider when choosing one from various types of RV toilets, including ease of installation, flush mechanism, and much more.
Fortunately, we'll cover everything you need to know about choosing an RV toilet in our Buying Guide. And we'll also offer six excellent selections for the best RV and camping toilets.
The 6 Best RV Toilet Reviews in 2023
Not many people make a preoccupation out of changing RV toilets. But by chance or by bad luck, I've had to do it more than half a dozen times in my travels.
So I've got a pretty good idea of what separates a good toilet from one that's not much better quality than what you put in it.
So let's get started with the best RV toilets! Here is our detailed review of the 6 best RV toilets on the market.
1. Best Overall: Dometic 320 Series Standard Height Elongated RV Toilet
Dometic is one of the most trusted brands in all RV appliances and their involvement in the creation of the 320 Series elongated rv toilet is a big reason why it's our choice for the best overall RV toilet.
We also like it because it features a simple design and comes with a hand sprayer for easier bowl cleaning.
The standard height of this elongated rv toilet is 19.75 inches and it has a width measurement of 14.75 inches. It's also 22 inches deep and weighs a total of 37 pounds.
The 320 Series features a 100% vitreous ceramic bowl with a full-sized residential wooden seat.
This wooden seat means your toilet won't be quite so cold first thing in the morning during the winter months.
This is one of the more efficient gravity flush toilets on the market today. It only uses one pint of water per flush so it's a good choice if you spend a few days at a time between water fills.
This gravity flush toilet also features an elevated rim design that helps you keep water from spilling out of the bowl if you happen to leave too much in there while driving.
On the right side of the toilet stand, you'll find an ergonomic foot pedal with a 2-in-1 operation.
This pedal allows you to depress partially to fill the bowl and then depress fully to evacuate the contents of the bowl.
The design also features an elongated seat, which I've always personally liked because it makes it easier to wipe without having to slide precariously forward or stand up entirely.
Things We Like
Things We Don't Like
2. Portable Camping Toilet: Alpcour Portable Toilet For Camping And RVing
If you're looking for an RV toilet that can be used indoors or outdoors, the Alpcour Portable camping toilet is the best choice because it doesn't need to be permanently mounted to be useful.
This is also an excellent toilet choice for camper vans or cab-over campers that might not have an onboard toilet installation.
The waste tank on this portable toilet has a capacity of 5.3 gallons so that you don't have to empty it every other time you go.
But it's also equipped with a 3.2-gallon freshwater tank that supplies the built-in flusher and hand sprayer with water and is enough for up to 50 flushes on a single tank.
This means you don't have to hook it up to an external water hose and you'll be able to keep the bowl clean without needing any additional cleaning tools.
This toilet is 16.3 inches deep, 14.4 inches wide, and 16.5 inches tall. It weighs about 11 pounds.
These dimensions, weight, and the fact it comes with a storage kit makes it easy to pack up and transport until you need to set it up again.
This is why it's a great selection for small rigs and others that might not have space for a permanent toilet inside.
A couple of other things I really liked about the design of this toilet is that it features a rotating empty valve on the back that makes it easy to pour waste out without getting anywhere too close to the valve itself.
And it also has a waste level indicator on the side so that you don't have to guess when exactly it's time to empty it.
Things We Like
Things We Don't Like
3. Best RV Composting Toilet: Nature's Head Self Contained Composting Toilet
For those that have the budget to do it and the desire to minimize their environmental impact, the Nature's Head Self Contained Composting Toilet is an excellent choice.
It's the only toilet on our list that will separate your liquid and solid waste and then convert the latter into humus that can then be added back to the soil.
This is also the best toilet selection for full-time RVers that live on an organic farm or otherwise sustainable property.
While you'll need to be mindful of what you're eating, proper use of this toilet can result in human waste being converted into a nutrient-rich fertilizer that can be emptied and used elsewhere on the property.
On a personal note, I really like that this composting toilet has an elongated seat for more comfort.
It should go without saying (but I'm going to say it anyway) that sometimes we just need to spend more time on the toilet than even we expected.
So the elongated seat will make things more comfortable and also makes it easier to wipe when you're finished.
This RV composting toilet is completely self-contained so you won't have to attach it to your existing RV septic system.
It weighs just 28 pounds when empty and the holding tank easily disassembles when it's time to empty the contents.
It's also great for tiny home applications and boasts entirely stainless steel hardware that makes it tough enough to handle harsh conditions.
Things We Like
Things We Don't Like
4. Best High Profile Toilet: Thetford 31671 Aqua-Magic Pedal Flush RV Toilet
If you're a taller individual that always finds using an RV bathroom to be a little restrictive, you'll want to look into an option like the Thetford 31671 Aqua-Magic V.
This is a high profile toilet with a total height of 18.5 inches. This toilet is also 17.8 inches deep, 15.1 inches wide, and weighs just under 10 pounds.
One interesting thing that has always bugged me about RV toilets is that their lids seem to get scratched or scuffed super easily.
Whether it's from constant contact with a nearby drawer or dropping the tube of toothpaste on it every other week, eventually they just seem to have all of these little marks on them that are honestly a bit of an eyesore.
This is why I appreciate that Thetford outfitted this toilet with a textured, scuff-resistant lid.
It makes me feel more proud of the toilet I'm about to sit upon when I'm in my RV instead of wishing I was on the porcelain throne back at home.
They've also improved the flush system in this model for more complete bowl coverage, which means it better cleans out waste after each use.
The only thing I could knock this toilet on is the lack of a hand sprayer. While you can purchase and install one separately, that will require more plumbing work and installation time.
That being said, the manufacturer intentionally designed this toilet to make you feel more at home when you sit on it, which can go a long way in helping everything come out alright.
Things We Like
Things We Don't Like
5. Best For Easy Installation: Thetford 31100 Aqua-Magic Bravura RV Toilet
If you want to minimize hassle and headache while installing a new RV toilet, the Thetford 31100 Bravura Toilet is designed for just that.
I actually personally installed one of these toilets in my RV recently and it required less than an hour in total.
It's made to fit any type of floor flange also, which means you won't need to make a separate purchase in that department to complete installation.
It also comes with a removable seat and cover pod that makes it super easy to clean and service the entire toilet surface.
This is different from many other RV toilets that end up having hard-to-reach areas where dirt and other scum builds up and is nearly impossible to remove.
I also really like the removable shroud on the bottom section of this toilet. This hides the nut-and-bolt combos that secure the toilet and make the entire design look super clean.
This is a high profile toilet that's best for taller individuals. It has a height of 17.875 inches and a width of 16.56 inches.
The toilet is also 20.18 inches deep and it weighs 19.34 pounds. Thetford changed their foot-pedal flushing mechanism to involve a pulsating flush with this model.
This pulsing helps to provide a more complete rinse of the bowl during every flush.
The new, pulsating flush design partly eliminates the need for one, but the only thing that I'd like to see with this toilet is a pre-installed hand sprayer.
You can certainly purchase one separately and install it on your own, but this will typically involve more time and can also result in leaks if all fittings aren't tightened properly.
You might not feel the same need for a hand sprayer as I do. But as someone who has had to clean a toilet without one by hand on several occasions, I can say it's really nice to have a sprayer that helps you remove those pesky waste particles without the need for additional cleaning instruments.
Things We Like
Things We Don't Like
6. Best Low Profile Toilet: Aqua-Magic V 31647 Hand Flush RV Toilet
When you're on a tighter budget and searching for a low profile toilet, don't skip over the Thetford 31647 Aqua-Magic V. This toilet is ideal for shorter individuals that don't want their legs dangling like could be the case with a high profile toilet.
This can also be a useful choice if platform on which you'll be installing your toilet is already significantly elevated.
The height of this toilet is only 12.94 inches and it weighs only 8.5 pounds. It's also 17.8 inches deep and 15.1 inches wide.
It includes a hand-lever flushing mechanism that makes it easier to fill and empty the bowl while you're sitting on the toilet.
This handle is located just behind your left hip when you're seated on the toilet.
The handle pulls halfway forward to fill the bowl and all the way to empty the contents.
While it's convenient and easier for some folks to use while seated than the pedal flushing mechanism, these hand-levers do have an unfortunate history of breaking if not used carefully.
So just make sure you're gentle with it if you choose this toilet.
Personally, I could really get into the low profile of this toilet because it allows you to bring your knees up for a more ergonomic bathroom position (see Squatty Potty!).
But I'm an averaged-height male, so I could certainly see how taller individuals would be uncomfortable bending their knees so far to sit on a toilet seat that's nearly six inches shorter than other high profile models.
Although this toilet doesn't come with a hand sprayer pre-installed, the location of the water dispenser when flushing provides more full bowl coverage than with previous models.
This means fewer waste particles left over after flushing and, if you desire, you can always purchase the compatible Thetford hand sprayer separately and install it yourself.
Things We Like
Things We Don't Like
Things To Consider When Choosing The Best RV Toilet
As you can see, RV toilets are not created equal. There's high profile, low profile, with hand sprayers, without hand sprayers, and many other variations.
So let's dive deeper into the technical specs and features of these toilets so you can make a better choice for your RV and your bottom!
The Different Types of Toilets for Your RV
Surprisingly, there are actually quite a few different types of RV toilets. So let's take some time to understand each before we move on.
1: Macerating Flush Toilet for RV
These type of RV toilets come with motor-powered blades that macerate (break up) waste into smaller particles before it settles into your RV's black water tank.
2: Gravity Flush RV Toilet
This is the most common type of RV toilet and, as its name suggests, it uses gravity to pull waste down into your black water tank.
This is essentially the same operation used in toilets in most residential homes and it's a very simple design that makes troubleshooting easier.
3: Vacuum Flush Toilet
This type of RV toilet is similar to a macerating toilet in that it breaks down waste into smaller particles.
But it does so by using a vacuum pump to liquefy waste matter before forcing it down into your black water tank.
4: Portable RV and Camping Toilet
Portable camping toilets are often used in smaller camper vans or cab-over campers because their collection containers are small and light enough to be dumped into a residential toilet or public restroom when full.
These toilets usually contain two parts that hook together. The lower part is the waste catchment container and the upper part resembles the porcelain throne that you use at home.
The parts can be separated easily so that the bottom container can be emptied as needed.
5: RV Cassette or Cartridge Toilet
While this is a more common toilet type for European RVers, it's starting to gain steam elsewhere as well.
This type of toilet is permanently connected to your RV (like a gravity flush toilet) but it contains a cassette holding tank (like a portable toilet) that needs to be emptied when full.
The holding tanks on these toilets tend to be quite small, however. Their average capacity is about five gallons, which means you'll need to dump them frequently into a public restroom or residential toilet.
While this means a little more work, it also means less waste being stored in (and potentially smelling up) your RV.
6: Composting Toilet For rV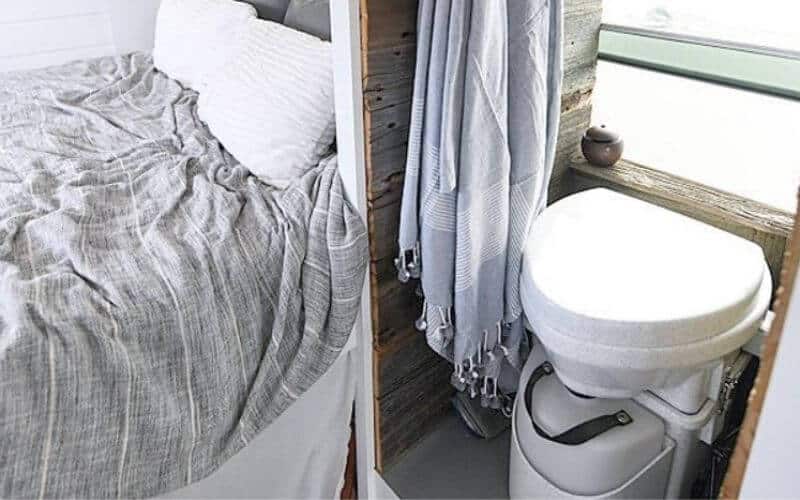 RV composting toilets are the design of choice for more eco-friendly and off-the-grid RVers.
Because of their design, the smell isn't a problem with these toilets as long as they are used (and functioning) properly. This is an issue that many RVers worry about too much.
These toilets don't use water to flush contents down into a holding tank. This saves you a vital resource that can be scarce if you're remote camping.
As the composting process works, liquids and solids are separated and the latter is converted into humus that can be deposited into the soil.
This also makes composting toilets a great solution for RVs that are permanently parked on a farm or sustainable property.
While you'll need to be more mindful of what you're eating, they represent a great way to complete the natural cycle and put the healthy elements of human waste back into the earth.
Space Available
The amount of space you have to install your toilet is an important consideration. When replacing an RV toilet, many folks make the mistake of not measuring the dimensions of their old toilet.
I've completed a complete toilet replacement only to figure out that the new model is bigger than the old and the drawer with all of my dental hygiene products can no longer open.
In general, the length and width of the toilet are going to be the most important dimensions to consider when matching a new toilet to the amount of space available in your bathroom.
During this process, you should also consider whether you need space to pull a lever on the side of your toilet or to reach behind to finish the installation process.
RV toilets can be tough to work around because they're typically installed in very tight spaces.
While we'll get into the installation process in more depth a little later, it's good to note that you should always allow for about 4-6 inches on all sides of your new RV toilet so you can perform maintenance and make the installation process easier.
Toilet Profile
There are two main profiles of RV toilets: high profile and low profile. As you'd probably imagine, high profile toilets are taller than low profile toilets.
And, so far at least, we haven't seen anyone come up with a proper Squatty-Potty accessory for RV toilets (there's your million-dollar idea for the week. You're welcome!).
The ideal profile choice for you largely boils down to a matter of personal preference.
But because RV bathrooms tend to be a little tight to begin with, taller individuals might enjoy a high profile toilet while shorter folks will probably prefer a low profile toilet so that your feet aren't dangling while you're sitting there.
Keep in mind that most RV toilets are mounted on platforms that are already elevated above the main floor of your rig.
Make sure you take this extra elevation (or lack thereof) into account when selecting the right profile style for your new RV toilet.
Flushing Mechanism
Most RV toilets either have a hand-lever or a foot-pedal flushing mechanism. Both usually feature a 2-in-1 function that allows you to fill the bowl and then dispose of its contents.
Of course, things work a little differently if you purchase a composting toilet or portable toilet, but we'll discuss that in a moment.
The main advantage of a hand-lever mechanism is that you can reach it easily (usually located at your right or left hip when you're seated on the toilet) to fill the bowl or pre-flush before wiping.
The downside is that these mechanisms can be a little more brittle and prone to breaking if not used carefully.
Foot-pedal flushing mechanisms tend to be a bit more durable and they also don't require you to bend down to access the hand lever if you're pre-filling the bowl before doing your business (which is ALWAYS recommended!).
These mechanisms may be a little bit harder to use when you're sitting on the toilet, however, as they tend to require slightly more force to depress.
Most composting and portable toilets also come with some form of built-in flushing mechanism or hand sprayer so that you can easily clean the bowl.
If they don't, this is usually a red flag because it means you'll need to purchase additional cleaning tools.
Ultimately, the choice of which flushing mechanism suits you is, again, a matter of personal preference.
Ease of Installation
You'll also need to consider the installation process for the toilet you're interested in adding to your RV.
Gravity flush toilets, which are the most common, sit on top of a flange and secure in place using two nut-and-bolt combinations on either side of the toilet.
They also require a rubber gasket or seal around the base of the toilet to prevent leaks.
What can sometimes be more difficult about installing an RV toilet is hooking them up to the incoming water source.
You'll need to have the proper pipe fittings (and sometimes plumber's tape) and adapters to connect the water hose to the back of the toilet.
And then comes the fun part of turning the water pump on to see if anything leaks.
I always recommend having a towel (or two) in place before testing whether you have a secure connection.
But before you unhook your old RV toilet, make sure to pay attention to the fittings and how everything is hooked up.
This will help you prepare for the installation process and understand if you'll require more plumbing supplies than you already have on hand.
Furthermore, I always recommend covering the opening to your waste tank once you've removed your old toilet.
I've made the mistake of not doing so before and lost important hardware down the drain, which caused a significant delay in my toilet installation process.
If you opt for a composting or portable RV toilet, you might have a slightly less time-consuming installation process.
Because these types of toilets are self-contained, you won't need to worry about hooking them up to an external water source, which will save you significant time and energy.
If you intend to only set up a portable toilet when you need it, you also won't have to worry about permanently mounting these toilets to your RV floor.
But if you do want a more permanent installation, you'll have to figure out how to secure them down without compromising the integrity of the holding tanks at their base.
Durability
Speaking from personal frustration, replacing your RV toilet is NOT something you want to do very frequently.
It's not overly complicated, but it can be stinky, messy, and just an overall pain-in-the-butt (pun fully intended here!).
So you'll need to look for a toilet that features a durable design and will last for years after installing it.
Most of the best RV toilet designs utilize hard plastic in their construction. This material is durable but also able to flex slightly along with the bumps and twists of your RV. It is also relatively easy to clean and less likely to rust or corrode over time.
They also make porcelain toilets for RV use, but I've never had a great experience with them and I worry about porcelain's ability to hold up when you're bumping down the road in an RV.
So, Which Is Toiet is Best For Your RV?
The Dometic 320 Series toilet is our clear choice for the best overall RV toilet because it's compatible with most modern RVs and it boasts a durable ceramic construction that's going to last for years to come.
We also like that it comes with a hand sprayer to make cleaning the bowl much easier without having to buy a bunch of extra cleaning instruments.
But if you're looking for an environmentally-friendly runner up and you don't mind spending a bit more, the Nature's Head Self Contained Composting Toilet is a great choice for off-grid RV living.
It doesn't require a bunch of excess water to flush your waste and it will actually convert solid waste into humus that can be added back into your soil.
If you're mindful of what you eat and want to create a natural fertilizer for a garden or other purpose, this is also Mother Nature's favorite RV toilet!
Frequently Asked Questions
Are you still feeling like we haven't quite "filled the bowl"? All terrible toilet puns aside, let's take some time before we wrap up to answer the most frequently asked questions about RV toilets and their operation.
Can you put a residential toilet in an RV?
The short answer is that it's not something we'd ever recommend. For one, residential toilets are often too large and heavy for safe installation in an RV.
They're only held in place by two relatively small bolts that wouldn't be enough to keep a heavier porcelain-bottom toilet from moving as your RV bounces and sways down the road.
This means a residential toilet will crack quickly if installed on a standard RV flange.
A residential toilet would also need a permanent sewer hookup, which would mean that your RV has to remain permanently parked in one location if you were to install a residential toilet.
How do these RV toilets work?
These RV toilets all work slightly differently depending on their design. Most of the toilets we've reviewed, however, are gravity flush toilets, which means they rely on gravity (with a little help from flowing water) to evacuate their contents.
The composting and portable toilets we've included work a little differently.
Composting toilets separate your waste and create humus that can be added back to the earth.
Portable toilets need to be emptied regularly into a public restroom or residential toilet.
For a more thorough breakdown of how these toilets work, check out our full Toilet Types section in the Buying Guide.
What are some good RV toilet brands?
Dometic and Thetford are easily the most recognized brands in gravity flush RV toilets. But when it comes to composting toilets, Nature's Head is always a reliable brand choice.
What are the benefits of a composting toilet?
For starters, composting toilets don't require water to flush the contents into the holding tank.
This saves on your water consumption but also your electrical consumption because you won't need to run a water pump in order to push water up and into your toilet bowl.
They also offer the added benefit of being more environmentally friendly than any other RV toilet option.
Not only will they reduce your water consumption, but they also break down your solid waste into humus that can be added back into the soil on your property.
Do I need to use a specific type of toilet paper in my RV toilet?
The short answer is yes. Most RV toilets septic systems are more likely to clog if you use double-ply. So manufacturers will recommend single-ply toilet paper for use with an RV toilet.
But from personal experience, I've had toilets clog when using single-ply as well. Because of this, I've instituted a "no-TP-down-the-toilet" rule in my RV.
Instead, we put a small waste basket under the sink for disposing of our toilet paper.
It might sound smelly but a small candle or incense will do the trick in this department and you'll be able to use the double-ply that you've come to love at home without worrying about clogging your RV toilet or septic system.
How do I fix a clogged toilet?
I know how it's going to feel at first. A clogged RV toilet often feels like the world is crumbling around you, especially if your RV mates are pressuring you to get things fixed ASAP so they can use the toilet again.
But fixing a clog is usually not overly complicated. The most common culprit for a clogged toilet is toilet paper, but baby wipes and other feminine hygiene products that shouldn't be flushed down an RV toilet can also cause problems.
Trust me, you're always better to give new RV-goers a 'bathroom lesson' before they wind up clogging your system.
But if you do discover a clog, the easiest first step is to boil water and pour it down the opening at the bottom.
Make sure your black water tank is closed before doing so. This allows the hot water to enter the tank and break up whatever is causing the clog.
If that doesn't work, there are a number of chemical solutions you can use to break up RV toilet clogs.
Visiting a nearby RV or camping store will likely turn up a great selection of these products. Just make sure whichever you choose is specifically designed for RV use.
Conclusion
As I mentioned earlier, I've somehow been so unlucky as to have to change an RV toilet more than half a dozen times in my life.
And while some of these were factory defects or the results of improper use, it's always led me to have to get my hands dirty and learn the inner workings of RV toilets.
They aren't overly-complicated mechanisms, but a failure in part of the system can result in a lot more water on the floor of your RV than you ever want.
So, for my money, it's always stress-relieving to know your toilet is working for you rather than against you.
I hope you've enjoyed these reviews and I wish you the best of luck choosing the best RV toilet for you!