For some people, the draw of the RV lifestyle is strong, to the point that they prefer to live year-round in their motorhome, travel trailer, or fifth-wheel camper.
This is more likely for retirees who want to shuffle off the shackles of mortgage payments, yard work, and homeowner's association meetings.
Though there are also some tradesmen and construction workers with job sites on long-term projects away from home.
If any of these scenarios sound like you, then you might be wondering if you can live in an RV park year-round?
Right off the bat, you have to consider that in most parts of the United States and Canada, RV parks simply aren't open year-round. Even if they did have services and shore power available 365 days a year, there are some parks and state laws that prohibit parking an RV in one place 12-months of the year.
Though this doesn't mean that you have to abandon the idea of staying in one or more RV parks year-round.
With some ingenuity and a little research, it might be entirely possible for you to live out of your RV 365 days of the year.
There are some RV parks that offer long-term rental sites at a discounted rate. For a larger RV they will often allow you to keep it in place over the winter.
While they might not offer water hookups during the freezing temperatures of winter, they may allow electric shore power to people who want to use their RV through all four seasons.
There are also some RV parks in the sunbelt states where the weather never gets cold enough to freeze out RV travelers. They're particularly popular with snowbird retirees.
For the wayward traveler, there are also some RV parks near popular attractions that are open year-round.
They are a great option for year-round tourists and those who enjoy the tramping lifestyle.
The following tips can help you come up with just the right strategy for year-round living in your RV.
How Many Months of the Year Are RV Parks Typically Open?
In Canada and many parts of the northern United States most RV parks are only open from the middle of spring to early autumn.
This is their peak time of year and the income from renting out RV sites and campsites helps pay for routine maintenance as well as employee's salaries.
Once they close down for the year, there might be minimal staff on hand. These RV parks are less likely to offer year-round rentals.
In the southern United States, and around some popular natural attractions, an RV park might stay open year-round.
Depending on who is operating it, they might even offer discounted RV sites during the slow months in winter.
Keeping Your RV In The Sunbelt
The sunbelt states in the southern United States tend to stay warm enough during all four seasons to let you live in your RV year-round.
Though there are still a fair number of RV parks that do close during the depths of winter. Especially those at elevation in states like Arizona and New Mexico.
So, you shouldn't just assume that an RV park is in a warm-weather state that it will be open year-round.
Warm Weather States Where RV Parks Might Be Open Year-Round
Florida
Georgia
South Carolina
Alabama
Mississippi
Louisiana
Texas
New Mexico
Arizona
Southern California
Southern Nevada
Of course, these aren't the only states and areas that might have RV parks that are open year-round.
There are even some national parks and winter attractions that allow you to boondock during the winter.
Just bear in mind that you'll need to make sure your own fresh and wastewater systems are properly insulated.
Popular Areas & RV Parks That Are Open Year-Round
There are some popular natural attractions that draw a constant stream of visitors all year round. To accommodate RV travelers, they offer full and partial service campsites.
Though they might shut down water service if a cold snap strikes the area. This makes the following areas a great option for year-round RV living.
1. Utah's Zion River Resort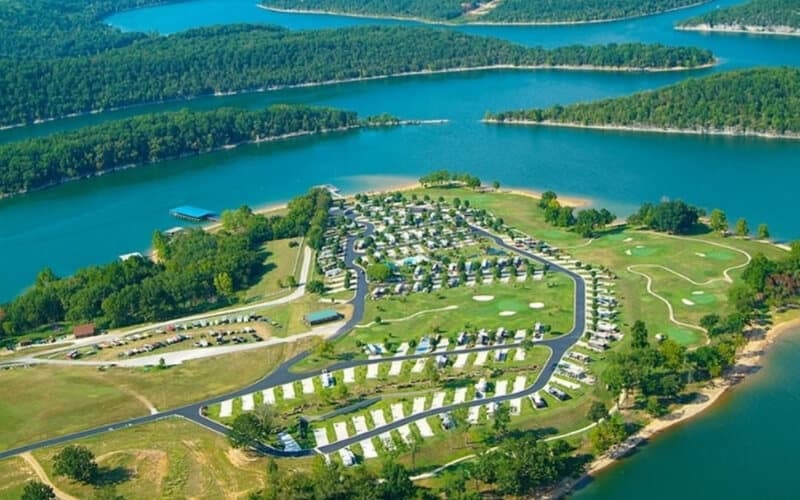 Located near popular Zion National Park this RV park offers spectacular natural vistas. It also has a reputation for being very family-friendly and pet-friendly.
They offer weeklong and multi-week RV camping experiences for people who want to take their time exploring everything the Zion River National Park has to offer.
2. Washington State's Olympic Peninsula
This is another KOA campground located nearby beautiful Port Angeles, Washington.
Even though it's technically located at a very northern latitude, the immediate proximity of the Pacific Ocean mitigates the cold of winter.
The surrounding area is rich with wildlife, temperature rain forests, waterfalls, and outdoor attractions for everyone in the family.
There are even some seasonal farms in the area that offer great tours and access to stunningly fresh produce.
3. Texas' Hidden Valley RV Park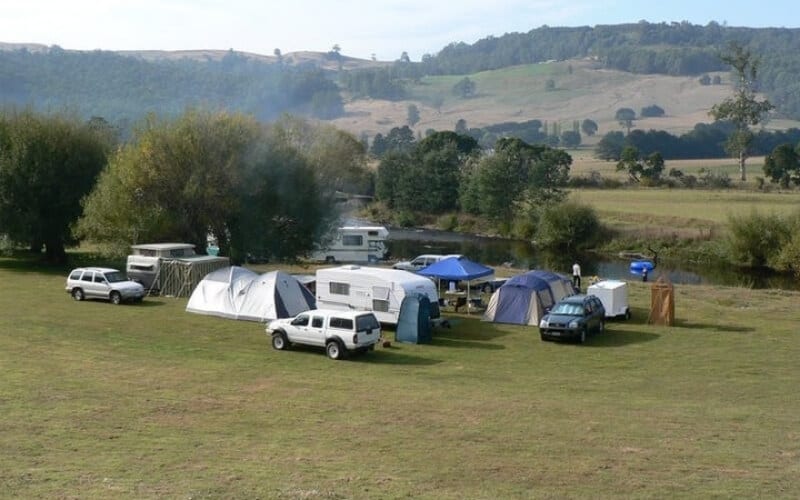 Just minutes outside of San Antonio, this is another family-friendly RV park lets you enjoy the rugged wilderness, while also being able to explore all the historic attractions that San Antonio is famous for.
4. California's Pioneer Park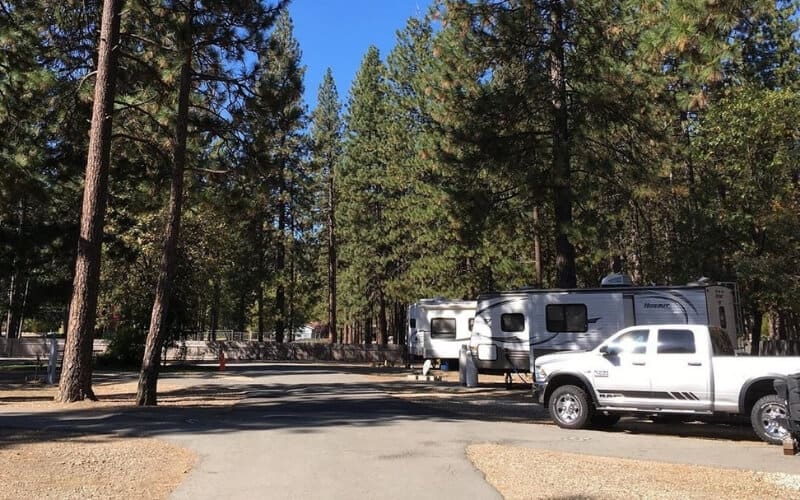 Nestled in the gorgeous Sierra Nevada mountains Pioneer Park in California has boundless natural exploration opportunities.
The park itself is meant to be a little rustic. Though there are other towns like Quincy, California where you can buy pretty much anything you need.
Even if you are boondocking, this is a once in a lifetime camping experience deserving of a place on a bucket list.
5. Arkansas Wanderlust Park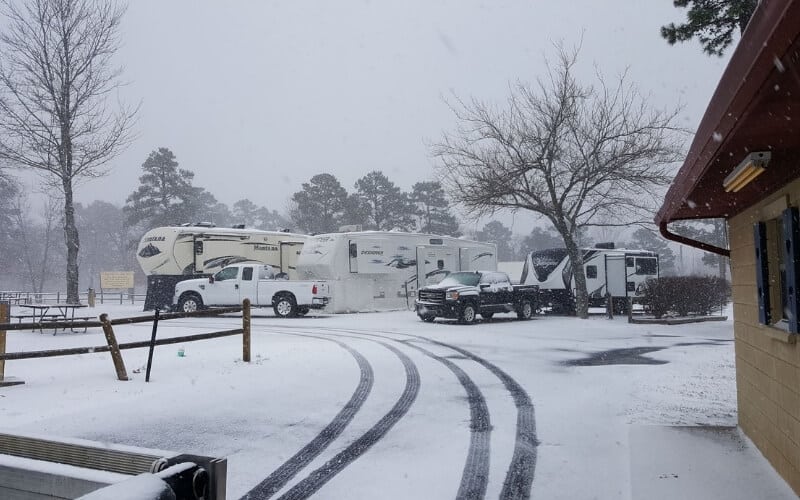 This RV park has the creature comforts that traveling retirees and families will love.
Located near Eureka Springs, Arkansas it's a great hideaway spot for year-round RV travelers.
It's a great option if you are looking for a quiet way of life to relax during four season travel.
6. New Mexico's Silver City
As a KOA, members can enjoy the sweeping vistas, outdoor attractions, and mountain biking that the Silver City area has to offer.
It's located near the very popular Gila National Forest, which offers a lot of great eco-tourism options.
Of course, The Silver City, New Mexico area is well known for its historical attractions, as well as unique shopping experiences.
7. Georgia's Pine Lake Campground
Located just outside of Athens, Georgia this is another family-friendly RV park that is open year-round.
It tends to stay above freezing 12-months a year. It offers a wide range of wildlife and nature exploration, while still being close enough to Athens and the University of Georgia to have all the convenience of the city close at hand.
8. Florida's Orange Blossom KOA
Located just outside of Orlando, Florida it is a very popular campground for people who want to visit Disneyland but don't necessarily want to pay the exorbitant prices to stay at a hotel or resort.
It's a great way to save money on a Disney vacation while still letting you feel like you're vacationing with the comforts of home close at hand.
Finding RV Parks With Seasonal Or Year-Round Services
All around the United States and parts of Canada, you will find privately owned RV parks and campgrounds that offer seasonal subscription services.
Depending on where they're located and their covenant of rules, you might be able to simply park your RV on-site and leave it there year-round.
Most of these RV parks offer monthly rates and will give a discount for RVs that sign a long-term contract.
With the increasing popularity of RV travel, there are several websites that specifically cater to the needs of RV travelers.
These parks are more popular with fifth-wheel campers and large travel trailers than they are with motorhomes.
You can then park them up on a concrete slab or pad and firmly set them in place.
Most RV parks in states that see four distinct seasons will include clauses in the contract where you have to disconnect from their water services during certain months. This is just to prevent water lines from freezing.
They might still leave their wastewater dump station open, or provide you with close-by access to a local septic tank service.
This will allow you to boondock, while still connected to the RV park's electrical shore power.
Living In A Campground Year Round
Let's say that you're a retiree, a single person on the move, or a tradesmen/construction worker who needs to live year-round near a far-from-home job site. You might be wondering "What's it like to live year-round at an RV park?
Right off the bat, you have to accept that even the nicest RV park is still someone else's property, and you're going to have to expect their rules. Your rights to privacy are limited to the interior of your RV.
RV Park Safety
Even the nicest of RV parks are still a campground, and there are no guarantees that everyone else staying there is legitimate.
There has been more than once when a ne'er-do-well was about the hit the road, broke into another person's RV while they weren't there, and helped themselves to valuables.
Because they are harder to track down, it's more likely you won't see your valuables back if someone makes off with them.
Just like you would do with your home, you should always lock your vehicle and your RV. It would also help to put security stickers on your doors and windows as a deterrent.
There are even some remote security systems like Ring that can be synced up to a WiFi network.
Of course, some good old fashioned personal skills will also help. Take the time to meet the neighbors, introduce yourself, tell them your name.
Maybe even share a cute anecdote to charm them over. People are more likely to look out for you if they like you.
RV Park Amenities To Look For
If you are going to be living in your RV full time, then you will definitely want to seek out an RV campsite that offers direct access to reliable shore power electricity.
Especially shore power that matches either the 30 Amp or 50 Amp system your RV is designed to run on.
Direct access to freshwater is also very nice as it can help pressurize your system and keep you fully supplied.
At the very least you want an RV campground where access to a resupply of freshwater is convenient.
While you're at it, you should also inquire about their RV dump station. Some RV parks that cater to full-timers will sometimes charge extra for full-time use of their dump station.
Once you've got power water, and wastewater sorted out, you can then start to look for other amenities.
Frequently Asked Questions
Are All KOA Campgrounds Open Year Round?
Kampgrounds of America (KOA) is a network of privately owned campgrounds and RV parks across the country.
Many of their affiliated locations are open all-year-round. However, not all KOA campgrounds offer year-round services.
Many KOA campgrounds are seasonal due to owner preference, climate, and location.
While most KOAs do their best to maximize their availability, they are none-the-less limited to what mother nature allows them to do.
This means you are limited to three-seasons at most in northern tier states.
Though some of the KOA campgrounds near popular wilderness attractions do offer discounted boondocking opportunities with access to shore power.
Though you'll likely be on your own when it comes to supplying fresh water.
Do RV Parks Offer Discounts In The Winter?
RV parks in warm weather locations are well-aware of their appeal to so-called "Snow Birds" and traveling tradesmen who work all year long on the road.
Most are privately owned, so there are no hard and fast rules about the kind of seasonal discounts they offer for long-term RV stay.
Though most will offer a per-month discount for RV travelers who commit to a specific multiple numbers of months.
Can I Camp At A Federal Primitive Campground Indefinitely?
Federally maintained "Primitive" campgrounds are an incredibly affordable, and they are a great way to boondock off the grid.
Some even give you access to electricity. Many of the nearby resorts will also offer shower house and laundry services, or access to their own freshwater supplies.
Depending on the location and the time of year there might be a lot of open space.
Of course, the Federal Government is aware of their appeal, and they don't simply want people using it as their long-term home.
The only exception being the campground managers, who tend to live on-site in their own RV and make sure the place is properly maintained.
By law, you can only stay in a Federal Primitive Campsite for up to 14 days at a time. However, you can technically move to another campsite for another 14 days.
In this way, you could move from one campsite to the next without penalty.
You just have to make sure that no one has reserved that site through the National Park's system in that 14-day window, or you will have to move out by noon, at the start of their reservation day.
Conclusion
The RV lifestyle can certainly be exhilarating. Embracing it by living in your RV year-round can liberate you from things like mortgage payments, yard work, and nosy neighbors.
Even if you're not looking to get away from suburbia and you are simply a tradesman or a construction worker who needs a nice place to live while you're on a remote job site, living in your RV full time is a great way to save money while living well.
Of course, you still need to account for the seasons and accept that a lot of RV parks throughout the United States and Canada aren't going to be open in the winter, or they won't be offering their full services.
Still, if you take the time to do your research, to find the amenities you need to live in your RV year-round you might be able to find some great places to stay on the cheap with wonderful vistas and interesting people right out your back door.